Over the last two-plus years, we've listed seven patios that make you feel like you're not in Milwaukee, 16 quintessential Milwaukee patios, then 13 more goddamn patios. After that, we rounded up another 15 patios. This spring, we wrote about 18 more patios for some reason and with that our work was done. We covered every patio in Milwaukee. Just fucking with you…there are many more.
With exactly a month left in summer, there's still plenty of time to do, well, nothing at all. As the world continues to rapidly fall apart around us, take some comfort in knowing we've found another 18 Milwaukee area patios for your lounging pleasure.
1. Beer Belly's
Over on Milwaukee's south side, Beer Belly's serves up ribs, fried fish, prime rib, and more. Though the airport-adjacent bar's scenery isn't anything particularly special, diners and drinkers can look out on the hustle and bustle of Layton Avenue while seated on Beer Belly's quaint enclosed concrete patio.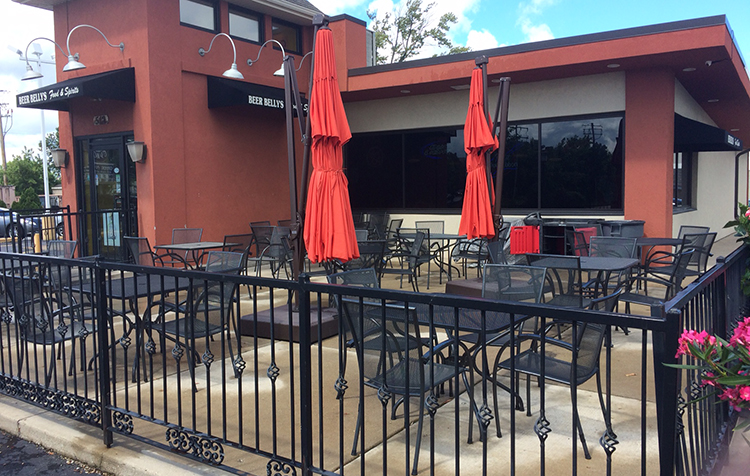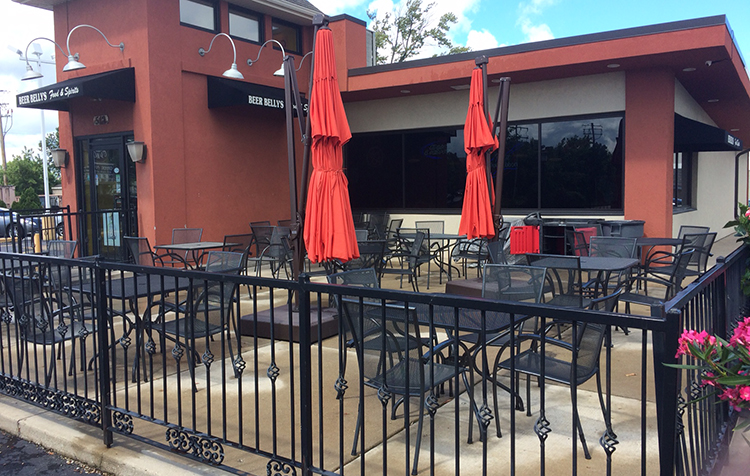 2. Bert's Bar
The mayor of St. Francis herself would admit the saintly lakeside suburb isn't exactly packed with nightlife options. However, there are a few bars in the small city. Bert's is among the best of the bunch, with a respectable beer list for a place its size and, once warmer months roll around, a cozy cluster of tables that give a glimpse of Lake Michigan…at least the parts of it that aren't blocked by condos.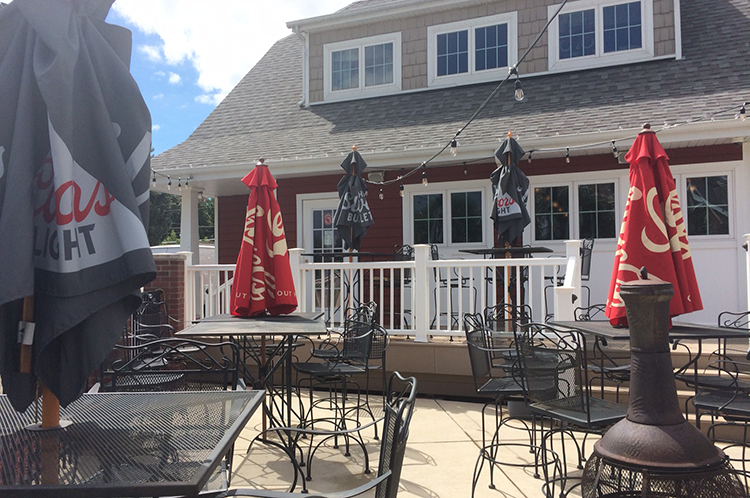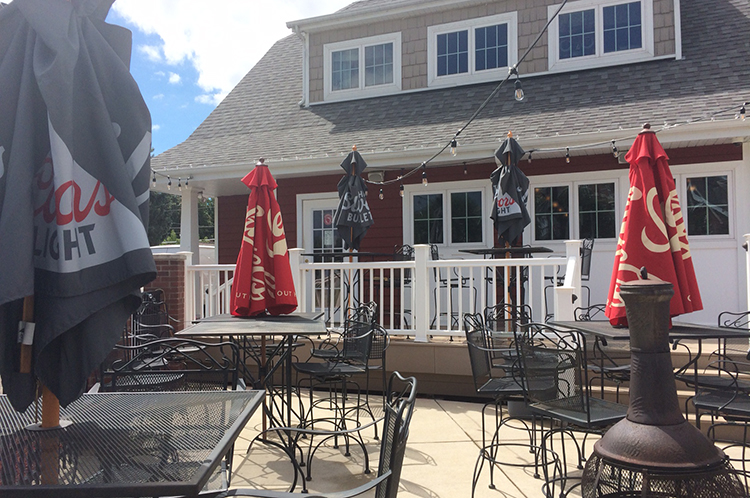 3. Botanas
There's a reason Botanas has been part of Walker's Point's rich dining fabric as long as it has. Its salsa and house margaritas are top notch and its flagship site is equal parts sprawling and inviting. While the restaurant isn't hurting for seating inside, it's made all the more spacious by way of its massive fenced-in sideyard that's packed with tables, plants, and water features. Botanas' patio also regularly hosts a mariachi band.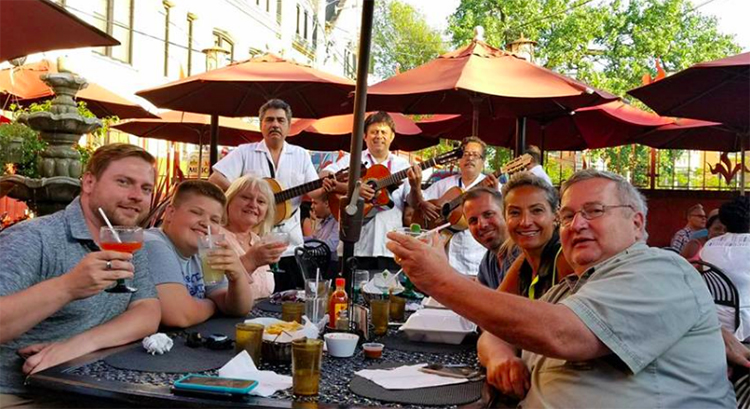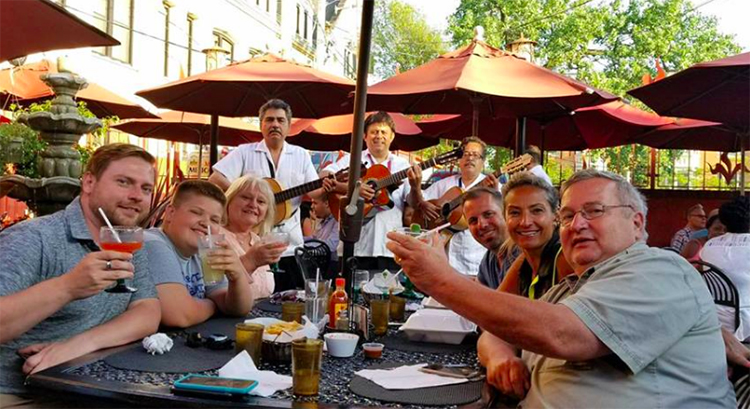 4. Botanas II
Recently, the Botanas empire expanded beyond its 5th Street location and their stand on the Summerfest grounds when the owners took root on Howard Avenue near the edge of St. Francis. To be honest, its food, service, and patios don't hold a candle to its sister site, but if you find yourself near the corner of Clement and Howard and you're hankering for some semblance of Botanas, Botanas II (and its tiny brick patio) won't do you wrong.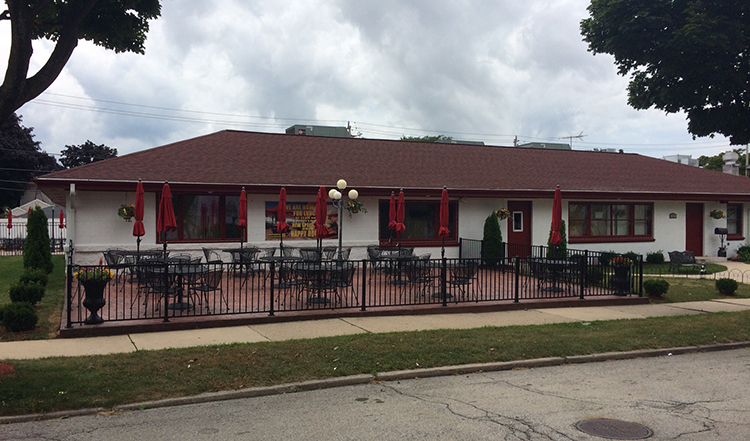 5. Cafe Hollander (Brookfield)
Those of you who don't frequent Brookfield may not be aware of the massive expansion taking place at The Corners Of Brookfield. The commercial plaza just off I-94 is home to an underground Sendik's, a BelAir Cantina, a weekly concert series, will soon be host to a nine-screen multiplex, and now boasts a recently-opened Cafe Hollander that is the biggest and best restaurant in the ever-growing Lowlands Group arsenal. The gigantic establishment can seat approximately 600 (!) patrons when factoring the tables on Hollander's two roomy patios on each floor of the bi-level eatery.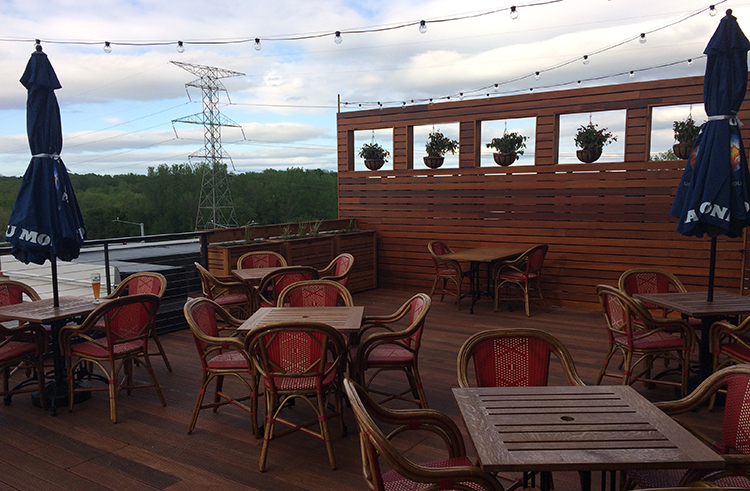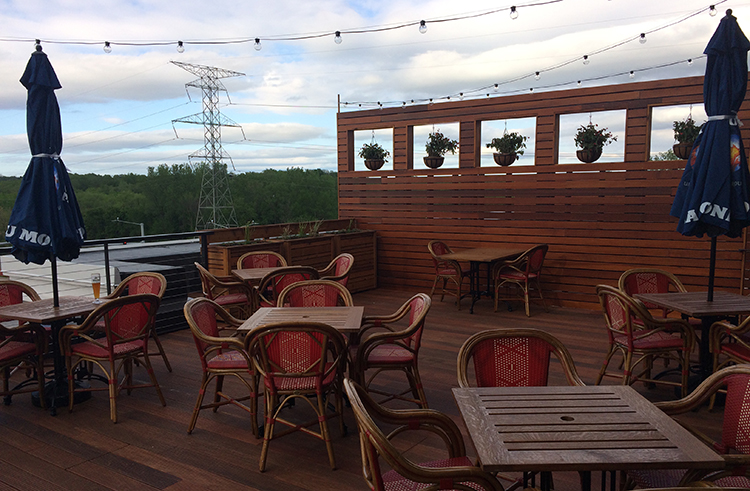 6. DanDan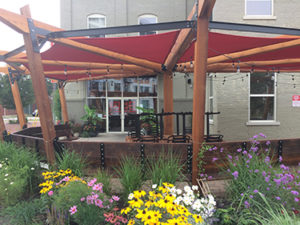 Since Dan Van Rite and Dan Jacobs opened the aptly-named DanDan last July, the American-Chinese operation has earned a considerable amount of glowing local (and national) press. Moreover, DanDan added a second restaurant within its walls that's also garnering heaps of praise. In the meantime, they started lunch service and celebrated their first year in business with an awesome party.
Now at the tail end of its first full summer in business, it's very likely that lots of people have failed to experience DanDan's outstanding cuisine out on the restaurant's covered front patio. With virtually all of Milwaukee's festivals over, weekend parking around Henry Maier Festival Park is bound to improve, meaning you'll have an easier time enjoying the food Milwaukee has quickly fallen in love with in an entirely new way.
7. Fluid
Apparently, when we were totally fucked up near the conclusion of our Milwaukee Gay Bar Crawl aroud two years ago, we failed to notice the gorgeous brick patio behind Fluid. Our bad! Well, follow the canvas to find an assemblage of cushy chairs, plants, and a fire pit concealed in a brick courtyard that's nestled behind this bar on busy 2nd Street.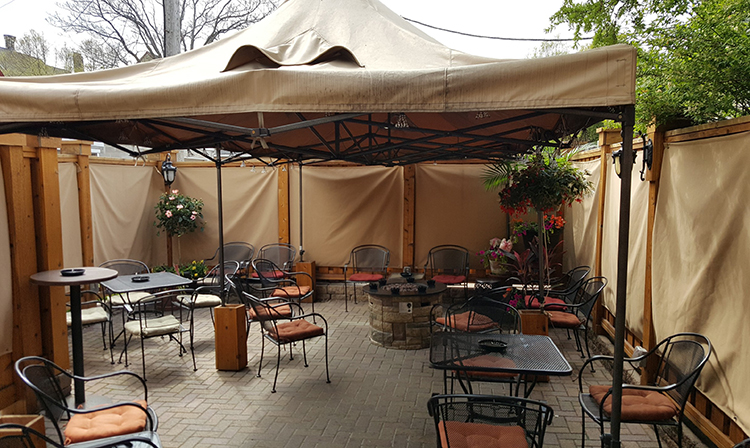 8. Good City Brewing
While many of its counterparts on or around North Avenue have struggled to stay afloat in this particularly trying time on Milwaukee's East Side, Good City Brewing is booming. It's almost as if tremendous beer and great food served in a comfortable setting is a recession-proof concept. This summer, Good City celebrated its first anniversary and the christening of its gorgeous rooftop patio that offers ample seating, quick service from an upper-level bar, and a stunning view of what's left of the neighborhood. Times might be tough near North, but Good City is absolutely a source of hope that things will turn around.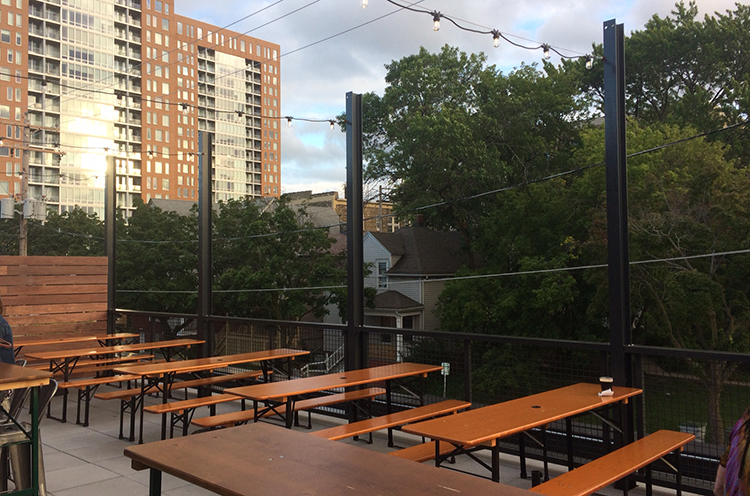 9. Hamburger Mary's
When Hamburger Mary's relocated from its admittedly drab digs in Bay View and migrated to the building La Perla used to call home, the franchise's only Milwaukee shop inherited a far more spacious building. As a direct result, Hamburger Mary's was able to add a "Beercade" and take advantage of the Walker's Point property's roof. The latter is a sleek second-story deck that's outfitted with ample space of dining and dancing, propane fire pits, a covered DJ booth, and a grand glimpse of a rapidly-changing 5th Street.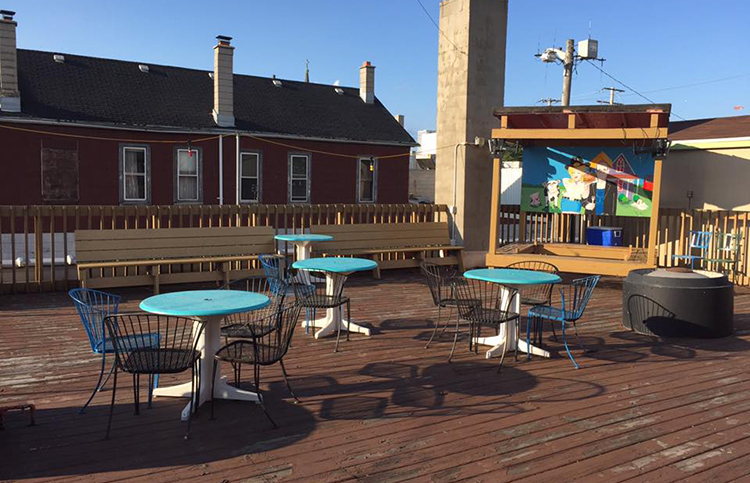 10. Hello Falafel
Last year, Hello Falafel broke the curse of 2301 E. Howell Ave. when the owners (who also own Odd Duck) brought Middle Eastern-inspired eats to a high-traffic corner of Bay View. Though the restaurant's interior is small and much of its business seems to hinge on to-go orders, Hello Falafel wisely added a rear patio to allow diners a little more room to eat during spring and summer months.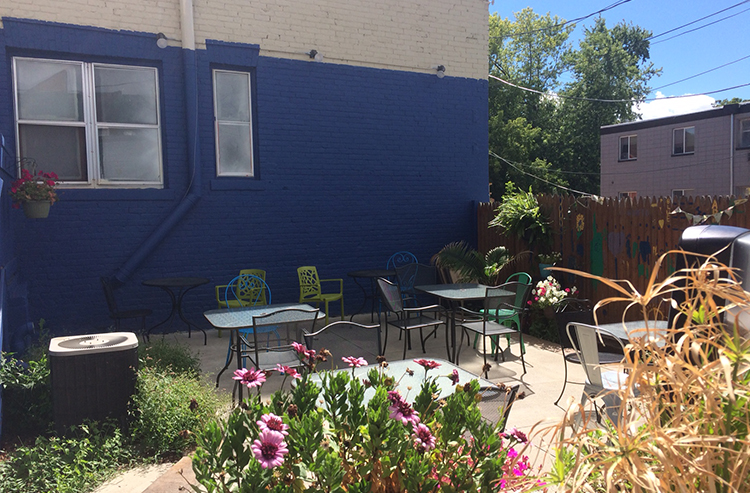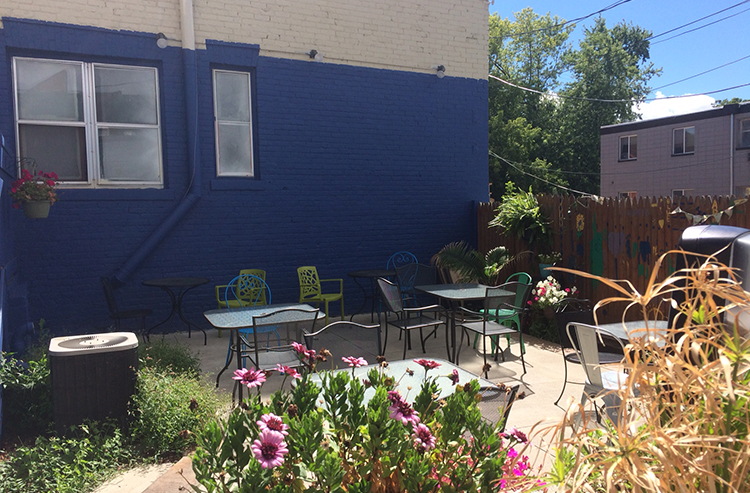 11. Iron Grate
The spanking new patio at the recently-relocated Iron Grate BBQ also inspires folks to stay and eat. The restaurant, which used to share a portion of Hawthorne Coffee a few doors down from its current spot, is completely no-frills, and that extends to its workmanlike, picnic table-lined side patio as well. It gives diners a front row view of Edna (Iron Grate's star smoker) on one side and Howell Street on the other. It's an improvement, but really, you won't care what you're looking at between bites of "Milwaukee style ribs," out of this world brisket, and side dishes that are bound to stick with you months after your last visit.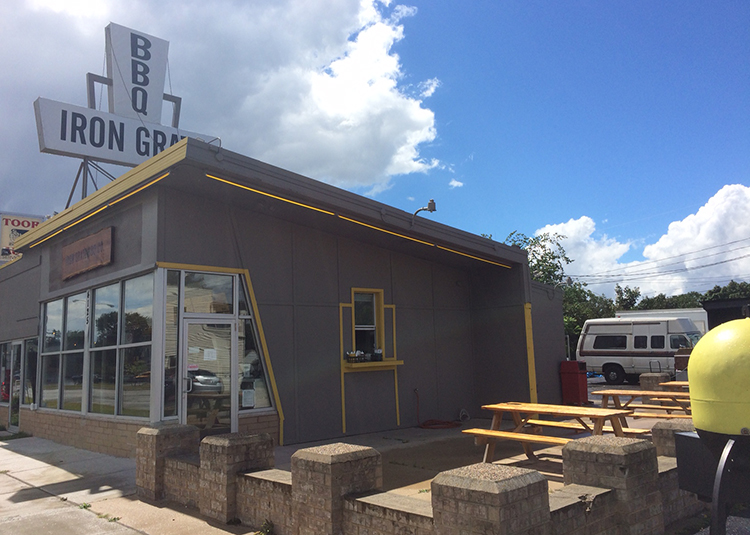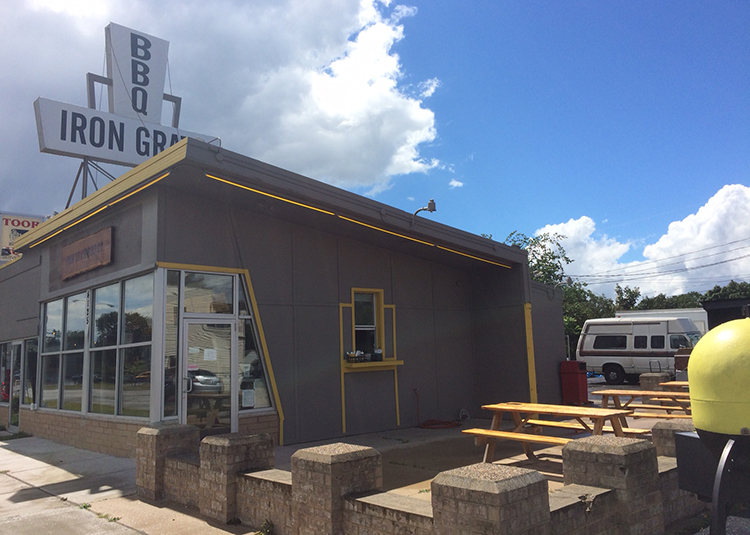 12. Juniper 61
Well before 'Tosa became the preferred destination for local restaurant expansion, Juniper 61 anchored a segment of the suburb's dining scene. On top of its excellent dining and drink options, Juniper 61 also boasts a quaint-but-quality rear patio that comes complete with a cluster of tables and trees.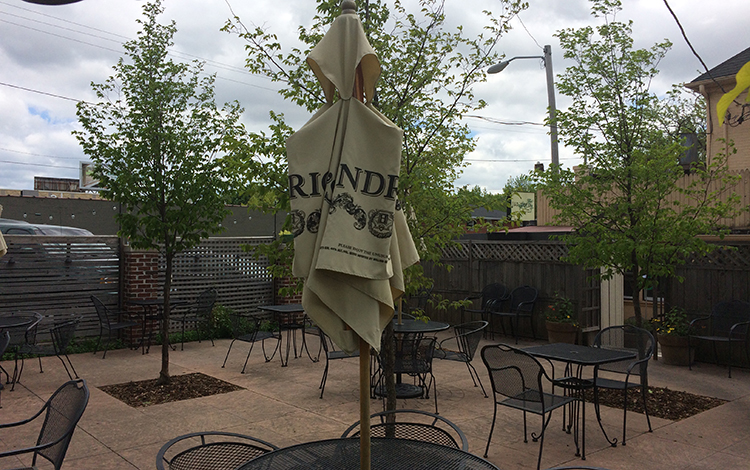 13. La Salsa
Though La Salsa has been in business since 2001, the Mexican restaurant has called Bay View home since 2011, when it moved to its roomy location on Oklahoma Avenue. In addition to the restaurant's vast interior, La Salsa also extends service to its long covered side patio.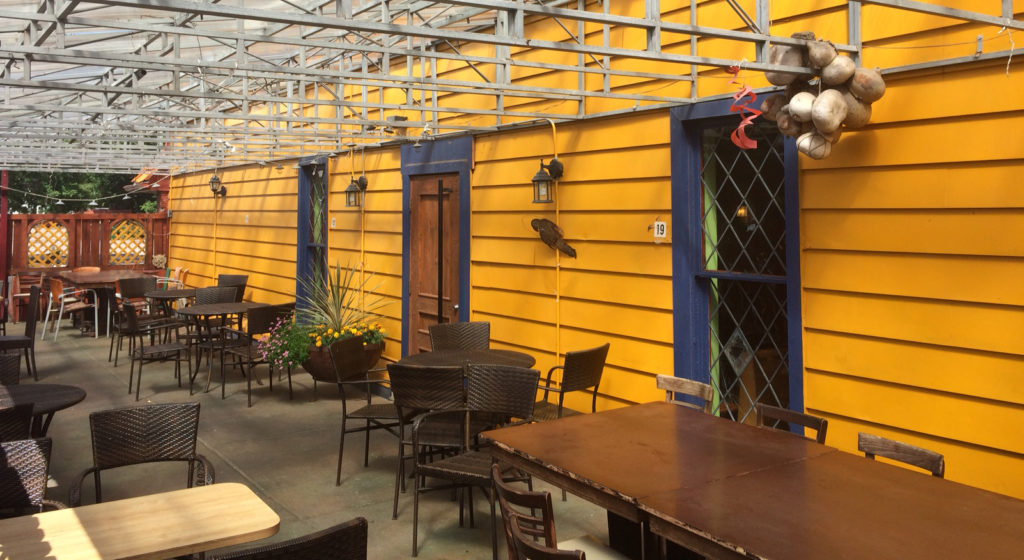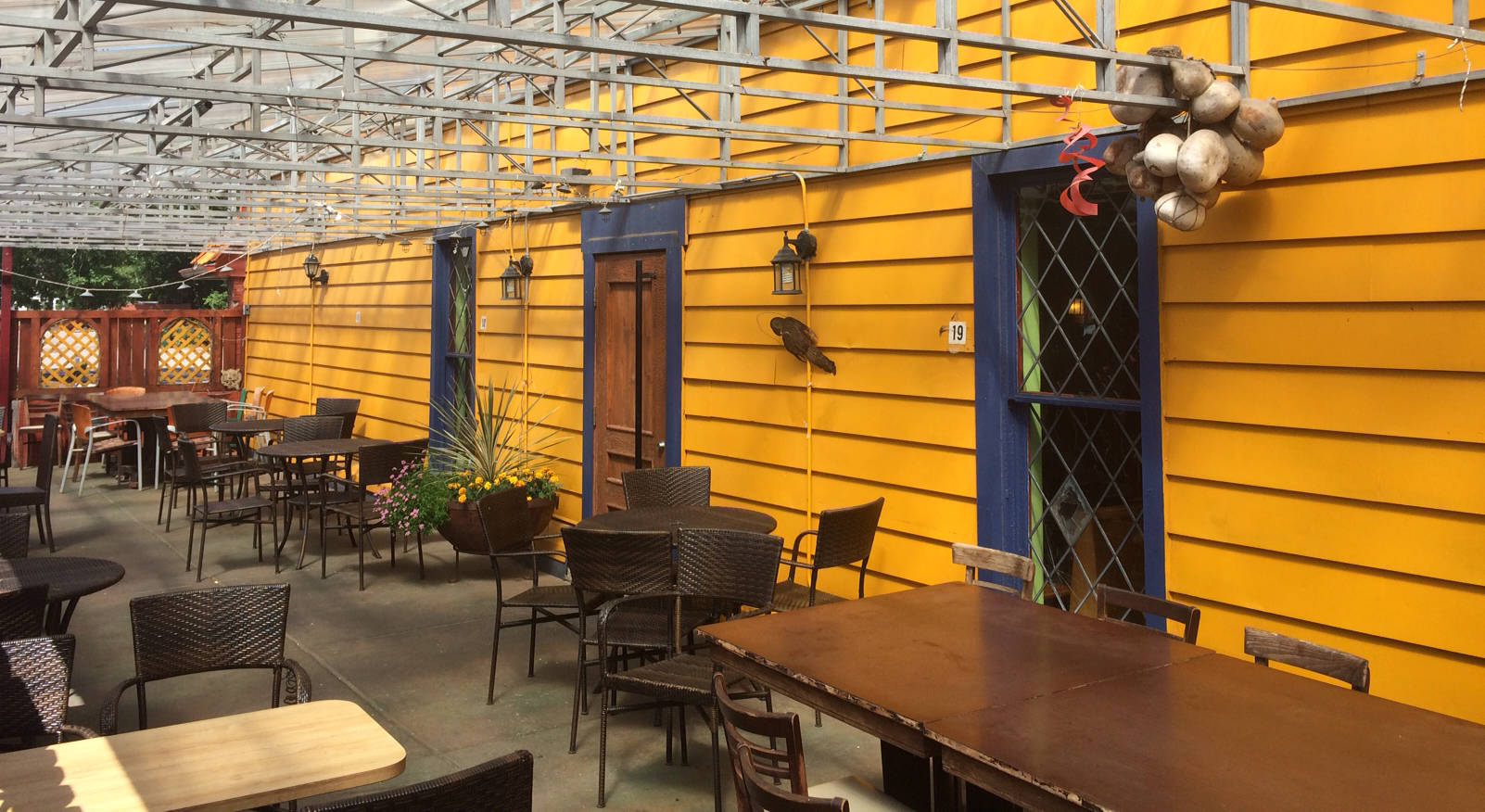 14. The Love Shack
When The Love Shack opened in June, the Third Ward gained a new tiki bar and Polynesian restaurant. Oh yeah, it also gave the neighborhood even more outdoor seating options with a spot that's outfitted with lawn furniture, straw canopies, plants, and tiki torches.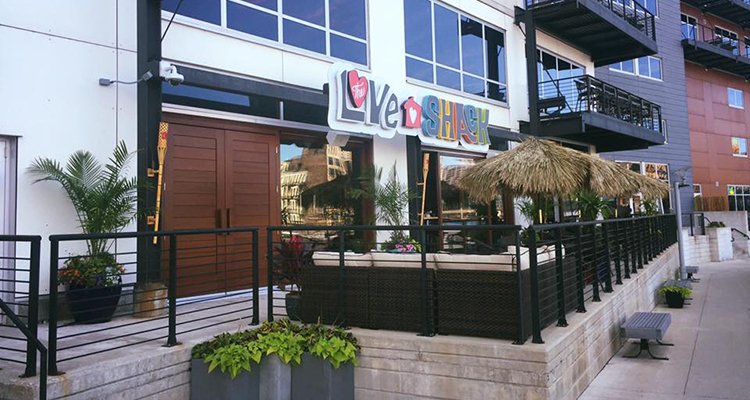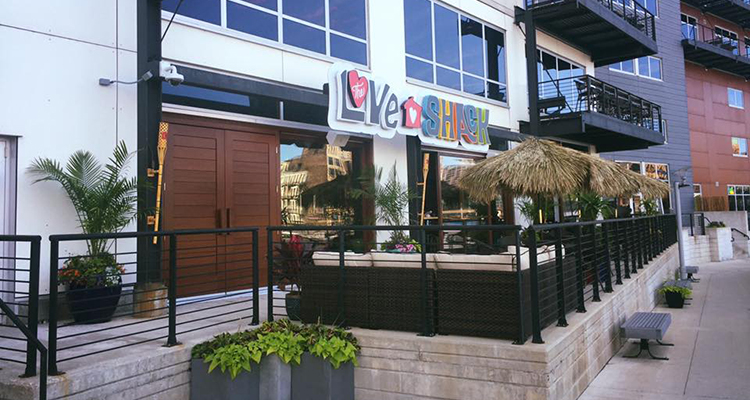 15. The Newport
As Bay View continues to change in significant (and occasionally confusing) ways, it's refreshing to know The Newport doesn't seem to be going anywhere anytime soon. Though the unabashed corner tap isn't changing in any notable ways, the bar is doing little things to keep up with the times. Case in point: the comfy, fenced-in rear patio.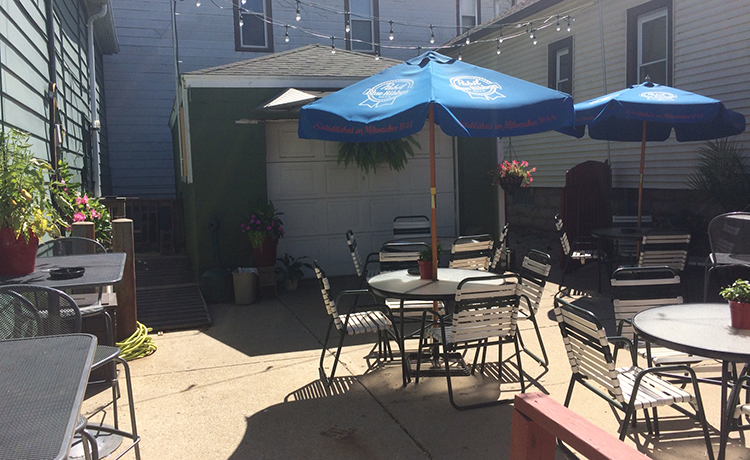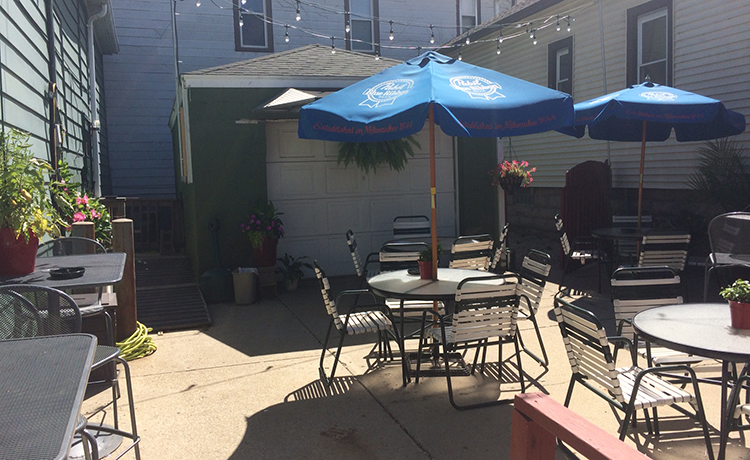 16. Sandra's On The Park
Out in Hales Corner, Sandra's On The Park makes the most of "the park" part with its striking and vast outdoor dining area that's earned the metro Milwaukee restaurant a variety of local patio awards. That's right, people. There are local patio awards.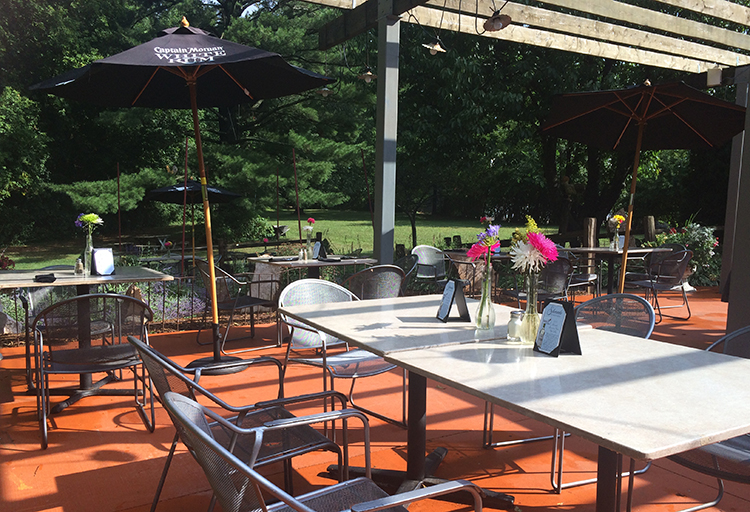 17. Sollazo's 703 Club
On the exact opposite end of the spectrum is Sollazo's 703 Club. While it's probably not going to win any regional patio hardware, the welcoming neighborhood bar's enclosed and shaded yard and its plastic patio furniture have the makings of a fine place to smoke or take a load off if you find yourself on Layton Avenue.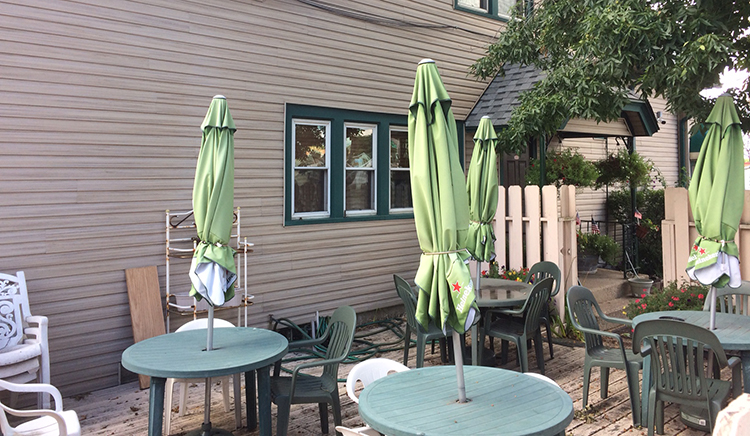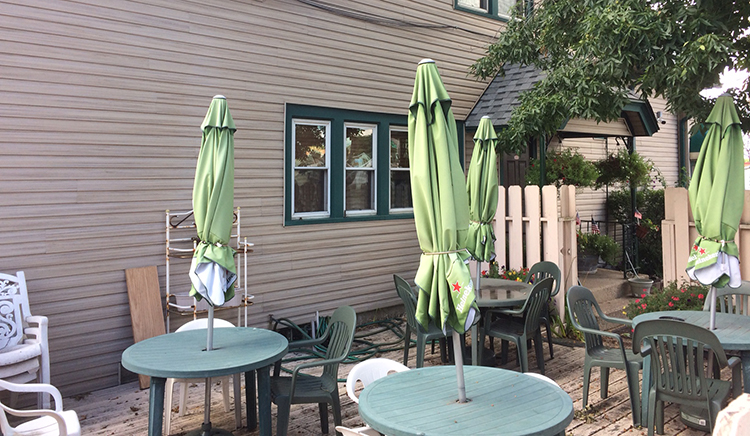 18. St. Francis Brewery
This is also a patio.