Over the last two years, we've listed seven patios that make you feel like you're not in Milwaukee, 16 quintessential Milwaukee patios, then 13 more goddamn patios. Finally, we found another 15 patios. Surely, there couldn't be any more patios in or around Milwaukee to write about…right? Think again. We're just getting started, baby!
The approaching summer signals the return of outdoor seating, which also brings articles about outdoor seating. If the previous 51 spots we've written about have you hankering for more hard-hitting and totally necessary patio coverage, get ready for 18 Milwaukee-area patios that are just waiting for your butt to plop down on them.
1. Dom & Phil DeMarinis
Though Dom & Phil DeMarinis has been a highly-regarded Milwaukee institution for decades now, the Bay View pizzeria was way ahead of the patio trend. When warmer weather comes, Dom & Phil's seats some patrons on its paved front patio. Like the restaurant proper, the DeMarinis patio endearingly lacks any frills. Still, the rows of tables set up under strings of lights do the job just fine. The delicious pizza and pasta will do the rest.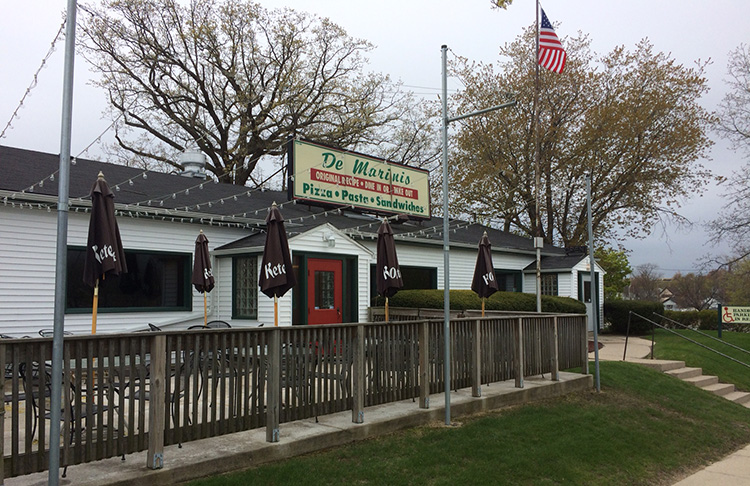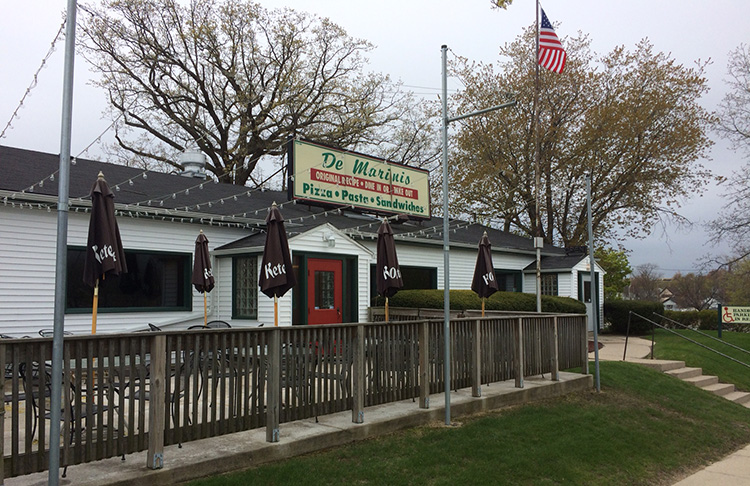 2. Fat Daddy's
While Walker's Point experiences rampant change, Fat Daddy's—like Steny's, its neighbor across the street—has quietly thrived in the heart of the neighborhood. Much of that is thanks to the bar's sandy side yard, which features a three-court volleyball setup, picnic tables, and (for those wishing not to wash their feet before re-entering the bar) a front and rear deck with ample seating.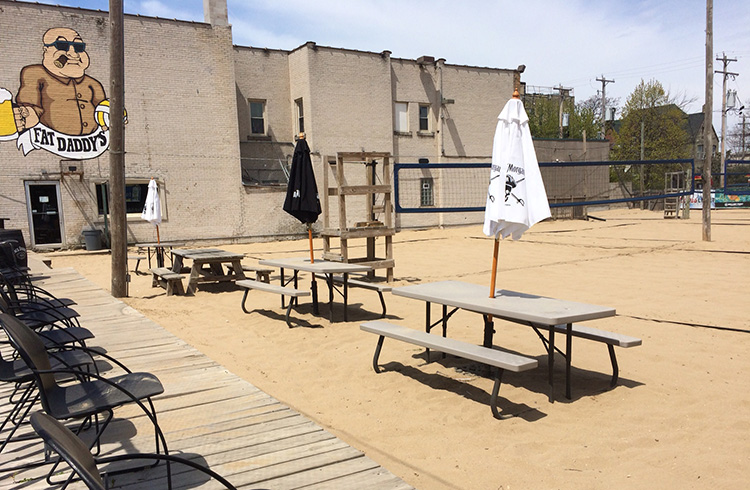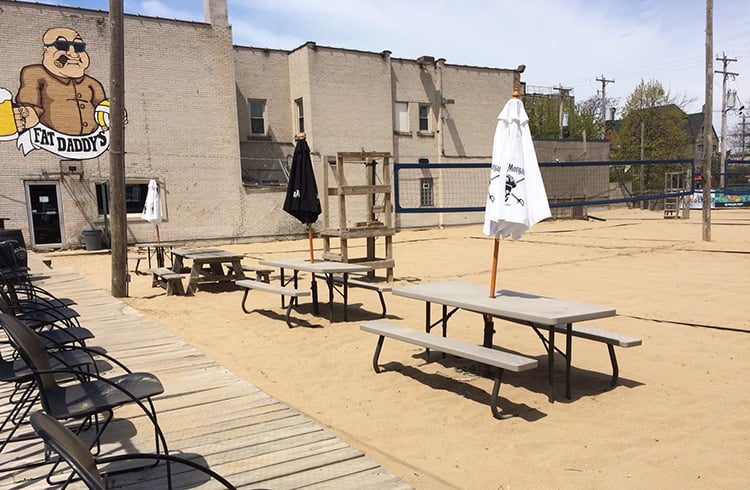 3. Gingerz
Formerly Rookie's, Gingerz recently opened on the corner of Howell and Howard avenues. the "sportz pub and grill" inherited the previous tenant's massive concrete patio, which is currently partially covered with tables. There's still enough room for outdoor activities, including Gingerz's weekly bags league. For that, we'll do our best to overlook the whole "sportz pub" thing.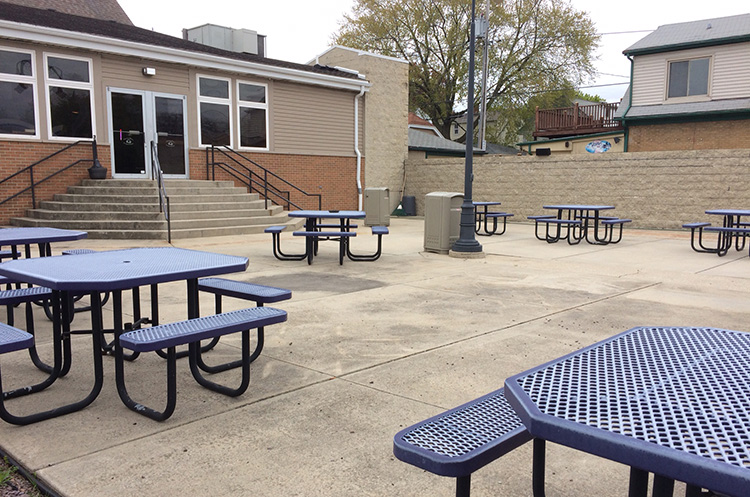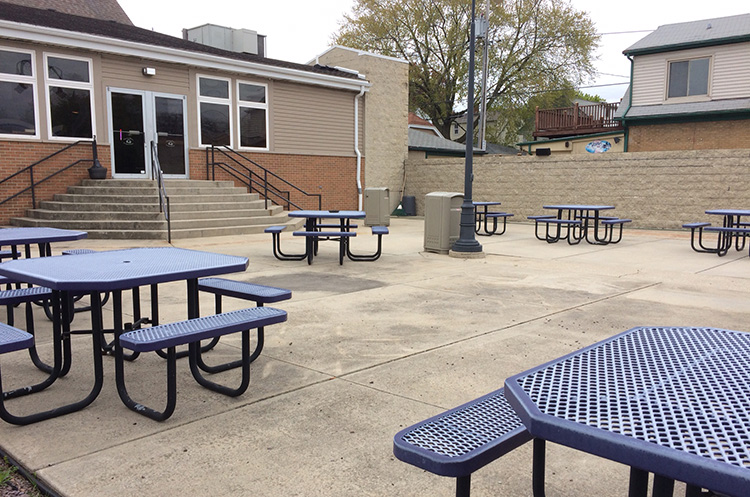 4. Kindred On KK
After the Bay View Brew Haus and Down & Over Pub (which briefly offered and upstairs daycare, too) failed it make it work in the 150-year-old brick building on Kinnickinnic, a "micro hotel" called Kinn MKE Guesthouse moved in and extensively gussied up the space—even adding a posh bar and restaurant called Kindred in the lower level. The improvements extend to Kinn's exterior as well, as the maligned front yard of the just-opened hotel has received significant landscaping attention. The changes allow for lots of outdoor seating that's elevated above Bay View's busiest street.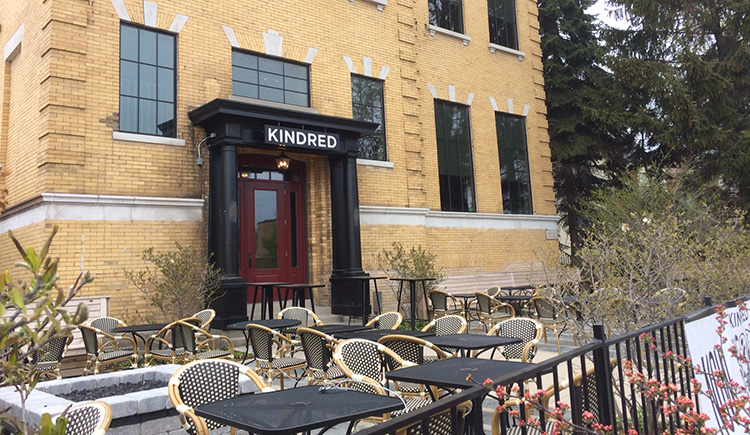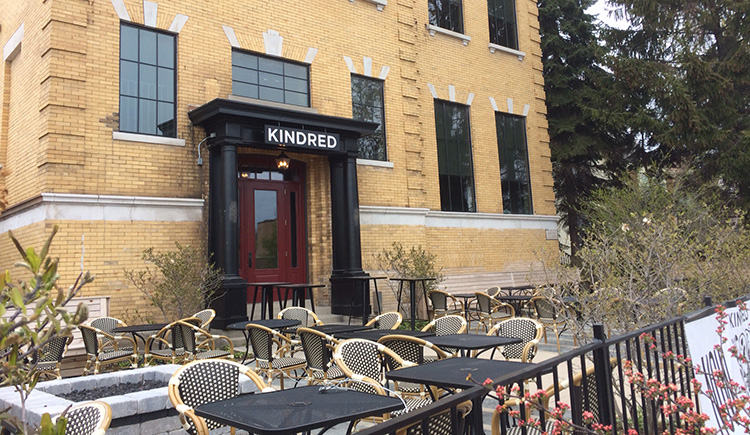 5. The Knick
Conversely, The Knickerbocker is one of Milwaukee's more established downtown (adjacent) hotels. Its bar and restaurant, The Knick, offers people who are staying at the semi-swanky establishment and local customers who are hungry seating on a long, thin front patio. What The Knick's patio lacks in size, it makes up for in elegance and its view of the bustling neighborhood overlooking Lake Michigan.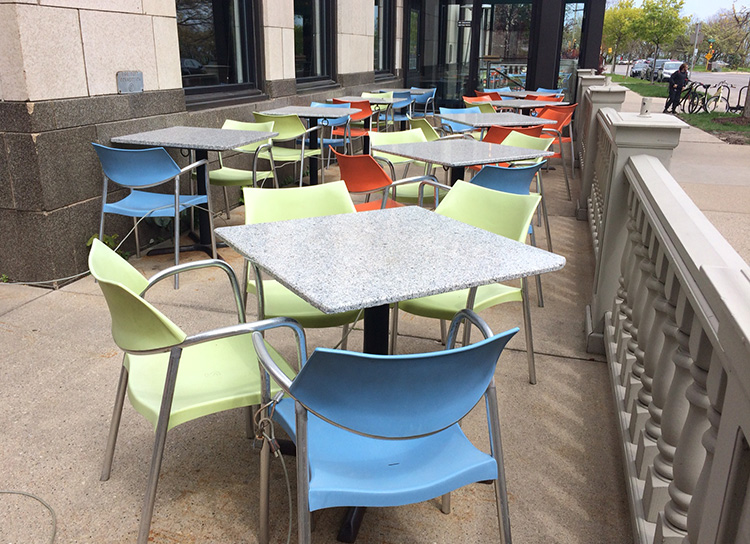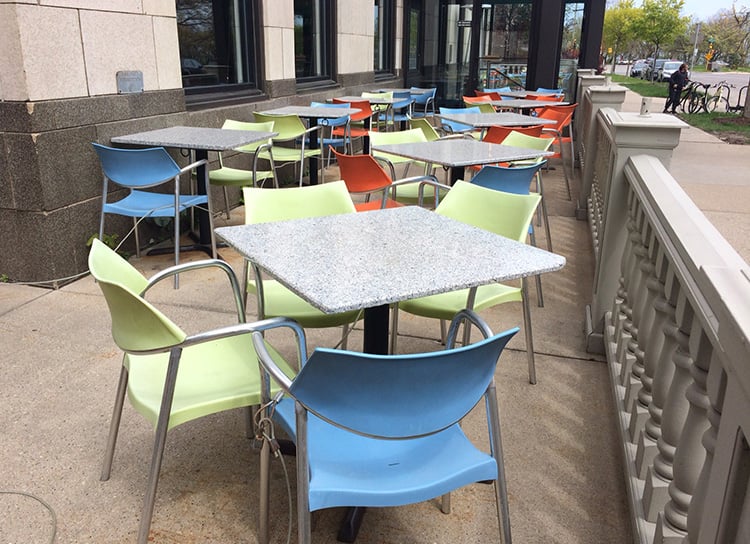 6. Lakeside Pub & Grill
Cudahy's Lakeside isn't just a run-of-the-mill bar that shit talks nearby burger joints. Rather, it's a run-of-the-mill bar with a patio. Beside the business located on the corner of Lake Drive and Layton Avenue is a makeshift beer garden that offers ample seating, some planters, and a loose nautical theme.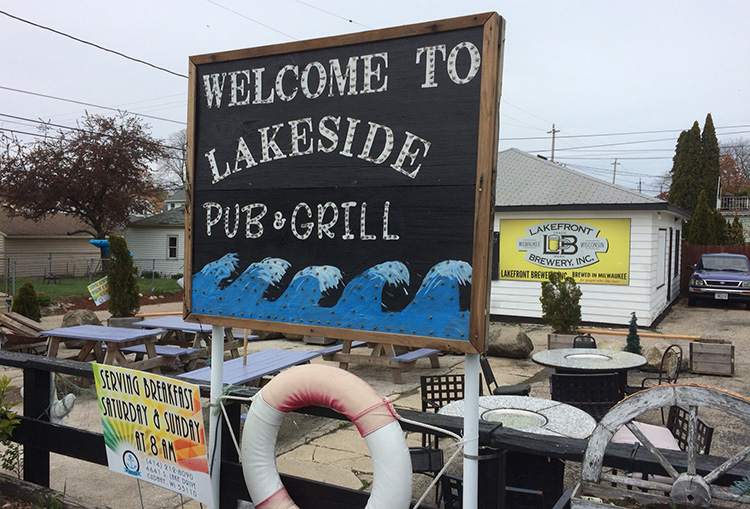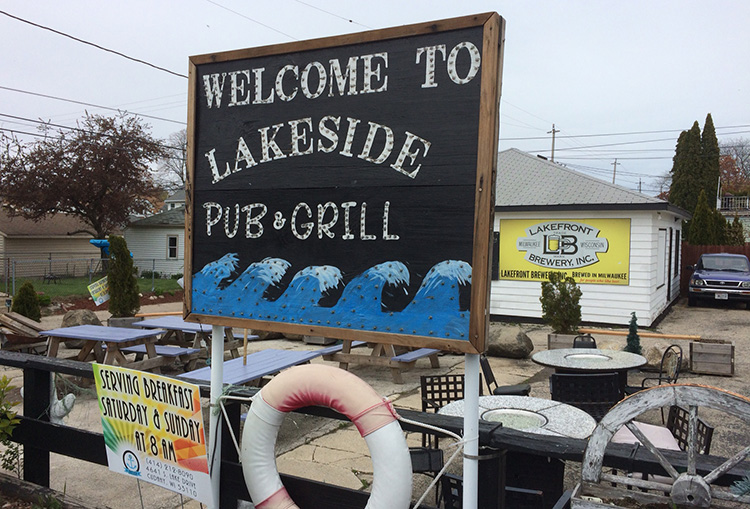 7. Little DeMarinis
Shortly after Mama DeMarinis closed, the niece of the aforementioned Dom and Phil reopened an iteration of Mama's less than a mile away. The restaurant—located in the basement of the American Legion Post 180 on Kinnickinnic Avenue—has a front patio that, fittingly, is quite little. The six-table setup doesn't offer much of a view, but it's a fine place to enjoy a drink if you'd like to escape the basement on a nice day.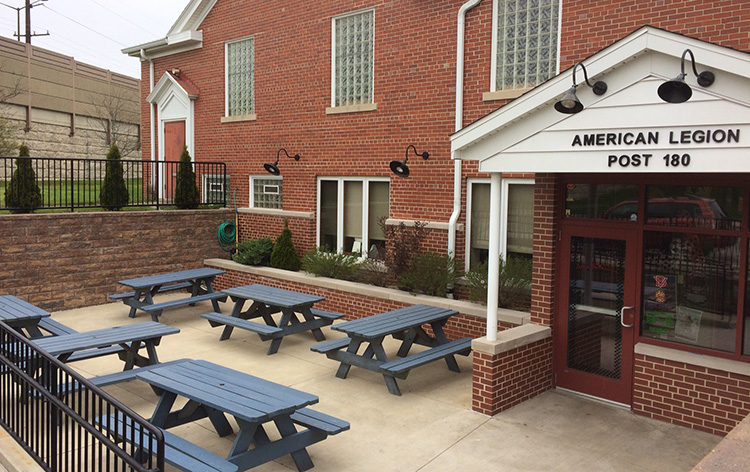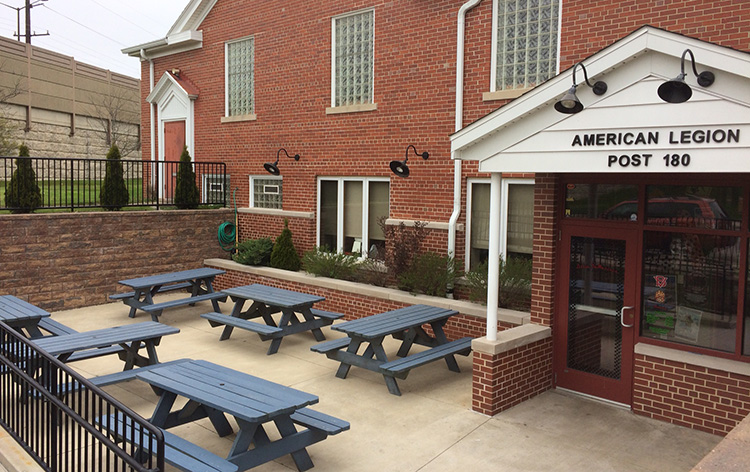 8. Malone's
Next to Malone's (which was previously Bruno's for like 700 years before that) is "MKE's smallest bar." More accurately, it's the Brady Street bar's patio. Maybe "MKE's smallest patio" is a better name for it. It's not the size of the patio that matters, it's how you use it.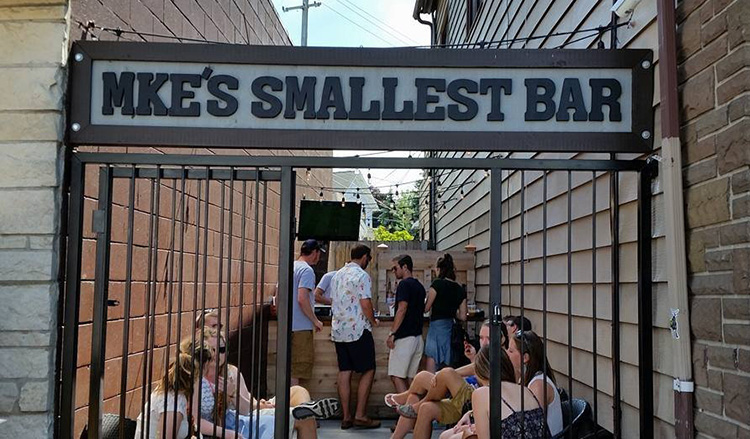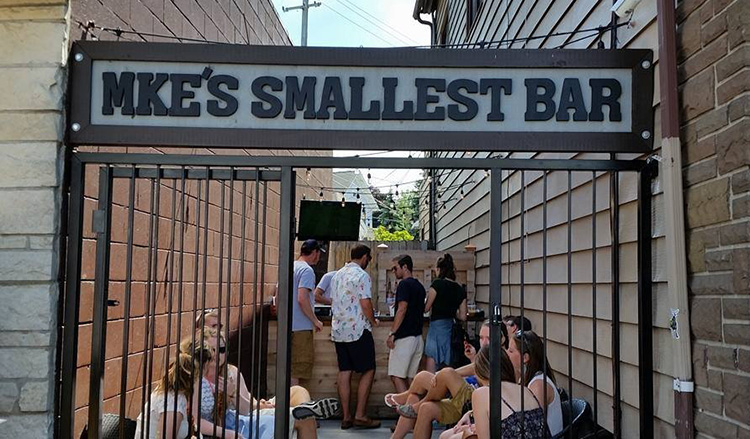 9. Merriment Social
Merriment Social has of the city's best burgers, a killer beer selection, and this quaint patio. You officially have no reason not to check this place out.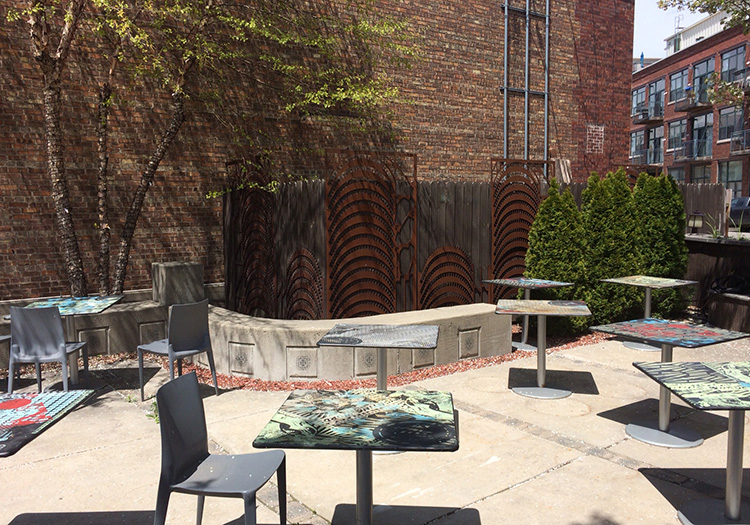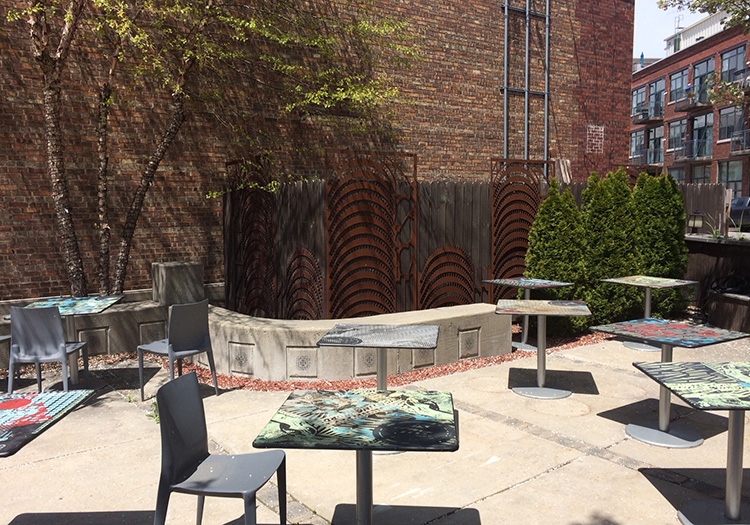 10. Red Lion Pub
Depending on which side you enter Red Lion from, some might not even be aware the Lower East Side soccer pub has a patio. But holy shit, do they ever! Up a Tannery Row stairwell sits a sprawling rooftop patio that offers an elevated glimpse of all the new luxury apartments that are being built in the area that, ironically, are ruining the view. Enjoy it before some unnecessary mixed-use condo with a misspelled name casts its dumb shadow on this gem of a patio.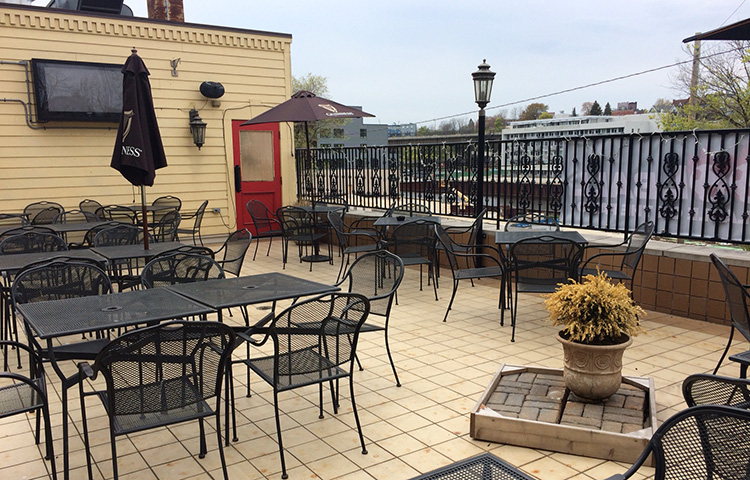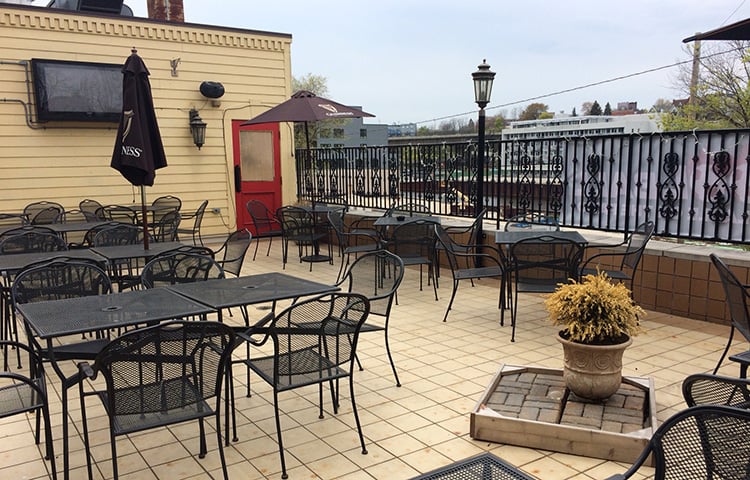 11. Santino's Little Italy
Santino's opened this winter and has earned seemingly nothing but positive early praise. Now that it has a patio, the sky is the limit for this young Italian eatery. While the restaurant's location in an industrial enclave of Bay View doesn't offer much in the way of a view (we know, as our headquarters are in one of the nearby warehouses), the brick patio with heaters should get tons of use this spring, summer, and even into autumn.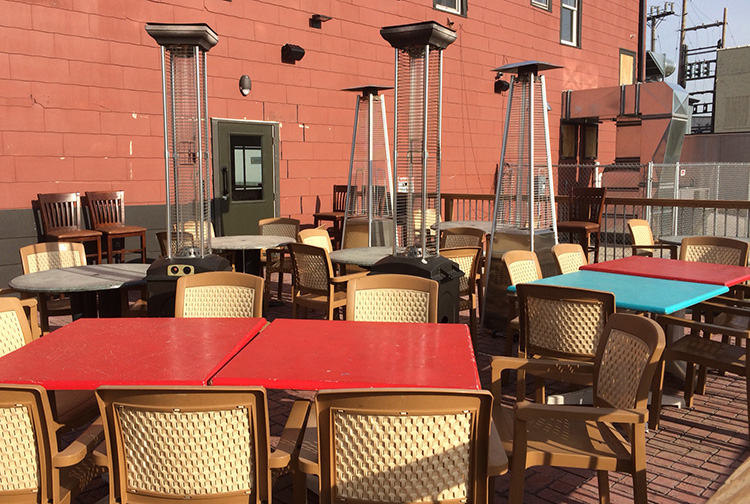 12. Scotty's
Speaking of great pizza places slightly off the beaten path, Scotty's also has a patio. The St. Francis-nestled townie bar's patio (overlooking a liquor store's parking lot) really isn't shit, but the pizza and the prices warrant a trip…regardless of where you decide to sit once you get there.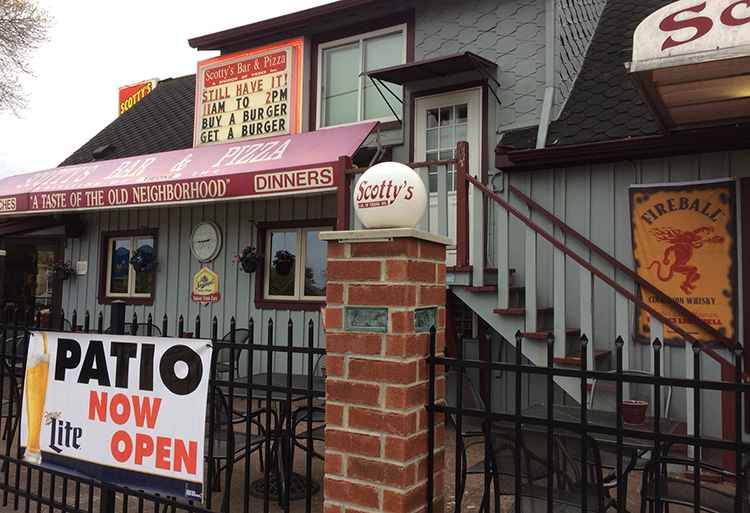 13. Sheridan's
Due to its location in the widely-panned and thoroughly-misunderstood Milwaukee suburb of Cudahy, Sheridan's is often overlooked. Those who can shed previously-held notions about the industrial city will be delighted to find an upscale-yet-inviting restaurant that's complete with a spacious fenced-in rear patio.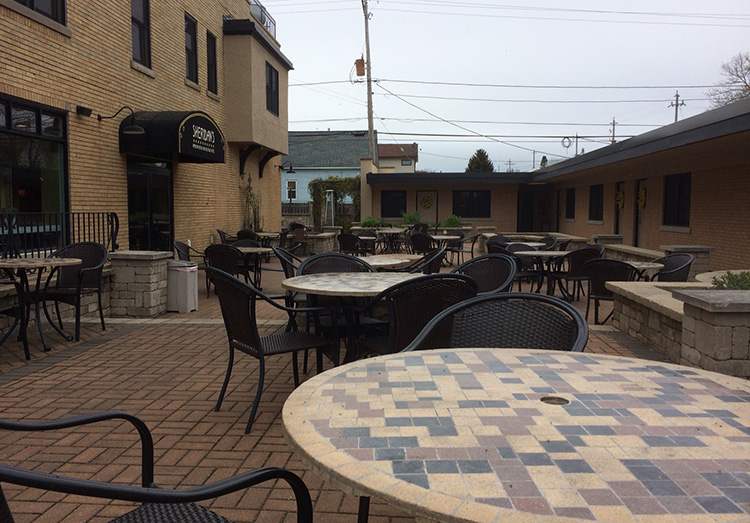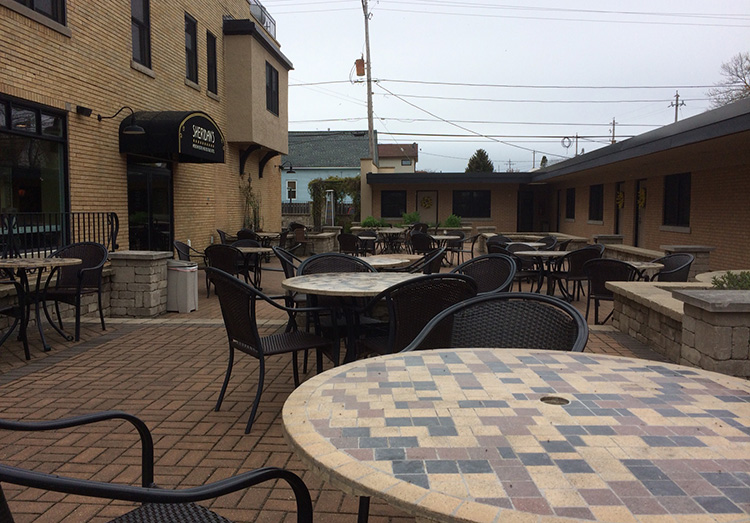 14. Smoke Shack
Smoke Shack also has a patio. Here's photographic evidence.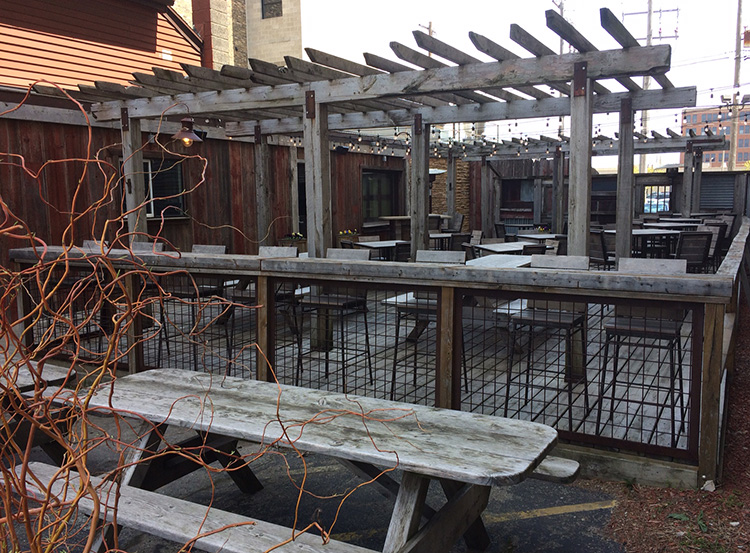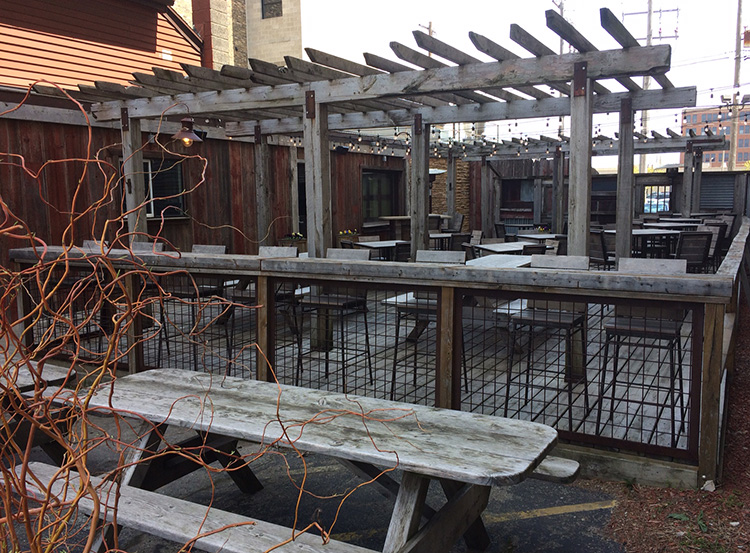 15. Urban Bay View
It took nearly two years of red tape, construction delays, and various other obstacles for Urban to even open. So the Bay View corner tap can be forgiven for not having a patio ready to go immediately. However, last month, Paul Jonas (who also owns Tonic Tavern) bolstered his neighborhood patio stronghold when he paved his business' Lincoln Avenue-facing yard, set up some tables, and brought out a fire pit. It's still a work in progress, but a patio is a patio.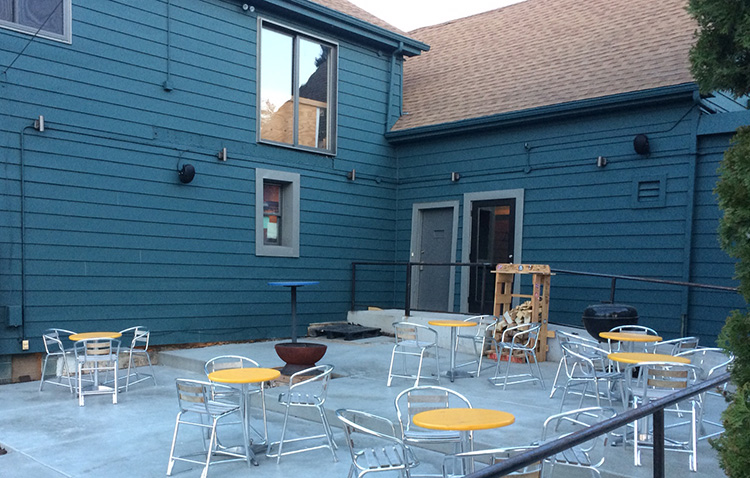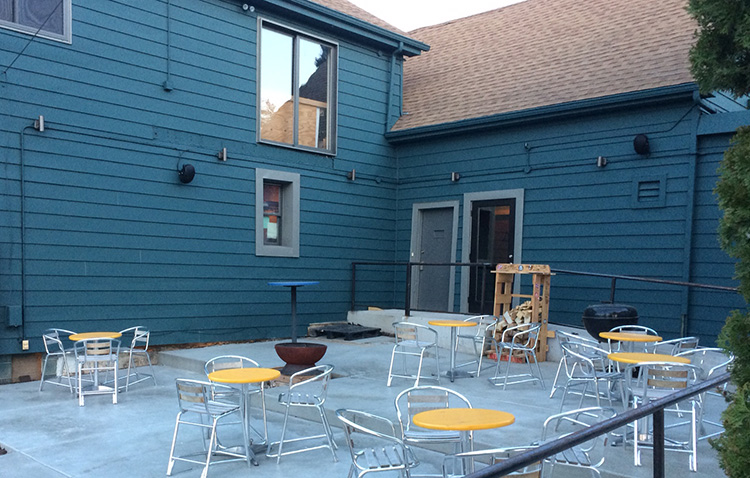 16. Vintage
While you debate whether or not Milwaukee's East Side is dying, step out and enjoy a drink or smoke a cig on Vintage's deck patio that faces out on Prospect Avenue. You'd be hard-pressed to find a better view of Urban Outfitters or that empty building that used to be a Qdoba in all of Milwaukee.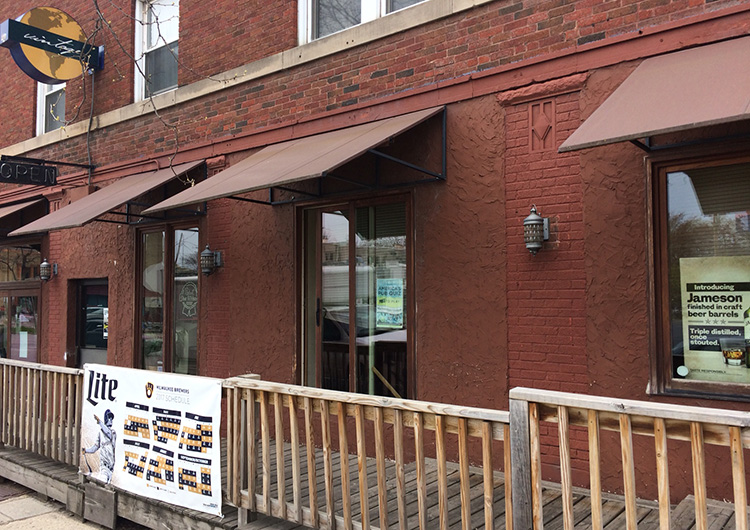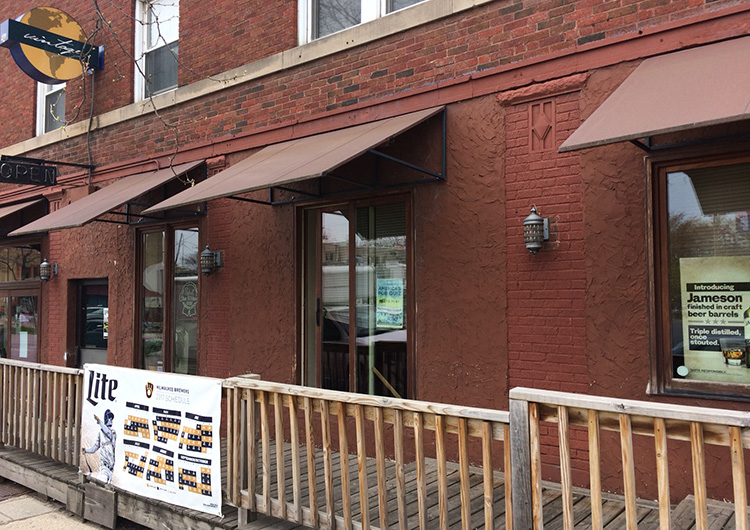 17. Wayward Kitchen
Wayward Kitchen is on an island of sorts. It's surrounded by parking lots and it's literally in the shadow of Rockwell Automation. If you've managed to notice the somewhat obscured 1st Street bar and restaurant, you've likely enjoyed Wayward's solid menu that's rife with homey pub favorites and its decent beer selection. Come warmer months, the business extends service out to a fenced-in concrete patio behind the building. Patio or not, give Wayward a shot sometime.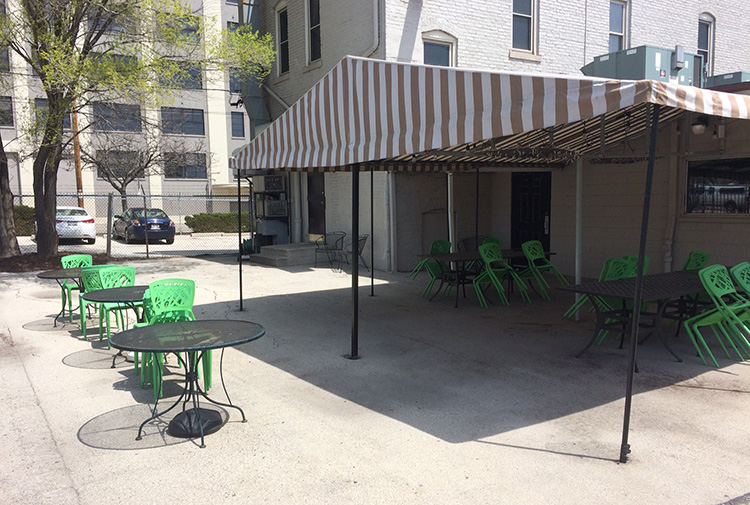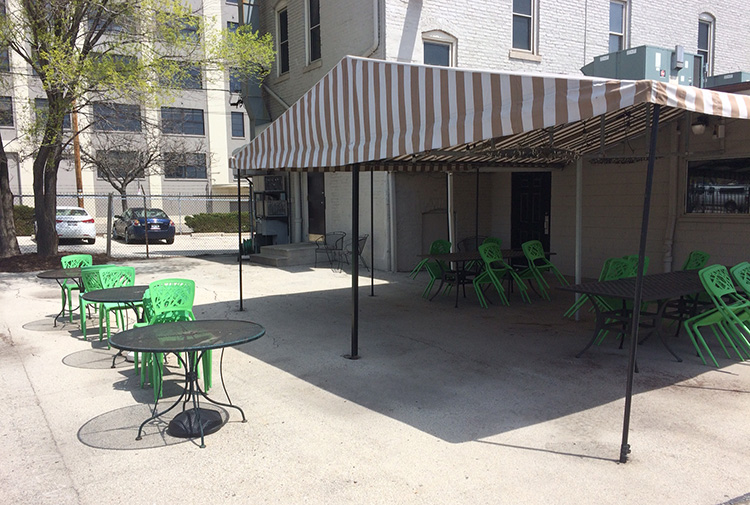 18. Yokohama
It's like looking into the future of patios!