Cudahy is a lot of things. It's often reduced to stereotypes (of varying accuracy) directed at its longstanding industrial identity. It's a vibrant and promising place where young families, business owners, and developers are flocking as Milwaukee's cost of living continues to rise. It's a misunderstood suburb with an ever-changing identity. One thing Cudahy is not—or at least isn't yet—is a city known for the quality of its cuisine. That's not said to speak ill of restaurateurs based in Cudahy. Rather, it's an acknowledgment that the city is rarely, if ever, anywhere close to being on the radar of most dining critics or regional gourmands.
That's absolutely fine. There could be worse things than not having snooty customers flocking Cudahy's way to speak of umami and correct people's pronunciation of phở. Still, given the community's lack of dining notoriety at this point, it's puzzling to see two Cudahy businesses making bold assertions of being "the best" and taking potshots against each other. But that's exactly what's happening. Yes, Cudahy Burger Joint and Lakeside Pub are presently embroiled in a burger beef.
Before getting to current events, let's go back to December of last year, when Cudahy Burger Joint opened in the heart of bustling Packard Avenue. The new burger and malt shop came in cocky, promising to "build the best burger you've ever had" on its website and at least the first iteration of its menu.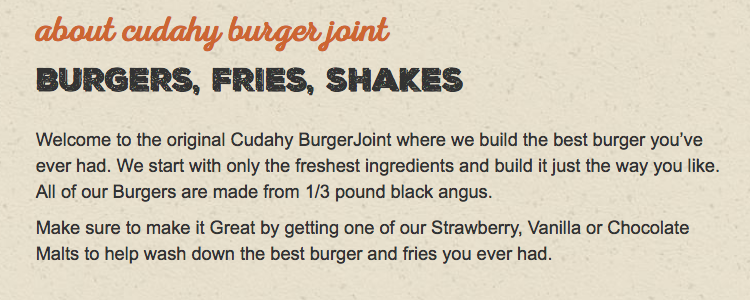 Even more brazen than that claim was this sign we were confronted with immediately after entering Cudahy Burger Joint when we checked the young operation out mere days after it opened.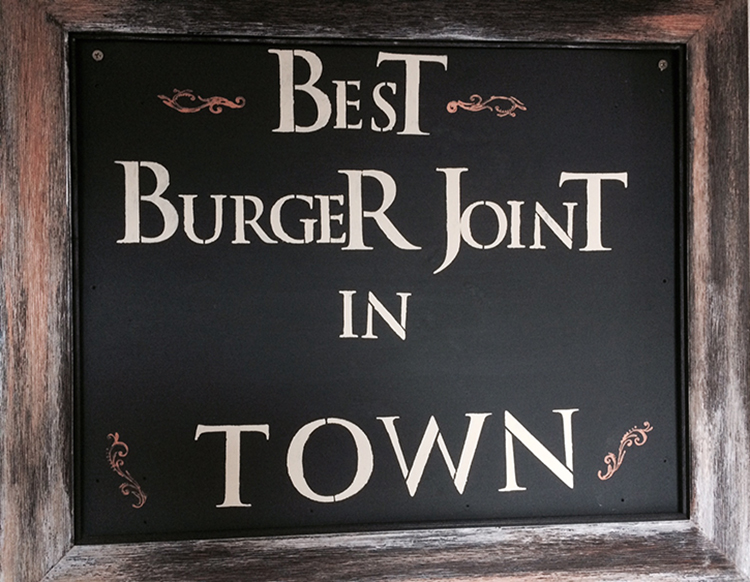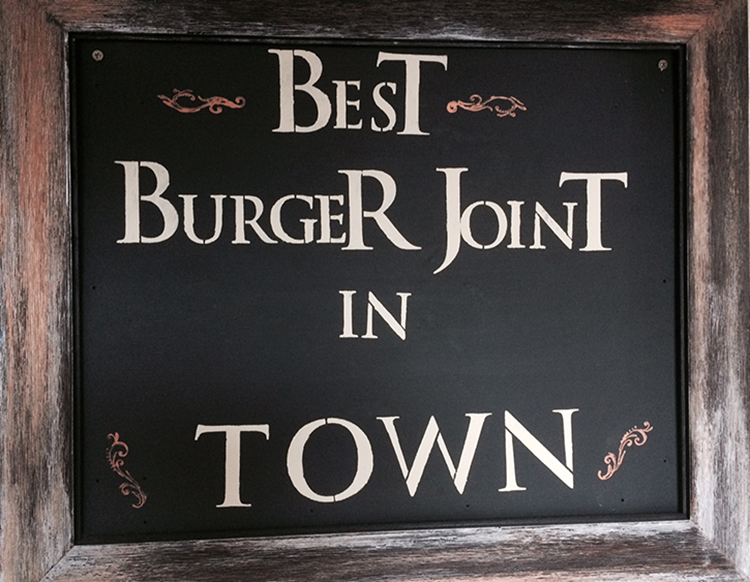 Once inside, we enjoyed our specialty Black Angus "Fire House" burger and Cajun onion rings, not to mention its sub-$10 pre-tip price tag. It was a decidedly above average burger. To quote the conclusion of our December 31, 2015 review:
"'The greatest burger ever made'? No. The best burger place in Cudahy? Maybe. A comfortable, no-frills neighborhood burger joint we'll visit again? Absolutely."
We did return. A couple times, actually. All the while, we never sought out another burger within city limits, and we lived our life blissfully unaware that a nearby operation was about to aggressively throw itself into contention for the previously never-even-bothered-to-debate title of Cudahy's Best Burger.
Last week, an unassuming bar and grill on the corner of Layton Avenue and Lake Drive known as Lakeside Pub threw down the gauntlet with these signs that were boldly propped in the grass near the heavily-traveled intersection. (Editor's note: Chris Pratt added for effect.)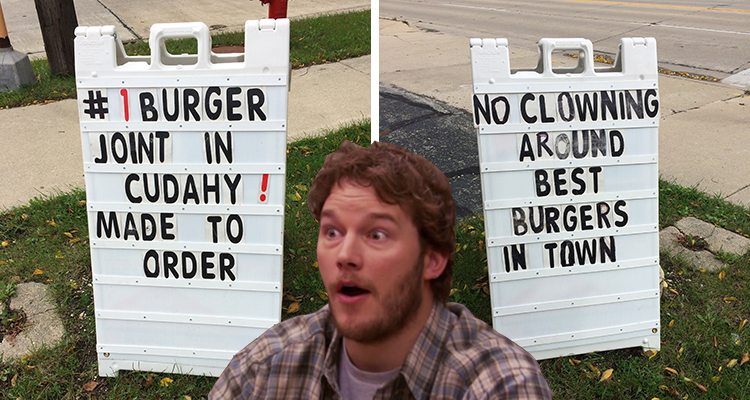 One side said it was home to the "best burgers in town" and the other called Lakeside the "#1 burger joint in Cudahy." The post-1963 use of the word "joint" to imply a place of business had to be deliberate, and it pulled no punches. It had to be a jab directed at Cudahy Burger Joint.
When asked their thoughts on Lakeside Pub's signage, Cudahy Burger Joint issued the following response via Facebook messenger.
"Awwwww. Cute! Flattered that they copied us. It's a bar that serves burgers. Adorable."
We followed up on Cudahy Burger Joint's assertion that Lakeside Pub was nothing more than "a bar that serves burgers" on Monday, when we stopped in for lunch. The bartender/server on staff said she'd just returned from a one-week vacation, which clears her in any involvement. Rather than grill her (or rake her over the coals…whichever one you think is funnier) about the burger battle, we asked her if she really thought the burgers were as good as the signs said they were. "Oh yeah," she said. "They're great!"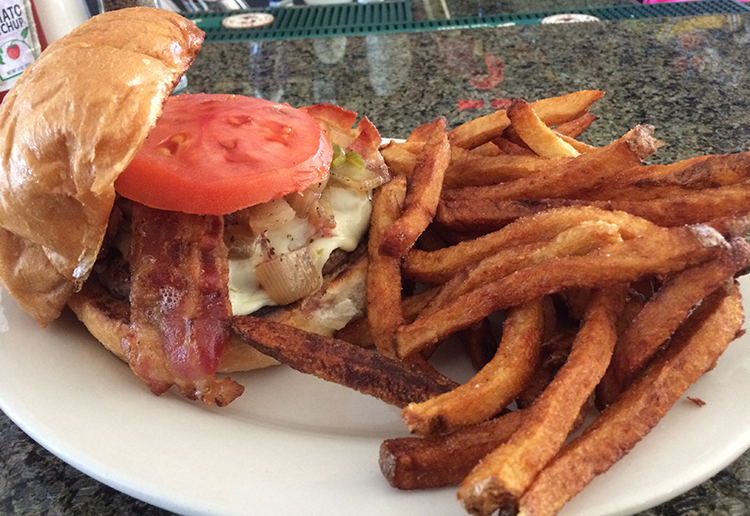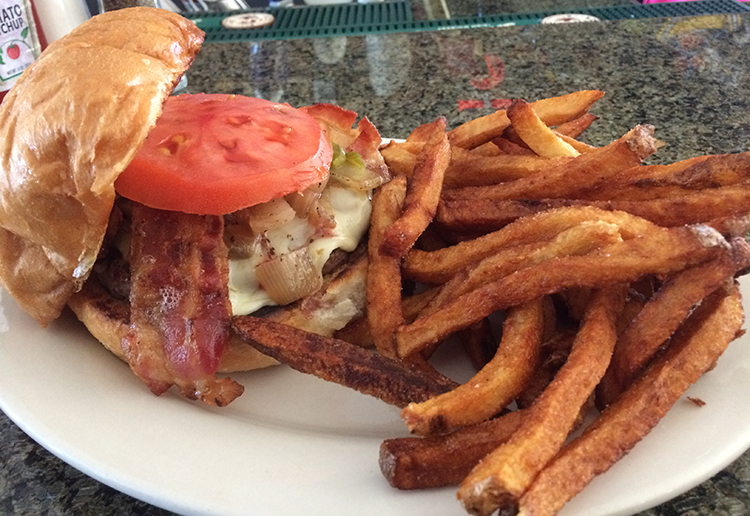 On the weight of this woman's brief-but-glowing recommendation, we ordered a burger. Correction: we created a burger. There are no specialty burgers on the bar's menu, which gives Burger Joint the advantage with menu originality, but is a point for Lakeside Pub in regard to giving the customer exactly what they want. Lakeside's 1/2 pound (Burger Joint has 1/3 pound patties, by the way) build-your-own burger runs $7.75 for a single patty (and $1 more for a double. Burger Joint charges $3 more for a double,) and includes up to 15 "freebie" toppings/sauces and 10 more cheeses, condiments, and toppings for only a $1 increase. We were asked how we wanted our patty cooked, which implied a fresh patty. For the record, Burger Joint claims to cook all its burgers to medium temperature. We prefer our burgers to be medium, so that's a push.
Our Lakeside Pub burger with fried onion, jalapenos, bacon, tomato, and pepper jack cheese must've been made fresh, as it arrived about 25 minutes after placing our order, which is longer than our typical Burger Joint order takes to reach us. There's no adjusting for a lunch rush, as we were among a select few daytime customers. As we waited, we sipped a beer (advantage Lakeside), and watched local news as the incessant beat and formulaic pop hooks of the radio played over the bar's speakers (advantage Burger Joint).
We're told the fries were cut in-house, which definitely boosted our opinion of the complimentary side. At least the ones that weren't a burnt shade of dark brown. As requested, our burger came out medium, with the juicy patty and various toppings piled high and crammed between soft slices of brioche bun. Even when factoring the length of wait, it was a tasty burger that was well worth $9.75 (plus tip). Like Cudahy Burger Joint, it was decidedly above average.
So which restaurant is home to the actual "Best Burger" in the city? Who knows? Honestly, who cares? Both have their strengths. The real story here is that Cudahy has two good burger places.