Yes fans are in a rare but not unheard-of predicament that chiefly plagues the aging prog-rock community: There are currently two touring versions of Yes. The seminal English outfit has been in existence in one form or another since 1968 and has featured enough members over the years to make up at least a half-dozen individual bands. However, until his death 2015, one man was the constant in every official Yes lineup: bass guitarist Chris Squire, one of the greatest musicians to ever play the instrument. The collective that Squire helmed is still active as Yes and includes guitarist Steve Howe and drummer Alan White from the group's classic '70s phase, but notably lacks singer Jon Anderson, whose inimitable voice and lyrics are so intrinsic to Yes that the official group has resorted to two different soundalike tribute-band vocalists since dismissing Anderson in 2008.
Anderson, who previously led the Yes-in-all-but-name group, Anderson Bruford Wakeman Howe, in the late '80s, now fronts Yes Featuring Jon Anderson, Trevor Rabin, Rick Wakeman, a lineup that few fans were clamoring for. Singer-guitarist Rabin was largely responsible for Yes's shift to glossy pop-rock in the '80s, a move that alienated many longtime nerds while winning over new listeners with the MTV staple "Owner Of A Lonely Heart," among other nuggets. Wakeman, who has expressed regret in the past over missed opportunities to work with Rabin, finally has his chance now, at age 68. The three have reportedly been working on new music since 2011, with a new album expected next year. None of this new material made its way to the Riverside Theater stage on Saturday night, however; it was an evening of Yes music, ranging from 1971 to 1994, with a little something thrown in for virtually any diehard.
The trio has been touring since last year with two unknowns making up the rhythm section: bassist Lee Pomeroy and drummer Lou Molino III. If only his recent induction into the Rock and Roll Hall of Fame could've coaxed Bill Bruford out of retirement! Instead, Molino provided a competent, generic rhythmic framework throughout the show, and Pomeroy, undeniably a skilled bassist, exuded a somewhat distracting showmanship that didn't always jive well with the proceedings. Thankfully, the group has dropped "Long Distance Runaround/The Fish" from its setlists, as the Squire signature piece came off less like a tribute than a mockery with Pomeroy helming it on previous legs of this tour. His stage presence was still almost comical at times, and the band as a whole hasn't exactly gelled in its year and a half on the road together.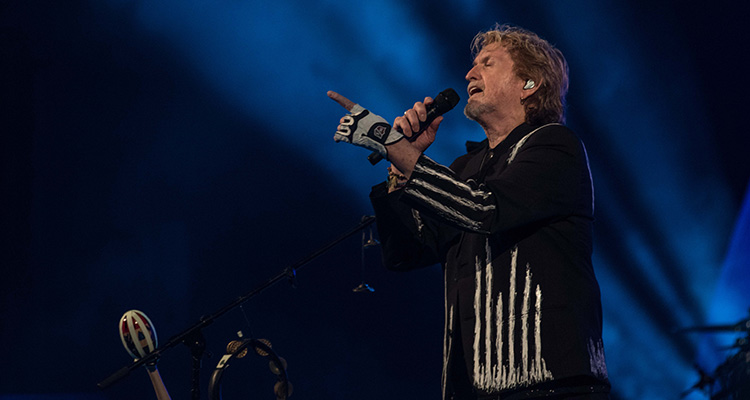 It doesn't help that Wakeman, clad as always in a shimmering, wizardly cloak, had an intermittent-at-best grasp of rhythm himself. He's easily the most talented keyboard player to grace the Yes canon, but clearly past his prime, and he wasn't quite able to keep up with all of the dizzying time shifts of "Perpetual Change," resulting in a somewhat messy start to the show. The group followed up with the much less challenging "Hold On," and Wakeman and Rabin tacked some respectable improv onto the ending. The deep cut "South Side Of The Sky" also benefited from Rabin's technical skill and quasi-metal tendencies; although not a nuanced noodler on the level of Howe, he pulled off all of Howe's material admirably without resorting to simple mimicry, and his energy was infectious.
Rabin allowed himself at least one track from each of the Yes albums he appeared on, most surprisingly "I Am Waiting" from his forgotten Yes swan song, 1994's Talk. "Lift Me Up," a minor hit from 1991's Union, was particularly, um, uplifting, and 1987's unfairly-maligned Big Generator also got only one nod, "Rhythm Of Love." While this lineup could've justifiably cranked out a full set of Rabin's slick rock tracks, most of which haven't been unearthed since the '80s, this approach would've delighted a very small percentage of Yes's persistent fanbase. Most folks were here primarily to hear classic prog epics like "And You And I" and "Heart Of The Sunrise," which the band pulled off impressively well, despite Pomeroy's ineffectual showboating during the intro of the latter.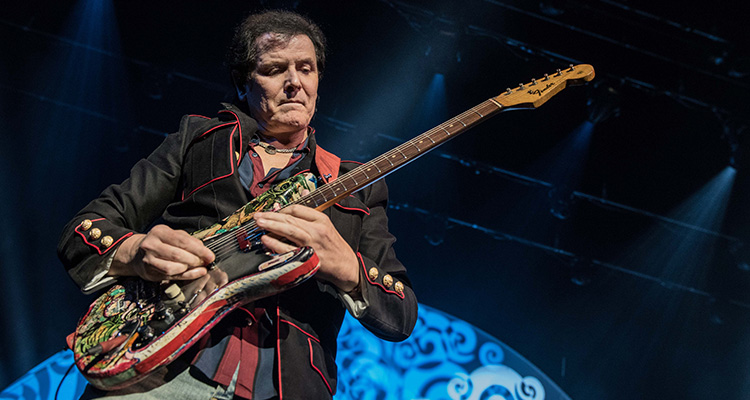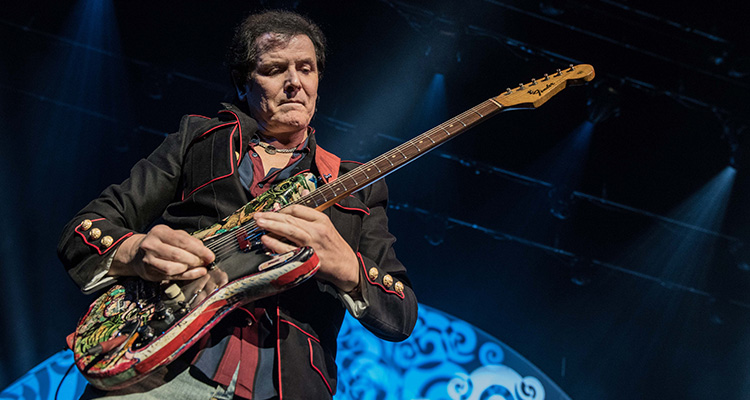 Anderson seemed remarkably unhindered by his 72 years of age; there wasn't a note he struggled to hit, and his effusive spirit of goodwill and gratitude blanketed the proceedings in the familiar mannerisms that Yes fans have come to know and love. He did pick up an acoustic guitar on a couple occasions, and he played some beautiful harp accompaniment on the centerpiece "Awaken," a bold choice for this combo to tackle. Wakeman then whipped out the keytar for a somewhat ramshackle take on "Lonely Heart" that saw him and Rabin venturing into the crowd and up into the stage-right balcony box while jamming on the riff from "Sunshine Of Your Love," which they arrived at quite naturally even though Wakeman's synth stabs were all over the place rhythmically.
Look, we exist on a timeline in which classic rock bands never break up. Some version of Yes will most likely be touring until every single member from the band's formative years drops dead; until then, the thrill of the occasional echo of the veterans' former virtuosity plus the overall competence with which they still perform their convoluted old compositions amount to a perfectly viable nostalgia trip for all but the stodgiest curmudgeon. Rabin has undeniably injected a shot of vitality into the entire back catalog, and while this group's new material will almost certainly be inessential, this not-quite-official band is still better than the "official" tribute act, if only for Anderson's involvement. All but the staunchest Rabin haters are duly advised to catch it while they can.