Caleb Westphal hasn't missed a Friday fish fry since 2013. Follow along with his never-ending adventures here.
You know what's more remarkable than being able to get a Friday fish fry during a pandemic? Being able to get a Friday fish fry at more than one location on the same block during a pandemic, that's what. This is possible in Milwaukee, and one can even try different varieties of fish while doing so. For my previous fish fry I had cod from Steny's Tavern & Grill. This week I headed a block south and had lake perch from Crazy Water (839 S. 2nd St., 414-645-2606).
I've never been to Crazy Water before, but after a friend tipped me off that the restaurant had perch and homemade potato pancakes, I was sold. Perch has been hard to come by for months, and I've been eating way too many french fries this year. I called the restaurant at 3:38 p.m. and asked for an order for two fish frys for 5 p.m.. Lake perch is the only fish on Crazy Water's takeout menu, and considering that they are a relatively upscale restaurant, it is reasonably priced, ringing in at $14.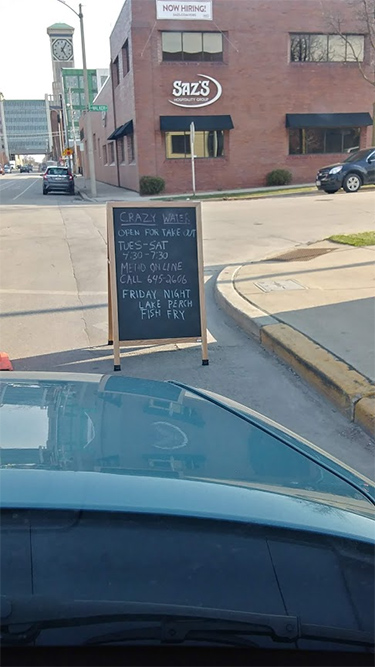 For the second week in a row, my roommate and I headed to Walker's Point in his vehicle. Unlike last week, where it felt like we were coming into an airport, this week there was no one directing traffic with marshaling wands, and we easily found a spot right out front. After we parked, I took a picture of the sandwich board on the road, and before I could call the restaurant to let them know I had arrived, our food was brought out. The worker turned out to be one of my roommate's friends—pleasantries were quickly exchanged from a distance and we were off.
After arriving home, I followed a "wash hands, complete a task, wash hands, complete a task" routine to get ready to eat, similar to what I had done the previous week. It would have been a little easier to transfer the food from the takeout container to a plate if there had been a sheet between the container and food. This also probably would have prevented the perch from melting a hole in the bottom of the container—the fish must have been steaming hot when it was boxed up. After opening a beverage from the Land of Sky Blue Waters, I was ready to dig in.
Three pieces of fish, two potato pancakes, and a large dollop of coleslaw were in attendance. A lemon wedge, tartar sauce, and applesauce were on the scene as well. More than just socially distant, the rye bread must have quarantined itself, because it was not present at all. Here's hoping it makes a full recovery for next week.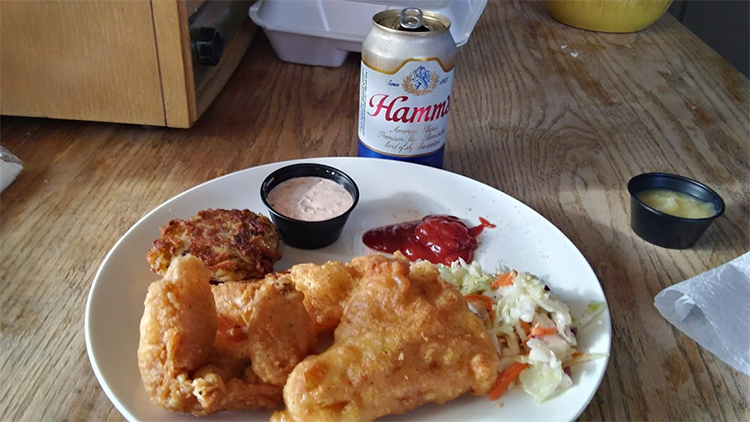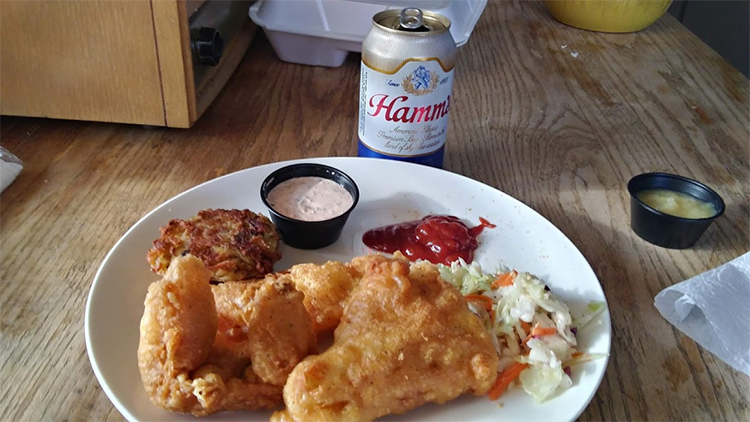 The fillets of perch were of a moderate quality of flavor and composition, but weren't electrifying. But maybe I just didn't notice the electricity because they were covered with a batter that could have lit up a midway at a county fair. After the first bite, I found myself standing on a midway somewhere in my memory bank, surrounded by flashing lights, amusement rides, and carnival barkers. Airy and crunchy with specks of pepper, the cornbread-centered batter held in it the flavors of fried fair food, but was a new take on an old tradition, elevating the corn dogs of youth to a new plateau. Still, the unique batter didn't rise to the level of exceptional, and it prevented the fish from fully shining through. Not to be forgotten, the tartar was thin, with small pieces of relish, and was flushed from a hint of tomato—something I don't recall encountering before.
The thickness of the pancakes helped make up for their smaller circumference, and they were soft in nature with a pleasant mouthfeel. Their shredded potato center was replete with fresh green onions, and pepper could also be found. The coleslaw was peppered just like the fish and pancakes, but the most conspicuous component was sesame seeds, which were in great abundance. This was no creamy slaw—something to the nature of sesame oil or rice vinegar formed its base.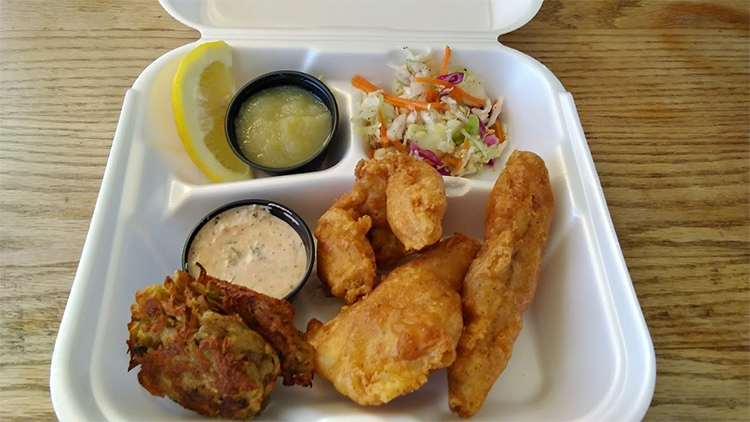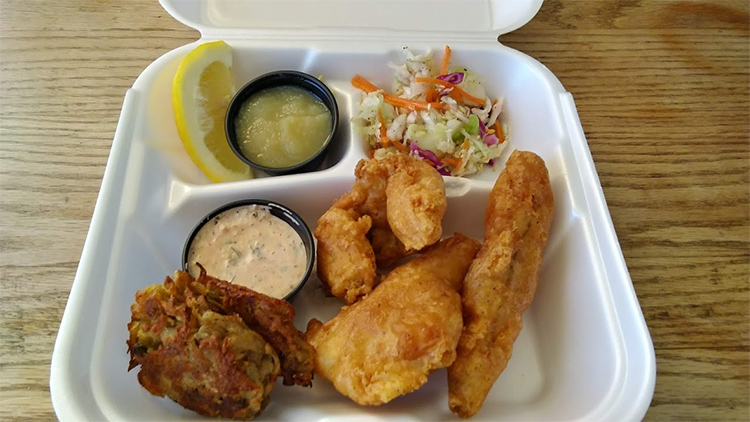 Crazy Water keeps the foundation of the traditional fish fry intact while teasing and sparkling the edges. Other Milwaukee restaurants have done similar things—places like Company Brewing, Sabrosa Cafe & Gallery, and Hacienda Beer Co. have all added their own unique riffs to the fish fry refrain. In these days of uncertainty, when "normal" itself has been upended and all the world seems to be suspended in time, maybe a little variety here and there in a fish fry is welcome, to remind us that we can still feel something new.
Takeaways: Perch covered in a warm and fuzzy county fair memory; small but mighty pancakes; sesame slaw; tomato tinged tartar; available for pickup from 4:30-7:30 p.m.
Godspeed, John Prine.