Caleb Westphal hasn't missed a Friday fish fry since 2013. Follow along with his never-ending adventures here.
Early last week, a friend mentioned to me that Sabrosa Cafe & Gallery (3216 S. Howell Ave., 312-834-1929) was having a fish fry this Lenten season. Then I saw an article that confirmed it. That Thursday, two other friends brought up the fish fry. Then I saw someone had asked about it on the Milwaukee Foodie Facebook group. Still another friend mentioned the fish fry to me on Friday morning. Generally, I tend to avoid pop-up Lenten fish frys, and I also had a place I was thinking of going to, but after I received a message Friday afternoon from one of the people who had told me about the fish fry the day before, saying they were headed there and were inviting me to join, I figured I better just take the hint I had been receiving all week and go to the place.
Sabrosa has been open since the summer of 2017, but this month marks the start of their "First Annual Friday Night Fish Fry Season." Being that I went to the first night of it, I guess that means I was at Sabrosa's first ever fish fry. When I arrived, I found my friends had already secured a table. It was just about 4:30 p.m., and not many people were yet dining. The sun was peeking through the front windows, casting light on the already inviting room, which is filled with art, and even has a baby grand piano. As I ordered an Old Fashioned, the server told me that each of my friends had already had three of them. After finding out for sure that this was not actually the case, I got down to a closer viewing of the menu.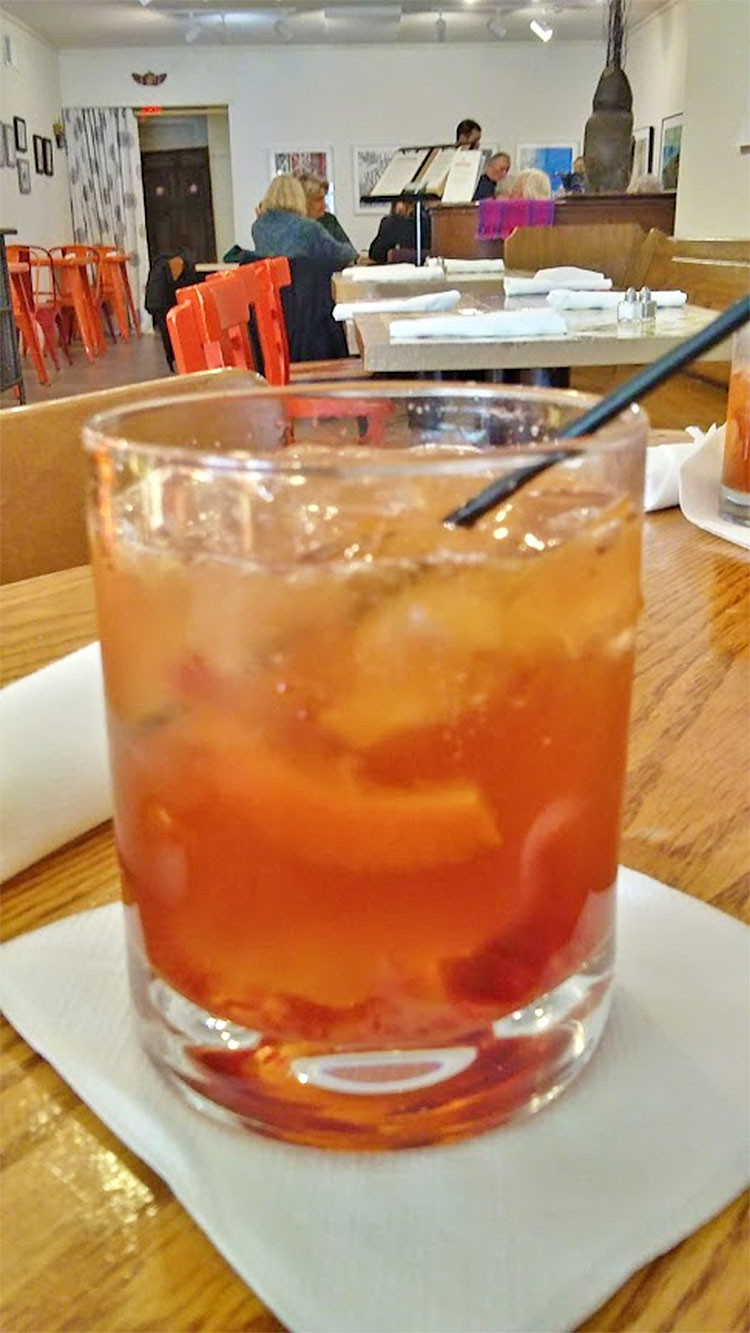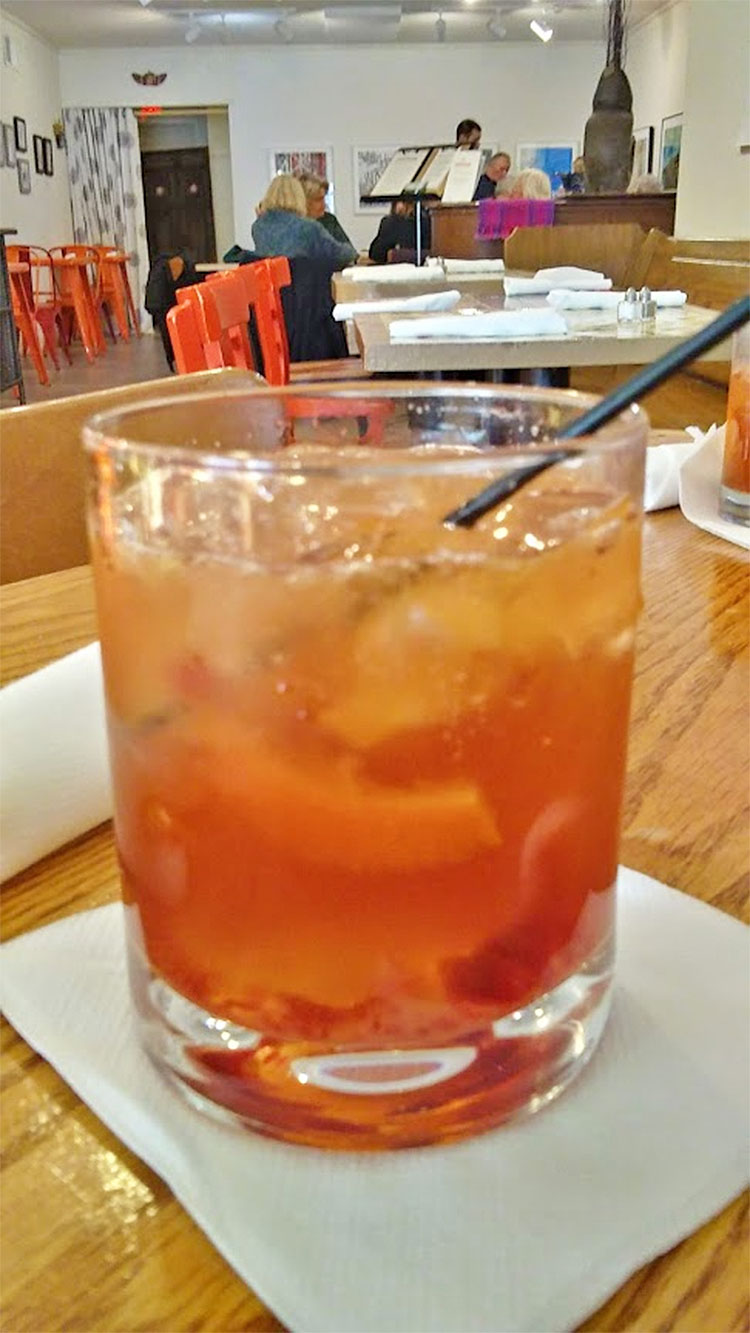 The Friday night menu has a lot of options, both in the variety of fish and seafood choices, and with what is served alongside them. A Spanish influence can also be seen throughout the Friday menu, which isn't surprising as the same can be seen in the regular menu, and Sabrosa itself is a Spanish word. The meal options are beer battered cod ($15); pan fried bluegill and house giardiniera ($17); ginger beer battered walleye ($18); cornmeal breaded perch ($15); crab cake, grilled calamares, and camarones al ajillo ($24); and jumbo shrimp scampi ($20).
Each option comes with a cup of clam chowder. For "bread," choices include a rye roll, tortillas, or a cheddar biscuit. "Tartar" options include lime alioli (Spanish spelling of aioli) tartar sauce, malt vinegar, chipotle mayonnaise, and buttermilk ranch. The meals also come with a choice of two of the following sides: a potato pancake, patatas bravas, beer battered frites, mac and cheese, campesino rice and black beans, gorgonzola and brussels sprouts gratin, fresh lime slaw, fried green tomatoes, and southern style collard greens and cheddar grits. A children's fish fry ($6) is also available, consisting of a 3 ounce portion of beer battered cod with one side. (The online version of the menu has "standard" and "premium" family style fish platters listed as well, but I did not inquire about them.)
Two dollars is taken off the price of any fish fry that is ordered between 3 and 5 p.m. Their walleye had mistakenly arrived with bones in it, so they were giving $2 off to anyone who ordered walleye as well. I went with the cod with the rye roll, and chose the pancake and slaw for my sides.
The Old Fashioned was on the sweeter end of the spectrum and was quite citrusy. Lots of cherries were muddled at its bottom with an orange slice. Overall, it was an above average cocktail. The clam chowder had a very thin consistency, which was almost broth-like, as if it was a soup. There was a healthy amount of vegetables and clam in it. Corn, red bell pepper, and celery were all evident. It had a zesty flavor and we were told that tarragon was also used to make it.
The coleslaw was fresh and light, with radish, red onion, and carrot complementing the cabbage. Warm and of high quality, the rye roll was a definite step up from your commonplace rye bread. The pancake was excellent, being the definite highlight of the meal. Soft, thin, and sweet, it was topped with apple compote and sour cream. I could imagine it doing pretty well as a breakfast food or as a dessert—it had a certain versatility to it.
The meal came with two pieces of cod. The fish was of average quality and was covered with a loosely adhering batter. There wasn't anything particularly exciting about the flavor of either the fish or the batter, but it was fine. At first we weren't brought any tartar, which I found to be mildly amusing, because it was National Tartar Sauce Day. But cups of the lime alioli tartar showed up in no time. It was thin and of course had a hint of lime to it; dill was also evident.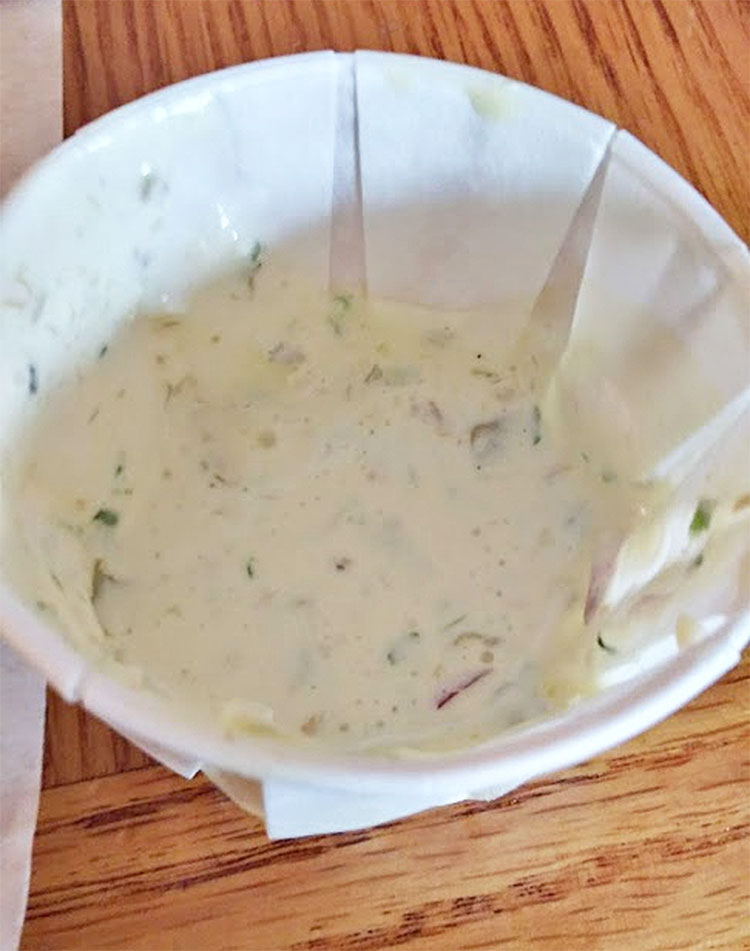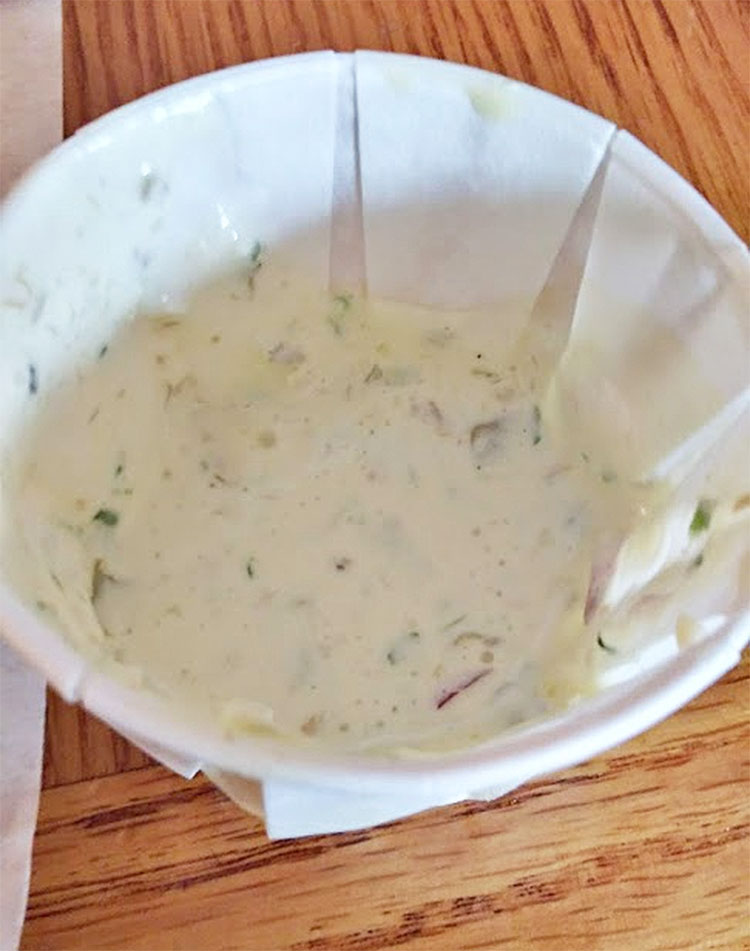 By the time we were finishing up, the place was pretty much packed. I'm assuming the same will happen the next six weeks, and if you join with those who go, I don't think you will be disappointed. Sure, I think the fish could have had a little more oomph to it, but it wasn't bad, and there was enough uniqueness to the rest of the meal, and an excellence to the pancake, to make the overall experience memorable. And with so many other options for both fish and sides, the menu will definitely keep you curious. Sure, maybe the portion sizes were a little small, being that you only get two pieces of fish and one pancake, but the meal does include a cup of clam chowder, and is reasonably priced, especially if you go between 3 and 5 p.m. And if you are like me, this is now the sixth time you've heard that Sabrosa has a fish fry, so you are bound to end up at it no matter where you were planning on going anyway.
Takeaways: High marks for the Old Fashioned; chowder included with fish fry; so many sides to choose from; standout potato pancake, and who needs applesauce when you have apple compote; there are "bread" options and I got a warm roll; the cod wasn't too memorable, but they have some other unique fish options on the menu as well; passionate and knowledgeable staff—they even brought out the chowder that my one friend wasn't going to eat, so that my other friend and I could have it; get there early for $2 off your meal; you have six Fridays to get here before the season is over.