Last August, Milwaukee learned that former Taqueria Aztec chef Francisco Sanchez and business partner Ruben Piirainen were planning to open a restaurant, cafe, and art gallery on Howell Avenue in the former site of Gouda Girls. Bay View's first true breakfast and lunch concept restaurant was originally projected to open in spring, but was hampered with delays that pushed the cafe's opening date back. On July 5, almost a full year since the plans for the intriguing establishment were first announced, Sabrosa Cafe & Gallery (3216 S. Howell Ave., 312-834-1929) finally opened.
During Sabrosa's preparation period, the neighborhood said goodbye to Midwest Diner. Meanwhile, Milwaukee's brunch obsession has reached a fever pitch, especially amid the culinary climate change Bay View is currently experiencing. With a small, high-quality menu and modest hopes of injecting just a pinch of culture into an inviting space on the edge of the neighborhood, can Sabrosa—which means "tasty" in Spanish—successfully bridge the widening gap between vanishing greasy spoons and gastronomic saturation in a changing Bay View? Milwaukee Record stopped by to see if there was any truth to Sabrosa's name.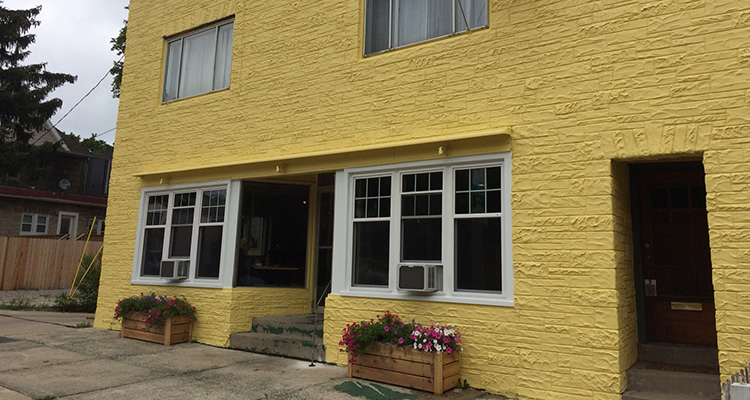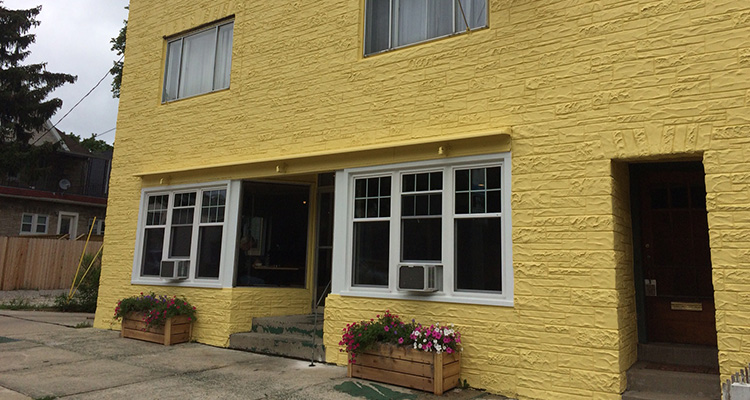 The space: Having never been inside Gouda Girls before, we can't attest to there being any interior improvements. Outside, however, has seen the chipped white exterior stones painted a warm canary yellow. Planters now flank the entrance. Inside gives way to a small split dining area with about 15 two- and four-top tables packed tightly on the hardwood dining floor, with extra seating at the counter. In total, it can serve about 40 patrons at once. Light classical music provided aural accompaniment, which lent a touch of class to the homey feel the cozy cafe emanated.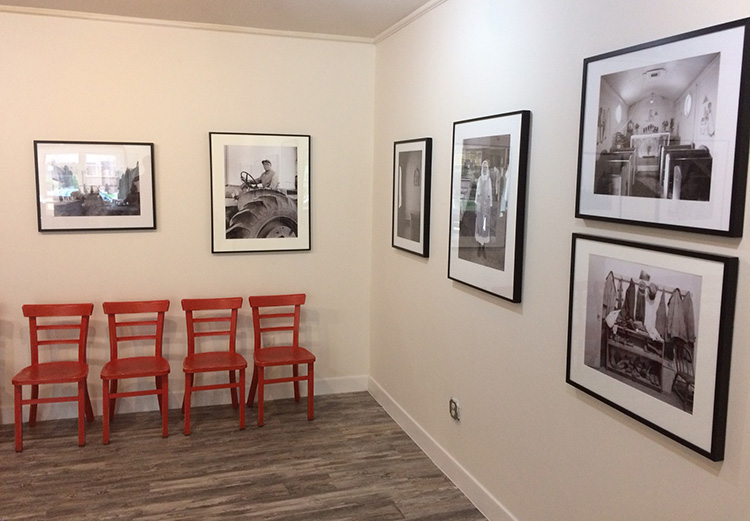 The southeast section of the restaurant validates the "gallery" component with a shimmering black piano and Sabrosa's first exhibition, Milwaukee photographer Timothy Abler's "A Salvatorian Monastery." Once our order was placed, we took a quick pass at the cluster of framed photographs in the table-less corner during the extremely short wait time before our food arrived.
Milwaukee Record's food: Sabrosa's menu features a bevy of signature breakfast dishes, as well as scrambles, omelettes, Mexican breakfast favorites, pancakes, melts, tacos, and cocktails (including coffee cocktails). We started with a cup of stiff black Colectivo custom house blend coffee ($2), which we enjoyed almost as much as the elderly woman—one of many during our Friday morning visit—seated near us. Refreshingly, entrees start as low as $7 and top out at $13 dishes that are accompanied with fruit and toast (for breakfast items) and soup or salad (lunch).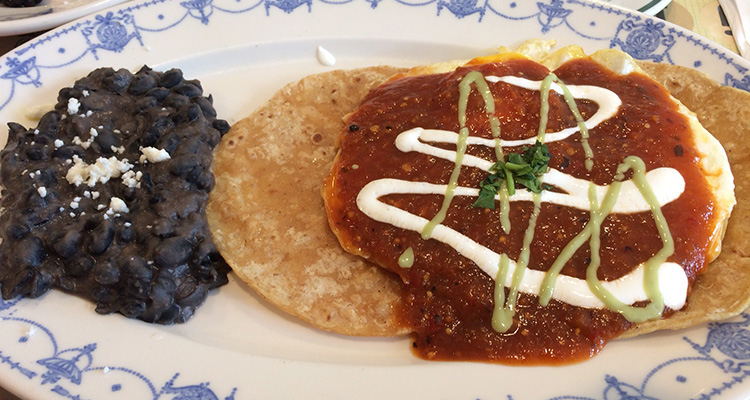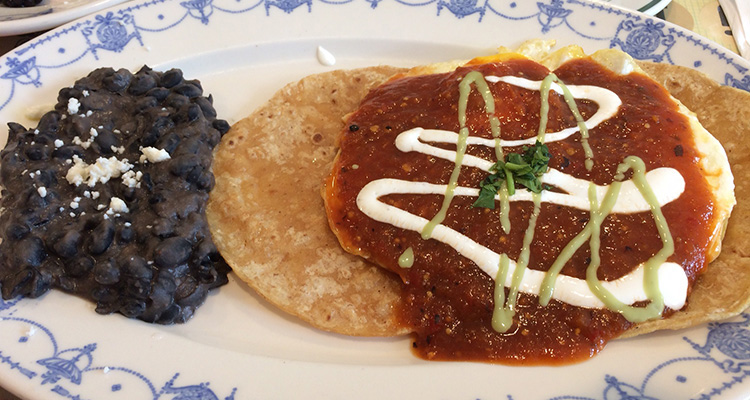 We were feeling like breakfast, but wanted to sample from both the traditional breakfast avenues and a Sabrosa specialty. Within 10 minutes, we were given a large platter of Huevos Rancheros ($10) that had two over easy eggs and hot Sabrosa salsa stacked atop a pair of warm corn tortillas and placed beside a sizable clump of creamy black beans. The salsa was, indeed, really spicy—like "give you the hiccups" spicy, but it was also the inarguable star of the show. We loved every ounce of the scorching, smoky salsa that was generously smothered on the tortillas, the perfectly fried eggs with soft yolks, the hearty beans. We can say with certainty that we've never had better huevos rancheros. We're still thinking about them, even days later.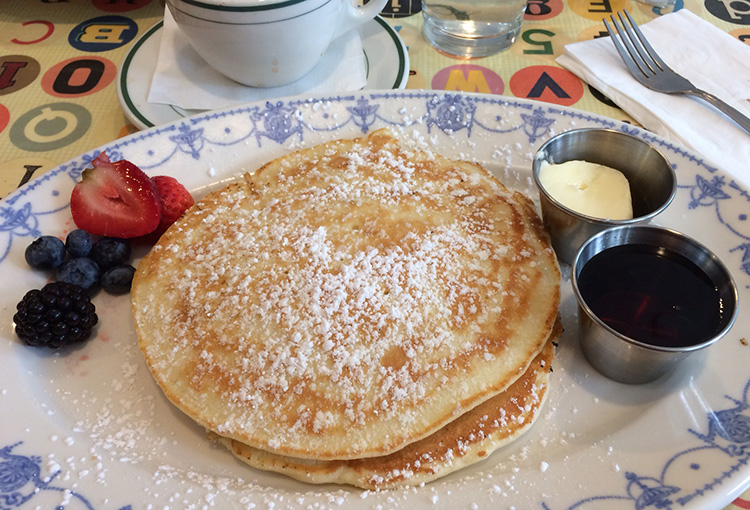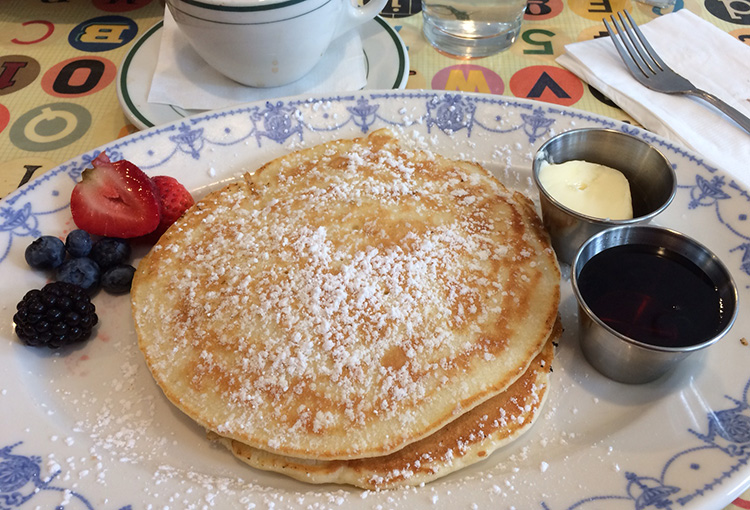 We were already full, but figuring not everyone is as content to hiccup between bites of tongue-tingling deliciousness as we are, we opted to see how Sabrosa handled basic breakfast fare. Our short stack of pancakes ($7, or $9 for a full stack) was simplicity executed to perfection. The duo of big buttermilk cakes was light and fluffy, with a gentle crispness on the edges. The powdered sugar and berries were nice addition, but they weren't even necessary. Hell, the syrup and butter were deemed optional once we tasted Sabrosa's special buttermilk recipe, which the staff makes from scratch daily. We made quick work of the short stack and finished our last drops of black coffee in stuffed contentment. The pancakes and rancheros we thoroughly enjoyed seem emblematic of the Bay View newcomer as a whole: timeless and affordable breakfast touchstones, except with a level of quality and an attention to detail that truly help set it apart from iterations you've come to expect from diners. It's the best of both worlds.
The verdict: Sabrosa means delicious in any language.