Originally released in 2018, Lake Michigan Monster is one of the most singular seafaring—er, make that lakefaring—Milwaukee-made films in recent memory. It's a zany, madcap adventure filled with ridiculous characters, off-the-wall scenarios, and striking DIY B&W photography. You can read all about it in our original review below.
Oh, and you can see the film on the big screen over the course of the next week! Lake Michigan Monster will screen May 20 at Lakefront Brewery (9 p.m.), and May 21, 22, 23, 26, and 27 at Avalon Theater (6:30 p.m.) Writer-director-star Ryland Tews will be on hand for the Avalon screenings, and there'll be a short Q&A after each show. Check it out!
MADNESS, MAYHEM LURK BELOW THE SURFACE OF MILWAUKEE-MADE 'LAKE MICHIGAN MONSTER'
"I'm going to go on an overnight drunk, and in ten days I'm going to set out to find the shark that ate my friend and destroy it."
So says the titular Steve Zissou in Wes Anderson's The Life Aquatic With Steve Zissou. It's a mission born out of Zissou's devil-may-care attitude and a sad-sack sense that his best days are behind him. There's no such melancholy coursing through the bourbon-infused veins of Captain Seafield in Ryland Tews' agreeably manic Lake Michigan Monster. "Authorities say sea monsters aren't real, or for that matter, lake monsters," Seafield lectures at the beginning of the film. "And so I have hired a group of specialists to help me locate the beast…and murder it."
As played by writer-director Tews, Seafield is a cartoon version of a virile mariner, a cross between Daniel Plainview and Cap'n Crunch. So it goes for the rest of the Milwaukee-made film. The off-the-wall tale of an oddball captain and his ragtag "Team of the Century" (Sean Shaughnessy: weapons expert; Nedge Pepsi: "sonar individual"; Dick Flynn: dishonorably discharged from the Navy), Lake Michigan Monster is an increasingly anarchic loony toon that's one part black-and-white Guy Maddin homage (the cult filmmaker gets a special thanks in the credits) and one part Zissou riff. It's self-aware. It's ridiculous. It's a hoot.
It's also a film that punches far above its weight. Tews shot his debut on his girlfriend's old DSLR camera (the footage was further scuffed up in post-production) and funded it with tips from his pizza delivery gig. And yet Lake Michigan Monster is filled with enough Dutch-angle camerawork and rat-a-tat editing (the latter courtesy of Mike Cheslik) to make a young Sam Raimi swoon. No setup is static, and no Milwaukee landmark (North Point Lighthouse, Milwaukee Public Museum, the East Side Boat House) goes unused. It's clearly a modest local production, but what could have been a glorified lark amongst friends is instead a visually and comedically inventive riot.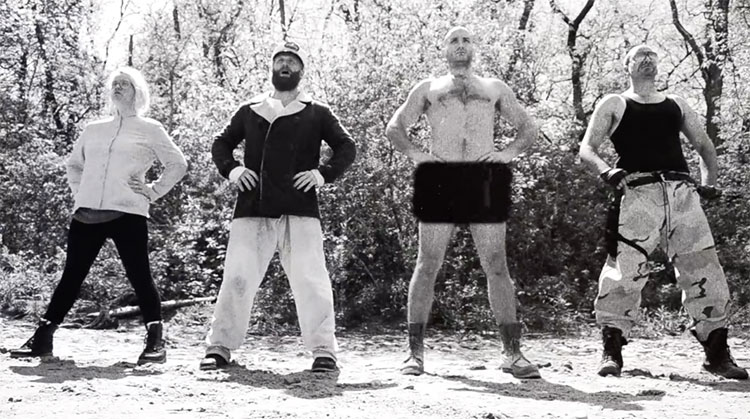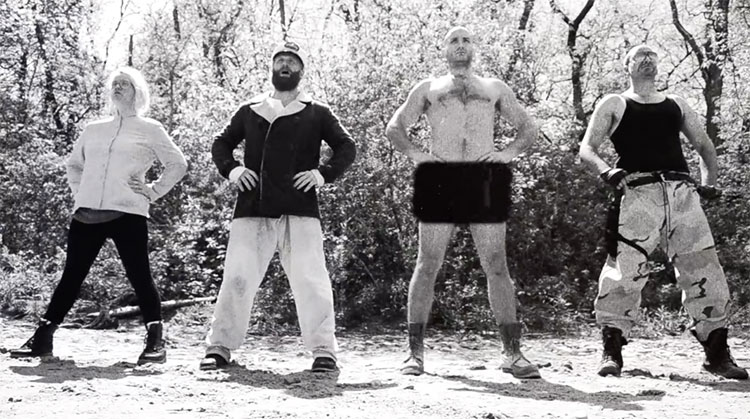 The plot, beyond the initial setup, is as elusive as the tide. Seafield and his pay-docked crew stage a series of half-assed operations to catch the monster. (Operation "Nauty Lady," Operation "EGGscuse Me, Time To Die!" etc.) The monster eludes them. The team falls apart. Questions are raised about Seafield's true background and motivations. There are musical numbers, bad fish sticks, dream sequences, mysterious runes, underwater castles, and ghost armies. (The film's stylized CGI works exceedingly well.) Things get…weird. It says something that an early scene in which Seafield blasts away at a sea creature egg that looks suspiciously like a Hatchimal egg—all the while laughing and applying eyebrow makeup—is one of the film's calmer moments.
It all adds up to…well, a bit much. Even at a slim 75 minutes, Lake Michigan Monster sometimes feels like a carnival ride that won't end, a demo reel stretched to feature length. Still, it's hard to fault the film for an overabundance of energy and ideas. Tews and company have crafted something unique here, an absurdist fever-dream that looks (and sounds) like little else. "This is an adventure," Steve Zissou sighs at the end of his tale. There are no sighs in Lake Michigan Monster, only maniacal cries of creativity that reach all the way to the bottom of the sea. Er, lake.