There's a moment in the Manos: The Hands Of Fate episode of Mystery Science Theater 3000 where Joel comments on the unnerving nature of the infamously terrible film: "Every frame of this movie looks like someone's last known photograph." There are moments like that in "Larry Sultan: Here And Home," a gorgeous new retrospective of the late California photographer's career, on view at the Milwaukee Art Museum October 23, 2015 – January 24, 2016. Serious men in crew cuts and horn-rimmed glasses stand atop a hill. Legs and torsos undulate beneath the water of a crowded swimming pool. An old woman obscured by shadow presents a Thanksgiving turkey. A porn star pensively stares out a kitchen sink window. Every shot seems out-of-time, accidental, forbidden.
Or maybe not. Born in 1946, Sultan grew up in California's San Fernando Valley—a specific time and place that would inform the bulk of his work. He received a Master's in Fine Arts from the San Francisco Art Institute in the 1970s, and spent his subsequent 35-year career playing with ideas and conventions like home, family, and narrative. But beneath it all, Sultan's primary concern was ambiguity: What is real? What is staged? What does the blurring of those distinctions reveal about both subject and creator?
"Here And Home"—the first retrospective of Sultan's work since his death in 2009—guides viewers through the artist's career chronologically. Sultan's earliest series, "Evidence" (1975-77), is a collaboration with longtime co-conspirator Mike Mandel, and takes found black and white photographs from the archives of high-technology organizations like Lockheed Martin and NASA's Jet Propulsion Laboratory and presents them free of context. Wires and cables from a '60-era supercomputer snake across a room. A piece of space junk lies in the desert sand. Mysterious and obsolete equipment is held up in front of the camera. A car burns. Originally assembled for a book, "Here And Home" arranges these photos side-by-side, the way they were intended, inviting viewers to create their own connections and narratives.
Dominating the early party of the exhibit is Sultan and Mandel's "Oranges On Fire" billboard. Silkscreened in 1975, it was the third billboard Sultan and Mandel created together, and was originally displayed in the San Francisco Bay area to much confusion and consternation. 40 years later, it was discovered, intact, in Mandel's basement. It's a beautiful piece of pop art in its own right, and worth the price of admission for its hilarious backstory alone. (Let's just say it involves a tense relationship with the Sunkist people.)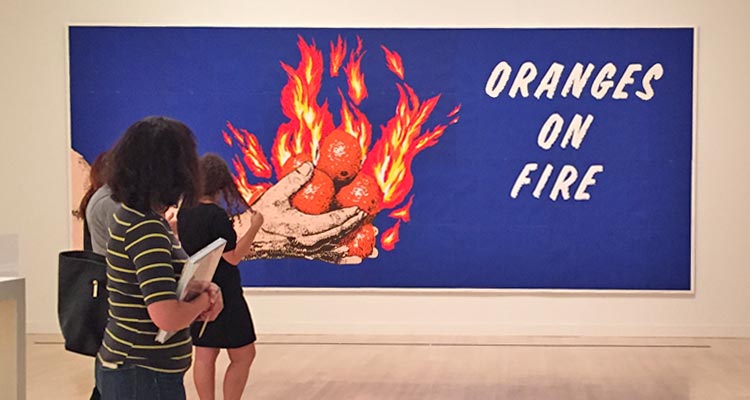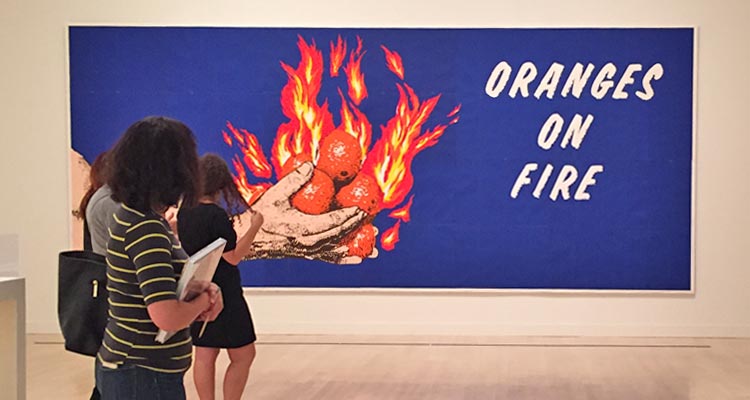 Other bodies of work on display include Sultan's "Swimmers" series (1978-82), "The Valley" (1997-2003), and "Homeland" (2006-09). The latter finds Sultan at his most painterly, exploring the boundaries between suburb and wilderness, often with day laborers serving as hired actors within the photos. (A breathtaking blown-up mural of the already sprawling "Cul-de-Sac" covers the entrance to MAM's Baker/Rowland Galleries.) "The Valley," meanwhile, finds Sultan returning to the suburban tract houses of his youth and dropping in on a porno shoot. Indeed, this may be the only MAM exhibition that features work born out of an assignment from Maxim magazine.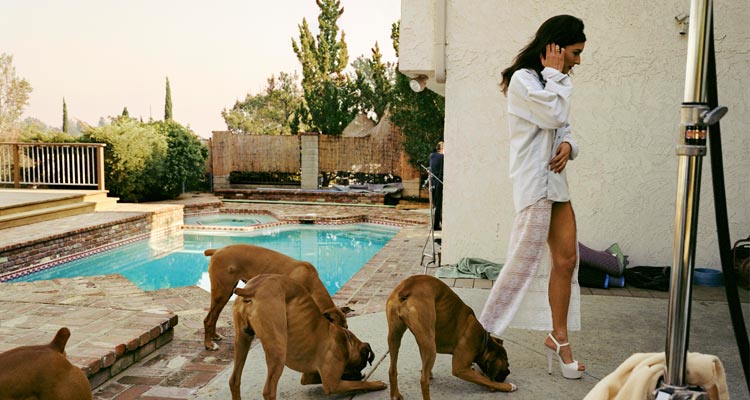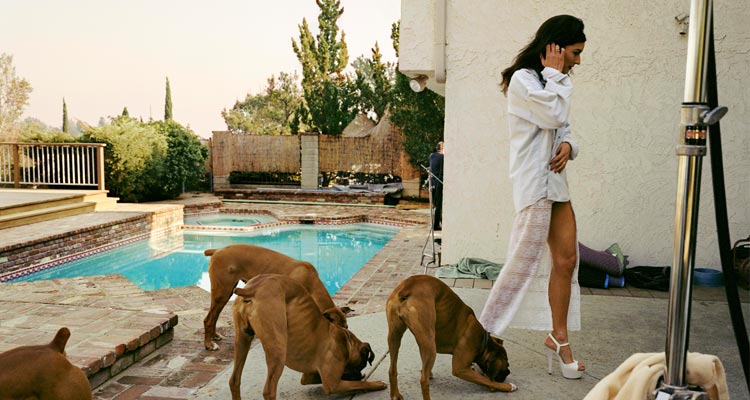 The highlight of the show, unsurprisingly, is Sultan's best-known series, "Pictures From Home" (1983-92). In it, his forced-into-retirement parents become the unwitting (or perhaps complicit) subjects of the artist's exploration of home and the American Dream. Sultan's father practices his golf swing in the living room, a TV on in the background and the carpet subbing for the golf course green. His mother sits on a chaise lounge, squinting into the sky. Both parents peer out at an apocalyptic suburban sunset. Sultan's father, again, sits on the edge of a bed, wearing a suit, a vacant look in his eyes. ("Dad On Bed" was the inspiration for the poster art for Sophia Coppola's Lost In Translation.)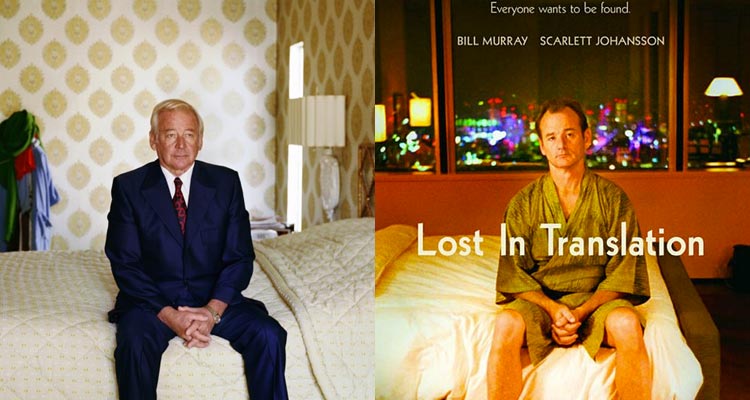 For all its narrative ambiguity, the bulk of Sultan's "Pictures From Home" series does nail down a specific time and place: mid '80s, California, suburbs. When combined with his flair for the cinematic, it's downright Spielbergian. This is the mundane suburban world of E.T., of Close Encounters. In "Conversation In Driveway," Sultan's parents talk to each other in the foreground while what appears to be a film crew works away across the street. It's easy to imagine Spielberg and Tobe Hooper setting up the next shot for Poltergeist.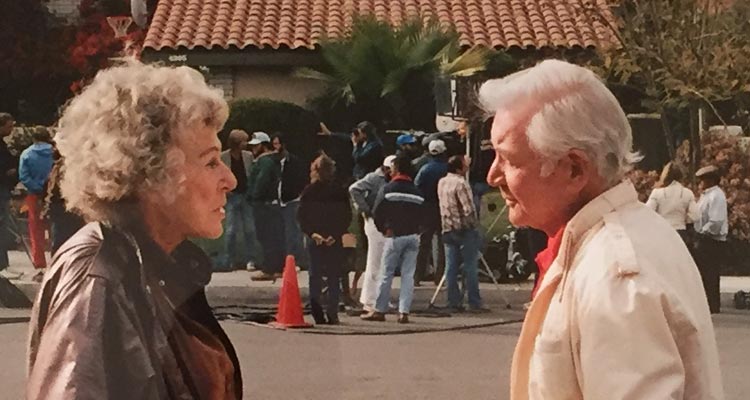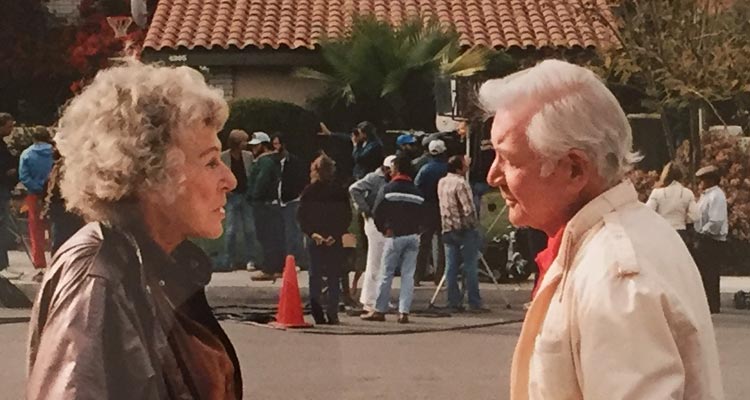 True, there are no stranded aliens or malevolent spirits lurking in Sultan's work, but there's more than a little magic haunting its margins. Sultan imbues the very act of photography, too, with a mystical quality. "I realize that beyond the rolls of film and the few good pictures, the demands of my project and my confusion about its meaning, is the wish to take photography literally," Sultan writes of "Pictures From Home." "To stop time. I want my parents to live forever."
Sultan comes about as close as one can to achieving that immortality. "Larry Sultan: Here And Home" celebrates his accomplishment, even if it leaves the details of those immortal lives tantalizingly unclear.
"Larry Sultan: Here And Home" is on view at the Milwaukee Art Museum October 23, 2015 – January 24, 2016. Numerous "Oranges On Fire" billboards will begin appearing throughout the Milwaukee area beginning November 2.