Caleb Westphal hasn't missed a Friday fish fry since 2013. Follow along with his never-ending adventures here.
Sweat saturated my fingers as I ran them through the hair under my knit cap, the heat on my head being so palpable that I imagined a steam cloud would rise above me if I pulled off the winter shroud. I reached down and took a sip of Tropi-Choco, a milk stout brewed with orange peel and cacao, my beverage of choice to help cool me to stasis. I was sitting at the bar at Hacienda Beer Co. on North Avenue (2018 E. North Ave., 414-296-7200), and I had just moved from a table, where I had eaten the spiciest fish fry of my life. I really liked it, I think.
Hacienda Beer Co., self-described as an "experimental brewing project from the owners of Door County Brewing Co.," is headquartered in Baileys Harbor, where they brew their beer and have their main taproom, which doubles as the Door County Brewing Co. Music Hall. Hacienda North Ave. Taproom—as the Milwaukee location is more formally called—opened last year in the spot where G-Daddy's BBC had long reigned. The buildings that it calls home have been standing for over a century, and have gone through many permutations.
A friend and I arrived shortly after 6:30 p.m. and found the taproom bustling and almost full to the brim, but we managed to find a small table that had just opened up. There was a buzz in the air that was reminiscent to what can be found at Lakefront Brewery on a Friday, although the noise wasn't as loud, and there wasn't any polka music. Bright and full of open space, the setting contrasted with my memories of BBC. Numerous plants hung in the large windows, and were almost matched in number by the lights that hung from the ceiling. The average age of the patrons was younger than most places I've had a Friday fish fry. Together, all of these elements seemed reflective of a dynamic, revitalized North Avenue.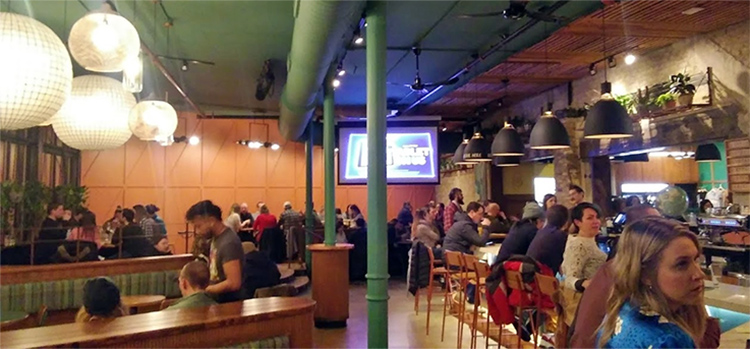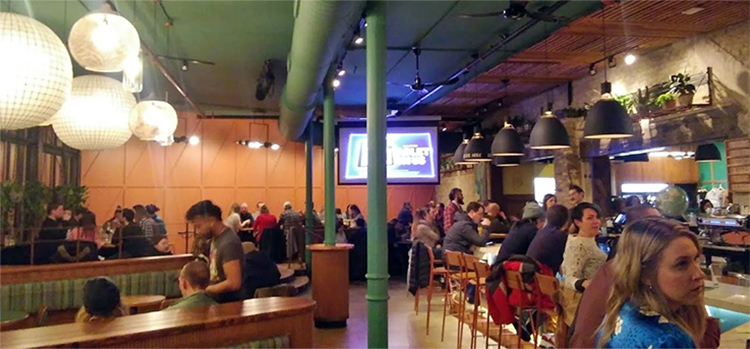 After a few minutes, a worker brought us some menus. When they returned again, we put in our orders. Although pan-seared trout ($14) is available on Fridays, there is just one fish fry: all-you-can-eat haddock ($13). It is listed on the current online menu as "deep fried haddock in our house beer batter with ancho, lime zest, and cumin. Served with your choice of chips or fries and slaw." Although a sandwich board outside succinctly said they had beer-battered haddock, the printed menu I was given was more terse, simply listing "fish fry" as the Friday special. When I asked the server about potato options, they just mentioned the fries, not the chips. Along with the haddock and fries, I ordered an Italian-style pilsner called This is Not A Sandwich—an obvious choice, as I was going to be pairing it with a fish fry, not a sandwich.
In about five or 10 minutes, the fish fry arrived. I had anticipated it would be somewhat unique, because I had seen ancho, lime zest, and cumin listed on the online menu, but I wasn't sure exactly what to expect. My initial thought was that those three ingredients would be used in the beer batter, as that's what the menu seemed to imply, although it didn't specifically say that was the case. Instead, the ingredients that brought the heat—like ancho and cumin—were found in everything but the fish.
The two golden-toned haddock pieces were lightly crisp, without being overly crunchy. Although they weren't sandwiches, their crispiness allowed them to be picked up as such. According to the Hacienda website, the batter is made with Motel Citroën, a "farmhouse ale brewed w/ lime zest & lemon verbena, fermented with Norwegian kveik." The batter was flavorful, having a slight sweetness, and the fish itself wasn't groundbreaking, but it didn't disappoint, either. Of course I wanted more, and eventually ordered two more pieces.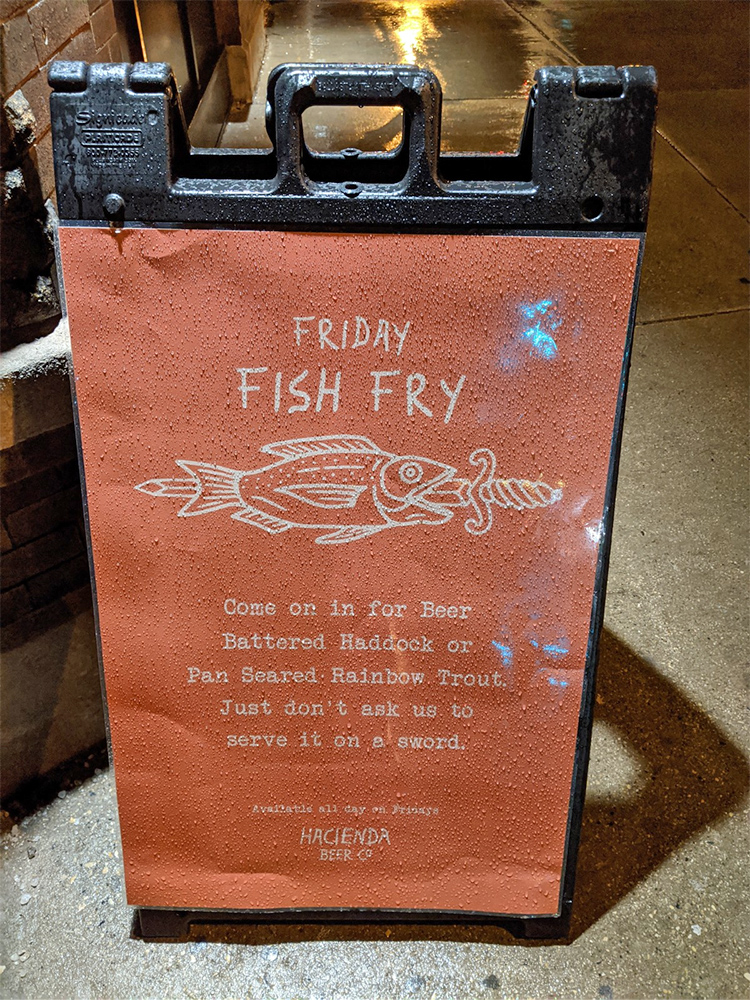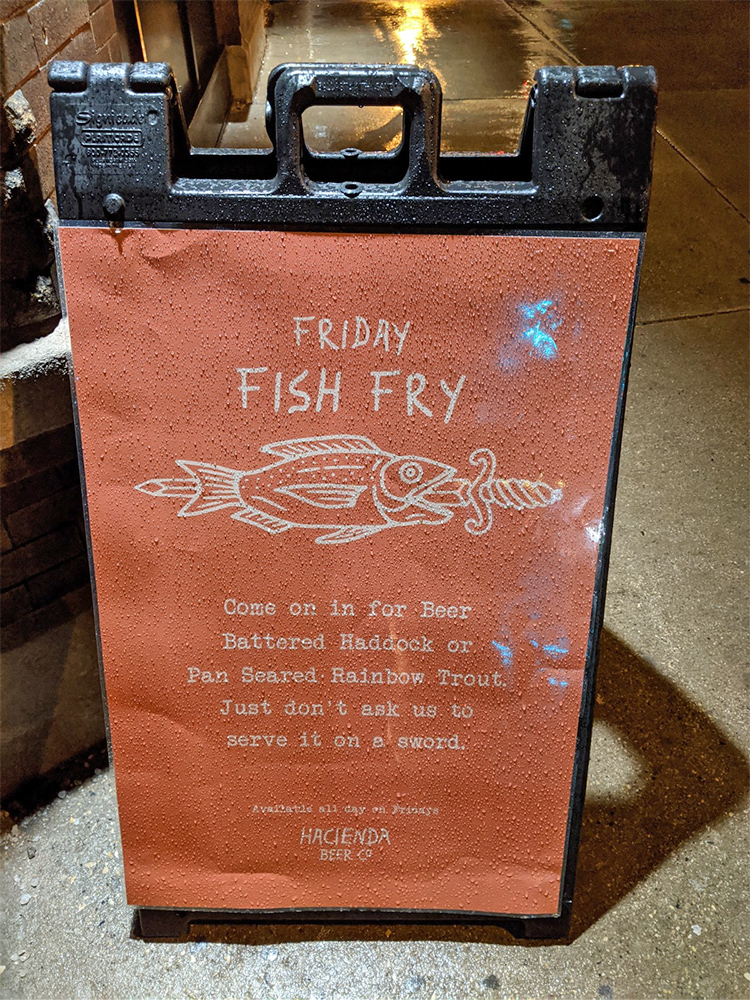 The tartar was just the tip of the heatberg. It had a kick, but not as much as the coleslaw or french fries did—it seemed the mayo and relish cut its spiciness. All in all, the tartar enhanced the fish, being a suitable match for it. The french fries and coleslaw were the spiciest of either I've ever had at a fish fry, or maybe anywhere. (I'm not one to usually order foods that are very spicy.) The cream of the coleslaw had an orangish-red hue, just as the tartar sauce did, which perhaps came from some combination of cumin, chili powder, or cayenne pepper. Ironically, it was also some of the creamiest coleslaw I've ever had. The creaminess, however, did nothing to mitigate the spiciness, and instead made it hard to ascertain what was all in the coleslaw. The fries were speckled red with a powder, and bigger green flecks were also present—it seemed likely that whatever had been whipped up in the coleslaw was also present on the fries. Once I got done wrapping my head around the situation of spiciness, I rather enjoyed everything on the plate.
I asked my server if the same spices and seasonings were used on the coleslaw, french fries, and tartar sauce, or if they were different. He said he wasn't sure what was used with them, and said the restaurant had just gotten a new chef, seeming to imply that the recipes might be in flux. Indeed, Hacienda has been known to change up their menu at times. Also perplexing to me was that the fish fry in the photo that they had posted online earlier in the day looked markedly different than the fish fry I had been served: the coleslaw didn't look anything like what I had been given, neither it nor the tartar or french fries appeared to be spiced up in the photo, and most noticeably, I was not given any bread (nor was any listed on the menu). None of these things may be hugely consequential, but doing away with some of the mystery and informing diners on these things might be beneficial.
The fish fry at Hacienda North Ave. Taproom is unique, flavorful, and spicy. They know what they are doing with their beer batter, and there's an added bonus being that the fish is all you can eat. There are various elements of the sides that could be discussed, but they are all overshadowed by one thing: spiciness. Maybe this element stood out to me because I have a milder palate, and perhaps if the coleslaw and french fries were stacked against many other spicy foods they would pale in comparison, but I still think this was the most noteworthy thing about the meal. If you are a fan of spicy foods, I'd put this fish fry at the top of your list of ones to check out. The only real suggestion I would give to Hacienda is to consider adding a non-spicy option to the menu, giving those with a weaker palate a choice. As for me, I was happy with what I had eaten—it was worth the sweat.
Takeaways: This was the spiciest fish fry I've ever had in my life, but the fish and beer batter were not spicy, although everything else was; the slaw made me sweat, and so did the french fries; all-you can-eat at a reasonable price; Hacienda Beer Co. uses their own beer on the batter, and the batter is flavorful; they start serving fish frys at 11 a.m.—who wants to eat an all-day, all-you-can-eat fish fry with me from then until close and try all their beers at the same time?