Welcome to Food/Drink Week at Milwaukee Record, brought to you by Milwaukee's new favorite import, Bofferding. From May 13 through May 20, belly up and enjoy a fresh smattering of restaurant visits, beer articles, booze videos, deliciously arbitrary rankings, and some good old fashioned adventure food journalism.
Patios. You love 'em. We love 'em. Everybody loves 'em. Fortunately, Milwaukee and its surrounding suburbs have no shortage of places where people can enjoy a meal, some drinks, and…um some vape in a relaxing outdoor setting. Over the course of Milwaukee Record's five years of existence, we've spent a lot of time covering the local patio beat. As Food/Drink Week draws to a conclusion and warmer days approach, we figured we'd organize more than 100 blurbs—including some new ones!—into one handy guide. Enjoy!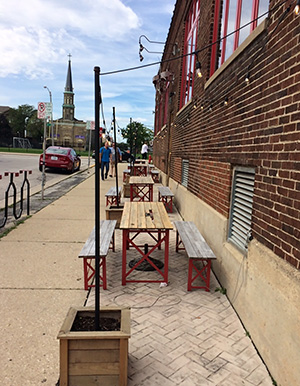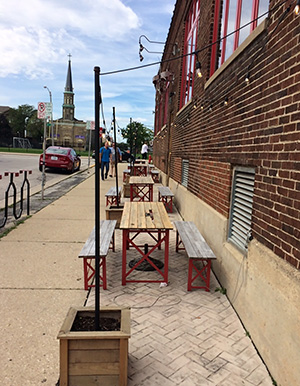 Anodyne's Walker's Point Roastery
Though not typically recognized as a traditional bar, Anodyne's Walker's Point Roastery offers an array of beers and wine in addition to its range of caffeinated beverages and other non-alcoholic beverages. If you're looking to enjoy a drink outside, Anodyne's line of picnic tables along the Bruce Street property is a great spot to catch a coffee or a beer buzz in the heart of bustling Walker's Point. If you're there at night for a concert, a wedding, or another event, the strings of lights against the brick facade will light your way. It's small-but-efficient and suited for drinkers and sober folks alike.
The Backyard
You know a business' patio game is on point when the bar is named in its honor. After replacing Telluride about eight years ago, The Backyard made sure to take advantage of its exterior in ways in its pre-smoking-ban predecessor never did. Besides the vast eponymous parcel of grass with various yard games strewn about it, The Backyard has ample lawn furniture, an outdoor television, and a few grills on hand where patrons can bring and grill their own food. Dog lovers take note: canines are absolutely welcome to share in the outdoor fun.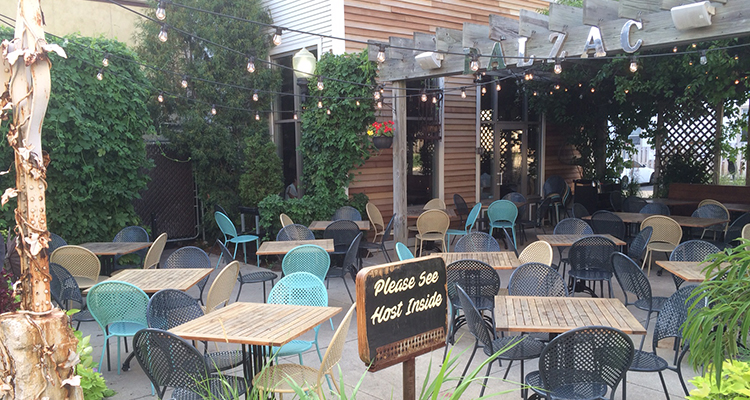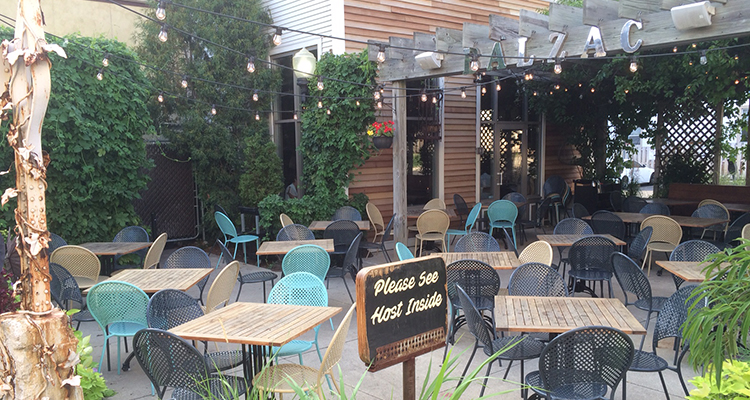 Balzac
Balzac is a prime place to wine, dine, and sit outside. When the warmer months roll around, the Brady Street-adjacent bar's capacity doubles, thanks to a small patch of sidewalk seats and, even better, a vast rear patio that offers some shade or tons of sun, and a front row glimpse into the neighborhood's activity.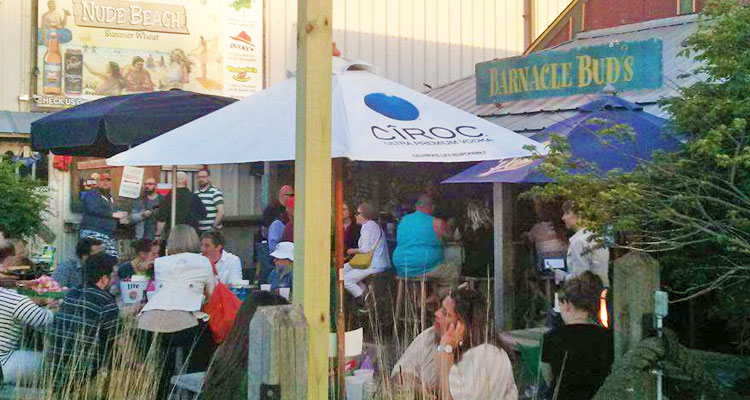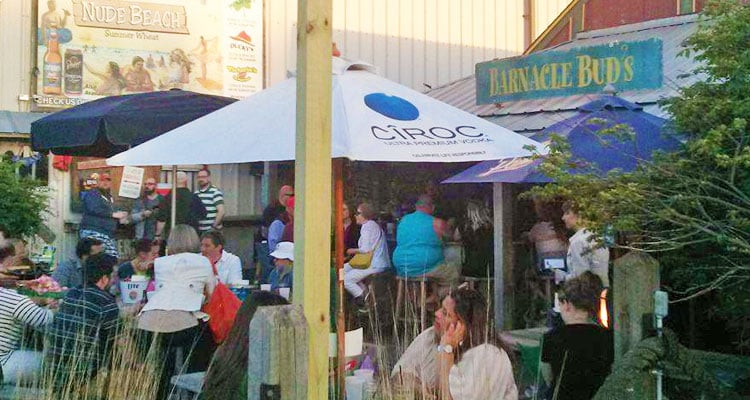 Barnacle Bud's
Once thought of as Milwaukee's best-kept secret tucked away by the Kinnickinnick River, Barnacle Bud's has become the de facto arena where perfectly nice Sundays slowly morph into the Monday hangover of your nightmares. But what a welcome place for a headache to be conceived. Just try and stop yourself from guzzling Dark and Stormies by the mason jarful in the sunshine as the legendary Jimmy T—whose live music enraptures the back patio every Tuesday and Sunday—props his jean-cutoff-clad leg on your picnic bench and sweetly strums the summer soundtrack of your parents' dreams. You may try to stifle yourself as you sing along to "Margaritaville," but at Barnacle Bud's, it's a near impossibility.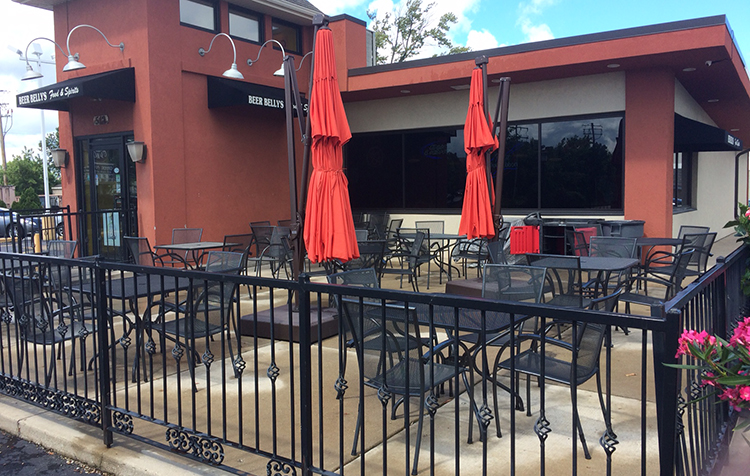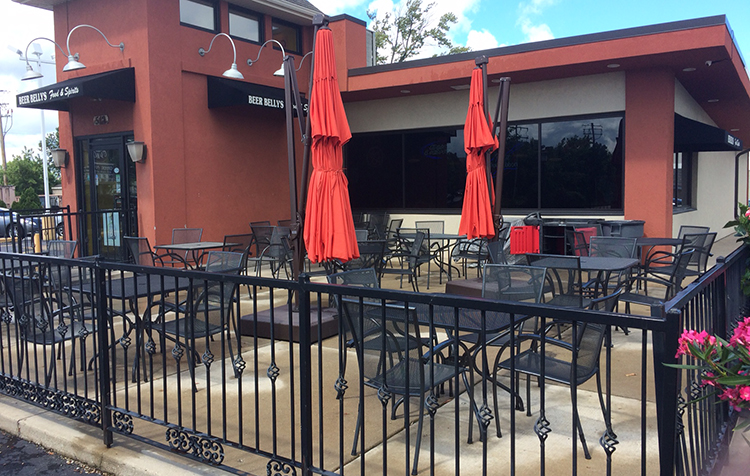 Beer Belly's
Over on Milwaukee's south side, Beer Belly's serves up ribs, fried fish, prime rib, and more. Though the airport-adjacent bar's scenery isn't anything particularly special, diners and drinkers can look out on the hustle and bustle of Layton Avenue while seated on Beer Belly's quaint enclosed concrete patio.
Beerline Cafe
Beerline Cafe isn't just one of the best vegetarian and vegan joints in Milwaukee, not to mention on a very short list of the most environmentally sustainable restaurants in all of Wisconsin. The eatery is also home to a cozy cluster of lawn umbrellas, chairs, and just over half a dozen tables on a concrete patch on the corner of Commerce and Weil streets.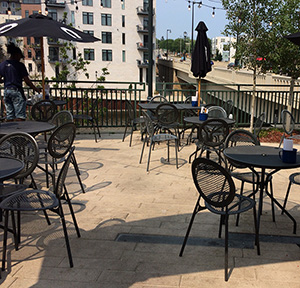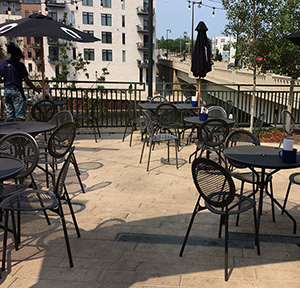 Bel Air Cantina (Milwaukee)
Remember that week last spring when Milwaukee Bucks superstar Giannis Antetokounmpo wasn't able to be immediately seated at Bel Air Cantina after winning a playoff game? God, we're glad that whole thing has blown over. BUT had that occurred a few months later, the whole thing probably would've never even happened.
You see, when it gets warm out, Bel Air's flagship location can host roughly double the diners as it can in winter by way of its patio. Well, its patios—plural. There are more than a dozen tables outside the restaurant to let you enjoy your tacos with ample legroom. Even if you're a seven-footer.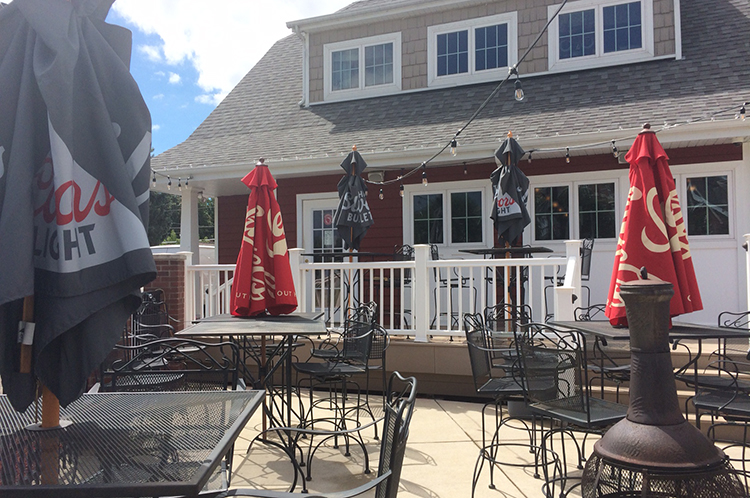 Bert's Bar
The former mayor of St. Francis herself would admit the saintly lakeside suburb isn't exactly packed with nightlife options. However, there are a few bars in the small city. Bert's is among the best of the bunch, with a respectable beer list for a place its size and, once warmer months roll around, a cozy cluster of tables that give a glimpse of Lake Michigan…at least the parts of it that aren't blocked by condos.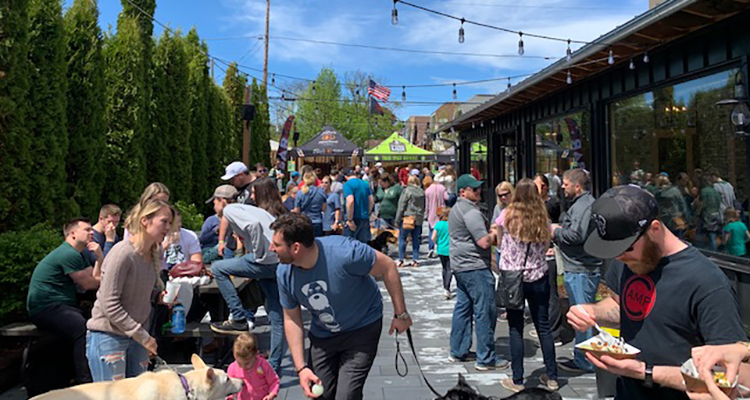 Birch
Since Camp Bar opened its Wauwatosa location a few years ago, the suburban offshoot of the northwoods-themed bar has experienced a great deal of changes (all for the better). Part of that evolution is the addition of a gigantic and gorgeous new patio that's shared by Camp and the adjoining space, Birch. The above photo is from yesterday's Pints For Pups event.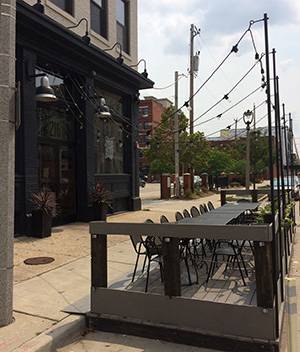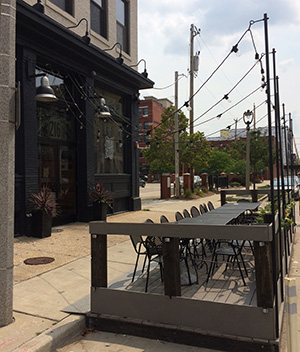 Black Sheep
As you might've noticed in previous installments, Walker's Point has quite a few patios. If none of the others are up to snuff or if you're just seeking some more spots to take a load off in the neighborhood, consider heading over to Black Sheep.
The bar and restaurant has a few tables and light posts on a small plot of planks that's nestled beside the curb on bustling 2nd Street. If you like what Shaker's is doing with its patio, you'll probably like what's happening over at Black Sheep.
No, it isn't exactly the biggest patio out there, but when the weather is nice, it still beats eating or drinking indoors.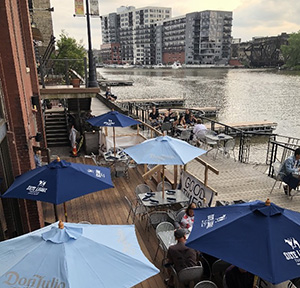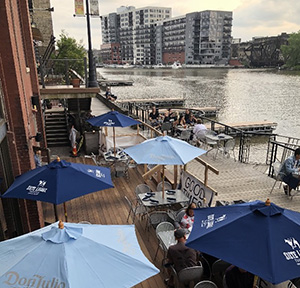 Blue Bat Kitchen & Tequilaria
Last year, Blue Bat Kitchen & Teuilaria officially opened its patio. We haven't made our way there yet, so let's hear more about it from the press release, shall we?
"The large patio with access from the restaurant's riverfront level provides an ideal environment for dining al fresco. Patrons interested in people-watching will enjoy the lively Riverwalk seating as well. The spaces will continue to see upgrades and improvements throughout the season and into next summer, making this patio one of the best in the Third Ward."
Sounds nice!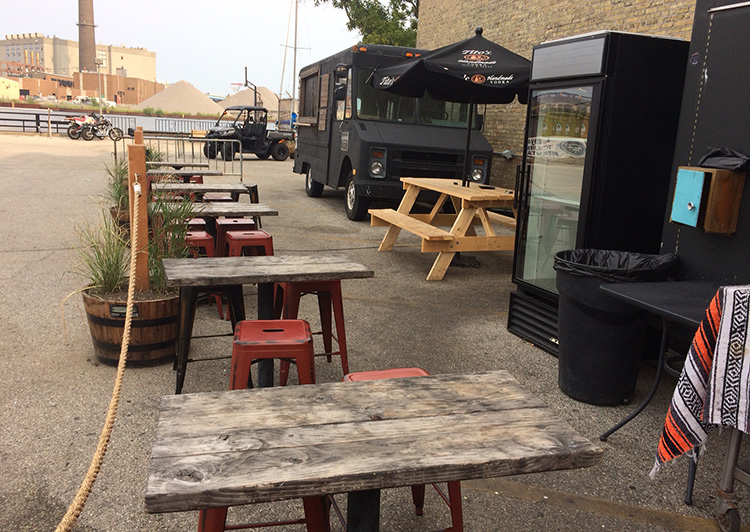 Boone & Crockett
When Boone & Crockett relocated to Walker's Point last April, their capacity increased considerably and they got a ton of space outside for patio seating. Not even counting their adjoining Cooperage events space and a shared gravel side yard that can host outdoor affairs, Boone just finished its roped-in side patio. It has a long line of picnic tables (not pictured) and other tables situated against the building and in front of the permanent Taco Moto truck.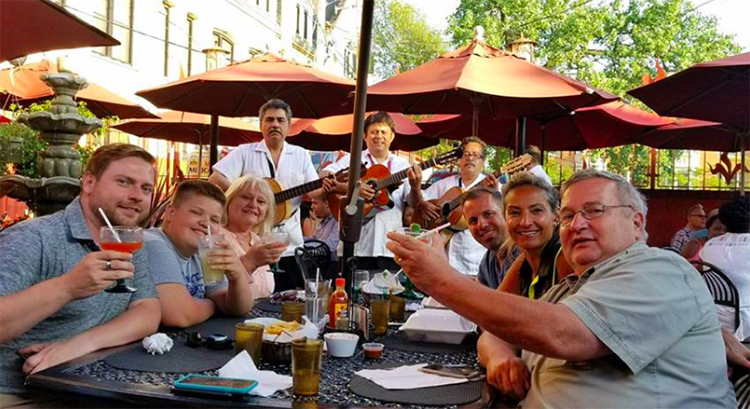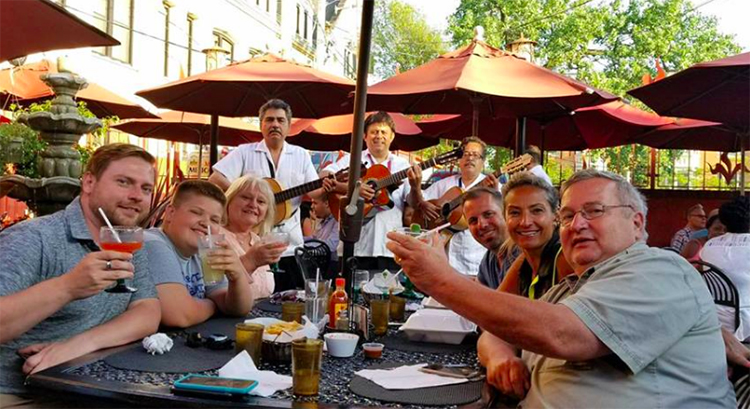 Botanas
There's a reason Botanas has been part of Walker's Point's rich dining fabric as long as it has. Its salsa and house margaritas are top notch and its flagship site is equal parts sprawling and inviting. While the restaurant isn't hurting for seating inside, it's made all the more spacious by way of its massive fenced-in sideyard that's packed with tables, plants, and water features. Botanas' patio also regularly hosts a mariachi band.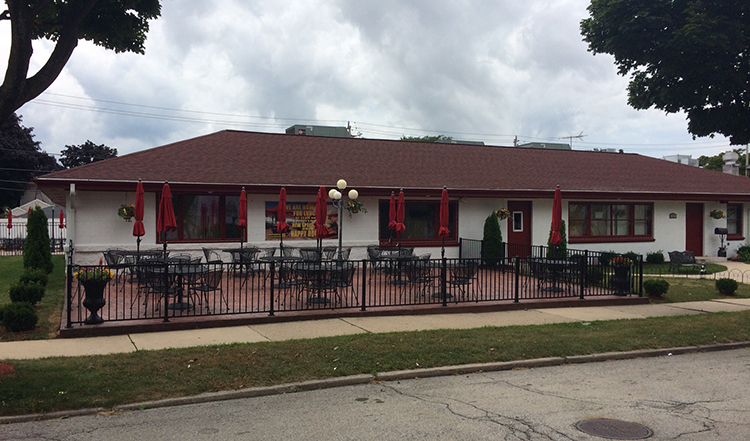 Botanas II
Not so long ago, the Botanas empire expanded beyond its 5th Street location and their stand on the Summerfest grounds when the owners took root on Howard Avenue near the edge of St. Francis. To be honest, its food, service, and patios don't hold a candle to its sister site, but if you find yourself near the corner of Clement and Howard and you're hankering for some semblance of Botanas, Botanas II (and its tiny brick patio) won't do you wrong.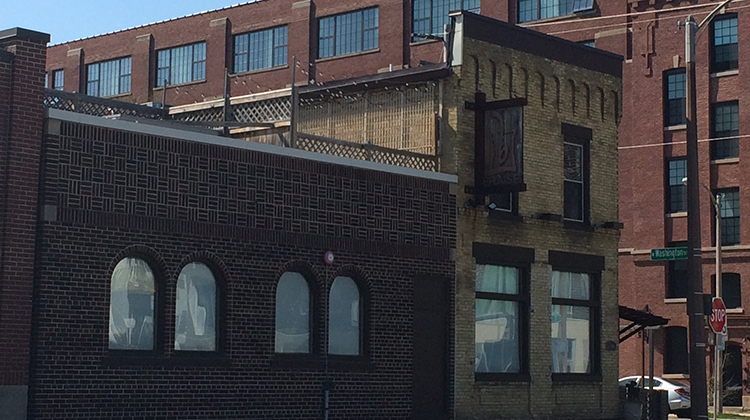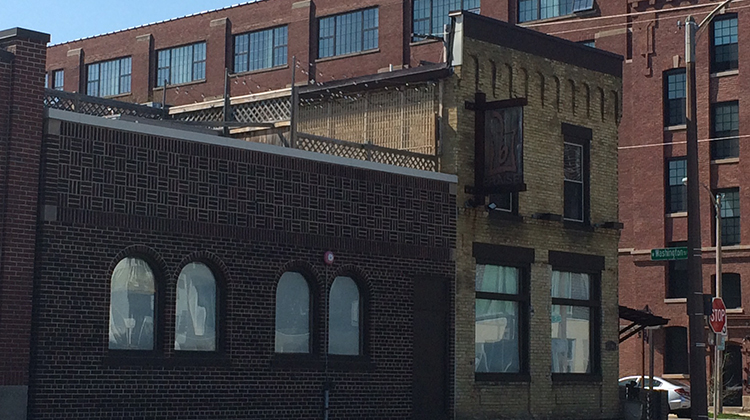 Braise
Over in Walker's Point, Braise has mastered high-end and locally-sourced takes on dining staples. Adding to their elegant presentation and fresh ingredients, the restaurant ups the ante in terms of ambiance with a rooftop patio that's tucked away from the hustle and bustle of 2nd Street.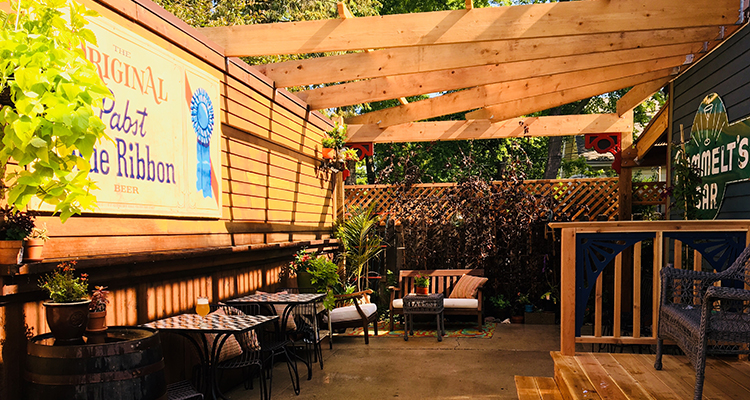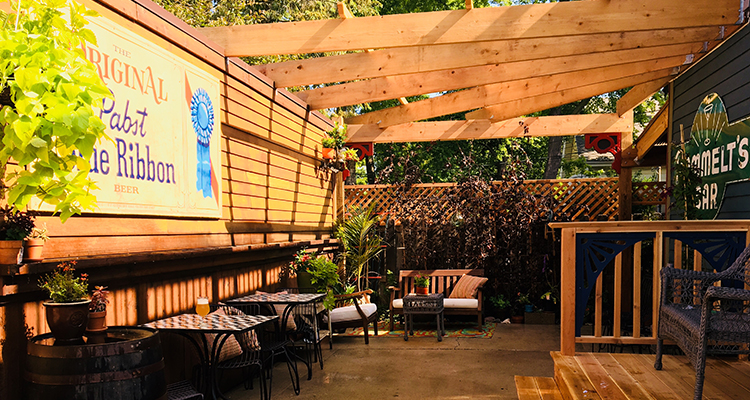 Burnhearts
Last August, a week after another Pabst Street Party, Burnhearts christened its new patio. The space, a project that was 10 years in the making, is a cozy enclave that's nestled between the bar (with a newly-installed rear door) and Burnhearts' storage garage. The L-shaped patio has seating for 20-25 people, along with covered standing room. There's a stylish gate that was designed and built by JR's Welding & Fabrication, and a stunning floral mural that was painted by artist/Burnhearts bartender Mic Makalinao. Burnhearts' patio is open from 3 p.m. to midnight every day.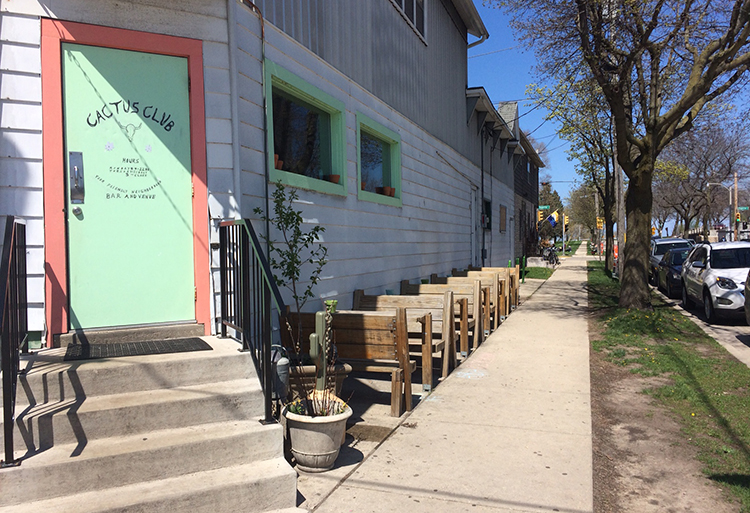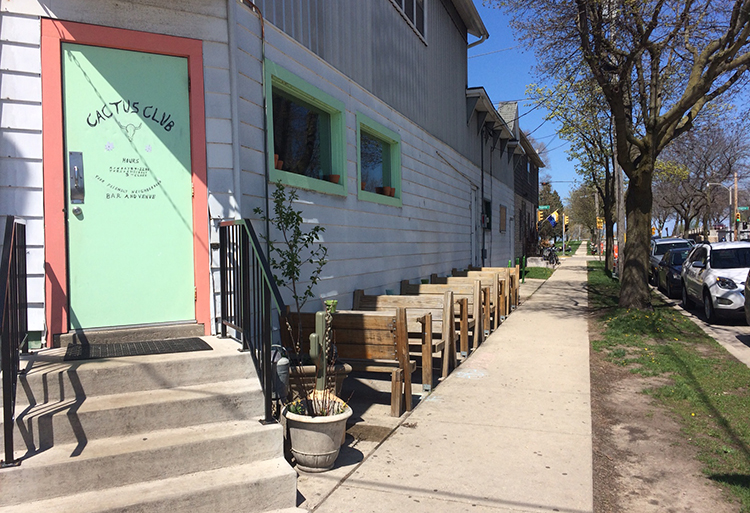 Cactus Club
Though the beloved Bay View bar and concert venue lacks outdoor space, Cactus Club makes the most of its limited exterior real estate with hand-crafted booths that run along one side of the business. It might not be the type of space you'll want to spend a day, but if you want to break away from a show or get some air between innings, Cactus' makeshift five-booth patio has given patrons a place to enjoy the elements, take a smoke break, or enjoy a meal from a food truck parked outside.
Cafe Benelux
Downtown Milwaukee and the Third Ward are currently going through changes—and what better place to gaze upon those changes and scarf down some Lowlands Group food than the rooftop patio of Cafe Benelux? The Third Ward corner restaurant offers a perfect bird's-eye-view of the hip and happening neighborhood with none of the cool-kid requirements usually associated with downtown rooftop parties.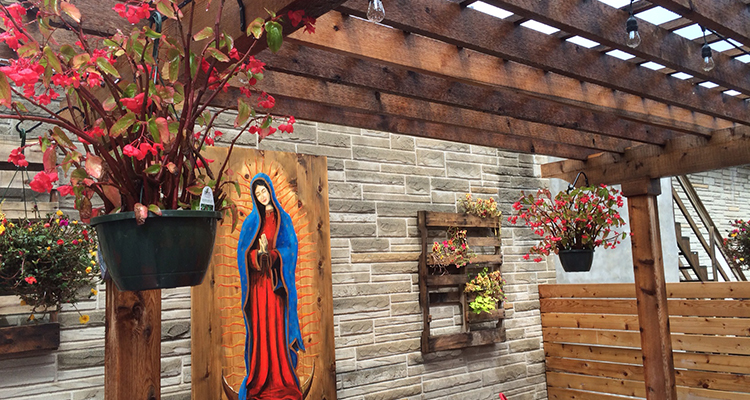 Cafe Corazon (Bay View)
Between the sterling reputation the restaurant's Riverwest flagship fashioned one amazing burrito at a time and the extensive work done to get the second location's interior in pristine condition, Bay View's Cafe Corazon offshoot is off to one hell of a start in its first few years in business. If the excellent food and welcoming atmosphere aren't enough to bring you in, perhaps the gorgeous rear courtyard will bring you out. Surrounded by stone facades, treated wood, flora, and Mexican-inspired murals, the 10-table, 40-seat patio is a quaint place to feast and sip while getting away from the hustle, bustle, and street noise of Kinnickinnic Avenue.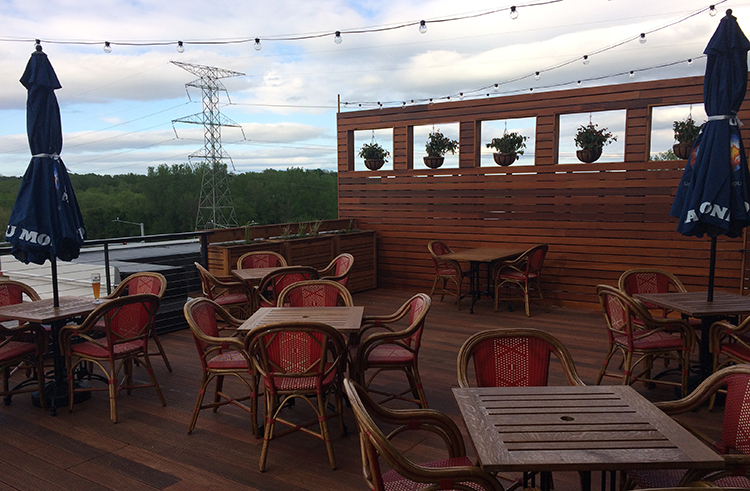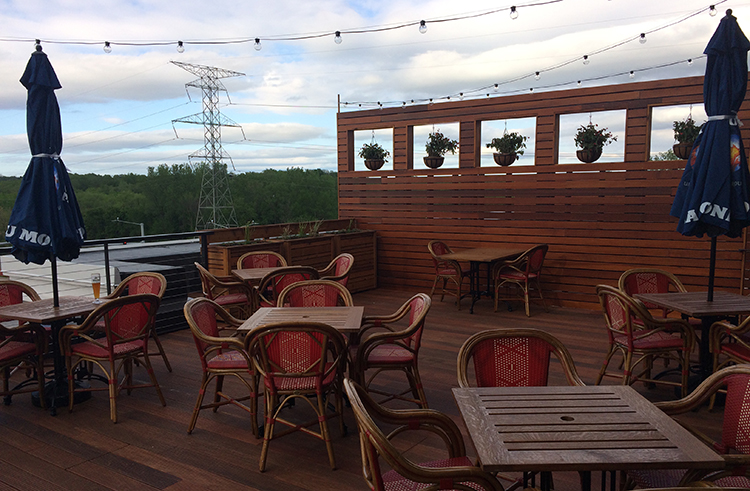 Cafe Hollander (Brookfield)
Those of you who don't frequent Brookfield may not be aware of the massive expansion taking place at The Corners Of Brookfield. The commercial plaza just off I-94 is home to an underground Sendik's, a BelAir Cantina, a weekly concert series, and now boasts a Cafe Hollander that is the biggest and best restaurant in the ever-growing Lowlands Group arsenal. The gigantic establishment can seat approximately 600 (!) patrons when factoring the tables on Hollander's two roomy patios on each floor of the bi-level eatery.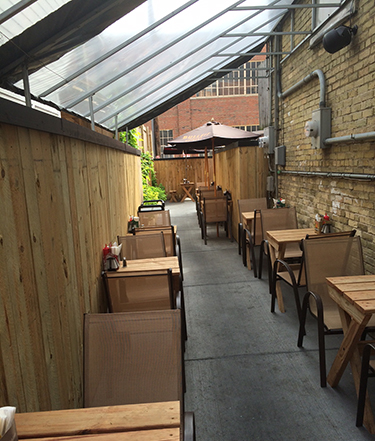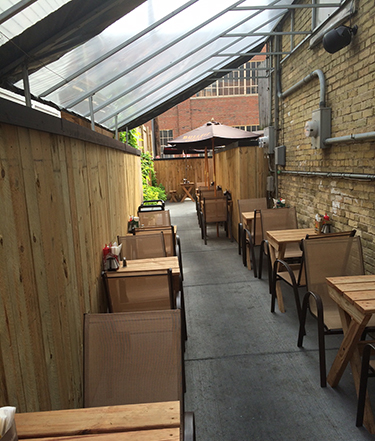 Camino
It's amazing Camino is capable of hosting an impressive selection of 20 tap beers and cranking out both the variety and caliber of food it does in such a small space. As more people have become hip to this diminutive demigod of Walker's Point drinking and dining, Camino has needed to expand to offer more seating. Though we have no idea what Camino will do when winter arrives, the bar and grill has nearly doubled its capacity in spring, summer, and early autumn months by gussying up its alleyway and transforming it into a shaded and secluded side yard that's rife with two-tops.
Camp Bar (Third Ward)
In 2016, Camp Bar added a third (and a Third Ward) site to its ever-growing wilderness bar empire. It has quickly established itself as an accessible—at least by Third Ward standards—spot to grab a drink near the Summerfest grounds. If slats of log cabin wood and taxidermy aren't exactly your thing, fear not. Camp extends to the (actual) great outdoors as well, with a long deck nestled against the Menomonee Street curb.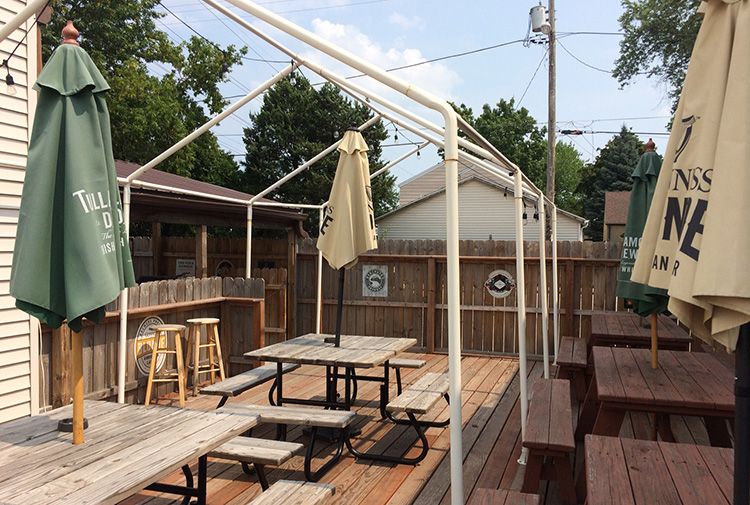 Campbell's Irish Pub
In 2014, we broke news that Bar Rescue would be using its infallible tactics of serving sliders and overly complicated Smirnoff Vodka shaker cocktails to save not one, but two Milwaukee bars. The first one, Y-Not III, was turned into a '70s-themed bar called Nick's House, and it closed for good 18 months after its episode aired. The second bar featured, Packy's Irish Pub, became Campbell's Irish Pub and, despite claims that the made-for-TV transformation totally worked, the bar was put up for sale. One amenity neither shown on the reality show nor in the real estate listing is Campbell's patio. The rear deck has picnic table, a tent for coverage in colder months, and has all Packy's signs affixed to a wall for decoration…or to have on hand if they decide to rebrand.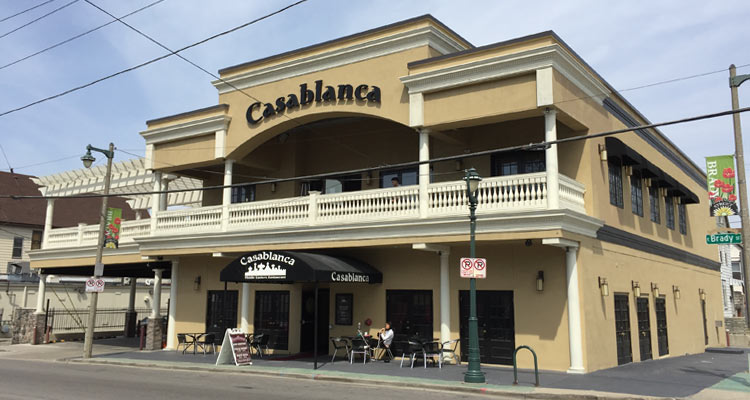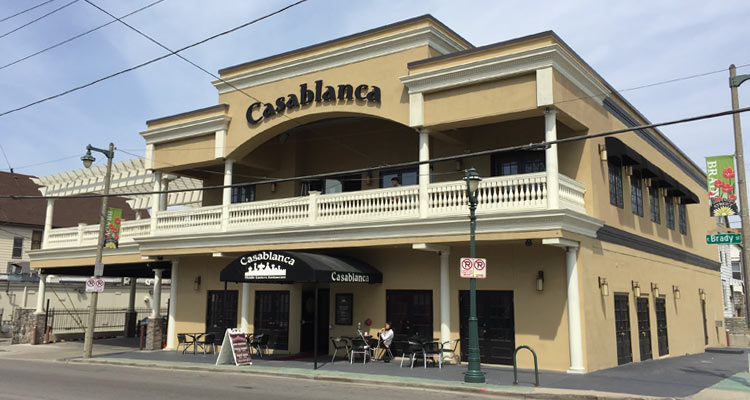 Casablanca
Casablanca's second-story patio isn't just a patio—it's practically a monument unto itself. The semi-recent addition to the Middle Eastern eatery may seem large for the relatively modest charms of Brady Street, but that's part of its appeal. Go big or go back to 6th St. (Casablanca's former location).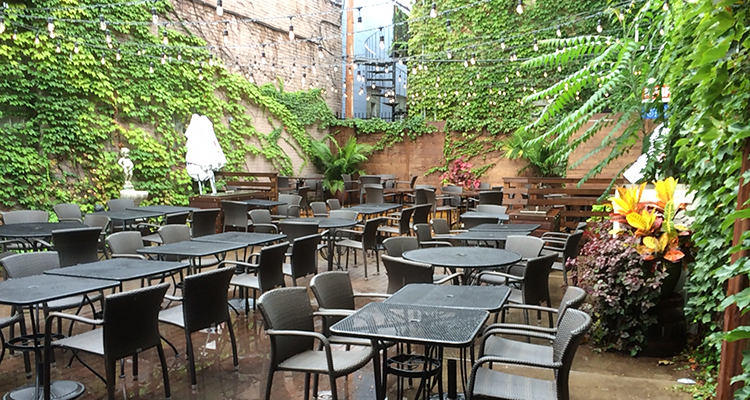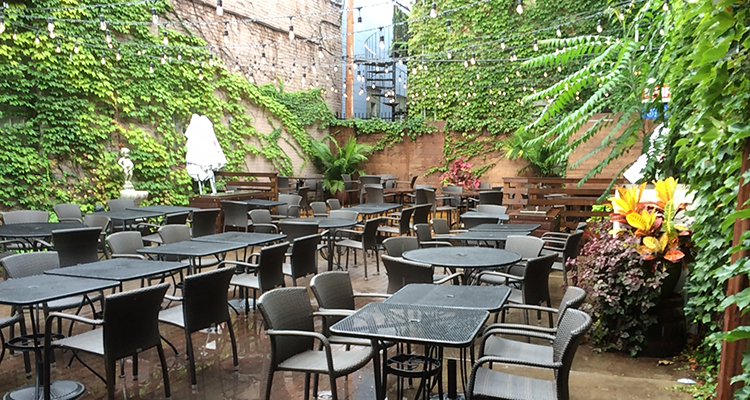 Centraal Grand Cafe & Tappery
Just look at that!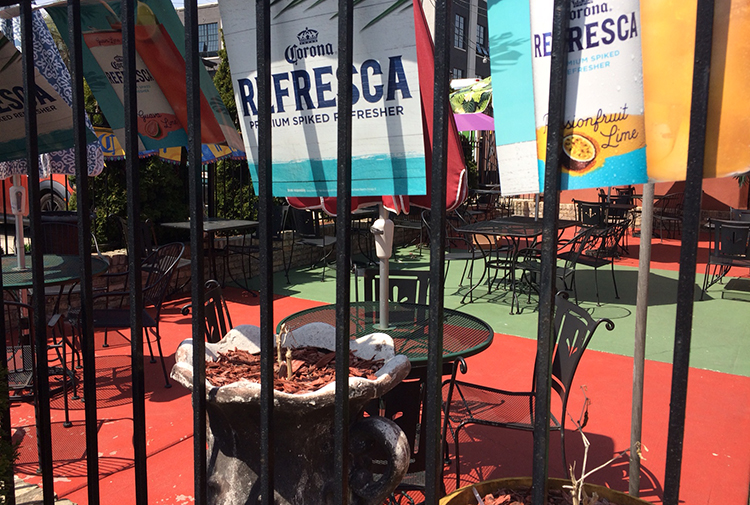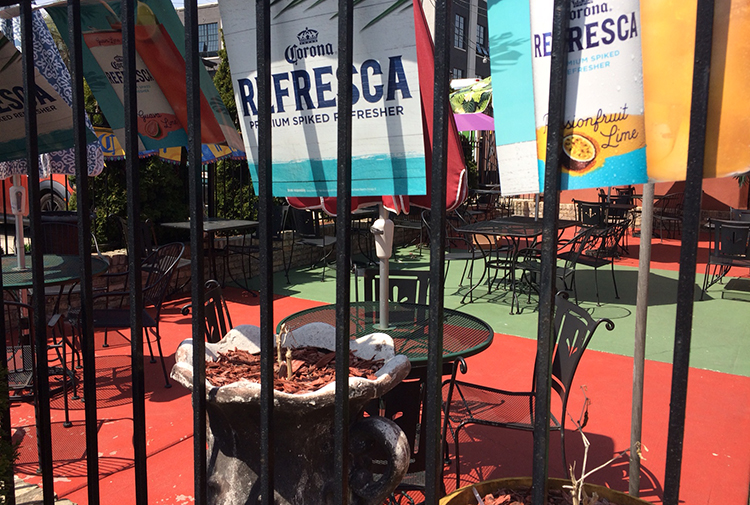 Cielito Lindo
With a number of other, better-known Mexican restaurants in the vicinity, Cielito Lindo gets somewhat lost in the shuffle. However, the 2nd Street establishment isn't half bad! And the forgotten restaurant's even-more-forgotten patio is pretty nice, too. The fenced-in rear enclave hosts close to a dozen tables, has a number of potted plants, and offers ample shade.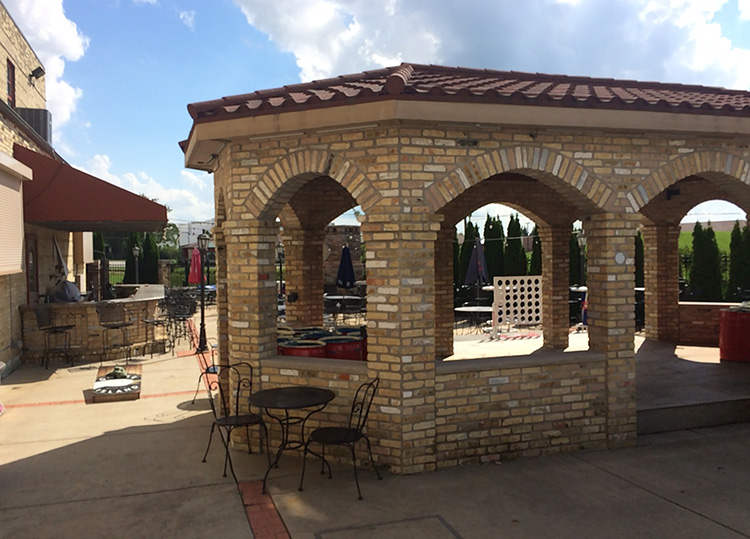 City Lounge
When it's not hosting the likes of Bubba Sparxxx, the fenced in patio at Cudahy's City Lounge features a back bar, loads of yard games, and a brick gazebo. It isn't just a nice place for people to hang out…it's also a self-described dog-friendly space.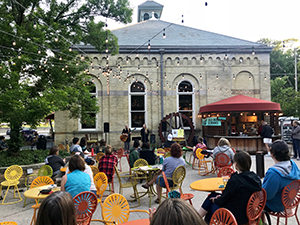 Colectivo Coffee (Lakefront Cafe)
Colectivo Coffee has a wide variety of cafes spread across metro Milwaukee (and a few in Madison and Chicago), each with its own look, feel, and unique personality. However, as far as location and view are concerned, its Lakefront Cafe takes the cake. When the temperatures rise, locals and tourists flock to the inviting coffee shop at 1701 N. Lincoln Memorial Dr. to grab a beverage to enjoy before or after trips to Bradford Beach, Milwaukee Art Museum, and many other destinations.
Others opt to stay put and enjoy a drink or a bite to eat out on Lakefront Cafe's sprawling and gorgeous patio that's just a short walk from Lake Michigan. Best yet, every Friday between June and August, you can enjoy FREE concerts there during our Friday Nite Music series.
Company Brewing
During its four-plus years in the heart of Riverwest, Company Brewing has been a boon to local brewing, music, dining, and—yes—patios. The brewery and restaurant's huge concrete yard is a private, fenced-in urban paradise where patrons can enjoy a beer, a bite to eat, and even the occasional maker market or concert.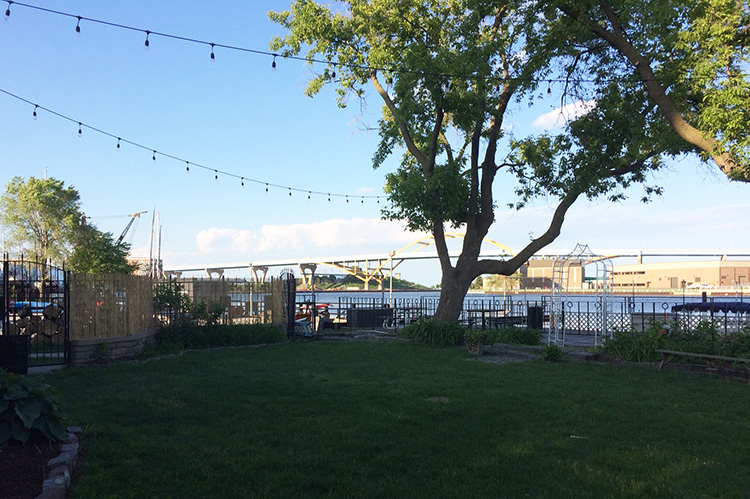 The Cooperage
As mentioned above, The Cooperage is a Boone & Crockett-affiliated events space. Adding to the 300-plus-capacity interior are two sprawling patios. One (above) is suited for ceremonies and waterfront R&R and the other is made for smoking, getting some fresh air, or outdoor events. Both are great.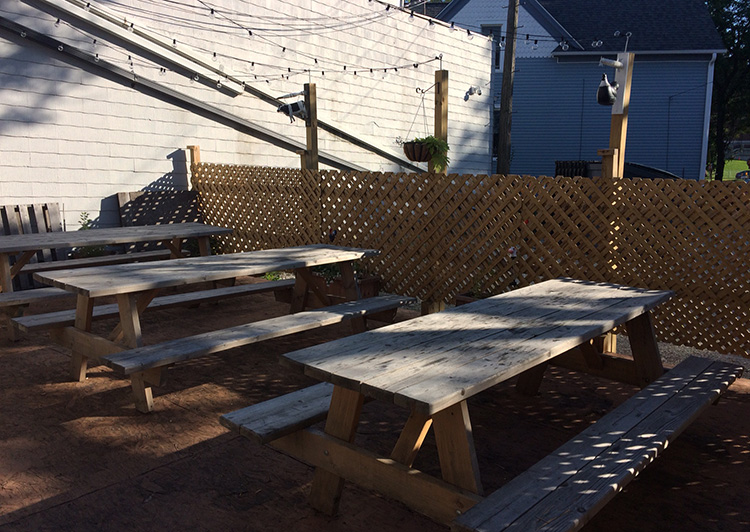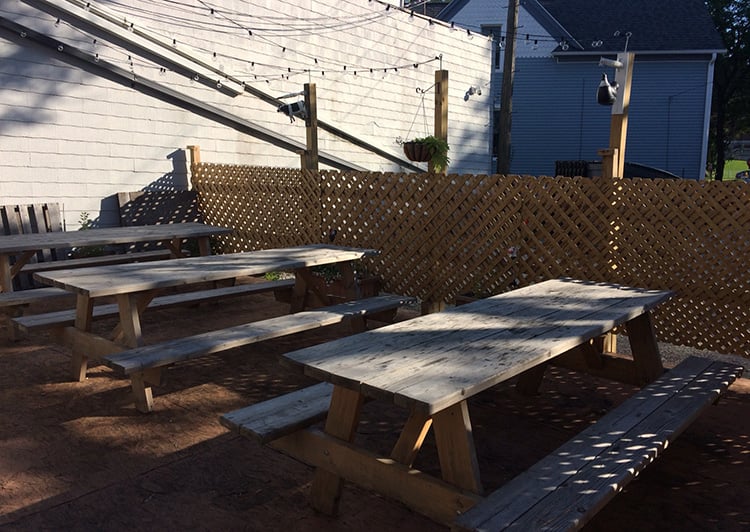 Crafty Cow/Hot Head Fried Chicken
Things have come a long way since the days of Bumstead Provisions. Since opening less than three years ago, the Bay View bar, restaurant, deli, and provisional shop cycled in a Crafty Cow in one half of the space, then abandoned the Bumstead concept altogether in favor of implementing an excellent chicken venture called Hot Head. While the restaurant's interior concepts have changed, its exterior has also undergone some positive modifications. Last year, the hybrid restaurant has added a few picnic tables behind the property.
DanDan
Since Dan Van Rite and Dan Jacobs opened the aptly-named DanDan in 2017, the American-Chinese operation has earned a considerable amount of glowing local (and national) press. Moreover, DanDan added a second restaurant within its walls that's also garnering heaps of praise. In the meantime, they started lunch service and celebrated their first year in business with an awesome party. Now extremely well-established, it's still possible lots of people have failed to experience DanDan's outstanding cuisine out on the restaurant's covered front patio.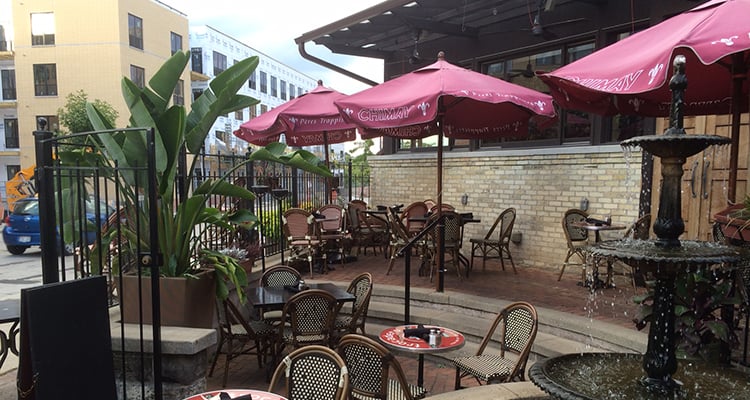 DiModa Pizza & Hotspot
Trocadero is gone, but the departed East Side haunt's pristine patio remains intact at DiModa. The pizzeria took over the space last year and, thankfully, didn't mess with the site's outdoor accoutrements during the renovation process. It's virtually the exact same patio you knew and loved at Trocadero, but with the ability to enjoy excellent woodfire pizza this time around.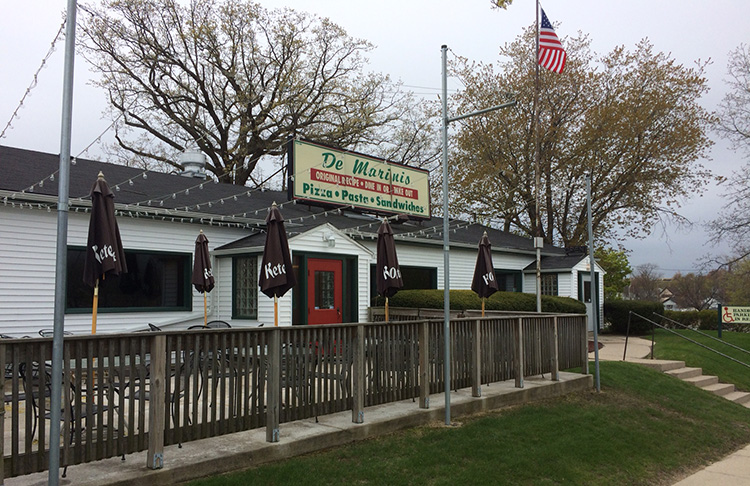 Dom & Phil DeMarinis
Though Dom & Phil DeMarinis has been a highly-regarded Milwaukee institution for decades now, the Bay View pizzeria was way ahead of the patio trend. When warmer weather comes, Dom & Phil's seats some patrons on its paved front patio. Like the restaurant proper, the DeMarinis patio endearingly lacks any frills. Still, the rows of tables set up under strings of lights do the job just fine. The delicious pizza and pasta will do the rest.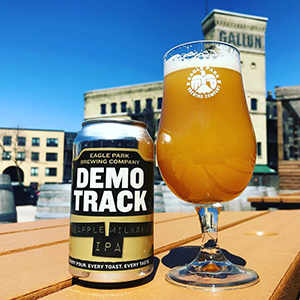 Eagle Park Brewing Company
Just around the corner from DiModa is the new site of Eagle Park Brewing Company. After oodles of success in its quaint and hard-to-find original spot, the upstart brewery recently moved from its Bay View warehouse taproom to a East Side site (formerly occupied by Like Minds and The Hamilton) that can accommodate their brewing/canning needs, allow expansion to food service, and let Eagle Park's formerly crowded clientele enjoy one of their tasty brews on the brewpub's spacious side patio. Best yet, the patio also opens up to a huge (HUGE!) private parking lot, where owners intend to host outdoor events like concerts and beer release celebrations.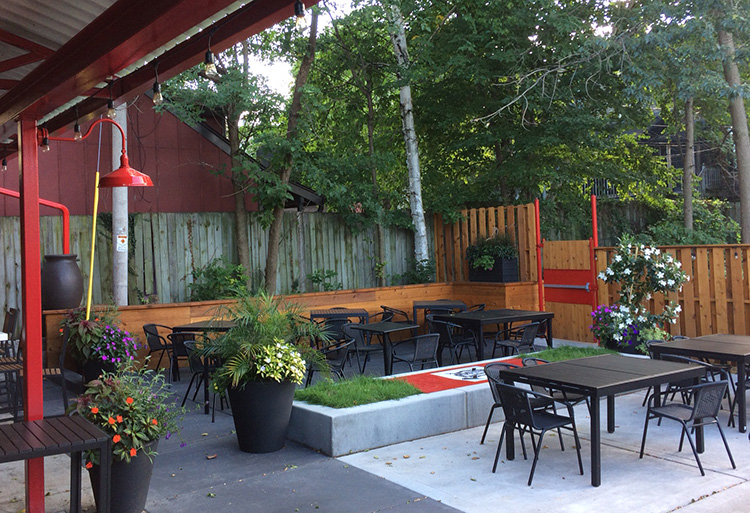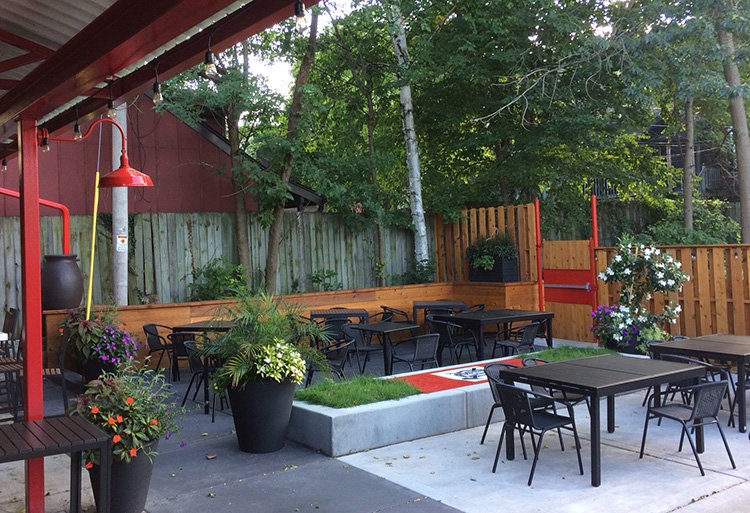 Engine Company No. 3
Though Engine Company No. 3 could probably get by on 1. Being an outstanding restaurant, and 2. Being an outstanding restaurant where then-President Obama ate while in Milwaukee, the Walker's Point spot isn't resting on its laurels and skating by on past milestones. Instead, Engine Company No. 3 has both improved its reputation and increased its square footage last year by building a gorgeous new fenced-in side patio to give diners a chance to eat outside…or to handle overflow in the instance a President drops by or something.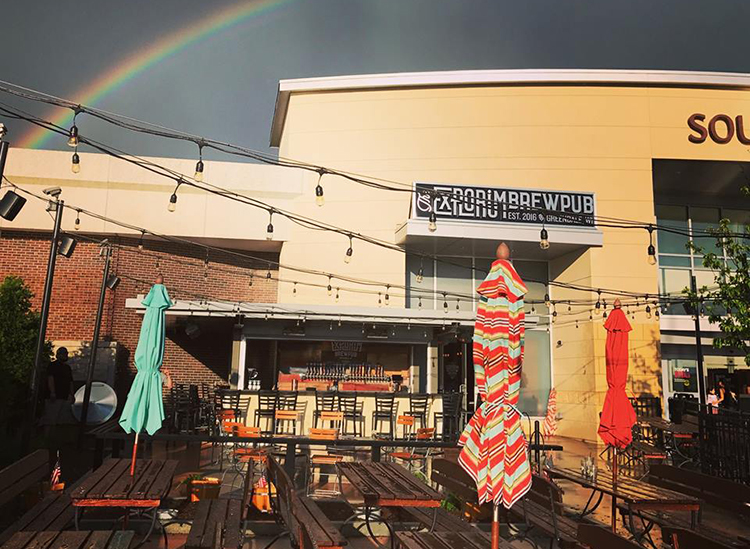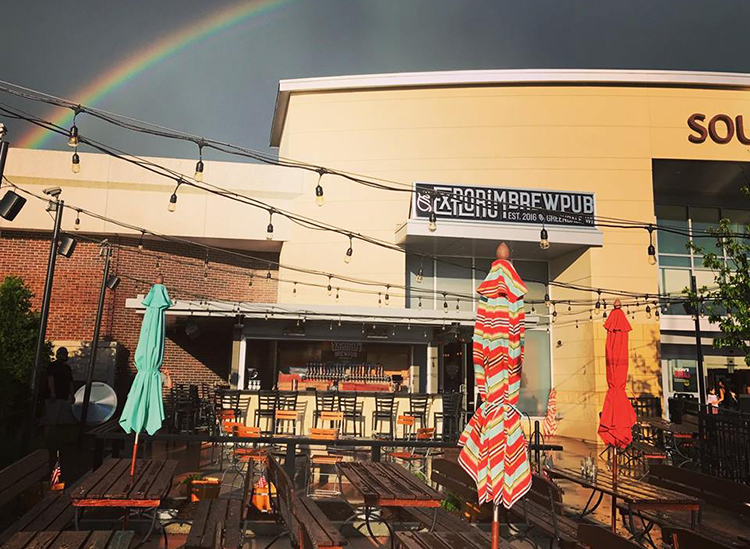 The Explorium Brewpub
Speaking of new area breweries making a name for themselves, Explorium Brewpub has seamlessly brought new life to Southridge Mall with its vast and enjoyable cast of craft brews that are made in the Greendale shopping center's basement. The interior is pristine, but when spring and summer roll around, the patio is where it's at. Not only is there full food and drink service offered at Explorium's many outdoor tables, there are also 24 draft options on hand at the brewery's patio bar. If you need to unwind after shopping, give Explorium's nifty beer garden a try.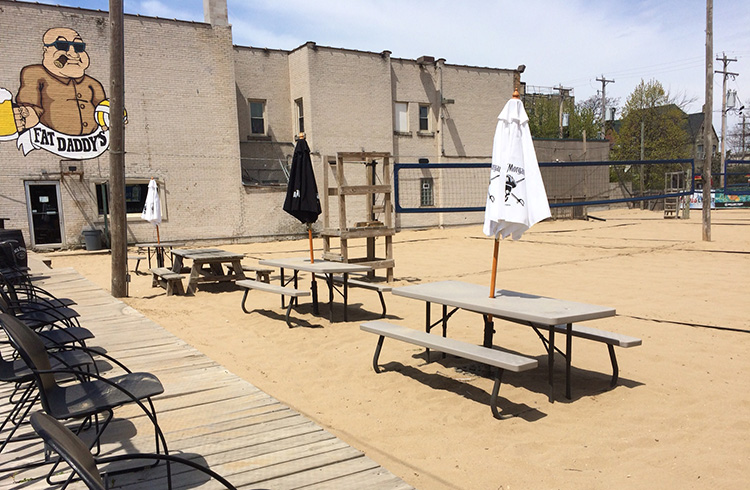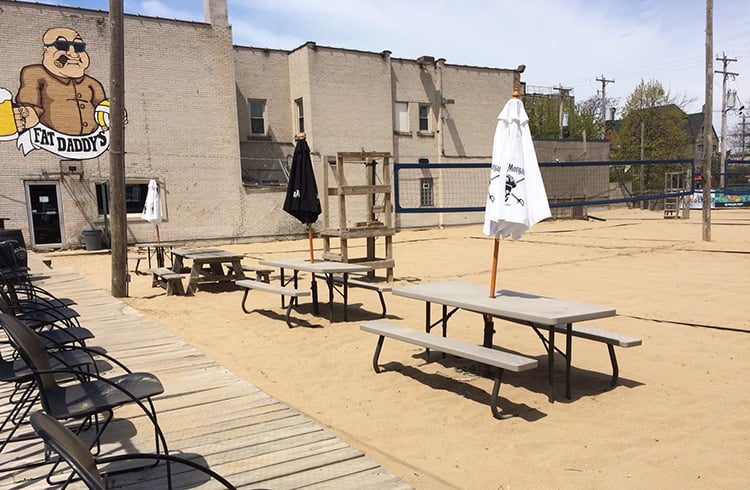 Fat Daddy's
While Walker's Point experiences rampant change, Fat Daddy's—like Steny's, its neighbor across the street—has quietly thrived in the heart of the neighborhood. Much of that is thanks to the bar's sandy side yard, which features a three-court volleyball setup, picnic tables, and (for those wishing not to wash their feet before re-entering the bar) a front and rear deck with ample seating.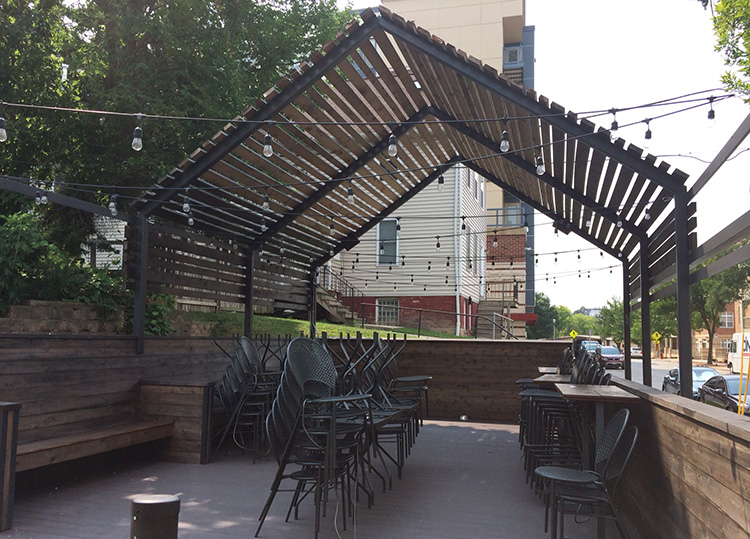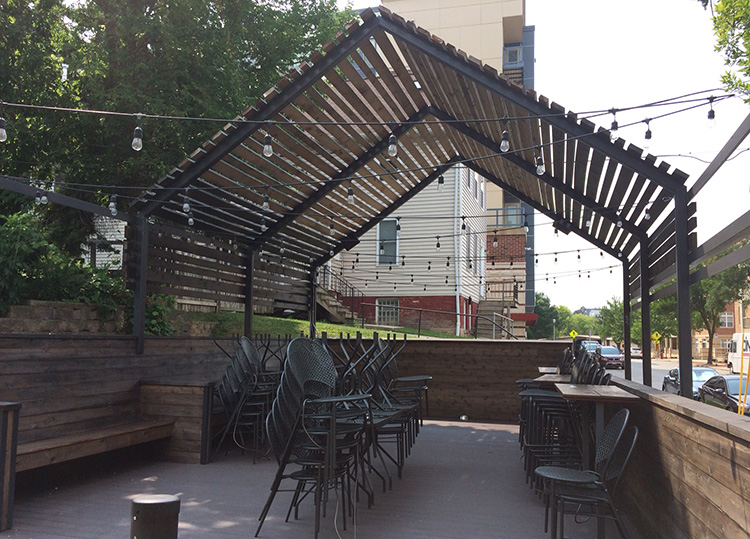 Finks
Since opening more than five years ago, Finks has established itself as an excellent East Side beer bar and pinball mainstay. Recently, Finks added a gorgeous outdoor space to considerably up the quaint bar's seating capabilities. The newly-paved and partially-covered plot has wooden benches, room for a cluster of tables and chairs, and offers a nice glimpse of the activity on the corner of Kane and Humboldt.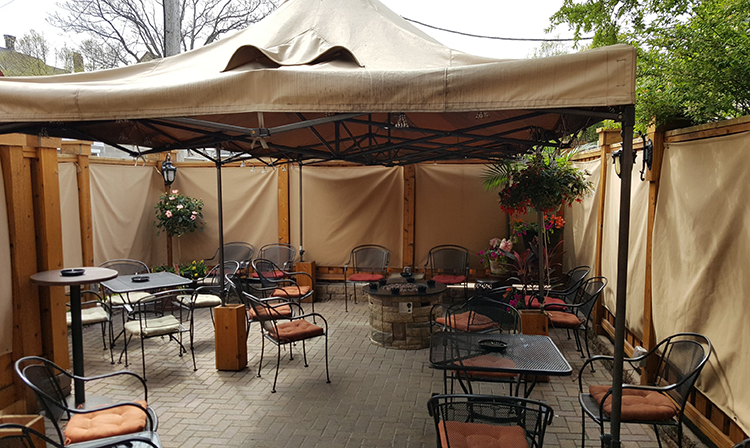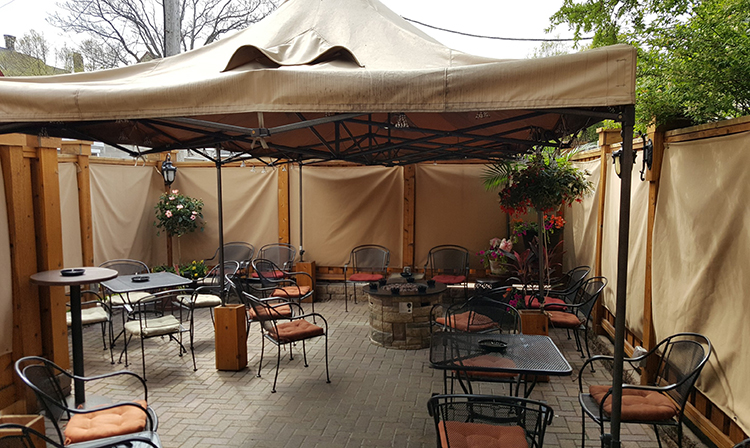 Fluid
Apparently, when we were totally fucked up near the conclusion of our Milwaukee Gay Bar Crawl around four years ago, we failed to notice the gorgeous brick patio behind Fluid. Our bad! Well, follow the canvas to find an assemblage of cushy chairs, plants, and a fire pit concealed in a brick courtyard that's nestled behind this bar on busy 2nd Street.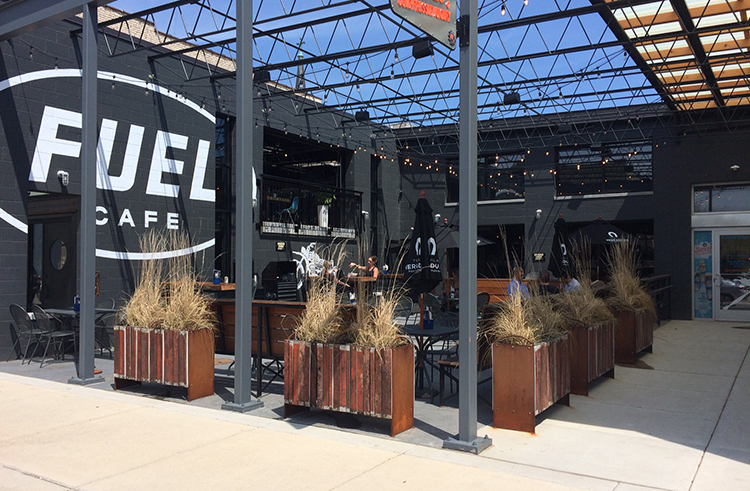 Fuel Cafe has been an important part of Milwaukee since 1993. Over the last 25 years, the cafe has evolved to expand its drink menu and food offerings as its local legend has grown in kind. In 2016, Fuel literally expanded when the seminal restaurant and coffee shop opened a sprawling new space in Walker's Point that features a full bar and even more menu items to go with time-tested favorites. With a much larger space than its Riverwest counterpart, Fuel Cafe 5th Street is also able to offer a gorgeous patio that looks out onto suddenly bustling Walker's Point thoroughfare.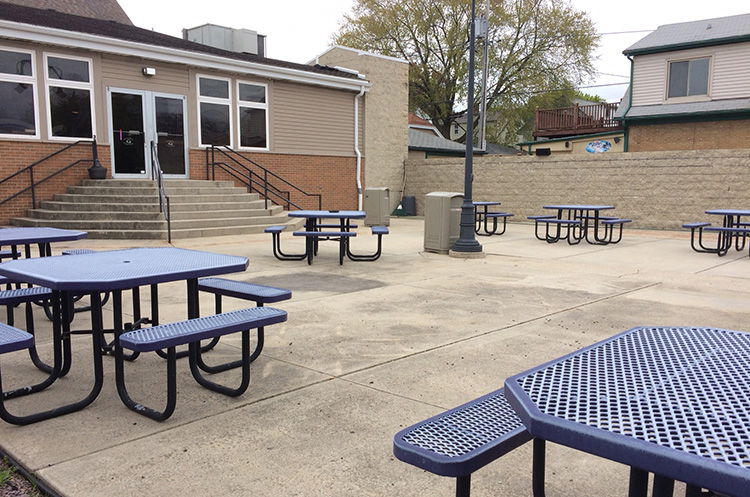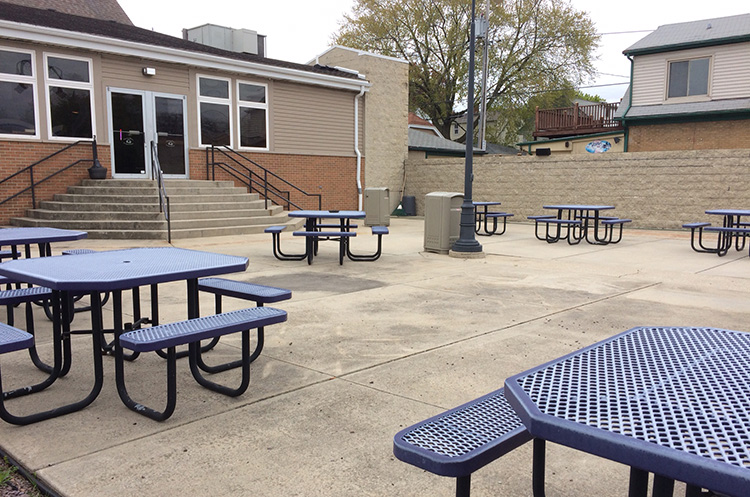 Gingerz
Formerly Rookie's, Gingerz opened on the corner of Howell and Howard avenues a couple years back. The "sportz pub and grill" inherited the previous tenant's massive concrete patio, which is currently partially covered with tables. There's still enough room for outdoor activities, including Gingerz's weekly bags league. For that, we'll do our best to overlook the whole "sportz pub" thing.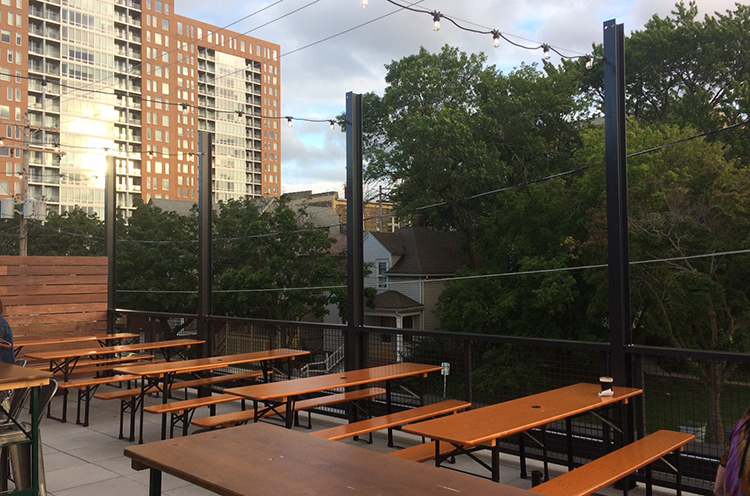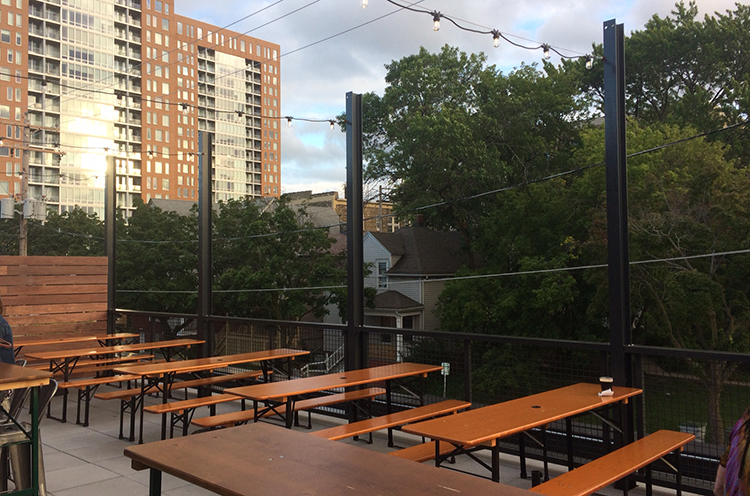 Good City Brewing
Good City Brewing is booming. It's almost as if tremendous beer and great food served in a comfortable setting is a recession-proof concept. Two summers ago, Good City celebrated its first anniversary and the christening of its gorgeous rooftop patio that offers ample seating, quick service from an upper-level bar, and a stunning view of the neighborhood.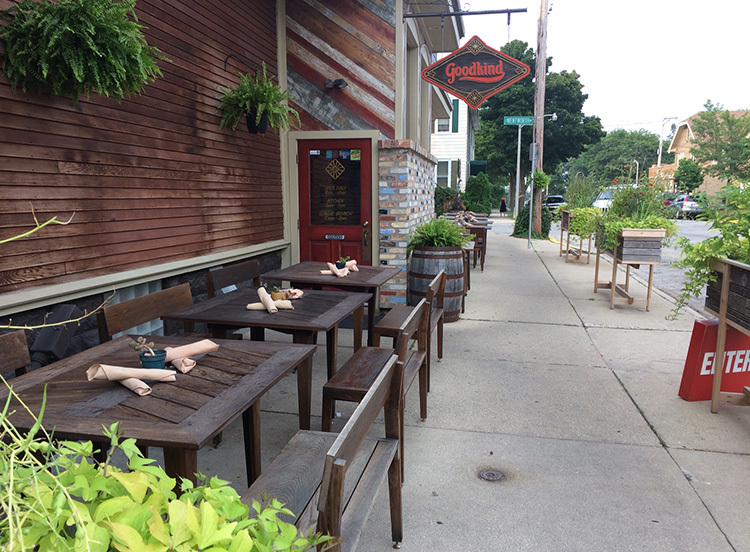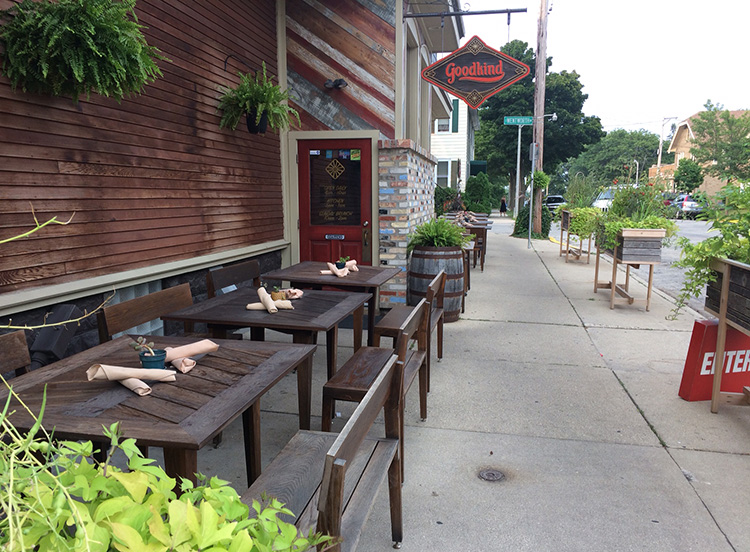 Goodkind
Two summers back, following more than three years of prosperity in Milwaukee fine dining, Goodkind decided to spread the delicious things happening under its roof to the concrete outside the restaurant. Local woodworker Christopher Brooks and co-owner/head mixologist Katie Rose built the amazing tables and benches that line the buisness' southern side by hand. Add brand new planter boxes, decorative bourbon barrels, and the soothing serenity of a quiet segment of Bay View and you have yourself one damn fine patio.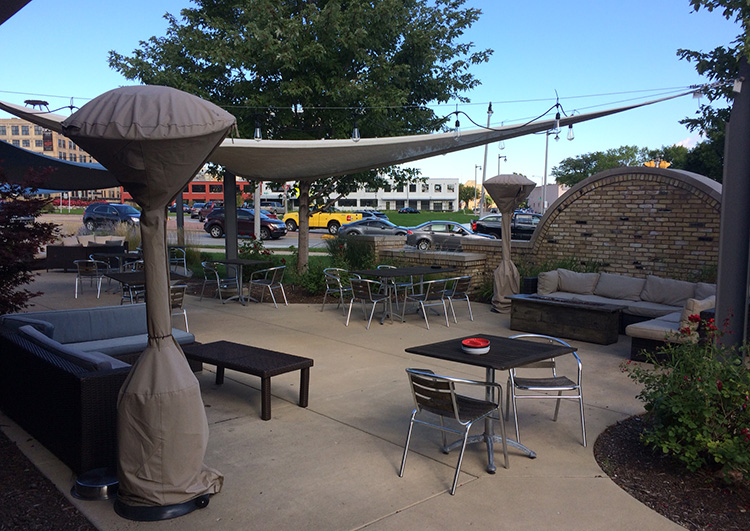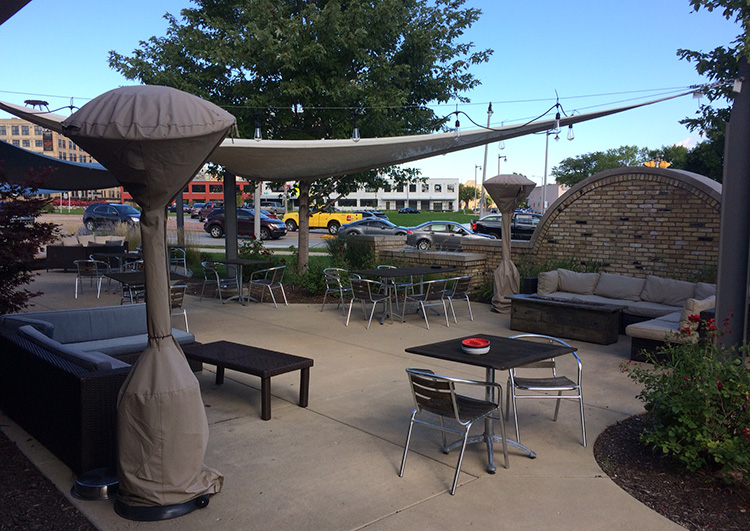 Great Lakes Distillery
As if having a strong presence at bars through the city and the state wasn't enough, Great Lakes Distillery also saw fit to create an awesome space for people to imbibe the spirits they craft in-house. Adding to the striking, window-lined lounge inside the Walker's Point property, the distillery's yard is replete with chairs, tables, couches, heaters, masonry, and enough space to host a large group gather or catch a concert.
Guanajuato
Sure, Cafe Corazon, Cafe Sabor, and Little Cancun might be the new kids in the neighborhood, but there's a reason GTO has thrived in Bay View for ages, and should continue to do so for years to come. After outgrowing its first site (the current home of Little Duck), Guanajuato Mexican Restaurant took root in the still-too-small building three doors down from its old stomping grounds. Yeah, it continues to be cramped in less temperate months, but the brick patio in GTO's rear grants customers some reprieve in spring and summer to the tune of about 15 two- and four-top tables. Compared to many of the other places on this list, the scenery may not be picturesque, but the food more than makes up for it.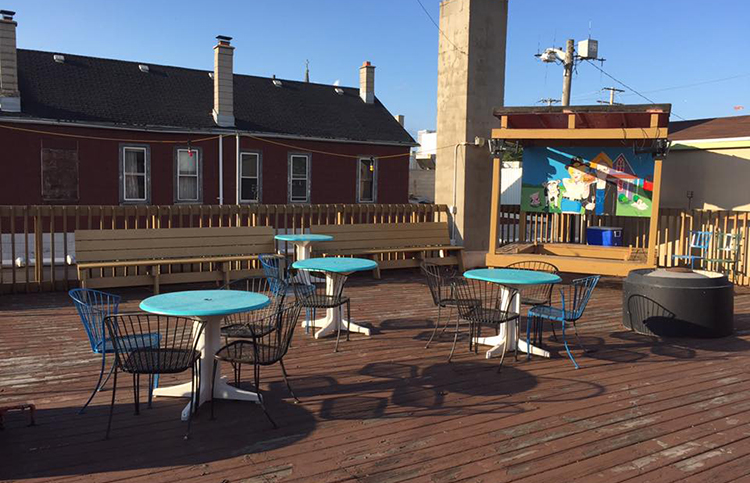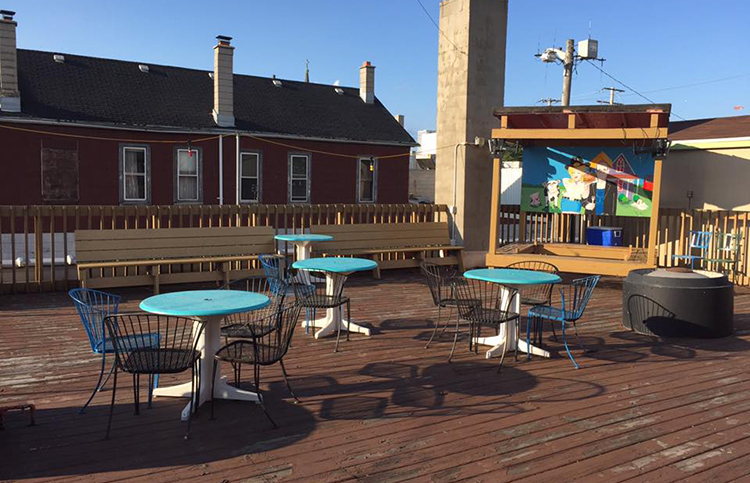 Hamburger Mary's
When Hamburger Mary's relocated from its admittedly drab digs in Bay View and migrated to the building La Perla used to call home, the franchise's only Milwaukee shop inherited a far more spacious building. As a direct result, Hamburger Mary's was able to add a "Beercade" and take advantage of the Walker's Point property's roof. The latter is a sleek second-story deck that's outfitted with ample space of dining and dancing, propane fire pits, a covered DJ booth, and a grand glimpse of a rapidly-changing 5th Street.
The Harp
Inside, The Harp may have the dim, cozy, Irish pub vibe down, but head back to their patio deck and it's all bright umbrellas, twinkle lights, and (hopefully) sunshine by the riverside. The deck was expanded in 2013 and with it came three new docks, perfect for pulling up your pontoon to throw back some Killian's or Rumrunners or whatever on the multi-tiered deck. It may be a little bro-heavy come evening, but the deck and the view make it worth weaving through the bomb-taking clientele.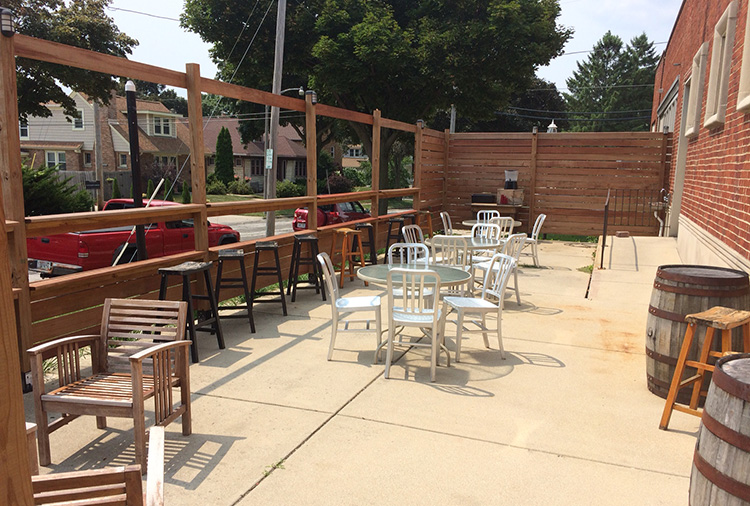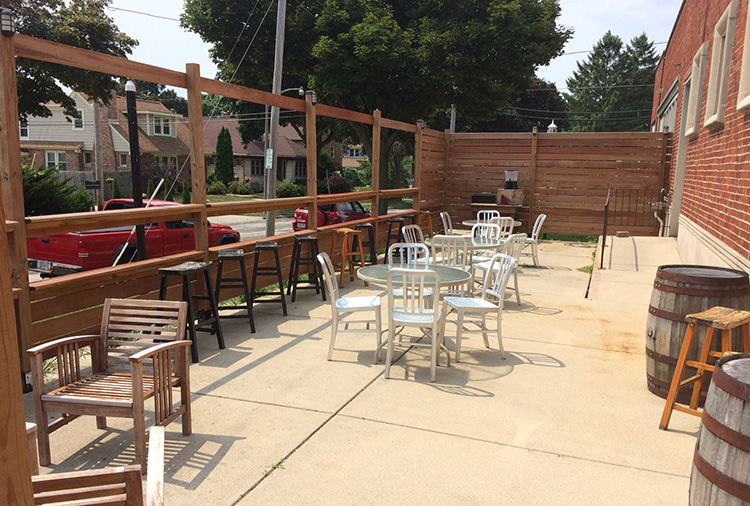 Hawthorne Coffee Roasters
Since opening its cafe and roastery on the South Side, Hawthorne has taken many forms. A portion of the property was the proving ground for the first iteration of Iron Grate. Later, Taco Moto's Mitch Ciohon occasionally held burger pop-ups there. Along the way, Alcoholmanac magazine had its office there for a spell. Press food truck hold occasionally holds Waffle Sundays there and both Foxfire and Donut Monster has pop-ups as well. In short, there's a lot happening at Hawthorne. Thus, it made perfect sense for the business to start utilizing the paved and elevated side deck for patio seating. With a few tables, some stools, and a couple chairs on hand, there's room to enjoy a latte, a cocktail, and eat anything from burger to waffles to barbecue outside.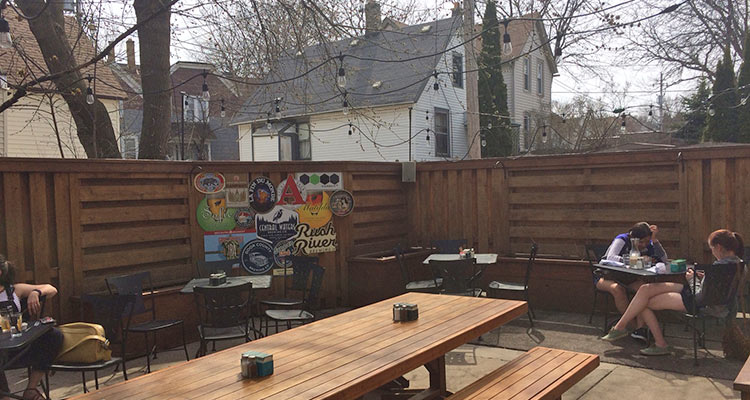 Honeypie
Roughly half the weekends of the year, Honeypie is packed tight with prospective brunch customers and pie enthusiasts waiting for some of the Kinnickinnic Avenue restaurant's limited interior real estate. While the food is well worth putting your name on the dreaded list, a period spanning from spring through the entirety of summer brings about more seating and an opportunity to dine and drink outside in the (mostly) fenced-in rear patio. Be it for a pre-Chill On The Hill bite to eat or a satisfying breakfast in the soothing summer sun, Honeypie should be on your relaxation radar from now to early October.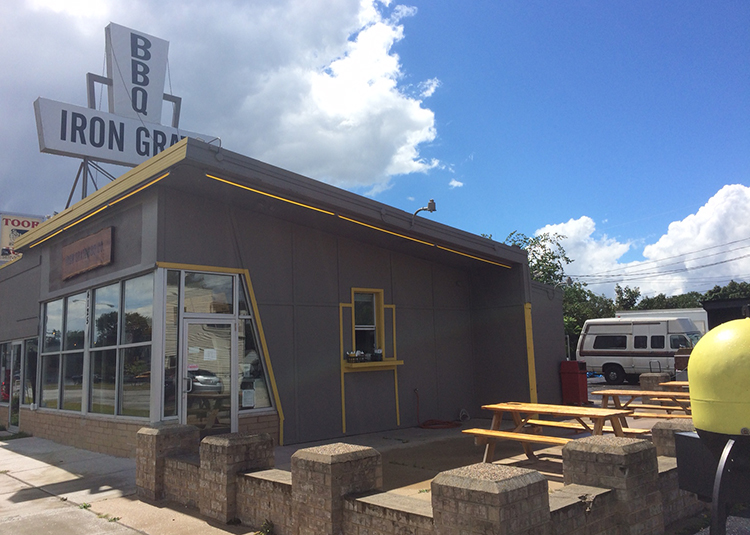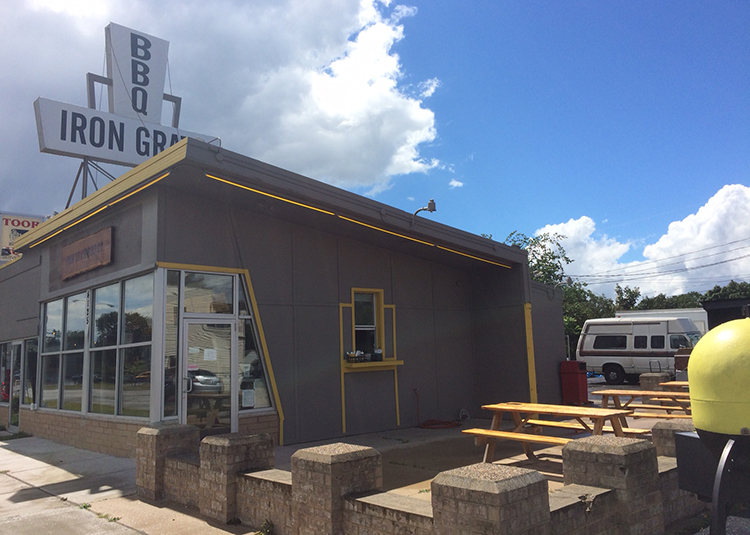 Iron Grate
The patio on Iron Grate BBQ also inspires folks to stay and eat. The restaurant, which used to share a portion of Hawthorne Coffee a few doors down from its current spot, is completely no-frills, and that extends to its workmanlike, picnic table-lined side patio as well. It gives diners a front row view of Edna (Iron Grate's star smoker) on one side and Howell Street on the other. It's an improvement, but really, you won't care what you're looking at between bites of "Milwaukee style ribs," out of this world brisket, and side dishes that are bound to stick with you months after your last visit.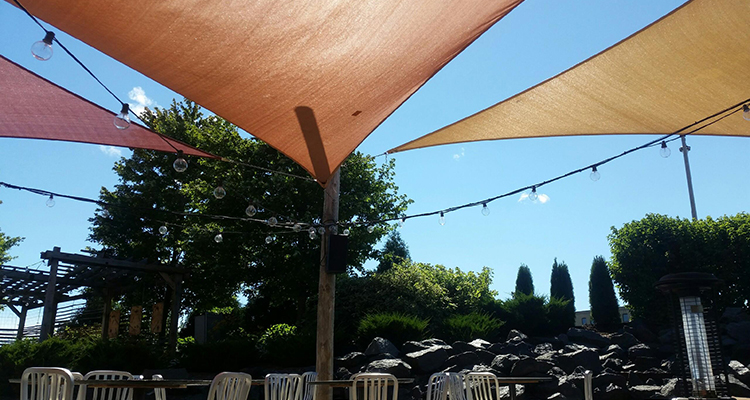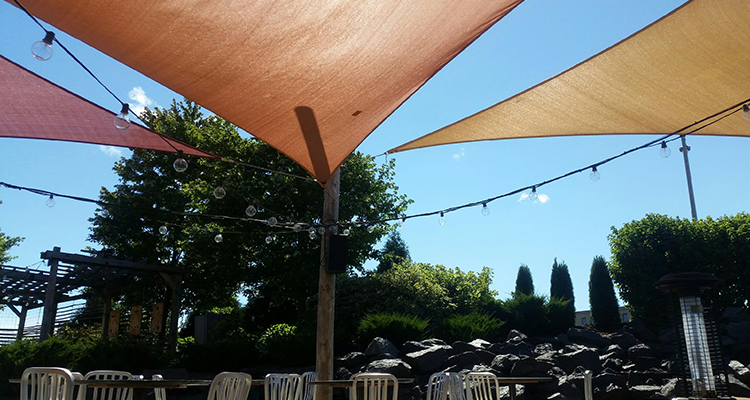 Iron Horse Hotel
Sure, it's the hotel your parents and well-to-do friends splurge to stay at when they visit you, but us commoners are still welcome to imbibe at Iron Horse's swanky bar, and, yep, we're even permitted to sip a cocktail or two on the immaculate patio. After you take a load off with some libations, make the short walk to Conejito's to enjoy some cheap-as-shit tacos.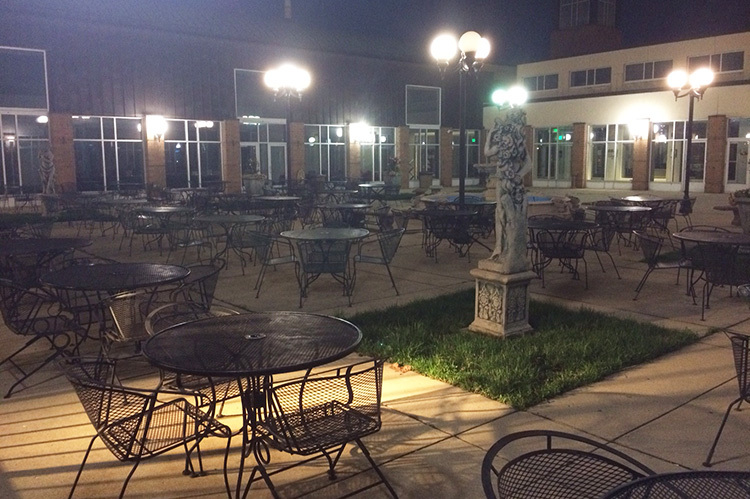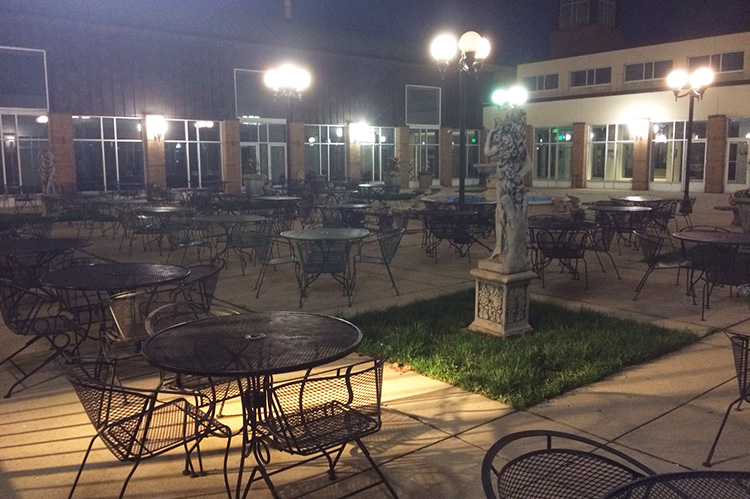 Italian Community Center
Who would've thought the Italian Community Center had such an amazing patio? Damn.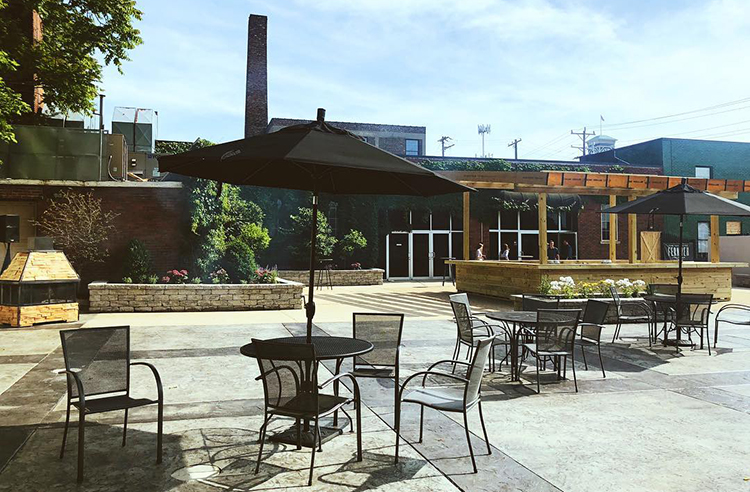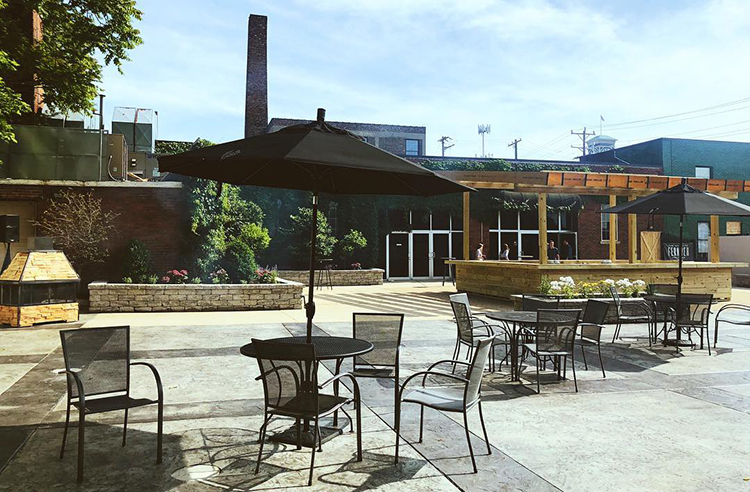 Ivy House
Ivy House isn't just one of the city's newest music venues and event spaces, the Harbor District business is also home to one of Milwaukee's largest and, frankly, finest patios. The enclosed space is sprawling and splendid and perfectly suited for socializing between bands or during a wedding reception.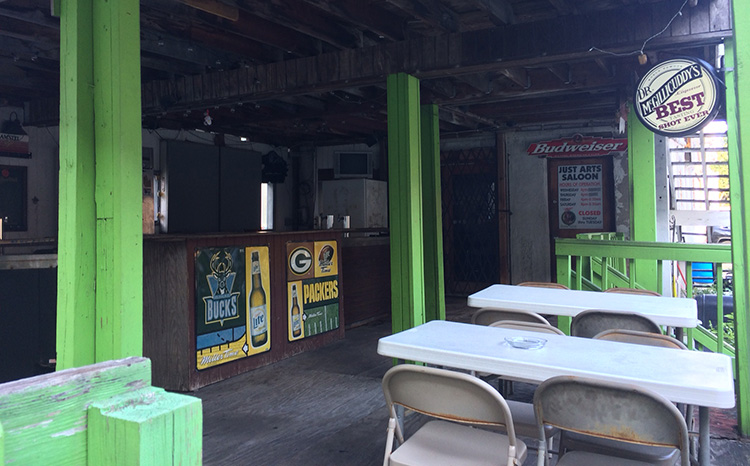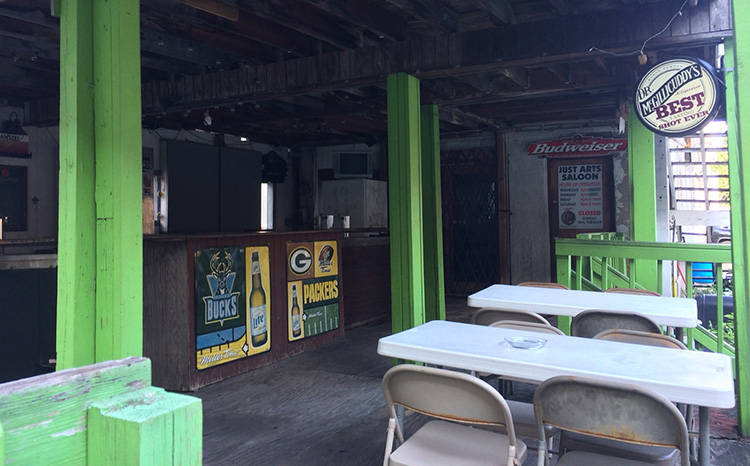 Just Art's Saloon
In an ever-changing Walker's Point, Just Art's Saloon remains an endearing dive bar that's relatively untouched by time. That delightful dinginess extends outside to the partially-covered rear patio behind Just Art's. The elevated deck has card tables, metal folding chairs, a rear bar, and a carefree atmosphere all can enjoy.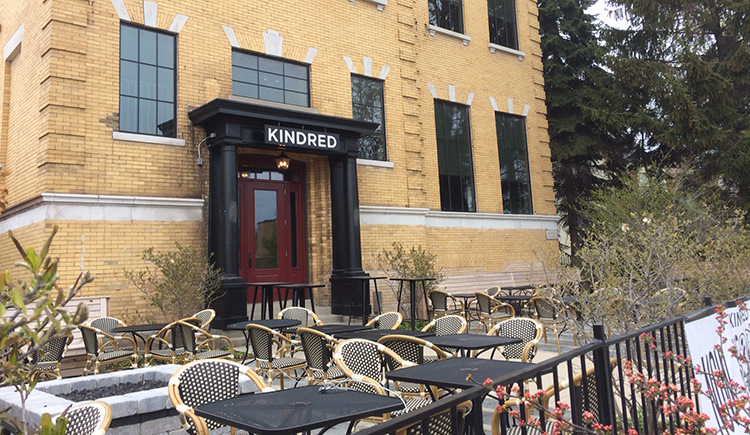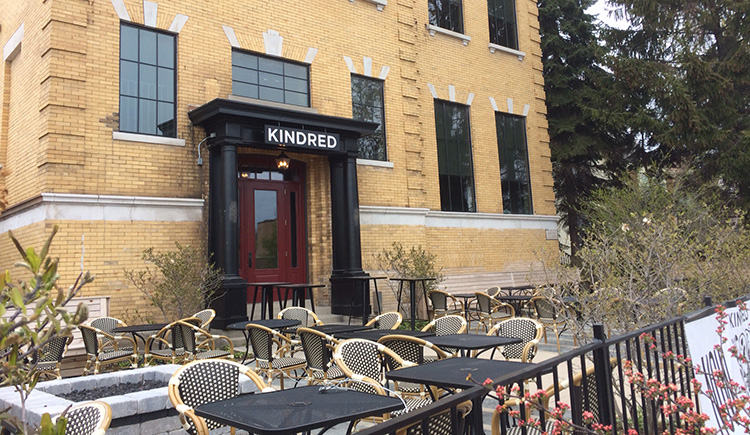 Kindred On KK
After the Bay View Brew Haus and Down & Over Pub (which briefly offered and upstairs daycare, too) failed to make it work in the 150-year-old brick building on Kinnickinnic, a "micro hotel" called Kinn MKE Guesthouse moved in and extensively gussied up the space—even adding a posh bar and restaurant called Kindred in the lower level. The improvements extend to Kinn's exterior as well, as the maligned front yard of the young hotel has received significant landscaping attention. The changes allow for lots of outdoor seating that's elevated above Bay View's busiest street.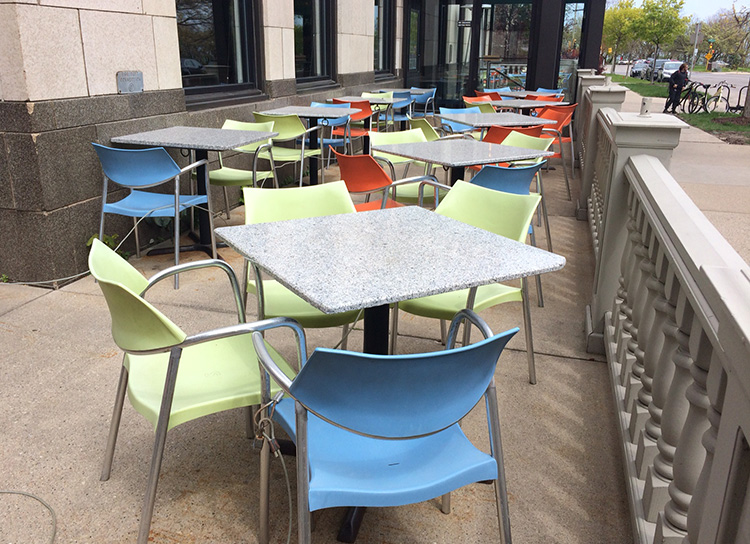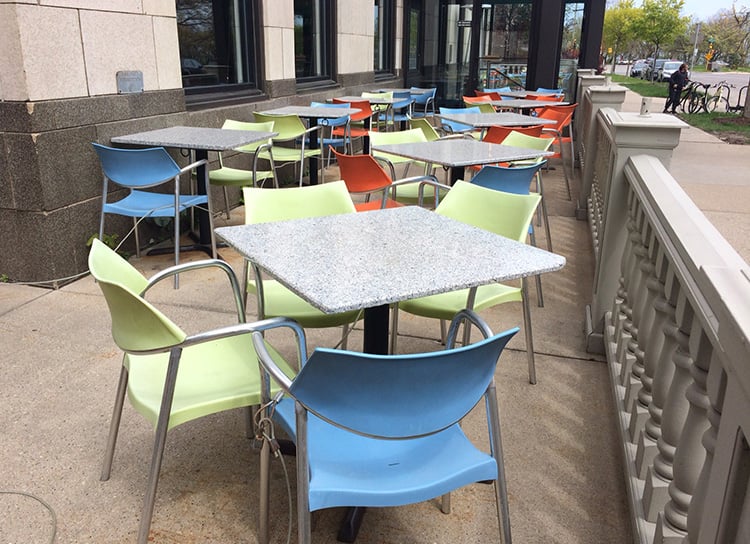 The Knick
The Knickerbocker is one of Milwaukee's more established downtown (adjacent) hotels. Its bar and restaurant, The Knick, offers people who are staying at the semi-swanky establishment and local customers who are hungry seating on a long, thin front patio. What The Knick's patio lacks in size, it makes up for in elegance and its view of the bustling neighborhood overlooking Lake Michigan.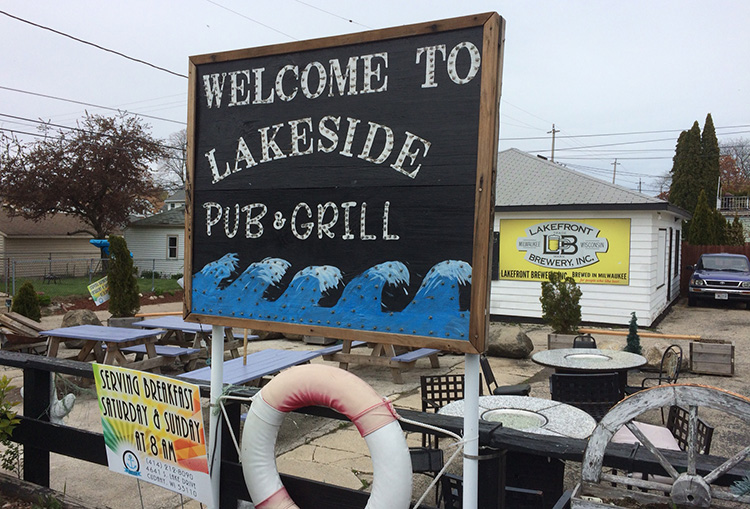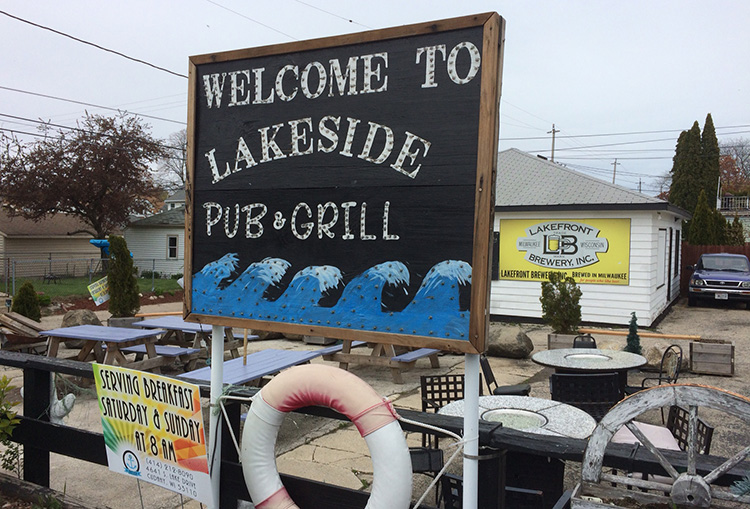 Lakeside Pub & Grill
Cudahy's Lakeside isn't just a run-of-the-mill bar that shit talks nearby burger joints. Rather, it's a run-of-the-mill bar with a patio. Beside the business located on the corner of Lake Drive and Layton Avenue is a makeshift beer garden that offers ample seating, some planters, and a loose nautical theme.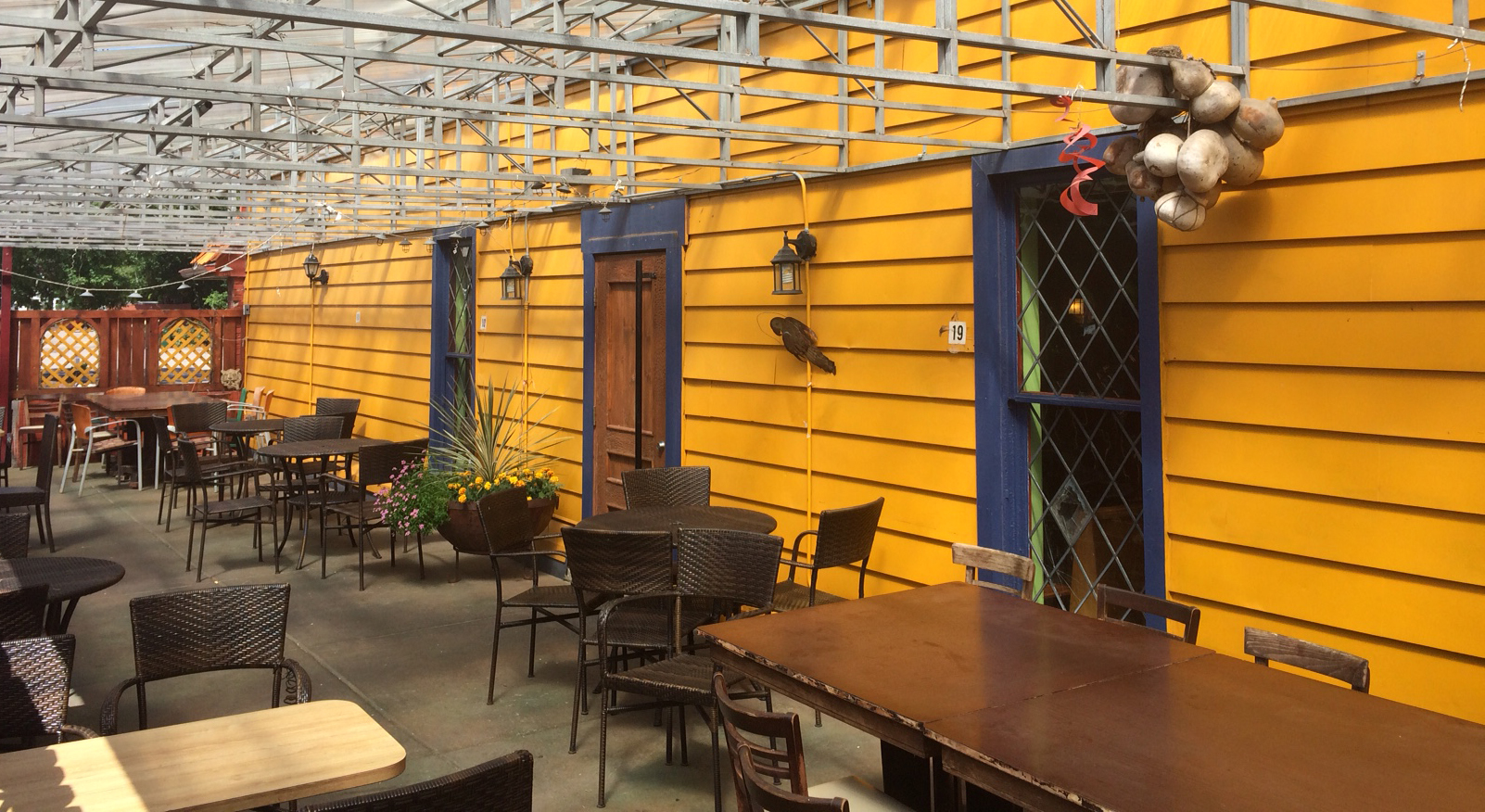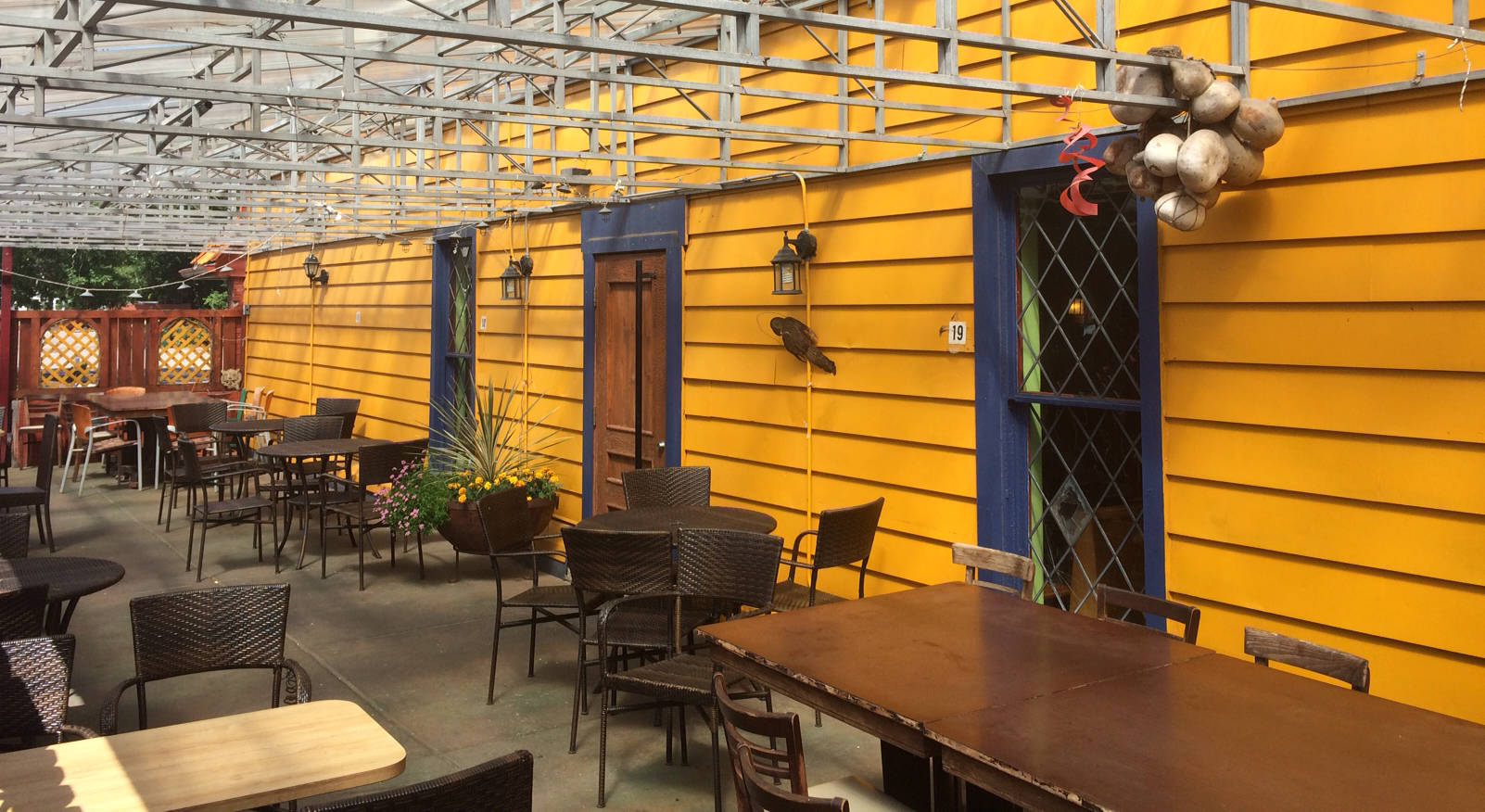 La Salsa
Though La Salsa has been in business since 2001, the Mexican restaurant has called Bay View home since 2011, when it moved to its roomy location on Oklahoma Avenue. In addition to the restaurant's vast interior, La Salsa also extends service to its long covered side patio.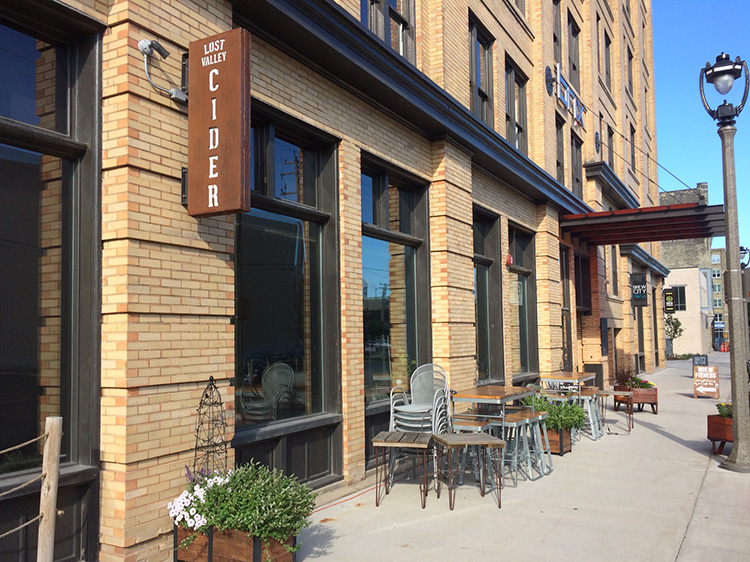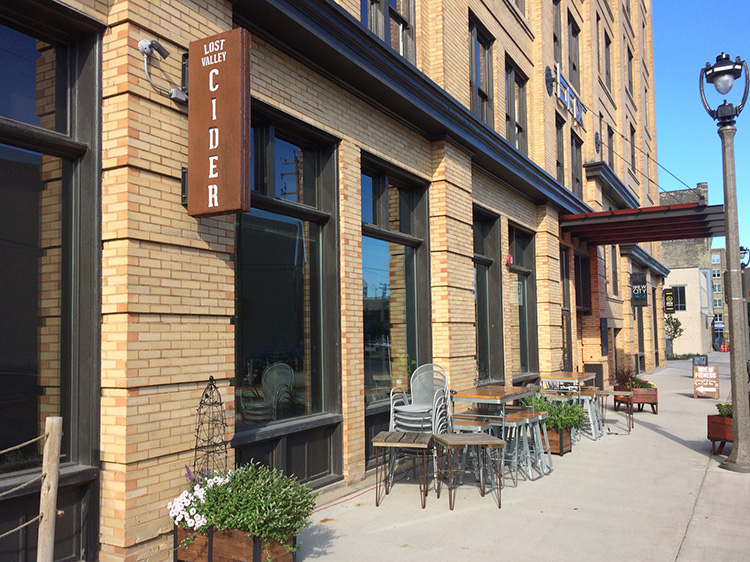 Lost Valley Cider Co.
Continuing this Walker's Point-heavy installment of this running patio series is Lost Valley Cider Co. Since opening on Florida Street in early 2016, Lost Valley has quickly and effectively established itself as the first and finest cider-focused bar in Milwaukee (and Wisconsin). Adding to the outstanding selection or cider—including some Lost Valley made themselves—and the swanky-yet-welcoming interior space is a row of tables nestled between the building itself and the sidewalk. Weather permitting, it's a prime place to enjoy some outside cider.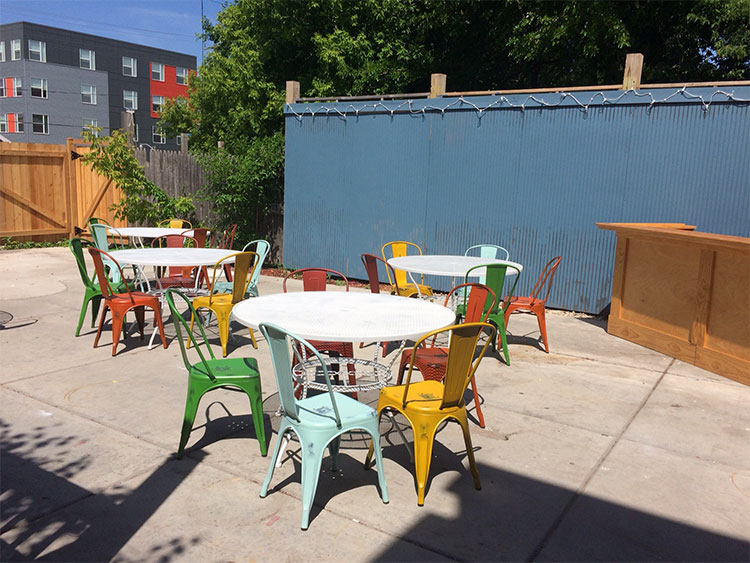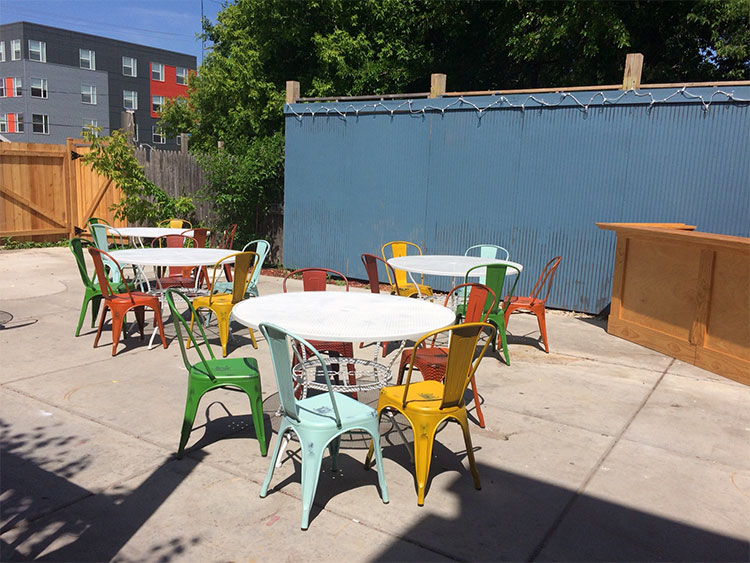 Lost Whale
When Lost Whale took over the original location of Boone & Crockett, they also inherited Boone's awesome rear patio space. There's a secondary bar outside that specializes in canned beer, shots, and simple cocktails. Elevated patio seating on a deck and the stage will be rented out for special events and private parties. There's also an array of tables that are open to the public at all times. The new bar also serves food outside by bringing in local food trucks. Lost Whale plans to cycle in food vendors seasonally.
Mad Planet
Once the cover is paid and a sweat is worked up on the dance floor, Mad Planet patrons can cool off, have a smoke, and ease into a quiet conversation in the club's partially covered, all-seasons patio. Mad Planet's menagerie of tables and benches offers customers a break from the rowdiness within for a few minutes between bands or DJ sets.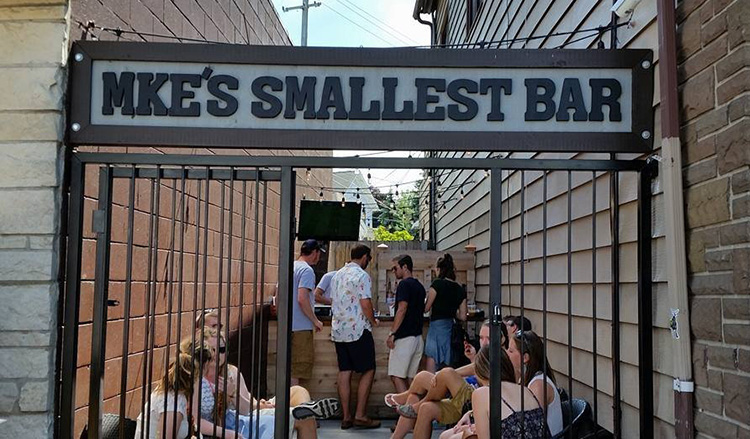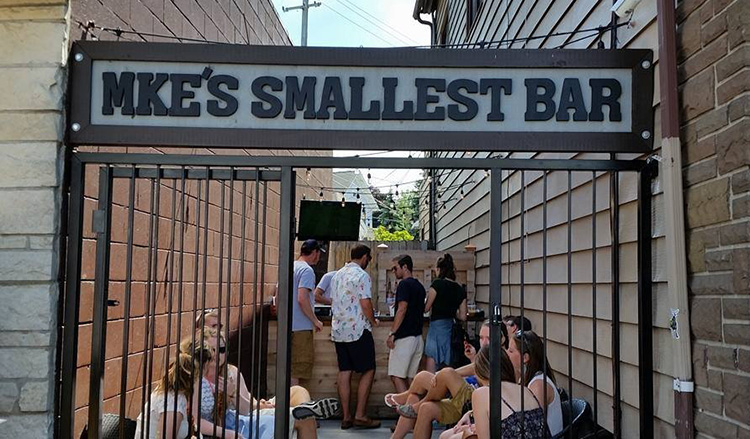 Malone's
Next to Malone's (which was previously Bruno's for like 700 years before that) is "MKE's smallest bar." More accurately, it's the Brady Street bar's patio. Maybe "MKE's smallest patio" is a better name for it. It's not the size of the patio that matters, it's how you use it.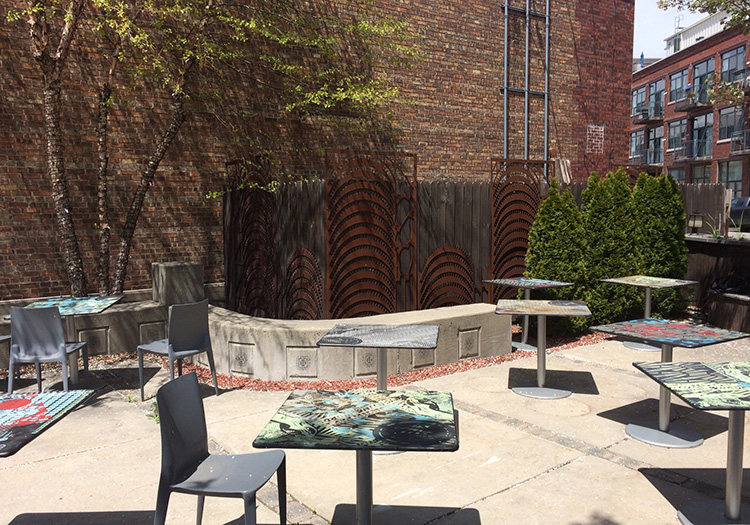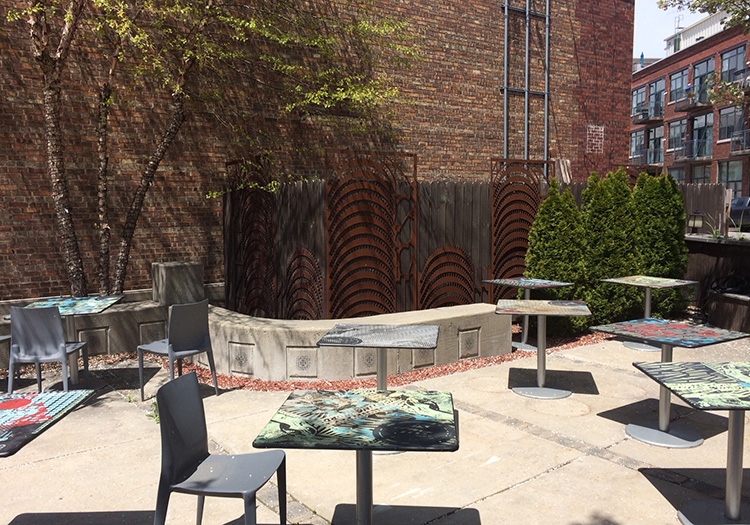 Merriment Social
Merriment Social has of the city's best burgers, a killer beer selection, and this quaint patio. You officially have no reason not to check this place out.
Milwaukee Ale House
Known for hosting cover bands and slinging fried food in the heart of the Third Ward, Milwaukee Ale House isn't usually our cup of tea. Fortunately, the weather allows a respite from the sights and sounds contained within the brewpub's four walls by letting patrons sip Milwaukee Brewing Company brews on the Riverwalk.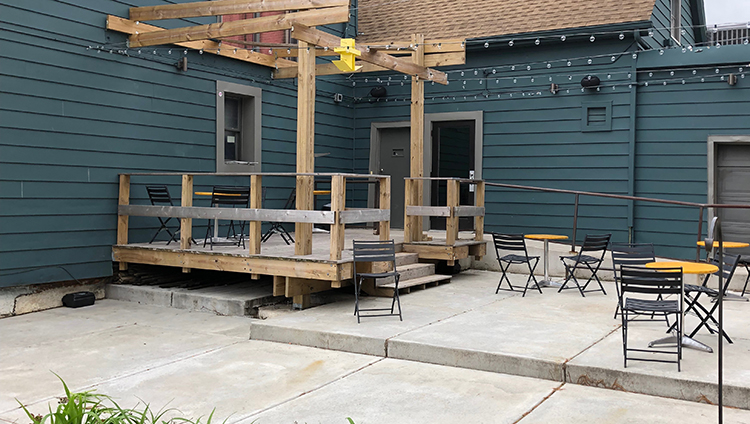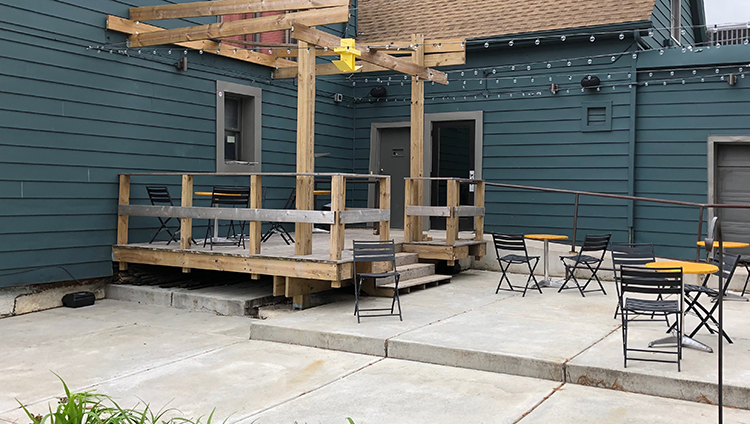 The Mothership
In less than one month of existence, The Mothership has quickly earned a reputation as a place that doesn't operate quite like any other drinking establishment in the city. The sci-fi bar has "gas station" sandwiches and it stocks Gatorade and Arizona iced tea in its cooler. It's presently the only bar in Milwaukee that offers Hamm's on draft, they have a tap line that's specifically devoted to Campari, and there's a large arsenal of mystery beers. Now that spring is (maybe?) finally here, The Mothership can now take advantage of the quaint and cozy patio that faces out on Lincoln Ave.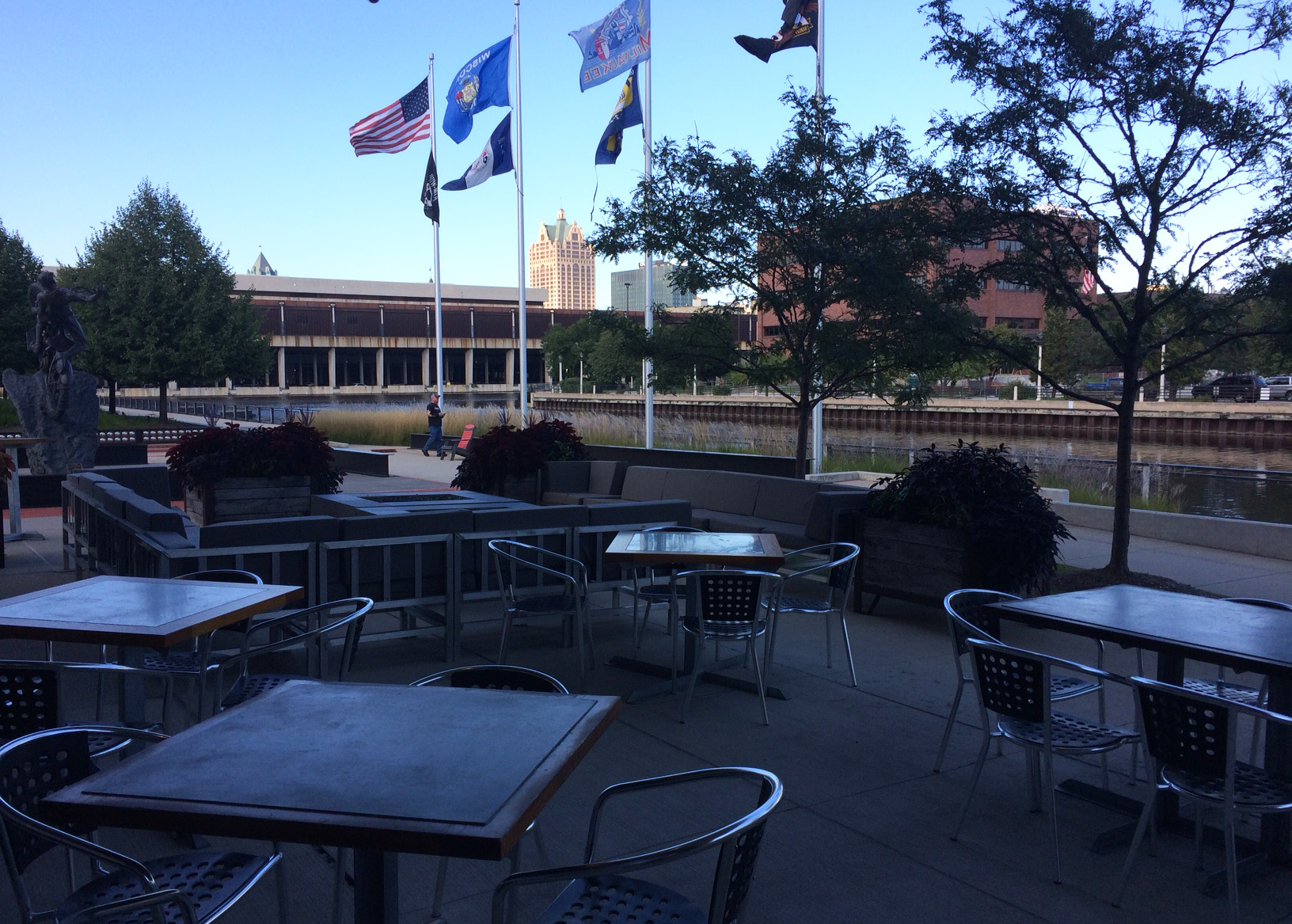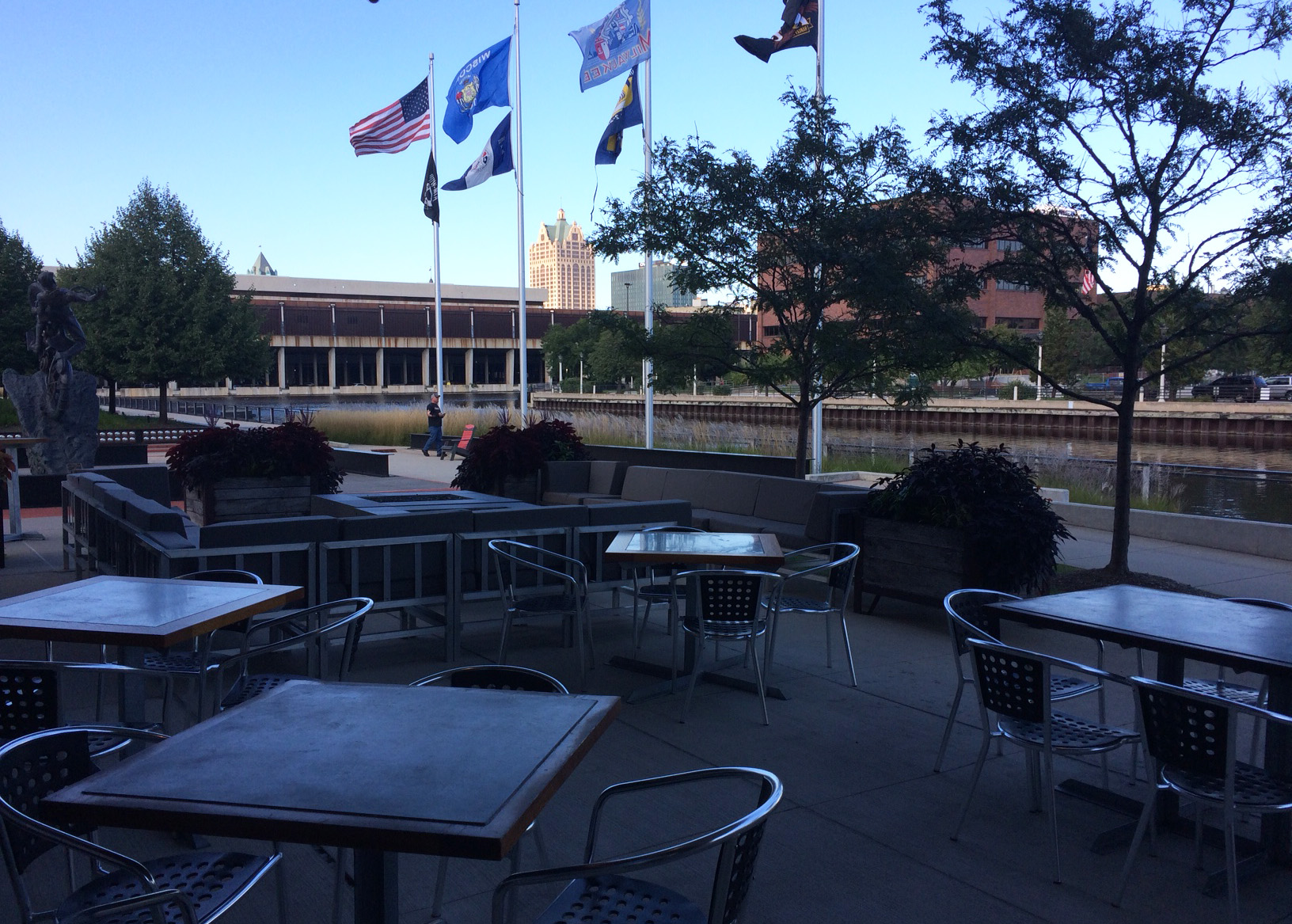 Motor
Now that Harley-Davidson's 115th Anniversary is over, Motor has probably cleared out a bit. Behind the bar and restaurant in the Harley-Davidson Museum complex is a sprawling patio space overlooking a river, downtown, and a true Milwaukee flag. Nice!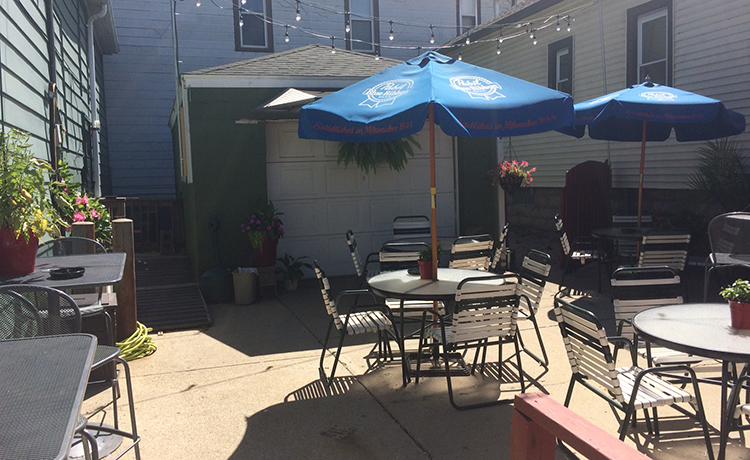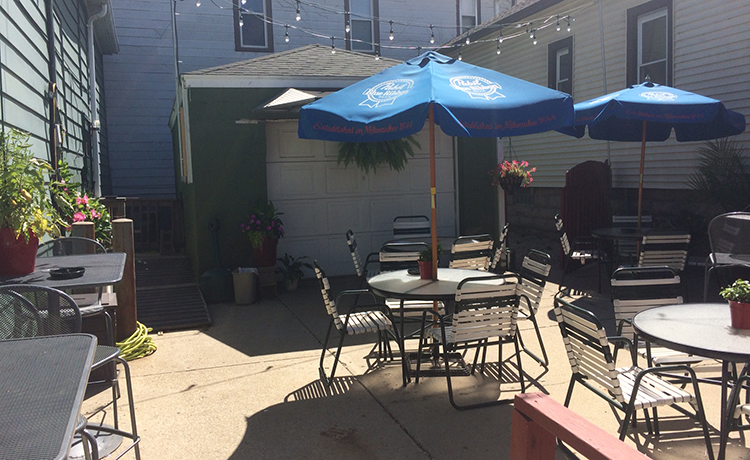 The Newport
As Bay View continues to change in significant (and occasionally confusing) ways, it's refreshing to know The Newport doesn't seem to be going anywhere anytime soon. Though the unabashed corner tap isn't changing in any notable ways, the bar is doing little things to keep up with the times. Case in point: the comfy, fenced-in rear patio.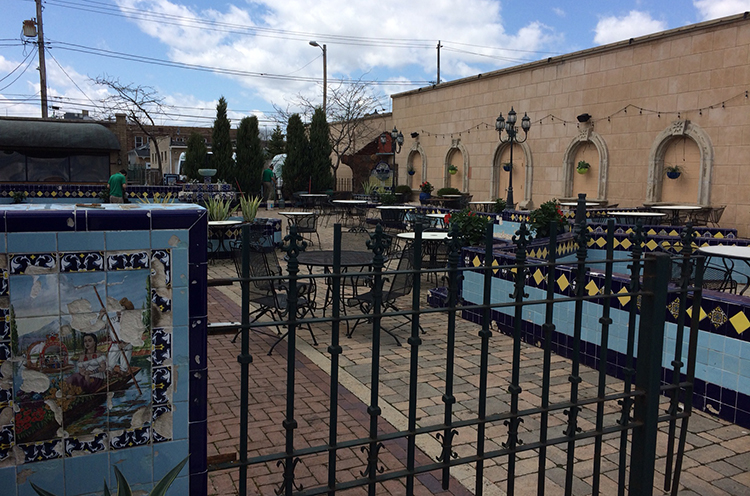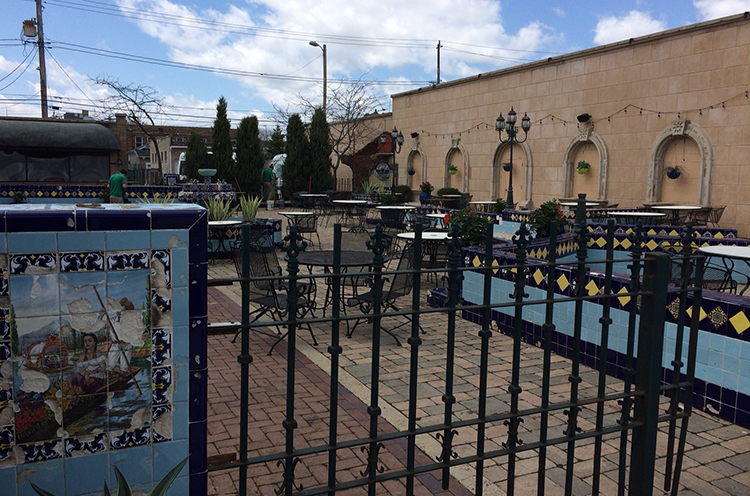 Nomad Nacional
Last spring, 5th Street got even busier and better with the opening of Nomad Nacional. The new soccer bar took over the former site of La Fuenta and, with it, inherited two gorgeous side patios. With cobblestones, tiled decor, and plants accenting these roomy outdoor dining spots, you should make visiting Nomad Nacional your…goal this summer. Get it? Goal. It's like the soccer term.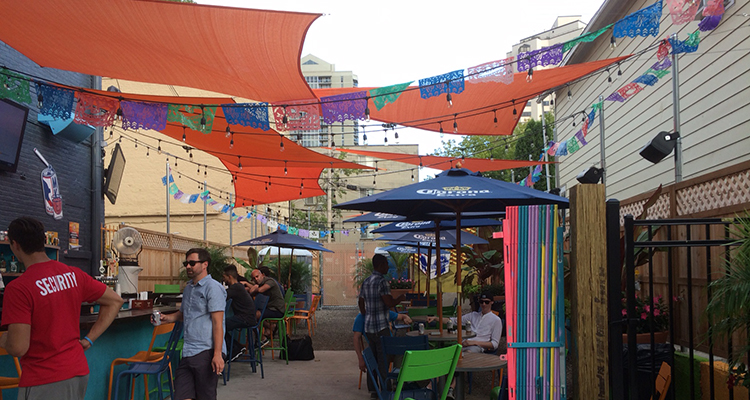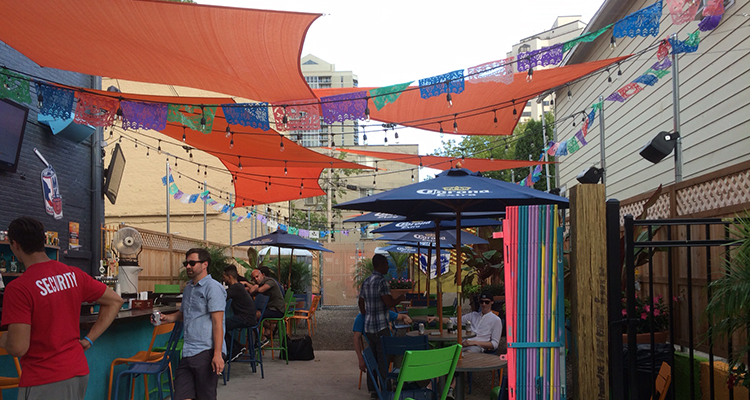 Nomad World Pub
Following its "favela" experiment in 2014, Nomad World Pub took some time to reset, cleared (to quote owner Mike Eitel) "various design problems, cost issues, and ultimately a stalemate with zoning conflicts," and finally found a lasting and less controversial way to expand its business outdoors. Three years ago, Nomad transformed a vacant lot behind the bar that Eitel owned into a biergarten, replete with enough banners, bulbs, plant life, and televisions to cement the Brady Street establishment atop the list of Milwaukee soccer bars.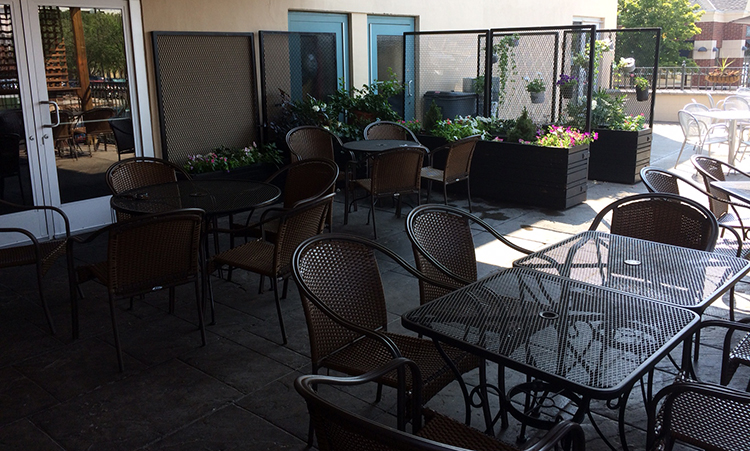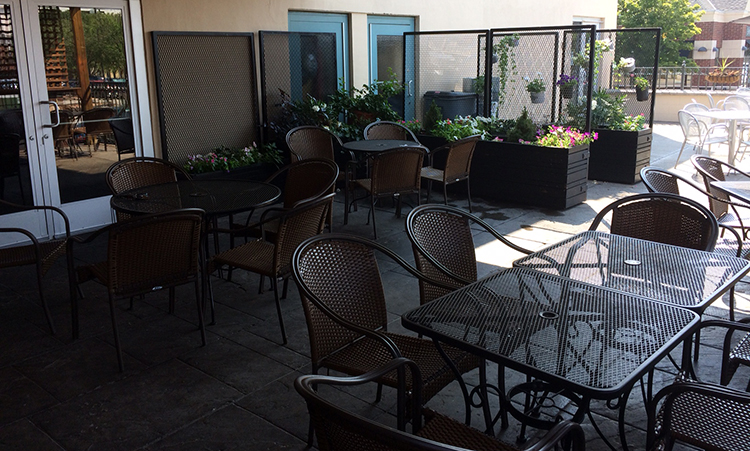 Oak & Shield Gaming Pub
On the subject of newcomers reaping the benefits of past tenants' patios, Oak & Shield landed a nice rear dining area when they opened in the former site of Karma last spring. Admittedly, we've yet to visit the new business, but we're excited to check out both the inside and outdoor offerings at Oak & Shield soon.
Odd Duck
Everyone loves Odd Duck, and sometimes that shows. When the Bay View restaurant's interior is (justifiably) packed with gourmands nearly every night, there might be an escape from the wait in the form of Odd Duck's rear patio. Like the small plate establishment's menu, it's subtle in its greatness, but something you'll find yourself returning to time after time.
Oscar's Pub & Grill
If Oscar's "Big O" isn't the best burger in Milwaukee, it's damn close. The only thing better than savoring one of the city's most delicious slabs of meat is doing so in the fresh air on Oscar's rear deck that offers a distinct glimpse of Milwaukee's downtown from an uncommon angle for most patio folk.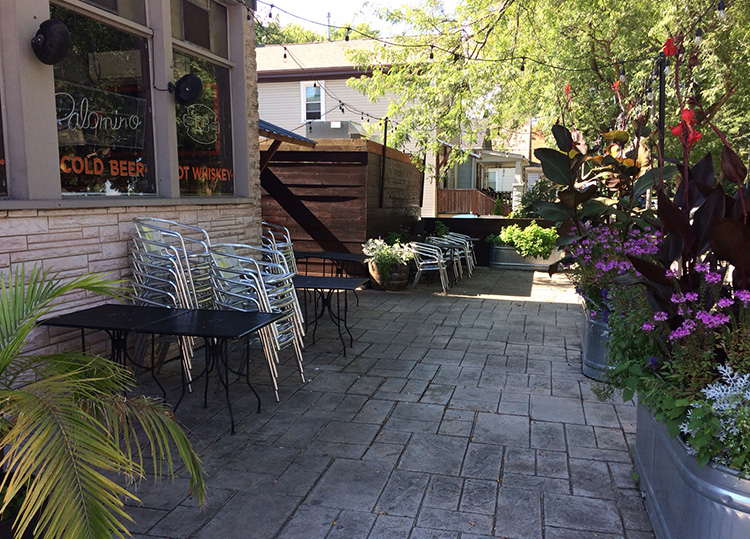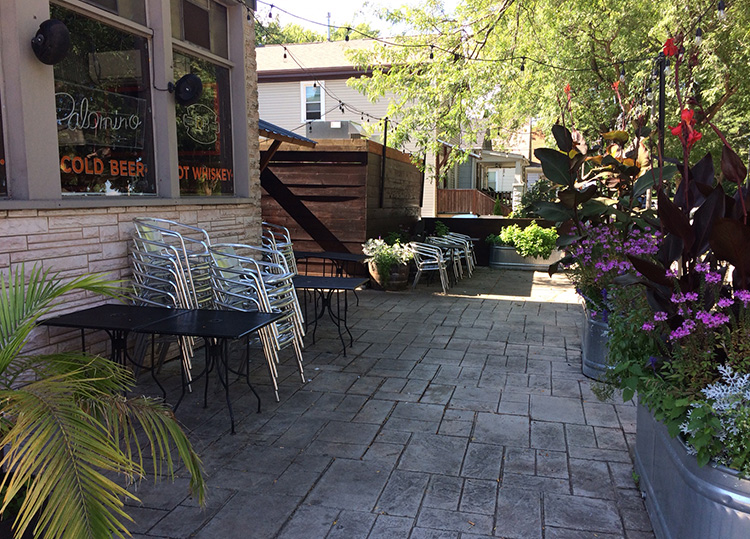 Palomino
Locally speaking, Palomino seemed to be an early patio adopter. The Bay View bar, restaurant, and pie empire has long utilized its quaint-yet-cozy parcel of bricks situated near the vibrant intersection of Russell Ave. and Superior St. Add in some planters, oodles of shade, and a great glimpse of a park across the street, and there's a reason Palomino has been utilizing this spot for years.
Pizza Man
The entire second floor of the Downer Ave. Pizza Man is something to write home about, what with its retractable roof and tons of natural light and all. But, weather permitting, there's no better place to enjoy the offerings of the iconic Milwaukee establishment than on the outdoor patio. Pizza Man has only been in its new digs since 2013, but it already feels like a neighborhood staple.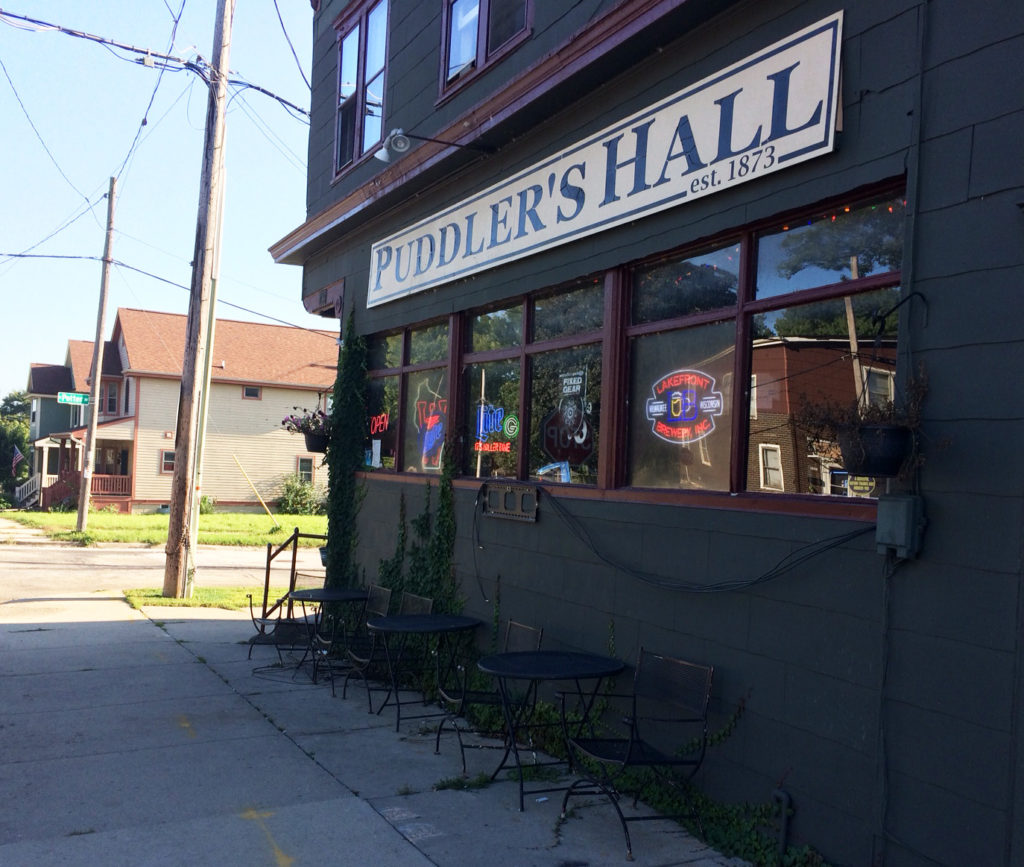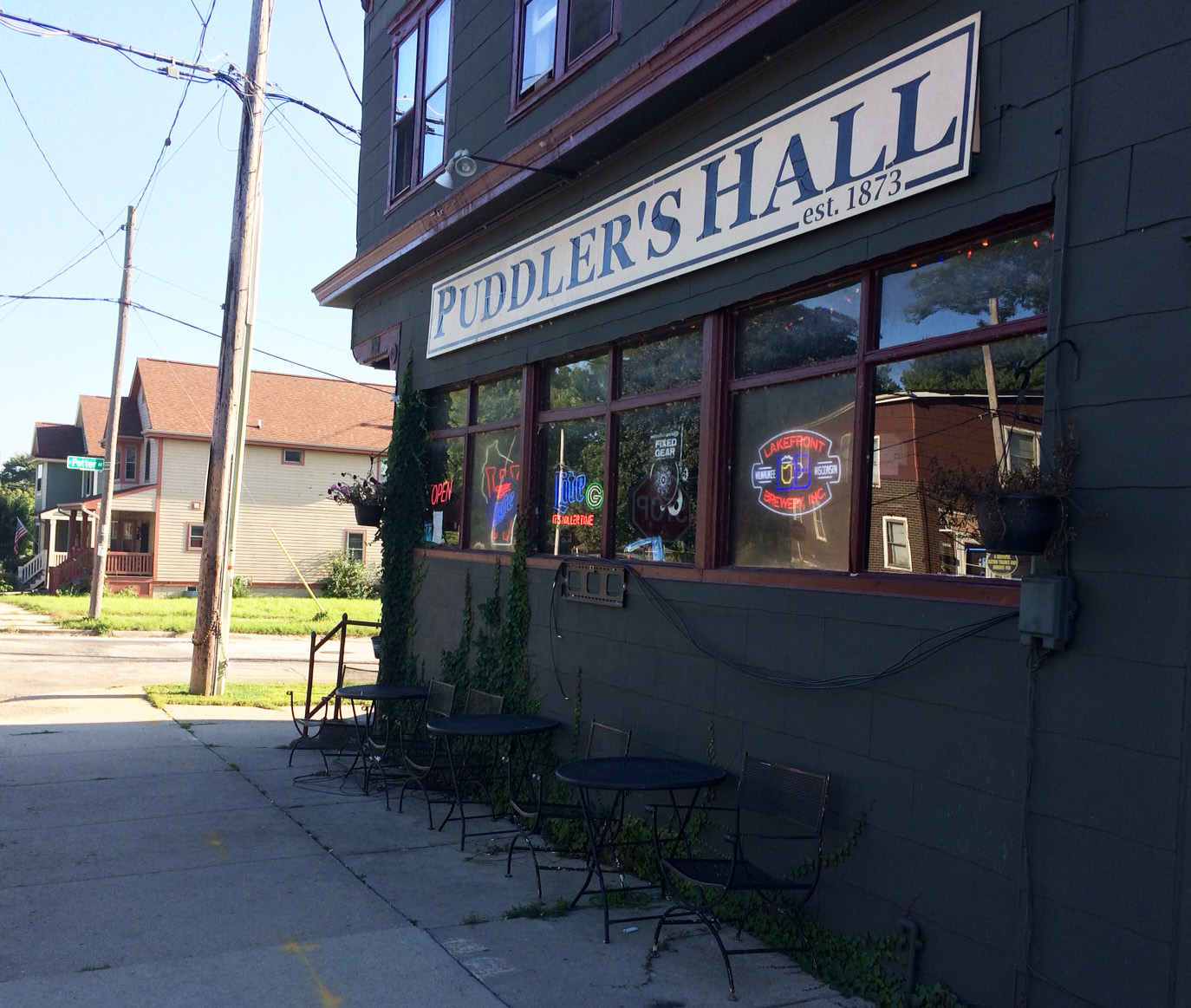 Puddler's Hall
It's just three tables and some chairs, but what more do you need? Plus, Puddler's Hall is awesome.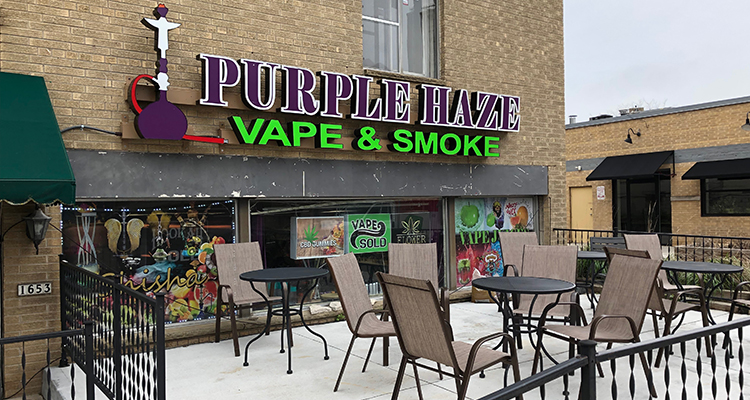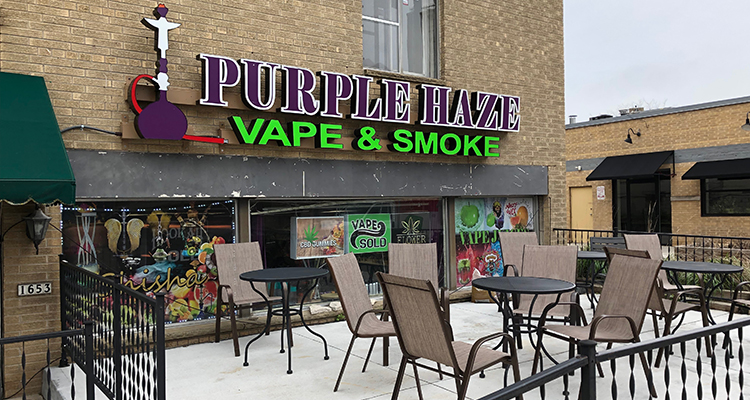 Purple Haze Vape & Smoke
Thought patios were just restricted to bars and restaurants? Think again! Turns out that Purple Haze on Farwell Avenue has a spot where customers can puff on turkey dinner-flavored vape or whatever outside the shop.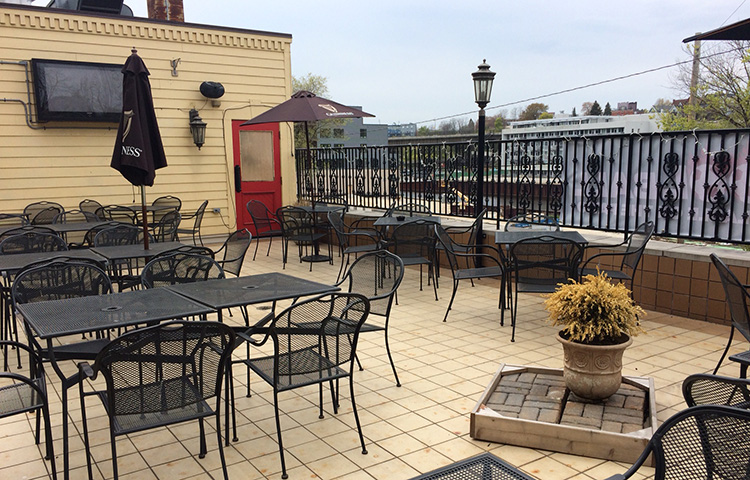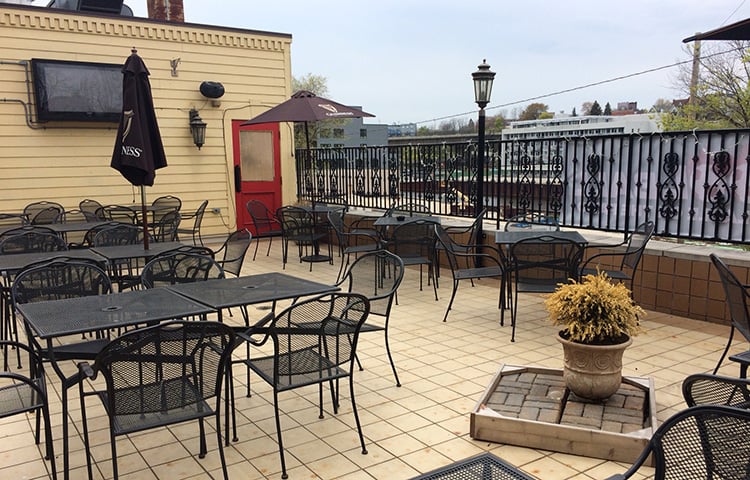 Red Lion Pub
Depending on which side you enter Red Lion from, some might not even be aware the Lower East Side soccer pub has a patio. But holy shit, do they ever! Up a Tannery Row stairwell sits a sprawling rooftop patio that offers an elevated glimpse of all the new luxury apartments that are being built in the area that, ironically, are ruining the view. Enjoy it before some unnecessary mixed-use condo with a misspelled name casts its dumb shadow on this gem of a patio.
Romans' Pub
Sitting within spitting distance of St. Francis, Romans' Pub, with its impressive collection of rare and delicious beers, is a bar Milwaukee is quick to claim. The one knock on it is the neighborhood pub's lacking size. In winter, Romans' side yard is tented to serve as a smoker's getaway. In warmer months, though, the tenting is packed away to make way for a quaint beer garden that makes space for a few more beer aficionados to enjoy one of the city's most respected bars.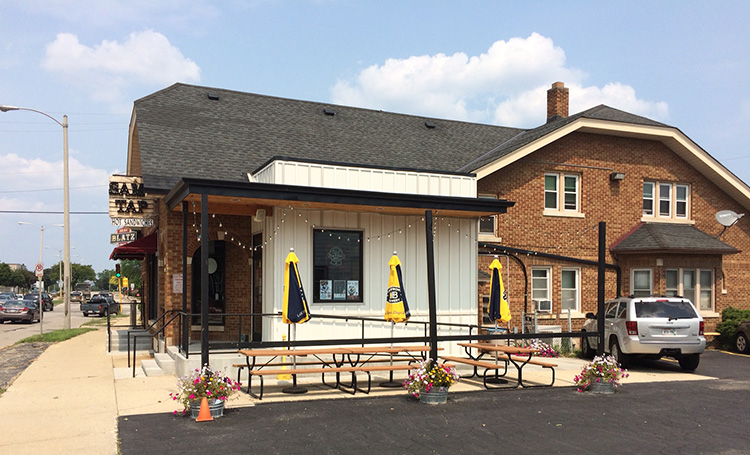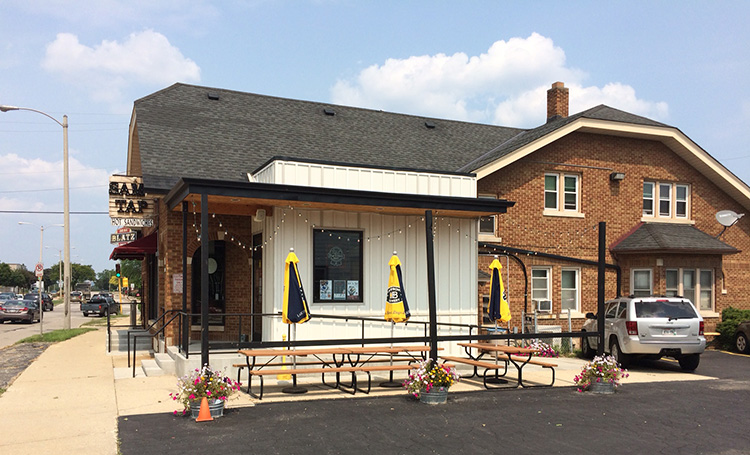 Sam's Tap
About two years ago, Sam's Tap made its way to the corner of Oklahoma and Chase. Since quietly opening on the edge of Bay View, the bar has evolved and improved, both inside and out. Last year, Sam's welcomed its first full spring and summer with its small-but-cozy parking lot patio that has a couple tables, potted plants, and strings of lights.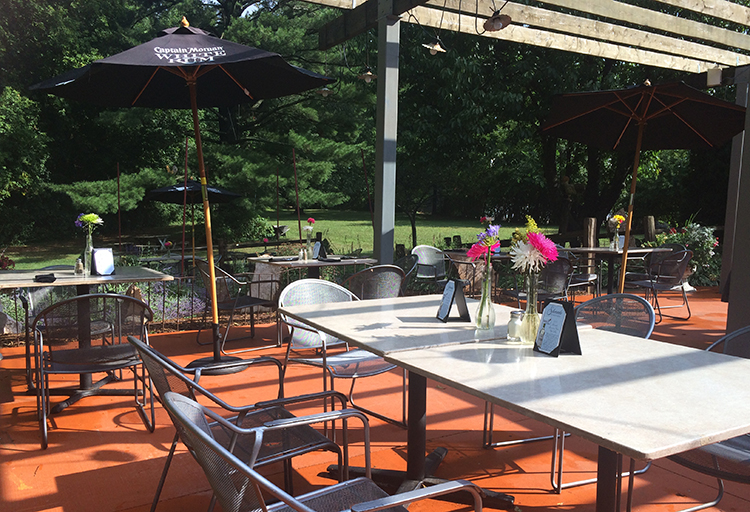 Sandra's On The Park
Out in Hales Corner, Sandra's On The Park makes the most of "the park" part with its striking and vast outdoor dining area that's earned the metro Milwaukee restaurant a variety of local patio awards. That's right, people. There are local patio awards.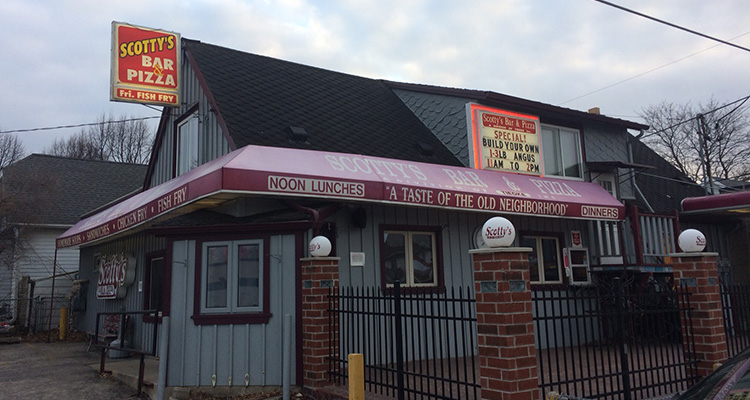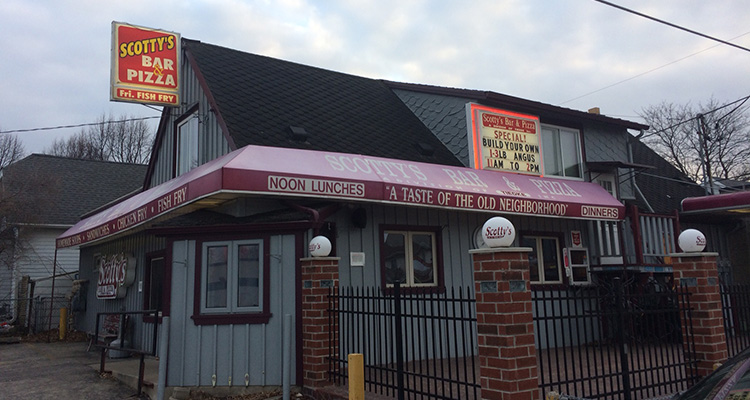 Scotty's
Scotty's also has a patio. The St. Francis-nestled townie bar's patio (overlooking a liquor store's parking lot) really isn't much, but the legendary pizza and the prices warrant a trip…regardless of where you decide to sit once you get there.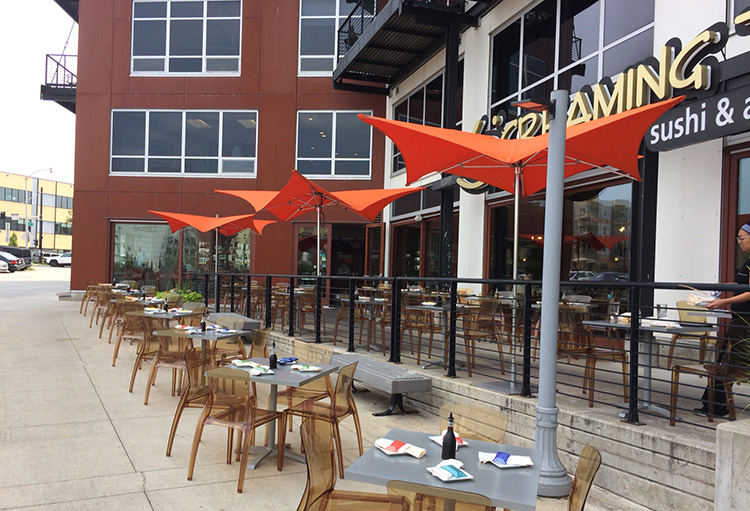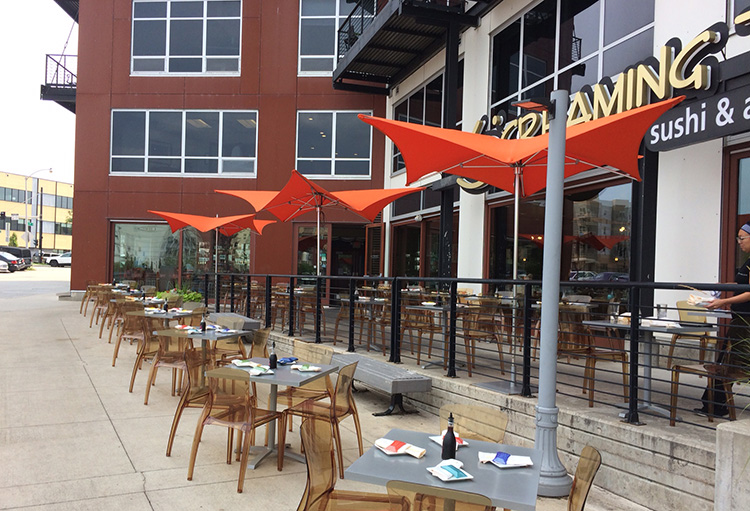 Screaming Tuna
The sleek style that Screaming Tuna is known for extends out to the Third Ward sushi bar's patio. Diners can get a glimpse of the river and the neighborhood's metropolitan feel at one of the numerous umbrella-covered tables that run the length of the restaurant.
Shakers Cigar Bar
Shakers is quick to hinge its identity on being haunted, almost (okay, certainly) to the point of annoyance. While the inside might loom with the ghosts of departed Milwaukeeans and absolutely the scent of cigars from generations ago, Shakers allows patrons to escape the smoke and the specters on the longstanding establishment's new 2nd Street patio, complete with limited seating on a sidewalk-mounted deck.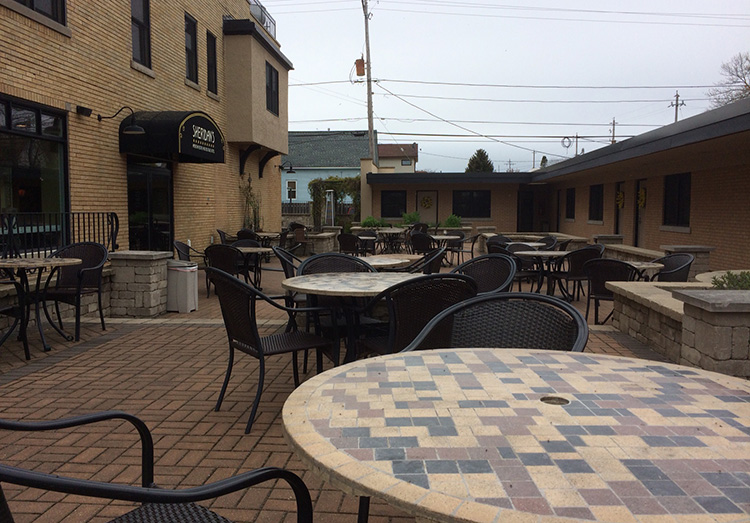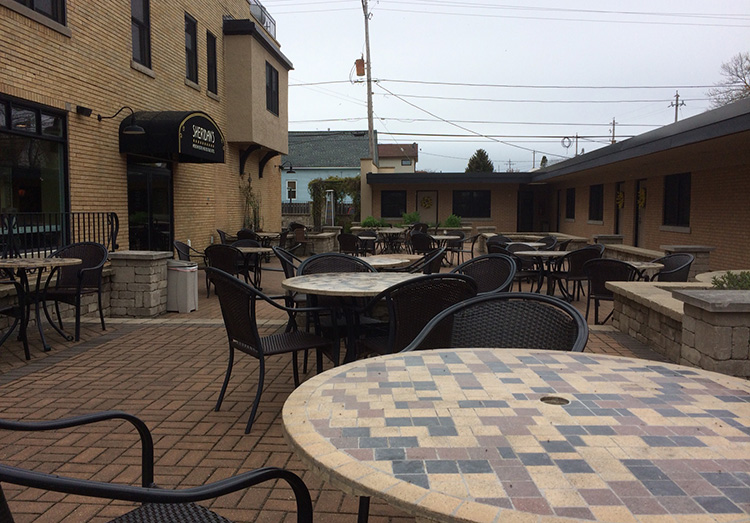 Sheridan's
Due to its location in the widely-panned and thoroughly-misunderstood Milwaukee suburb of Cudahy, Sheridan's is often overlooked. Those who can shed previously-held notions about the industrial city will be delighted to find an upscale-yet-inviting restaurant that's complete with a spacious fenced-in rear patio.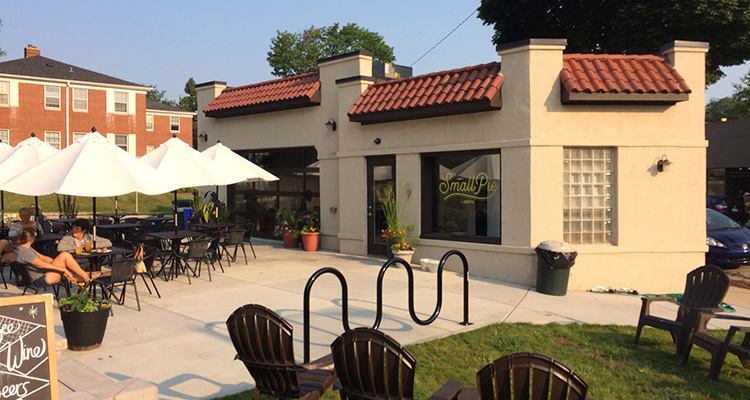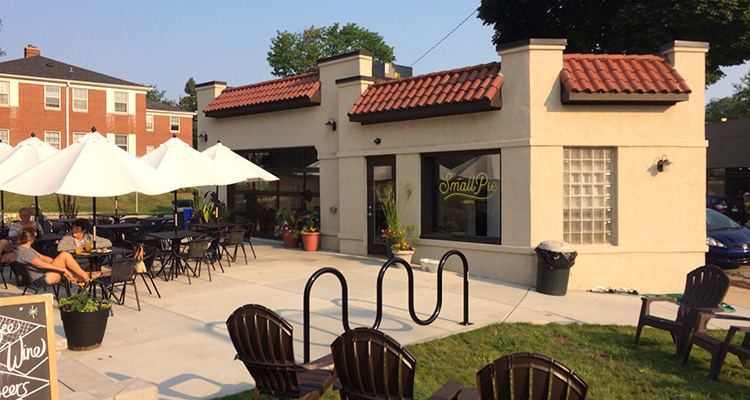 SmallPie
Bay View didn't just get a little sweeter with the SmallPie, it also got an awesome little patio in the process. The renovated garage property was repaved and had grass planted to make for a comfortable setting to eat hand pies and enjoy ice cream or local cocktails. If the 10 tables are taken, there are also a few lawn chairs among the potted plants.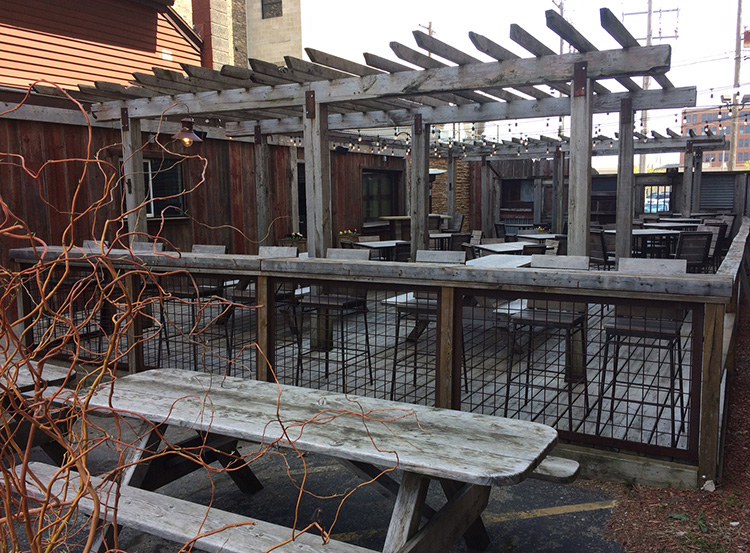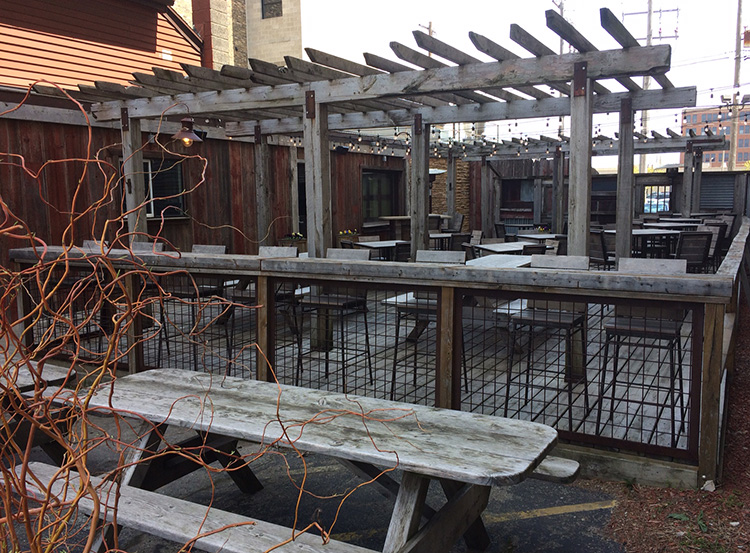 Smoke Shack
Smoke Shack also has a pretty darn nice patio. Here's photographic evidence of that.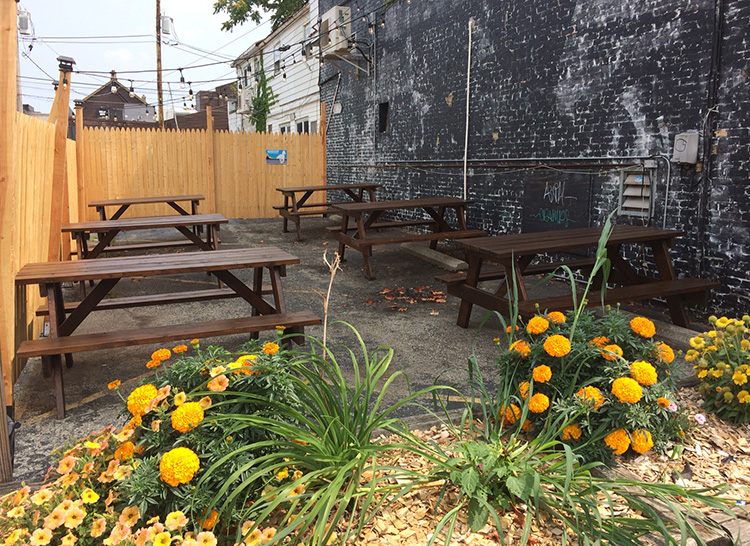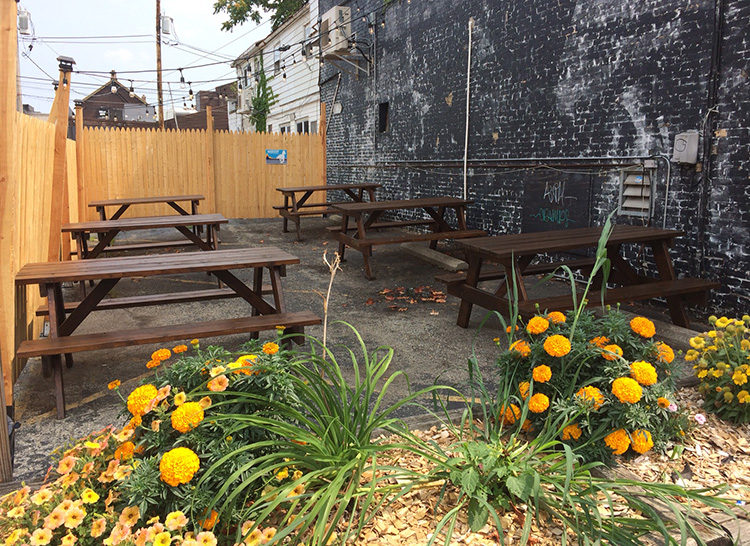 Snack Boys
Snack Boys' interior might suggest an '80s-era cocktail lounge that'd be a Miami Vice location scout's dream, but its side patio seems to be all about comfort and relaxation. Flanked by fencing and flowers, diners and drinkers can take a break from the pink neon glow on one of the six picnic tables situated beside the restaurant.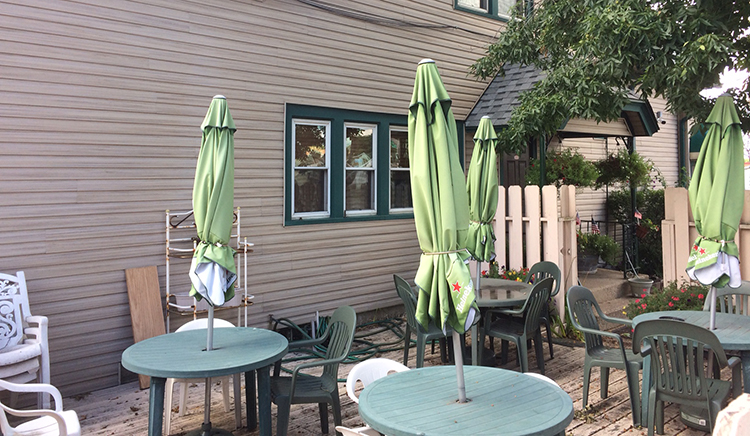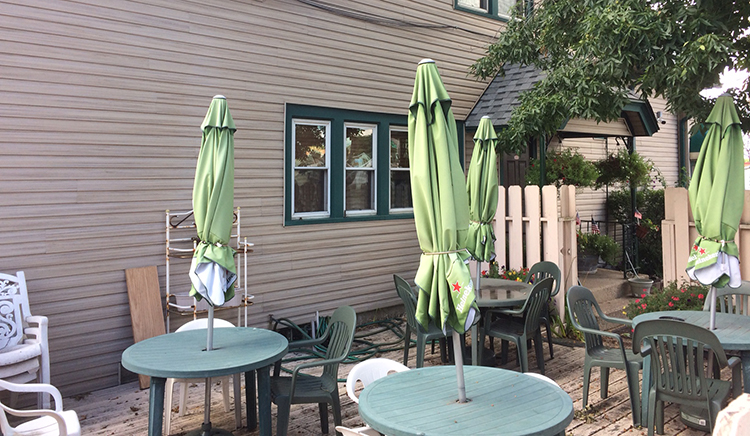 Sollazo's 703 Club
On the exact opposite end of the spectrum is Sollazo's 703 Club. While it's probably not going to win any regional patio hardware, the welcoming neighborhood bar's enclosed and shaded yard and its plastic patio furniture have the makings of a fine place to smoke or take a load off if you find yourself on Layton Avenue.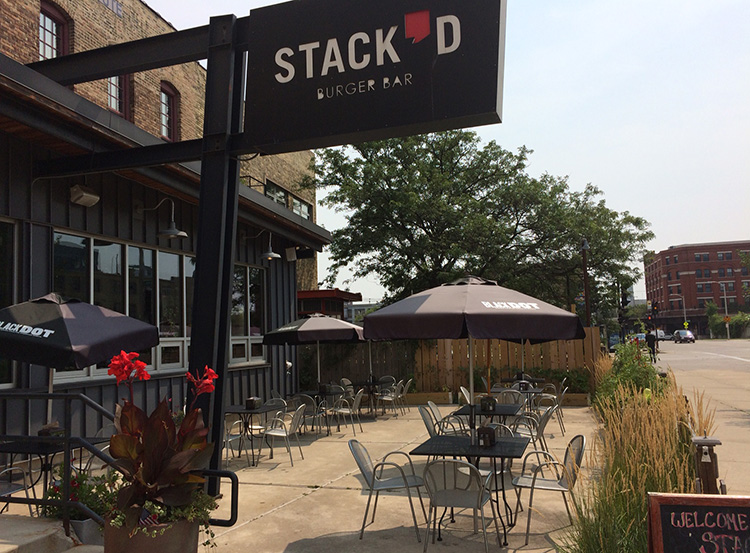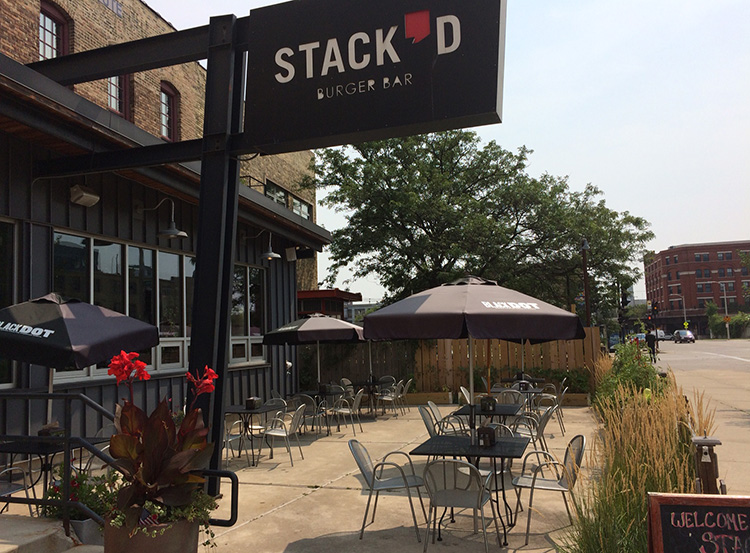 Stack'd
The long-tenured burger bar has quietly thrived on a high-turnover corner in Milwaukee's Fifth Ward, and it was an early local adopter of the concept of patio seating. The patio at Stack'd is no longer as fancy as some of its contemporaries, but it—with eight covered four-tops and a sidewalk partition provided by plant life—is a perfectly comfy spot to enjoy a burger and a beer.
Steny's
Whether visited before boarding a shuttle to Miller Park or Summerfest or after a brewery tour, many tourists and Milwaukee residents alike will wind up at Steny's at some point in the next few months. If the bar gets too loud, crowded or steamy, remember the longstanding Walker's Point stalwart has a spacious side yard for your lounging pleasure.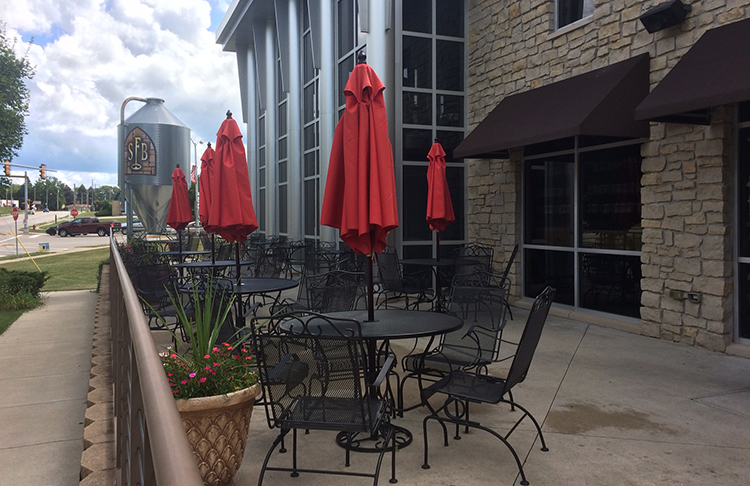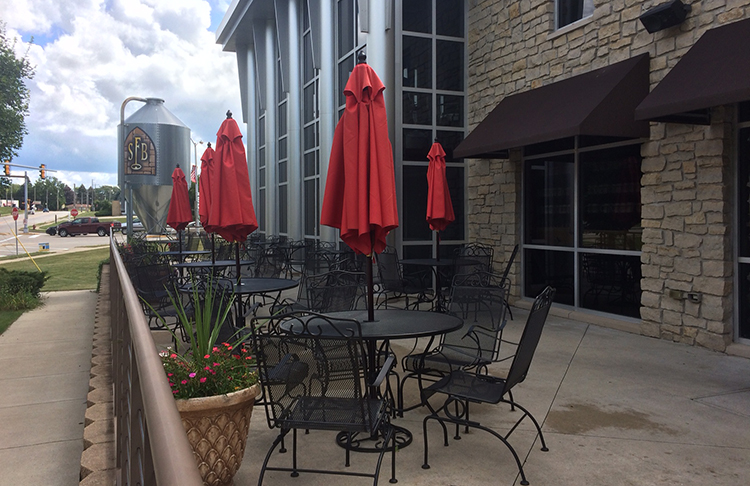 St. Francis Brewery
This is also a patio.
Stubby's
Though it has a more-than-respectable draft beer selection and a solid menu complete with tasty bar fare (including brunch…BRUNCH, PEOPLE!), Stubby's often seems to get overlooked in favor of some of its Humboldt Bridge-adjacent dining and drinking brethren. It's a shame, since—while we're on the subject of overlooks—the East Side establishment has a tremendous view. The lengthy deck looms high above the Milwaukee River.
Sugar Maple
To anyone residing anywhere near Bay View, Sugar Maple is regarded as one of the city's best beer bars. It's a classy hangout and, occasionally, even an unlikely punk rock venue. But holy shit is the place dark sometimes. As temperatures rise and the daylight hours increase, you can have your fancy craft beer and see it too out on the bar's cozy rear patio, complete with a select few picnic tables.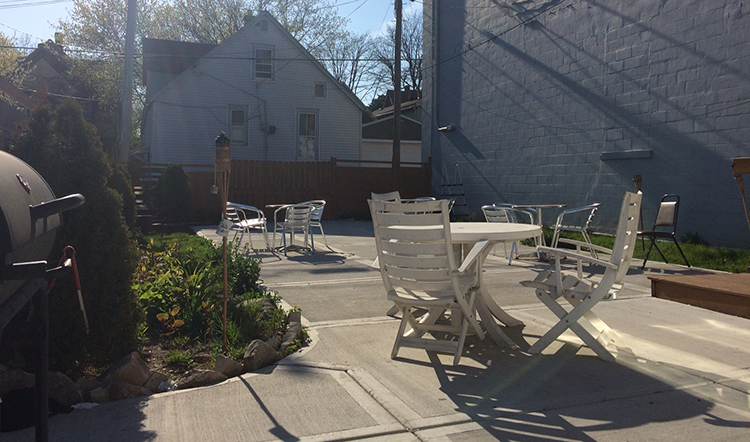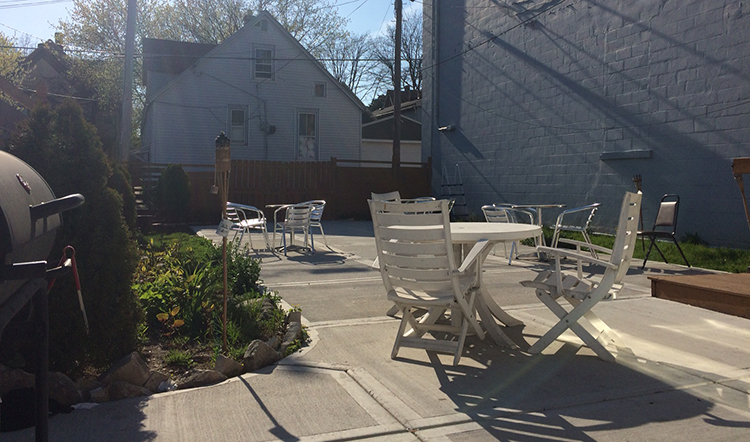 Tha Circle
Remember Treats Tavern? Sadly (or maybe not, depending on who you're asking), the East Side dive and occasional host of 6:30 a.m. concerts is no more. However, a bar called "Tha Circle" opened where Treats once stood last year. It survived winter and a rumored (and quickly rescinded) attempt to become a strip club and is now ready to welcome summer out on its rear patio. The newly-paved space has a grill, tiki torches, and a few tables.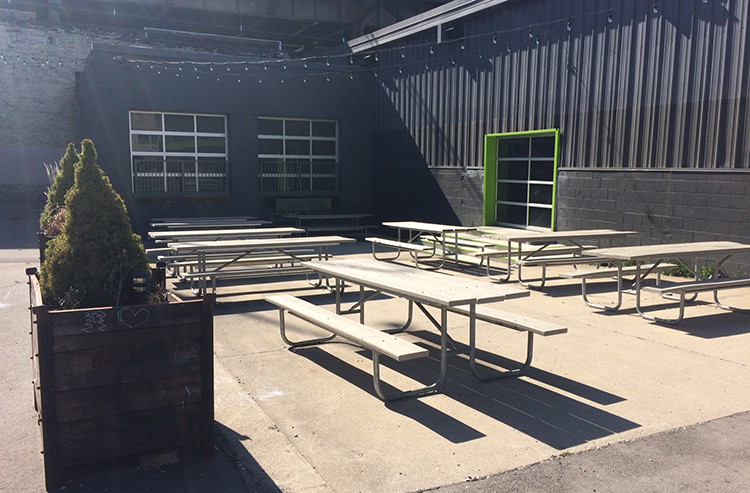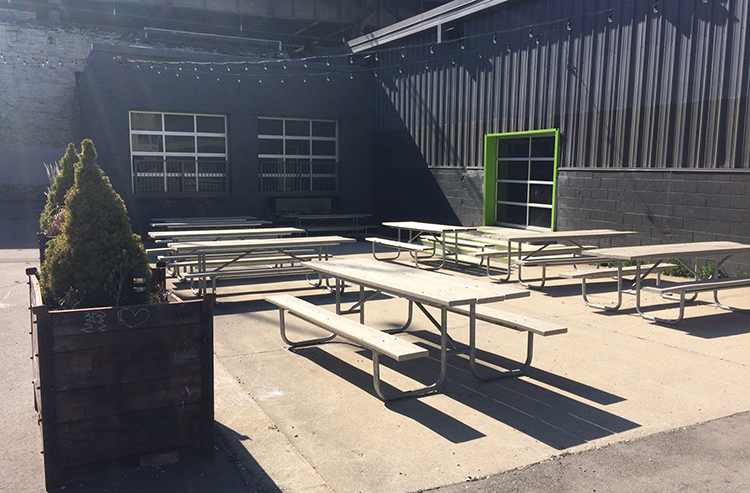 Third Space Brewing
Our patio tour now brings us to Third Space. The outstanding young brewery has helped bring a newfound resurgence to the once-desolate Menomonee Valley with delicious and innovative beers. When temperatures rise, those beers can be enjoyed in Third Space's on-site beer garden. The space hosts food vendors, shows football games, and offers space for yard activities and other revelry.
Tonic Tavern
Proving you don't need to be on the waterfront for a pleasurable outdoor drinking experience, Tonic Tavern offers the best street-side patio in Bay View. Their rotating beer menu is always stocked with an awesome selection of local beers and some from the best breweries around the country. Head there at night and take a seat under the canopy of globe lights, or go during the day and pull up a chair at one of the colorful bistro-style tables to take in the excellent views of Bay View's finest strolling along Kinnickinnic Avenue.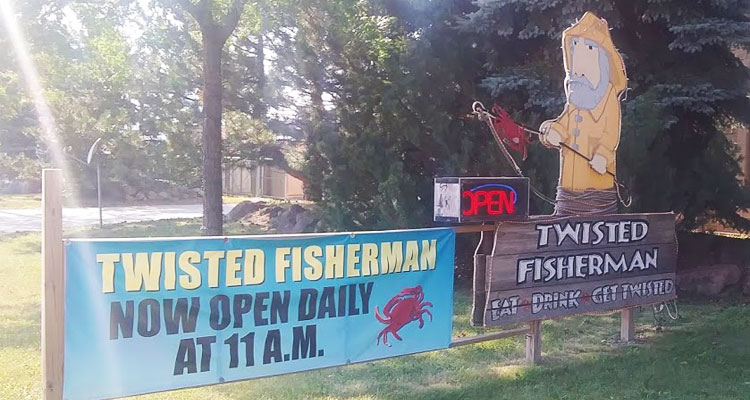 The Twisted Fisherman
Pull up an Adirondack chair, plunk your feet in the sand, and wave to the kayakers that pass by on the Milwaukee River. The Twisted Fisherman specializes in candy-colored drinks and a Key West atmosphere on Canal Street. They've trucked in a hell of a lot of sand to anchor in the vacation vibe, and have outdoor volleyball courts for those ambitious folks who'd rather be active than fill their guts with crab legs for the afternoon. It may not be as storied or tucked away as Barnacle Buds, but it does its best to imitate that same away-from-it all ambiance that invites you to kick off your flip-flops for the afternoon.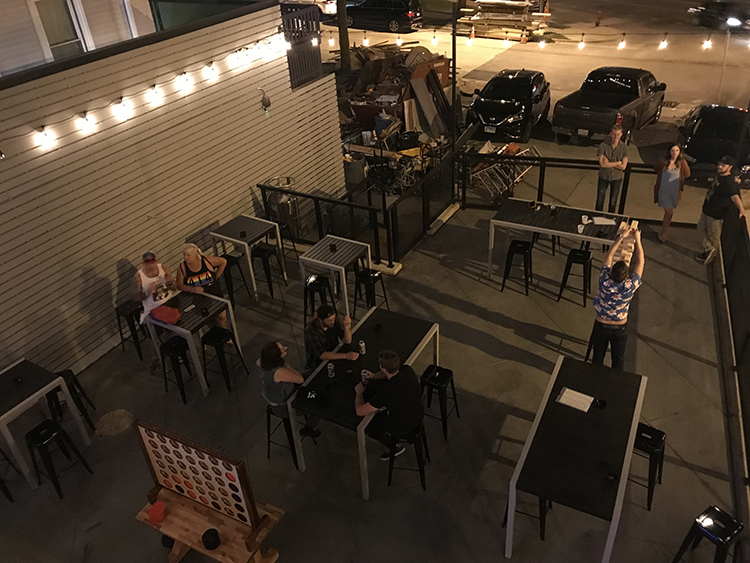 Up-Down Milwaukee
Up-Down Milwaukee has it all…including TWO patios. The second-level deck overlooks a vast parcel of space that hosts tables, giant Jenga, and a great spot to get some fresh air or enjoy a drink between levels.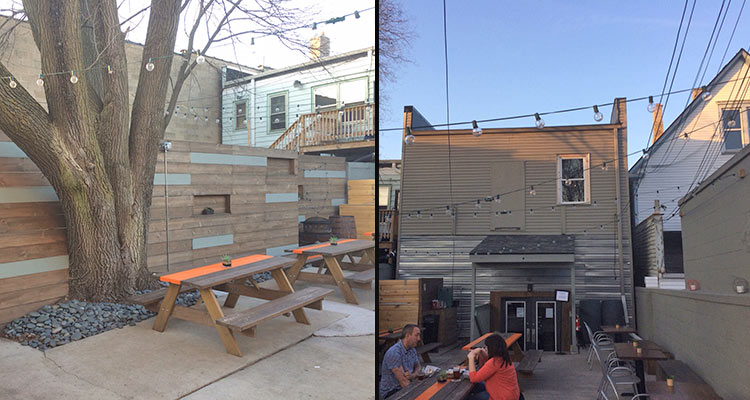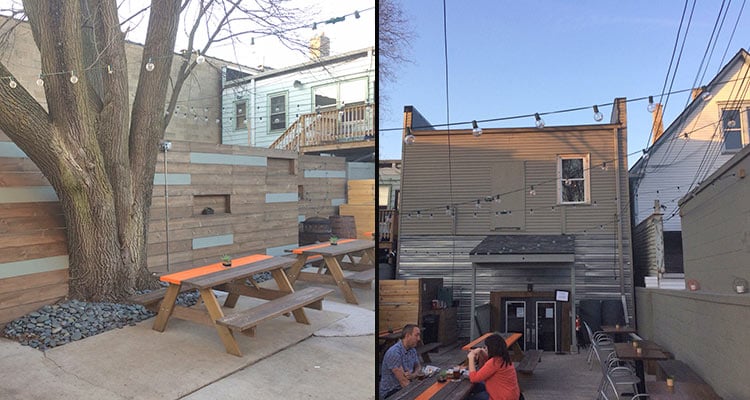 The Vanguard
The Vanguard is the best. As if amazing sausage (and other outstanding menu items), delicious cocktails, and uniquely awesome events aren't enough to bring you to the Bay View bar and restaurant, its great rear patio is. Beyond being a comfortable spot to enjoy tasty food, the patio also occasional hosts live music, record store pop-ups, and beer release parties.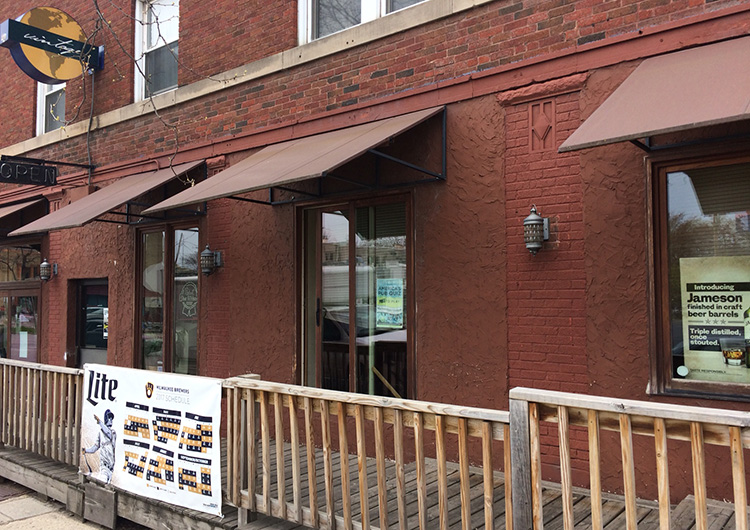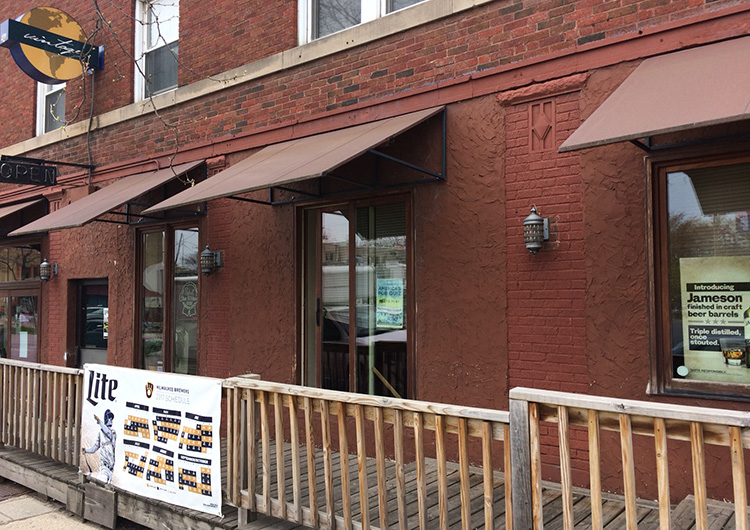 Vintage
While you debate whether or not Milwaukee's East Side is dying, step out and enjoy a drink or smoke a cig on Vintage's deck patio that faces out on Prospect Avenue. You'd be hard-pressed to find a better view of Urban Outfitters in all of Milwaukee.
Von Trier
Von Trier may be one of the coziest spots to sip a steamy cocktail in the winter, but once patio season hits, its beer garden makes it an equally enjoyable summer drinking destination. It feels hidden enough from busy North Avenue traffic, while wrought-iron gates studding the ivy-covered brick walls allow for a peek at the hoards of people passing by. It may not be as sun-soaked as some of the other establishments mentioned here, but it's high on charm and low on beach rock. Grab a basket of popcorn, head outside, and do your best to pretend you're taking a hard-earned rest while backpacking through Germany.