Most weekends in Milwaukee, the bounty of performances by local acts and touring talent forces music fans to face difficult decisions in regard to which of the many shows going on throughout the city at any given time to attend. While last weekend presented the same concert quandaries, it's safe to say that one show in particular had no competition—excluding the allure of sleep, breakfast, or morning church service. At half past six on Sunday morning, a small ensemble of third shift workers, elderly regulars, strung-out college kids unwilling to bid Saturday goodnight, and experimental music aficionados turned up in a Humboldt Boulevard dive as Tonbi Claw played a show while the rest of the city slept.
This unique experience came to our attention after stumbling on an ambiguous link on Reddit. The image included the name of a band we knew nothing about, a place we'd never been, and an obvious misprint that seemed to suggest this unknown act was to perform at this mysterious venue in the morning. That couldn't be right, could it? After some digging, there was confirmation that, yes, for some reason, 6:30 a.m. was the correct start time and, yes, we were sure as shit going to this. Operating on two hours of sleep and with no idea of what awaited us, we headed to Treats Tavern to indulge in the best/only show in town.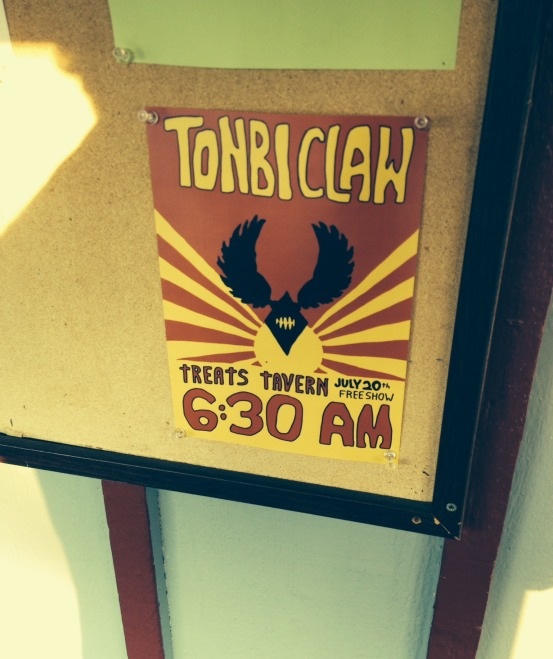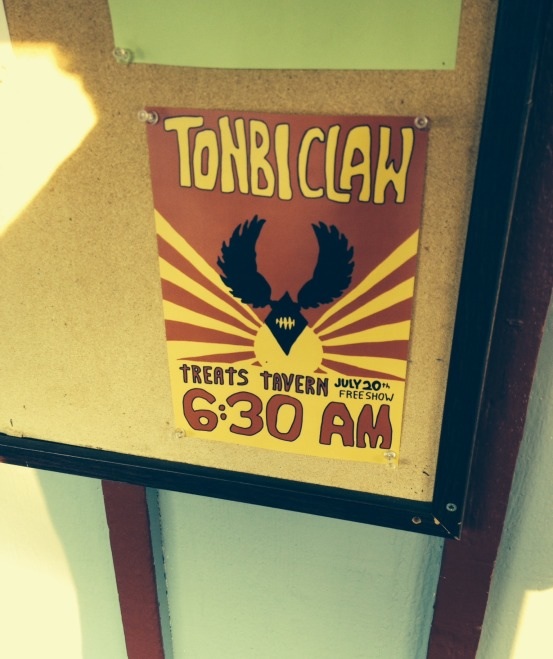 Upon entering the tavern, we were somewhat surprised to see approximately 20 people milling about the bar. Some patrons were either concluding their day in grand fashion or beginning it in terrible fashion with shots of whiskey. A young man who was unquestionably fucked up on a mixture of alcohol and at least one other substance yelled nonsense at his companion whilst shoving dollars into the TouchTunes machine. A young couple played billiards and an elderly gentleman chatted up the bartender nearby. The only differences between 6:45 a.m. and the events five hours earlier were the sobering, judgment-casting strokes of sunlight shooting through the edifice's easterly patio windows. Environmental immersion in our strange surrounding seemed like the best course of action, so we ordered a mug of Old Milwaukee. Unfortunately, the barrel had run out hour earlier, so we settled for a Schlitz, which the seemingly-swamped-by-comparison morning barkeep Matthew kindly gave us for the daily Old Milwaukee price of just a dollar (a 50 percent discount).
After a quick stop at the overpoweringly bleach-scented bathroom (hey, at least we know Treats keeps a clean ship!), we walked through the weathered french doors into the back room where the show would be held and took a seat directly in front of the small, unkempt semi-stage where drummer/singer/keyboardist Ryan Pilachowski—whom, with bassist/various other effects artist Ryan Shaw, makes up Tonbi Claw—checked levels and played some beats. Turns out that even in the bizzaro world of early morning shows, delays should be expected. Shaw completed the Ryan puzzle when he stepped on stage and fiddled with some of the various battery-powered Fisher Price guitars and keyboards the band amplified. As he did so, he was approached by strung out TouchTunes guy who asked when the show was starting. Shaw told him five minutes. The man asked for 10 minutes, explaining he'd just purchased three Sinatra songs. "Don't kill Frank, man!" he begged. It wound up not even being a factor, as Treats' staff just left the TouchTunes on for the entirety of Tonbi Claw's set anyway.
Admittedly, we're out of our element when it comes to the all-too-broad "experimental" genre. That said, we found Tonbi Claw to be a diligently-structured band that far from alienated the groggy group of 10-12 people (including a guy who was filming the entire set on a VHS camcorder) with material that managed to squeeze murky and harsh instrumentation into a neat package. The re-purposed children's instruments squealed almost-irresponsibly distorted tones that paired unexpectedly well with Pilachowski's deconstructed-while-disheveled time signatures on drums and the pulverizing rumble of Shaw's six-string (!) bass. Tonbi's wake-up call consisted of new single "Sojourn" and cuts from last year's Fleer, among others. Between songs, Pilachowski said "Thanks for staying up with us," to which a guy yelled "Or waking up!" The camera man asked a wayward self-proclaimed 70-something whether he liked Tonbi Claw. "Will they let me smoke?" he replied, before lighting up a cigarette anyway.
Yet it wasn't all banter, unwanted smoking, and subtle clapping of a tired 12-pack of Treats warriors. While Matthew poured our second beer, another septuagenarian leaned over the bar and asked the barkeep what he thought of the music. "It's…different," he said, cautiously. The old man was less subtle, waving emphatic double-thumbs-downs in our faces. With all due respect owed to a man already pissed up on bottles of American flag-label Budweiser before 8 a.m., we're going to have to disagree. Tonbi Claw's catalog of what sounds like slowed-down Super Mario Bros castle levels recorded to cassette and played on full blast isn't going to make our regular rotation, nor will it warrant best albums consideration. Still, Tonbi Claw held its own for 45 minutes of the morning and, honestly, we could think of no better soundtrack for the inaugural edition of what we hope is the first of many seedy, cheap, and delightfully batshit 6:30 a.m. shows at Treats Tavern.
We'll keep that 5:48 a.m. alarm preset just in case.