Since opening in the Lincoln Warehouse last February, Eagle Park Brewing Company has quickly expanded and refined its selection, has become a fixture on local draft lines, and almost immediately outgrew its 1,300 square feet of space in its secluded second floor taproom. In effort to accommodate its growing customer base and increased output, the young brewery acquired the assets of Like Minds Brewing in January and announced plans to relocate to Like Minds' far more spacious digs at 823 E. Hamilton St. on Milwaukee's East Side this spring. After saying goodbye to the Lincoln Warehouse last month and working hard on renovations, Eagle Park will officially open its new brewery, cannery, taproom, and restaurant on Saturday afternoon.
The relatively fast turnaround is largely due to the previous tenant leaving behind five fermenters and a finished, restaurant-ready kitchen.
"Everything was pretty much in place when we came here," Eagle Park co-owner and co-brewer Jackson Bogardt says. "We just kind of had to improve a lot of the design, and really, the most important part was to make it our own."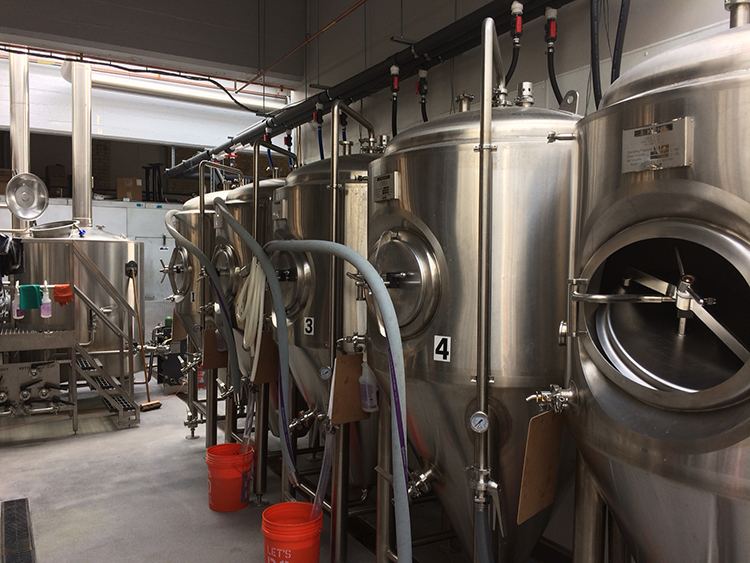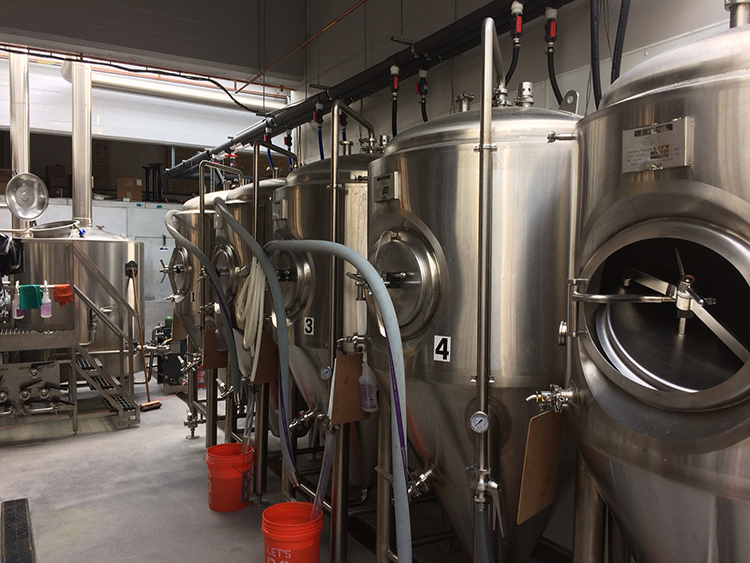 While many of the brewing implements and kitchen equipment were already in place when Eagle Park moved in, the new occupants added new flooring and trench drains in the brewery. Additionally, they brought in a row of 15-barrel fermenters, an end washer, a mill, an air compressor, and a keg washer. They also added an in-house canning line. Previously, canning and brewing for many offsite accounts was done at Octopi Brewing in Waunakee. Beer for the former taproom was done at the Lincoln Warehouse.
The move will not only allow Eagle Park to do 100 percent of its brewing on premises, Bogardt says the current setup will increase the brewery's annual output to approximately 2,000 barrels. Last year, Eagle Park produced fewer than 600 barrels between on-site brewing and Octopi.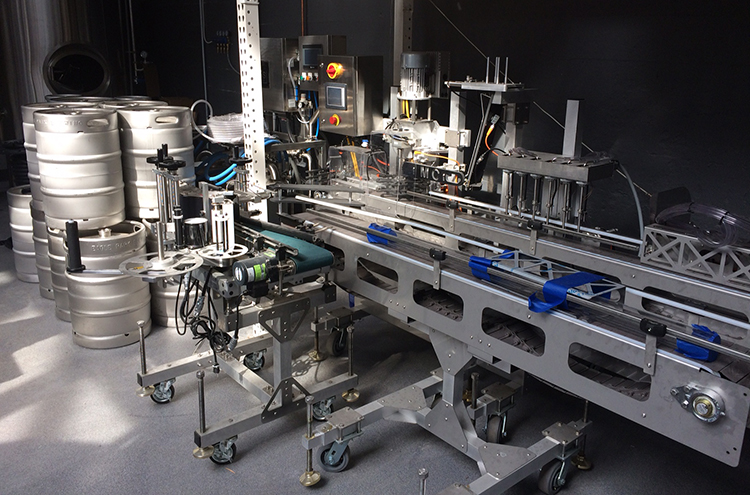 Eagle Park won't just be able to produce a greater volume of beer, the new setup also means more varieties of beer can be produced for on-site consumption, canned offerings at retail locations, and kegs to sell to area bars.
"The biggest thing that we're most excited about is that now we can produce all the beers you could only get in our taproom because of volume issues," Bogardt says. "Now, a lot of those beers are going to be able to be released outside [the Eagle Park taproom], whether it be cans or draft. We'll be able to spread our wings a little bit."
Another way the upstart outfit is expanding is through its foray into dining. Former Braise and Phoenix Cocktail Club chef Nathan Heck was brought in to craft what he calls "approachable and familiar food" that simultaneously focuses on and complements Eagle Park brews.
"I wanted a menu that could be paired with the beer, but also highlight the flavor of the beers," Heck says.
Though the new Eagle Park is still a taproom and brewery above all else, Heck's menu is vast and versatile. You'll be able to enjoy a wide range of dishes, including Old Fashioned-marinated smoked pork, ramen-inspired chili, corn dogs made with in-house chorizo, three types of homemade sausages, burgers (the Impossible Burger will also be offered), short ribs, donuts made from scratch, and a curry buffalo chicken sandwich. Some items were created to be paired with specific beers, and others use Eagle Park beer in the recipe itself.
"Beer is in like 50 percent of the stuff," Heck says. "All our barbecue sauces and hot sauces are made with beer, and some marinades."
Eagle Park's Line Check porter is a prominent ingredient in their duck pirogies. There's a take on cotija cheese that incorporates the Set List IPA. The kitchen's homemade ice cream will feature the brewery's Yabba Dabba Doo stout in its chocolate flavor, with Set List and celery combining in another option.
In addition to using beer that's made under the same roof (and beneath the two massive skylights), Eagle Park's menu will also highlight ingredients from local purveyors like Mushroom Mike, Clock Shadow Creamery, Hometown Sausage, Farm 45, and produce from Braise's Restaurant Supported Agriculture (or "RSA").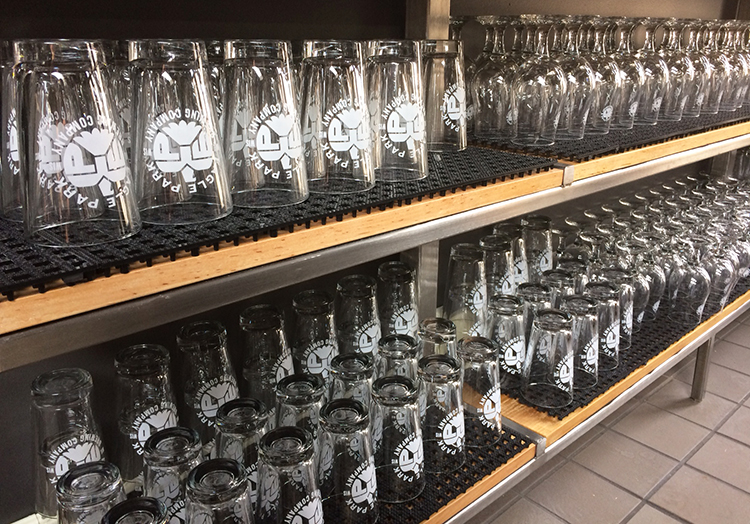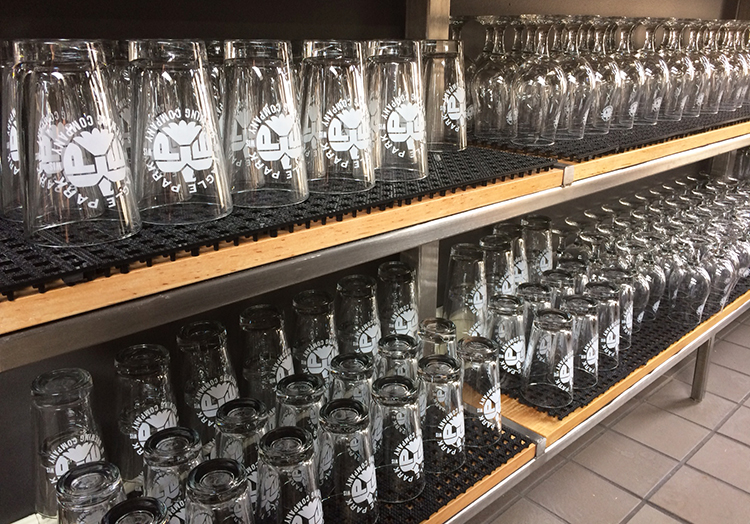 There will be plenty of room to enjoy a beer or a bite to eat in the new location. The building is 5,000 square feet, and there's approximately 15,000 square feet to work with when accounting for the side patio and the fenced-in parking lot. Once summer rolls around, the lot will be put to use for occasional events like concerts, an upcoming pig roast, and unconventional one-offs to coincide with new and limited beer releases. Eagle Park will host a "joint release" event with 1840 Brewing Company on April 20 with holiday-appropriate snacks and both breweries offering new dank IPAs.
"The sky is the limit now with events," Bogardt says. "Now we can get a little weird with it, get creative, and figure out cool ways of marketing this space."
Inside, the roughly 200-capacity taproom has a host of tables, a few televisions, a new stereo system, restored century-old flooring, and familiar decor like band posters, and decorative drums and amps to serve as a nod to the founders' band, Eagle Trace. The L-shape bar has been given a shimmering metallic update, with a total of 22 tap lines on hand. Eagle Park currently offers 11 beers total, but intend to up the ante and double their arsenal once they get settled into the new location.
"It'll be all our beers. We'll have a few random guest lines every now and again, but it'll be mostly our beers," Bogardt says. "It's probably going to take us a couple of months to get up to 20, but we'll get there."
Eagle Park's soft opening is Saturday afternoon, with regular hours and full kitchen service beginning Tuesday. They'll start serving brunch next weekend, and a grand opening will take place Saturday, April 28. Though the brewery has more than a year under its belt, leaving the Lincoln Warehouse nest for the East Side is a new beginning that only seems to suggest bigger and better things are in store for Eagle Park Brewing Company.
"It's sad to leave Bay View, I'm not going to lie," Bogardt says. "But this is something new and we're really excited."