This weekend, the Green Bay Packers will host the Carolina Panthers. The game has been on the schedule for months, but a few weeks ago, this Sunday afternoon matinee was moved to…Saturday night! The Green And Gold will be on the national stage and the players will be ready for prime time. So before this ultra-rare Saturday night game, we decided to build a Saturday Night Live cast that's entirely composed of current and former Packers players and personnel.
Host
Davante Adams
Usually the host is someone who is experiencing a moment. Davante Adams' moment has lasted since the start of the 2018 season, but he's having an all-time amazing year right now (even though he's missed two games), so he'd be the perfect host right now.
Weekend Update
Aaron Rodgers and Charles Woodson
With impeccable comedic timing and a patently deadpan delivery he's shown time and time again in countless commercials and postgame interviews, Aaron Rodgers is a no-brainer for the Weekend Update desk. Rather than hanging him out to dry alone like Colin Quinn, we think Charles Woodson would be a good fit. He has years of legitimate broadcasting experience and a Heisman-caliber smile, giving the cast stars at both sides of the ball…or anchor desk.
Musical Guest
Robert Brooks
Like we were ever going to pick anyone else.
Person Who Has Been There Forever
Mason Crosby
Though Rodgers has been with the team longer, Mason Crosby was a trusted contributor a season before number 12 got the starting job. Crosby is like the Kenan Thompson and Darrell Hammond of the Packers. He's been there forever and has been good the whole time…except 2017, but we're sure Thompson and Hammond had a down season too.
Big Guy With Charisma
David Bakhtiari
Following in the shoes of hulking humorists like Chris Farley, Horatio Sanz, and Bobby Moynihan is David Bakhtiari…or at least he should be. The highest paid offensive lineman in NFL history could easily land an offseason gig on late night. Think about it! He can chug beers. He can sing well enough to earn a role on Pitch Perfect 2, and he already has blocking down to a science so he'll always be in frame.
President
Mike McCarthy – Donald Trump
Ted Thompson – Joe Biden
Head Writer
Matt LaFleur
The second-year coach can write one heck of a playbook, so he can probably engineer some halfway decent sketches as well. Plus he has kind of a John Mulaney vibe.
Person Who Gets Hired, Then Quickly Fired After Past Actions Become Public Knowledge
Brett Favre
No offense, but the guy does have dick pics out there.
Person Who Gets Fired After One Season
A Bunch Of Packers Punters
Saturday Night Live has no shortage of cast members who only lasted one season on the show. If one Packers position had the same type of turnaround as new SNL talent, it would be Green Bay punters. In the past 20 years, Green Bay has seen single-season (or less) showings from Bryan Barker, Ryan Flinn, B.J. Sander, Derrick Frost, Jake Schum, and Justin Vogel. Sometimes there are post-SNL success stories like Billy Crystal, Jenny Slate, Martin Short, Sarah Silverman, and Chris Elliott. Sadly, that list of punters doesn't hold the same level of success.
Featured Player
Aaron Jones
Jones is the featured back, so he makes perfect sense as a featured player. He's explosive and has the ability to steal scenes. Plus, he wears a sombrero and cool sunglasses sometimes.
Rest Of The Cast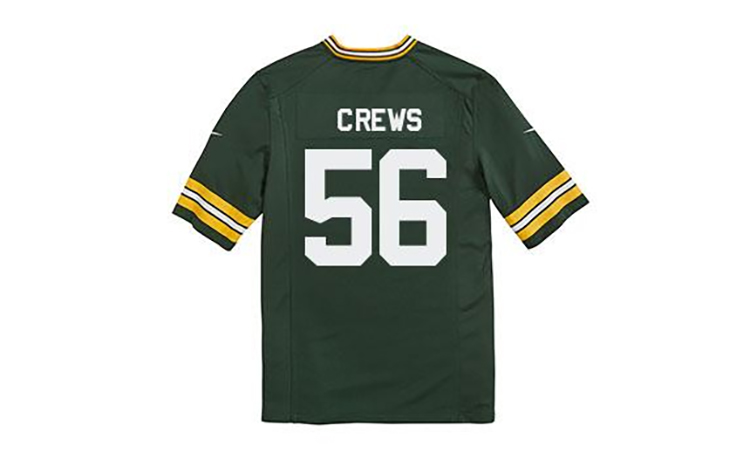 Terry Crews
Fun fact: Terry Crews was briefly on the Green Bay Packers. For real. Since he's an accomplished comic actor and all, it only makes sense for him to be included on this all-Packers SNL cast.
Jamaal Williams
In his three-plus seasons in Green Bay, Jamaal Williams has shown himself to be resourceful, multi-faceted, extremely upbeat, and a true team player. All of those things would surely serve him well at 30 Rockefeller Plaza. Also he's a great dancer, should any sketches call for it.
Za'Darius Smith
Just imagine all the hilarious stuff Za'Darius could write on his undershirt!
Jordy Nelson
Every cast needs the straight man who can selflessly let others shine as he keeps the scene at least somewhat tethered to reality. Nelson was dependable throughout his Packers career. And much like Chris Parnell, Tim Meadows, and Beck Bennett, Jordy usually wasn't flashy during his tenure. Still, he had moments of brilliance along the way. And check out this character work! PLUS HE HAS ACTING EXPERIENCE.
Chandon Sullivan
His nickname is "Showtime" after all.