Back in October, we compiled a list of the best Packers players who never actually played a regular season game with the Packers. At the time, we thought the list was pretty darn thorough. As it turns out, there was one huge omission. Terry Crews used to play for the Green Bay Packers.
The actor, television host, intermittent fast inspiration, and national treasure's NFL past is no secret. After earning a spot as a walk-on at Western Michigan University, Crews was taken by the Los Angeles Rams in the 11th round of the 1991 Draft. The linebacker played a total of 32 regular season games over the course of three seasons that were split between the Rams, Chargers, and Washington. While his short and—by his own admission—unspectacular stints with those teams are well-known among football fans and Hollywood hobbyists alike, apparently Crews briefly suited up for a few more NFL teams during his time on the gridiron.
Crews was recently a guest on Marc Maron's WTF Podcast. The episode, which came out Monday, found Crews opening up about growing up in an abusive household in Flint, his past troubles with pornography addiction, his raw artistic and musical talent, his unconventional path to becoming an actor, and his decision to speak out against his abuser and the importance of adding his voice to the Me Too Movement. The entire episode is interesting and it's sure to leave you both liking and respecting Crews even more than you already do.
During the entertaining, informative, and frank discussion, Maron also asked Crews about his days as a professional football player. After Crews told Maron about being knocked unconscious on Monday Night Football, the host asked the athlete "so how many teams—like, what was the full range of the game that you played?"
To our surprise, Crews said "Rams, PACKERS, Chargers, [Washington], Eagles," a claim that prompted us to do some digging. Of course, we figured the lack of statistical proof meant he was signed by the Packers, but failed to break camp with the team. After finding very little information about Green Bay Packers rosters of the early 1990s, we received confirmation from the most reliable source there is on the matter of Terry Crews' NFL past: Terry Crews himself.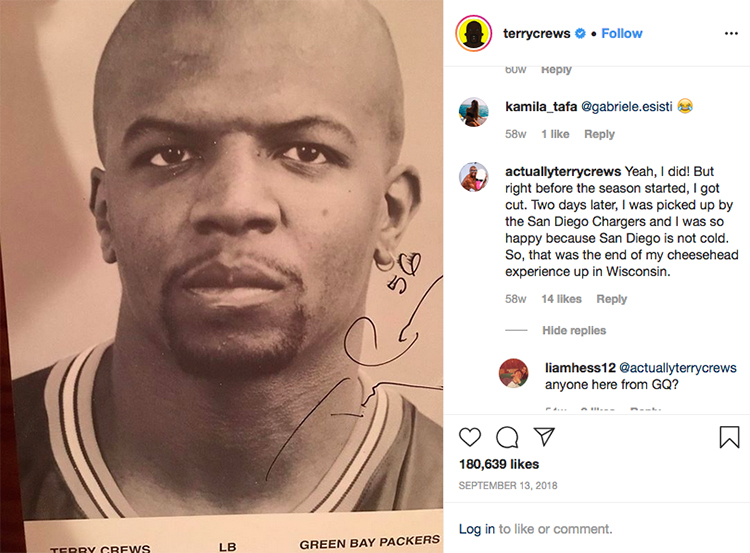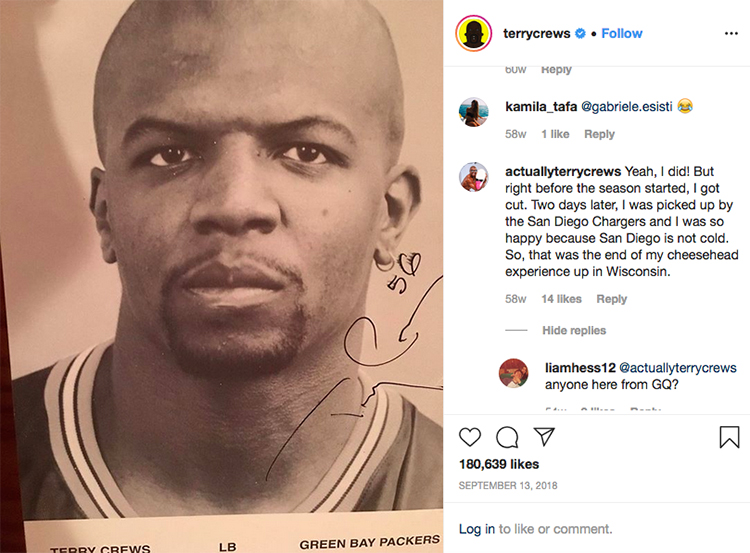 On September 13, 2018, Crews posted a signed photo of himself in a Packers jersey on Instagram. His comment also gave a little more information on the handful of weeks he spent wearing number 56 for the Green And Gold, saying "right before the season started, I got cut. Two days later, I was picked up by the San Diego Chargers and I was so happy because San Diego is not cold. So, that was the end of my cheesehead experience in Wisconsin."
Based on that anecdote, Crews was cut by Green Bay before the 1993 season. That season, the linebacker played in 10 games for the Chargers and had one recorded tackle. That same season was  Brett Favre's first full year under center for the Packers, and Reggie White came to Titletown in '93, too. Just imagine a Packers team with Favre, White, LeRoy Butler, and Terry Crews on it. Unstoppable.
So there you have it! Terry Crews was briefly on the Packers. Maybe you knew that already…but you probably didn't. Now that you're aware, you're but a few clicks away from the greatest Packers jersey since Gerhard de Beer. Oh yeah, we should also mention Marc Maron is performing at Turner Hall on Saturday, February 1 and the new season of Crews' show, Brooklyn Nine-Nine, premieres February 6. Go Pack Go!