As arguably the most accomplished and storied franchise in NFL history, the Green Bay Packers have seen their fair share of outstanding players don green and gold over the last 100 years. Though there's no shortage of amazing athletes who have taken the field for the Packers through the years, this internationally-respected franchise isn't exactly infallible. On numerous occasions, players with ties to the team were given up on before they ever got a chance to step on the field for a Packers regular season game. Sometimes, those players would go to do great things.
Over the course of the team's existence, the Packers have prematurely parted ways with more than a few players who have wound up being valued contributors to other organizations. Yes, hindsight is 20/20 and it's easy to pass judgement on decisions several years after the fact, but it's quite interesting to reexamine—at the time—insignificant roster moves and wonder what might've been had these players remained in Green Bay. Some of these historic whiffs were attempted reclamation projects that were abandoned in training camp, others were trades that sent future notables elsewhere, and a few were preseason cuts who'd go on to Pro Bowls and (in one case) the Pro Football Hall Of Fame.
After scouring team history and tapping into some recent preseason recollections, here's our list of the 12 best Green Bay Packers who never actually played a regular season game with the Green Bay Packers.
12. Roger Hagberg
In the first round of the 1961 NFL Draft, the Packers selected future Hall Of Famer Herb Adderley. A few rounds later (the 10th round, to be specific), Green Bay took a fullback named Roger Hagberg. Though he didn't find a spot in the loaded Packers backfield that already boasted the likes of Jim Taylor and Paul Hornung among its ranks, he wound up latching on in the AFL with the Raiders. There, Hagberg amassed a total of eight touchdowns and proved to be a solid blocking back for Oakland, including their AFL Championship-winning squad in 1967. That same season would end with the Raiders losing to Green Bay in Super Bowl II, a game in which Hagberg registered zero carries and no receptions.
11. Danny Wuerffel
Though he didn't exactly show his worth in the NFL, Danny Wuerffel was one hell of a collegiate quarterback. During his four seasons at the University Of Florida, he led the nation in touchdowns twice, he earned loads of school and SEC records, he brought the Gators to four conference championships, and he won the Heisman Trophy in 1996. The following spring, the Saints selected Wuerffel in the fourth round, where he scuffled mightily in three partial seasons.
After his rookie deal expired after 1999, the college standout took his talents to Europe, where he led NFL Europe's Rhein Fire to a championship and was named the World Bowl MVP. Those overseas accomplishments and his NCAA pedigree caught the attention of the Packers, who put him on the roster for a single game of the 2000 season. However, having Brett Favre and Matt Hasselbeck ahead of him on the depth chart didn't allow this Gators great to get any time under center in his lone active game in Green Bay.
10. Vince Young
Speaking of amazing college QBs who couldn't echo their amateur accomplishments, Vince Young was unable to make good on his body of work at the University Of Texas when the Titans took him third overall in 2006. Still, he managed to earn two Pro Bowl selections in five seasons in Tennessee prior to spending a year in Philadelphia. After failing to earn a roster spot with Buffalo in 2012, Young came to Green Bay during the 2013 preseason. Despite showing a few flashes of his former self in a couple preseason games, he was cut before the end of camp, giving way to Seneca Wallace, Scott Tolzien, and the eventual return of Matt Flynn when Aaron Rodgers missed a few weeks due to injury.
9. Hunter Hillenmeyer
Most Packer Backers who are aware of Hunter Hillenmeyer probably know the eight-year vet for his work in a Chicago Bears uniform. Even though the linebacker and special teams standout technically spent his entire professional career in Chicago, his NFL journey actually started in Green Bay. Hillenmeyer was drafted by the Packers in the 5th round of the 2003 Draft (166th overall). Unfortunately, the Vanderbilt standout couldn't replicate his All-SEC skills in the preseason, leading to him being cut at the end of training camp. The Bears wasted no time picking Hillenmeyer up, and keeping him on the roster through the end of the 2010 season. Along the way, the Packers castoff garnered 382 combined solo and assisted tackles, seven sacks, six forces fumbles, four fumble recoveries, and a pair of interceptions over the course of 101 career games in orange and blue.
8. Tim Couch
With the first overall pick in the 1999 NFL Draft, the expansion Cleveland Browns decided to start its new franchise with Tim Couch as their quarterback. The Kentucky great and reigning SEC Player Of The Year was taken ahead of Donovan McNabb and Daunte Culpepper and he was given the tall task of leading the second coming of the Browns in his rookie season. While he's widely regarded as a bust, Couch was surprisingly okay during his five-season stint under center in Cleveland…especially considering he had next-to-no protection and limited offensive weapons at his disposal.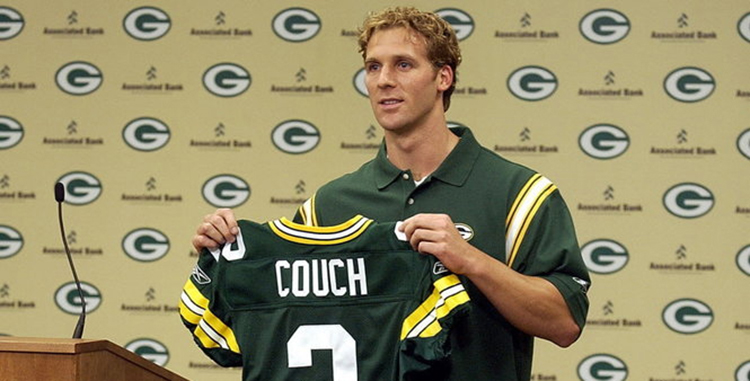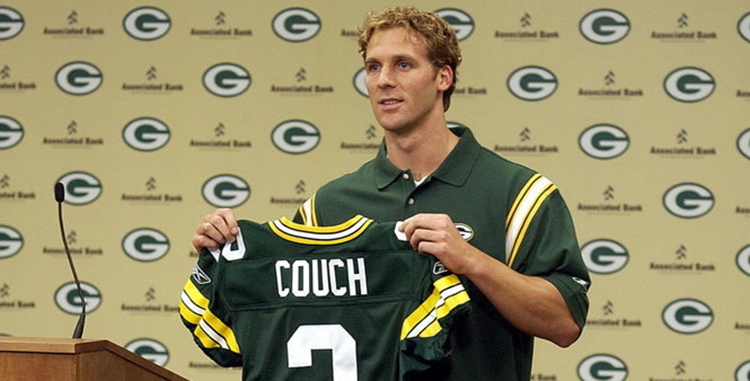 After tossing 64 career touchdowns—including two game-winning hail marys—and leading the squad to the playoffs once between 1999 and 2003, Couch temporarily wound up in Green Bay in the summer of 2004 with the chance to be anointed Favre's heir apparent. Following two dismal preseason showings (where he went a combined 6 of 17 for just 64 yards), Couch was cut and the Packers opted to forge ahead with Craig Nall and Doug Pederson serving as Favre's backups. Couch would spend some time with the Jaguars during the 2007 preseason, but would never play another regular season game.
It's also worth noting that Akili Smith—who was taken two picks after Couch in the 1999 Draft—spent part of the 2003 preseason with the Packers before being released. That said, Smith didn't do enough as a pro to qualify for this list.
7. Johnny Strzykalski
Between being born in Milwaukee in 1921, starring on the Marquette University football team (which used to be a thing that existed), and being taken by the Packers with the 6th overall pick in the 1946 Draft, Johnny Strzykalski had all the makings of being a fan favorite in Green Bay. Unfortunately, the hometown hero never got to make Wisconsin proud…at least not directly. Instead of sporting green and gold, the running back wound up spending 1946 with the San Francisco 49ers during their inaugural season. In fact, Strzykalski spent the entirety of his playing career with the Niners. In his seven seasons in the Bay area, the Milwaukee native amassed more than 4,600 yards from scrimmage, scored 31 touchdowns, returned kickoffs and punts, and he even racked up eight career interceptions on the defensive side of the ball.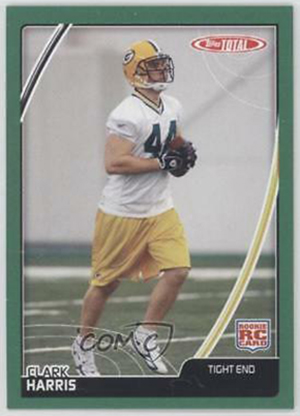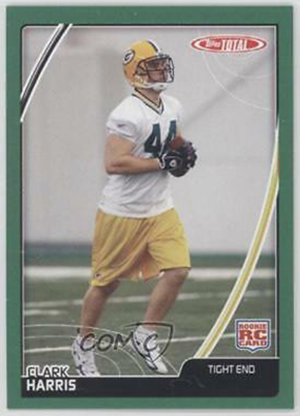 6. Clark Harris
He's not a household name by any means and the stats (or lack thereof) might not do a great job of explaining his high placement on this list, but Clark Harris a world-class long-snapper. Before he was a Bengals special teams mainstay, though, the Rutgers alumnus was a short-lived Packers employee. Green Bay selected Harris in the last round of the 2007 Draft.
That September, Harris—who was miscast as a tight end—was assigned to the Pack's practice squad and then cut outright a few days later. Following four games as the Texans' fill-in long-snapper in 2008, Harris wound up getting signed by the Bengals. He was selected to the 2017 Pro Bowl and remains on Cincinnati's active roster to this day.
5. Don Woods
The good news: After being taken by the Packers in the 6th round of the 1974 Draft, Don Woods was named Offensive Rookie Of The Year. The bad news: He did so as a member of the San Diego Chargers. The (extremely) short-tenured Green Bay running back spent all eight years of his pro career in California, including seven seasons with the Chargers and one year in San Francisco. Over that NFL tenure, Woods had close to 4,500 career yards, a total of 23 touchdowns, and exactly one Rookie Of The Year trophy.
4. Jerald Sowell
The life of an NFL fullback is a tough and thankless one. Just ask Jerald Sowell. In 1997, the Packers took the Tulane back in the 7th round. With William Henderson figuratively blocking his path to the 53-man roster, the rookie fullback was rendered expendable. Green Bay ultimately traded Sowell to the Jets before the season, which is where he stayed from '97 through the 2005 season (before finishing his career with Tampa Bay in 2006). In addition to leading the way for Hall Of Fame running back Curtis Martin, Sowell had 148 career receptions, six touchdowns, and he still holds the Jets franchise record for special teams tackles. Not bad for a 7th rounder.
3. Timothy Brown
No, we're not referring to the Tim Brown who was a Hall Of Fame receiver for the Raiders. Rather, we're talking about the running back and kick returner whom Green Bay drafted in 1959. That "Timmy" Brown suited up for only one game with the Packers, in which (at least according to our semi-extensive research) he didn't play. When the Packers did away with him, he wound up spending eight years with the Eagles.
There, Brown made three Pro Bowls. Between his time in Philly and his final pro season in Baltimore, the running back and return specialist piled up an impressive 7,261 offensive yards and 63 total touchdowns (including six from kickoff and punt returns). After his playing career, Brown went on to be a fairly accomplished actor, including parts in MASH and The Mary Tyler Moore Show. During his football days, Brown also moonlighted as a singer. It appears the player who did nothing in his one season with the Packers could pretty much do it all.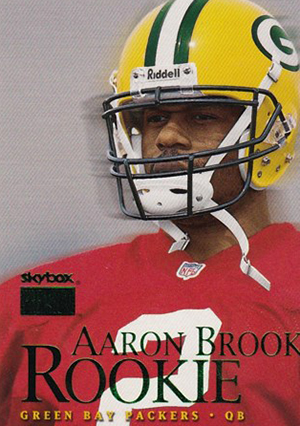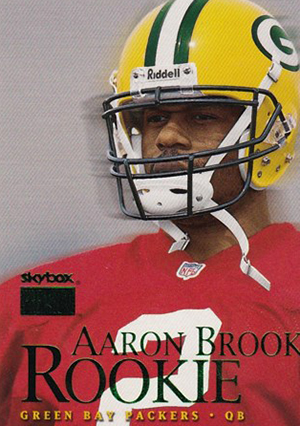 2. Aaron Brooks
Three rounds after Couch, McNabb, Smith, Culpepper were drafted in 1999, the Packers also opted to take a quarterback. The 4th round selection was a playcaller from Virginia by the name of Aaron Brooks. The unheralded quarterback actually made the team and spent his entire rookie year in Green Bay, but he failed to take a single regular season snap (with Favre and Hasselbeck firmly ahead of him on the depth chart). That offseason, Brooks was packaged with tight end Lamont Hall in a deal for Saints linebacker K.D. Williams.
After that trade, Williams would go on to post 30 tackles, half a sack, and two fumble recoveries in two seasons with the Packers. Conversely, Brooks would throw for over 20,000 yards and 123 touchdowns (plus 13 rushing TDs), while claiming a bunch of Saints passing records…which were all later demolished by Drew Brees. It's strange to think that Green Bay's third best quarterback in 1999 wound up earning a spot on the shortlist of the best QBs in New Orleans history.
1. Kurt Warner
Believe it or not, the Hall Of Fame career of Super Bowl champion and two-time MVP quarterback Kurt Warner technically began in Green Bay. In 1994, the Packers took a chance on the undrafted rookie from Northern Iowa during pre-season. Yet with newly-dubbed starter Brett Favre preparing for his first full season at the helm, and both Heisman-winner Ty Detmer and future Jaguars great Mark Brunell also vying for roster spots, Warner was sent back to Iowa before the regular season started.
He spent the next three years stocking shelves at a grocery store, then playing in the Arena Football League and in Europe. In 1998, the Rams brought him in to back up Trent Green. When Green was sidelined with a preseason injury, Warner took over and he never looked back. At the time, parting ways with Warner made total sense for the 1994 Packers. Still, it's hard not to think about how keeping Kurt in Green Bay—and, more than likely, behind Favre on the depth chart—would've changed NFL history as we now know it.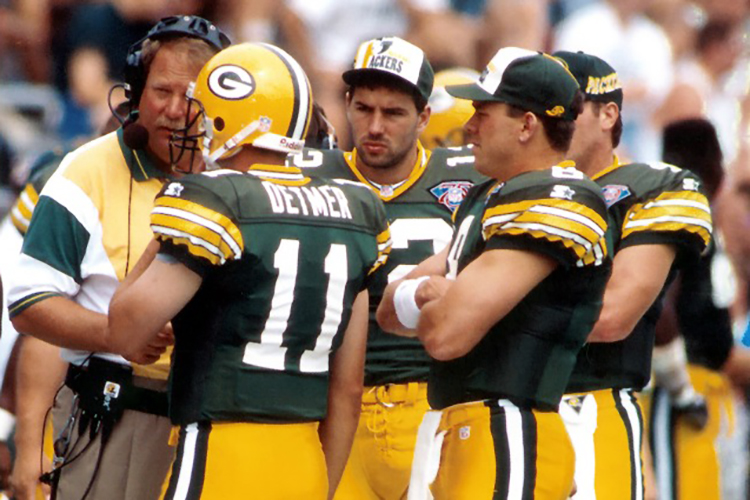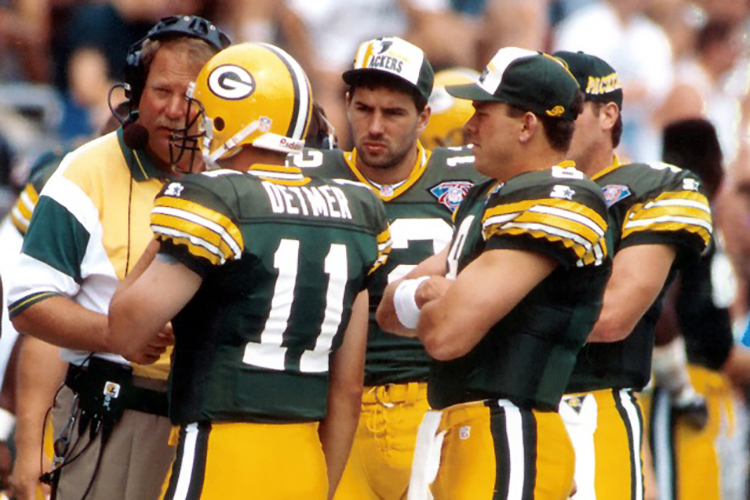 Update/Clarification: A reader also mentioned that the Packers once traded for Eric Dickerson a month into the 1993 season. However, the trade was voided when the eventual Hall Of Fame running back failed his team physical. Because of the uncertain status of Dickerson ever being an official part of the team, we opted to keep him off the list. However, since it's now up for debate, we should mention him and let you decide for yourself. If you think Dickerson qualifies, he's an easy choice for the number one spot on this list.
---
RELATED STORIES
• The 10 best Milwaukee Bucks who never actually played a game with the Milwaukee Bucks
• The ones that got away: 5 near-miss Brewers draft picks