This weekend, the 2019 Midwest Gaming Classic will somehow stuff more than 10,000 gamers, pinball pros, tabletop enthusiasts, cosplayers, vendors, and entertainers into the 150,000 square feet of the Wisconsin Center. For an event that started out nearly two decades ago as a way to celebrate the Atari Jaguar (of all things), and that made the move from the Brookfield Sheraton to Downtown Milwaukee last year, it's kind of a big deal.
In short, MGC rules. The only way to truly appreciate it is to experience it for yourself (the pinball, the video game museum, and the people watching are worth the modest ticket price alone), but here's a brief rundown of some of the special event highlights.
PARTIES
No weekend-long video game blowout would be complete without pre- and after-parties. On Thursday, April 11, head over to The Cooperage for the official MGC pre-party, featuring music from Amanda Huff, The Zelda Routine (natch), and Subspace. Aftershock Retrogames will provide 10 classic arcade cabinets, and there'll be tournaments and cosplay, too. (Also, The Cooperage is going to be absolutely bonkers all weekend long, with Psych Fest on Friday and Saturday, and our Milwaukee Day Showcase on Sunday.)
On Saturday, April 13, The Garcade in Menomonee Falls will host the official MGC after-party. More than 100 '80s and '90s arcade games! More than 15 pinball machines! Air hockey! Foosball! More! (Tickets to this exclusive, all-ages event need to be purchased through MGC.)
TOURNAMENTS
Admit it: When you first saw that big "Video Armageddon" tournament at the end of the 1989 Fred Savage/Jenny Lewis vehicle The Wizard, you lost your mind. Well, you can lose your mind all over again at MGC, where'll they'll be oodles of tournaments to satiate your competitive-gaming needs. Midwest Tetris Championship? MCG has it. Midwest Pinball Championship? Yep. Super Mario Kart Tournament? You better believe it. Splatoon 2 and a Catan US Nationals Qualifier Tournament? Of course. Hell, there's even a historical panel on the legendary 1990 Nintendo World Championships, which were inspired by—you guessed it—The Wizard.
GUESTS
Last year, MGC attendees were stunned to see recently disgraced video game champion Billy Mitchell walking around like it was totally no big deal. Oh, and Svengoolie was there, too! Mitchell isn't scheduled to return in 2019 (his buddy Walter Day will be around), but there'll be plenty of interesting characters roaming the halls of the Wisconsin Center. This year's roster of guests includes everyone from former wrestling superstars ("The Million Dollar Man" Ted DiBiase) and former Ghostbusters (Ernie Hudson), to gaming industry legends (Howard Phillips) and Mortal Kombat actors (Philip Ahn, Anthony Marquez, Daniel Pesina). And yeah, Svengoolie will be back. Berwyn?!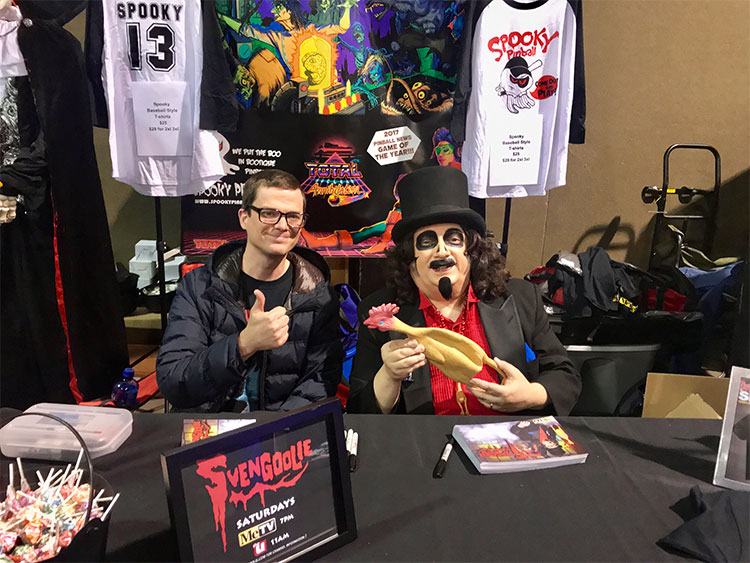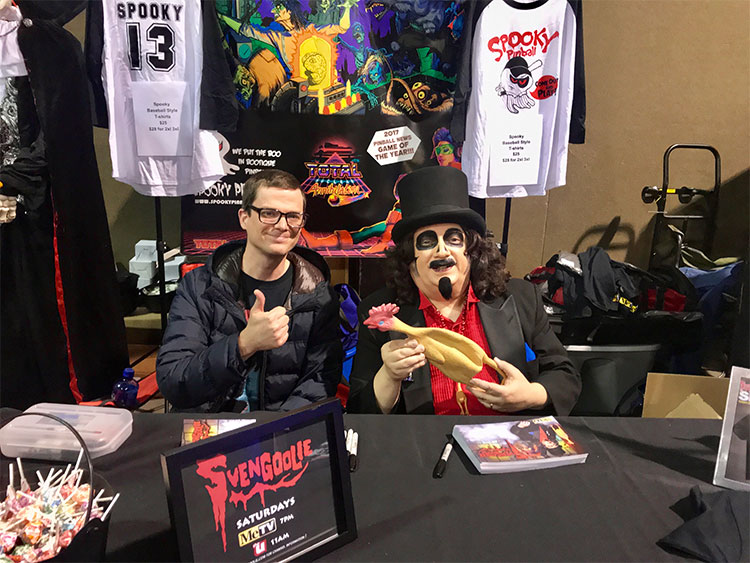 PANEL DISCUSSIONS
If you find yourself bored with all the games and random wonderfulness (note: you will not find yourself bored with all the games and random wonderfulness), there'll be plenty of fascinating talk at MCG. Be sure to check out a discussion of women in gaming, a games-focused chat with Ernie Hudson, a presentation on collecting physical carts, and much, much more. The history of GenCon! The history of the Game Boy! The evolution of Pac-Man! Homebrew games! A soldering tutorial! The most important game…ever? "It's certainly not DuckTales," MGC says of the latter panel discussion. "Or is it?"
MUSIC
Want the entire music schedule for MGC 2019? Here it is…
SATURDAY, APRIL 13
11 a.m.-12 p.m. – Mechanical Life Vein
"Painfully authentic video game music performed alongside a LIVE game. Inaccessible video game art-rock for the masses!"
12:30-1:15 p.m. – Alicia Renee
"Vocalist, Alicia Renée, combines her favorite elements of all genres of music and turns them into her own flavor of jazz. Along with her trusty ukulele, Alicia has been arranging covers for pop tunes, showtunes, rock classics and video game music. Alicia is thrilled to return to the Midwest Gaming Classic to share her nerdy covers of the awesome music from Chrono Trigger, Donkey Kong and Zelda!"
1:30-2:15 p.m. – Arcade Mode
"Playing Jazz Fusion renditions of the coolest video game songs!"
4:15-5 p.m. – Myles Coyne
"Milwaukee troubadour Myles Coyne, aka Mouse Corn, returns to MGC 2019 with a slew of anime covers, video game tunes, and original music. For fans of Studio Ghibli, Twin Peaks, Death Stranding, and Pokemon."
5:15-6 p.m. – 8-Bit Zero
"A blues band featuring 2 Nintendo Game Boys and 1 human being. The human sings and plays guitar and saxophone while the Game Boys do most of the work. They sing songs about video games, rock 'n' roll, and crossroads."
6-7 p.m. – Game Show with Super The Hardest Podcast (with music by Zac Shipley DJ)
"The crowd favorite makes a triumphant return to Midwest Gaming Classic. Join John and Dave from Super the Hardest (formerly Team Fremont) for video game trivia and laughs."
SUNDAY, APRIL 14
11-11:45 a.m. – Lords Of The Trident (Fang & Baron Acoustic Duo)
"Although they play the heaviest of heavy metal, the LORDS recently realized that in order to conquer all of music, they would have to expand into other SOFTER genres. So they dipped their acoustic guitars in a bath of liquid steel in order to reinforce them, and started playing acoustic renditions of their heavy metal hits!"
12-12:45 p.m. – MFML
"MFML is the DJ project from Milwaukee native Matt Lubus. Also known for his work in the electronic group Moth Light, MFML will doing a heavy video game themed DJ set for MGC with hints of electronic music thrown in."
3-4 p.m. – Subspace
"Subspace is a collective of video mixing, pixel junkie DJs. Music mixed to a vast array of 8-bit and pop-culture, cut-up and found footage visuals for a mind-melting AV experience."