Tuesday, the Dallas Mavericks released a new bobblehead that depicts future Hall Of Famer Dirk Nowitzki the night he was drafted by his one and only NBA team way back in 1998. It's a cool souvenir that honors the best Maverick ever as his incredible career nears its conclusion, but it's not entirely accurate. The ceramic keepsake serves as but another cruel reminder of the fateful night in June of '98 when Dallas received the draft rights of Nowitzki (whom Milwaukee took 9th overall) and Pat Garrity in exchange for Dallas' pick in the six slot, Robert "Tractor" Traylor.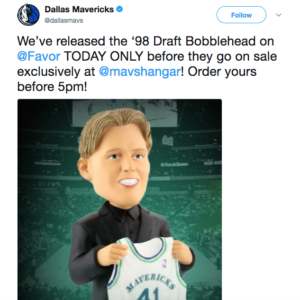 Of course, the deal was worked out before the draft, but it's still upsetting to know the incomparable career of a player that would go on to win the MVP, make 13 All-Star Games, score the 6th most points ever (30,293 and counting), and remain a productive piece in Dallas to this day technically started with the Bucks. Though Nowitzki is probably the best player with Bucks ties to never suit up for Milwaukee, the franchise's 50-year history includes a number talented players whose career with the Deer was short, uneventful, and utterly devoid of statistical support.
Some are the byproduct of draft day trades or deadline deals. Others were strictly financially motivated. A few were the result of abrupt retirement or complete disregard for league rules. We combed the team's history to find the 10 best Milwaukee Bucks (and a few other notables) who never actually played a game with the team and rank them. Enjoy wondering what might have been.
10. Jimmer Fredette (2011)
No, Jimmer didn't exactly pan out as a pro, but the BYU product was an absolute star in college and his dozens of school and Mountain West Conference records caught the attention of an NBA team in the first round of the 2011 draft. Well, two teams. The Milwaukee Bucks took Fredette with the number 10 selection and, within minutes, it was basically an accepted conclusion he was going to Sacramento. Think that's an exaggeration? He delivered an interview about how excited he was to play for the Kings while he was still wearing a Bucks cap. A three-team trade that night sent Fredette and John Salmons to Sacramento. The Bucks got Tobias Harris (who has managed a pretty good career so far), Shaun Livingston, and Stephen Jackson. It's safe to say Jackson wishes he could be on this list, too. Fredette now plays in China, where he scored 73 points in a single game last winter.
9. Gary Trent (1995)
The 1995 NBA Draft was fairly deep, including the likes of Kevin Garnett, Jerry Stackhouse, Rasheed Wallace, Joe Smith, and Brent Barry. Milwaukee got another solid player with the 11th pick, when they took Gary Trent (the so-called "Shaq Of The MAC") from Ohio University. Trent—who got picked 10 spots ahead of Michael Finley—was immediately traded to Portland along with Milwaukee's first rounder in 1997. The return for that pick and a forward who played nine seasons, you ask? Shawn Respert.
8. Kwame Brown (2012)
Kwame Brown played more than 600 games during his 13-year career. His penultimate season found the veteran center suiting up for just nine games with Golden State. The Bucks traded Andrew Bogut and a disgruntled Stephen Jackson to the Warriors for Monta Ellis, Ekpe Udoh, along with Brown's expiring contract. The following season, Philadelphia would be the seventh stop in Brown's career…not counting the months he technically was employed by the Bucks.
7. Anthony Peeler (2003)
Journeyman backup shooting guard Anthony Peeler managed a more-than-respectable career that spanned 13 seasons. Before the 2003-04 season, Minnesota sent him and former first overall pick Joe Smith to Milwaukee for Ervin Johnson and fan favorite Sam Cassell. Smith would stay on Milwaukee's roster, and Peeler was waived less than two weeks after the trade went through. None of his approximately 900 NBA games (regular season and playoffs combined) would be in a Bucks uniform.
6. Kevin Willis (2001)
Kevin Willis quietly put together a career almost anybody would love to have. The seven-footer played in over 1,500 games over the course of 20-plus seasons that touched parts of three decades. He won a title. He was an All-Star. And for a few hours in October of 2001, Willis was a member of the Milwaukee Bucks. The Nuggets traded him for Scott Williams. The Bucks then proceeded to send him to Houston for a second rounder that would be used to take Dan Gadzuric.
5. Roy Hibbert (2017)
From 2008 through 2015, Roy Hibbert was a force in the paint for the Pacers. The two-time All-Star and defensive standout fell on tough times with the Lakers in 2015-16 and landed on the bench in Charlotte last year. He didn't stay there long, though. In April, the Hornets traded Hibbert for his Parks & Recreation co-star Miles Plumlee (and Plumlee's bloated contract). He didn't suit up for Milwaukee in his 22 days with the team before he was traded to Denver in exchange for a highly protected 2019 second rounder that's unlikely to amount to anything. But hey, at least the Bucks are off the hook for Plumlee now.
4. Bruce Bowen (2009)
After winning three titles and earning NBA All-Defensive Team honors an astonishing eight times in his first 13 seasons in the league, Spurs mainstay Bruce Bowen had nothing more to prove when San Antonio included him in a package deal for Richard Jefferson. Thus, Bowen retired before playing a game with Milwaukee. It was an ironically offensive way for one of the NBA's best modern defenders to call it quits.
3. Stephon Marbury (1996)
We've chronicled a few cases of the Bucks getting burned on some questionable (or flat out bad) transactions so far, but this is one case where Milwaukee came out ahead. The 1996 Draft had one of the finest classes ever, highlighted by the likes of Allen Iverson, Kobe Bryant, Steve Nash, Stephon Marbury, and Ray Allen. Seeing the Bucks take Marbury and watching Allen temporarily land in Minnesota is like a glimpse into a weird alternate dimension. Moments after the 4th and 5th picks had their hats, they stepped to the podium together and swapped them upon learning they'd been traded for each other. Marbury still had a marvelous NBA career (and a weird one in China, too!), but Allen proved to be the better pick.
2. Julius Erving (1972)
With the 12th pick in the 1972 NBA Draft, the Milwaukee Bucks selected Julius Erving. "Dr. J" would've joined a stacked young franchise that also had Oscar Robertson and Kareem Abdul-Jabbar, but Erving opted to illegally sign with the Atlanta Hawks instead. An injunction stopped Erving from joining the team's roster, and he went to play in the ABA. When the ABA folded in 1976, Erving signed with the Philadelphia 76ers, where the Bucks draftee would finish out his incomparable career.

1. Dirk Nowitzki (1998)
Even knowing the circumstances behind it, this one still stings.
Honorable Mention
Aleksandar Radojević (2001) — The 7'3″ center was born in the former Socialist Republic of Yugoslavia, where he excelled before winding up in the NBA with the Toronto Raptors, playing only three games in 1999. Radojević and Kevin Willis were traded to Denver in early 2001, then packaged together again in a deal with Milwaukee months later. He was waived by the Bucks within days, prompting a return to Europe where he'd play until 2012 (save for a 12-game stop in Utah in the early aughts).
Bronson Koenig (2017) — The former Badger hero went undrafted, but signed a two-way deal with Milwaukee this summer. About six weeks later, Koenig was waived. He's currently a member of the G-League's Windy City Bulls. He doesn't really deserve a place among the best, but it would've been cool for some fans to see the hometown kid in Milwaukee or even Oshkosh.
Junior Cadougan (2013) — The Marquette standout was invited to play with the Bucks in the NBA Summer League. The Canadian-born Cadougan had visa issues and was cut after two games. Again, this would've been neat, even if only for the sake of local interest.
Tiny Gallon (2010) — Gallon was drafted in the second round and waived three weeks later. He never played an NBA game and wasn't very good, but his name is Tiny Gallon.