It's an unprecedented and incredibly difficult time for restaurants right now. It's especially tough for restaurants in Wisconsin, where COVID-19 numbers are currently off the charts. Wanting to highlight local establishments who are keeping food quality high while also keeping its customers and employees as safe as possible, we're going to focus on restaurants that have completely shifted to carryout and/or delivery service in a series we're calling "Carryout Chronicles."
Since 2014, VIA CDC—a community organization formerly known as Layton Boulevard West Neighbors—has organized a month-long celebration aimed at highlighting the abundance of excellent Asian-owned eating establishments in Milwaukee's Silver City neighborhood. Last week marked the start of the seventh annual "Phobruary." Though the promotion has ditched the dine-in aspect this year in favor of a "Pho To Go" model on account of the COVID-19 crisis, the spirit of the movement remains the same: make your way to Silver City, warm up with some pho, and support local businesses during a time of year that's especially tough for restaurants (even when there's not a worldwide pandemic happening).
Through the years, three of the unique promotion's participating restaurants have remained the same as well. While there's still time for us to return to Thai Bar-B-Que and Vientiane Noodle Shop to pick up some "Pho To Go" before the end of the month, we decided to kick our Phobruary off with a stop at Bamboo Restaurant (3427 W. National Ave., 414-316-9023) last week.
Policies And Procedures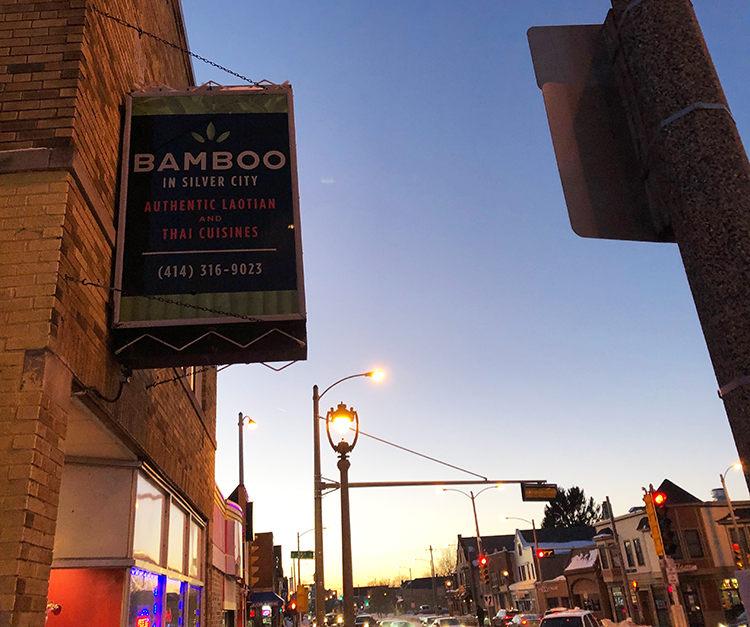 We've been to Bamboo a few times before. Once was part of our four-restaurant Phobruary adventure (farewell, Thai Lotus!) in 2015, another time was for a pho-less meal as part of our Tucked Away series in 2018, and a few other visits happened just because, well, we were craving it. Every single trip up until this point has been of the dine-in variety, so we honestly had no idea exactly how things would work now that Bamboo has switched to carryout-only service.
Though Bamboo's management both condones and encourages customers to use DoorDash if they'd like food delivered, we—wrapping up a work day at our office not too far away—decided to withhold DoorDash's probably exorbitant cut of the bill and, instead, retrieve a carryout order ourselves. Finding no online ordering option, we sucked it up and called in our order. After confirming our items and giving the employee our phone number for order identification when we arrived, we were told our food would be ready to pick up in 15 minutes. We put on a face covering (as both the restaurant's signage and basic human decency requires) and walked into Bamboo to find the cozy restaurant transformed. The tables were arranged into an L-shaped barrier between customers awaiting takeout and staff. We were greeted by an employee, who asked our phone number, processed our payment (cash or card are both accepted), and gave us our bags of pho within a two- or three-minute span.
Carryout Quality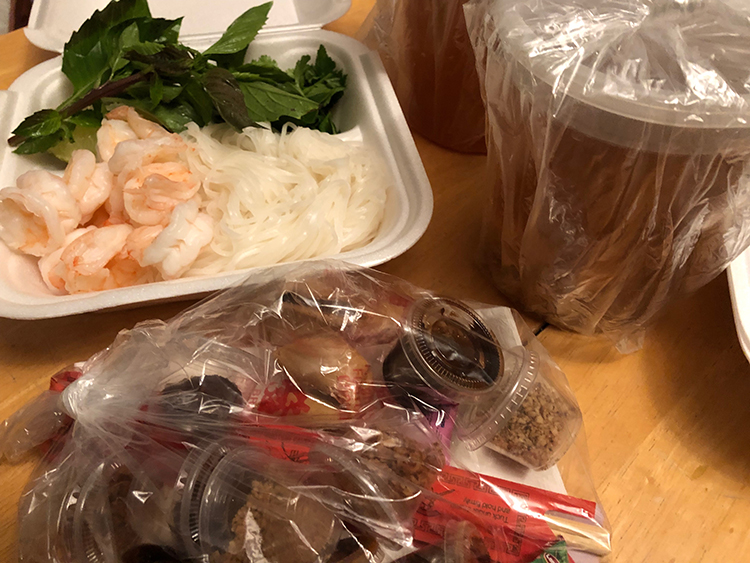 Any concerns about how the food (much of which was liquid) would fare after the somewhat lengthy drive home down pothole-laden National Avenue were quickly dashed when we opened the containers. For safety and security, the plastic container holding the pho's broth was wrapped up in a plastic bag that was knotted. The precaution was appreciated, but we're glad to report nothing spilled out during transport. There was also a bag with chopsticks, fortune cookies, pieces of candy, and containers of sauces, pastes, and other toppings.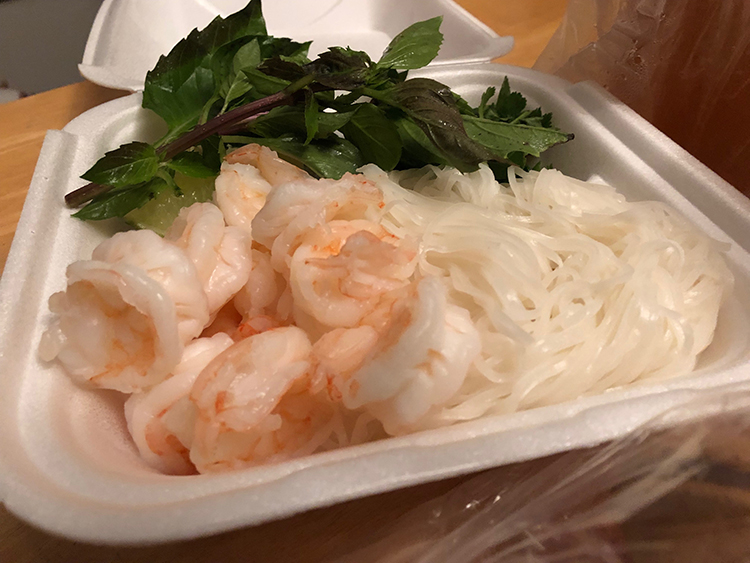 Yet another container in our order was brimming with boiled rice noodles, fresh basil leaves, diced cilantro and green onion, fresh jalapeno slices, a lime wedge, bean sprouts, and 10 (mostly large) precooked shrimp. The shrimp pho is $12.95. If you're not in the mood for shrimp, large orders of tofu, vegetable, or beef and meatball varieties are each $9.95. There's also a House Special Combo pho with shrimp, squid, meatball, and beef for $12.95 and a Seafood Combo with shrimp, crab, squid, and scallop for $13.95.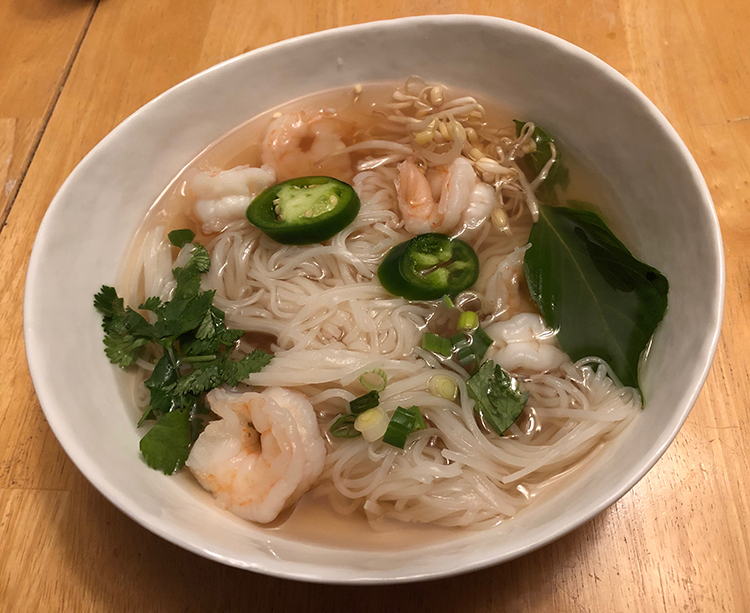 We put about half the contents of the Styrofoam container into a bowl from our kitchen and mixed in about half the container of the savory broth, which revived the ingredients admirably.
We also dumped a bunch of chili oil into the blend of delicious shrimp, fresh veggies, and soul-warming broth. We unsheathed our chopsticks and, upon mixing it in and tinging the broth a viscous light red hue, thoroughly enjoyed the lip-tingling spice and hearty flavors. When combined, they were the perfect dish for a brutally cold night in the dead of winter. Almost as good as the pho was the realization we still had enough food left to have the same thing for lunch the next day.
Other Info
We should also mention that Bamboo—a restaurant that specializes in Thai and Laotian food with some Chinese staples on the menu as well—has more than just pho. There are curries, spring rolls, stir fry dishes, chow mein, and even General Tso's chicken. So if someone else in your household/bubble isn't feeling pho as much as you are at the moment OR if you're looking to add something else onto your order, there's a lot to choose from.
Bamboo Restaurant is open 11 a.m. to 8:30 p.m. every day of the week. There's also a catering menu available. But unless you're dying to eat a party-sized portion of orange chicken on your own, that's probably something you should save for your post-pandemic to-do list. In the meantime, make your way to Silver City—whether it's for Phobruary festivities or any other time of the year—and pick up some food from Bamboo. You'll be glad you did.