Milwaukee isn't exactly suffering a drought when it comes to Thai food. There are classics like Farwell Avenue stalwart E.E. Sane, but if that doesn't fit your mood, there are four other restaurants dishing out Thai cuisine within a mile of it. This type of ubiquity tempers expectations when it comes to trying something new, but some strong hype for an out-of-the-way Thai joint piqued our interest. In a city already thoroughly drenched in coconut milk and galangal, what could make Thai Bar-B-Que (3417 W. National Ave., 414-647-0812) special? We sought to find out.
The space: You would be right to assume that Thai Bar-B-Que's decor and ambiance would be as generic and on-the-nose as its name. Things go a bit beyond the pale, though, with the sheer volume of decorations. Instead of gently seducing the diner with subtle ambiance, light music, and the tactful implementation of cultural accents, Thai Bar-B-Que uppercuts you with a wall-to-wall plastering of menu item posters, fish statues, and decorative masks. Be it unapologetic or simply unaware, the aggressive decor speaks to a refreshing disinterest in appealing to prototypical trendy gourmands, a group whose sensibilities often serve to dilute ethnic cuisine and strip away its authenticity. "Go get your Pad Thai on Farwell, bro," the roasted fish poster on the wall seems to say.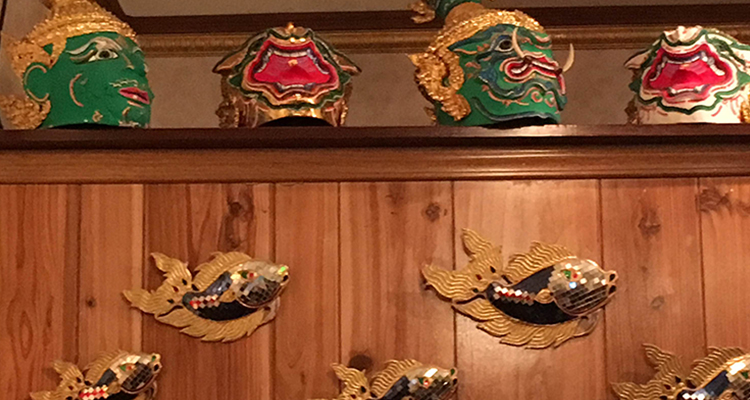 One definite vibe-killer worth mentioning is the giant wall-mounted television we were sat under. It's hard to imagine one who chooses Thai Bar-B-Que as their destination to congregate around a TV for the big game. This was far from a night-ruiner, but admittedly a mite obnoxious. An obvious language barrier and small service staff did little to impede what was ultimately solid service. After seating ourselves, we were greeted by a server who took our order before mysteriously disappearing for the remainder of our meal. The rest of our dinner was handled by a little old lady who, while on the ambivalent side when it came to interacting with us directly, had a friendly and enthusiastic air, and was extremely on-the-ball when it came to switching out plates and refilling water. From start to finish, our five-top (that-was-eating-like-a-10-top) received service that was accurate, friendly, and expedient-yet-not rushed.
The food: If you're the type who is prone to paralysis when overwhelmed by options, Thai Bar-B-Que may throw you into a state of complete mental catatonia. The 100-plus-item menu is actually two menus, neither one being modest in size or selection. Menu one features the restaurant's appetizers, salads, and soups, while the second boasts entrees and beverages. Faced with the mammoth menu(s), we came to terms with the fact that no matter the intensity of our quintet's hunger, our cumulative efforts would serve, at best, to maybe put a mere dent in the menu.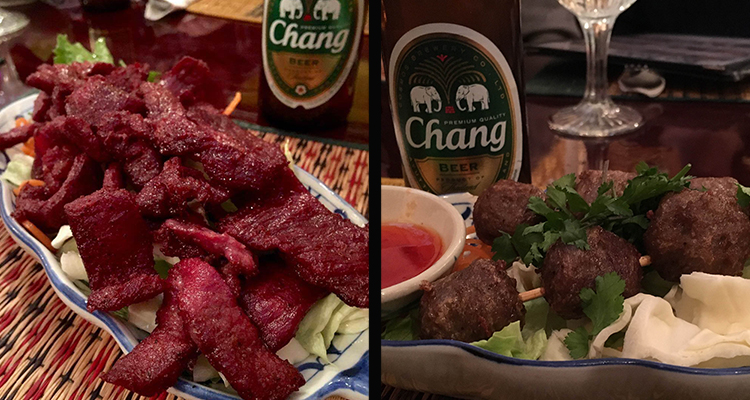 First came the appetizers: Thai beef jerky, grilled meatball skewers, Issan sausage, and a papaya salad, accompanied by a generous hot pot of tom kha soup. The transcendent and delicious jerky strips were marinated and spiced deep-fried beef. The meatballs were prepared in a fashion to be expected in a Thai restaurant. The meat was whipped, balled, and boiled before being grilled, making it chewier than what one might expect or prefer. The tom kha hot pot was an exceptional bargain, but the strong single note lemongrass all but drowned out the other flavors, taking away from the soup's complexity. Interestingly and somewhat unexpectedly, out of everything consumed that night, it was the papaya salad that delineated the best outline for what Thai food is. Every single bite married heat with freshness and sweetness with sour. A mix of nuts and tiny dehydrated shrimp added texture and a pleasing piquant entity not usually synonymous with anything fruit-based.
Noting the inherent shareability of Thai food, we structured our entree order to consist of five differing role players. Pork Pad Ka Paow, Ginger-Garlic Beef, Penang Curry with tofu, the oh-so-adorably-named Happy Baby Corn, and the Siam Volcano—a chicken dish that arrived on a dazzling sizzle plate, not unlike fajitas. The popping, sizzling chicken garnered the "ooh's" and "ahh's" of two different pairs of grandparents in the dining room. Each entree shined in its own right, with the Siam Volcano taking a distant second place to the Penang Curry. A standard? Sure, but perfecting a standard is a difficult and noteworthy accomplishment, and one found at Thai Bar-B-Que.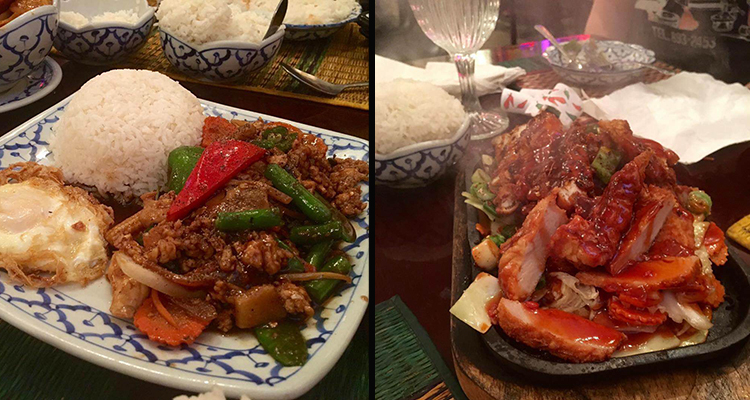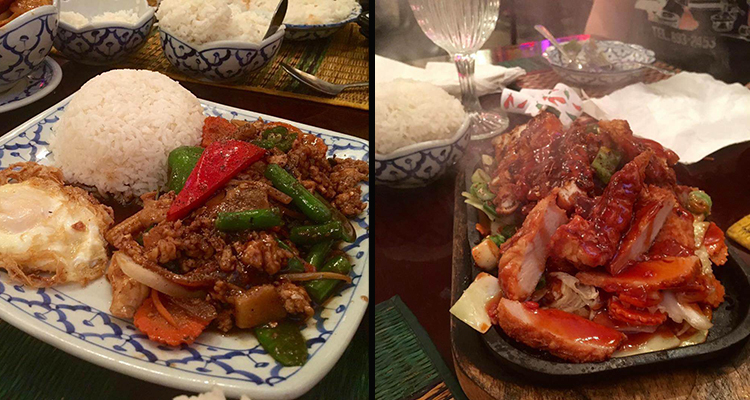 All told, dinner (enough to also provide lunch for the next two days), beers, and tip came to just over a hundred dollars. That's surely a crazy bargain for five hungry and adventurous diners, but expect to spend substantially less if you choose to eat like a rational human being.
The verdict: Next time you're craving that specific type of taste only Thai food can satiate, don't just defer to whatever is closest to home. Instead, take a cruise down to Silver City and dive into the wealth of options that await you at Thai Bar-B-Que. While the restaurant may not blow any minds, it is liable to raise the bar of Milwaukee's Thai scene.