Caleb Westphal hasn't missed a Friday fish fry since 2013. Follow along with his never-ending adventures here. This week: Skippy's Burger Bar.
Steam rose from the uncovered cup of green tea in my right hand as I navigated my phone with my left. It was around 3 p.m. on Friday and I was sitting in Fiddleheads in Thiensville, having just gotten off work and not yet knowing where I'd be having a fish fry. People sometimes ask me how I decide where I'm going each week. While I have the names of a large number of fish fry possibilities to pick from compiled on a Google Doc, divided by their geographical relationship to Milwaukee—Milwaukee itself, South, Southwest, West, Northwest, North, and Distant—the truth is, on many a Friday I find myself scrambling at 3 or 4 p.m., trying to figure out where to go.
This Friday's destination had at least been narrowed down to the area around Thiensville, because I was in the village and planned to dig for 45s at Stardust Records before eating. But there wasn't even a Thiensville restaurant on my list, so there I was, searching on my phone. Time was slipping away and a decision had to be made so I'd have a reasonable amount of time at the record store and still beat the dinner rush. I had already been to Chuck's Place for the inaugural article of this column, and the Cheel has not yet been rebuilt. The Range Line Inn and Spanky's Hideaway weren't too far away, but I've written about them as well. Then I found a place just steps from the record store: Skippy's Burger Bar (113 Green Bay Rd., 262-512-1240). Did I dare to get a fish fry at a place that most wanted to be known for their burgers?
Ken and Janis Kucharski opened Skippy's Sports Pub 25 years ago. A revamp, a shift to a greater focus on food—particularly burgers—and a new name, Skippy's Burger Bar (regularly written without the apostrophe), came to the family business in 2018, which is managed by Ken and Janis's son Brett. The restaurant is located in a large Queen Anne style building on a bend of Green Bay Road, across from a bend in the Milwaukee River.
Built in 1855 by Ernst Van Alten, 55 years before Thiensville incorporated, it was a tavern and restaurant from the start, meaning it is one of the oldest bars in the state. It reputedly is also the oldest bar in Ozaukee County. At the time of the building's opening it was a hotel too, and it is known historically as the Thiensville Hotel. It has long been a bar or restaurant: it was the Kieker Tavern in the 1890s, the Harmony Bar in the 1970s, and the Curve Inn in the 1990s, where an all-you-can-eat haddock fry was available for $5.95.
It wasn't long after 4:30 when I walked inside Skippy's and was promptly led past the front dining and bar area to one of the tables in the middle dining area. In Wisconsin you almost have to apologize for ordering a non-alcoholic beer on a Friday night, so I prefaced my O'Doul's order with "I'm doing a dry January," to justify why I wasn't having a real beer. This was met with a playful "that's unfortunate." I can't argue with that.
There probably was a huge section for burgers on the menu, but I never saw it. I went straight for the fish. First up under the "Fish Fry Friday" section was "Beer Battered." Beer battered what, you ask? I asked and was told it was cod ($12.75). The cod is also available grilled, either regular or Cajun style ($15). Southern crusted bluegill ($18), breaded lake perch ($17.50), jumbo breaded shrimp ($15), and a perch and shrimp combo ($16.50) are also on the menu. Each meal comes with either homemade french fries or chips, and for an extra $1.50 a substitution can be made for onion rings, tater tots, sour cream and chive fries, and cheese fries. I went with the beer battered…cod with fries.
A few burgers came out of the kitchen while I was waiting for my food, but it wasn't long before I spotted a fish fry. Halved, beautifully buttered, and sandwiched-together marbled rye gave the meal an auspicious beginning. The slaw, Ken's recipe and billed as Kenny's Coleslaw on the menu, was no less appetizing. With a pleasing texture, it was flavorful, not from a seasoning, but on account of its dressing, which was creamy but not juicy, holding tightly to the cabbage and carrot.
The homemade french fries are probably a Skippy's mainstay and eaten with most of the burgers they serve. Not very salty, but still inherently savory, perhaps from some other seasonings or the oil used to cook them, they still had some skin on them and they seemed to be down to a system.
Lastly, there were three pieces of fried cod. The fish was of a middling quality, not exceedingly flaky and white, but not subpar either. It was covered with a soft beer batter with crisp edges, and had a light beer flavor. The tartar was somewhat tangy, but otherwise rather orthodox, being salad-dressing based with a moderate amount of relish.
Skippy's Burger Bar might specialize in burgers, but that doesn't mean they can't serve up a fish fry too. While I wouldn't label them as a hidden fish fry gem, they offer a satisfactory beer battered cod fry, and they have other fish options that might be worth trying too. On top of that, they are celebrating 25 years as a family business this year. Now if they could only revamp one more time and turn into Skippy's Fish Fry Bar.
Takeaways: A fair number of fish fry options for a burger joint; family owned for a quarter century; inside of a building that dates to 1855; Kenny's coleslaw is pretty alright; homemade skin-on french fries; standard cod and tartar.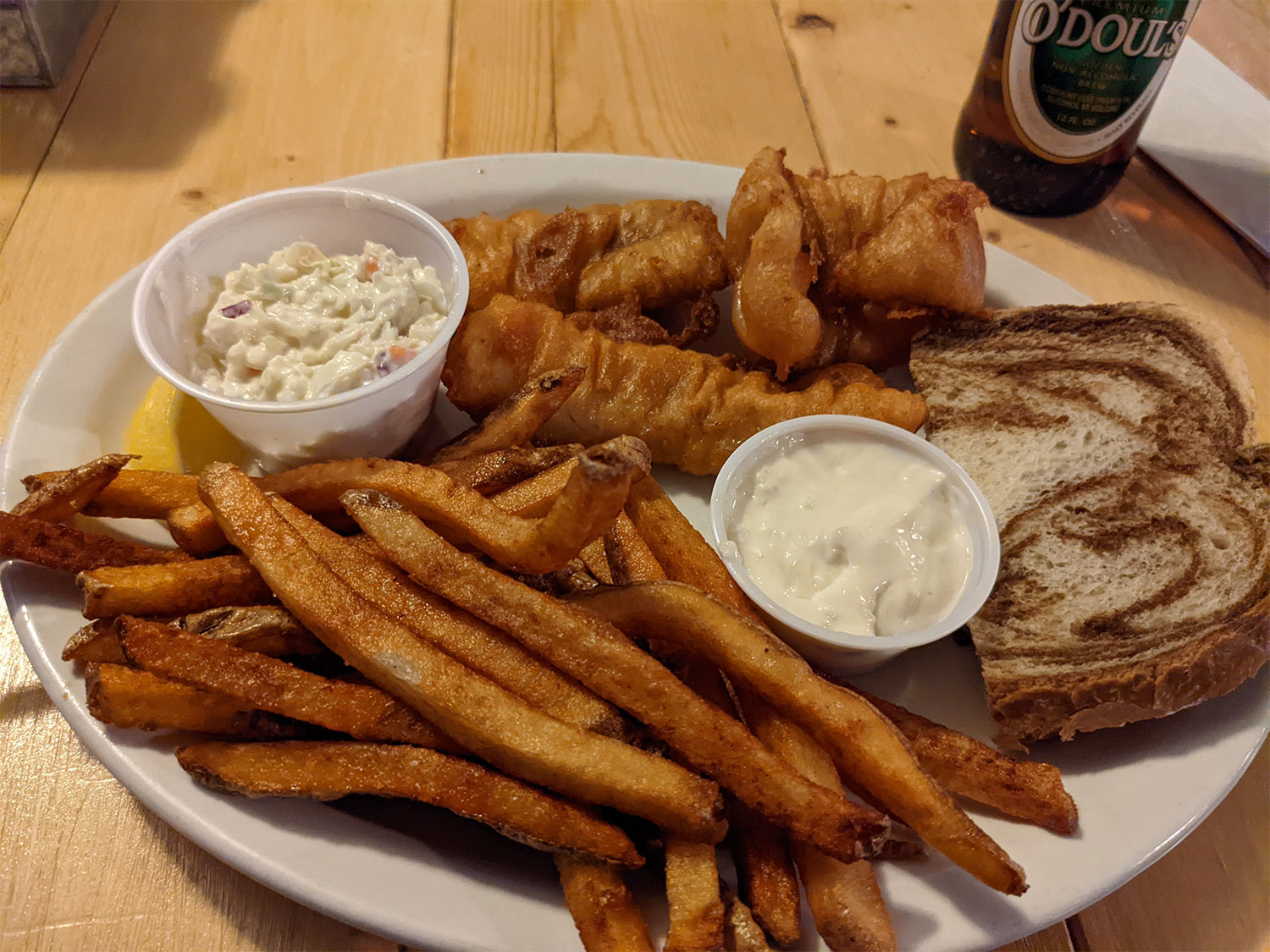 Exclusive articles, podcasts, and more. Support Milwaukee Record on Patreon.
---
RELATED ARTICLES