Between beloved and well-established local staples and a steady wave of new bars and restaurants popping up in and around Milwaukee almost every week, worthwhile dining and drinking gems can occasionally get lost in the shuffle. With Tucked Away, Milwaukee Record digs deep with the hope of unearthing some of these gems.
Since 2014, Layton Boulevard West Neighbors have organized a month-long celebration aimed at highlighting the abundance of excellent Asian eating establishments in Milwaukee's Silver City neighborhood. February 1 marked the opening day of the fifth annual "Phobruary." All month, a few Silver City restaurants offer sale-price bowls of the Vietnamese noodle soup (pronounced "fuh") for just $5.
It's a fun (or "phon") bit of pun-based promotion to help warm up winter's last full month, but those who opt to venture beyond the single delicacy Phobruary pushes are sure to find a wealth of authentic Thai, Laotian, and Vietnamese cuisine at the participating restaurants that can—and absolutely should—be enjoyed all year long. We've already screamed the praises of Thai Bar-B-Que, but in the months since partaking in last year's Phobruary festivities (phostivities?), we've also grown quite fond of its neighbor, Bamboo Restaurant (3427 W. National Ave., 414-316-9023). At the tail end of the pho-fueled month, we returned to the Phobruary participant to continue working through its regular menu.
The space: Bamboo is nestled near the high-traffic corner of National Ave. and 35th Street. The expansive, elevated exterior signage suggests a large, swanky restaurant within. That's not the case. Instead, diners will find seven tables capable of seating, at most, 30 patrons assembled in one small room. Maps of Laos, Thailand, Cambodia, and Vietnam are framed and displayed on the wall, along with a television playing daytime programming and evening news. The windows facing out on bustling National Ave. are too high to have much of a view, and we can't recall ever hearing music during any of our visits. Despite the incredibly friendly staff, Bamboo is admittedly a little lacking in the ambiance department. None of the matters when the food arrives.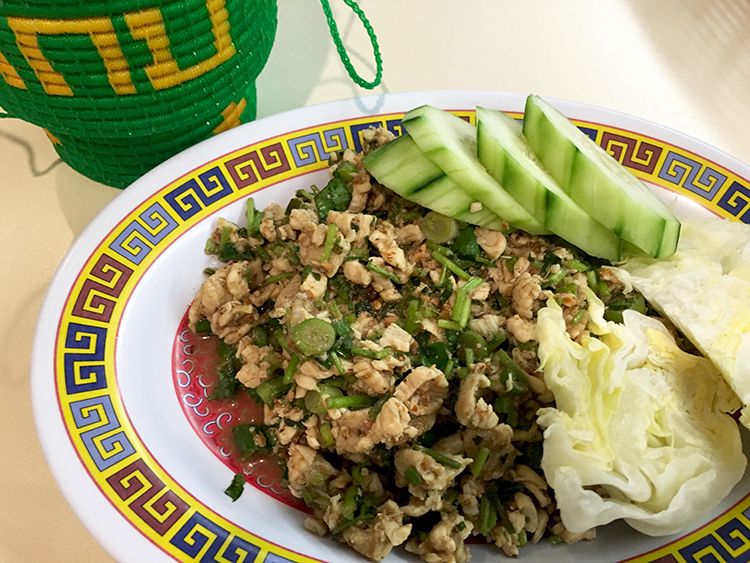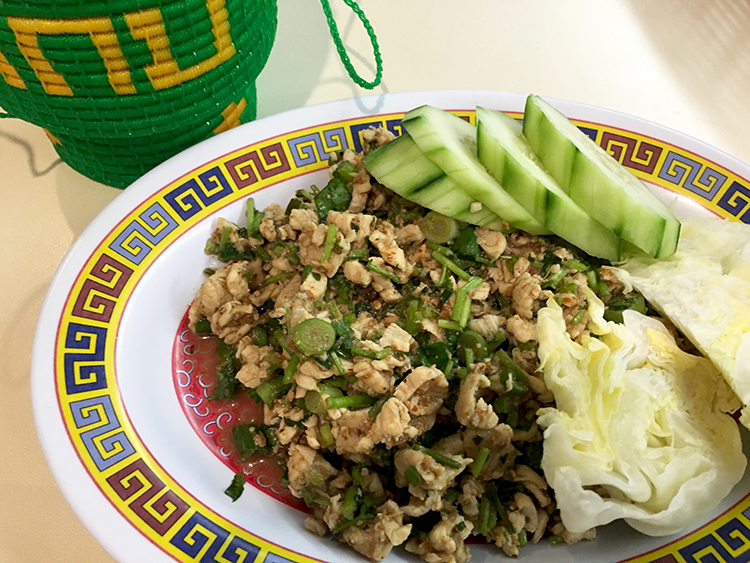 Milwaukee Record's food: Our latest Bamboo sojourn found us going off book a bit and sampling from the Laotian segment that's tucked in a small corner on the menu's back page. Of the three offerings, the Chicken Larb ($12.99) seemed the most enticing. Within maybe five minutes of receiving our veggie egg rolls ($3.25), we were presented with a plastic platter of minced chicken, diced mint and basil, green onion, cilantro, and a cute little green rice container packed with the stickiest rice (it was almost paste-like, in the best way) we'd ever encountered. Initially, we were puzzled by the decidedly bland garnishes of raw cucumber pieces and lettuce, but the reason for their presence soon became clear: to help minimize the spice.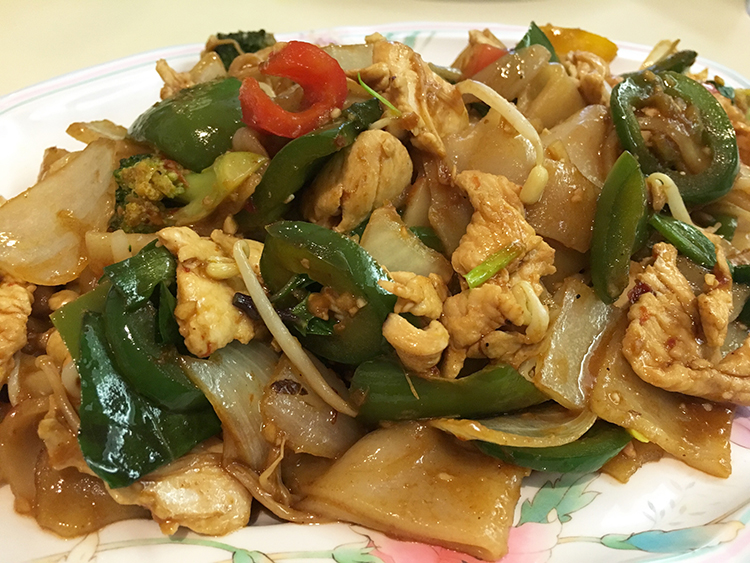 We're heat-seekers, but we were glad we'd stuck with medium spice for our Larb order. The chicken, basil, and mint all complemented each other strangely well, giving the dish a much more complex flavor than its appearance might suggest. When set atop a bed of rice (so sticky that we had to flatten it with the palm of our hand) and doused with chili paste, it was outstanding. After a few bites, our sinuses were clear, our belly was full, and we had mowed through every cool and refreshing piece of cucumber and lettuce. The Chicken Pad Kee Mao ($9.99)—a regular dish in our Thai rotation—was also a welcome reprieve from the Larb's satisfying-but-significant sting. The delectably oily mess of thick rice noodles mingled with sauteed onion, basil, broccoli, sprouts, bamboo shoots, sesame, and four types of peppers. Another unusual but ultimately awesome ingredient was tomato, which—along with the red and yellow pepper—brought a subtle sweetness that paired well with the gentle spice and savory sauce.
The verdict: Sadly, it took a punny promotion to bring us out to Silver City last year. Still, we're thankful it gave us a reason to sample some of the amazing items places like Thai Bar-B-Que and Bamboo have to offer since that belated introduction. Phoburary is almost over, but that doesn't matter. We'll be back in March. Hopefully we'll see you there.