Last week, we broke the story that SPIKE TV's Bar Rescue remained in Milwaukee after turning Y-Not III into Nick's House, and was in the process of transforming Howell Avenue dive Packy's Pub as well. Say what you will about the show's predictable model of semi-scripted reality, its mutated Scott Thompson Kids In The Hall character of a host, or that it pretty much just recycles one of three or four proven plans with each "rescue" it does, but the Bar Rescue crew works quickly. Within 72 hours of last Wednesday's "stress test" at Packy's Pub, the longstanding business at 4068 S. Howell Ave was ready to be unveiled as Campbell's Irish Pub, a considerably different take on a bar evidently in need of some changes.
Having endured the three-hour wait, being placed in a wristband-coordinated group, and hearing Jon Taffer scream orders not to high-five him last time around, we decided to sit this taping/unveiling night out. Instead, we waited until the cameras were turned off and brought to the next struggling saloon before paying Campbell's a visit. After the dust settled, we stopped by the Taffer-ized pub Tuesday evening for the bar's first actual night in business to see if the Rescue mission was successful.
Expecting a packed house, we arrived around 5 o'clock to find a mere 15 or so people crowded around the bar conversing and watching the Giants and Cardinals knotted at four runs apiece. Like most of Milwaukee, we'd never been to Packy's before. (Years ago, we tried to go for wings on a Saturday during posted hours, but it was closed.) Unfamiliar as we were, it was instantly obvious a great deal of updates were made. The walls were outfitted with plaid tapestry and wood slats instead of wallpaper or paint. Immediately upon entering, the room opened to a back area with pristine booths and a wooden table accessorized with tacit Ireland-oriented decor such as a wooden mallet, old-ass books, wooden spoons, ceramic jars, antlers, and faux vintage photographs that surely would make Irish eyes smile—and Milwaukee eyes quickly venture past the bar room and back in the direction of the cast of early Campbell's supporters beside the bar.
That portion of the establishment had a less ardent adherence to the Gaelic motif. A trio of electronic dart boards rested parallel to the entryway. The aforementioned baseball game was broadcast on a pair of modest flatscreens mounted behind the bar (and a gaudier one illuminating much of Campbell's western wall). A TouchTunes jukebox was making its transition from Kings Of Leon's "Sex Is On Fire" to The Killers' "Mr. Brightside." As we weaved between a modest gauntlet of empty tables in the midst of their inaugural happy hour on our approach to the bar, we snatched up an accessory we knew we'd encounter: the cocktail list. One side was emblazoned with the Campbell crest—a subtle holdover from the Packy's guard—and the other with a list of Irish-American buzzwords combined to, apparently, produce consumables.
Some standouts of the seven were the "Campbell's Ginger" ($7.25)—Bushmills whiskey (a Bar Rescue sponsor, no doubt), ginger beer, and lime; "The Ha' Penny Bridge" ($7.25)—an oh-so-Irish amalgam of Smirnoff vodka, melon liqueur, pineapple juice, orange juice, and an orange garnish; "Packy's Irish Coffee" ($6.25)—Bushmills, coffee, brown sugar, whipped cream; and a fucking "Perfect Pour Guinness" ($6.25), the official drink of the dude who thinks he's an eighth Irish. Since this would be the only time we'd indulge in Jon Taffer-orchestrated "mixology" (basically adding a shot of mass distributed liquor to a bunch of juice into a rocks glass and then charging $1.25 extra), we went for broke with the weirdest-sounding of the spirits. The "Clondalkan Snug"—or as we called it, "The Snug one or whatever"—combined Guinness with sparkling wine. A cool $6.25 scored us a champagne flute filled halfway with the "brilliant!" beer, and it was topped off with Barefoot brand bubbly. For being a program that emphasizes speed when slinging contrived low-ABV swill, Bar Rescue straight fucked up with this one. The nitro tap beer (which already takes long enough to settle in its most basic means of dispensing) required about two minutes to settle. Meanwhile, two bartenders took turns struggling to open the wine. Eventually, they succeeded, but needed to pour it slowly and stir as it foamed excessively. Had a book of Post-It notes been left from the stress test, we would've been sticking 'em on some shoulders for sure.
If the septuple of beverages on the menu fails to strike your fancy, you can enjoy more Smirnoff, Bushmills, and Captain Morgan cocktails, or draft brews from the likes of Lagunitas, Guinness, Strongbow, and Milwaukee's best-kept secret, Miller Lite. It should be noted that there's a wider variety of bottled beer. As we twiddled our thumbs while waiting for that Snug thing, we noticed signage for an in-house "JonTime Shot" ($6.25). As disgusting as the thought of anything Jon Taffer-related touching our lips was, we ordered one, only to learn the ingredients weren't in yet. "SHUT IT DOWN!" we thought. "That's okay," we said.
We decided to allocate our unused novelty shot funds to give Packy's…er, Campbell's wings a try. We were happy to see that the wings made the cut, when the food menu was pared down to just four items. However, even as rookies, we knew a SPIKE-employed "expert" had a hand in these elaborate "Whiskey Wings" ($8.95).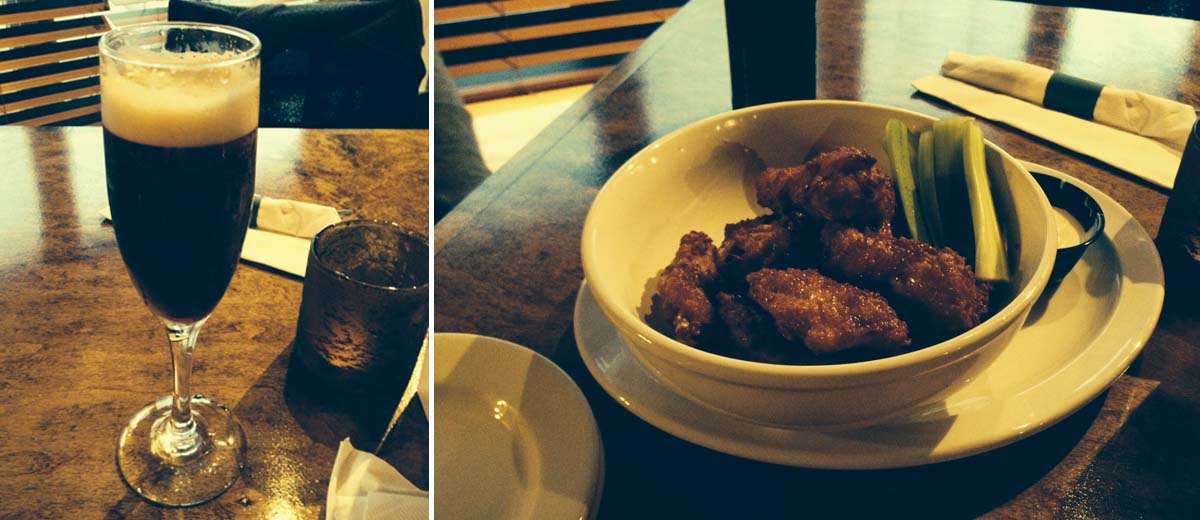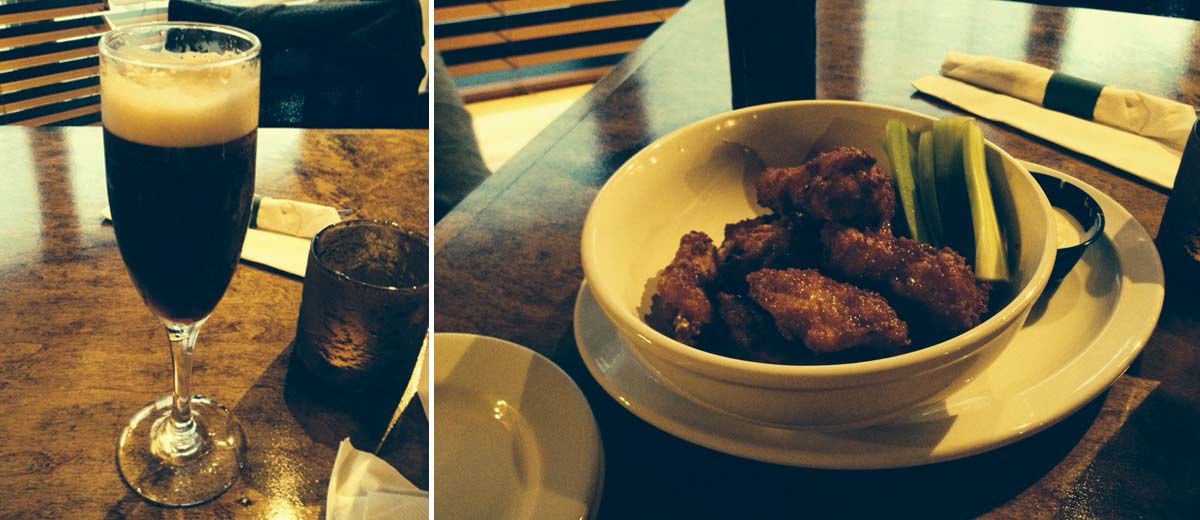 Soon, our bowl of 10 wings arrived. Ten?! Why not the standard dozen? Simple: as the sage and savvy Bar Rescue host always says, "BY DECREASING THE ORDER BY TWO WINGS, [spittle and indecipherable gurgling noises]!" At roughly 90 cents apiece, we now placed high expectations on our order. They were not met. To be fair, the crispy wings dipped in whiskey, breaded with beer, and drizzled in honey were tasty. However, it was the middle-of-the-road, spice-less standardization that was implemented to sate humdrum middle-aged women who want to grab a bite at the Bar Rescue place between seeing the Bronz Fonz, having dinner at Comet, then a nightcap at the other Bar Rescue place. We longingly reminisced about that one time we almost ate Packy's wings.
As we ate and processed the tart Guinness offshoot before us, we looked around the room and listened as people who were seemingly regulars enjoyed afternoon drinks in the cozy, shiny, new rendition of their go-to bar. We spotted a handful of starstruck people who, like us, where there for the first time. We overheard indisputably personable owner Patrick "Packy" Campbell being congratulated and beaming with excitement over his revived business. He came up to us and asked how we liked the makeover. We said it was really nice. It was. The crew managed to make a small, nondescript townie bar across from a bowling supply shop feel clean and comfortable. Through gaining a second life on basic cable, an untold number of people will surely seek out the small southside watering hole for the first time. That's enough for us to overlook the fruit-laden cocktails and the forced Irish theme, as well as a microscopic menu of overdressed and overpriced staples.