Last year was an unprecedented one in Milwaukee craft brewing. In 2016 alone, Third Space, Good City, and Urban Harvest opened in town. Black Husky, MobCraft, and Like Minds opened tap rooms in the city, and Enlightened expanded significantly. This abbreviated year has already brought a sizable second wave of suds with the likes of City Lights, Explorium, Eagle Park, Broken Bat, Westallion, and the month-old 1840 joining the now-well-populated group of Milwaukee breweries. On August 19, exactly a week after 1840 opened, Milwaukee got yet another brewery. With exponentially more microbreweries in the region than the city hosted as recently as 2015, even the most enthusiastic imbiber has to ponder whether Milwaukee can support another taproom, and whether people even want it.
Evidently, at least 222 backers do. Back in February, Gathering Place Brewing Company (811 E. Vienna Ave., 414-364-6328) launched a Kickstarter campaign to get its proposed Riverwest brewery off the ground. Once the month-long effort ended, the endeavor that was spearheaded by award-winning homebrewer Joe Yeado raised a whopping $33,186—well over his $25,000 goal. With enough funding to match his talent and passion, Yeado has brought the skills he fine-tuned at home to a pristine public setting. More than 200 people came together to bring Gathering Place to life. It's up to the beer itself to keep it alive.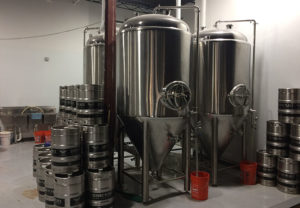 The space: Sitting in a relatively secluded section of Riverwest that's set west of Humboldt and somewhere between Burleigh and Capitol, passersby would have a tough time picking Gathering Place out if not for the small white banner affixed to the plain, unassuming brick façade. It's a much different story inside. To get to the brewery, prospective patrons must walk by Flux Design headquarters, which is just as artsy, whimsical, and metallic as anyone with a knowledge of the commercial craftsmen would expect. After passing by photographs of Flux's work and a posh conference room, customers literally pass through a Flux design in the form of a large confluence of steel beams that work together to form an arch.
Flux's influence is felt beyond the vestibule, as the modest bar, the eight tables, and even the vessels for flights appear to be handmade. Adhering to what must be modern microbrewery law, there's reclaimed wood incorporated. Still, its use is artfully implemented, with a pattern on the rear wall and slats from an old basketball court that have been transformed into an expansive tabletop. The table seems suited to accomodate some of the board games that are scattered around the space. The brew kettles, empty kegs, and ingredients are situated behind a barrier to the west of the bar. Other than the wood and metal accents, along with the functional elements, Gathering Place is a work in progress— a literal blank canvas of gray and light blue wall space that's waiting for an identity that's forged over time. During out visit, the musical accompaniment ranged from mainstream '90s rap to modern pop.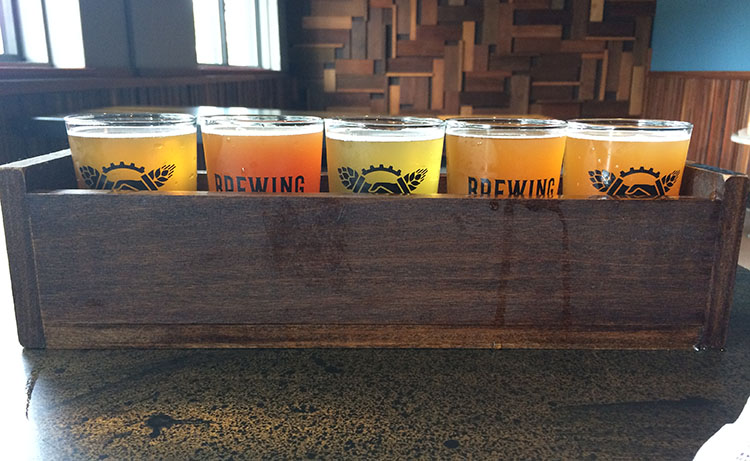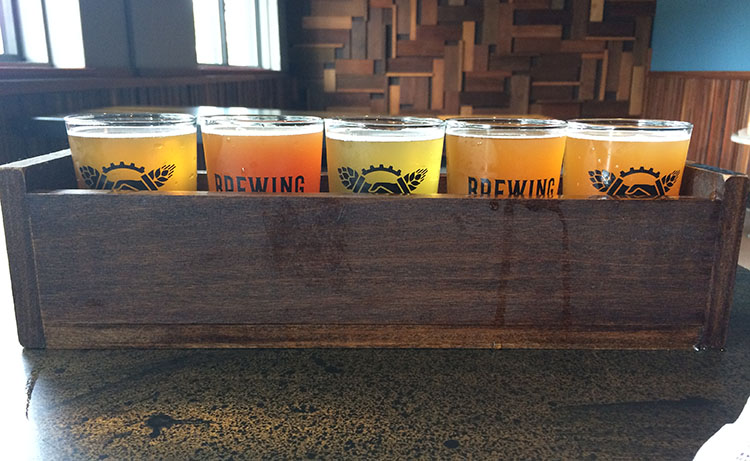 Milwaukee Record's drinks: We like reclaimed wood and Jenga as much as the next person, but the beer is what brought us to this industrial parcel of Riverwest. On paper, Yeado seems to know what he's doing. The founder and president won third place in both the 2013 and 2014 Samuel Adams home brew competitions, as well as 22 more brewing awards "from throughout the Midwest" in 2016 (including three first place ribbons at last year's Wisconsin State Fair). Despite all the hype and the underlying pressure of justifying $33,186 worth of blind consumer faith, Yeado did not disappoint us on our maiden flight ($12).
The Grüss Gott (far right) was a satisfying, sweet hefeweizen with a surprising depth that was conveyed by notes of clove, banana, and an alleged (but undetected) dash of anise. The Dom (second from right) came with the warning to "think Kolsch," which we had no trouble doing while enjoying the medium-bodied and semi-sweet glass of sessionable, German-inspired pale ale. The Priere (center) tripped us up a little, but that seemed to be more of an indictment of our option of Belgian singles than Gathering Place's execution. The Stor Bjorn (left) was a deceivingly robust Norwegian Farmhouse whose 7.3 percent ABV and ample IBU were cut with an unmistakable citrus tinge. Speaking of fruit, the Sprited Debate IPA was teeming with a persistent presence of peach, tangerine, and (apparently) papaya that coalesced with the hoppiness to make the IPA the star of the show. Really, there wasn't a weak brew in the bunch. We're excited to see what darker styles are on the way once fall and winter come.
The verdict: Milwaukee needed another brewery as much as it needed another crowdfunding campaign. Fortunately, the Kickstarted brewery just so happens to be one of (if not the) best of the new batch to open in the city this year. Gathering Place was made possible because hundreds of people gave money to help make one promising brewer's dream a reality. It's safe to say the investment has already paid off.