Last month, a roster of new, largely-unknown Brewers took the field in Milwaukee. Days later, two more unproven brewers—Tim Pauly and Dan McElwee—made their way into an already stacked lineup of established veterans, hop prospects, and touted draft (or bottle) picks that make up Milwaukee's burgeoning craft beer scene. After raising close to $13,000 on Kickstarter last year, the brewing battery was able to get over the hump and promote themselves from minor league microbrewery to a professional operation known as Broken Bat Brewing Company (231 E. Buffalo St., 414-316-9197).
Calling itself "Milwaukee's first baseball nanobrewery," the two-player team has willingly put itself in the cellar of a Third Ward building, with hopes of climbing the standings of local preference by putting faith in its pitchers (or pints). As a rookie in the well-established league of local craft breweries, can Broken Bat's attachment to the great American pastimes of baseball and drinking help it earn some playing time over other competitors on an already-full roster? Milwaukee Record slid headfirst into Third Ward's newest brewery to find out.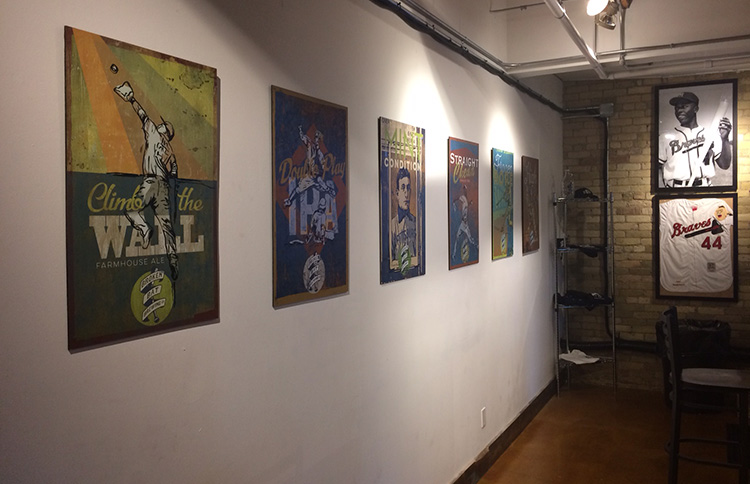 The space: Situated in the lower level of a space on Buffalo Street in the heart of the neighborhood, Broken Bat is the type of little and no-frills site that would draw comparisons to players like Scooter Gennett or pre-managerial Craig Counsell. Aside from little details like using bats as door handles and the shimmer off its cluster of small fermenters and brew kettles, it's not flashy. There's a new bar facing a classic brick wall decorated with ballpark art and player memorabilia, about eight tables scattered in the field of play, and TVs showing games without sound (with a '90s radio rock playlist providing the taproom's soundtrack instead). Each table comes equipped with a bowl of customary baseball snacks like shelled peanuts and M&M's. Floor space is outfitted with water bowls for dogs, which were in use by the four pooches on site during our visit.
Milwaukee Record's drinks: At this point, the young brewery has just six beers in its lineup, and only four were available during our visit. Pints are priced at $6 or $7, and four-ounce pours are either $3 or $4 (or $12 for "The Cycle" of all four on hand). With a nod to Jody Gerut or Chad Moeller, we decided to cover all bases with the four-tap option. The Mint Condition was a swig and a miss. The so-called porter was exceptionally thin and light-bodied with an unexpected tinge of hops. Working our way around the horn, the Double Play IPA was a fielder's choice, as the gently-bitter 8.0 percent ABV brew is officially scored a double by Broken Bat, but had the look and taste of a single. Double Play was our favorite of the bunch, but we're not sure of that's a testament of its quality or if it reached that mark on account of errors made by the other options.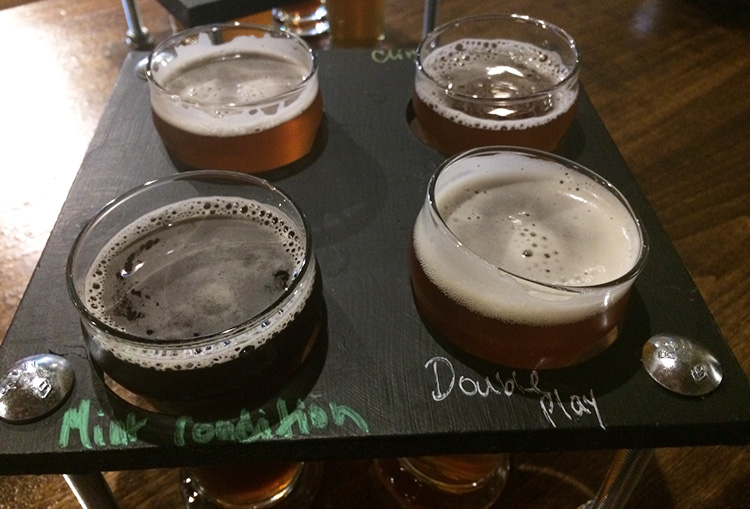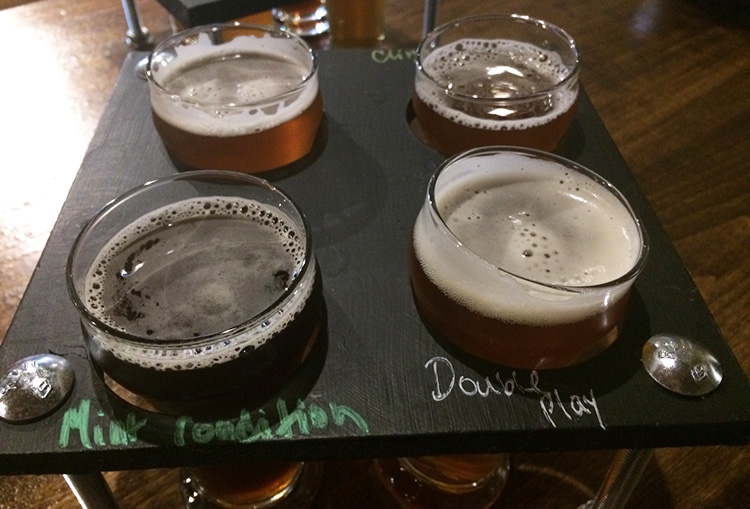 In the three spot, Climb The Wall is a fruity farmhouse ale that's so uncharacteristically sugary that the word "sweet" justifiably appears twice in its description. The caramel-hued 5.0 percent brew should be sessionable, but wasn't something we'd be particularly excited to step up to the plate to face again. As interesting as it was, much like a raw player or an all-or-nothing slugger, Climb The Wall getting more playing time might only amplify its weaknesses. Broken Bat was hitless in its first three appearances, meaning it was all left up to Straight Chedd to break the slump. Though the Apricot Pale Ale flew out, at least the inventive and inviting take on the fan-favorite IPA style made it out of the infield of expectation, leaving us optimistic about Broken Bat's future once they've had a season or two to develop.
The verdict: Perhaps the young brewery was called up too early. Maybe it's just one or two steady contributors from starting a dynasty. Early 0-fer aside, with its interesting theme and a great space in a neighborhood that's underrepresented in Milwaukee's ongoing beer boom, Broken Bat has all the tools to adjust its approach and one day be a trusted role player in local craft brewing. Both baseball and brewing are full of missed opportunities. Luckily, people tend to only remember the hits.