Still looking to get vaccinated? Want to check out Wilco, Nelly, ZZ Top, and/or a bunch of other grounds stage headliners at this year's Summerfest? Then head over to the Summerfest parking lot on June 5 or June 6, get vaccinated at a free drive-thru clinic (courtesy of the City of Milwaukee Health Department), and score a free general admission Summerfest ticket (good for any day of the fest).
"We are thrilled to support this drive-thru vaccination effort by offering a convenient and easy option for people to get vaccinated, as well as a free admission ticket to Summerfest 2021," says Don Smiley, President and CEO of Milwaukee World Festival, Inc., in a press release. "We truly appreciate all the efforts that the Milwaukee Health Department has taken to distribute the vaccine throughout the community, and encourage the general public to participate, as we all work together on containing the virus."
Here's how it works:
• The clinic will run from 10 a.m. until 4 p.m. on both Saturday, June 5 and Sunday, June 6. No appointments are necessary and participants will stay in their vehicles for the duration of the vaccine.
• Those interested in being vaccinated will enter from the south via Erie Street or north via Lincoln Memorial Drive and follow the directional signage toward the South Gate. Map attached.
• Anyone who gets vaccinated at the clinic will receive a single free ticket to Summerfest 2021, valid any day and time of the festival, after waiting 15 minutes in Lot H for observation post-vaccine.
• Both the Pfizer and Johnson & Johnson vaccines will be available. Anyone over the age of 12 years old can receive the two-dose Pfizer vaccine, and the single-dose Johnson & Johnson vaccine can be given to anyone over the age of 18 years old.
• Summerfest and the Milwaukee Health Department will run another set of vaccination clinics on June 26 and June 27 from 10 a.m. to 4 p.m. for those who received the Pfizer vaccine to get their second dose.
• Upon returning for the second dose, one lucky winner will be chosen to receive a special Summerfest 2021 prize package, including a UScellular™ Power Pass and festival merchandise package.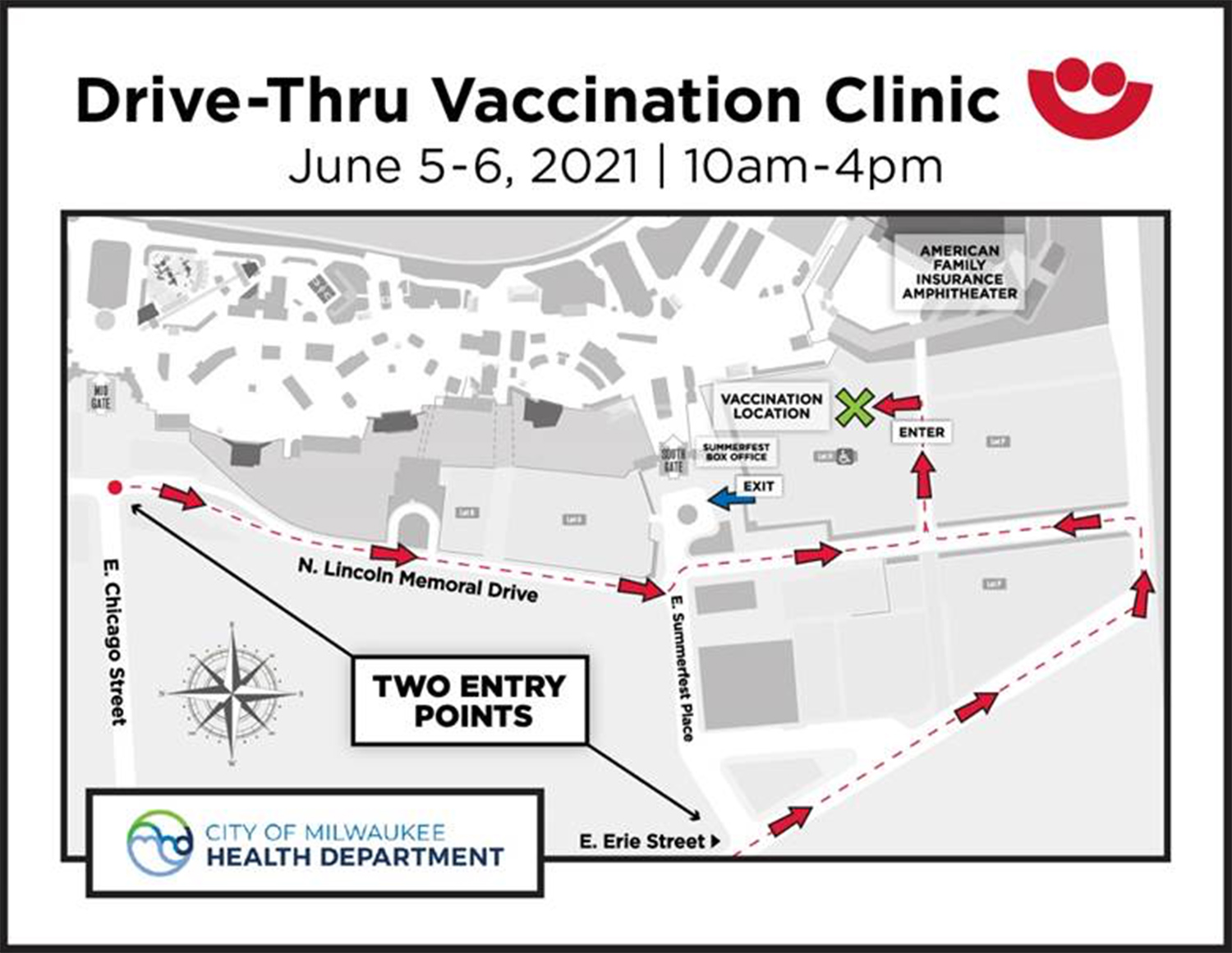 Summerfest 2021 is set for September 2-4, 9-11, and 16-18, plus some "Wednesday Kick-Off Concerts" at the American Family Insurance Amphitheater. Find the full headliner schedule HERE.
Exclusive articles, podcasts, and more. Support Milwaukee Record on Patreon.
---
RELATED ARTICLES
• Megan Thee Stallion will play Summerfest September 16
• Green Day, Fall Out Boy, Weezer will play Summerfest September 1
• Summerfest is back, and here's the 2021 Summerfest lineup
• Summerfest 2021 moving to three weekends in September
• Dave Matthews Band set to play American Family Insurance Amphitheater September 15
• Summerfest's Harley-Davidson Roadhouse is gonna be the Generac Power Stage now
• Check out Summerfest's plans for the redeveloped Northwestern Mutual Children's Theater & Playzone
• Another list of summer festivals that are either canceled or still on (for now)