Spring has truly sprung. The weather is glorious, the Nite Owl is back in business, and the Marcus Center snow pile is doomed. Oh, and the South Shore Terrace beer garden (2900 South Shore Rd.) is set to open on Wednesday, April 12, making it the first Milwaukee County Parks beer garden to open for the year.
FINALLY.
A keg tapping is set for 4 p.m. on April 12, and guests will be treated to free beer (while it lasts).
South Shore Terrace boasts 20 tap beer lines, and a menu that includes a Buffalo & Bleu Burger, a Milwaukee Melt, fresh salads, hand-battered cheese curds, sidewinder fries, a Friday fish fry, and a kids' menu. Lakefront seating and a spectacular view of Lake Michigan and the Milwaukee skyline are also included.
According to a press release, "2022 was a record-setting year at South Shore Terrace. We served over 80,000 pints of beer, 6,000 hard seltzers, 5,000-liter steins of beer, 25,000 orders of sidewinder fries, 6,000 orders of hand-battered cheese curds, 5,000 soft pretzels, and thousands of sandwiches and salads."
Hours for South Shore Terrace are Wednesday through Friday, 4-9 p.m.; Saturday and Sunday, 11 a.m. – 9 p.m.; and holidays, 11 a.m. – 9 p.m. The park is available for private events on Mondays and Tuesdays.
Looking for more beer garden action? The 2023 Traveling Beer Garden season kicks off May 17 at Greenfield Park. Estabrook Park, meanwhile, was open for a "pre-season testing" over the weekend, but won't officially open until April 21.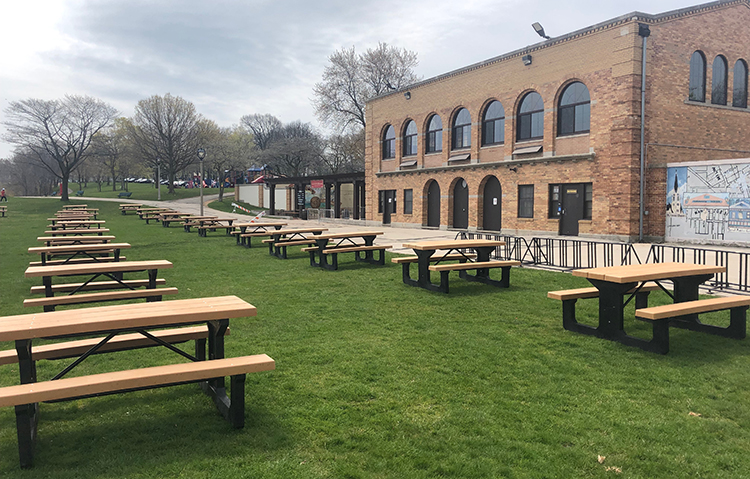 Exclusive articles, podcasts, and more. Support Milwaukee Record on Patreon.
---
RELATED ARTICLES
• Hey! Here's the schedule for the 2023 Traveling Beer Garden