It takes a certain type of person with gumption and determination to buy a bus, gut it, and start a business.
Meet Stephanie Senebouttarath, owner of The Beauty Bus—a mobile salon specializing in a range of services from nails to eyelash extensions. After researching how successful the "Beauty Bus" idea was in cities like Los Angeles and New York, Senebouttarath knew it would be something exciting for Milwaukee.
Starting her beautician career in the North Shore when she was only 18, many of Senebouttarath's clients were stay-at-home moms who had time to get the pampered treatment. After moving downtown, her main cliental shifted to busy women with careers and children.
"They came in and just needed to get their nails done quickly without all the hassle and foo-foo stuff," Senebouttarath says. "This is exactly who the bus caters to. While we will still take our time with you, we know you are busy and we will get you in and out."
With the bus making weekly stops to high-traffic areas around Milwaukee—including Brady Street, the Third Ward, and Bayshore—the client won't have to worry about including travel time into their busy schedule.
"That's what makes us unique," she says. "The bus is coming to them, not the other way around."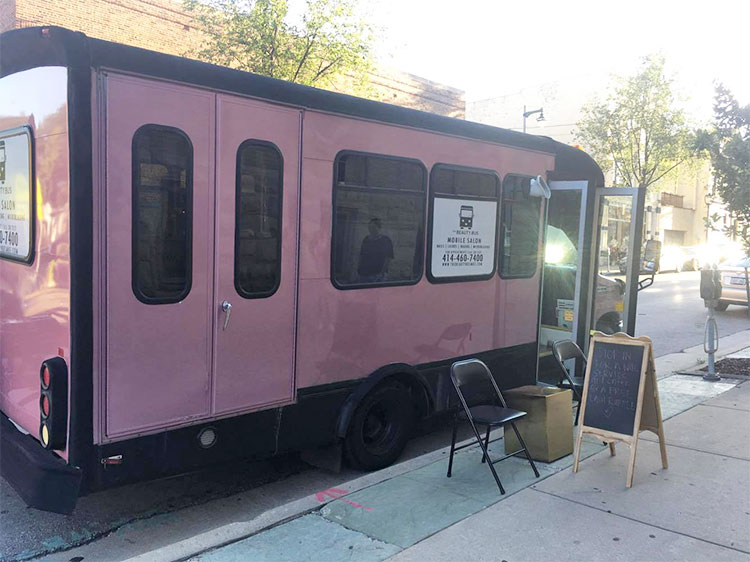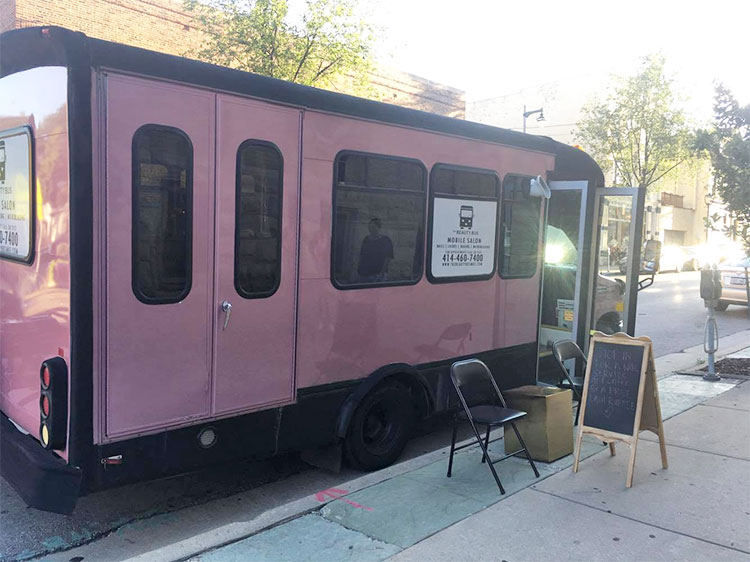 The Beauty Bus idea started nesting in Senebouttarath's mind over three years ago. Although, after obtaining a full-time job in the corporate world, the idea was put on the back burner—but it was never taken completely off the stove.
"A year ago, I told myself it was time and that I was going to do it," she says. "Not being completely happy at my traditional nine-to-five job was a big push."
After searching on Craigslist, Senebouttarath found a used shuttle bus from the Cleveland airport for sale and purchased it the next day at a live auction. While having an extensive background in the beautician field, she admits knowing nothing about mechanics.
There were many bumps in the road while getting the bus up and running, including it breaking down the day before the launch party. With Milwaukee traffic honking at her and every tow company saying the bus was too big for them to help, Senebouttarath was worried starting the business was a mistake.
"I was facing so many obstacles," she says. "It was one thing after another. All I could do was sit there and pray for it to start again."
After letting the bus rest, it magically started and the issue hasn't occurred since, which Senebouttarath took as a good sign and which motivated her to keep pushing forward.
From start to finish, the renovation took about a year. It will only be a matter of time before the pinkish-purple bus becomes a Milwaukee icon.
"The color turned out darker than what I was looking for," says Senebouttarath. "I wanted it to be more blush."
Stepping onto the bus, it's hard to imagine it in its past life, shuffling around luggage and tired travelers. With its big windows, plush pillows, and welcoming décor, the bus is about as luxury as any upscale salon.
While Seneouttarath eventually would like multiple busses driving around Milwaukee, she is starting with one and keeping the business in the family for now. Her cousin, Diana Tran, is her sole employee and biggest supporter.
"She quit her job to work with me," Senebouttarath says. "She has two kids and bills to pay, but she believes the bus is going to be successful. The fact that she believes in me that much is priceless."
While Senebouttarah has a passion for beauty, her main goal is to help Milwaukee residents—both men and women—feel good about themselves. It's important to take care of yourself and love yourself first so you can give that love to other people, she says. "If the extra-long lashes make you happy, get the extra-long."
To see a list of services The Beauty Bus offers or to book an appointment, go to thebeautybusmke.com.