Forget the Olympics, the World Championship Cheese Contest celebrates humanity's principle achievement (food preparation), while fostering a sense of international camaraderie that can come only from breaking bread. The biennial contest—one of a handful of prominent cheese-judging championships–received a surge in interest this year, notching a 33 percent increase in the number of international entries, and 15 percent more cheese samples overall. Local interest heightened, no doubt in part because Fitchburg-based Emmi Roth earned best in show with its alpine-style Roth Grand Cru Surchoix, the first time an American cheesemonger took the blue ribbon in three decades.
This year's winners were announced the night of Thursday, March 8, but it takes more than an evening to rank more than 3,400 curds from 26 different countries, and the previous two days provided the public with plenty of come-to-cheesus moments.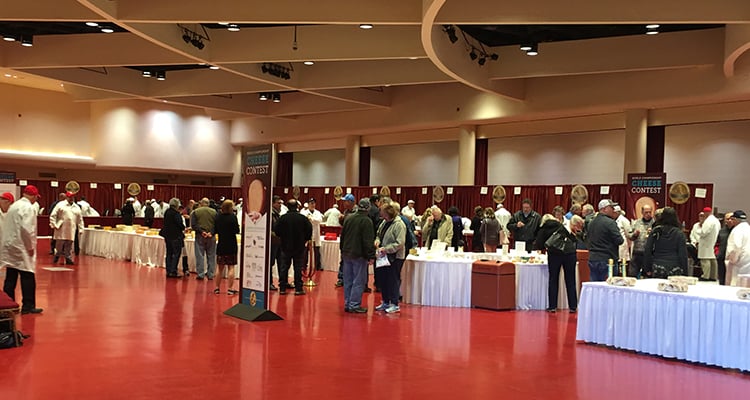 Judging was held in full public view in the bowels of Madison's Monona Terrace all day last Tuesday and Wednesday. Teams of white-coated judges (56 in total) from around the world worked in a line spanning the perimeter of the great hall. In front of each lay a table stacked with instruments needed to measure how good one wedge was from another. Each unit looks over forty-pound blocks of cheese for wrinkles, discoloration, moisture content, loose packaging and other shameful blemishes, all before tasting.
Visual appraisal finished, the teams would bore an augur-like device deep in the rind of each entry and extract a fresh specimen for an unforgiving second round of examination.
"Put the cheese in your mouth. Work it around. There's levels of flavor," says Lloyd Metzger, a professor of dairy education at South Dakota State University. "There's one initially when you put it in your mouth, and then there's 10 to 15 seconds that go by, you spit it out, and then you'll have quite a few flavors that will linger."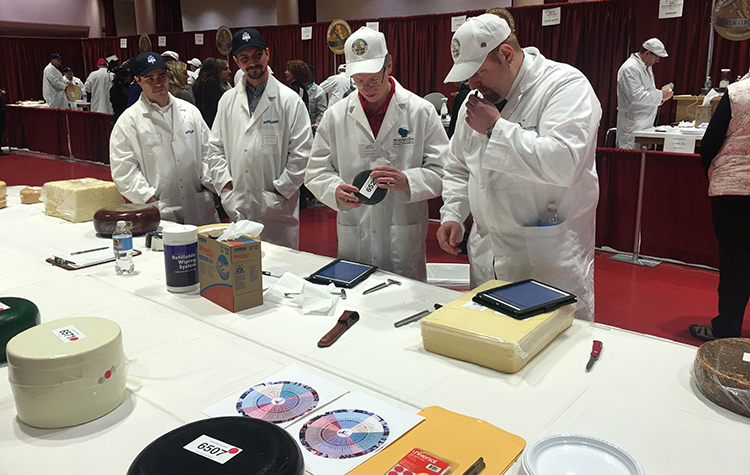 "Right away when you put it in your mouth" he continues, "there tends to be the sourness. After that, there are some flavors like fruity or unclean. After you spit it out is when you start to get flavors like bitter or dirty or fermented that you'll tend to taste. The ideal cheddar cheese will have a light acidic flavor and then, I don't know how to describe it other than a cheese note."
Sprinkled within the parabola of the judging stations were a herd of attendees all eager to see world class cheese-appraisal for themselves. The crowd reached its thickest at the center of the public area, arranged around a display of four semi-circle tables folded back into a square formation. Each table held at least six paper plates piled high with cubes of entries, apparently already appraised by the judges. Some tables were flanked by buckets of red-orange cheese spread.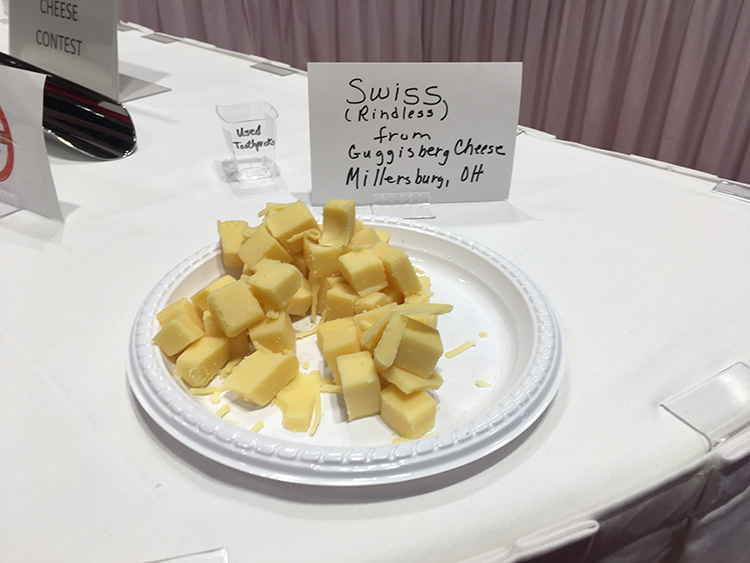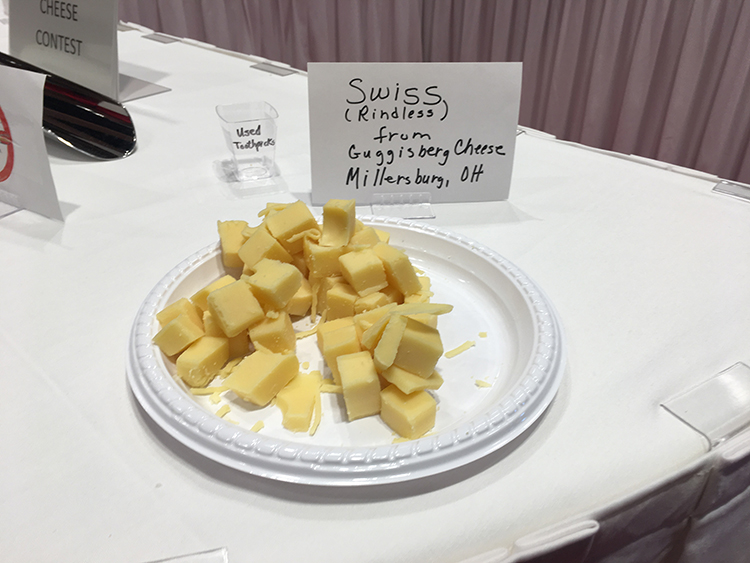 Swiss samples and an Irish cheddar seemed deserving of high marks. Both placed well ahead of the cubes of fine provolone, which possess a far more pungent body than Subway slices would have you believe. And don't even mention unmelted blocks of Gruyère, which release a stale flavor that's vaguely reminiscent of feet.
It's easy to nitpick, though. This is some of the best free cheese in the world. And most people that eat their fill should be evaluating cardiologists, not cultures.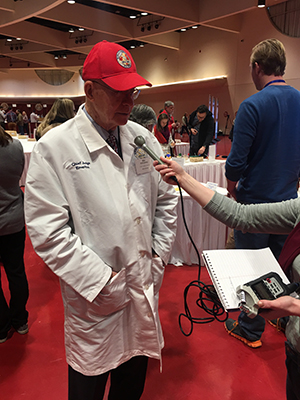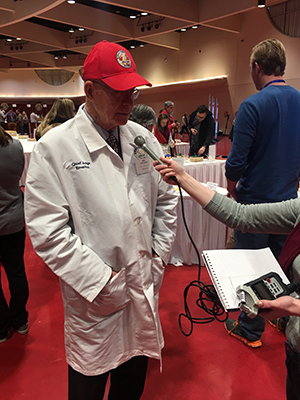 Sticking out like lone-cased meat on a charcuterie board is a flock of media, that pounce on the judges between evaluation savors. Rebekah Sweeney from the Wisconsin Cheesemakers Association–the organization hosting the event–cornered a senior judge to engage in a truly epic exchange of groanworthy and, yes, "cheesy" puns.
"Today I woke up and thought I'm going to cheese the day," she says. "So I'm going to challenge you to a cheese pun off. What do you say?"
"I'd say I'm going to do cheddar," the judge returns.
"Hmm. I'm camembert your confidence," Sweeney escalates. "I need to go to the bank, so I can get a provolone."
And so on.
Toward the end of the day, the sudden emergence of two additional hunks livened the increasingly hushed proceedings and bolster what remained of the attendees. No less of personages than Charlie and Michael Kalish (aka the Cheese Twins) of Great Food Truck Race fame sallied forth into the exhibition hall. They were joined by representatives from the Wisconsin Milk Marketing Board, and they shot some footage in advance of emceeing the awards program on Thursday night.
A Wisconsin repeat was not to be. Unfortunately for the host state, top honors returned to an international participant. A French cheese was named best in show for the first time in the show's history. Called Esquirrou, it's made from sheep's milk and produced by Mauleon Fromagerie in France's Basque country and bested all challengers with a total score of 98.376.