Once regarded for such amenities as its good-to-great Mexican restaurants, sustaining a pocket of night clubs, and, well, being pretty close to 2nd Street and all its nightlife, 5th Street in Walker's Point has also swiftly transitioned into something of a brewer's row of late. First, Brenner Brewing Company began churning out bottles and barrels in its gorgeous facility in 2014. This year, Madison-born MobCraft Beer relocated to a 14,000 square foot space that opened last month on the corner of 5th and Virginia, just a few blocks north of Brenner. Last month also brought four days of grand opening events for another brewing company located in a comparably-quiet pocket of 5th Street nestled near an overpass and, presently, amid considerable construction fewer than six blocks from where Brenner and MobCraft brew.
Though the early June festivities brought the minute microbrewery to quasi-consciousness by way of mayor Tom Barrett tapping a ceremonial keg, guest appearances from other semi-notable local personalities, and food pairings from nearby restaurants like Braise and Transfer, Urban Harvest Brewing Company (1024 S. 5th St., 414-249-4074) very quietly opened in April in the final resting place of Carte Blanche Studios. With far lower output capabilities, much less space, and way less name recognition than its neighbors on this brewery boulevard, will Urban Harvest get lost in the suds of competition or will its small-batch beer help make the little-known brewing company a destination on Walker's Point brewery tours for years to come?
The space: Urban Harvest's exterior has a fresh coat of crimson paint and black trim on its brick façade, but the space maintains its unironic industrial overtone. There, visitors get their first of many glimpses of the business' logo. (Is that Papyrus font? Mozzaluna approves.) Through the front door outfitted with decorative plastic hops is a trio of small vats and various other brewing implements. The limited footage not used in the beer-making process is maximized through absence, really.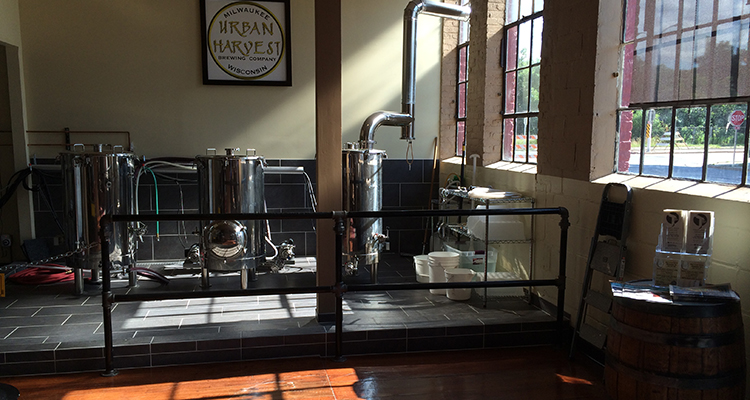 There are about 10 two- or four-top tables scattered along the walls and beside beams, which leaves a clear path to the taproom's modest bar with room for six stools. Save for the decorative hops, the interior essentially doubles as a subtle exercise in branding, with a few framed photos of the Urban Harvest logo and basic art for specific brews filling out the decor. Besides the framed Papyrus prints, the room is inoffensive, if not a tad boring. However, with a wall of exposed Cream City brick, a hardwood floor, and re-painted cement blocks nodding to the building's industrial past, the minimalist decorative bent can also come off as classic.
Milwaukee Record's drinks: The minimalist aspects stop when it comes to Urban Harvest's beer list. "Extensive" is an understatement. The small brewery's draft list yields an astounding 24 beers, 10 of which are in the regular rotation, and 14 of the limited release or seasonal variety. For a frame of reference: nearby Brenner offers just eight beers. MobCraft presently has 13 on its draft lines. Shit, Milwaukee microbrew monolith Lakefront Brewery is currently rolling with about 24 varieties. With all due respect to "Brewmaster Steve" Pribek's skillset, there's no reason Urban Harvest should have that many varieties at this point, even if only 13 were available. It's the brewery equivalent of a diner with an eight-page menu. Yes, some selections will be satisfying, but in the same way people aren't clamoring for a steak at Denny's, the vastness of Urban Harvest's bounty is sure to increase the margin of error.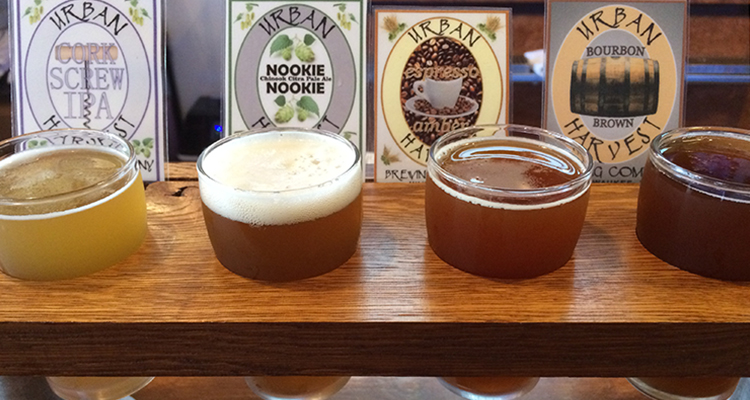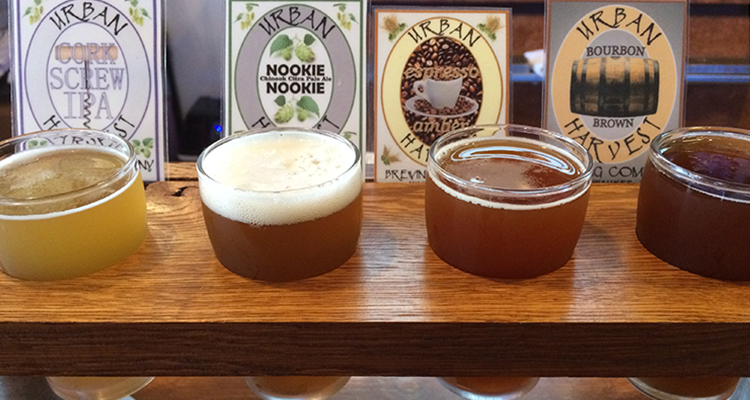 Knowing the risk at hand, we picked carefully when assembling our flight ($8). Pints and growers are also available for modest prices you'd expect at standard bars. We selected two of the numerous IPAs—the seemingly flagship Corkscrew IPA and the Nookie Nookie, which made us think of Fred Durst—along with the Espresso Amber, and the limited release Bourbon Brown. We did it all for the Nookie (c'mon!), which was the first leg of our flight. It had a gentle presence of citra hops, something akin to a more subtle home brew variant of Karben4 Fantasy Factory or Ale Asylum's Velveteen Habit. We then pivoted to the Espresso Amber, which stole the show with its light body, and a maltiness that only enhanced the bitterness of the espresso. As good as that was, the Corkscrew IPA was a tad disappointing, as it was a wannabe witbier dressed in IPA clothing, and had a strange fruity accompaniment we later learned was on account of it being encased in a Cabernet-infused oak barrel.
Urban Harvest made sure to note its Bourbon Brown was "barrel-less" and it quickly became obvious. Upon our first sip of the 10.8 percent ABV beer, our senses were overtaken with a straight-up presence of bourbon, which buried any evidence of the brown's existence. It tasted as if it had been poured directly into the beer from a bottle. Those who are ardent fans of brown liquors might enjoy it, but we couldn't imagine slogging through an entire pint and being able to walk out in one piece. Only one-sixth of the way through the tap list, we finished our last boozy gulp and our complimentary pretzels and left with the young brewery. We batted a more-than-respectable .500 on the day, with the Espresso Amber being its most significant hit. Though not enamored with the space or astounded by anything we'd sipped, we'll certainly be back to work our way through the library worth of libations soon.
The verdict: Urban Harvest might lack the size, local notoriety, marketing flare, and, frankly, some of the brewing acumen of its neighbors. Yet if the street's smallest brewing operation narrows down its tap list to a select few drafts and allows those do the talking for them, there's surely enough room on 5th Street for three breweries to thrive.