Speculate at will about exactly when the steady stream of new microbreweries pouring into town will reach a head, and when the brewery bubble will finally burst, but the best byproduct of this sudden influx—beyond the tasty new brews coming our way at a regular clip—is the new life these motivated upstarts are bringing to forgotten spaces. Black Husky took root in a former car repair shop. Like Minds gussied up what used to be The Hamilton, and Good City totally overhauled a former East Side bike shop. Urban Harvest took over a shuttered 5th Street theater space. Fittingly, City Lights recently illuminated an old Menomonee Valley power plant. MobCraft, Third Space, Enlightened, and the soon-to-arrive likes of 1840 and Gathering Place are all breathing new life into old manufacturing sites.
While its craft brew contemporaries are using their recession-proof methods to revitalize vacant buildings and sometimes revitalize forgotten sections of the city, The Explorium Brewpub (5300 S 76th St Suite 1450A, 414-423-1365) aspires to add some rare local flare to a stretch of suburbia that's lousy with big box retailers and chain restaurants. Since opening in the Southridge Mall in Greendale on January 25, the brewpub operation that was spearheaded by Mike and Joan Doble leans on the tenets of exploration, experience, and discovery. Will the typical mall visitor wish to seek adventure within the same edifice that also calls Spencer's Gifts, Hot Topic, and Yankee Candle home? Could The Explorium possibly cram carefully crafted cuisines and local libations directly across a fluorescent-lighted hallway from a Buca di Beppo?
The space: Given its commercial surroundings, Explorium melds a polished interior with the sort of casual accessibility that wouldn't make someone second guess carrying their Foot Locker bag in with them. The split space's west end welcomes diners with a cozy, brick wall-mounted fireplace. The long L-shaped wood bar is flanked by masonry, which is situated between the mall entryway and Explorium's brick oven. Bar seating and the sizable dining room are separated by a wall composed of the multi-colored reclaimed wood we've come to expect from new establishments. Except this particular wall has a theme-specific mantra, "Explore. Taste. Discover." mounted in large, bright lettering.
The dining room offers more of the same—reclaimed wood, track lighting, rustic hardwood flooring, and a line of wood booths and tables—along with a glimpse of the modest brewery setup. Around the entirety of the business, wall space is dedicated to motivational and exploitative musings from the likes of Ansel Adams, Roger von Oech, and Eleanor Roosevelt.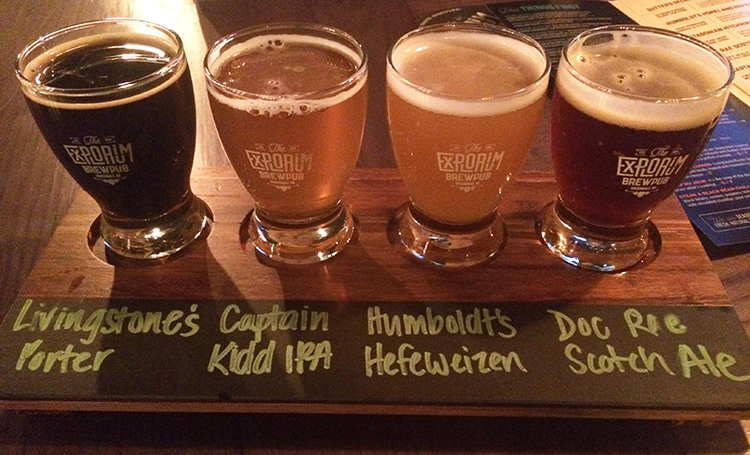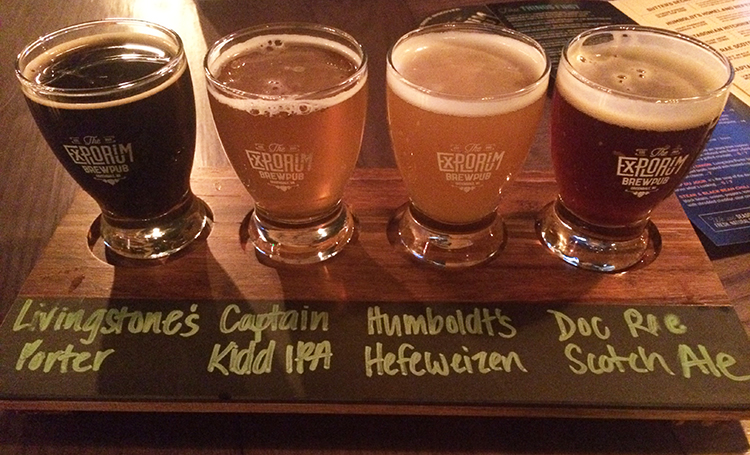 Milwaukee Record's food/drinks: Though the decor's uplifting quotes were literally inspiring us to travel elsewhere (and the slightly-too-loud modern pop soundtrack thumping during our visit seemed to suggest the same), we stayed to see whether The Explorium's beer was worth the 20-minute sojourn down the interstate. To get an adequate sampling of its eight-brew arsenal, we had a flight ($8) that touched most edges of Explorium's offerings. At 7.5 percent ABV, the Livingston's Porter was a bigger beer than its toasted, semi-sweet, all-around satisfying body let on. The Captain Kidd's Lost IPA didn't reinvent the wheel, but it was notably hoppy…at least by suburban shopping mall standards.
We were surprised by Doc Rae Scotch Ale's boozy nose, which gave way to a smooth and malty flavor that made it the unexpected captain of our flight. The Humboldt's Homeland Hefeweizen was nothing special, but the semi-sweet (though the purported presence of banana evaded us) was surely available to sate the selective—and, ironically, the less-than-adventerous—palates of cider-swillers and light (or "Lite") beer drinkers who won't find their preferred beverage in stock. As a refreshing stance for a mall tenant, we were very pleased to see the entirety of Explorium's draft lines reserved for in-house brews and other area brewers, including Brenner, Good City, Third Space, District 14, and Enlightened.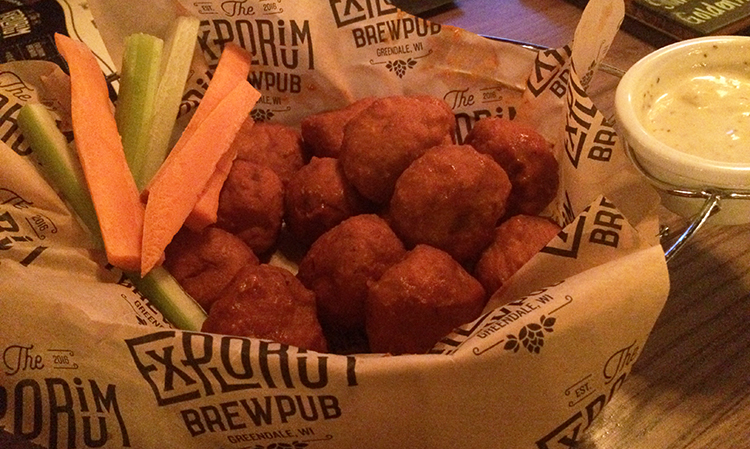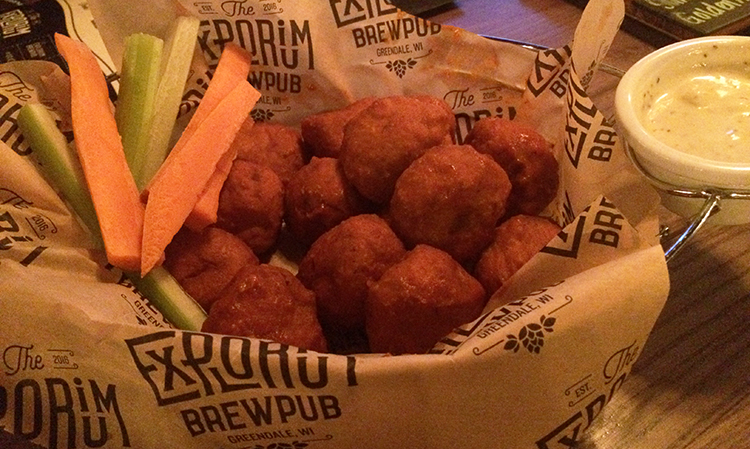 Fulfilling the Brewpub's "pub" suffix is a voluminous food menu that ranges from soups and salads to burgers and pizzas to fish-focused entrees and mussels, even steaks and pork chops. Perhaps hesitant to spring for a tenderloin beneath the same roof of a place we could get our ears pierced, we opted to stick to standard brewpub fare. We started with the meatless wings ($13), simply because we'd never seen a rendition executed quite like this. Instead of tofu or seitan, this bursting basket of poultry-free buffalo nuggets were fried balls of gnocchi that were tossed in semi-spicy sauce. Though a $13 app might warrant a double-take, the dense and doughy balls would be a satisfying starter for two or three people, or a daunting entree for one.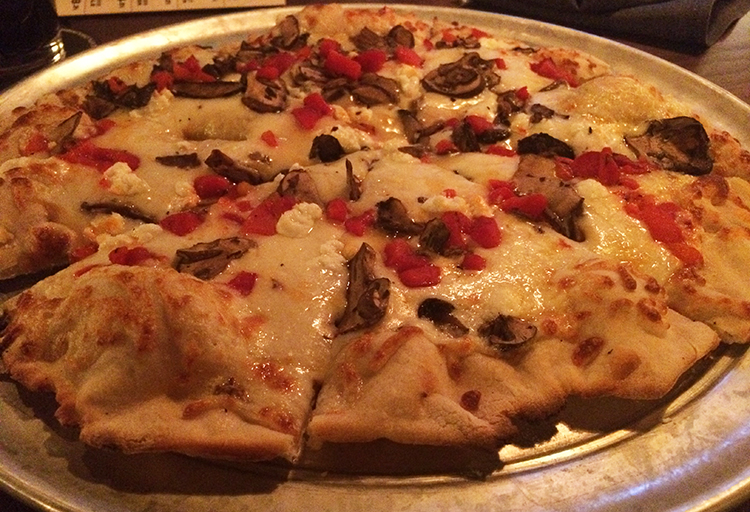 Following a POS system mishap that resulted in our order being entirely misplaced (Note: this is a totally understandable issue for a young restaurant, and one that's surely been remedied by this point), our flatbread pizza arrived. The Roast Mushroom Pie ($13) is one of The Explorium's seven in-house pizzas. The gooey assemblage of chevre goat cheese and other house cheeses blanketed a bed of rich herb Alfredo smeared atop crispy, airy flatbread. The deluge of dairy subsided in places with a generous drizzling of fresh mushrooms, sauteed onions, and roasted red peppers. Eat your heart out, Sbarro.
The verdict: The Explorium Brewpub just so happens to be part of a massive and increasingly competitive wave of new breweries pouring into metro Milwaukee. While this Greendale operation isn't better than them all, it's certainly better than the mall. With food that outshines its national chain contemporaries and beer that—while more down-the-middle than most—is not hurting the reputation of local microbrewing, The Explorium is a fine place to "Explore. Taste. Discover." if your travels are already taking you to Southridge Mall.