While historians are quick to acknowledge the role beer played in establishing Milwaukee as a world-renowned utopia of yeast and barley beverages, there was a stretch when the "Brew City" moniker didn't carry quite the same weight it once did. Major Milwaukee-based brands were sold off and subsequently moved operations elsewhere. Save for Lakefront and, well, pretty much just Lakefront, Milwaukee struggled to match the quality and the output of microbreweries in other Midwest mainstays, let alone facilities in far smaller Wisconsin cities like Amherst, New Glarus, and Madison. Meanwhile, Miller becoming MillerCoors, and being sold off to international owners only put more distance between modern day Milwaukee and the prosperous Brew City of yesteryear. Lately, though, the fermented tides are changing with new breweries opening up throughout town (and more on the way), small independent facilities expanding, a marked increase in the caliber of locally made beer, and the state of Milwaukee brewing as a whole presently sitting in a very favorable place.
MobCraft Beer (505 S. 5th St., 608-535-4553) is the newest brewery to open its doors in Milwaukee. Though "the world's first crowdsourced brewery" was founded in Madison in 2012, the micro—that solicits recipes from amateur brewers and asks beer enthusiasts to vote on which submissions will be released in limited batches—was reportedly priced out of the capital city and led to the burgeoning brewery hub of Milwaukee. Late last month, MobCraft opened its spacious and stylish new taproom in Walker's Point—not only in the same neighborhood that Milwaukee Brewing Company has long called home, but also on the same street as young breweries Brenner Brewing and Urban Harvest Brewing Company. With hoppy-er times ahead for local brewing, Milwaukee Record paid an early visit to the Madison transplant to see whether MobCraft is a welcomed addition to Milwaukee's collective beer section or if the large-scale crowdfunded brewery is a case of democracy gone wrong.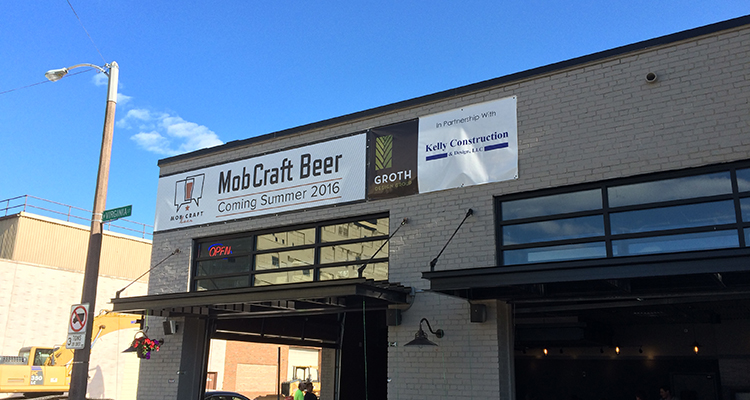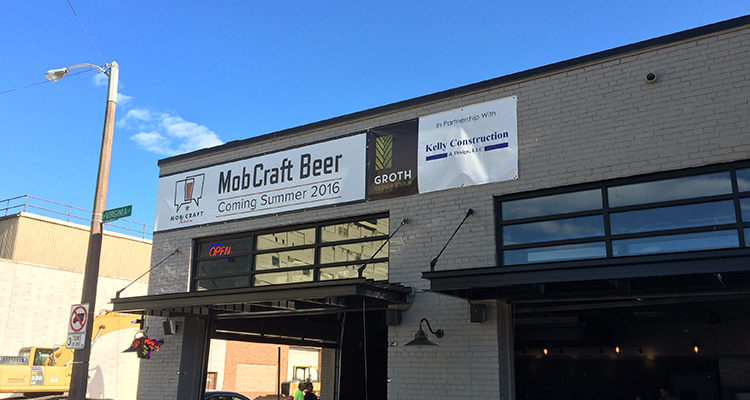 The space: We weren't alone in wanting to check out the new brewery on a pristine Saturday afternoon. As we thanked our stars for happening upon a vacant Conejito's-adjacent angled parking spot, we immediately noticed people tossing beanbags near the sidewalk in front of the brick facade of the industrial site-turned-open air taproom. Through the open garage doors, young couples and friends filled the rows of wooden picnic tables lining the interior. Others stood around beer barrels that had been repurposed and lacquered to take the form of pub tables. Some visitors were fortunate enough to obtain cushy seats (at least relatively speaking) on a thrift store couch or recliners that were placed there to either stress MobCraft's relaxed, pomp-free feel or to increase seating before early profits could bring more favorable furnishings to the space. The ping pong table nearby seemed to support the "relaxed feel" theory. Behind the table tennis court, a glass door gave way to the brewery itself, a modest-yet-pristine set-up that still seemed to be a work in progress.
Most people in the packed brewery, however, took a place along the lengthy bar that jutted out along the site's southerly wall. Excluding a few subtle and dim bulbs suspended from the ceiling, lighting duties were handed to the sun. Meanwhile, the soft aural accompaniment of reggae music served to set the casual mood along with the chatter of the dozens of drinkers in the space. In all, it was something we've seen others do before, and we felt pretty indifferent to it.
Milwaukee Record's drinks: That same thing can be said about MobCraft Beer. That's not necessarily a slight, but instead a nod to its crowd-pleasing business model. In the same way committee thinking can result in safe, trusty (and, yes, occasionally uninspired) reprisals of existing ideas like [insert name of every sitcom on television] or MobCraft's Wheat Men Can't Jump, it can also craft batshit crazy creations like hoverboards or MobCraft's Bat$h!t Crazy. Having absolutely loved last winter's Shout Out Stout release and recently finding the brewery's Hop Gose The Grapefruit to be one of the better decisions we made during an altogether regrettable Summerfest Shuttle adventure, we wanted to see how MobCraft's hoppier creations fared and knock out four of the 13 options (and seven guest taps) on the draft lines with the "Hoppy Flight" ($12).
The grouping of five-ounce pours featured a quartet of IPAs. Those averse to hops also have the option of boarding the stout- and porter-packed "Malty Flight" ($12) and the self-explanatory "Sour Flight" ($14). Our flight consisted of the aforementioned Wheat Man Can't Jump, an apparent "Wheat IPA" that failed to deliver on the latter distinction. We chased that with a fairly standard 8.5 percent ABV imperial IPA in the Crimson Commander, followed by an utterly intense double IPA called Mystique that found the clashing flavors of malt grappling with bourbon-aged IPA to result in something we didn't finish. The star of the show was the Rhubarb IPA, which offered the promised tastes along with a sharp-but-satisfying kick of ginger that played nicely off the root's inherent bitterness. Admittedly, that 25-percent success rate didn't justify the $12 price—especially considering the same number of pours can be procured for $8 down the block at Brenner (with a tour included) and Urban Harvest—but, as we expected after enjoying Shout Out Stout months ago, our drinking buddy's Malty Flight offered better results, with the chocolaty Malt Shoppe Suds and Laughing Clown saving the day and somewhat restoring our opinion of the brewery.
The verdict: While we can't say our inaugural trip to MobCraft Beer's new digs left us with much faith in drinking democracy, we're pleased there's another brewery adding its own unique, voting-based flare to Milwaukee's ever-improving brewing landscape. Sure, we'll abstain from checking anything else off the IPA portion of the ballot, but between the fun space, prime location, and (for better or worse) the interesting places MobCraft is taking its selection, we welcome this Madison expat to town with open arms, and we hope you do the same.