It's only August and 2016 can already be chalked up as a tough year for bars and restaurants on Milwaukee's East Side. After 11 years on Kenilworth Place, Yield screeched to an abrupt stop in May. Y-Not III's Bar Rescue-rebrand to Nick's House didn't take. Red Dot cut bait on its original location to focus on its newer and more profitable location in Wauwatosa. Following 62 combined years on 16th Street and Howell Avenue, Pepi's Pizza's Brady Street relocation didn't last six months. The Schoolyard is out of session (which might not be a bad thing). And just last week, we broke the news The Hotel Foster will close.
As disheartening as it can be to watch one section of the city lose so many of its most recognizable nightlife and dining spots at such an alarming clip, there is hope on the horizon. In fact, it's already underway. As the neighborhood awaits another ramen joint (which is opening where Yield once stood) and a soon-to-open mini golf tavern, change is literally brewing on the East Side. Back in June, Good City Brewing (2108 N. Farwell Ave., 414-539-4343) opened its brewery, taproom, and restaurant in the long-vacant space Crank Daddy's bike shop last occupied during President Obama's first term. With no shortage of new microbrewies sprouting up around the city, can Good City differentiate itself from its growing list of counterparts? More importantly, can it do so while helping to restore this recently-ailing bar and restaurant district?
The space: As could be expected, the bicycle retailer-to-brew pub transition required significant changes. The front windows have been replaced with window-lined garage doors that can be hoisted open when the weather permits. Of course, a large L-shaped bar is set in the center of the property and stretches nearly the entirety of the interior. Behind the bar's registers and 10 draft lines stand a few pristine metallic vats, which hold the beer Good City eventually kegs for consumption, both on site and at respected beer bars elsewhere in the city. Tables are situated against the clean, classic brick walls—portions of which are painted with Good City's logo, the business' "Seek The Good" motto, and a Good City-inspired mural—and lighting is provided by ceiling suspended bulbs. While the renovations are substantial, they're fairly subtle compared to many other new bars and restaurants in all their reclaimed wood glory. The manicured minimalism thrusts the focus on the beer, food, and the company that come together in the taproom.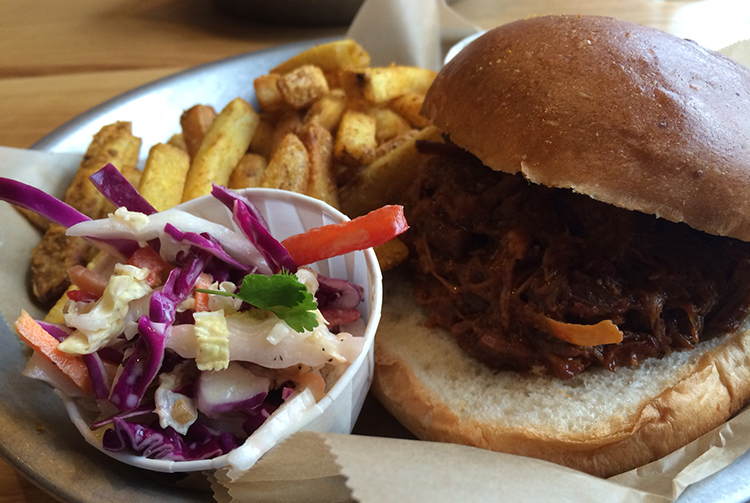 Milwaukee Record's food/drinks: Unlike much of its brethren in this new batch of microbreweries that tide over customers with pretzels, popcorn, or snack mix, Good City features a full kitchen and quite a breadth of cuisine. Of course, expected pub fare like burgers, grilled cheese, soft pretzels, and macaroni & cheese are on hand for Milwaukee-market prices, but so are upscale edibles like a $25 barramundi plate, elaborate meat and cheese platters, pan seared scallops, and pork belly. We ultimately landed on the pulled pork sandwich ($12), which came with a side of jalapeno slaw and a generous helping of curry fries (not a "curly fries" typo, CURRY fries). Though the soft bakery bun sandwich was smoky and sweet in all the right places and really benefited from the addition of the fresh, crunchy of the subtle-spiced slaw, our side of curry fries stole the show. The thick cut potato hunks were liberally covered in a savory yellow curry sauce, which was concerning when it remained on our fingers hours later but still a welcomed sidestep of an otherwise standard side.
We paired our pulled pork and a bevy of beers, starting with a limited cask pour ($5.68 + tax) that was a more-than-passable porter with a dash of coconut to break the coffee-tinged bitterness. The "taster"-sized Detail porter ($2.84 + tax) wasn't too far removed from our previous choice, though this selection was somehow even more midnight black and, lacking the coconut component, had a hint of dark chocolate to liven up the no-frills beer a bit. We finished the same way Good City started, with Risk. Sharing the name of our second favorite board game and a top-10 podcast, perhaps we came in with unrealistically high expectations of our taster ($2.84 + tax) of Good City's flagship IPA. With moderate hopping and minimal malt, it was exactly what one would imagine an IPA to taste like, but little else. With Risk being the brewery's first beer it produced, that safe and standard approach makes sense. As far as entry points are concerned, we've certainly had worse.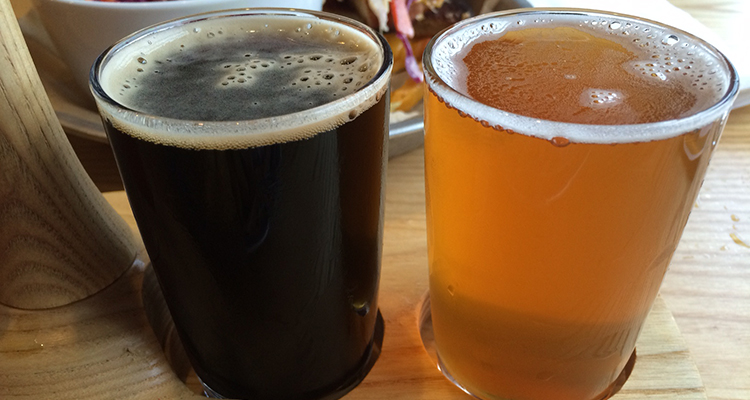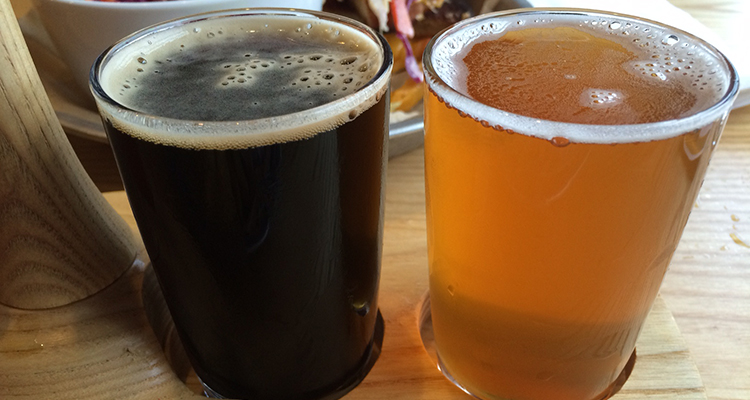 The verdict: In all, our admittedly limited traversing of Good City's tap list didn't bowl us over, but nothing we had dissuaded from wanting to try more. Combined with the food we enjoyed and the relaxing environment, the taproom is absolutely worth a visit. That said, we have our doubts we'd ever swing by again with the sole intention of drinking. East Side nightlife might be slumping at the moment, but with new places like Good City Brewing filling gaps, we have a feeling things are going to be just fine.