Let's be clear, Pepi's Pizza isn't new. In fact, you'd be hard-pressed to find a Milwaukee pizzeria with a longer history or more loyal customer base than the Italian joint that thrived on 16th Street between 1953 and 1995, and kept the south side satiated on Howell Avenue the following 20 years. So while generations of Milwaukeeans have already familiarized themselves with Pepi's products, Pepi's Place (1330 E. Brady St., 414-747-8750) brings about an exciting new chapter in the long, delicious saga of an iconic local pizzeria.
Earlier this year, Pepi's shuttered the take out-only location it occupied for two decades and relocated to a spacious dine-in establishment mere blocks from the original Zaffiro's, another legendary Milwaukee 'za czar with more than 60 years to its credit. Last month, Pepi's Place opened on bustling Brady Street that's never been for want in regard to food options. Will a new and decidedly younger customer base be won over by the time-tested recipes? Will southsiders make the trip to the new digs? Could the amplified neighborhood competition hamper Pepi's return to its dine-in roots? Milwaukee Record paid an early visit to Pepi's Place to see whether familiar flavors were lost in transition.
The space: Even from the outside, it's quite clear that Pepi's went all-in on the move. The restaurant spans the length of what was two store fronts (most recently The Philly Way and Berry Me frozen yogurt) that were combined into one expansive space. The entrance gives way to a few tables, a counter—for by-the-slice and carry out orders—and a host station. To the west sits a massive dining room, with about 10 tables spread where as many as 20 could fit. The new Pepi's eschews the dim lighting and dark, drab accents one might expect from an operation that's been kicking since the '50s and, instead, keep the track lights up (almost uncomfortably bright). The walls are painted tan with turquoise trim and tall windows stretch the entirety of the structure's southern side. The large, open site's unexpected look is somewhat offset by some elements one might expect from a traditional family pizzeria. The tables are a clean and classic black, the floor tiles are fairly a basic beige, and the subtle audio accompaniment of lounge music serves as the soundtrack. Not unlike the concept of decades-old recipes being served just feet from where we'd later hear an impassioned argument about cyclists' rights outside a vape shop, Pepi's interior seems to straddle old and new ideals.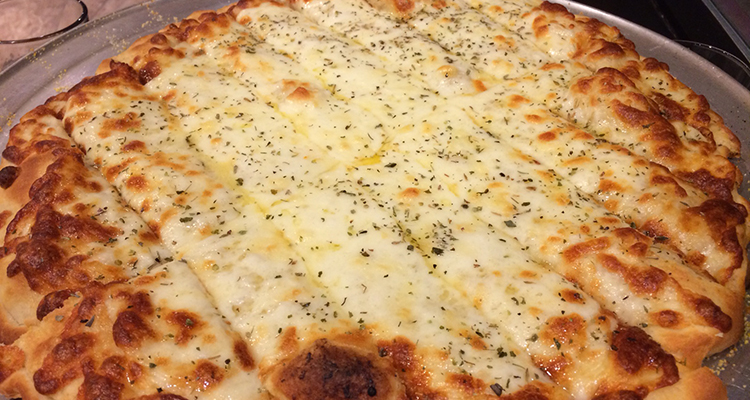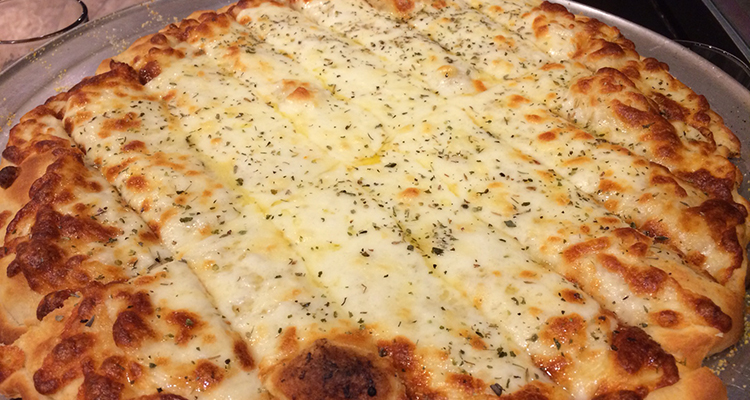 Milwaukee Record's food/drink: Once our group was seated in the otherwise-empty eatery around 6:30 p.m. on a Sunday, we wasted very little time before taking advantage of some incredibly affordable Karben4 Fantasy Factory ($3.50). Aside from the regional citra hop delicacy, a trio of Ale Asylum brews are on hand, as are the standard Miller-Coors offerings, some ciders, and a modest arsenal of Cedar Creek wines. Even if we wanted, it appeared we arrived too late to have a brunch cocktail.
That's right, we said brunch. Pepi's now offers breakfast starting at 7 a.m. daily as well as weekend brunch (with unorthodox items like a Pizza Skillet, Ribs & Eggs, and Brunch Lasagna). However, we elected to stick with what's kept the pizzeria in business for over six decades. We started with a medium order of Cheese Sticks ($13.75) with marinara dipping sauce. Despite being aware of the 14-inch diameter, we didn't expect the thick piling of mozzarella and wonderfully viscous smearing of garlic butter and oregano. While the amalgam of cheese and butter was gooey, the crust and bottom retained its light crunch.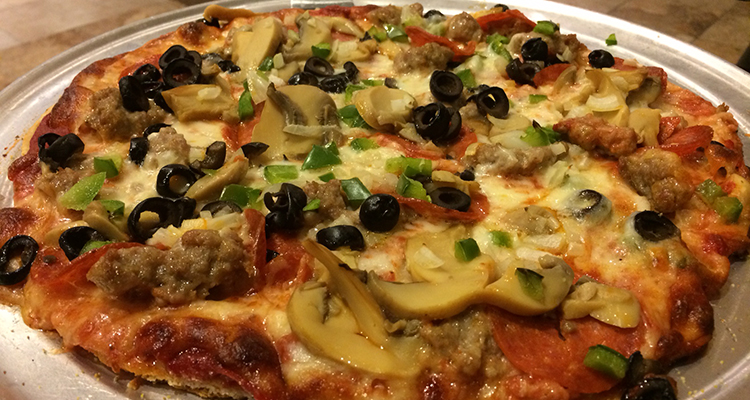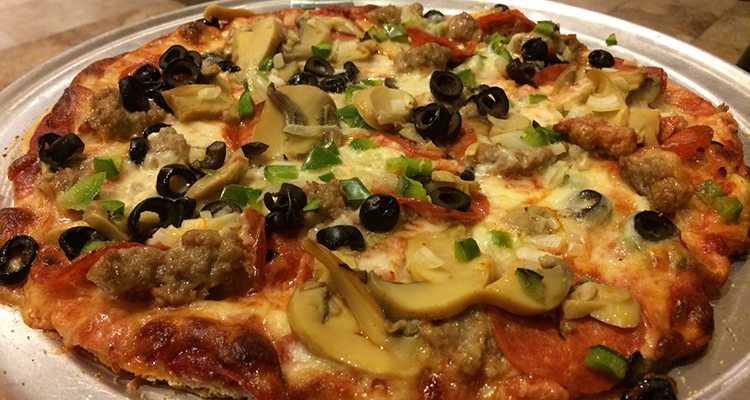 After eating an irresponsible number of cheese sticks, our Super Special ($15) pizza arrived. While we pondered what sort of dire, Cold War-related factors must have led to Pepi's decision to use canned mushrooms way back in 1953 and stubbornly stick with them since, we delighted in the generous covering of zesty homemade sausage, crunchy onions and green pepper, pepperoni, and black olives held together by melted mozzarella coagulated atop savory sauce and a light-yet-crispy crust with a dusting of cornmeal. Those not taken by one of Pepi's 11 specialty pizzas should have no problem finding something tasty on the list of sandwiches, pasta, and seafood entrees.
The verdict: There's a reason Pepi's Pizza has been around so long and thrived in two locations before winding up on Brady Street. It doesn't matter where they move, when they're open, what competitors are close by or what they add to the menu. There's no reason to think beloved old recipes won't find their way to new customers.
UPDATE (August 4, 2016):  Milwaukee Business Journal reporter Melanie Lawder reports Pepi's Place has shuttered its Brady Street location less than nine months after moving to the East Side from the Howell Avenue site it occupied for more than two decades. Pepi's is seeking a new location and will continue to sell frozen pizzas in bars and grocery stores.