A version of this article originally appeared on our Patreon. Want to support Milwaukee Record and get exclusive articles and podcasts? Click HERE. Thanks!
This past summer, after a brief trip to the Wisconsin State Fair, I was struck with a feeling I hadn't experienced in quite a while: complete discomfort due to eating too much food for an article I was working on. This time around, it wasn't the assignment's fault. It was my foolish decision to eat almost 100 percent of the four "Sporkies" finalists I was tasked with reviewing instead of just taking a few bites of each. Upon completing my consumption, my sugar-coated, oil-covered, and cheese-infused body waddled to my car and made the uncomfortable drive back to our office, where I then pounded some water, sprawled out on a couch, and prayed for the feeling to pass.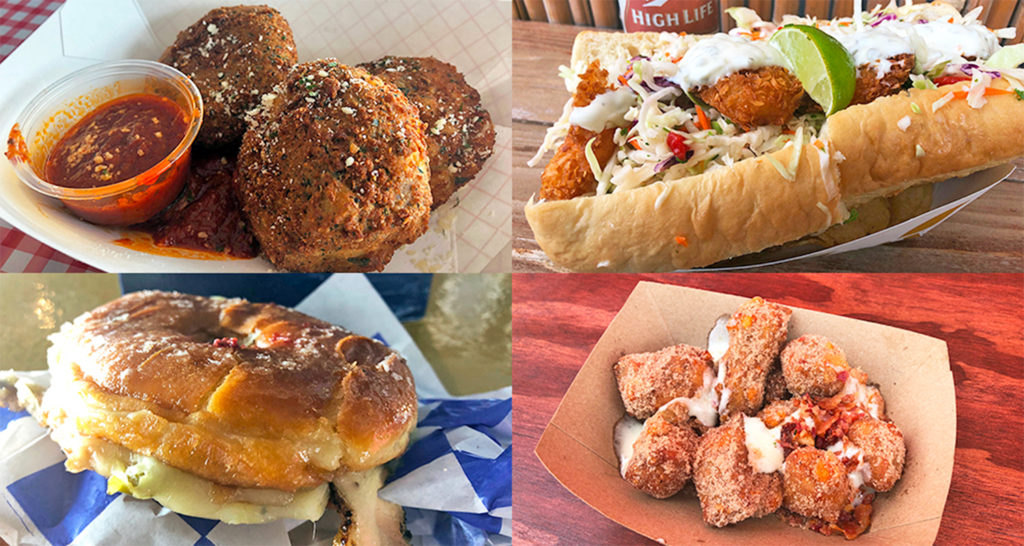 I knew the unfavorable feeling would pass, of course, because I've been in that position (both figuratively and literally) many times before. In fact, I've been physically overstuffed and spiritually drained during a shocking number of my journalistic pursuits since co-founding Milwaukee Record in early 2014. It's happened so often that I actually had to look up some of these food-based odysseys and eating-themed adventures to remember they even happened.
Thankfully, I've decided to set aside these types of posts (at least for the most part) as our business continues to grow, as I'm pulled in more non-writing directions than ever before, and as I'm finally putting in work to try to find something at least resembling happiness instead of manifesting clicks through indulgence and misery. So as try to put some space between taking four Sporkies items to the dome in a 90-minute span on an 85-degree day and whatever dumb food bullshit I do next, I figured it's a perfectly fine time to look back on some of my eating-related articles from the last seven-plus years and rank them from least terrible to most taxing. Enjoy!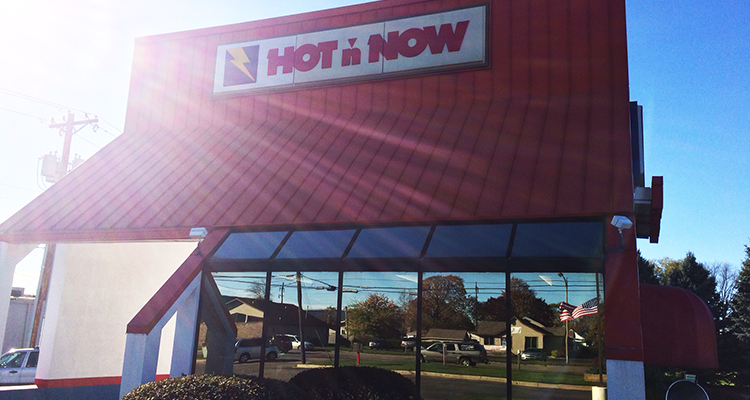 10. Hot 'n Now Or Never: Driving Thru The Edge Of Extinction
Technically, I don't even think this article—wherein I drove to Michigan to eat at the last Hot 'n Now with a college friend I had lost connection with in recent years—counts because it wasn't really eating-intensive or endurance-based. We just drove a long way to eat some kind of subpar burgers that have some nostalgic value to me for some reason. Then we spent the night living it up and having fun in nearby Kalamazoo, which I found to be a tremendous city. This one was actually pretty awesome. Sorry?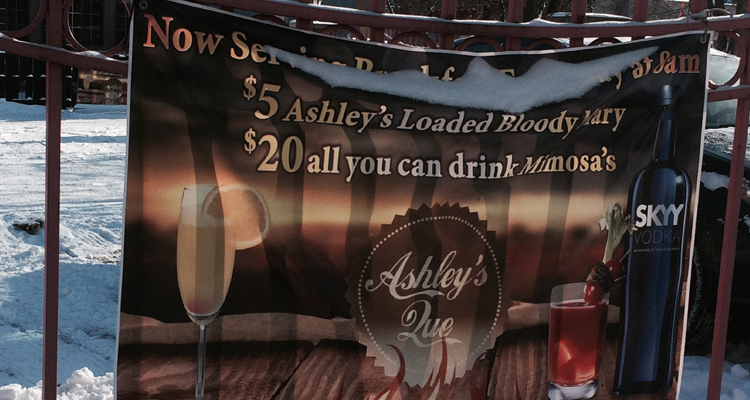 9. The longest brunch: Bottoming out on bottomless mimosas
Early in this site's existence, I tested the "bottomless" aspect of a since-closed Walker's Point BBQ joint's bottomless mimosa promotion. I was joined by Milwaukee comedian Josh Ballew, and I had a predominately fun time. I had 10 mimosas and an excellent brunch, I tipped well to account for the server's extended attention, then I left. Sure, it was a TON of orange juice and like six hours of my life for an article not enough people read, but it could have/should have been much worse. Ashley's Que burned down not long after this article was published, which was a shame because I liked that place. Hopefully it wasn't an insurance scam after I revealed their mimosa loophole!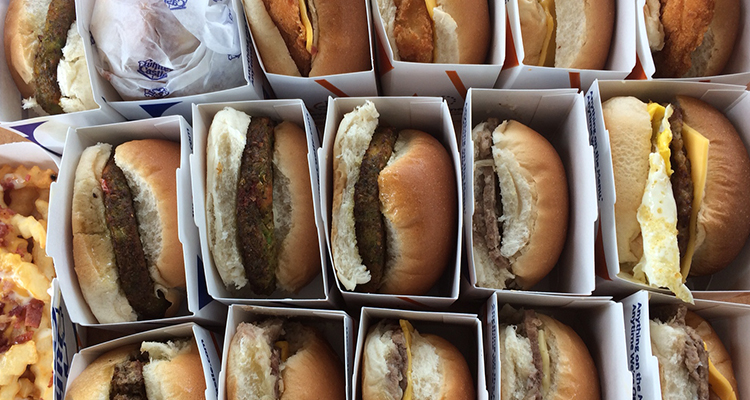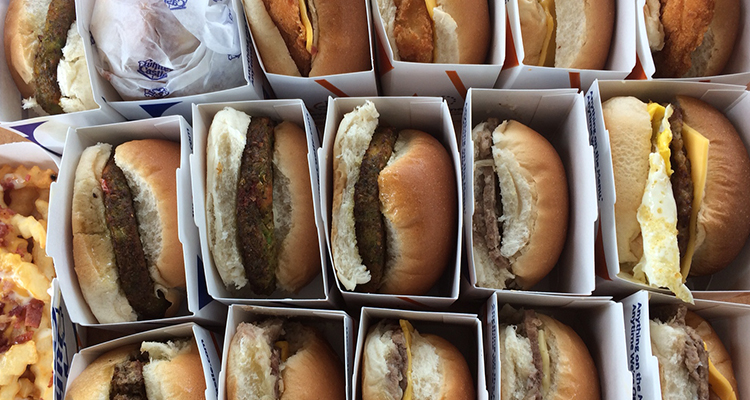 8. We ate, ranked every menu item at Wisconsin's only White Castle
People either like White Castle or they hate it. Fortunately, I fall into the "like" camp, so this wasn't tough for me. Yes, there were some stinkers in the bunch when I ate/ranked every single item on White Castle's menu, but most of what I had was somewhere between pretty good and great. Also, by this point in Milwaukee Record's run, I developed the discipline and self-respect to just take a bite or two of everything.
7. I failed Red Rock Saloon's "Unforgiven Challenge"
To be honest, I forgot I even did this until I was looking through our archives yesterday. It looks like I actually did pretty well in this challenge, which happened like two months after Milwaukee Record started. Cool?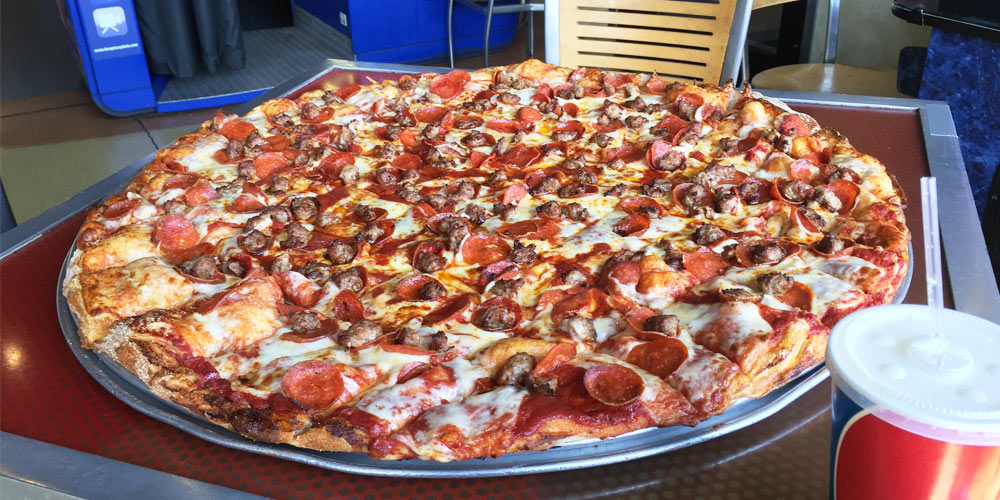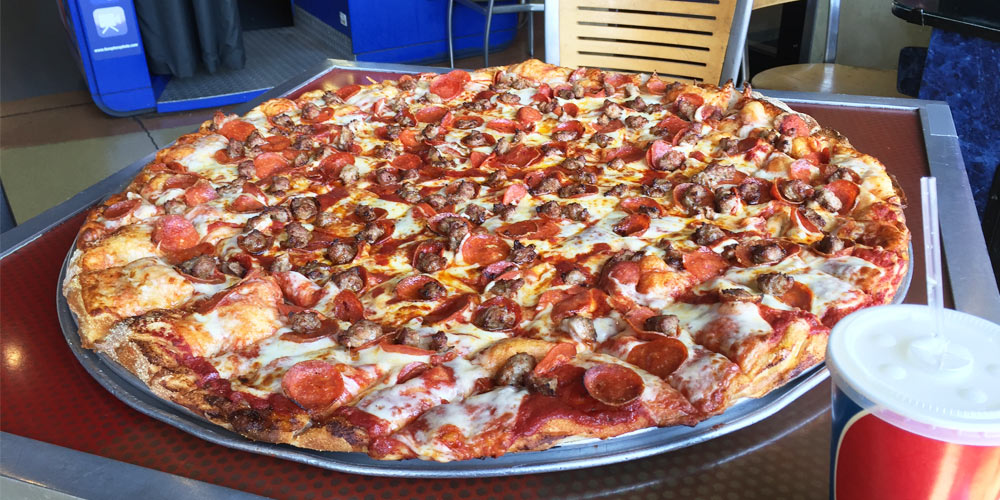 6. We tried (and failed) "Wisconsin's Largest Pizza Challenge" at Pizza Shuttle
I believe this was the only challenge in site history where I was joined by both Matt Wild AND Josh Hoppert on the food front lines. This Pizza Shuttle monster 'za was incredibly good, but super filling. We got nowhere close to finishing it, which would've been nice to know before I made the most sizable dent in the pizza and Matt/Josh talked about '80s movies. I made it home okay, then (something I've told no one until now) wound up barfing…which has only happened one other time from an eating article. More on that later.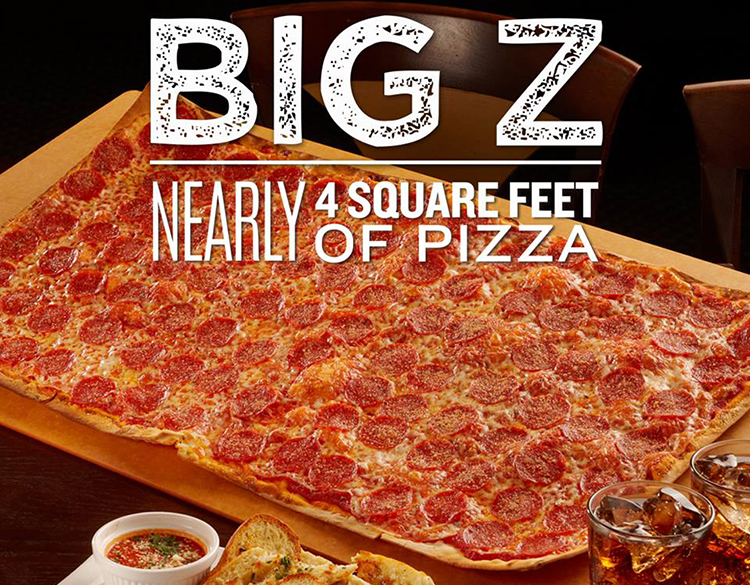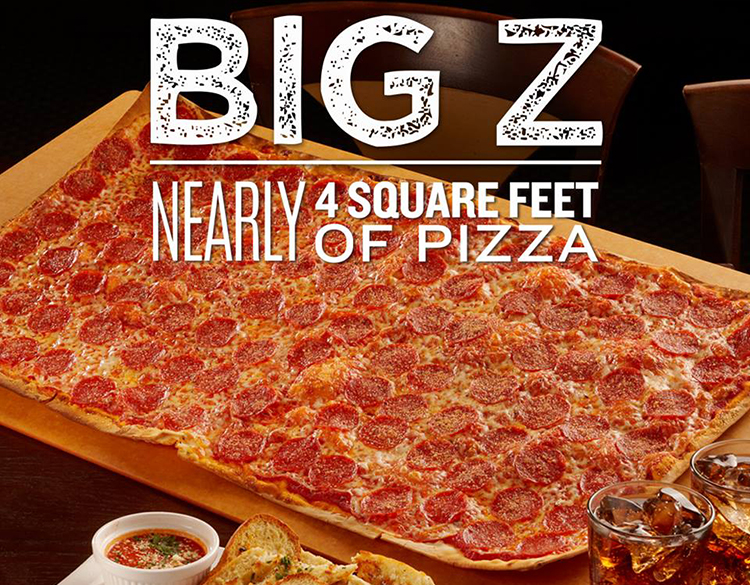 5. I tried (and utterly failed) Zaffiro's first "Big Z Challenge"
When Zaffiro's (the one in a movie theater in Mequon, not the iconic one off Brady Street) invited me to be the first person in the world to attempt their "Big Z" challenge in late 2015, I knew I was onto something. It was something terrible and self-destructive, but something nonetheless. This one was tough, but I had good company (Tyler Chicorel, who had a salad as I ate the vast majority of a 4-square-foot pizza) and, unlike some of these articles, I only had to drive to one place to do it.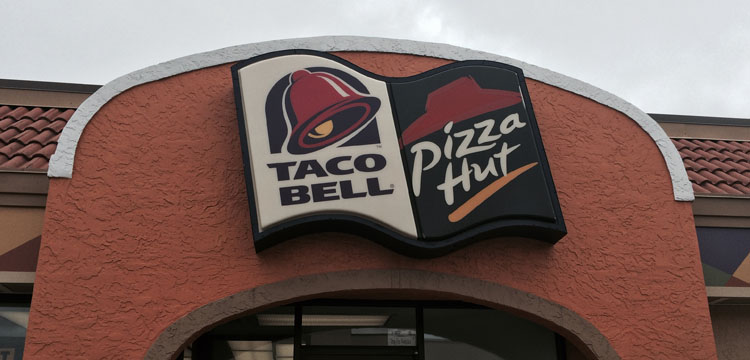 4. Taco Tuesday Of Reckoning: I ate at every Milwaukee Taco Bell in 8 hours
In early 2015, comedian Sammy Arechar and I journeyed to all corners of Milwaukee to eat something at every single Taco Bell in city limits within an eight-hour span. We did it and I was pretty full that night and into the next day. That's about all I have to say about this one, sadly. I actually went to Taco Bell a few days after that article was posted and I still really like it to this day, so I find it kind of weird that this is the most common food challenge article people reference.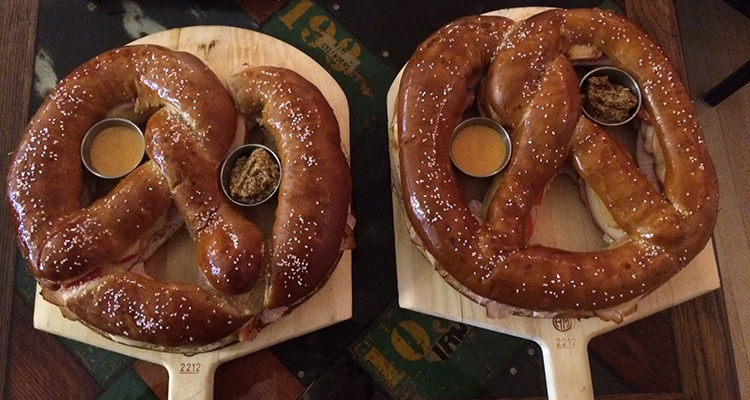 3. We ate more than 7 pounds of pretzel sandwich for, uh, science
In 2017, our ad guy (the aforementioned Josh Hoppert) joined me for a challenge/contest he actually thought of. Together, we had to eat seven pounds worth of a pretzel sandwich from Bumstead Provisions (I would exactly say "RIP" here, but the Crafty Cow concept one of Bumstead's owners later brought to the space is much better) before some of the restaurant's employees could finish a sixth barrel (aka about 40 pints) of beer. We narrowly lost. I barfed, both in secrecy in the restaurant's bathroom garbage bin and at home immediately after I got back because my body couldn't hold any more food inside of it. We didn't get the Bumstead ad account and very few people read the article. I recall the pretzel sandwiches being really good though!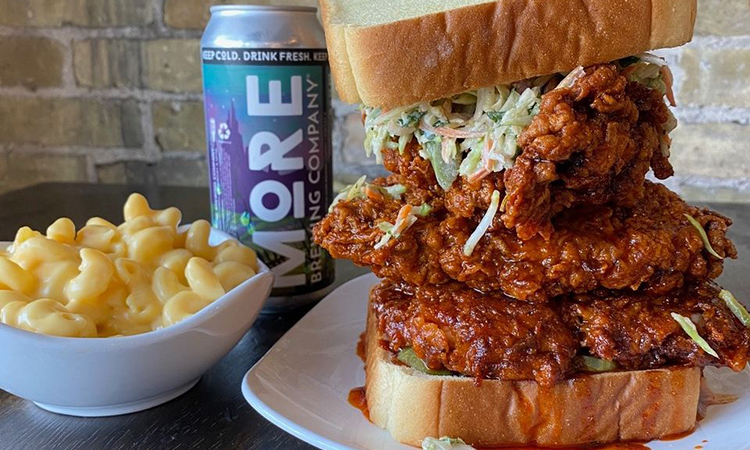 2. I tried Crafty Cow's "Heat And Repeat" spicy chicken sandwich challenge
Speaking of Crafty Cow, I spent one fateful day last summer in our office testing my might against this incredibly hot triple-stacked chicken sandwich from the Bay View restaurant. There's video of this in the article, but I promise it would be better for both of us if you refrained from watching it. After coming up short on the final chicken breast that was doused in soul-scorching Carolina reaper pepper sauce, I went home and prayed to the porcelain gods (from a seated position, if you catch my drift) the rest of the night. When accounting for the eating ordeal AND the aftermath, this was the single most painful eating challenge I've ever attempted.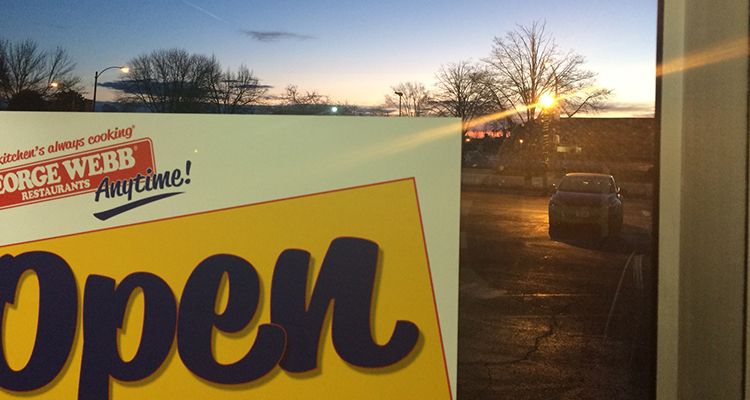 1. We went to every George Webb in the world on February 29
Almost six years ago, I spent 23.5 hours of my Leap Day driving to, eating at, and documenting every single George Webb restaurant in Wisconsin (and the world). Thankfully, Josh accompanied me and actually drove the latter portion, so I wasn't alone in this self-appointed trip to hell. I can't even express how bad this was because I've gone to great pains to block that day out. I didn't really like Webb's before and I sure as shit hate it now. It was a nightmare.
So that's it! Or is it? It's quite possible I missed one/some other article, but if I did, they probably weren't that terrible, right?