Leap Year. Due to an oversight in the Gregorian calendar thousands of years ago, Western civilization is still granted a 29th day in February once every four years. It's been said that every day is a gift, but—not unlike penicillin, the vast majority of babies, bran cereal, or the career of William Hung—Leap Day is a gift born as the result of a mistake. Yes, it falls during the worst month of the worst season and has a five-in-seven (or approximately 71.43 percent) chance of happening on a weekday, but if you distill the "holiday" to its bare essence, the intercalary occurrence is the most literal example of a free day bestowed upon a society that so often fails to stop and enjoy the moment. February 29 signals a direct recognition of time's quick passage. It's 24 extra hours to make that recent resolution stick and squeeze a few more memories, laughs, human connections, and hours of sunlight into that particular year.
Those are things I thought heading into Monday. That is, until I was driving on an utterly empty stretch of snow-swept highway in the Wisconsin northwoods, having gone too far to turn back. Clutching to my steering wheel between the hours of 3 and 6 a.m., I was straining to see through the darkness and simultaneously fighting to find meaning in the task my friend and I took upon ourselves. There would be no light and no meaning on that exhausting white-knuckle drive back from the George Webb restaurant in the Upper Peninsula-neighboring town of Peshtigo—just the third stop on our foolish journey to visit all 29 of the Wisconsin diner's locations in a single day. After 23 hours, $226.61 (not including gas or tip), 610.8 miles, and more calories than we'd care to admit, we did it. We went to every George Webb in the world on February 29.
This ill-fated idea took root years ago, after Josh Hoppert (Milwaukee Record's new Director Of Advertising) saw an article about a 19-year-old guy from Greenfield who ate at every George Webb location—a 24-hour greasy spoon that has served as a haven for Wisconsin's bored teenagers, drunk adults, and frugal elderly since 1948, and which was up to 38 locations at the time—over the course of a single summer. Josh struggled to realize how driving a somewhat inconvenient distance to eat 38 meals in three months could be seen as an accomplishment, and I agreed. He said he'd thought about trying to hit them all in one day, and the franchise's dip from 38 down to the high 20s made it possible. Knowing we had a "free" day in early 2016, I asked if I could join him in attempting to make the dream he'd had since 2009 a reality. He agreed. We did some research, made a route, preemptively apologized to our colons, and bid adieu to the girlfriends we'd never meet before I picked him up in the waning minutes of February 28. Even after all our mental, physical, and analytical preparation, we had no idea how terrible the day ahead would be. We wasted our Leap Day.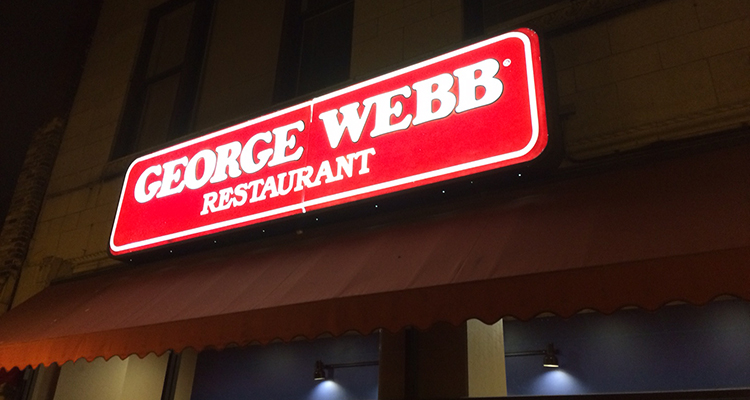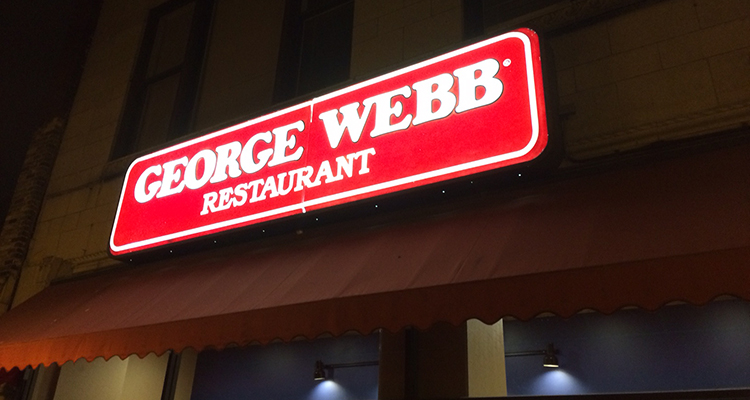 No. 1 — 812 N. Old World 3rd St. (Milwaukee)
Before we set out on the aforementioned three-hour trek to Peshtigo, we thought it would be best to knock out the downtown location, which was the closest one to our houses, so we could make the drive with some food inside of us. Since it was just after midnight, a fair number of people were there, mostly eating dinner items. We sidled up to the first of many counter stools we'd occupy and placed our order with the gruff-but-kind server manning the counter. Josh started strong with a double cheeseburger combo and a soda. I had a cheeseburger combo and two cups of (what the Webb's menu generously calls) "coffee." The small burgers with no toppings except pickles were a blessing on the test of endurance. Maybe we had room to squeeze another stop in on the way to Peshtigo, we thought.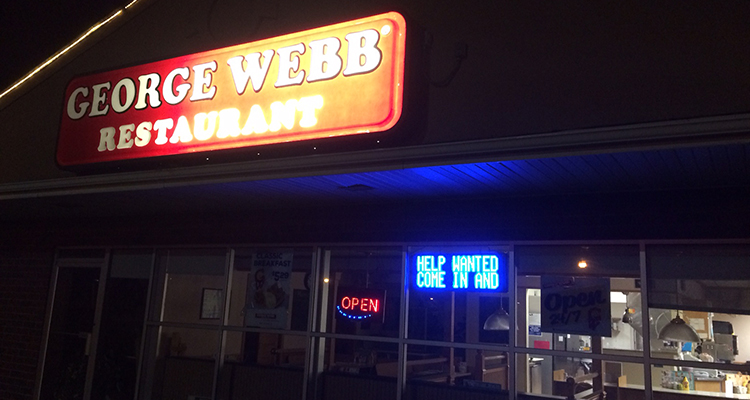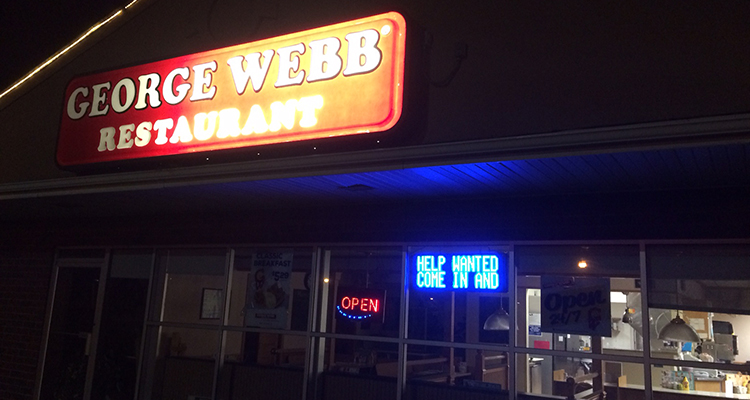 No. 2 — 1042 South Spring St. (Port Washington)
Around 1 a.m., we exited off I-43 and headed toward to Port Washington location. "Maybe Dustin Diamond will be there!" I said. "Maybe he'll be working," Josh deadpanned. Neither would be true. Despite the illuminated "Open" sign and interior lights being on, the doors were locked. We knocked to no avail. The person working was probably hiding in back. Though we were glad to have "visited" a Webb's without having to eat anything, we didn't want this to be a trend. Josh called Peshtigo to make sure they were open. They were. We didn't know how to feel about that, so we just drove.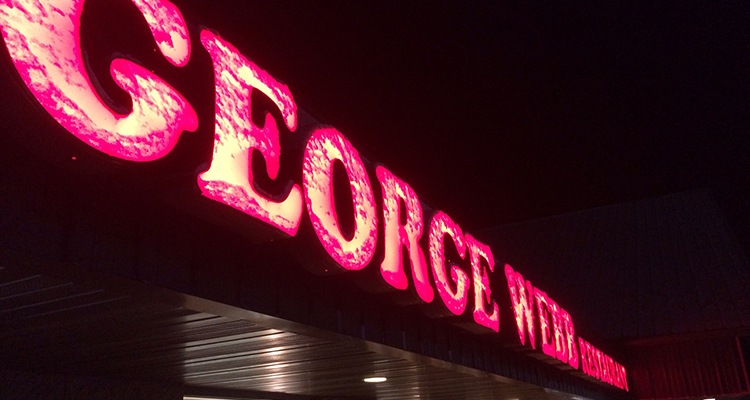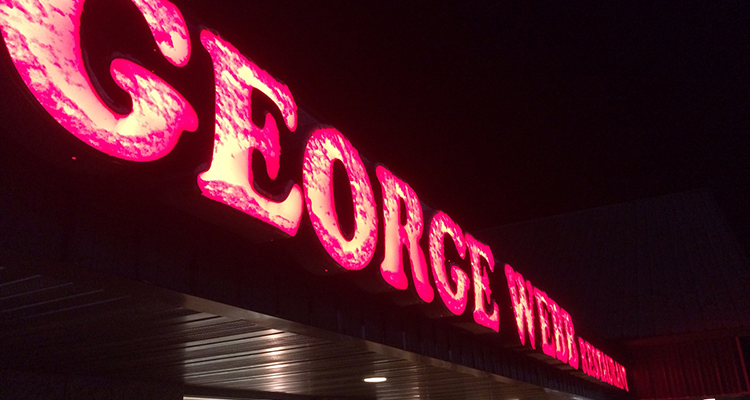 No. 3 — N2536 Kasal Lane (Peshtigo)
Within a few miles of the Upper Michigan border, the Peshtigo George Webb was the only remaining location that wasn't in southeastern Wisconsin after a George Webb/Griddler's split a few years back. Apparently, the entire town was lost to a forest fire a hundred or so years ago. It appeared to be about 10 percent rebuilt. When we left Milwaukee, there wasn't a flake of snow on the ground. Here, the parking lot of the Webb's and the adjoining BP gas station was iced over. There was a fresh blanket of snow on the nearby fields. We walked into the empty restaurant where a woman who was pulling double duty as the server and cook welcomed us. I ordered a Classic Breakfast Combo (two eggs over hard, hash browns, wheat toast and coffee) and Josh had a breakfast sandwich, hash browns, and a Diet Pepsi. Beyond the geographical difference, Peshtigo's franchisee was the only one to serve beer (8 a.m. to 9 p.m.). There were gambling machines and I saw a flyer advertising the services of "Redneck DJ" David Burgeson on my way to the bathroom. We gobbled up our greasy breakfast (the first of many), I gassed up, and we return southbound on 43 where a cluster of establishments awaited us.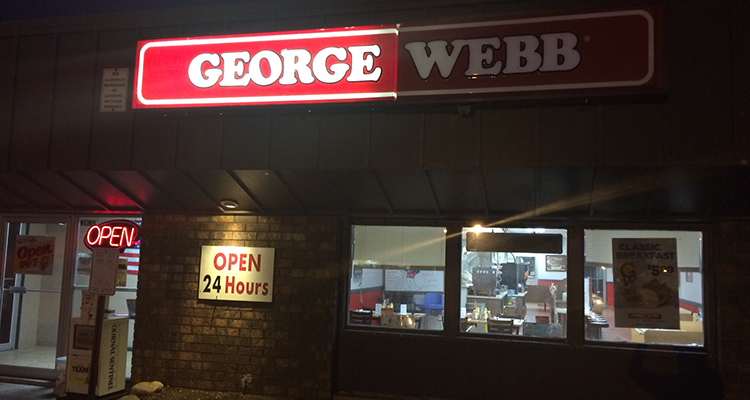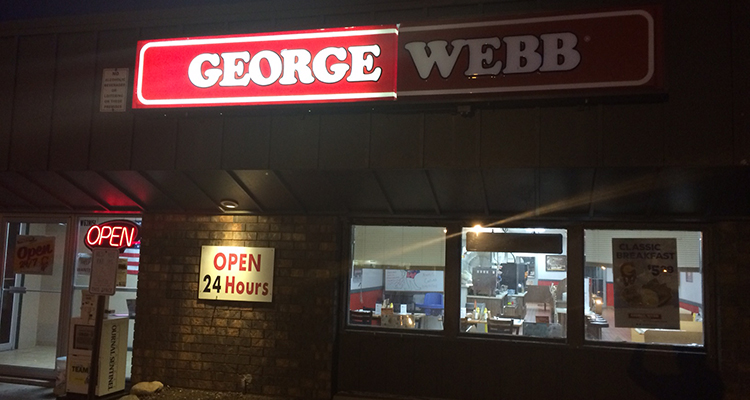 No. 4 — W63N151 Washington Ave. (Cedarburg)
Having not slept since 6 a.m. the previous morning (long story), I was starting to feel exhausted by the time we reached the Cedarburg shop around 6 a.m Monday. I needed sugar and I needed to keep moving. Tired of sitting, I stood up and paced between hastened sips and spoonfuls of root beer float. The ice cream was freezerburned. I didn't even give a shit anymore. Josh had Mac 'n Cheese Bites, which we'd never seen to this point and would only encounter maybe four more times throughout the day. As we left, I saw the sun rising in the suburban diner's almost-empty parking lot (see cover image). Already fatigued and less than a seventh of the way into our Odyssey, the sight struck me in alternating pangs of beauty and abject depression. I asked Josh if he could drive after the next stop so we both wouldn't die.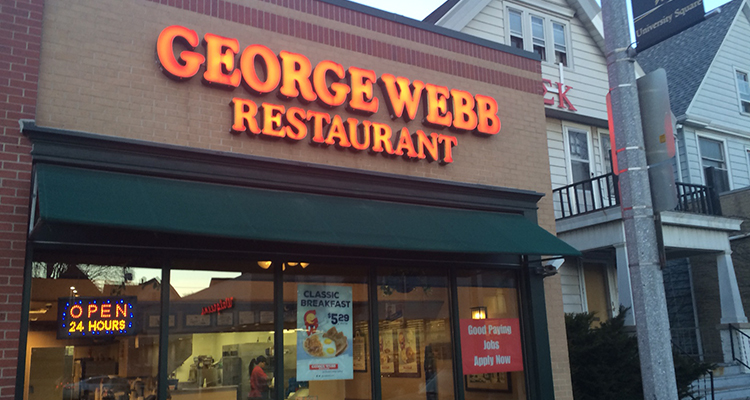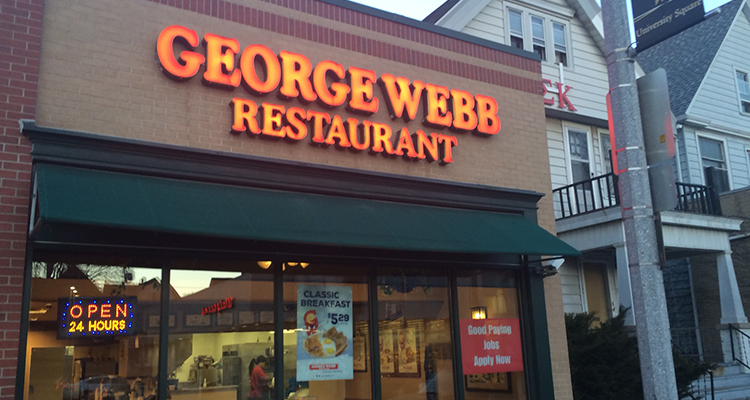 No. 5 — 2935 N. Oakland Ave. (Milwaukee)
That next stop was the iconic Webb's on Oakland Avenue. Our server (pictured) was exceptionally nice, but we left her and the cleanest interior we'd seen to that point within 15 minutes of ordering and inhaling our dual orders of the small/cheap Egg On Toast sandwiches. I decided I needed to start drinking water. Josh had a Pepsi, but it was flat and tasted like cherry, so we sent it back. This was getting tough, but at least we were back in metro Milwaukee.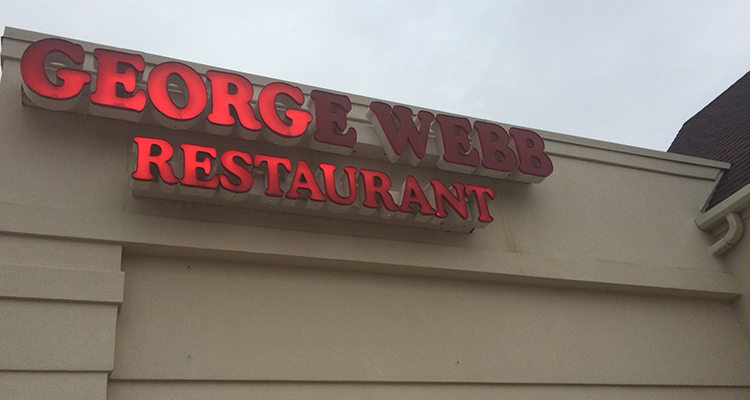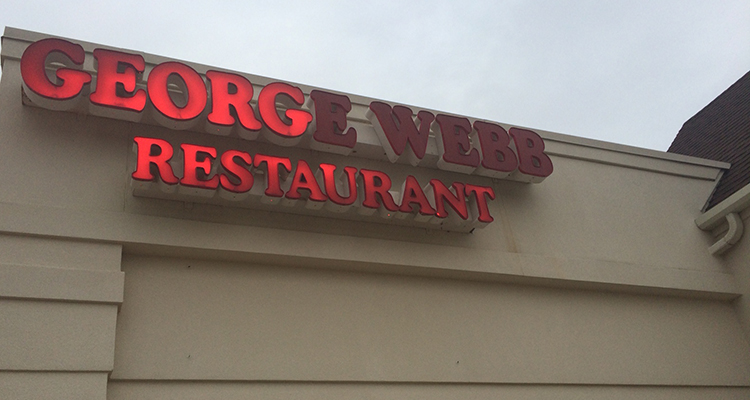 No. 6 — N112W15800 W. Mequon Rd. (Germantown)
With our cars swapped and Josh now in the driver's seat, I was beginning to feel a bit better. I didn't need to focus on things or keep my eyes open. We decided it'd be best to knock out a quad of out-of-the-way Webb's before making our way back to Milwaukee proper. We started that leg of the trip in Germantown, a place I'd never been before and will probably never visit again. There, three old dudes said borderline racist things about the previous night's commentary regarding the lack of black actors being recognized at the Oscars. I tried to focus on the innocence of children's drawings taped up behind the counter as I sipped my small glass of orange juice. Josh had chocolate milk and a piece of toast. While paying, one of the old racists remarked to us how eating breakfast "puts lead in your pencil." Not sure what he had eaten, but I didn't have a boner. In fact, I had the opposite of a hard-on. My belt buckle was pressed uncomfortably into my George Webb gunt and I'd never felt less sexy in my life. This was hell.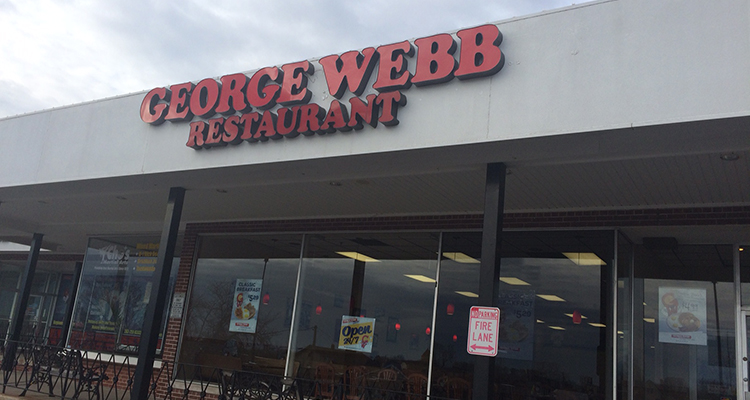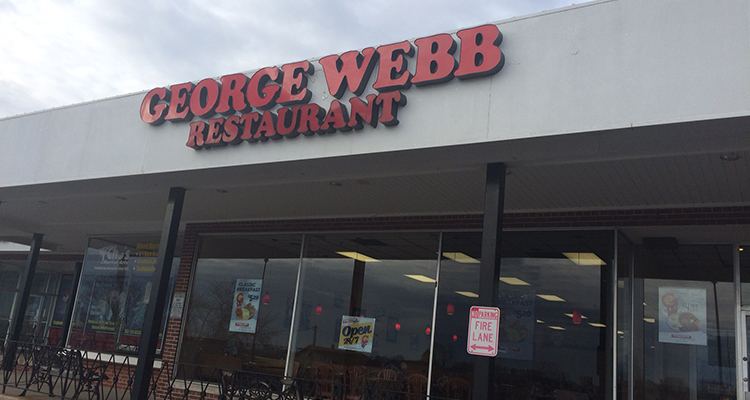 No. 7 — N89 W16825 Appleton Ave. (Menomonee Falls)
After a little navigation trouble, we found our seventh Webb's in a dying mini mall in Menomonee Falls (which in itself is pretty much a dying mini mall) just after 8 a.m. The long, expansive restaurant (the biggest we'd see all day) was moderately busy, but our server/cook/cleaner Ricardo was handling it all admirably. Though I appreciated his gusto, my stomach was starting to feel shitty. Josh was right there with me. He had another Diet Pepsi and I choked down an absolutely terrible cup of Mrs. Webb's Old Fashioned Bean Soup, seemingly so old fashioned it predated the concept of adding spices to food.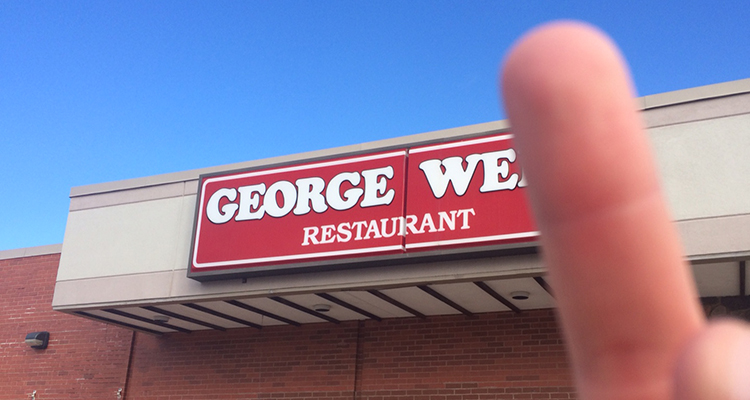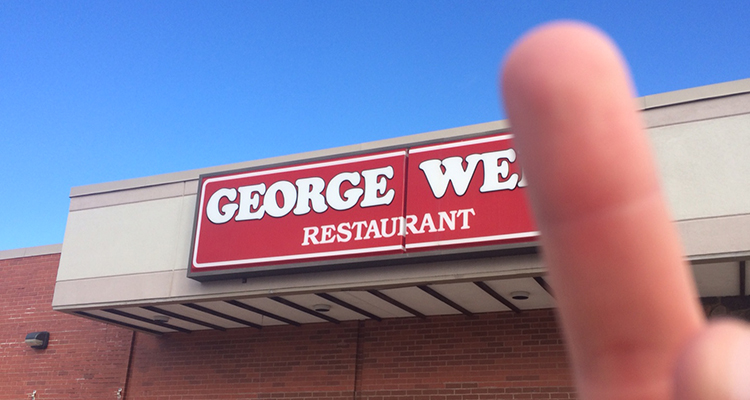 No. 8 — 852 S. Main St. (West Bend)
Next to a regrettably named shop called "Bedtime Kidz" in another reeling mini mall, the West Bend restaurant struck me at my most tired, full, and impatient. That said, this one fucking sucked butt. Some 20-something was at the counter shooting his mouth off to his server/friend about how many guns he had. When they wrapped up their thrilling discussion, she came over to us. I inquired about the Caramel Cocoa Cheesecake touted on the menu and was looked at as if I'd suddenly sprouted another head. I eventually received regular cheesecake with some caramel on top of it. Josh tolerated a bowl of chili. Remember: this was our meal before 9 a.m.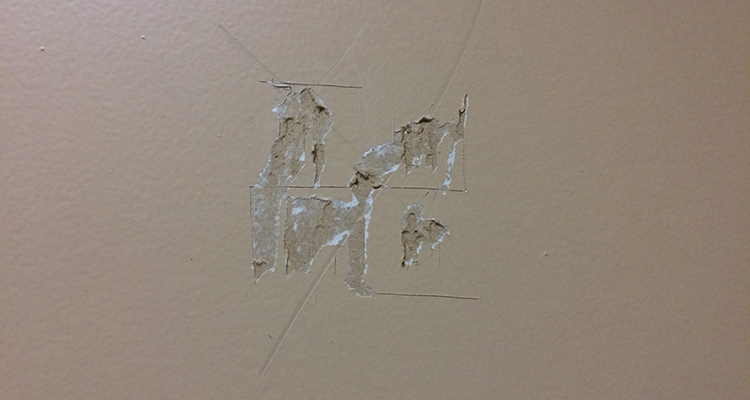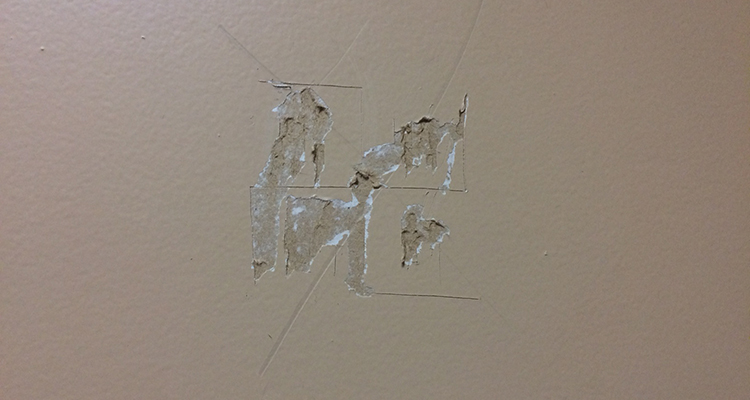 I went to the bathroom to get on my feet and splash water on my face. Someone carved a swastika into the wall. Why were we doing this again?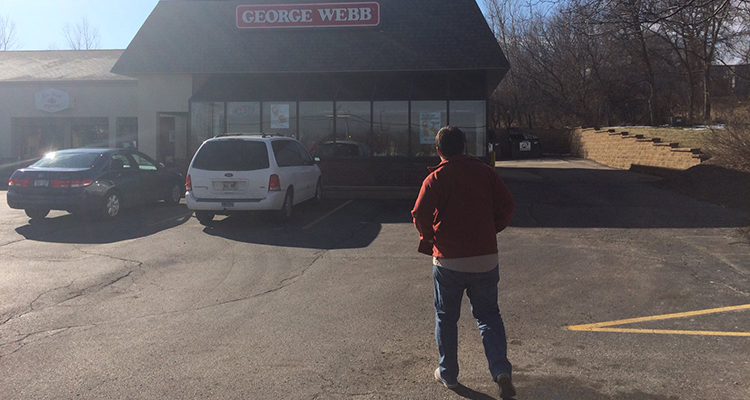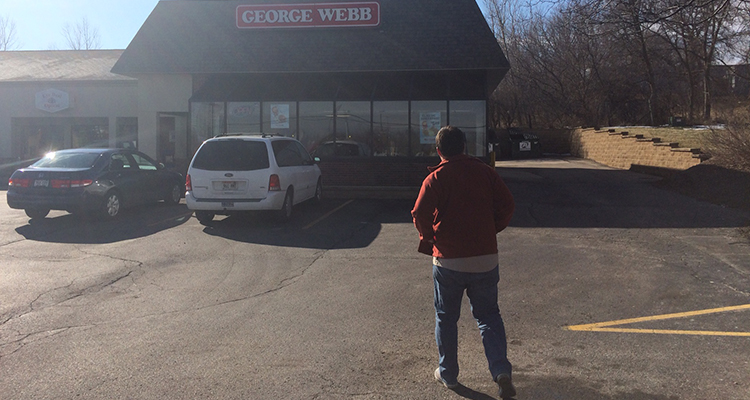 No. 9 — 1481 E. Sumner St. (Hartford)
Without even knowing it, I had drifted in and out of sleep during the 20-minute drive to Hartford. I honestly don't even remember this one, but I apparently took this picture of Josh walking in. This might even be the wrong photo. At any rate, my notes tell me we both had Mountain Dew and we shared an atrocious appetizer platter with mini corn dogs, mozzarella sticks, onion rings, and undercooked cheese curds. I don't remember eating it, but I recall how bad it made me feel. My notes also indicate the times on the pair of clocks each George Webb is known to have were identical. They're supposed to be a minute off, so it's never midnight or some shit.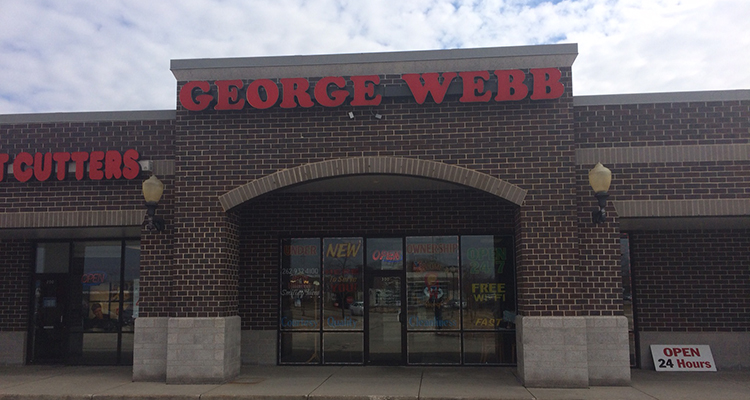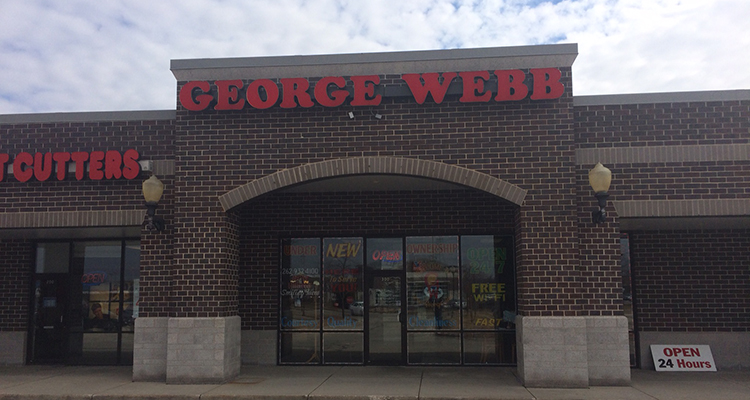 No. 10 — N65 W24838 Main St. (Sussex)
With some Dew in my system and some encouraging texts from master Milwaukee mixologist/Milwaukee Record shirt model Katie Rose (NAME DROP!), I was invigorated heading into Sussex, which I learned was a place that exists. This one was crazy. For one thing, the first guy we saw was a legitimate meth user who was rail thin and had scabs everywhere on his face and neck. Appetizing! The decor was equally distracting, with every inch of wall space covered in novelty signs and vintage beer trays. I stuck with water. Josh had a "salad" that was basically a block of shredded cheese, lettuce, and like four tomato pieces irresponsibly slathered in Sysco ranch dressing. I pounded my water and killed time pacing around the bathroom because sitting seemed horrible.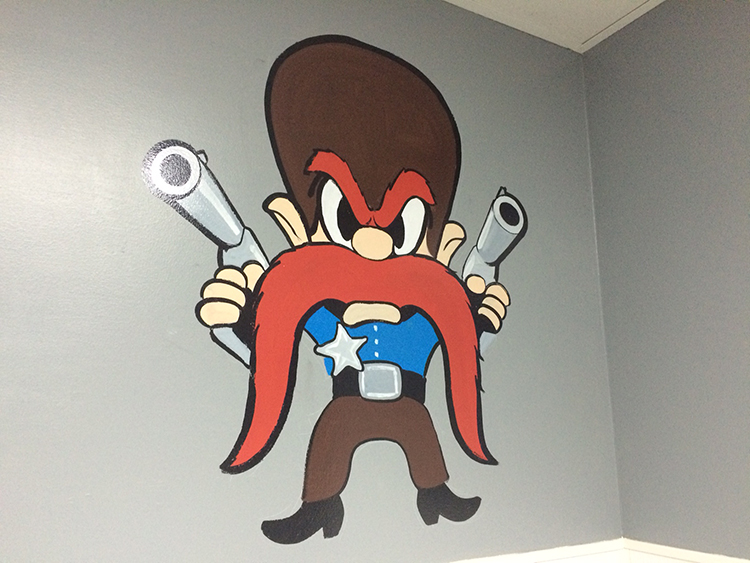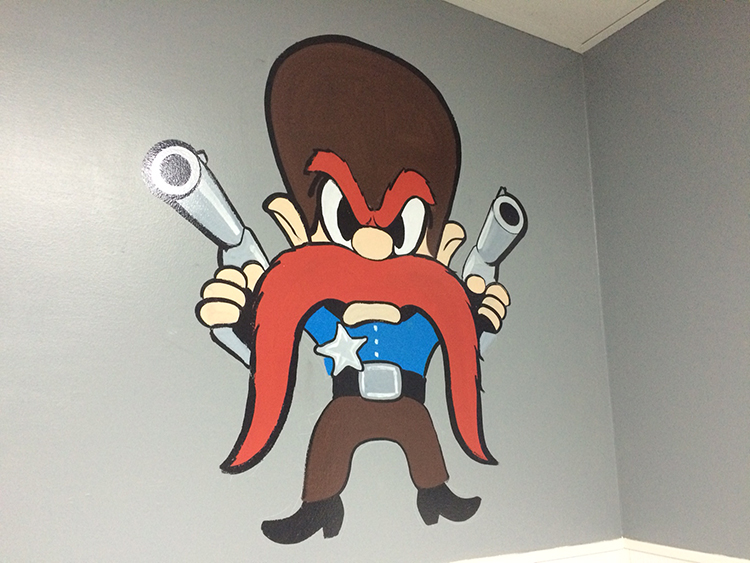 There were unlicensed Looney Tunes characters painted on the wall. I hated this so much.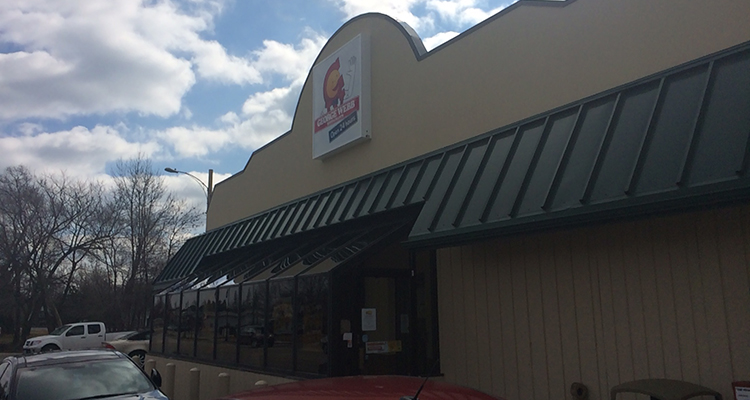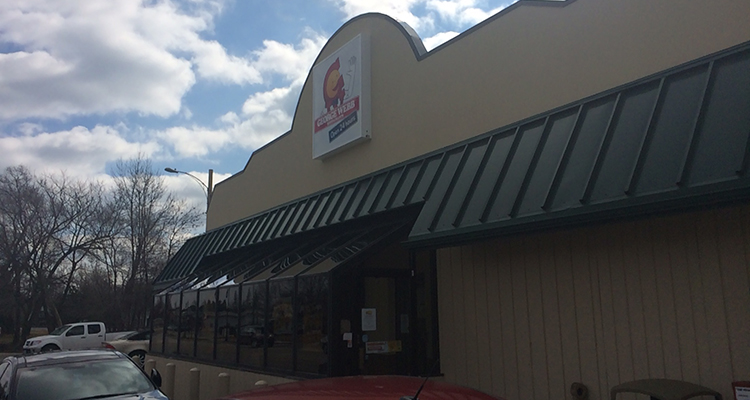 No. 11 — 645 E. Wisconsin Ave. (Oconomowoc)
As far away as it was, the Oconomowoc location stood out. Not, not because of the clientele…it was still mostly just old, pissed-off looking people. Rather, the menu was way larger than any other we'd seen. There was a secret menu with a bunch of extra items. Sadly, I was also at my fullest and most indecisive, so I ordered corned beef hash, which I immediately regretted. Josh had fruit cocktail. It wasn't even noon yet and I'd had four fried eggs. I was nowhere near Cool Hand Luke's 50 egg count, but I was nearing Fat Hand Tyler territory with more than 12 hours and 18 Webb locations left to go.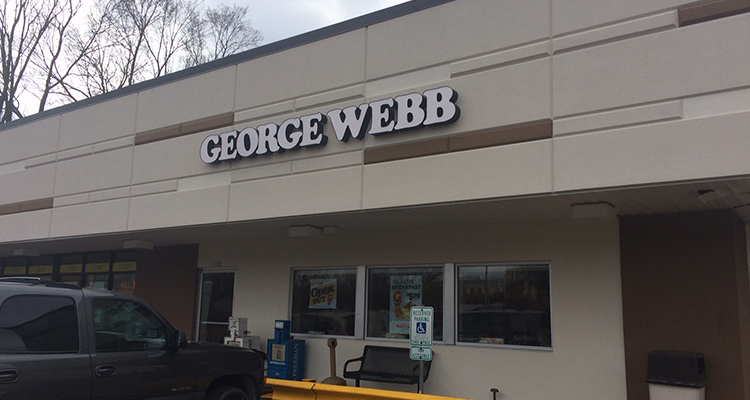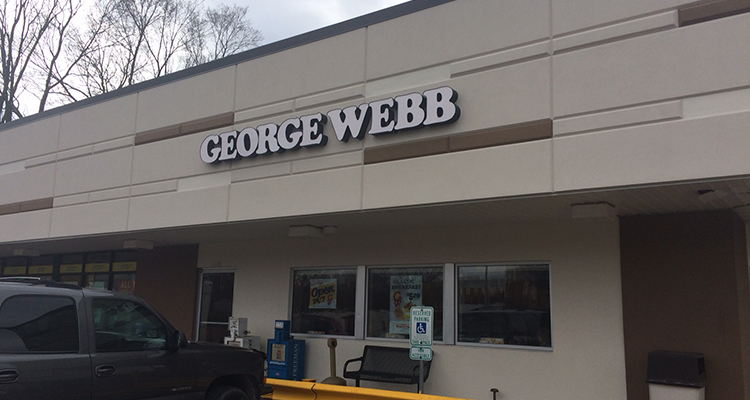 No. 12 — 1122 Delafield St. (Waukesha)
Along with West Bend, the first Waukesha stop was horrendously bad. The woman behind the counter openly made fun of me for only ordering a bowl of cereal. Josh's order of chicken flavored noodle soup (yes, "chicken flavored") was subject to similar ridicule. Meanwhile, the congregation of octogenarians in the nearby booths mean-mugged us, no doubt jealous that our noses had yet to look like bulbous over-microwaved hot dogs on account of cruel father time and a lifetime of boozing.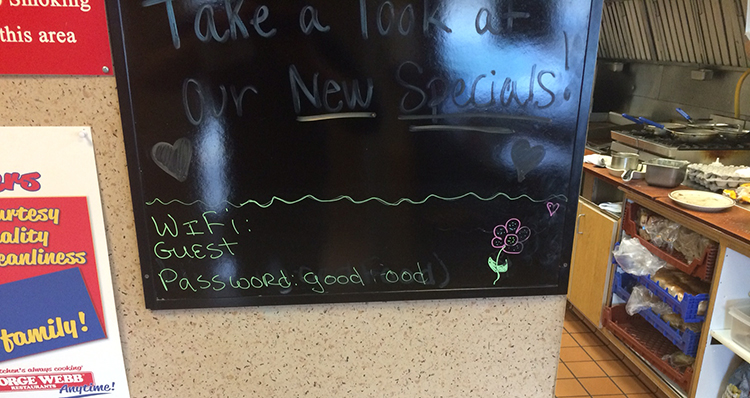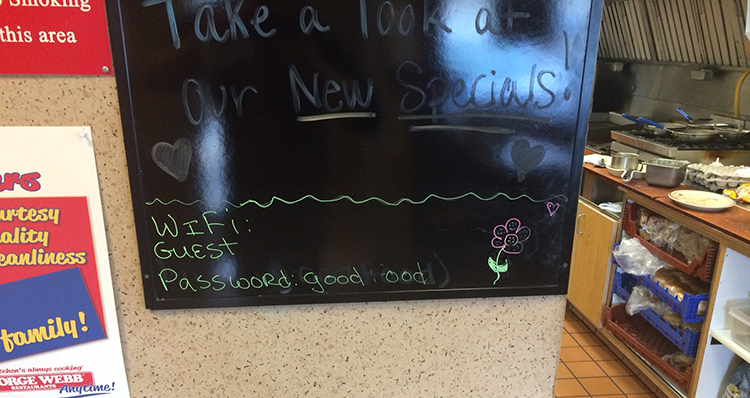 My phone was almost dead, but I needed to check my email—check anything at all—to distract myself. The Wi-Fi password was "good food," which made sense. It's important to make your network password something people would never guess.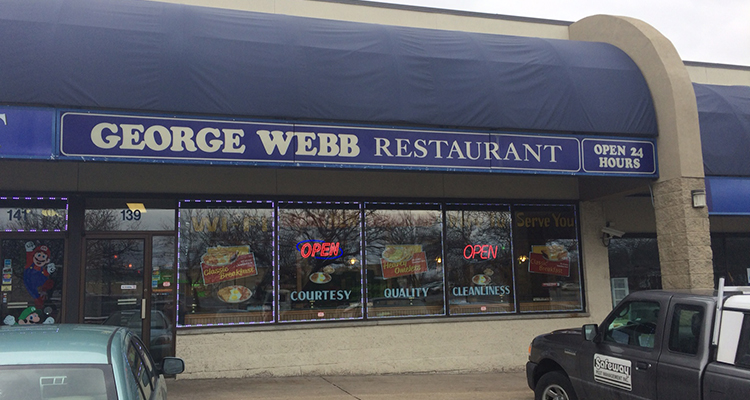 No. 13 — 139 E. Sunset Dr. (Waukesha)
On the way to the second Waukesha location, a dented, shitty Suburban pulled up beside us and wanted to drag race. When the light turned, it peeled out and turned in front of a bus. If there's a better representation of Waukesha, I haven't seen it. Anyway, we halfheartedly watched an infomercial and pounded our Diet Pepsi, just wanting our Waukesha jaunt to be over. Josh mowed down on a cup of chili in the 2009 WISN Alist-award winning shithole.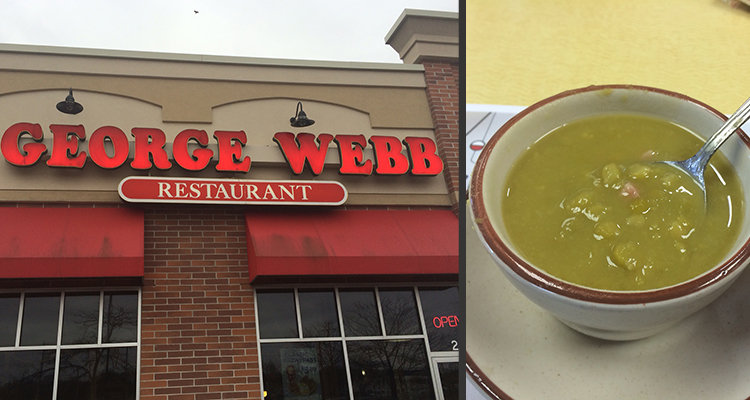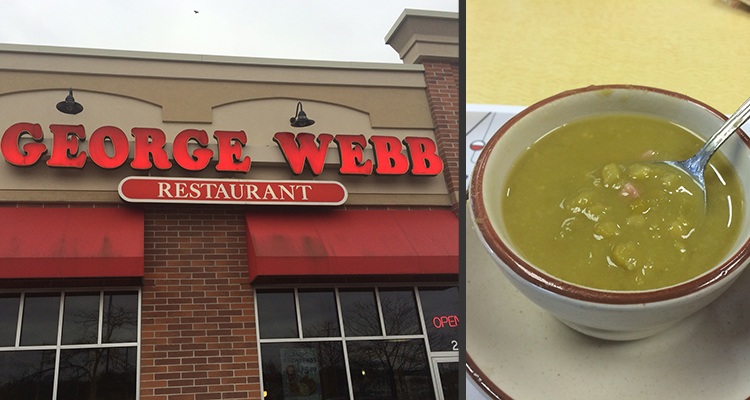 No. 14 — 19555 W. Bluemound Rd. (Brookfield)
From one pompous suburb to another, we stepped into another mini mall Webb's, where I endured a cup of split pea soup and Josh took it easy with a lemonade. It was now after 1 p.m., and we weren't even half done. Fortunately, most of the remaining stops were close together.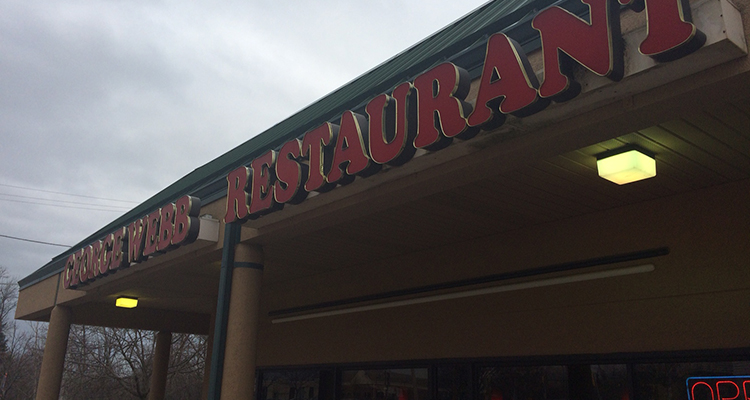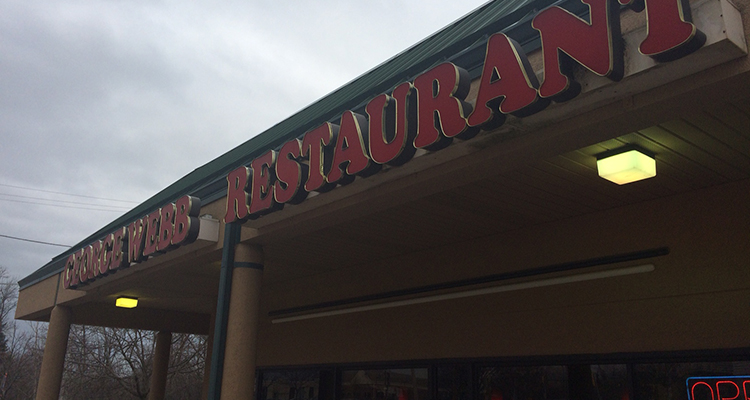 No. 15 — 14005 W. Greenfield Ave. (New Berlin)
Minutes away in nearby New Berlin stood an almost identical restaurant with the exact same layout as the last one and a customer base that resembled the previous 14. Josh was locked into soup mode and he knocked out something called Lumberjack Soup, which he said he liked. I had lemonade. Under an hour removed from our Waukesha nightmare, we found this one to be particularly cozy and the service to be excellent.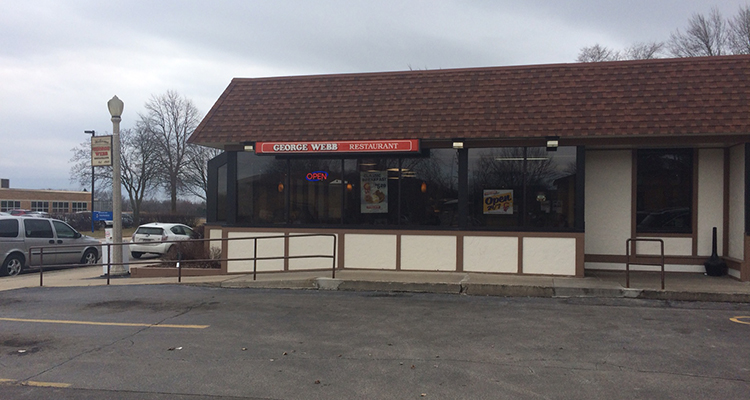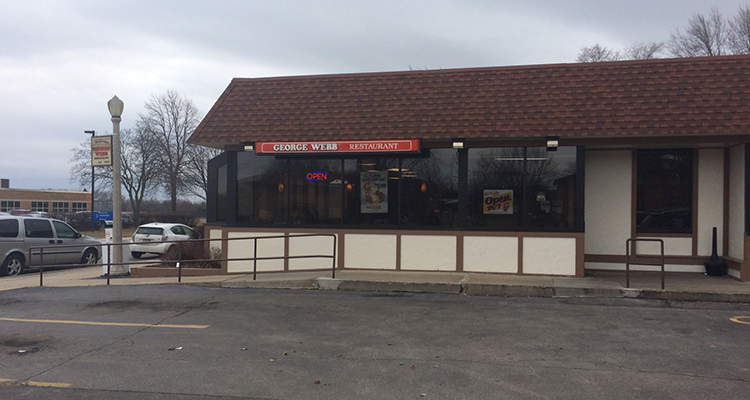 No. 16 — 12201 W. North Avenue (Wauwatosa)
When we'd finished up in New Berlin, we weaved through back roads and wound up on North in Tosa. I was feeling a bit better, so I had a regular hamburger with nothing on it. Josh had a double cheeseburger. The smiling George Webb logo was beginning to taunt me with each unnecessary bite I took. As a thing people eat once every now and then (usually when lack of time, shortage of money, or after-bar desperation to sober up are involved), George Webb is passable as food. When eaten more than once a month, let alone SIXTEEN times in a day, it becomes abundantly clear that 1. Nothing on the menu is actually good, and 2. There's probably no god.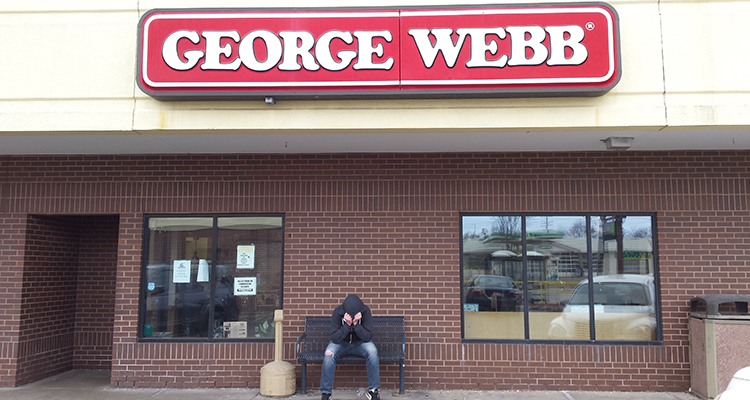 No. 17 — 9207 W. Capitol Dr. (Milwaukee)
Here's a picture of me upon realizing that after 13.5 hours and about 450 miles on the road, we'd just gone over the halfway point. Needing to shake things up a little, I opted for what was billed as an "Ice Cream Sundae" on the menu I'd now become quite familiar with over the course of that day. I got three scoops of vanilla ice cream in a soup bowl. "Want some chocolate syrup?" the surly trainee server asked. They really know how to take care of a guy. Josh had another lemonade. It took forever to pay, and some old guy made fun of the new lady for being grumpy. I laughed too hard. I was beginning to crack.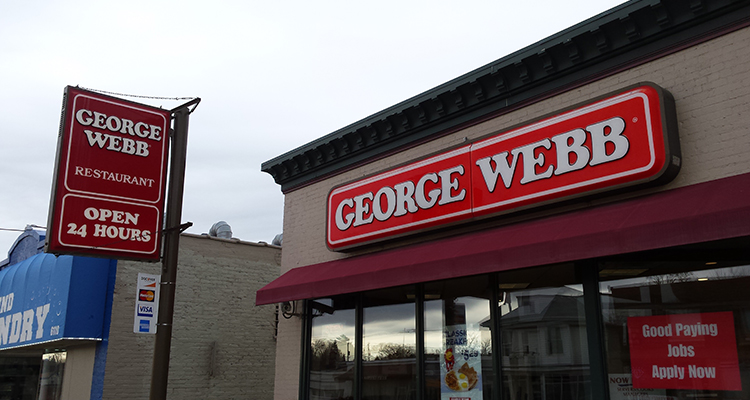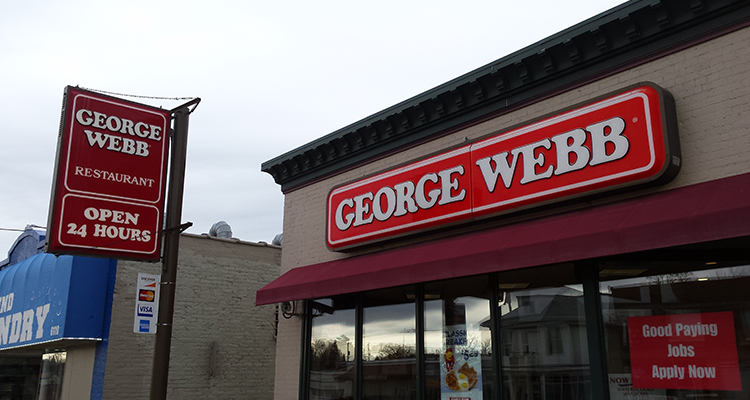 No. 18 — 6108 W. Bluemound Rd. (Wauwatosa)
I had coffee. Josh had potato wedges. There's literally nothing more to say about this one. Like exactly EVERY other location, they were hiring.
No. 19 — 2028 W. Mitchell St. (Milwaukee)
It was getting to be a pretty rough run by this point. We needed a good one. Surprisingly, that breath of fresh air came on Mitchell Street. An upbeat and funny woman named Stephanie busted my chops as Katy Perry's "Teenage Dream" restored our dwindling spirits. The interior was glistening and the bacon and tomato grilled cheese I had would go down as the best thing I'd eat all day. Having become comfortable with our 40-something server, I confided the details of our mission to Stephanie. "How old are you?" she asked. "You're too old to do that. Go do something else!" she scolded before we could even answer. It was tempting, especially knowing it was all downhill from here, but we were in too deep to quit now. I sure as fuck wasn't going to eat this much George Webb food if there wasn't some type of self-declared world record involved at the end.
No. 20 — 7227 W. Greenfield Ave. (Milwaukee)
West Allis' location had the tall, unenviable task of following the Mitchell Street restaurant. Though the downtown Webb didn't overtake its predecessor, it was fine. I had fries, which were prepared much better than the fries that came with my cheeseburger combo I'd ordered 16 hours earlier. It seemed like that meal happened weeks ago.
No. 21 — 3133 S. 92nd St. (Milwaukee)
Darkness was beginning to set in again, both literally and figuratively. It was amazing we'd see the sun rise and set in a George Webb booth. It was amazing we were within 10 stops from completing this task we'd since decided was the stupidest fucking thing we've ever done. It was amazing Josh and I still liked each other. After the fries, ice cream, and grilled cheese stacked in my system like a diabetic's totem pole within the past two-plus hours, I needed to stick with water. Josh endured the dense cheesecake as we overheard three elderly men talking too loudly about the rise in suicides-by-cop and how fucked the legal system is. Every Webb seemed to have three elderly white guys bemoaning modern society. Maybe it was the same three guys. Maybe they were just ghosts haunting us as we, too, crept ever closer to death with each unsatisfying bite. Maybe we were already dead and this was purgatory.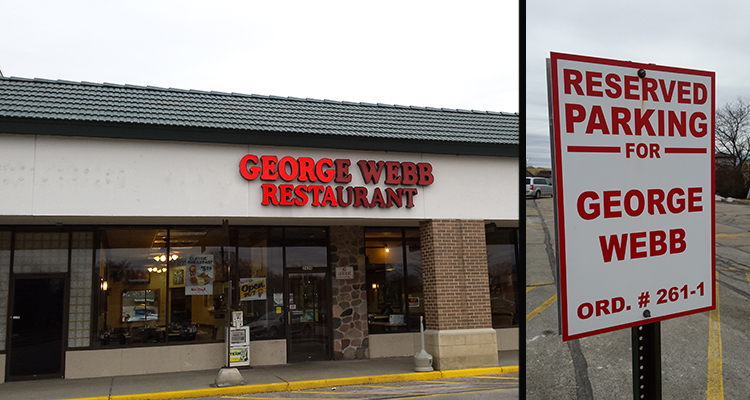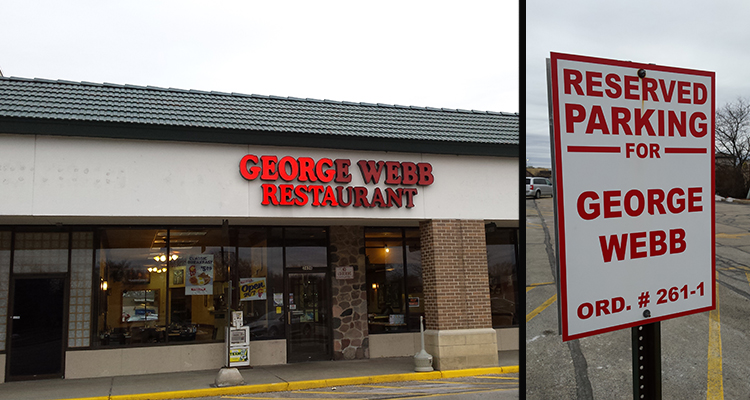 No. 22 — 3636 S. Moorland Rd. (New Berlin)
Back on the opposite side of New Berlin, I was running on fumes. Between the 18 hours I've gone without sleep and the constant in-and-out of cars and cold and glass doors outfitted with identical specials as the last place, I felt battered and uncomfortable. I warmed up with some tea (Lipton, served with temperate water in a plastic canister) as Josh took down another bowl of soup as well as a Sierra Mist. As I sipped and looked ahead to the remaining hurdles, I overheard some middle aged wiener tell a woman a thrilling story about how he almost went on a helicopter ride in Hawaii. Sweet story, bro. Before we left, an elderly man paid his bill and grabbed a fistful of, like, 30 individually wrapped toothpicks to bring home. Is there anything more to life or is this all there is?
No. 23 — 5110 S. 108th St. (Hales Corners)
It was my turn to brave the Garden Salad. I asked for light ranch, but received regular ranch. I didn't even correct them. I just ate it. After the damage I'd done to my body, could a few more fat grams possibly render me any less fuckable? Nah. Josh got coffee, which he hates but ordered out of exhaustion. As Josh went to his fifth extended bathroom break of the day (to my frustrating and bowel-packing 0), a chubby baby boomer whined to the 19-year-old server that she'd told him the carrot cake he ordered was a dollar less than she charged him for. After a few painful minutes or complaining, the member of "the greatest generation" gave back his boxed treat and waddled out the door. I'm so happy I'm going to die young.
No. 24 — 4845 W. Forest Home Ave. (Milwaukee)
Having opened under new ownership just days earlier, the Forest Home GW was a bit shaky. After dodging the greasy chili all day, I gave into the simplicity and had a cup. It was actually pretty good, all things considered. Needing anything resembling a vitamin, Josh foolishly tried a second salad, which went equally bad…with the added bonus of having the pink-haired new manager publicly scolding the other person working for making it wrong. Little did she know, there is no wrong. There's just Webb's and it's all wrong. Like others in the "Joey's George Webb" ownership umbrella, this one had tons of stupid trinkets and novelty signs. There was a framed Sam Cassell card mounted near the doorway. Even Sam Cassell wouldn't frame a Sam Cassell card. No matter, we had 24 down and five to go.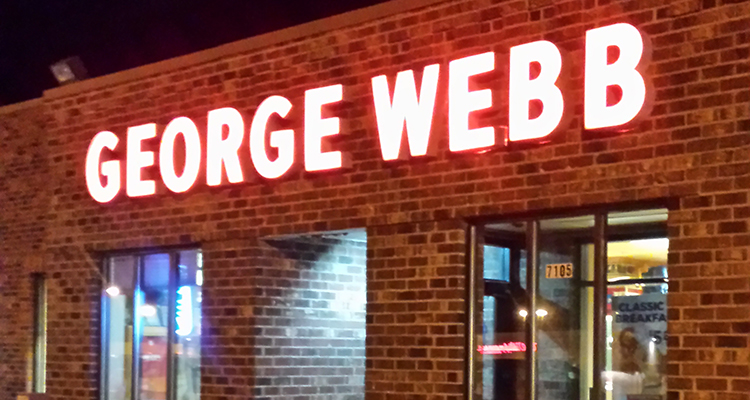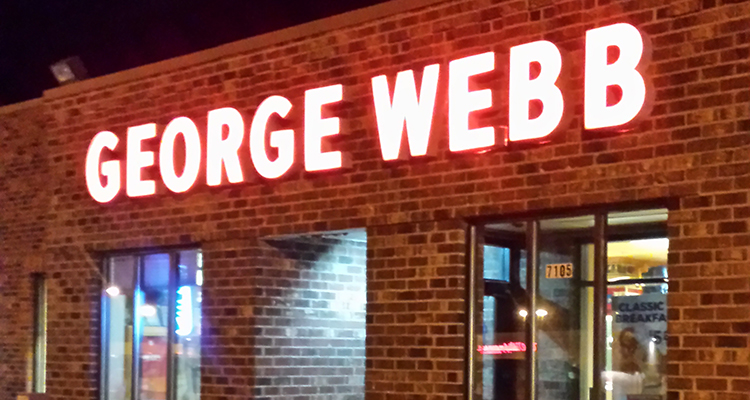 No. 25 — 7105 S. 76th St. (Franklin)
We tried to have at least one of us eat something (anything) at every location, but we were both growing lethargic, sad, and impatient. We'd go hard in the last few to make up for this one, we decided. I had another tea. Josh had coffee.
No. 26 — 6231 S. 27th St. (Greenfield)
That plan was easier said than done. Though we'd seen it 20-some times before, we both glared intensely at the menu from our counter perch, hoping to see something different, something that wasn't disgusting, something that wasn't dense, and something that didn't put us even further away from the long, arduous journey back to "Milwaukee Skinny" that awaited us when we got home. That miracle food couldn't be found, so we went with raisin toast, which was unhealthy but at least somewhat small. I asked for some without butter. I got what seemed to be extra butter on my blackened toast. I ate it anyway. Josh also had an orange Crush.
No. 27 — 6181 S. Howell Ave. (Milwaukee)
With a modest drive between this one (our last Milwaukee area) and the final two George Webb stops, I decided to man up and digest an order of two massive blueberry wheatcakes before the final approach. Josh had water. An elderly lady talked the server/cashier's ear off about a dispute she was having with her son about a truck as my pancakes were cooked…or I should say partially cooked. They came out raw and runny on the inside. I ate them anyway. Food was no longer a means of acquiring energy or obtaining sustenance. Going out to eat used to be a rare treat reserved for birthdays, good report cards, and happy times. Now it was self-imposed torture as a means of getting website clicks and outdoing some fucked-up thing some 19-year-old douche did to kill time in the summer of 2009.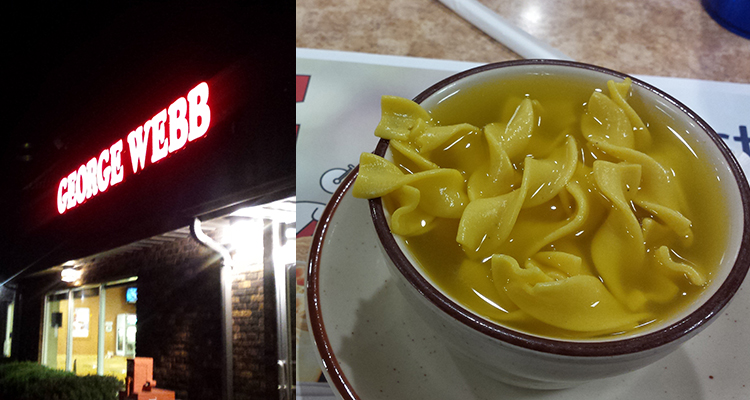 No. 28 — 4555 Douglas Ave. (Racine)
We drove down some back roads to Racine and arrived upon a pretty much vacant Webb's, the penultimate stop on this excruciating excursion. We both had unsatisfying cups of Chicken Flavored Noodle Soup, which was more pickle juice flavored rubber bile than anything else. We ate it, got in Josh's car, then looked for the last address to plug into our navigation system. "Permanently Closed," the listing said. It couldn't be. We'd checked every stop prior—thankfully sparing us a disappointing drive to Wauwatosa and the Eau Claire area for nothing over the course of the day—and never caught wind of it. Josh called the Kenosha franchisee and was told it was open until 10 p.m. (about 90 minutes from then). We could easily make it, so we forged on, driving fearlessly into the building bluster of snow and within the grasp of being the first people to do something no respectable human would/should consider doing.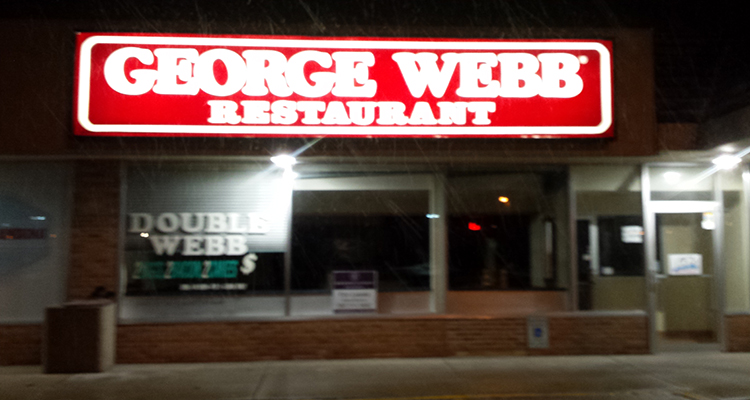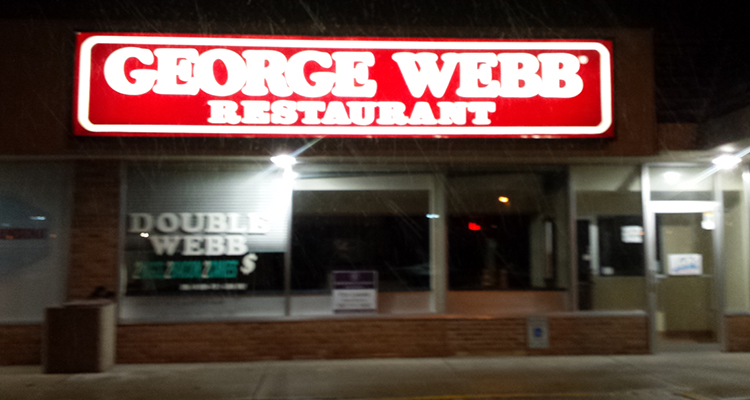 No. 29 — I-94 & Hwy 142 Burlington Rd. (Kenosha)
Aaaaand it was closed. Fuck. Dismayed and feeling betrayed by the very business we were seeking to celebrate over the course of the regrettable day, we felt the mission was incomplete. I'd even intentionally delayed the consumption of the new crispy chicken breast sandwich for the final stop. All for nothing. Strangely, a franchise that's long existed by paying under-trained employees minimum wage to serve shitty food that's directly contributing to the deterioration of its customers lining uncomfortable booths in unkempt edifices didn't seem to care about us. A place to which we (like so many other Wisconsinites over the past 60-plus years) affixed hazy, drunk or stoned, and over-caffeinated memories, and a place we made the backdrop of youthful angst and Midwestern boredom had failed us. The crappy charm and the veneer of cheap convenience had eroded. The lights were off at the all-night diner. For me, they're off for good.
Before Josh and I retreated back to our homes, having our glutinous glory stopped at the goal line, we saw a sign that hearkened back to another, almost as harrowing tale of food-related wanderlust. We pulled into the snowy, vacant parking lot and placed our orders that would end one journey and begin another: Josh And Tyler Go to White Castle.
Fuck you, George Webb.