Three words: Wisconsin State Fair. Starting last Thursday and running through August 15, the annual celebration of all things Wisconsin will offer up oodles of entertainment, a variety of animals, stands to buy novelty T-shirts, and even a place to get vaccinated. Oh, and there's food! Yes, a dizzying and/or worrying cornucopia of bizarre foods is once again available for purchase, satisfying even the most exotic on-a-stick taste buds.
In addition to the State Fair's annual food stand staples, this year's fairground festivities also features eight intriguing indulgences that were named 2021 Sporkies Finalists. We wasted little time before heading to West Allis with empty stomaches and open minds to try all eight finalists during the State Fair's opening weekend. Here's what we thought of each Sporkies Finalist.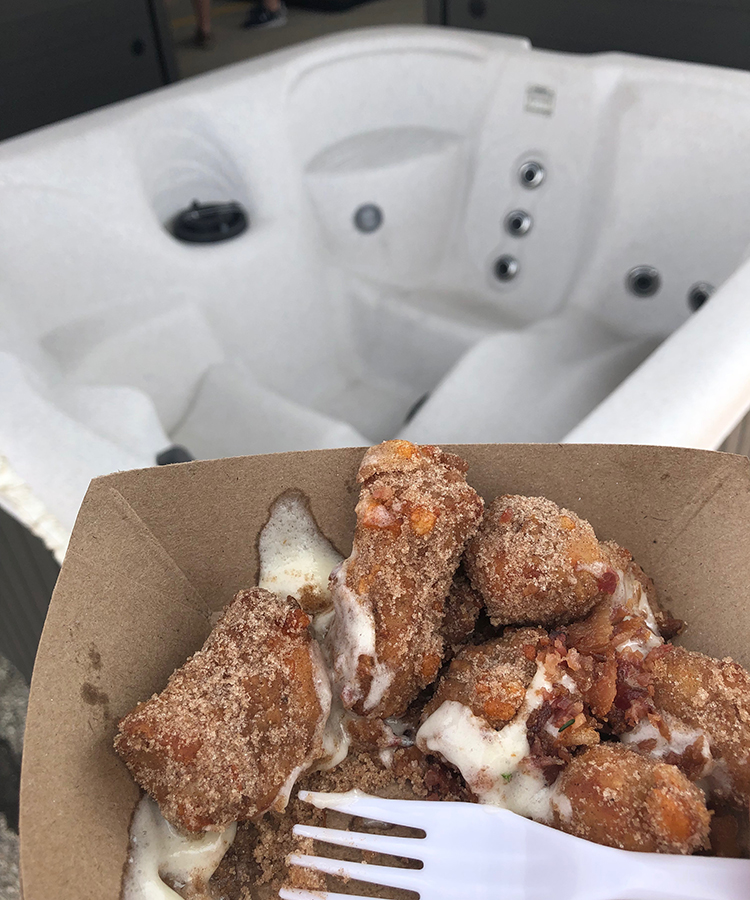 Admittedly, these aren't for everyone. However, we actually enjoyed the Cinnamon Roll And Bacon Cheese Curds. This creation—available at Slim's Lakefront Brew Pub & Eatery for $10 per serving—is a sweet take on a Wisconsin favorite. The beer battered cheese curds are coated with powdered sugar and cinnamon. Along with the cheese, pieces of diced bacon help to add a slightly savory element. That being said, the sugar, cinnamon, and decadent drizzle of cream cheese frosting make this finalist overwhelmingly sweet. Avoid this if you're not the sugary type. Even if you do have a sweet tooth, a full order is a bit much, so maybe consider splitting some with a friend or loved one as a dessert to enjoy beneath the shade of the hot tub tent.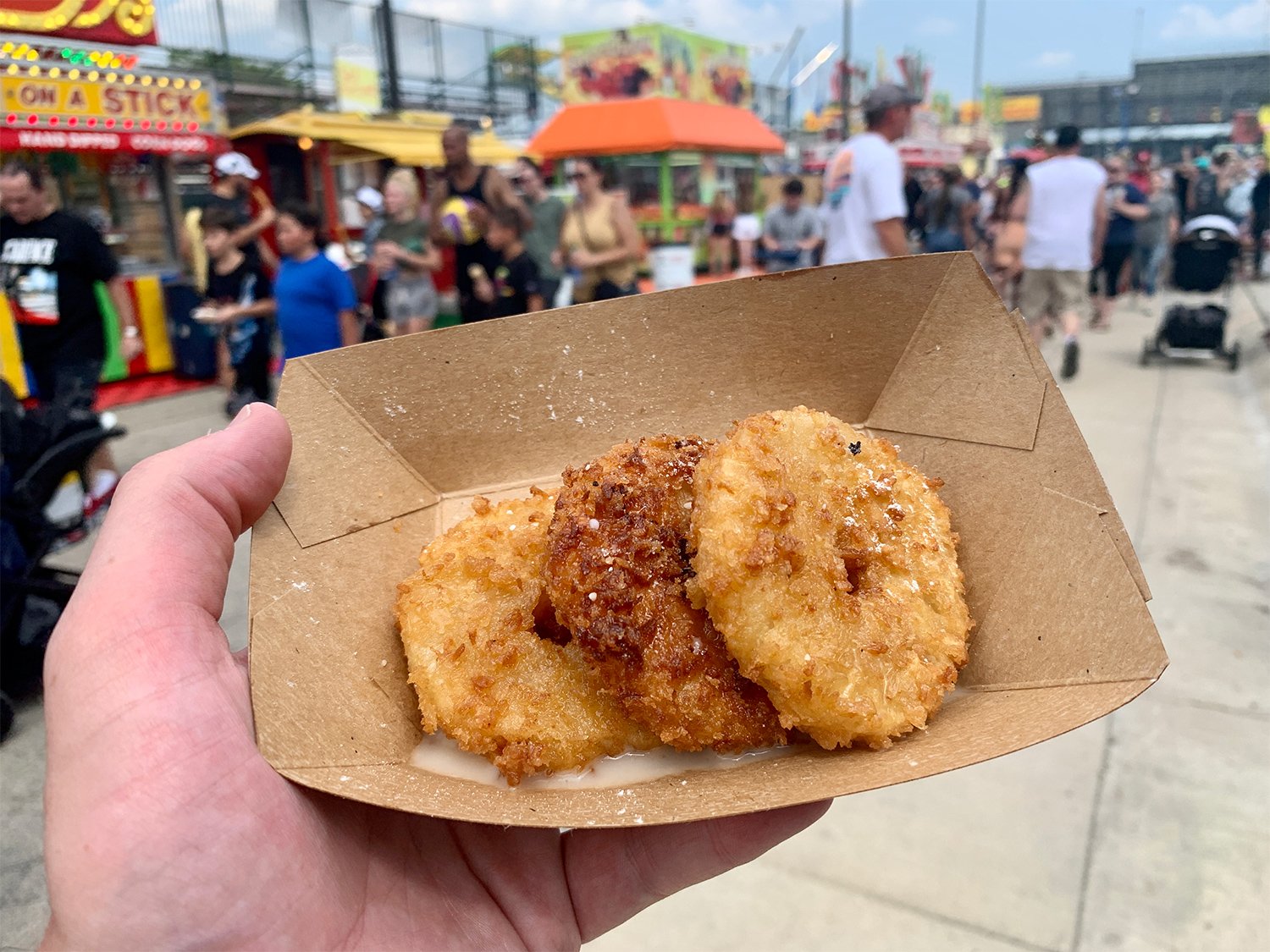 "Does pineapple belong on pizza?" is a time-honored and, frankly, tired argument. (The answer is YES.) But does pineapple belong at the Wisconsin State Fair? Only if it's deep-fried, of course. Six bucks will get you three pineapple rings "rolled in coconut and sweet panko breading, deep fried, drizzled with piña colada glaze, and dusted with powdered sugar." They're good! Like the Cinnamon Roll And Bacon Cheese Curds, the Deep-Fried Pineapple Express is a dish probably best saved for dessert. Maybe while you're taking in a sea lion show right across from where they're doling out free vaccine shots for free Cream Puffs! The 2021 Wisconsin State Fair: the one year where the food isn't the weirdest thing.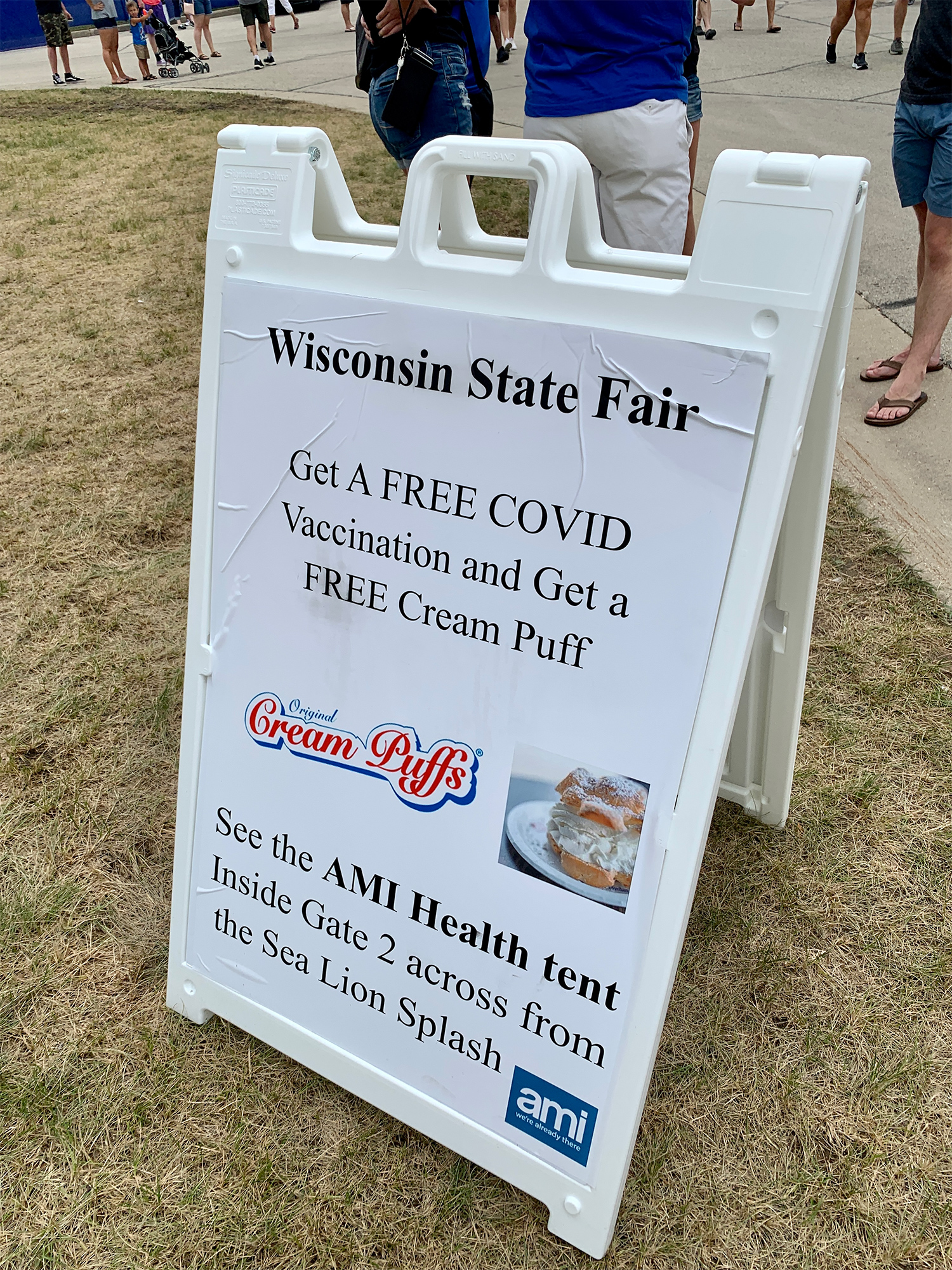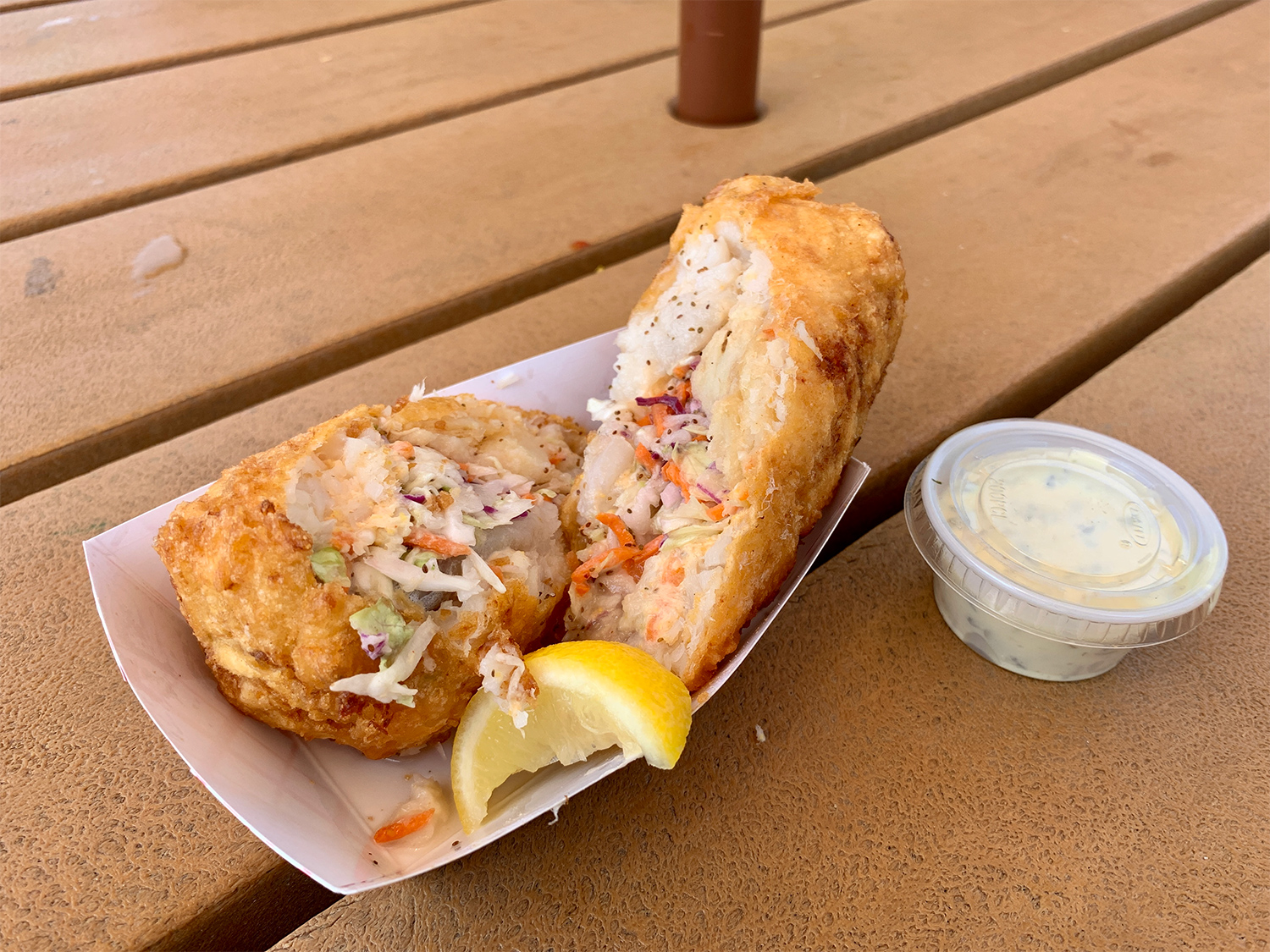 "Wait a minute," you're probably saying to yourself. "Isn't a fish fry, by definition, already deep-fried? What gives?" Well, yeah, the fish is already deep-fried, but the coleslaw and French fries aren't. Yes, this 'Sconnie fever dream from Water Street Brewery mashes up two fish filets with some German coleslaw and French fries…and deep fries the whole thing. It's kind of like those KFC Famous Bowls, but with less corn and more cod. And, unsurprisingly, it's GOOD. Seriously, these burrito-sized bullets of pure fish fry love are more than worth the lousy $9 Water Street is charging. All that's missing is a slice of buttered rye bread and maybe a deep-fried Old Fashioned. (Water Street Brewery does offer a Deep-Fried Pink Squirrel.) Next year, Water Street Brewery. Next year.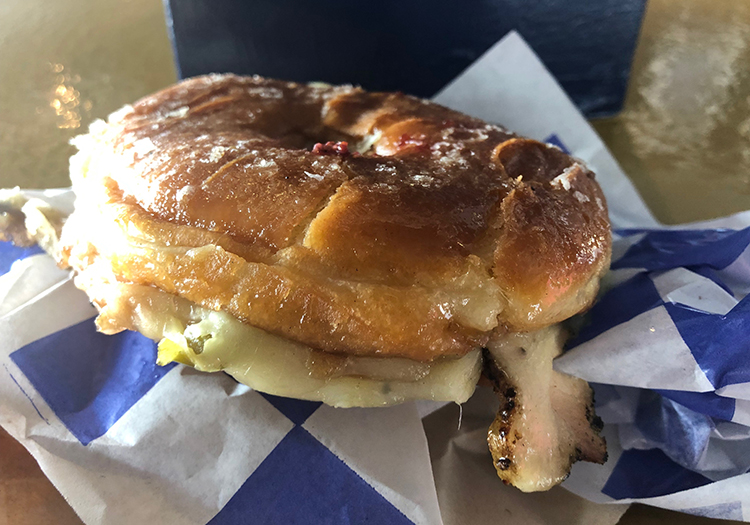 The Glazy Boy was named the 2021 Sporkies winner, and we can understand why. It successfully blends the over-indulgent weirdness for which State Fair food is famous with a surprising depth of flavor to create something we'd definitely get again. A pair of Grebe's glazed donuts serve as the bun, which flank Fontina cheese, smoked pork loin, raspberry whole grain mustard, picked jalapeno slices, and other spices to make something that bounces all over the spectrum in terms of flavor. There's a lot going on, yes, but it all works surprisingly well in concert. Speaking of "in concert," we ate this while listening to someone play a Kid Rock cover at a nearby stage.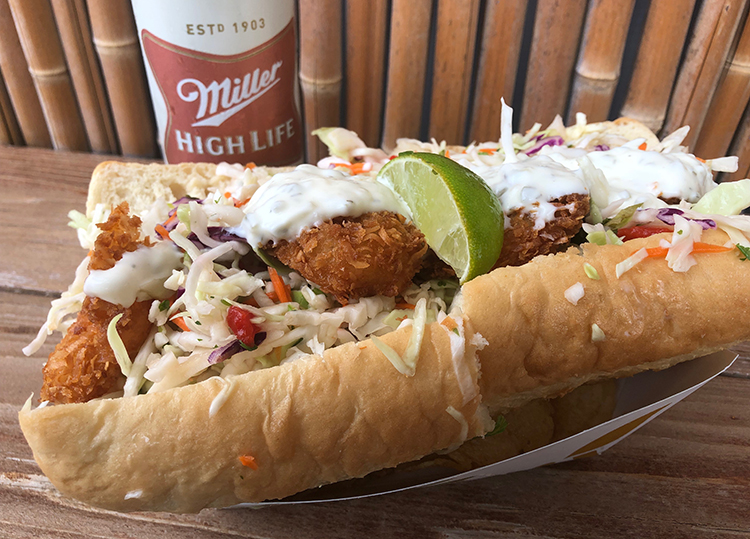 Tropics' so-called Paradise Po' Boy wound up nabbing third place honors in this year's competition. Unlike the Glazy Boy, we struggled to understand how it earned such high marks. The coconut shrimp were a highlight, but those four deep-fried shellfish placed atop a wet, cold, bun-drenching pile of subpar slaw and runny tartar sauce weren't enough to save this one. It fell apart after the first bite and was far messier than both it or its $12 price were worth. The sandwich is served with potato chips, but those also wound up getting wet from the overabundance of slaw.
"What is THAT?" a couple asked as we prepared to tuck into a Peanut Butter Squealer from Waffle Chix. Well, grossed-out couple, it's a "maple-infused breakfast sausage baked inside a delicious Belgian waffle, served on a stick and smothered in peanut butter and topped with real bacon," that's what. How does it taste? Not bad! "Smothered" in peanut butter may be stretching it, but the peanut butter does pair surprisingly well with the waffle-encased breakfast sausage. And while that waffle-encased breakfast sausage won't be giving Jimmy Dean a run for his money any time soon, drenching the whole $8 concoction in maple syrup (available at the Waffle Chix stand) gives this on-a-stick treat a delectable boost.
[Seinfeld voice] What's the deal with hush puppies?  Are we the only ones who find deep-fried balls of cornmeal forever underwhelming and kind of lame? Like, if you had the choice between tater tots and hush puppies, wouldn't you always choose the tater tots? Sigh. Maybe it's just us. Thankfully, Saz's Taste of Wisconsin adds a little kick to the staid hush puppy formula by stuffing the Polish Puppies On-A-Stick with Klement's Jalapeno Polish, sautéed onions, sauerkraut, and cheddar cheese. The trio of $6.50 pups are big, too, making them perfect treats for waiting in line for the WonderFair Wheel, where you can get a bird's-eye-view of the ever-fascinating State Fair/West Allis yard-parking economy.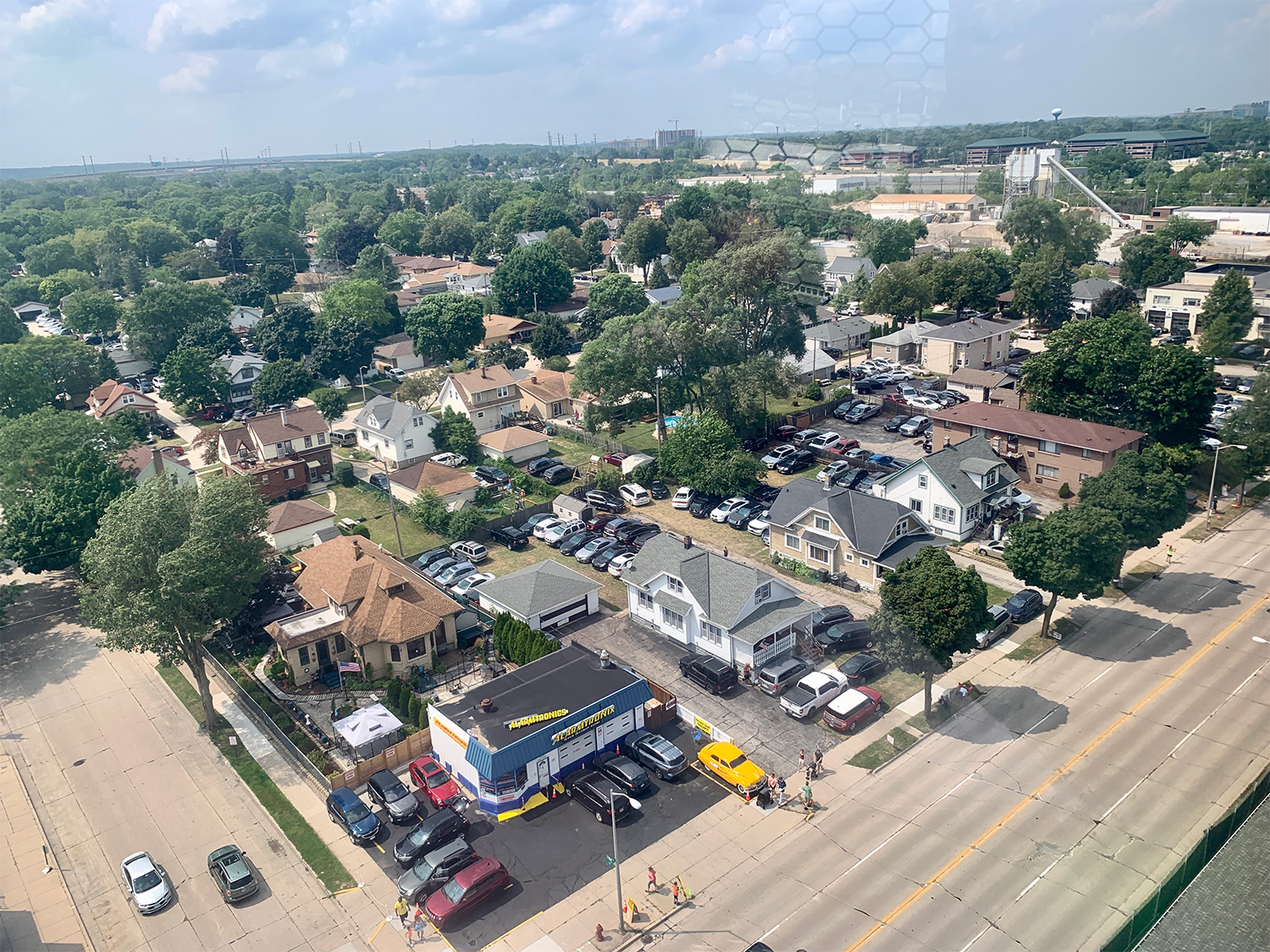 Though we weren't exactly looking forward to eating Italian food on an 85 degree day, the Sorrentina Bites at Albanese's Roadhouse were an unexpected high point of our State Fair Sporkies sampling.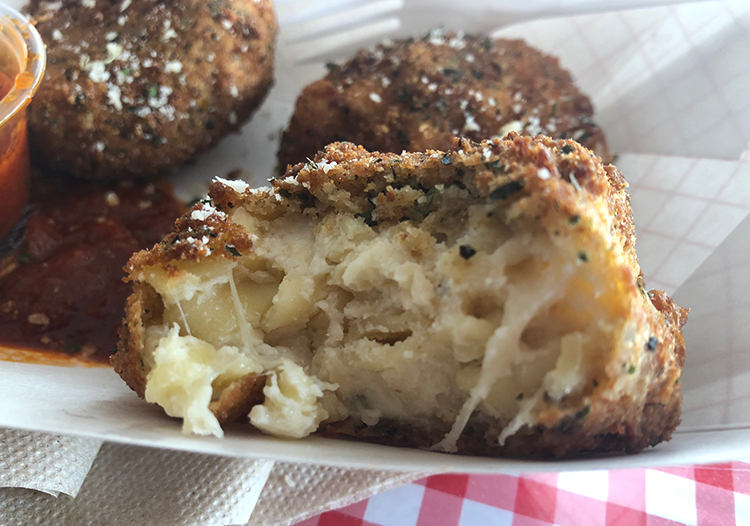 The $10.50 dish features three hefty deep-fried balls of pasta, rich cheeses, and Italian spices. This item brought on the longest wait time (more than 10 minutes during the stand's Friday lunch rush), but the Sorrentina Bites—along with the accompanying container of Albanese's locally lauded marinara dipping sauce—were absolutely worth it.
Exclusive articles, podcasts, and more. Support Milwaukee Record on Patreon.
---
RELATED ARTICLES
• 19 people got vaxed for Game 6 Bucks tickets. So far, 50 people have gotten vaxed for free cream puffs
• Celebrate the first day of the 2021 Wisconsin State Fair with 8 years of ride-inspection videos
• Here's the local-tastic lineup for the Lakefront Brewery/WMSE stage at Wisconsin State Fair
• Nature Is Healing, pt. 12: Wisconsin State Fair headliner lineup is exactly what it should be
• The people have spoken, and the 2021 Wisconsin State Fair is happening