Welcome to Food/Drink Week at Milwaukee Record, brought to you by Milwaukee's new favorite import, Bofferding. From May 31 through June 7, belly up and enjoy a fresh smattering of restaurant visits, beer articles, booze videos, and some good old fashioned adventure food journalism.
Down in Kenosha, past the Bong Recreation Area and the quirky (and romantic?) tourist trap that is Mars Cheese Castle, you'll find Wisconsin's one and only remaining White Castle restaurant. The polarizing chain restaurant is a favorite of many living near the Illinois border, and it thrives as a stop for those driving between Milwaukee and Chicago and looking for a rare treat.
Since White Castle isn't something Milwaukeeans can obtain easily, there's an underlying amount of pressure that comes with each scarce visit. With it being such a limited indulgence for many people, there's not much flexibility to risk trying new or unfamiliar menu items—lest they choose unwisely and waste their trip down the interstate. Knowing summer road trips are on the horizon, we thought we'd help you figure out your White Castle order by ordering, eating, and ranking every food item available at the Kenosha location.
Along with the assistance of occasional Milwaukee Record contributor and devoted White Castle fan Corey Baumann, we drove down to Kenosha and bought every type of slider, each breakfast item, and all the sides available—30 things in all—to eat and rate. We averaged our individual rankings to figure out ratings. Here's how it panned out: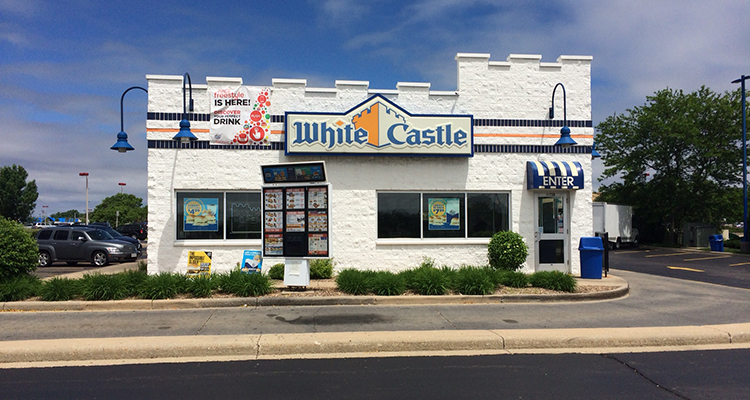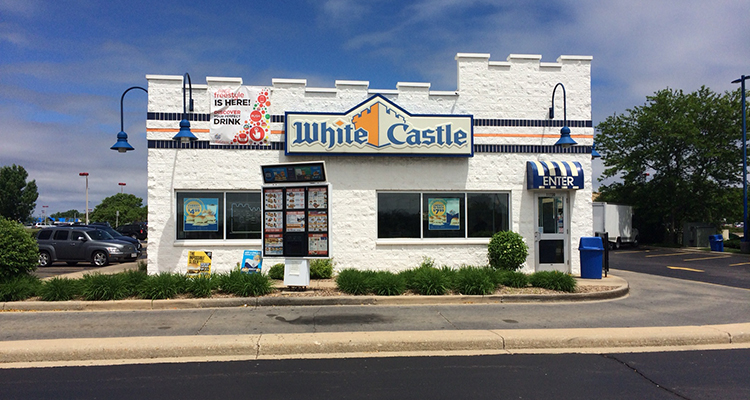 T-29. Original Veggie Slider
T-29. Honey Mustard Veggie Slider
28. Ranch Veggie Slider
27. Plain Donut
26. Chocolate Donut
25. Powered Donut
24. Breakfast Toast Sandwich
23. French Fries
22. Onion Chips
T-19. Onion Rings
T-19. Chicken Ring Slider
T-19. Chicken Rings
18. Cheese Fries
17. Loaded Fries
16. Savory Grilled Chicken Slider
15. Bacon & Cheddar Chicken Slider
14. Sausage, Egg & Cheese Slider
13. Fish Slider
12. Hash Browns
11. Mozzarella Cheese Sticks
10. Chicken & Waffle Slider
9. Bacon Cheese Slider
T-7. Fish Nibblers
T-7. Impossible Slider
T-4. Breakfast Waffle Slider
T-4. Cheddar Slider
T-4. The Original Slider
3. The Original Slider With Egg & Cheese
2. American Cheese Slider With Pickles
1. Jalapeño Cheese Slider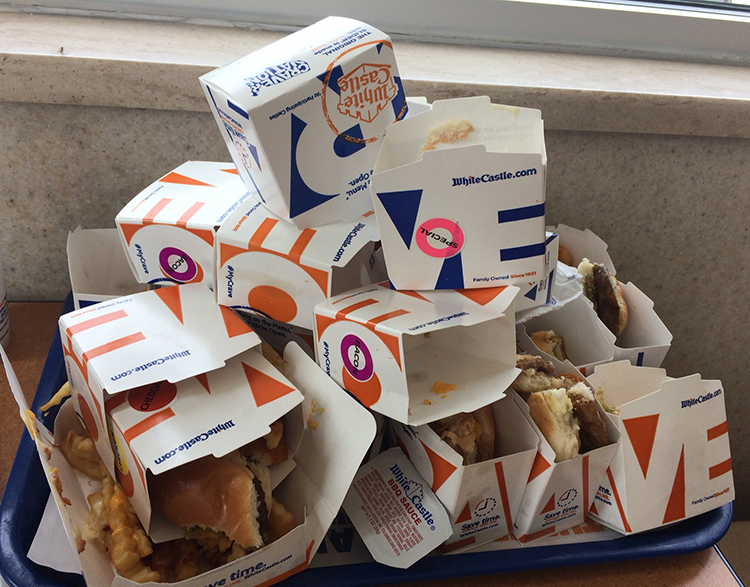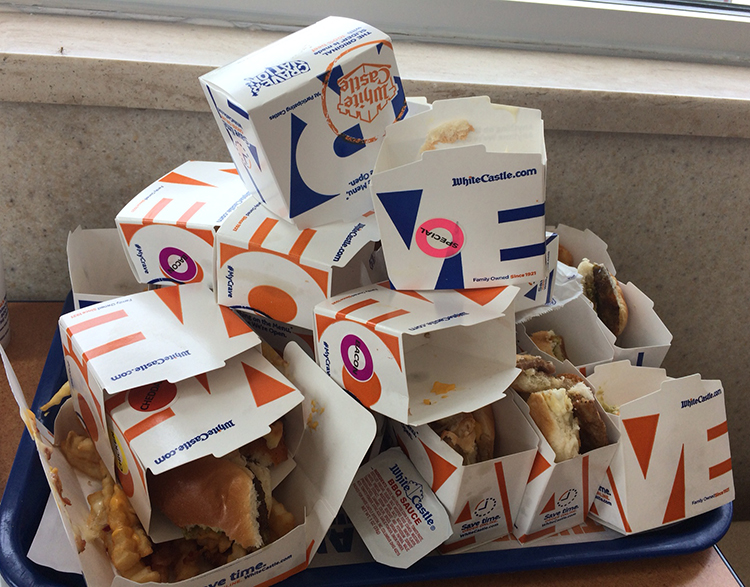 Other takeaways and observations…
• They were out of cheese curds
• We didn't realize until we'd returned, but they forgot to give us our Cheesecake Bites
• The Thai Veggie Slider wasn't available, but based on where other Veggie Sliders landed, it probably would've ranked low
• Both of us picked the Jalapeño Cheese Slider as our favorite item
• Unappealing as Fish Nibblers sound, they were surprisingly quite good
• Every type of Chicken Slider was underwhelming. It you're getting a slider, we strongly suggest getting beef. If you're set on chicken, the Chicken Rings were kind of odd and unappealing, but pretty good with certain dipping sauces
• Every Veggie Slider was atrocious. They have a mushy consistency with full corn kernels and peas mixed in. If you're vegetarian, do yourself a favor and stick to the Impossible Slider. It's worth the extra cost and additional prep time
• Other than forgetting the Cheesecake Bites, the staff at White Castle was great. They were extremely friendly and fast. They didn't seem annoyed by this dumb idea in the slightest. In fact, some workers even helped to make sure we didn't miss anything
• It costs less than $60 to buy every available food item at Kenosha's White Castle