It's Milwaukee/414/MKE Day, so the Milwaukee Public Museum is giving the public a sneak peak at the "spiritual successor" to its Streets of Old Milwaukee exhibit, "Milwaukee Revealed." This is the third permanent gallery that will be part of MPM's future museum.
"In the Milwaukee Revealed gallery, visitors will find a charmingly familiar, immersive streetscape set at the magical hour of dusk, featuring storefronts, buildings, houses, and waterways," reads a description. "But open a door, peer through a window, or press a button to reveal hidden details, historical stories, and interactive features. The gallery not only takes visitors back in time, but also behind walls and under the surface of the here-and-now.
"Considered the spiritual successor to the Streets of Old Milwaukee exhibit currently part of the Milwaukee Public Museum," the description continues, "the Milwaukee Revealed gallery will evoke a similar feeling of nostalgia and whimsy. It will also offer new, surprising, and often-overlooked perspectives about the city for visitors to discover, including the ways nature has played a role in the city's identity, from building materials like the iconic Cream City brick to industries like Milwaukee's famed beer production."
The sneak peak is only a sampling of the new gallery. The final "Milwaukee Revealed" will also include "immersive exhibits about Milwaukee's relationship with its rivers and Lake Michigan."
"We heard loud and clear the public desire for an immersive space dedicated to Milwaukee," says MPM President & CEO Dr. Ellen Censky. "Milwaukee Revealed will be a gallery visitors can lose themselves in—and learn a lot about Milwaukee, past and present, along the way. Current fans of MPM's Streets of Old Milwaukee will find many familiar, nostalgic elements in Milwaukee Revealed, including collections items like the penny-farthing bicycle and the one-of-a-kind Schloemer automobile."
Also: "We also plan to include a virtual-reality experience of the current Museum's Streets of Old Milwaukee and European Village, preserving the beloved exhibit experience for the next generation to explore in the Future Museum."
MPM's has already revealed looks at two other "future museum" galleries, "Time Travel" and "Wisconsin Journey." Two more permanent galleries are set to be previewed this spring: "Living in a Dynamic World" and "Mixing Zones" (May 9); and "Rainforest, Puelicher Butterfly Vivarium and the Bucyrus Rooftop Terrace" (May 23). Find out more info about them HERE.
MPM's future home—located just north of the Deer District—is set to open in late 2026. The current museum will remain open until then.
Here's more info on "Milwaukee Revealed":
---
COMMERCIAL DISTRICT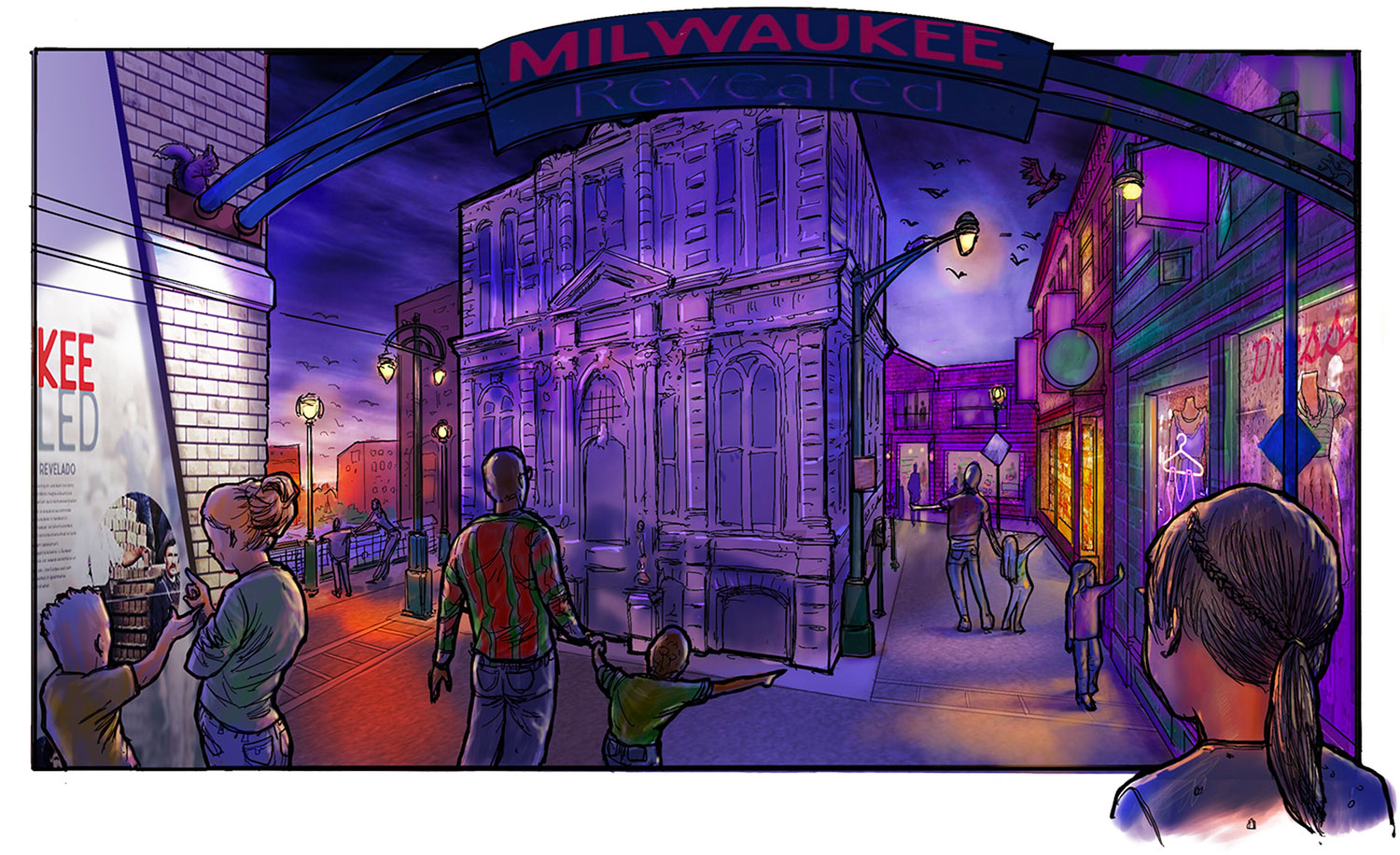 Upon entering the Commercial District of the gallery, visitors will be transported to a bustling, immersive urban environment. A mix of historic and modern city landmarks will reflect a timeless view of Milwaukee.
Mitchell Building
Visitors will first encounter the Mitchell Building, a recognizable, historic building that ties the present to the past. Look long enough and the building's façade will fade away using choreographed lighting effects to reveal the home of city founders Josette and Solomon Juneau, which once occupied the same site.
The Mitchell Building is one of many explorable spaces in Milwaukee Revealed, where visitors will be able to go inside and look at historic artifacts — including a portrait of Josette Juneau currently on display in MPM — and learn the story of the Juneaus' relationship, the Fur Trade, and their role in the founding of the City of Milwaukee as we know it.
Storefronts
Storefronts lining the gallery's streets will give a glimpse into the industries and endeavors that have shaped Milwaukee. Among the shops featured will be a dress shop, where a window display will show a rotating collection of both contemporary and historic textiles from the Museum's vast collections. Inside the shop, visitors will be able to learn about the changing traditions and compositions of clothing from around the world.
Another storefront will feature a modern-day frozen custard shop, revealing stories about the local dairy industry, where the ingredients for Milwaukee's favorite frozen treat come from, and how Milwaukee connects to the rest of the world in perhaps surprising ways.
Further down the street, a flexible storefront will give Museum staff the opportunity to rotate the collections items on display, revealing a different theme and story for visitors on a regular basis.
Adding to the experience will be urban soundscapes, including the rumble of vehicles and birds chirping, and silhouette projections of people moving inside the gallery's shops and houses.
Cream City Medical Society
Milwaukee Revealed will explore how the many ways of understanding care and practicing medicine have supported Milwaukeeans' health and wellbeing through stories about holistic medicine, disease prevention, and public health.
Central to these stories will be that of the Cream City Medical Society, Milwaukee's first organization of African-American physicians. Visitors will be able to walk into a contemporary pharmacy with an old-timey feel and learn about the different healing and medicine traditions held by Milwaukee's diverse communities and the ways in which plants have been utilized for medicinal purposes across cultures. The pharmacy will be constructed from Cream City brick, and exhibits will explore geological and industrial origins of Milwaukee's iconic building material.
Waterfront
A scenic lookout of the Milwaukee River will give visitors the chance to catch a glimpse of what lies beneath its surface. The city's dropping water table will be visible below the river, and the skyline will change along the riverfront, revealing how the ecology and industry of Milwaukee has evolved over time. Lighting will create a dynamic effect similar to the movement of currents and fish, and a soundscape of rippling water will further immerse visitors into the scene.

Schlitz Palm Garden
Behind the doors of a common, everyday shop, discover the golden years of Milwaukee's beer-brewing kings. This area will answer the question "why beer, why here?" Another immersive space that visitors can enter and explore, the Schlitz Palm Garden, inspired by the famous beer hall with the same name that was built in Milwaukee in 1895, will reveal the story of how German and Polish migration and labor, and access to natural resources like water, wheat, and hops, led to Milwaukee's famed beer production.
Lapham House
Wisconsin's first scientist, Increase Lapham, is a key figure in the development of museums as we know them today. Visitors will be invited to enter a study, much like the one Lapham might have had in his own home, and see a precursor to our modern Museum — with collections of plants and geologic specimens displayed on shelves. A reproduction of his desk will contain examples of his scientific writings, journals, maps, and botanical drawings that have been integral to shaping how museums study and share scientific knowledge today. A projection element will enlarge those writings and drawings on the wall so visitors can see in greater detail the breadth of what Lapham created and established. Reproductions of fossils and specimens will also be accessible for visitors to touch and interact with like scientists themselves.
Lakefront
Tying the Commercial District to the Neighborhoods area of the gallery will be an immersive exhibit that explores how Lake Michigan has been integral to serving both the business and residential aspects of Milwaukee.
NEIGHBORHOODS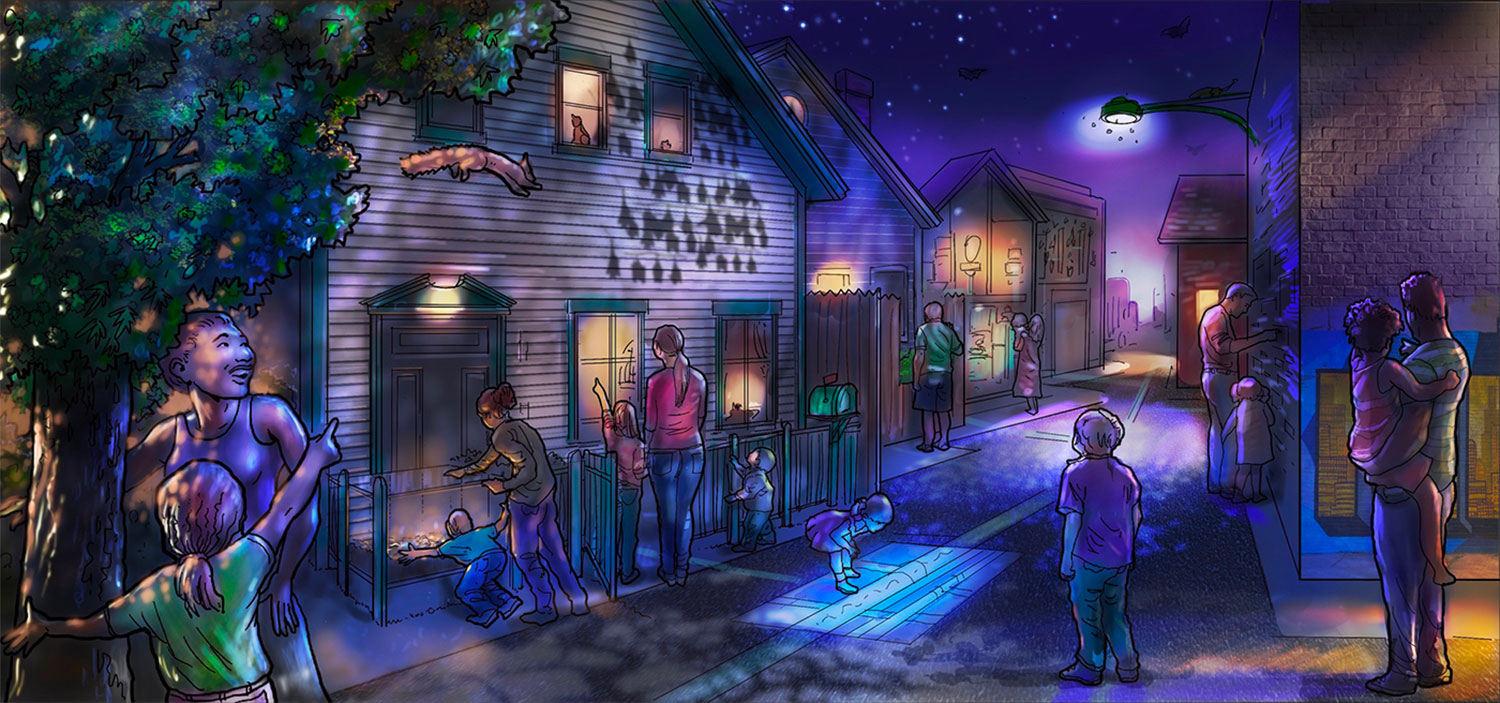 Milwaukee is a network of neighborhoods and neighbors: Plants, animals, and humans intertwine to support one another, often in unexpected ways. The Neighborhoods area will recreate a quintessential Milwaukee neighborhood street, mimicking domestic architecture commonly found in the city while also offering surprising details and the kind of "Easter eggs" Museum fans love to discover.
Community Streetscape
Houses lining the street will explore more than meets the eye. The gallery's streetscape will reveal stories about the hidden systems that make modern living possible, such as the water and sewage systems that underlie all of Milwaukee. In other houses, visitors might glimpse animals like bats and squirrels that coexist with humans in the city and play an important role in our urban ecosystem. In a community garden, visitors will encounter live specimens of familiar garden creatures like spiders, ladybugs, and other urban neighbors who live in and contribute to nature within the city.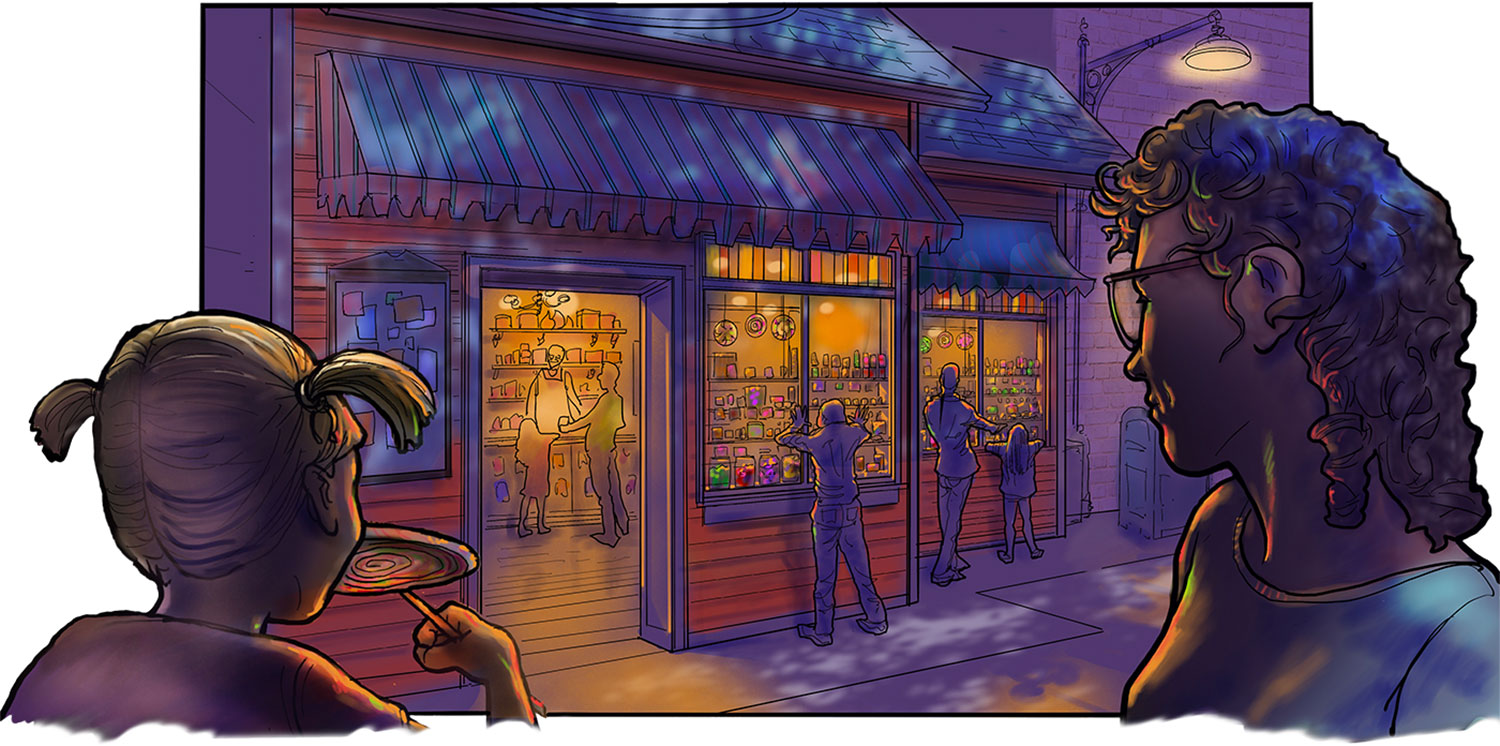 Haymarket Candy Shop
Visitors will find a taste of the familiar: The Haymarket Candy Shop, which is a beloved storefront in the Streets of Old Milwaukee, will be a functioning store in the Future Museum where shoppers can purchase a sweet treat. This Museum tradition also honors the new building's location in the Haymarket neighborhood, and exhibits will explore the Haymarket's history in Milwaukee.
Signature Museum Items
Several signature items on exhibit in Streets, like the penny-farthing bicycle and the one-of-a-kind Schloemer automobile will be on display in this gallery, as well as the giant Japanese censer — or incense burner — which once stood in the real Schlitz Palm Garden and is currently on display in MPM's Sense of Wonder exhibit.
Exclusive articles, podcasts, and more. Support Milwaukee Record on Patreon.
---
RELATED ARTICLES

• Explore the future Milwaukee Public Museum's second gallery, "Wisconsin Journey"
• Here's a glimpse of the future Milwaukee Public Museum's first gallery, "Time Travel"
• Milwaukee Public Museum to share Future Museum gallery concepts, exhibit examples throughout spring
• Milwaukee Public Museum would like to clarify the whole "entire exhibits won't be moving over" thing
• Milwaukee Public Museum says "entire exhibits" like Streets of Old Milwaukee "won't be moving" to new location
• Here's everything in Milwaukee Public Museum's exhibit about its future home
• Milwaukee Public Museum wants YOUR input on new museum exhibits, events, more
• Milwaukee Public Museum would like to address some rumors about new Milwaukee Public Museum
• Check out new, wild renderings of new Milwaukee Public Museum
• Demolition work has begun on the future home of the Milwaukee Public Museum
• "The best job ever": An interview with former Milwaukee Public Museum exhibit designer Emilio Bras
• We only have a few years left to enjoy the Milwaukee Public Museum
• Mandatory Milwaukee: Milwaukee Public Museum is an old-school treasure (for now)
• Milwaukee Public Museum, Betty Brinn Children's Museum may share same (new) building
• Here's what the new Milwaukee Public Museum might look like
• It's time to admit that it's (nearly) the end of the Milwaukee Public Museum as we know it
• Milwaukee Public Museum will move to a new downtown location in the next decade