This week, when Sculpture Milwaukee opens its 2023 season, the outdoor public art exhibition will sprinkle Wisconsin Avenue with its usual mix of whimsical, thoughtful, and bold pieces. Titled Actual Fractals, Act I, the new collection will, in the words of season curator John Riepenhoff, give viewers a chance to "encounter something new, something that changes their day and gives them something unexpected."
One of the most unexpected pieces awaiting viewers is a ghostly white figure perched inside the lobby of the Bradley Symphony Center, 212 W. Wisconsin Ave. The life-sized, mostly featureless, mannequin-like figure is kneeling on a display box in a pose of supplication—or is it pain? Confusion? Something else? Its hands are missing at the wrists. Its head is bowed and its eyes are downturned. It's both haunting and strangely beautiful.
The piece is "Michael In White"—created by Tucson-born, Los Angeles-based artist Nicole Miller—and it is a sculpture based on a plaster body cast of Michael Jackson.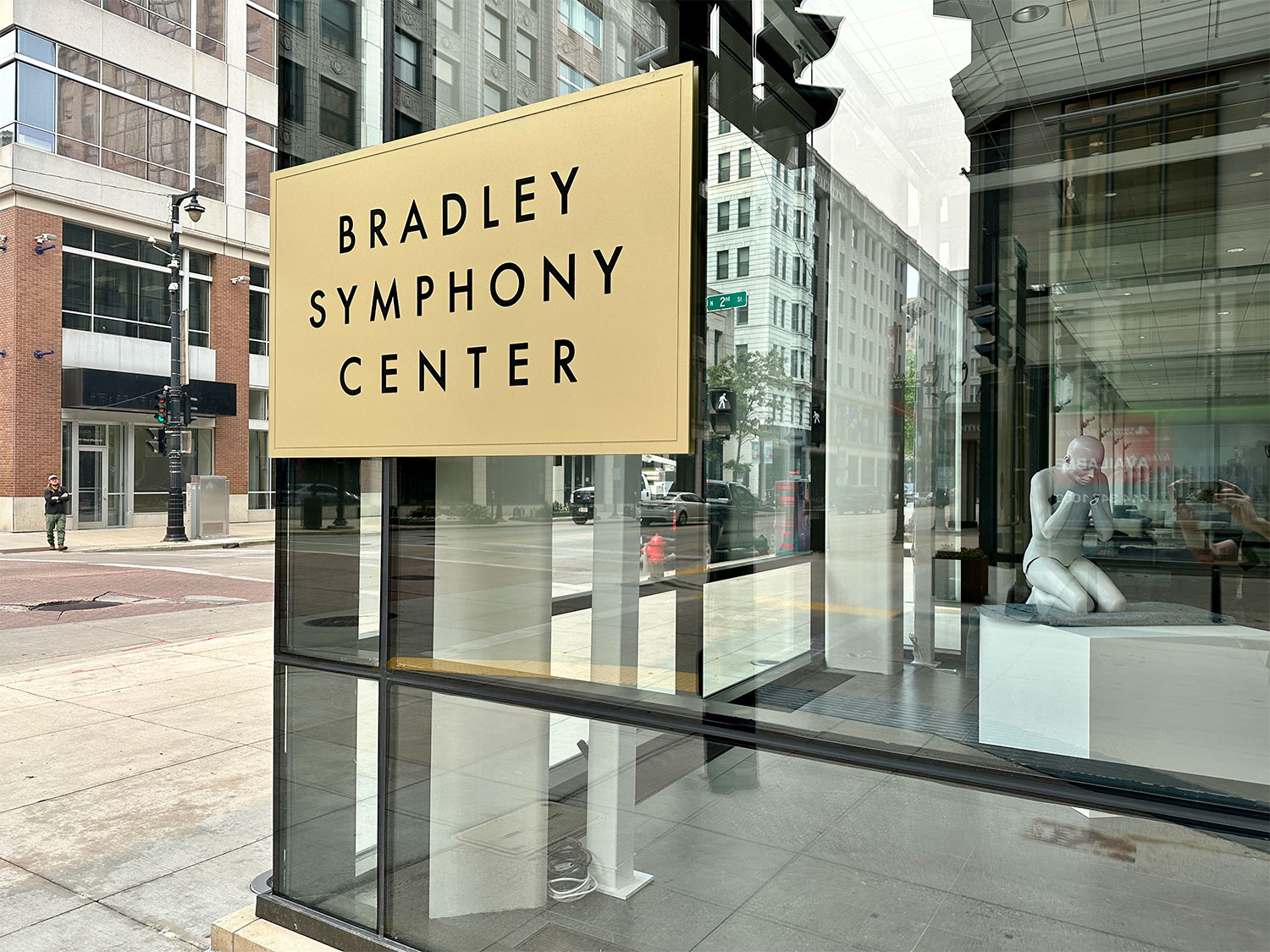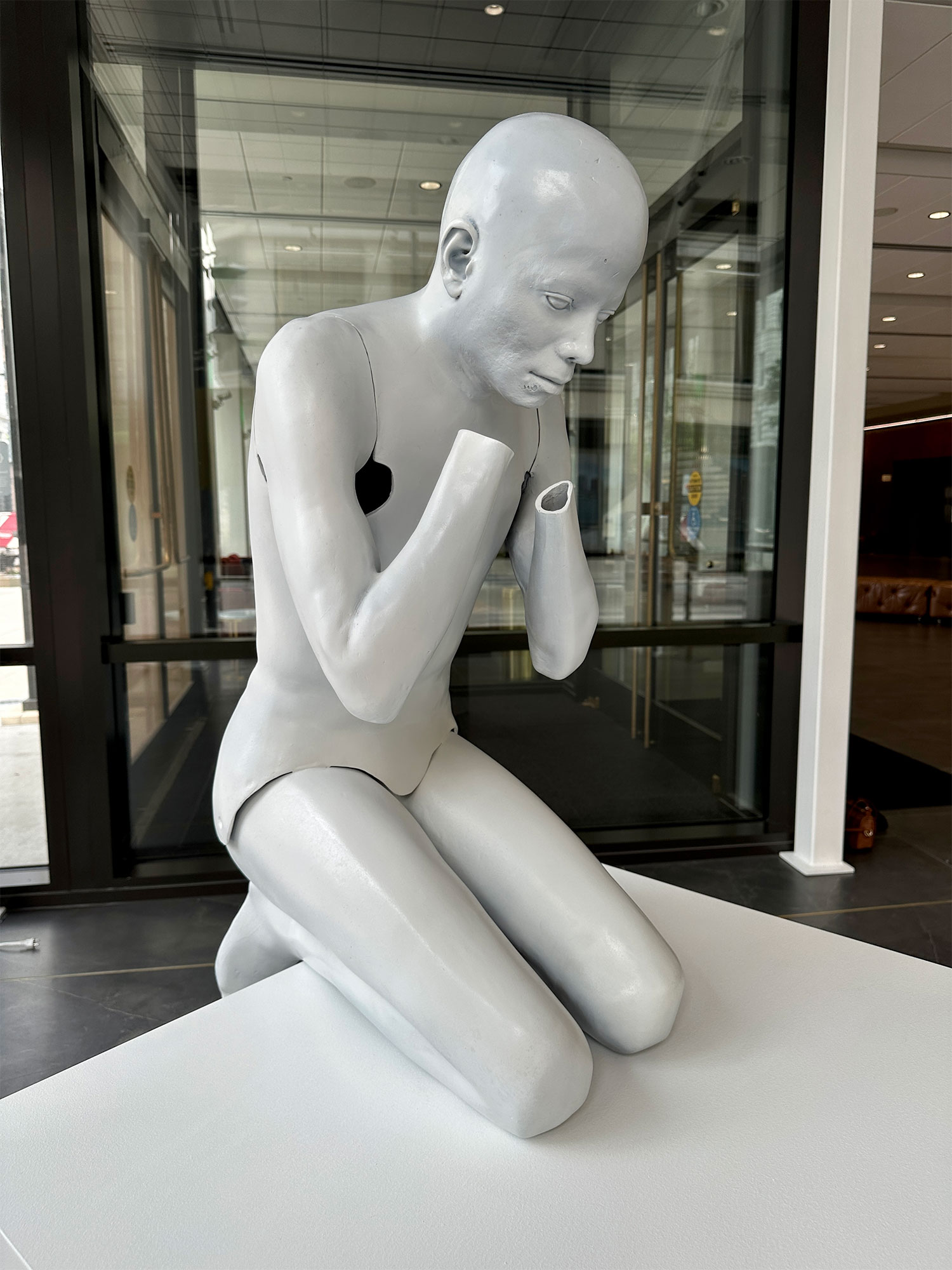 Miller happened upon the original cast—created for Jackson's 1988 film/video Moonwalker—at the estate sale of an L.A. special effects person. Though Miller worked primarily in experimental film and installation, she purchased the cast and used it to create her first sculpture. A matte black piece, "Michael In Black," was created in 2018. The all-white but otherwise identical "Michael In White" followed in 2022.
"I think if you're next to this sculpture it feels that you are next to a kind of ghost, or a dead body that doesn't exist anymore," Miller said in a 2021 interview. "It's even more profound because he's not with us, and also because his history is so complicated and disturbing."
Miller's piece is far from a celebration of Jackson. Instead, it's a meditation on celebrity, commodity, race, and identity.
"I made this sculpture of Michael Jackson's body, which is a kind of body that was changing constantly in real time in front of us in the media," Miller continues in the 2021 interview. "I think this idea of celebrities, sort of turning a human into an image and how we can sort of consume people in that way, or turn them and transform them into something that can be consumable, is very much what the work is about—specifically Black bodies."
Riepenhoff, owner of Milwaukee's long-running Green Gallery and curator of the latest Sculpture Milwaukee season, also sees "Michael In White" as a piece that grapples with identity—including the artist's own.
"For Nicole, this is a very personal piece. It's about investigating her own racial identity through popular culture," he says. "Growing up in the '90s, a lot of people would see themselves in different pop-culture figures. Obviously, Michael Jackson is a weighted figure. For a lot of people he's one of the most beloved musicians of all time, but he also has a complex relationship with his position of power, and abuse of that power. I think this piece focuses on seeing ourselves in these pop-culture figures."
Seen alone as a piece of sculpture, divorced from Jackson's musical legacy and the accusations of sexual abuse leveled against him before and after his 2009 death, "Michael In White" remains a provocative and unsettling work.
"It's an incomplete form," Riepenhoff says. "It's in this gesture, this posture of kneeling. There's this contemplative, almost weeping kind of quality to it. And then with the hands gone it starts to shift. There's an unease to it but there's also a kind of serenity to it. The physical response to the piece compares to the complexity of the issues that it's dealing with, both with race and identity and popular culture and this particular figure."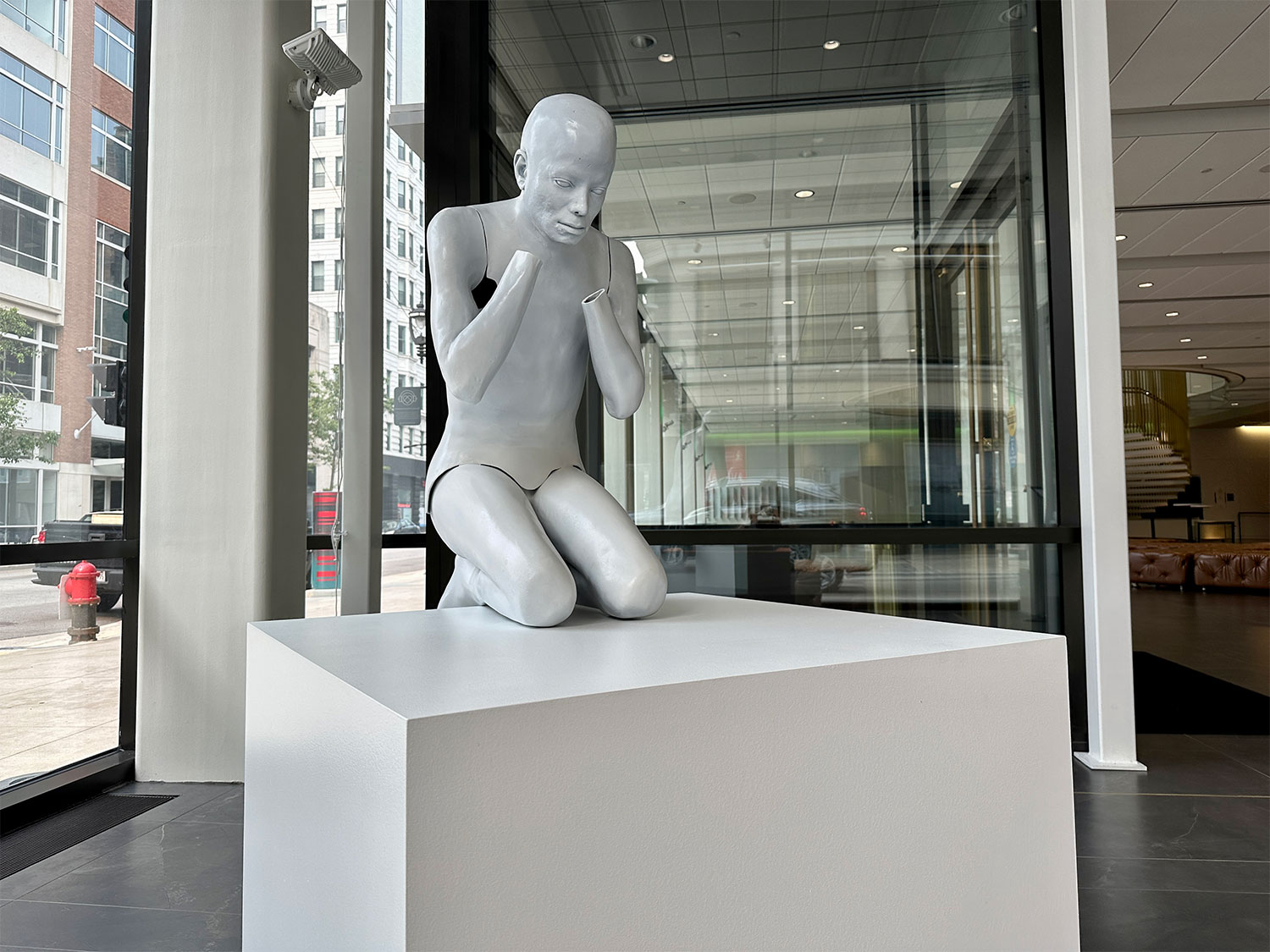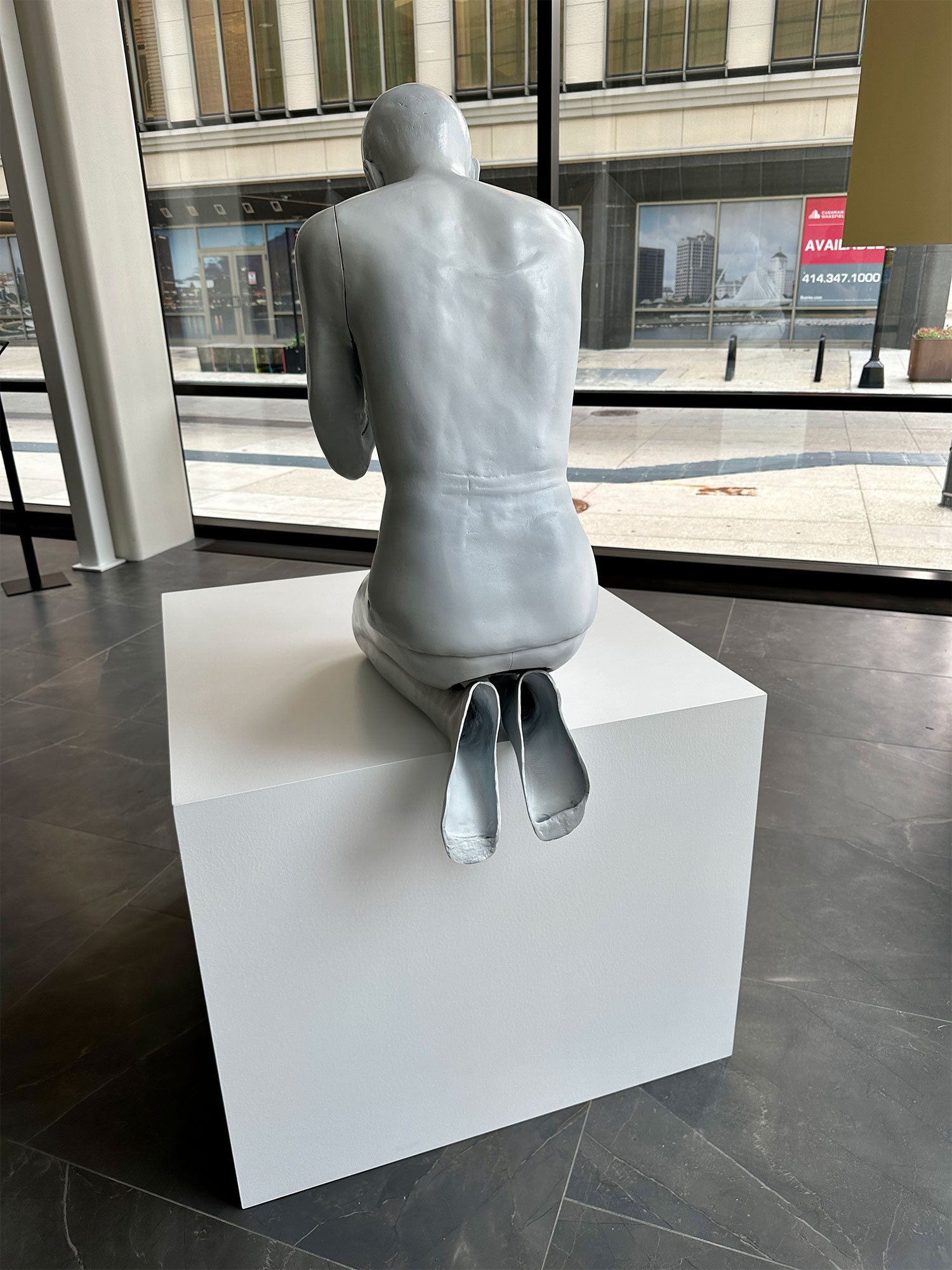 As for how "Michael In White" fits in with the new Sculpture Milwaukee season, Riepenhoff sees it as both complimentary to the 2023 pieces and a natural extension of previous pieces.
"With this round of the Sculpture Milwaukee exhibitions, I started looking into different ways that artists see the world and how they share their different world-views with the public, and how it helps build new kinds of perspective," he says. "The 2021-22 Sculpture Milwaukee exhibition, there is this We, which was Theaster Gates' and Michelle Grabner's exhibition, really dealt with race and identity in America in a very overt way. In some ways, I think this is in conversation with some of those works.

"This piece is not a celebration of a pop star. It's an investigation into how people construct their narratives of self through popular cultural figures," Riepenhoff continues. "I think you can physically feel the gravity and the seriousness and intensity of the work just by being around it. I hope that it honors the complexity of our reality and our time in a way that invites conversation and reflection."
Sculpture Milwaukee's latest season, Actual Fractals, Act I, opens June 30 and will be on view through October 2024.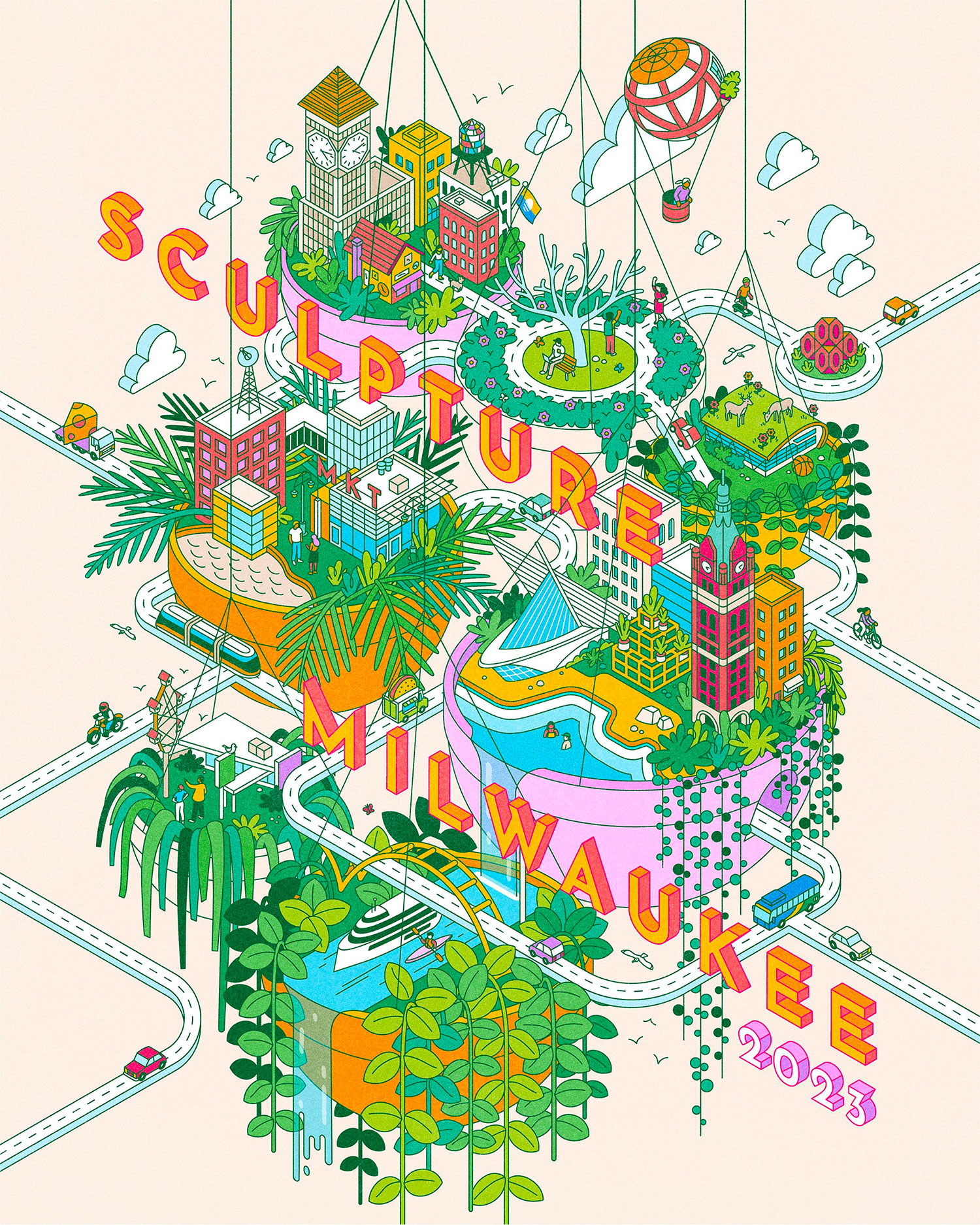 Exclusive articles, podcasts, and more. Support Milwaukee Record on Patreon.
---
RELATED ARTICLES
• Happy Sculpture Milwaukee Celebration Week, Milwaukee!
• Sculpture Milwaukee's 2023-24 season will begin June 30. Here are the exhibiting artists.
• John Riepenhoff named Sculpture Milwaukee's 2023 curator
• Sculpture Milwaukee 2022, "Nature Doesn't Know About Us," will be guest-curated by Ugo Rondinone
• All 14 Sculpture Milwaukee 2021 sculptures, ranked
• All 19 Sculpture Milwaukee 2020 sculptures, ranked
• All 22 Sculpture Milwaukee 2019 sculptures, ranked
• All 21 Sculpture Milwaukee 2018 sculptures, ranked