Take a stroll down Wisconsin Avenue this summer and you'll see something new. No, not new high rises, apartment buildings, and hotels (though there are plenty of those, too), but a bunch of new pieces of public art. Yes, today marks the launch of Sculpture Milwaukee, an "outdoor art gallery" stocked with 22 sculptures from artists around the world. Funded by Steve Marcus and curated by Russell Bowman, the "urban exhibition" promises to put Downtown Milwaukee in the same public art league as Paris, New York, and Chicago. At the very least, Wisconsin Avenue has never looked this good.
So what better way to celebrate downtown's new additions than by arbitrarily ranking them? Art may be in the eye of the beholder, but public art is something to be endlessly debated and argued about. (Sculpture Milwaukee runs from June 1 to October 22.)
22. Lynda Benglis, Pink Lady (For Asha), 312. E. Wisconsin Avenue
The installation of this piece has been postponed due to "unforeseen circumstances." So while it may not actually be #22 when it finally arrives, it's #22 for now. Sorry!
21. Jessica Stockholder, Angled Tangle, 4th Street and Wisconsin Avenue (southwest corner)
A unfinished-looking mess of poles, wires, and lanterns. Plus, the colors are straight out of that "People's Flag of Milwaukee." "Tangled" is right.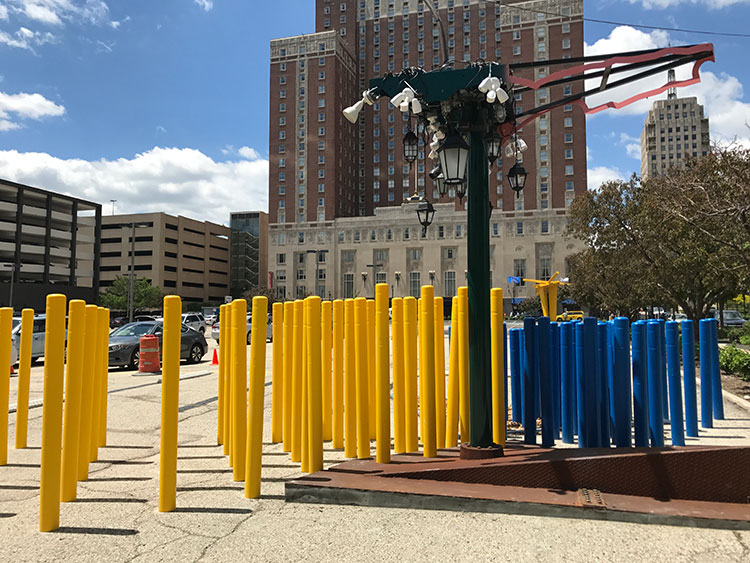 20. Donald Baechler, Plant, 116 W. Wisconsin Avenue (planter)
It's a plant! In a planter!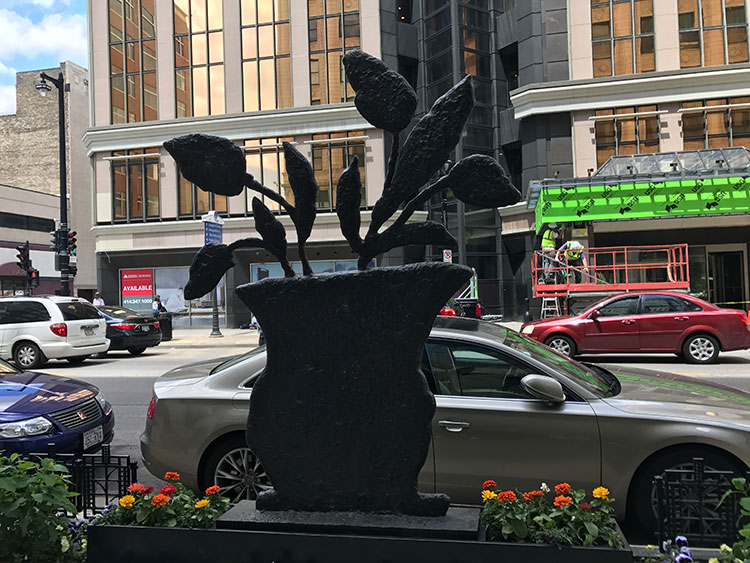 19. Will Ryman, Rose #2 (Icon Red), 777 E. Wisconsin Avenue (west side of building)
It's a bunch of roses! Red roses!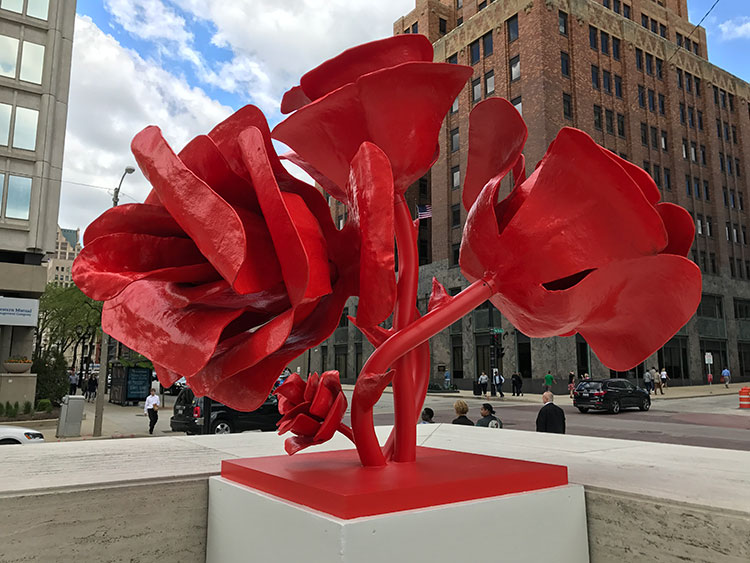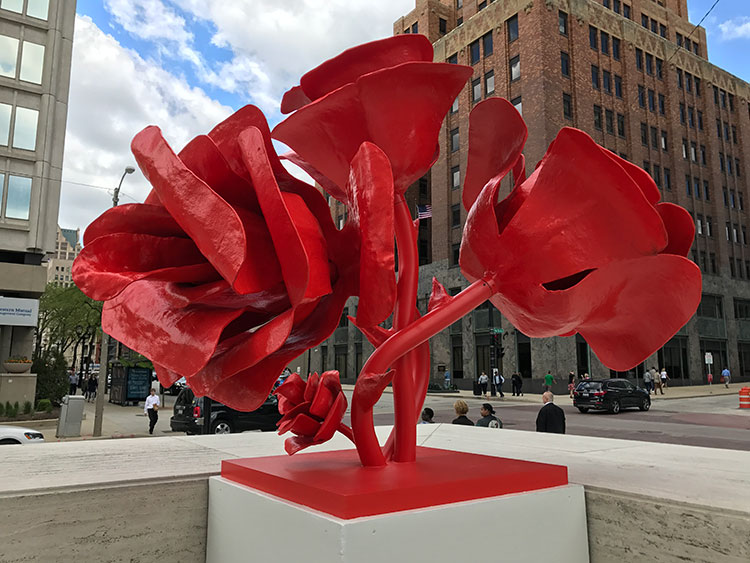 18. John Henry, Zach's Tower, 5th Street and Wisconsin Avenue (southeast corner)
A three-dimensional representation of all the canted angles and towering insanity found in your average post-industrial city. Also: remember when they tried to put that lame #Spot4MKE thing here?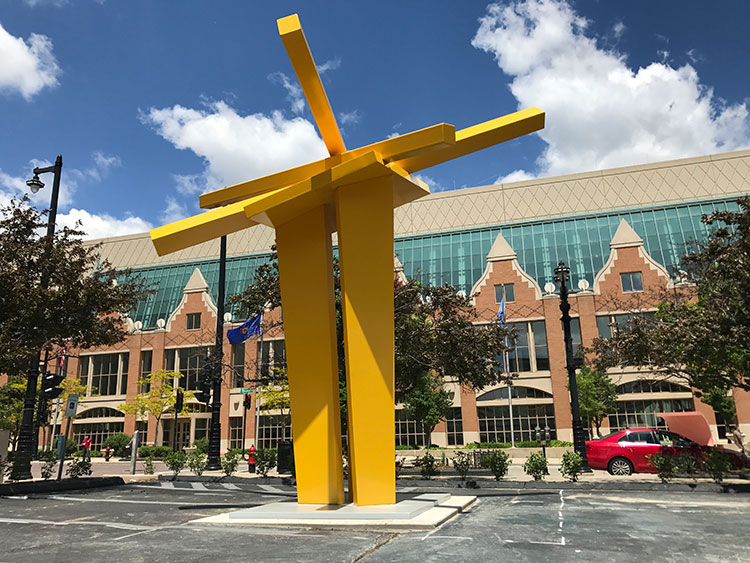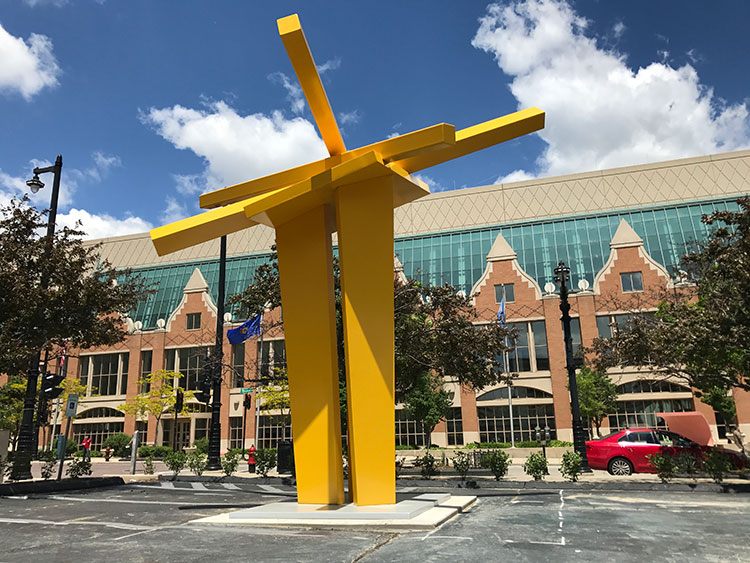 17. Joel Shapiro, Untitled, 111 E. Wisconsin Avenue (west side of building)
A marquee location (next to the Chase Tower) gets a piece that's just…nice. Happily, the other side of Chase fares better…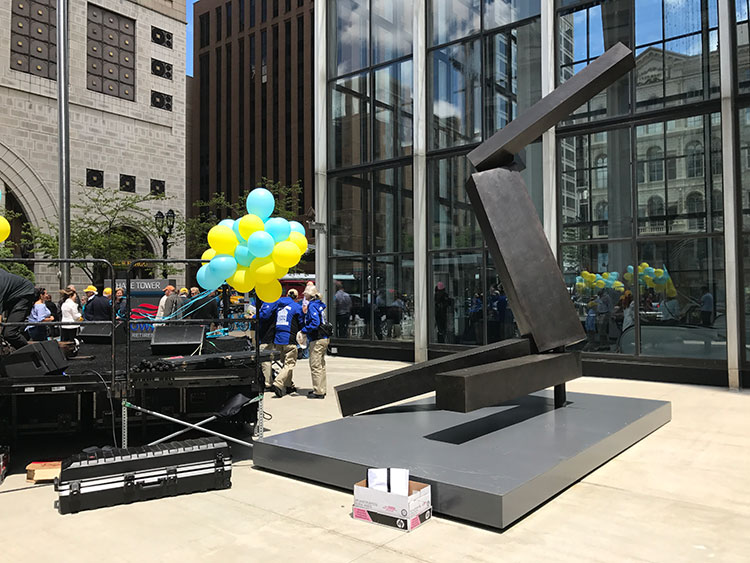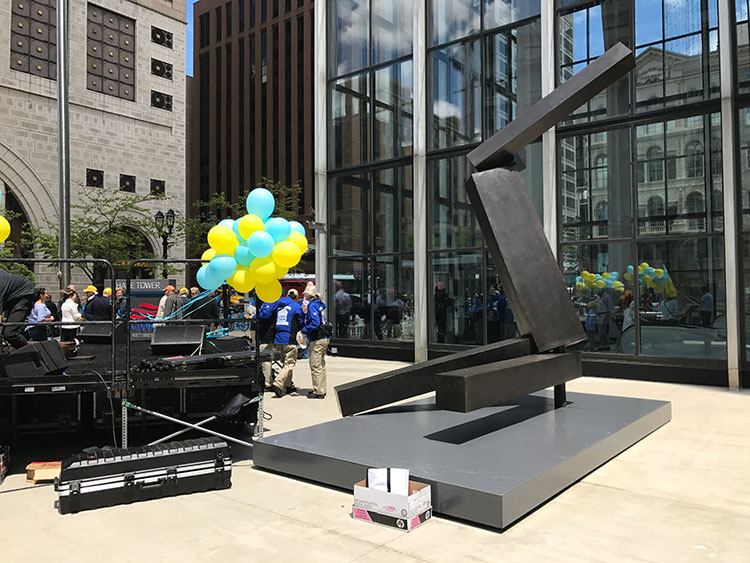 16. Chakaia Booker, Holla, 333 E. Wisconsin Avenue
A weird mass of rubber tires and stainless steel. Vaguely terrifying, like those monster suits in The Village.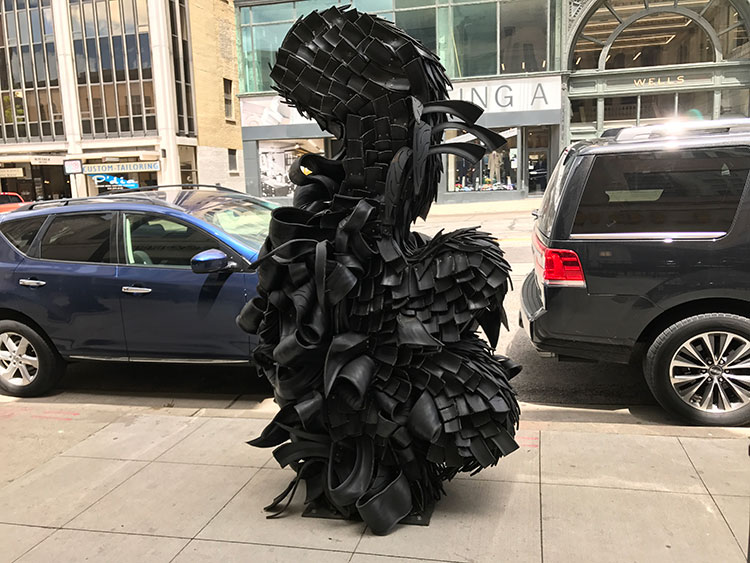 15. Tony Tasset, Mood Sculpture, 411 E. Wisconsin Avenue
One person's pile of emojis is another person's string of, ahem, beads.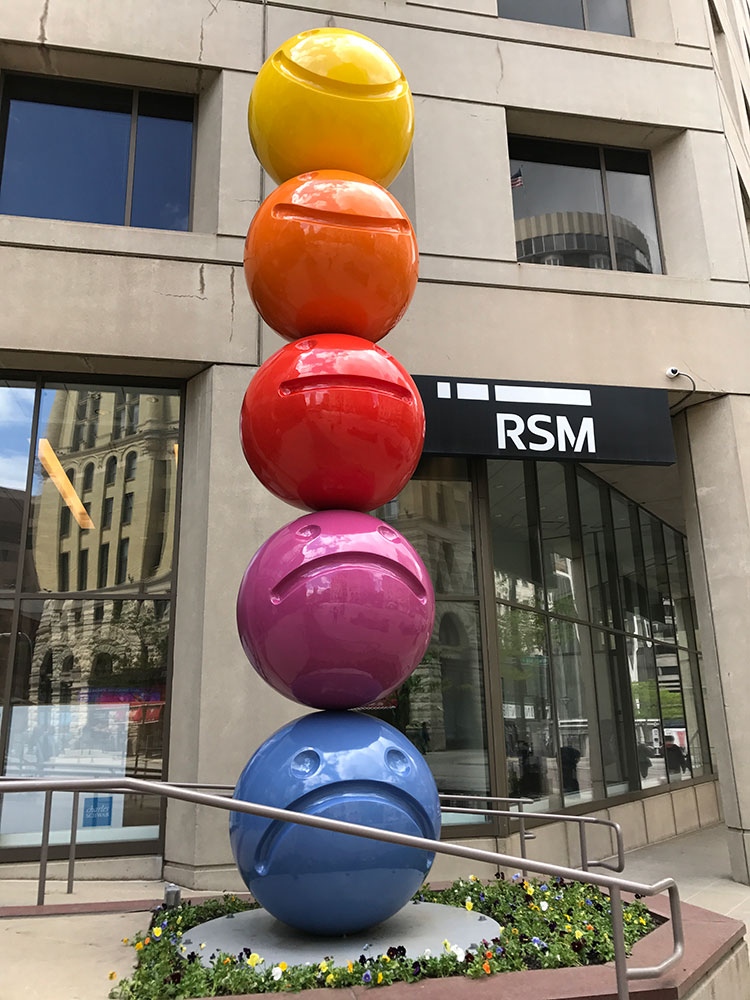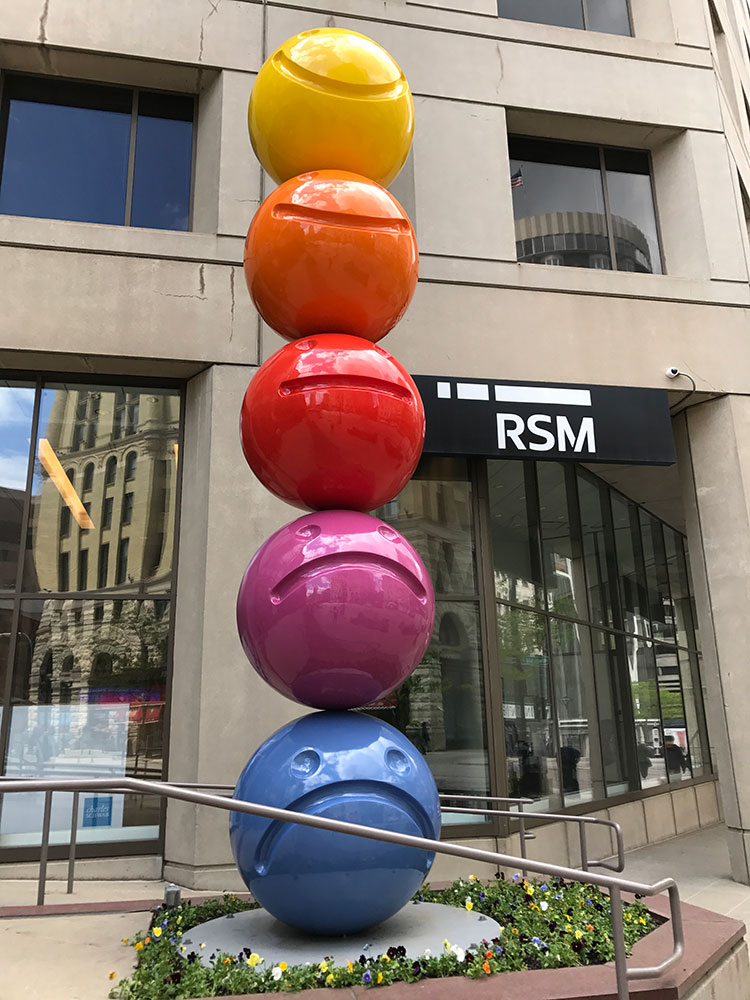 14. Manolo Valdés, Reina Mariana, 875 E. Wisconsin Avenue
The costumed human form writ large. Based on a portrait of the second wife of Felipe IV.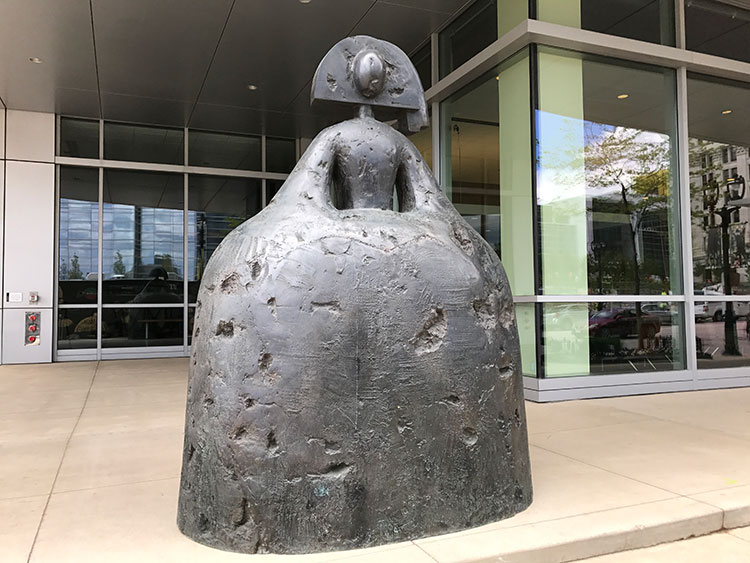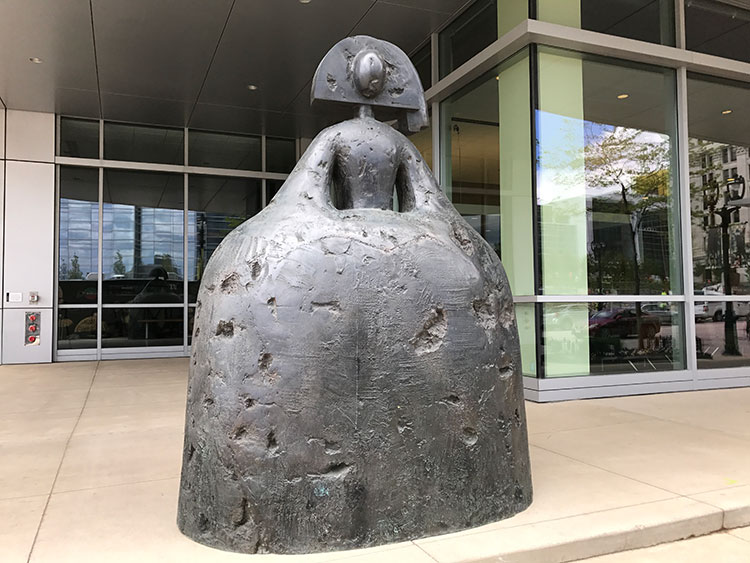 13. Jim Dine, The Heart Called After The Flood, 777 E. Wisconsin Avenue (planter)
Fun, bright, playful, and owner of the best title of the bunch.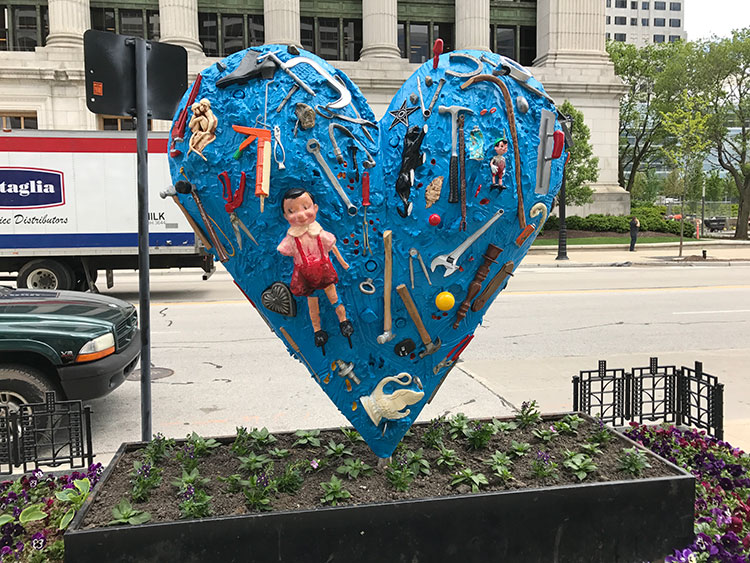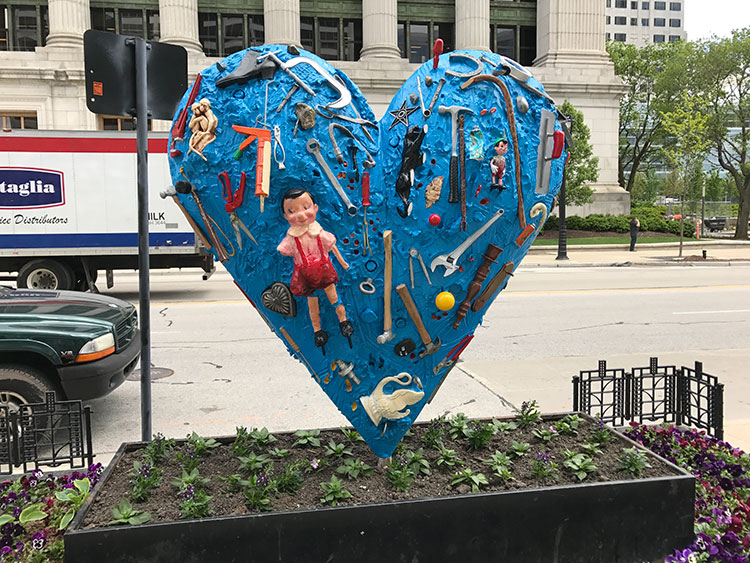 12. Michelle Grabner, Untitled, 301 E. Wisconsin Avenue (planter)
Subtle yet powerful. Getting a real chainmail vibe from this one.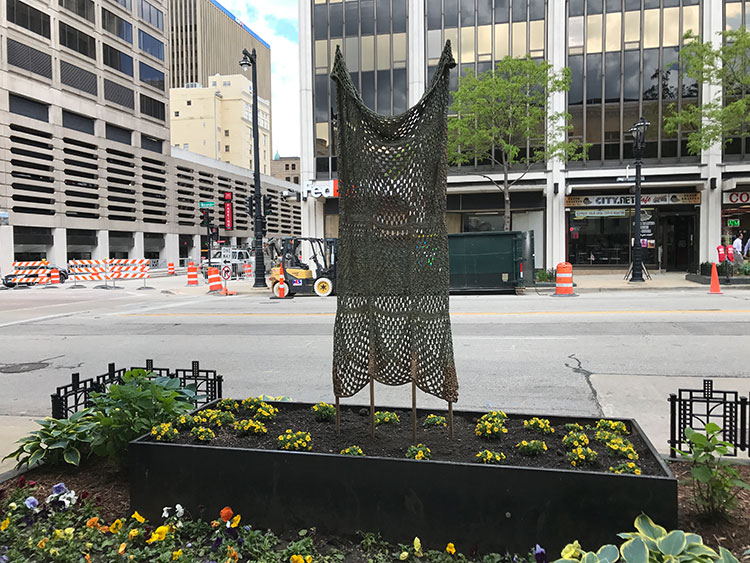 11. Deborah Butterfield, Big Piney, 500 E. Wisconsin Avenue
Is it a horse made out of wood? Nope, it's a horse made out of bronze. Perfect for those who dig the aesthetic of those Body World exhibits.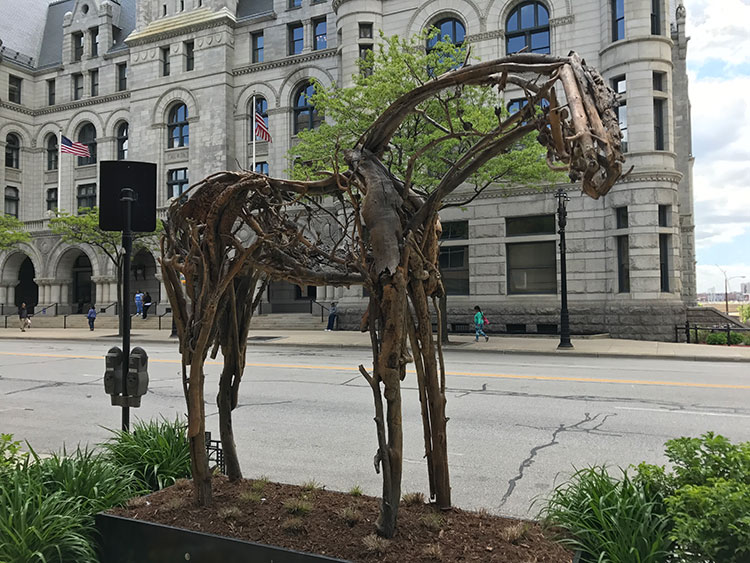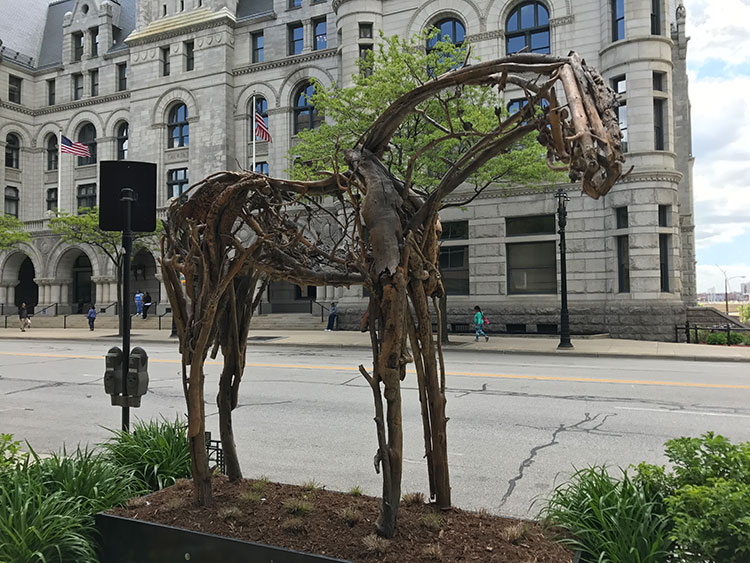 10. Alison Saar, Summer, 400 W. Wisconsin Avenue
Woman. Womb. Motherhood. Life.
9. Tony Cragg, Mixed Feelings, 517 E. Wisconsin Avenue
One of the bigger sculptures on display brings to mind a pulsating, intertwining mass of…something.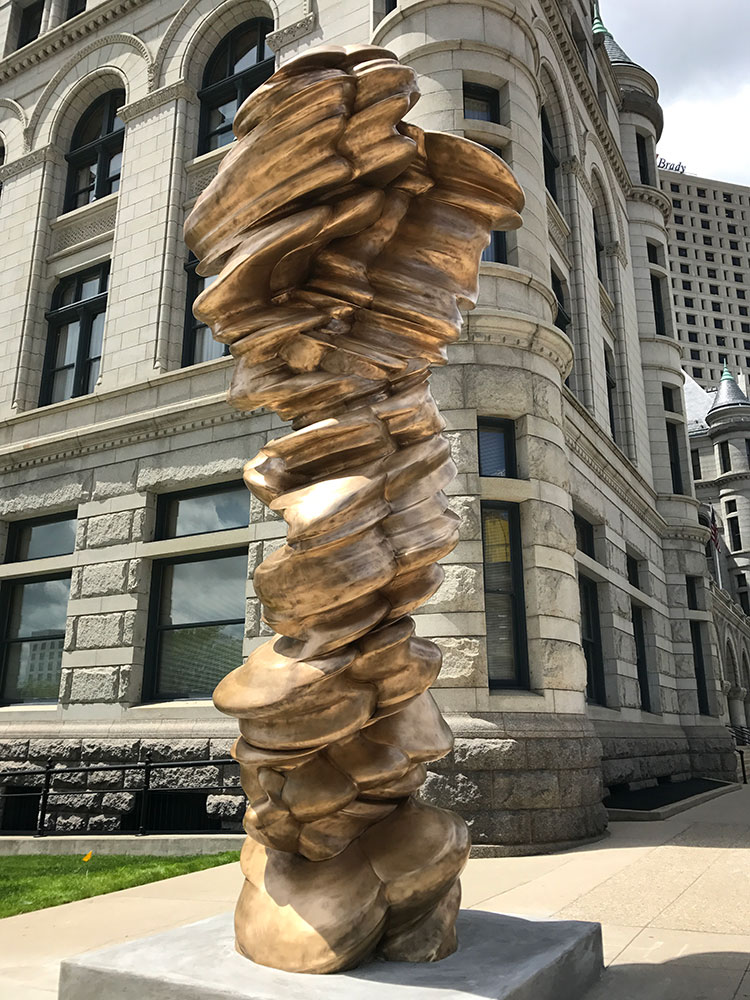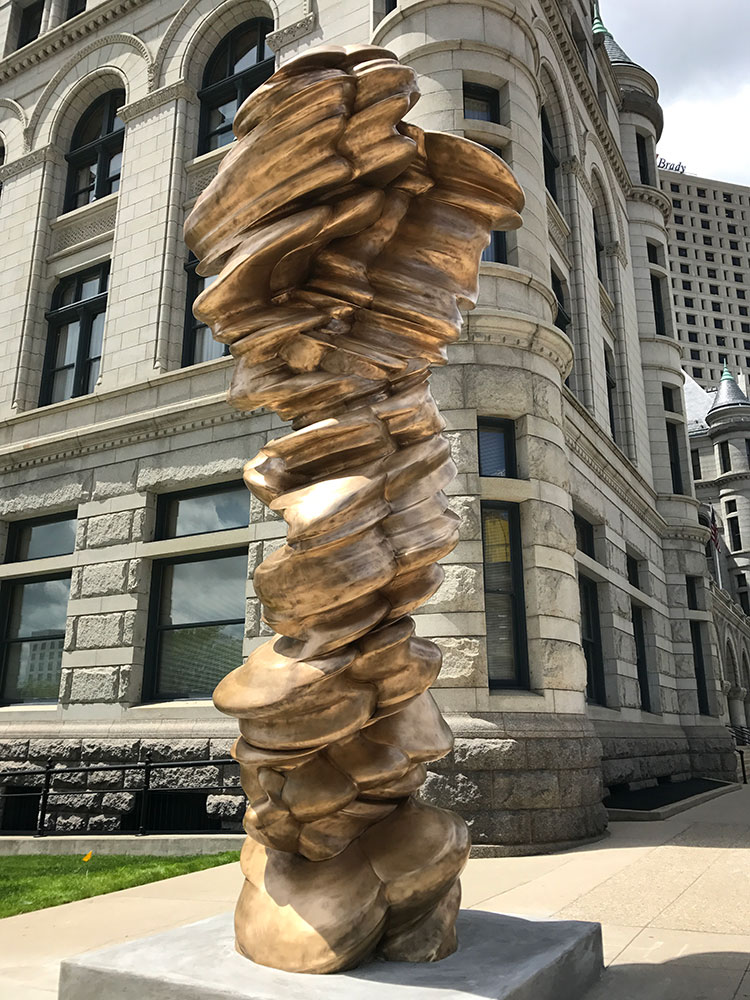 8. Sol LeWitt, Tower (Gubbio), 310 W. Wisconsin Avenue
The more you look at it the funnier it gets. It's either a comment on the prefab nature of modern architecture or an ode to Super Mario Bros.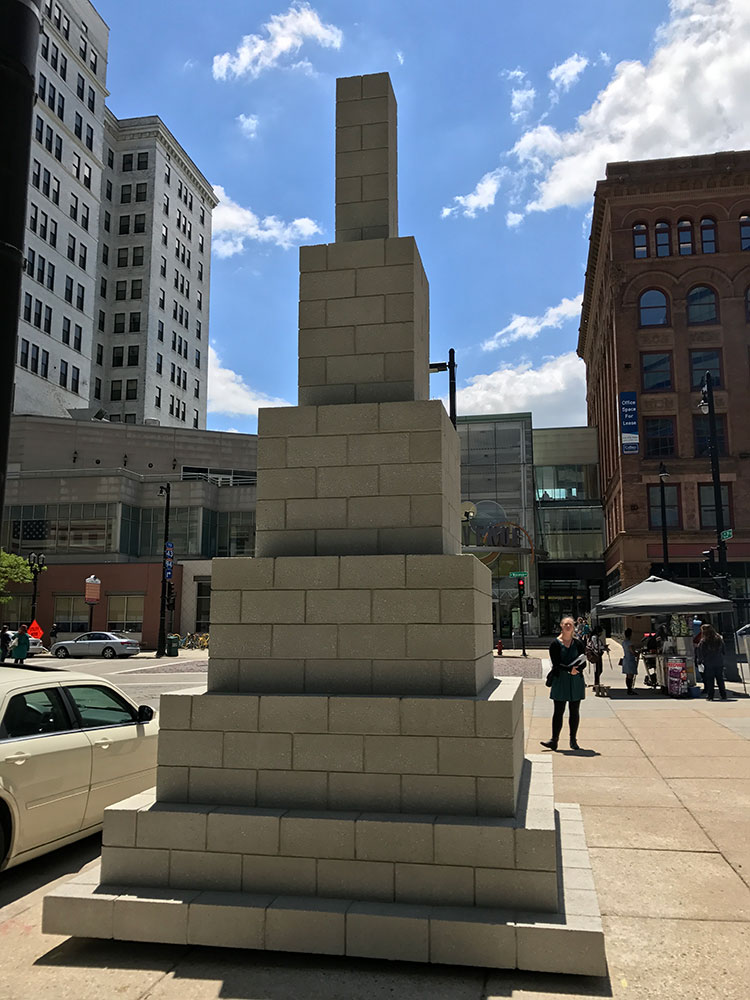 7. Jason S. Yi, Legend Of The White Snake, 580 W. Wisconsin Avenue
Likely not a tribute to Whitesnake the band or Snake the game (you know, the one that used to come on old flip phones), but awesome anyway.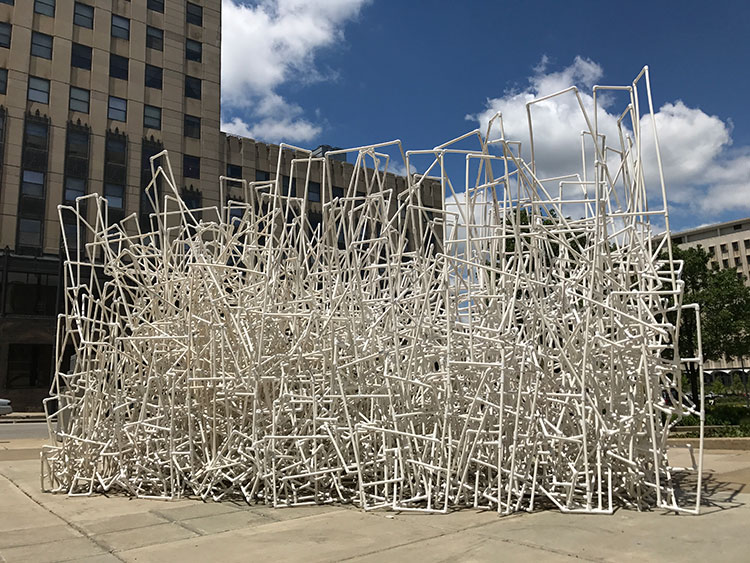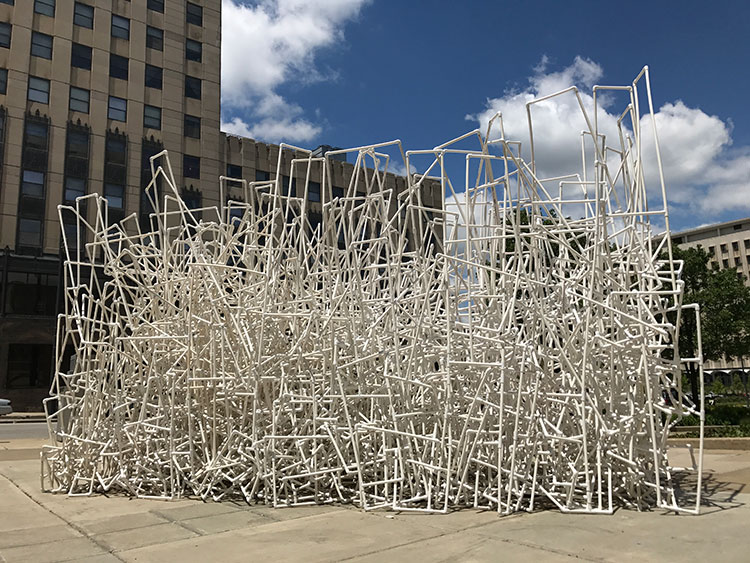 6. Tony Tasset, Arrow Sculpture, 176 W. Wisconsin Avenue
Reddit upvotes and downvotes in the real world. And big. We're doomed.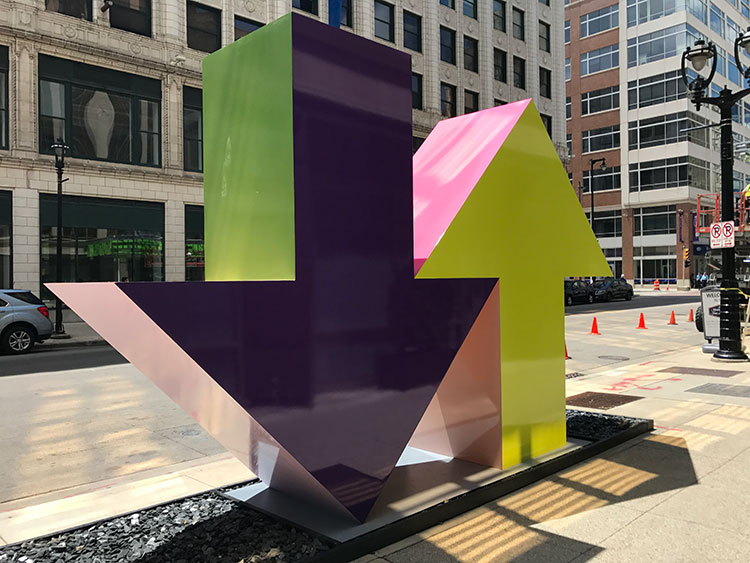 5. Saint Clair Cemin, Vortex, 4th Street and Wisconsin Avenue (northwest corner)
A prime location in front of the Wisconsin Center, a towering, eye-catching work of art that could put your eye out.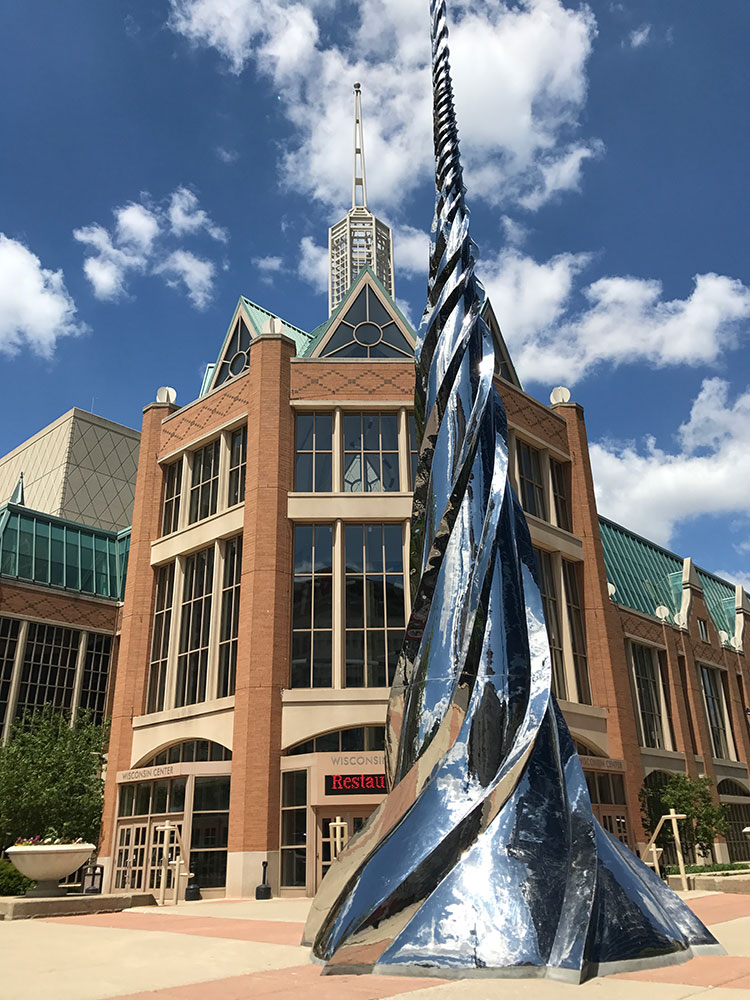 4. Dennis Oppenheim, Safety Cones, 648 N. Plankinton Avenue (RiverWalk Plaza)
Big-ass safety cones looming over Wisconsin Avenue and the Milwaukee River. Are they beacons of hope or monstrous warnings?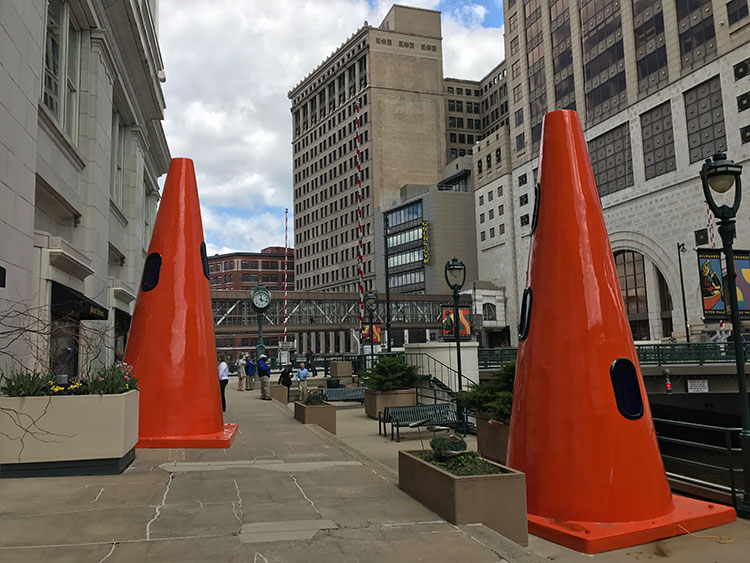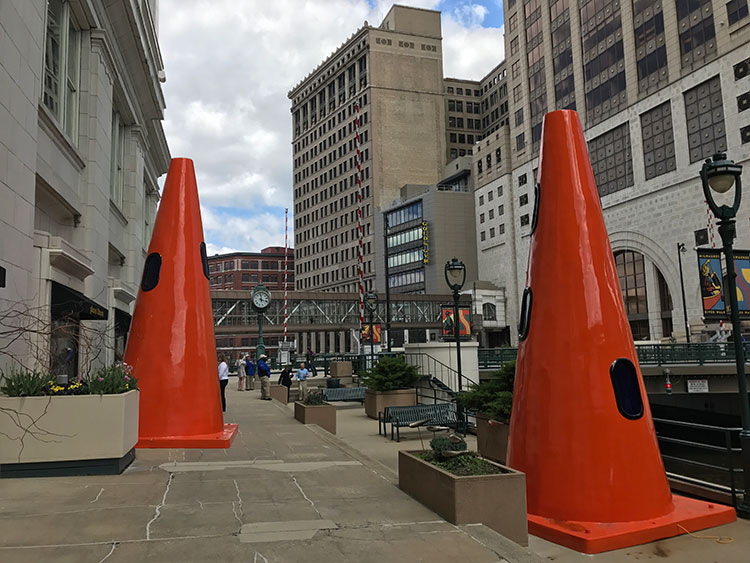 3. Paul Druecke, Shoreline Repast, O'Donnell Park
You may know Milwaukee artist Paul Druecke from his recent MAM show. You may also know Paul Druecke from his faux historical markers filled with cracked poetry and surreal flights of fancy. The double-sided Shoreline Repast is one of those markers, hilarious and silly one minute, poignant and human the next.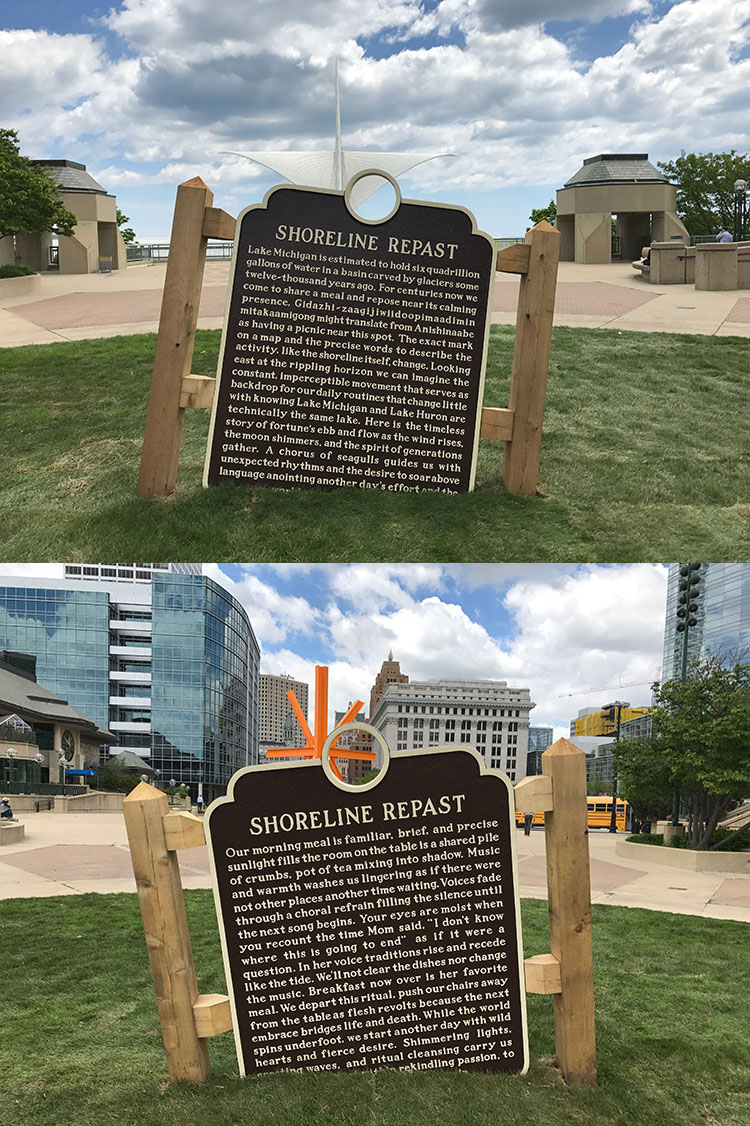 2. Tom Otterness, Immigrant Family, 875 E. Wisconsin Avenue (west of building)
A timely piece that needs little explanation. The fact that the figures look like Weebles (or Marvin the Paranoid Android in that Hitchhiker's Guide To The Galaxy movie) is a delightful bonus.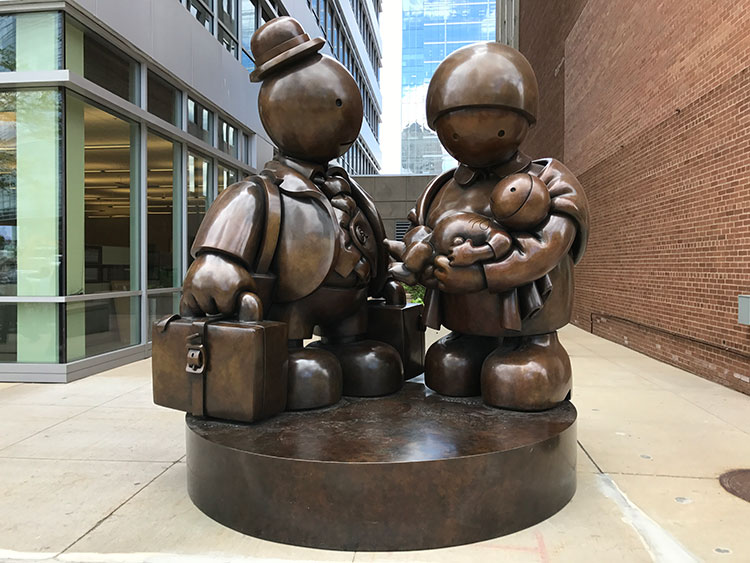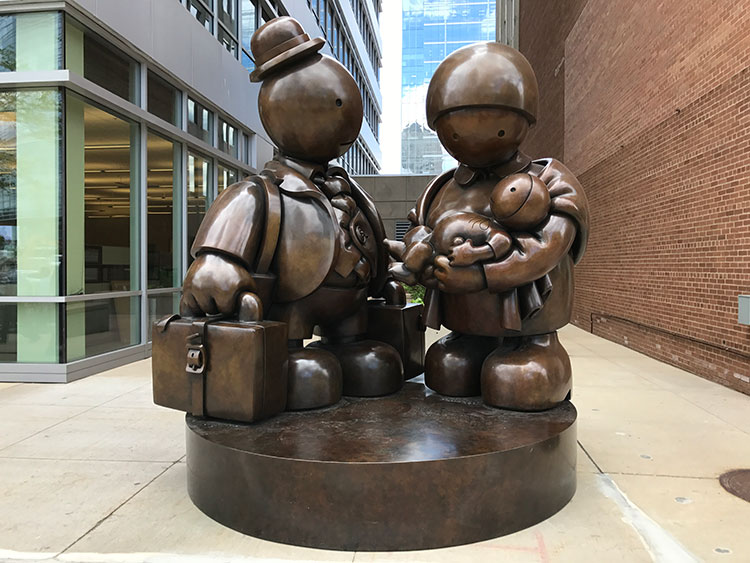 1. Santiago Calatrava, S2, 111 E. Wisconsin Avenue (east side of building)
Is it too easy to put Sculpture Milwaukee's "star attraction" at #1? Maybe, but this Calatrava piece is classy, alive, and a fine addition to that MAM thing he did a few years back. Like we said before, Wisconsin Avenue has never looked this good.