Sculpture Milwaukee has been making downtown a more interesting place since 2017. Every year, a new crop of installation art pieces from nationally renowned and locally beloved artists pops up on and around Wisconsin Avenue. And every year, we're there to bestow these impressive works of pure and unfettered creation with arbitrary rankings and pithy write-ups that usually contain references to Three's Company or something. It's the least we can do.
And so, finally, in October (better late than never!), we're back to rank the good, the even better, and the pickup trucks filled with water and lily pads. Enjoy! (A reminder that the following 14 pieces are new for 2021; holdovers from previous years—including the soon-to-depart Blob Monster—aren't included.)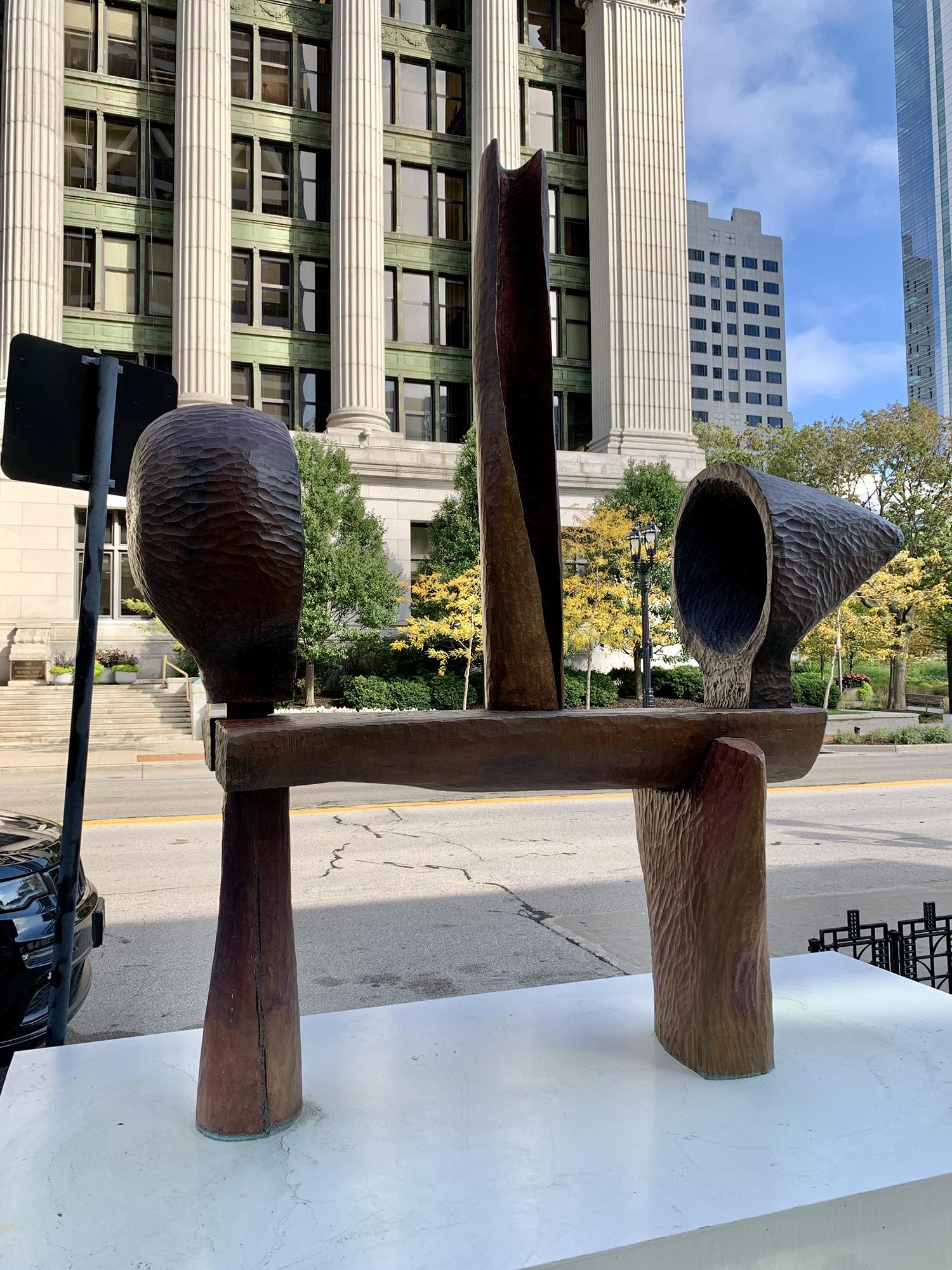 Thaddeus Mosley
US Bank Building flowerbed, 777 E. Wisconsin Ave.
Pittsburgh-based artist Thaddeus Mosley typically works in felled trees, reclaimed wood, and random building materials. Geometric Plateau, however, represents the artist's first foray into bronze. But hey! There's still a wooden texture imprinted on Mosley's piece (a neat trick, that), and the whole thing gives off a vague "cup and balls magic trick crossed with a cinnamon stick" vibe. Pass the Old Fashioned.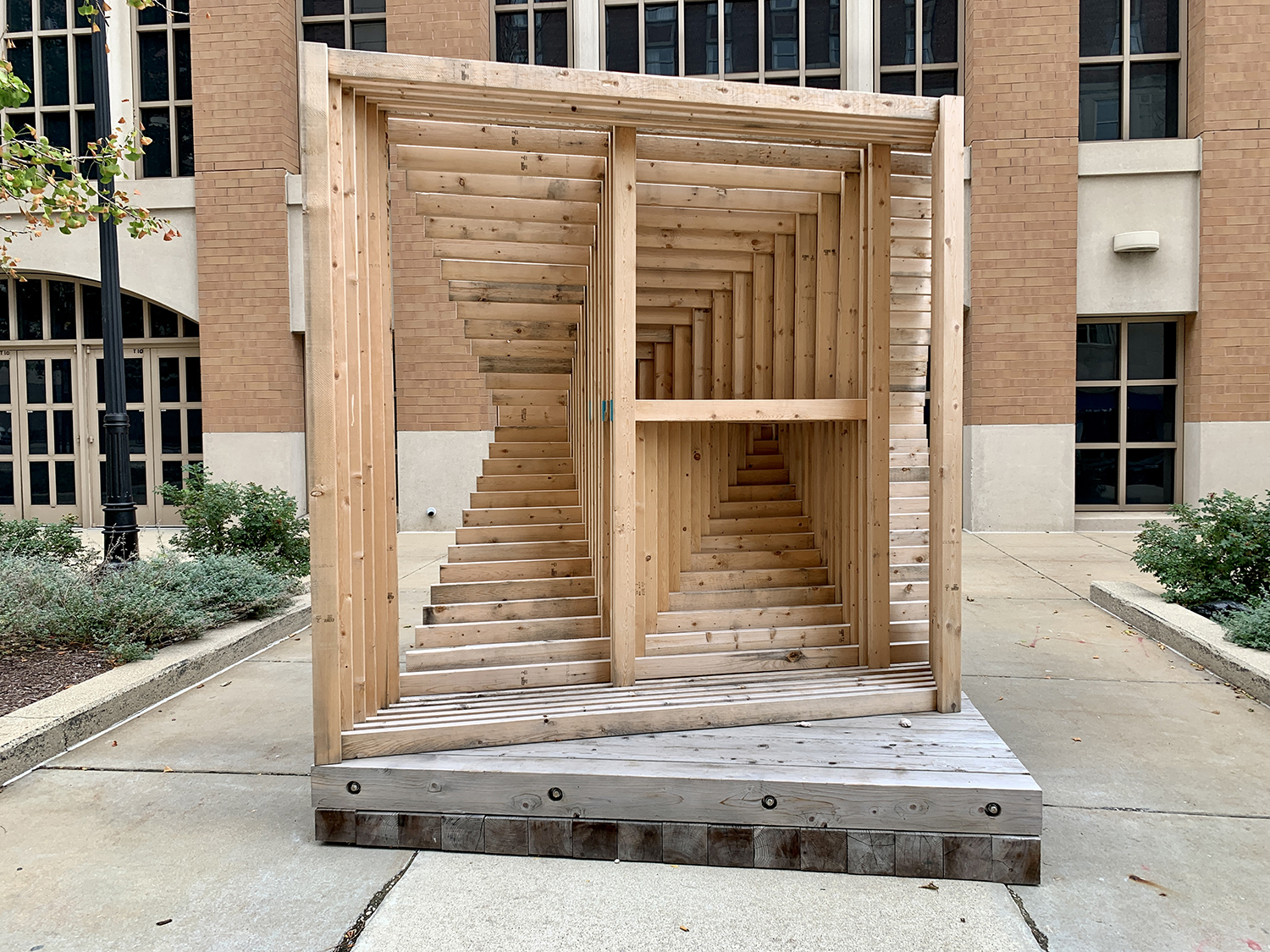 Matthias Neumann
Outside the Wisconsin Center, 400 W. Wisconsin Ave.
Give artist Matthias Neumann plenty of time and oodles of 2×4's, and you'll get this wonder of puzzling perspectives and various vanishing points. Actually, you'll get a bunch of them; 50 similar creations are currently dotting the North American landscape. The Wisconsin Center is prepping for a big renovation and expansion, so expect plenty more 2×4's showing up in the area soon.
Kevin Beasley
Marquette University, outside Eckstein Hall, 1234 W. Tory Hill St.
We're not going to say this three-part piece from Kevin Beasley loses points for being squirreled away in the campus of Marquette University (remember, these rankings are absolutely meaningless), but yeah, it's squirreled away in the campus of Marquette University. It's kind of hard to find! Still, once you do find it, you'll enjoy Beasley's textured take on those "acoustic mirrors" you sometimes find at science museums, adorned in the colors of the African American Flag.
11. OY/YO – 2020
Deborah Kass
Northern Trust flowerbed, 526 E. Wisconsin Ave.
If you look at this pop-art creation from Deborah Kass from one side, it says "OY." If you look at it from the other side, it says "YO." It's funny. What else can you say?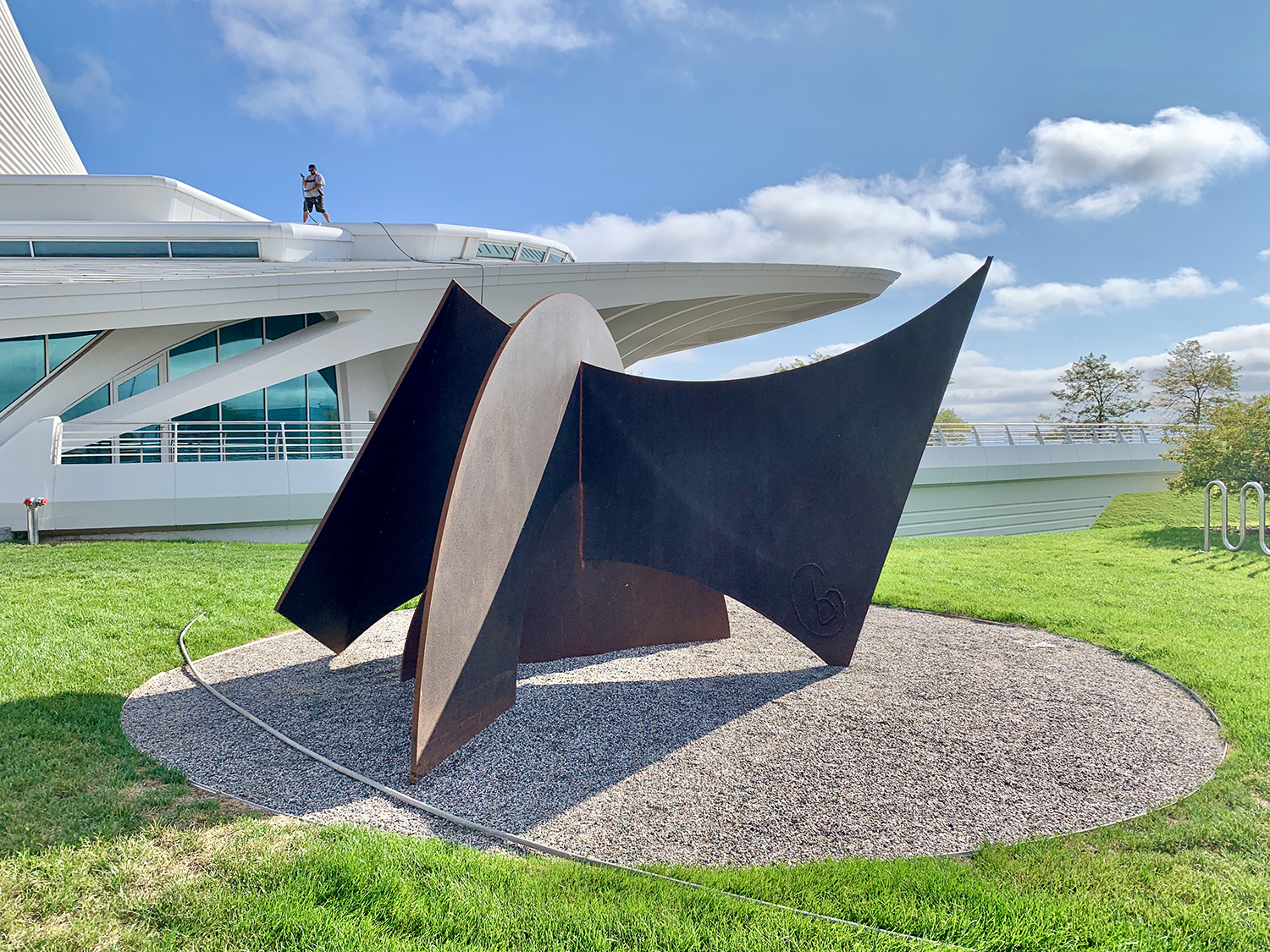 Betty Gold
Entrance to Milwaukee Art Museum
[Seinfeld voice] What's the deal with putting stuff next to or in front of the iconic, beautiful-on-its-own Milwaukee Art Museum? Isn't that orange asterisk thing enough? (Yes, we know it was there long before the Calatrava addition; humor us.) Anyway, this classic Betty Gold piece may seem randomly placed, but if you hunker down you'll find that it provides a nice compliment to the curves and edges of the MAM building. Hi, guy on the roof!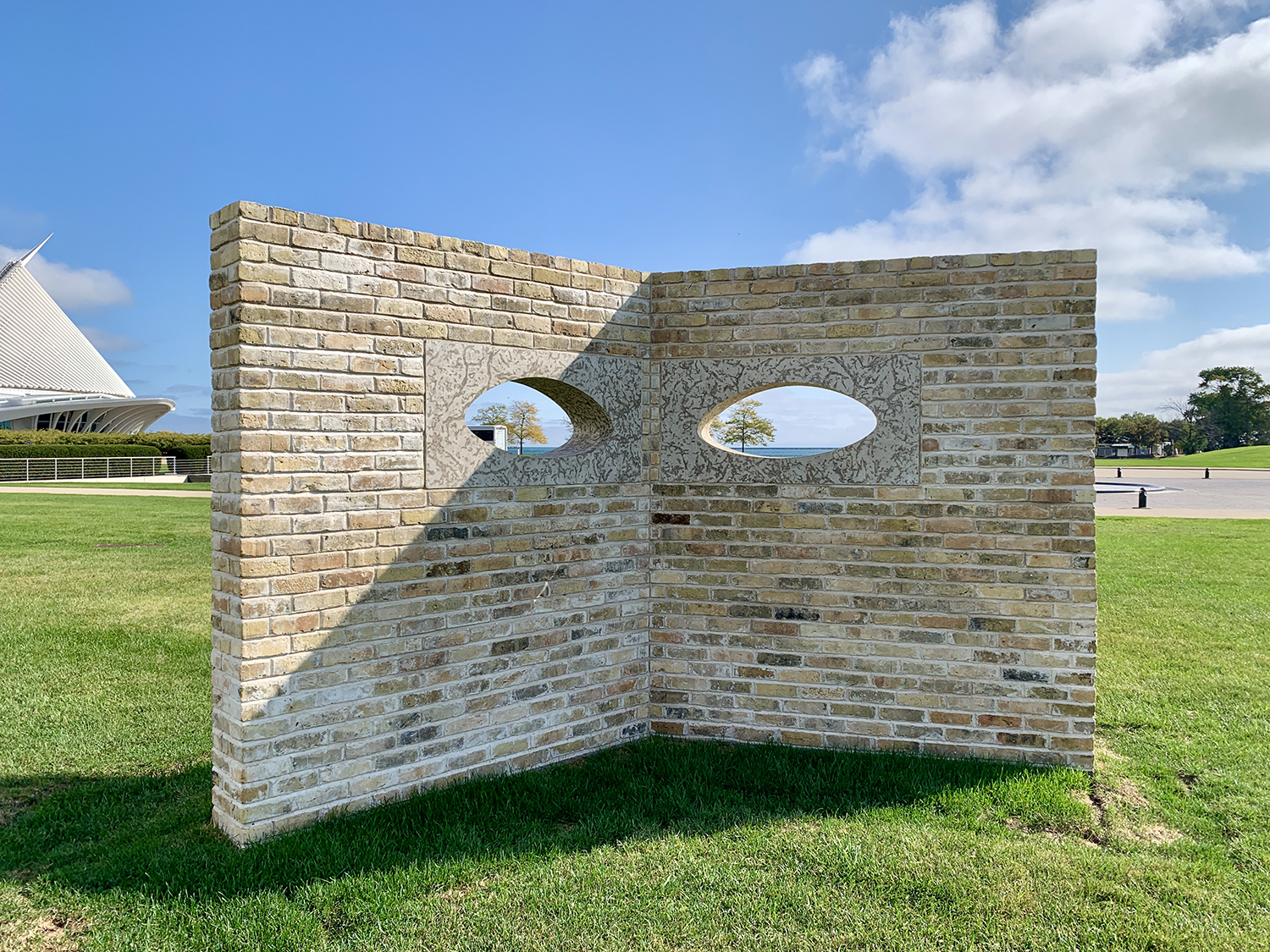 Kara Hamilton
Southwest lawn of Milwaukee Art Museum
See above. Curtain Wall edges out Monumental Holistic III, however, because it's totally in the middle of nowhere on the lawn outside of MAM, and thus kind of funny.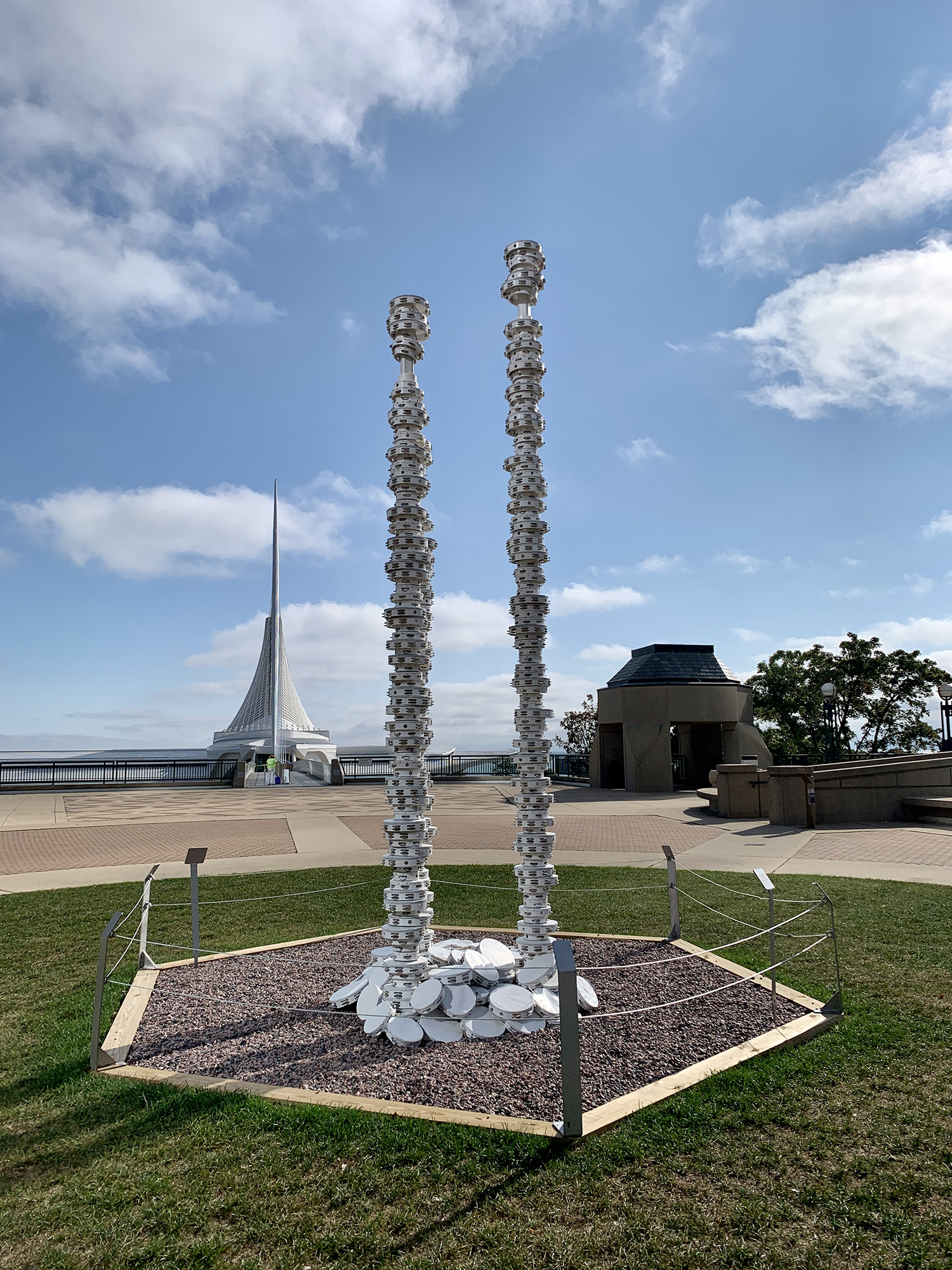 Allison Janae Hamilton
Museum Center Park, 931 E. Wisconsin Ave.
See above again. The peo-ple cried mer-cy in the storm edges out the previous two pieces for two reasons: it borrows its name from a 1928 Judge Jackson hymn about the Great Miami Hurricane of 1926, and it's made of more than 400 painted tambourines. Neat! Check it out on a windy night and hear this piece for yourself.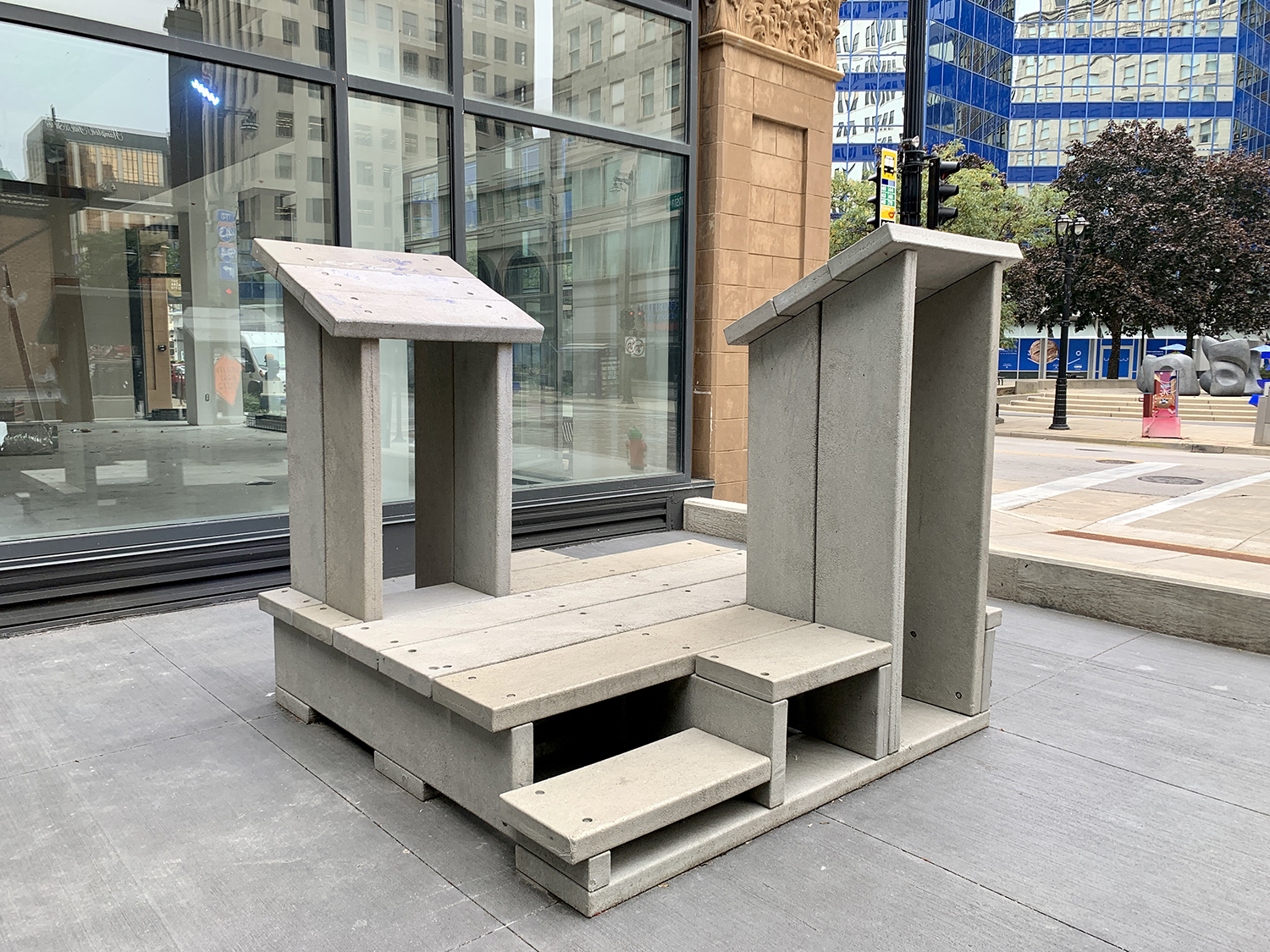 Dan Peterman
Entrance to The Avenue / 3rd Street Market Hall, 275 W. Wisconsin Ave.
Imagine two people using Dan Peterman's dual lectern to debate the history and importance of the old Shops of Grand Avenue. Was the prime hunk of downtown real estate better off as a rambling (and yes, barren) indoor mall, or is it destined for greatness in its current form of private offices, pricey apartments, and opening-soon food halls? Was the Leonard Bearstein Symphony Orchestra a beloved holiday tradition or the animatronic stuff that nightmares are made of? Remember that one store that only sold fountain pens? Bonus points for Love Podium reminding us of SNL's "Love Toilet."
Brad Kahlhamer
211 N. Broadway
Remember when NEWaukee wanted to stretch a bunch of yarn across Wisconsin Avenue or something? And remember when it never happened because it got bogged down in endless crowdsourcing nonsense? Isn't it great that Sculpture Milwaukee skips all that noise and simply finds some people who know a thing or two about art, and then puts some art up? Yeah, it is kind of great. Oh, and so is this piece from Native-born, German-American-raised artist Brad Kahlhamer!
Salvador Jiménez-Flores
Riverwalk, 273 E. Erie St.
Neck and neck with Who's Afraid to Listen to Red, Black and Green? for "most squirreled away" honors, this Salvador Jiménez-Flores piece—well, three pieces, actually—can be found in the Third Ward, along the Riverwalk, and near the Broadway bridge. It's maybe the most enigmatic of the 2021 Sculpture Milwaukee sculptures, suggesting power, transformation, and alternate realities. The brass and cast iron coins look like otherworldly tokens, and the black wall looks like a portal—but to where? Heady stuff for sipping drinks along the river or hanging out between classes at MIAD.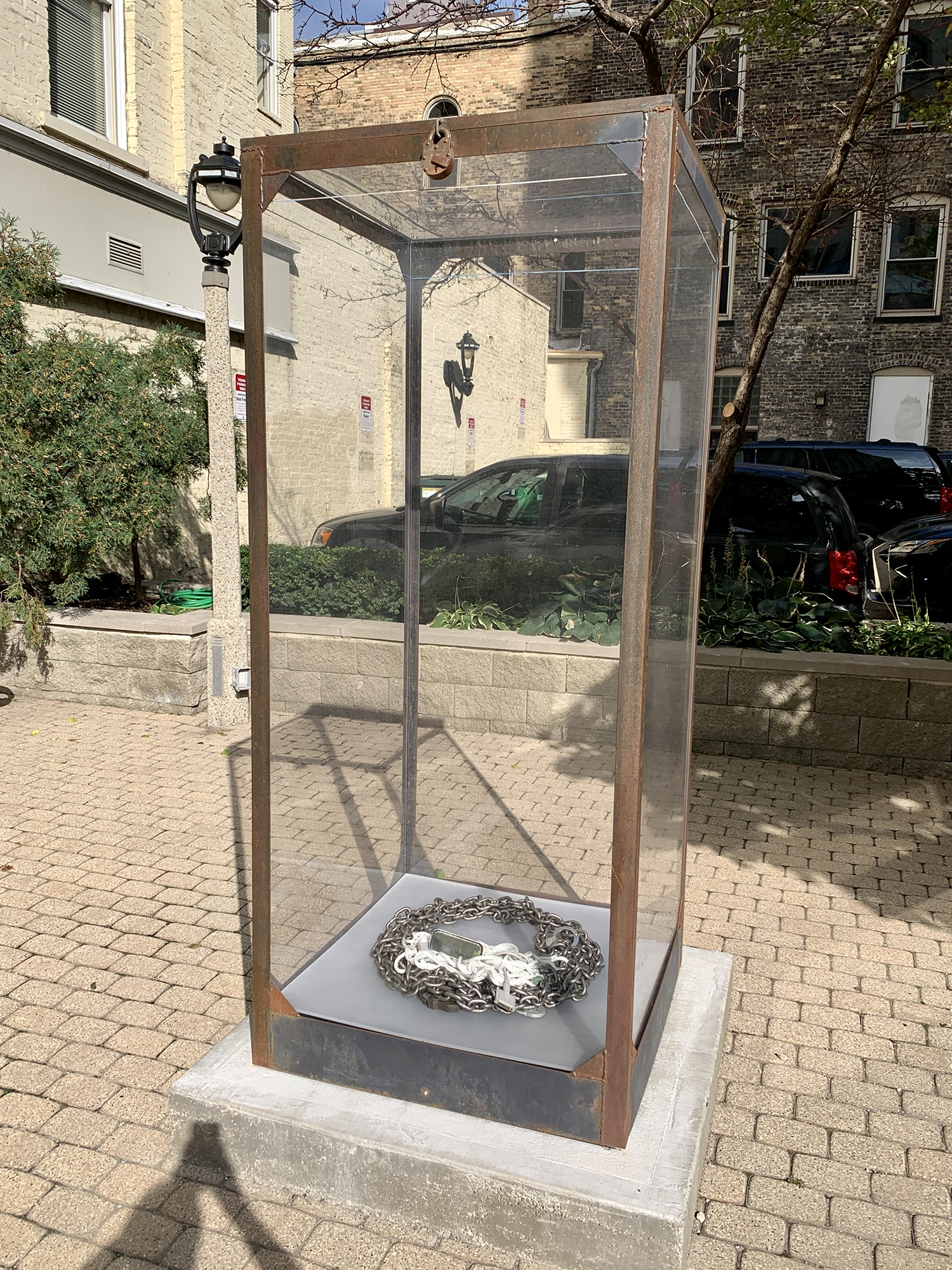 Sara Greenberger Rafferty
Pfister Hotel Pocket Park, 412 E. Wisconsin Ave.
Sometimes it's nice to have a sculpture that doesn't beat around the bush. This piece from Sara Greenberger Rafferty recreates one of Harry Houdini's famous water chambers, but adds an unmistakable modern touch. You see, not only has our 21st century Houdini escaped from his trusty ropes and chains, but—look close!—he's also shucked off an iPhone and a computer cable, too. Please, please, someone teach us this trick.
Lauren Yeager
310W flowerbed, 310 W. Wisconsin Ave.; The Avenue flowerbed, 275 W. Wisconsin Ave.
Probably the most flat-out funny sculpture(s) of 2021, Lauren Yeager's towers of coolers and other miscellanea practically scream "SUMMERS IN WISCONSIN." Do you know how many delicious Usinger's sausages nestled inside delectable Pretzilla buns and covered in crisp kraut you could fit in those things? A lot! There's something weirdly noble about stacking mundane stuff like this, too, as if the heavens could be conquered via a bunch of Coleman coolers and a some booster seats. Bonus points for these pieces reminding us of the "roof stack packing" scene from The Adventures Of Pete And Pete.
Virginia Overton
Outside the Milwaukee Public Library, northwest corner, 833 W. Wells St.
Yes, that is a Dodge Ram 150 pickup. And yes, that is a tranquil little pond in its bed. Water, grass, flowers, lily pads—hell, there's even a little fountain that totally works! Virginia Overton's (mostly) untitled piece is funny and strangely beautiful at the same time, evoking pastoral images of old vehicles gone to seed, and conjuring up road-rage memories of trying to find a parking spot during Summerfest. In fact, if this piece had been stationed in an actual parking spot—instead of on the sidewalk outside the Central Library—we would have totally put it at #1. Instead…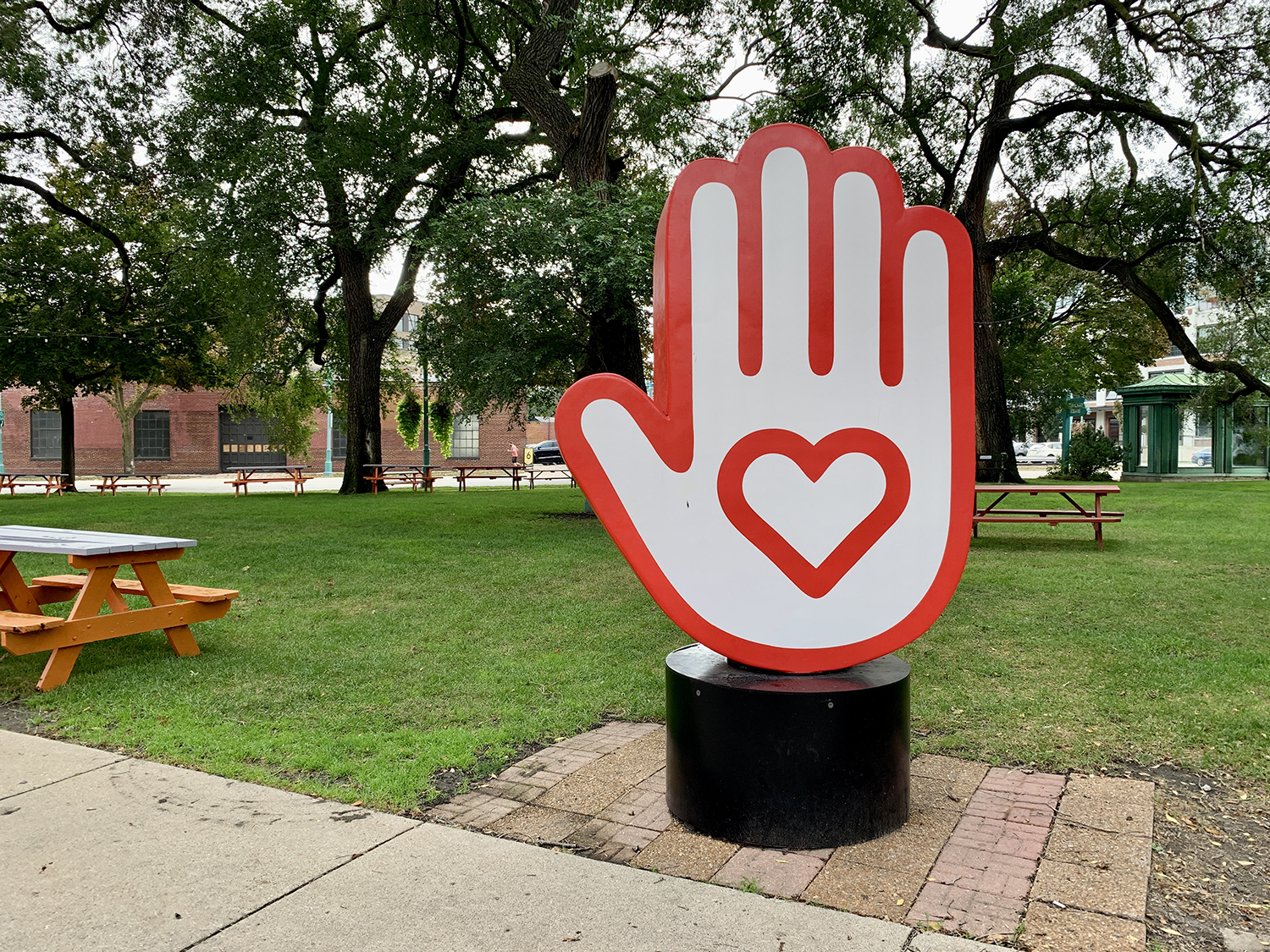 Jason Pickleman
Catalano Square, 138 N. Broadway
When John Lennon first met Yoko Ono at an art show in 1966, he was immediately taken by one of her pieces. He remembered:
"There was another piece that really decided me for-or-against the artist: a ladder which led to a painting which was hung on the ceiling. It looked like a black canvas with a chain with a spyglass hanging on the end of it. […] I climbed the ladder, you look through the spyglass and in tiny little letters it says 'yes.' So it was positive. I felt relieved. It's a great relief when you get up the ladder and you look through the spyglass and it doesn't say 'no' or 'fuck you' or something. It said 'yes.'"
That's kind of how we feel about this piece from Jason Pickleman. It's positive. It's relieving. It says "love." Hand Heart uses a universal visual language to stop you in your tracks (hand) and then pull you close and smother you with love and empathy (heart). Maybe we're worn down by the last year and a half—hell, maybe we're worn down by the last two months—but simple messages of love and understanding seem really swell right now. Don't you agree?
There's nothing cynical or subversive about Hand Heart. It doesn't insult or belittle. It's plain. It's simple. It's direct. It's lovely. And you don't need a spyglass to see it.
Exclusive articles, podcasts, and more. Support Milwaukee Record on Patreon.
---
RELATED ARTICLES
• All 19 Sculpture Milwaukee 2020 sculptures, ranked
• All 22 Sculpture Milwaukee 2019 sculptures, ranked
• All 21 Sculpture Milwaukee 2018 sculptures, ranked