Along with the influx of new microbreweries, distilleries, and faceless luxury apartment complexes, Walker's Point has also become a go-to destination for an exciting cast of new restaurants. Following the departure of Olive Pit and Times Square Pizzeria, Fixture Pizza Pub has stepped up to fill that pie-sized hole in the neighborhood's heart. La Perla's 5th Street exodus spelled the natural relocation of Hamburger Mary's Bay View-based franchise. Between those openings and the advent of numerous new high-end dining establishments, the collective tastes of Walker's Point have expanded well beyond its menagerie of—predominately great—Mexican restaurants.
Thus, it's a strange time for Taco Bandito (605 S. 1st Street, 414-204-TACO) to come to the neighborhood. In mid-August, Roman Torrez, who owned and operated Mr. Webo's in Bay View until late 2014, opened a small over-the-counter restaurant in a gas station plaza. With a somewhat limited menu, reduced prices, and speedy service that assures customers they'll be "in and out like a robbery," can the small restaurant's even smaller sidesteps help differentiate Taco Bandito from its older, more established (and less filling station-adjacent) Mexican cuisine contemporaries?
The space: Most recently the home of Cafe India's flagship before it moved to a larger spot in the same plaza, Taco Bandito is unabashedly a takeout place above all else. Still, the 14-capacity restaurant provides some creature comforts for those who decide to stay and eat. There are two flat screen televisions—one with the questionable Kitchen Nightmares playing during our visit—and a trio of tables, as well as a few stools set against the counter. The crimson interior paint job brightens things up, and a cluster of about 10 different hot sauce options encourages customers to stay and grab a quick bite on their lunch break, between bar stops, or before hitting the road again.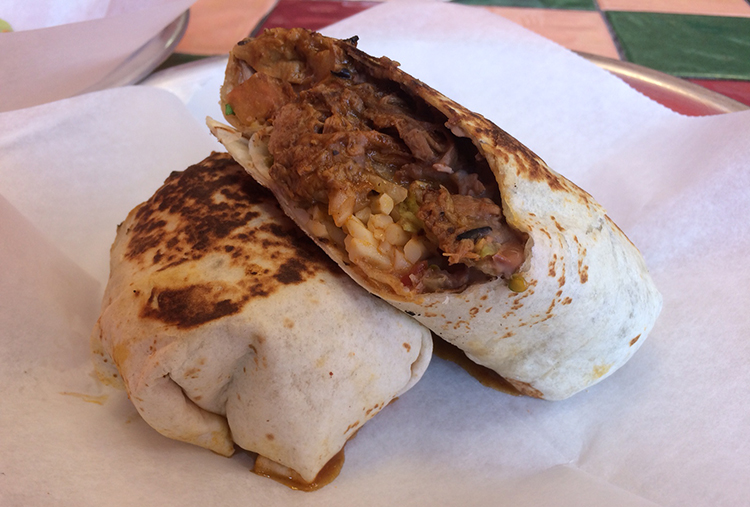 Milwaukee Record's food/drink: We started with a house specialty Modelo Achiote Pork burrito ($5.50 for 10-inch, $8.25 for 14-inch). The grilled flour tortilla was generously jammed with tender hunks of Negra Modelo-marinated and Caribbean-spiced pork, lettuce, tomatoes, refried beans, sour cream, and what appeared to be mozzarella cheese. While it was incredibly messy (notice the grease pooling, even before the first bite) and a mite too savory, the burrito, in all its smokey pork goodness, was worth the resulting graveyard of napkins on our table. If pork isn't your thing, Taco Bandito also offers ground beef, chicken, grilled veggie, and chorizo & egg taco and burrito options for the same price, and fish or steak for a dollar more.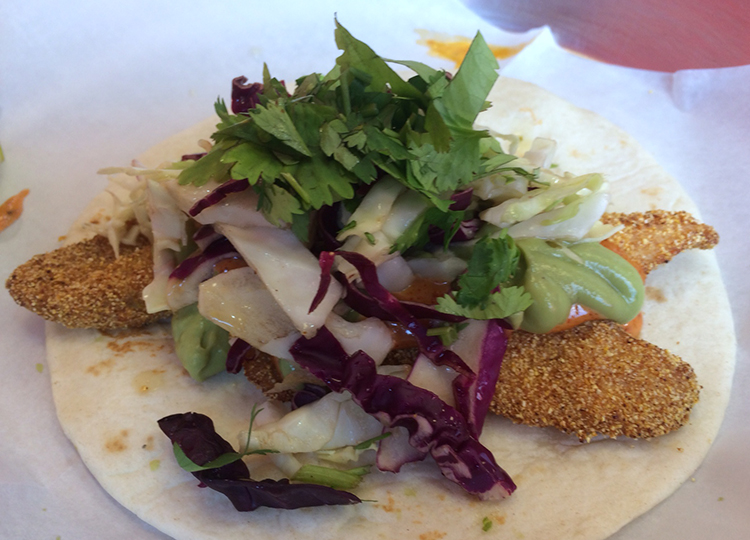 We bypassed the quesadilla and specialty nachos in favor of a taco. Specifically, we settled on a Baja Style Fish Taco ($3.50), which had a description that sounded strikingly similar to the fish tacos at the Torrez's short-lived Mr. Webo's. Okay, so they're identical.

People can blame Webo's for closing on its "cursed" corner location, for its graffiti interior decor, for the club music it played, for the off-putting sign and logo, or for its proximity to the (much, much better) likes of GTO, but we're firm believers the restaurant's end had nothing to do with the delectable Baja Fish Tacos. The reprisal of Mr. Webo's main (only?) delicacy didn't disappoint, as the yellow cornmeal-breaded strips of tilapia and fresh cabbage both packed the same crunch we experienced so many times before. The avocado creama and zesty aoli brought a creamy compliment to complete the tasty revival. We washed it all down with a cup of horchata ($3.00), a nutmeg-dominated drink that was thicker, sweeter, and more rich than what you could expect to get at, say, a MexItalian Food Truck.
The verdict: While Taco Bandito isn't doing anything revolutionary or particularly special (that is, beyond the fish tacos!), the limited menu and fast food approach should help this lower-overhead redressing of Mr. Webo's sustain, even amid the surrounding competition of countless other Walker's Point Mexican restaurants.