While Walker's Point was never lacking for bars and quality Mexican restaurants, and these days isn't for want in regard to upstart microbreweries, distilleries, and fine dining options, the neighborhood has long been hurting for one exceptionally important amenity: pizza. Ever since Times Square Pizzeria's clock ran out and Olive Pit abruptly closed, residents have had to settle for either Transfer (not that anybody is ever settling there!) or Steny's when hankering for a dine-in pizza within walking distance. That all changed earlier this month, though, when Fixture Pizza Pub (623 S. 2nd St., [email protected]) opened in the heart of Walker's Point with an aim to address the area's pizza cravings with a self-described "Milwaukee Style" take, served in a spacious site replete with a full bar and, get this, an indoor bocce ball court. Is Fixture just what this pizza-less portion of Walker's Point needed or is the operation set on redefining the city's style too ambitious for its own good? Milwaukee Record wasted very little time finding out.
The space: Unfortunately, former tenant Boom closed before our gay bar crawl, but it's safe to assume not many components of the night club remain. We were instantly taken by the pristine and classic interior, complete with brand new booths and tables, fashionably functional light fixtures with an industrial bent, and a shimmering bar that split the space into two rooms. The north side (or right side, upon entry) is destined for dining, with enough booth, table, and bar seating to comfortably host 50 or so patrons. The sleek, minimalist decor and dim lighting hint of a swanky neighborhood haunt, but the modern music and accessible menu say otherwise. The opposite side offers—or at least will offer—something unlike any other restaurant in Milwaukee: an indoor bocce ball court. Though the forthcoming court occupies space that could've been utilized for more tables, the sacrificed seating should pay off in the long term by allowing customers to have fun before their food arrives or to play a game after their meal.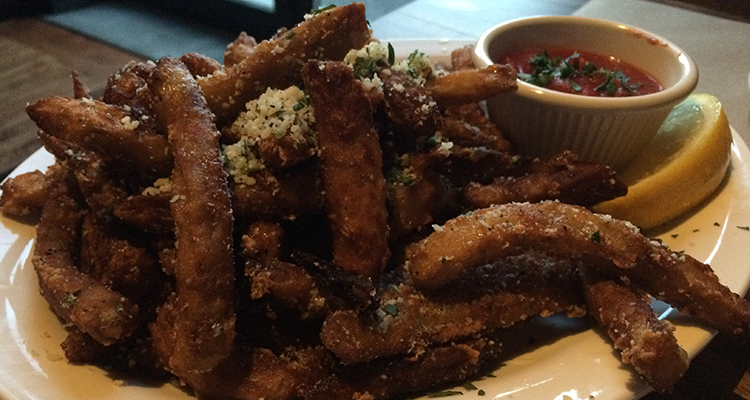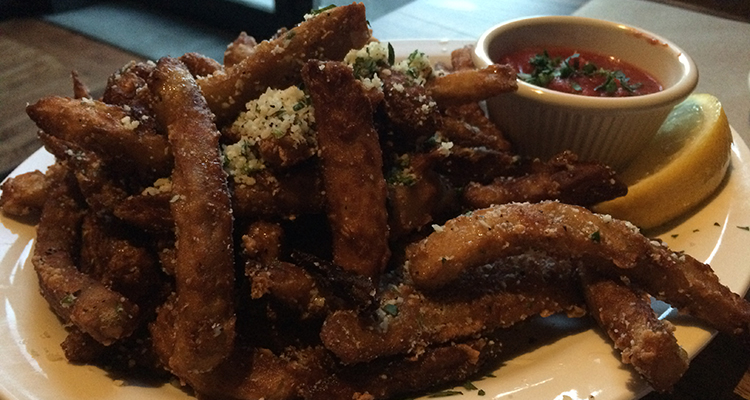 Milwaukee Record's food/drinks: With bocce ball not yet an option, we kept busy before our pizza came with an order of Fixture's eggplant fries ($5). The thick breaded strips of eggplant provided a crunch by way of their deep-fried batter encasement, but gave way to tender innards. With a considerable dusting of herbs and parmesan (and the option of lemon juice), the surprising starter packed a taste as big as its portioning. Though other appetizers (meatballs, calamari), charbroiled oysters, sausages and sandwiches, salads, and pasta are all available, the so-called "Pizza Pub" is true to its name with an overriding commitment to the almighty 'za. Each of the nine specialty pizzas bears the namesake of a nearby business, including Walker's Pint (a Mexican pizza), Var Gallery (a spinach and artichoke pie with garlic sauce), Fat Daddy's (meat lover's), and the oh-so-tempting Sabbatic (pepperoni, cream cheese, and extra red sauce). Unable to agree on a specialty pie, we built our own 16-inch deep dish, with our side featuring the timeless sausage and fresh mushroom combo ($20.25).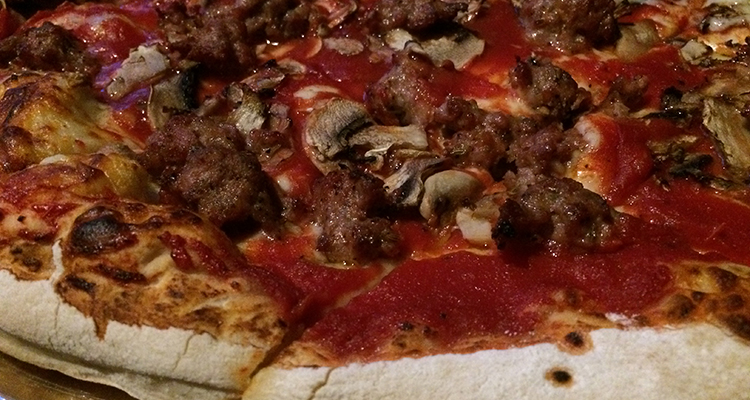 We were immediately taken by the red sauce, both in terms of its abundance and, more so, its flavor. The liberal coating was savory, tasted fresh, and overtook the pizza in the best way possible. While a definite runner-up in the topping pecking order, the sausage also held its own with seasoning that supplied a little residual spice. Yes, the cheese was lacking, but the sauce and generous spread of meat and mushrooms accounted for the dearth of dairy. While absolutely delighted with what was on top of the crust, we weren't as ecstatic about what was beneath it. As we plowed closer to the pizza's center, clumps of white flour clung to the base of the otherwise fresh and airy crust. Until we noticed and scraped some of the starch away, entire bites were dominated by flour. In all, it was a small issue that somewhat marred an otherwise wonderful pizza.
It's also worth noting Fixture offers 17 beers on draft, ranging from lines devoted to its neighbor, Milwaukee Brewing Co., to Lakefront, and nationally respected breweries like Ballast Point, Three Floyds, and Founder's (whose Red's Rye we enjoyed with our meal) priced between $5 and $7.
The verdict: While we doubt its "Milwaukee Style" will take the city by storm, and we sincerely hope the flour-bombing was an anomaly for the young restaurant, Fixture Pizza Pub, with delectable food, a full bar, and (eventually) a bocce ball court could be just what Walker's Point needed.