The value cinema is a dying commodity. These days, full-service movie houses are screening brand new films and serving beer, cocktails, and meals to customers seated in plush reclining seats. For those who can wait to see something, the immediacy of streaming services, on-demand ordering, and downloads makes seeing semi-recent releases an easy and affordable means of entertainment that can be enjoyed in the comfort of the viewer's home. Between that chasm of quality and convenience sits the budget cinema.
These theaters offer moviegoers a cheap place for family outings and an opportunity to take a low-risk chance on a blockbuster bust before it hits Netflix or Redbox. In Oak Creek, Value Cinema offered metro Milwaukee such a place. However, all eight screens at the region's last remaining budget theater will be dark today, and forever. Last week, Marcus Theatres announced Value Cinema would close on May 21, and all remaining showings would be just a dollar. The property was purchased by a mega church, which is a far more lucrative business venture than a budget theater at this point. Now, Rivoli Theatre in Cedarburg is the last budget cinema in southeast Wisconsin.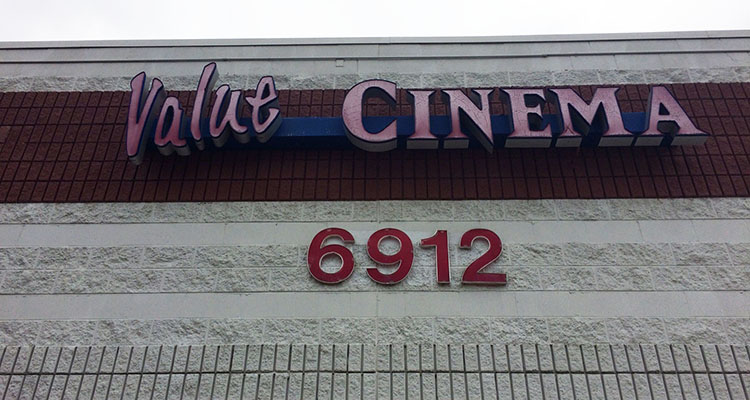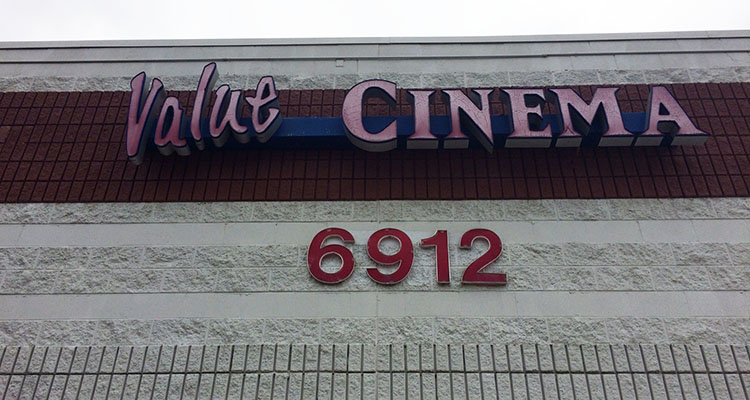 Sunday afternoon, before Value Cinema's third act was through, I went to Oak Creek for one last double feature. After four hours and two minutes (not including previews), 64 ounces of Diet Mountain Dew, a two trailers for The Fate Of The Furious, I feel I was able to effectively pay my last respects to one of the last in a dying breed of movie houses before Marcus Theatres called a wrap on Value Cinema's existence.
Arriving around 12:40 p.m., we happened upon Dan Walsh, formerly of Milwaukee Journal-Sentinel, who was bringing his daughters to see The Lego Batman Movie. He asked me what I was seeing, to which I responded, "I don't know." At a dollar a pop, and not really being enamored with anything that was showing, I wanted to figure it out on the spot. I was there for the experience and to document the sights, sounds, and spirit of a movie theater's last day. Would the 21 employees who were either losing their job or transferring to another Marcus theater be sad or disgruntled? Would the price and circumstances bring uncharacteristically large crowds to struggling cinema? Would they run out of popcorn? With so many questions swimming around in my head, the movies I would see seemed like a secondary factor. Ultimately, I decided to see Chips, mostly because it was starting at 12:45 p.m.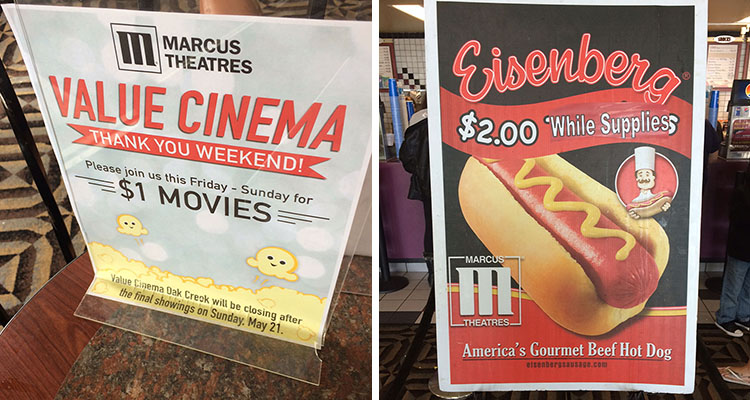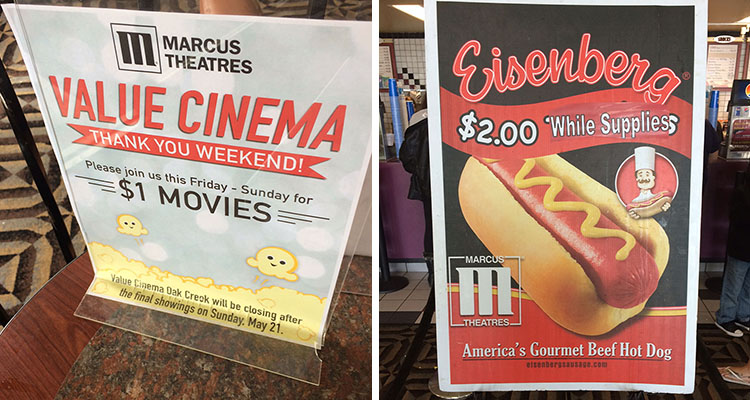 Just beyond the ticketing area was a sign advertising Eisenberg hot dogs for $2. Somehow, I resisted the allure of a discounted movie theater hot dog, opting for a soda instead. Other than the Eisenbergs, every concession item was sold for normal prices. Nearby, a kid played in the modest game room.
I found a seat among the 25 to 30 others in theater number eight as the trailer for an Amy Schumer and Goldie Hawn vehicle called Snatched was playing. The film, which premiered May 12 and grossed less than $33M (about $9M below its budget), probably would've been coming to the Value Cinema any day under different circumstances. Sadly, Oak Creek will now have to wait to see this Schumer bomb in their own homes or, worse, pay regular prices. Following that preview and a family-focused trailer for The Fate Of The Furious, Marcus Corp president and CEO Greg Marcus appeared on screen to thank customers for their patronage of the business he'd likely signed off on closing, and to encourage us to "treat [ourselves] and go for a large."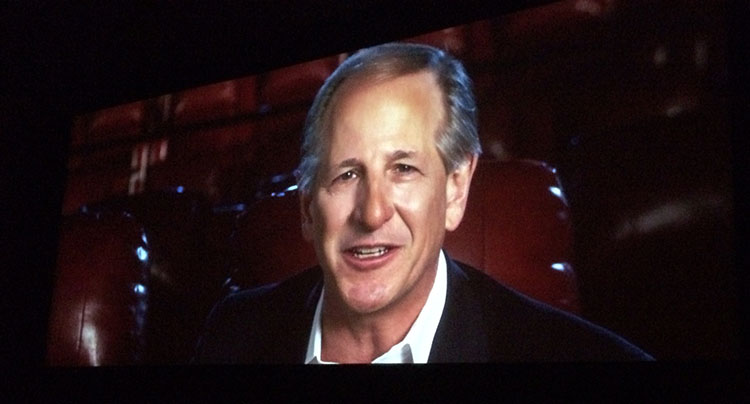 Between the dick jokes, F-bombs, gratuitous nudity, and (okay, fine!) the handful of laughs in Dax Shepard's R-rated Chips reboot, I looked around the theater. The seats were smaller than those in newer theaters, and some squeaked. The sound wasn't amazing and the access to the lobby was direct, meaning light from outside the theater would occasionally filter in when people entered and exited. By the end of the 101-minute experience seeing a critically-panned buddy flick and that narrowly managed to make a profit, I felt as if I'd watched mindless action comedy in relative comfort, while escaping reality and responsibility in the process.
Next, I returned to the lobby to drop another Washington on a ticket for Logan, a movie that needed no more financial backing or positive press, but one that, again, I never would've spent the time or money to watch in a normal scenario. In front of me, a family of four split in half to watch two different movies, and the half with the youngest child was also seeing the blood, violence, and flurry of "fuck"s in Logan. I'd usually be judgemental, but who was I to tell someone what was right and wrong? I'd just spent money to see Chips, after all. Apparently, anything was fair game on dollar movie-slash-theater closing day.
This time, theater number one was filling up quick, including an alarming number of youngsters. Before my second Furious trailer in as many hours and another "Treat yourself" from a smiling and popcorn-chomping Mr. Marcus, I heard a loud noise and noticed the back of one man's seat had given out when he sat down. Value Cinema was finally getting reclining seats, I thought. Just in time! The guy and his group got up moved down the aisle.
After Logan's run (which, yes, lived up to the hype), I returned to the lobby and was struck with how crowded the multiplex had become. The Eisenberg hot dog sign wasn't there, hinting that supplies were long gone. A line to buy tickets now extended out the front door, as people wanted one more chance to experience a screening at a low price and with even lower risk. Yes, the theater was a tad out of touch and its business model no longer had the makings of a big earner for the Marcus Corporation, but for the families, friends, and film buffs on a budget, Oak Creek's Value Cinema was an invaluable source of entertainment right down to its surprise ending.