While the Milwaukee Bucks struggle to get out of a 1-3 skid, another Wisconsin-based professional basketball organization is off to an impressive start to their inaugural season. Yes, the Wisconsin Herd have amassed a 6-2 record in their first month of play so far, which is even more notable upon factoring the expansion team hasn't technically even played a home game in their native Oshkosh yet. Before the Herd's true home opener on December 1, the first-year franchise will play its second "home" game at the BMO Harris Bradley Center tonight.
If you're looking to get up to speed on Ya' Herd before the new team takes the court in Milwaukee and/or prior to Friday's Fox Valley debut, we've found answers to every conceivable Wisconsin Herd question you might have but are afraid to ask.
So who is the Wisconsin Herd again?
Back in February, the Milwaukee Bucks announced that Oshkosh, Wisconsin would be the home of the organization's new NBA D-League affiliate. As ground was broken on a new downtown Oshkosh arena and the parent franchise geared up for a playoff appearance, speculation swirled regarding what the newest NBA Developmental League organization was to be called. The team solicited ideas from fans, and we even tossed a few suggestions out there.
Along the way, Gatorade bought the D-League's naming rights and changed it to the "NBA G-League." In early June, the D-League organization announced in a press release that the team will be called Wisconsin Herd. According to the team, "The Wisconsin Herd name reflects the Bucks brand while representing the Bucks as a statewide organization from the top down."
Why should I, a Bucks fan, care?
Well, the Herd is essentially the minor league affiliate for the Bucks. However, it's so much more than what the Timber Rattlers are to the Brewers. The roster features top-tier talent that played at respected Division 1 schools or competed internationally. Some Herd players have already suited up for the Bucks this seasons and others probably will before season's end. Currently, the Herd boasts one player who saw minutes in Milwaukee this year: Gary Payton II. Rookie guard Sterling Brown also spent a few days with the team before being brought back to the parent club.
Anybody else I should know about?
Oshkosh isn't merely a landing spot for players when the Bucks need to make room on the bench. It's also an origin point to help some players to stay sharp and develop before cracking Milwaukee's roster. Sterling's brother Shannon Brown was recently brought in, but even the once-touted Michigan State standout's place in the Herd is squarely behind 6'9″ Ukrainian forward Joel Bolomboy—who signed a two-way deal that essentially allows him to be promoted to and demoted from the Bucks' roster at any point this season—and guard Xavier Munford (who played sparingly for the Memphis Grizzlies in 2015-16 and was part of the gold medal-winning 2017 USA AmeriCup Team). Former University of Kentucky forward James Young has also turned some heads with a pair of 40-point games already this season.
Who's their coach?
While the hiring of Jordan Brady isn't exactly a marquee acquisition, the expansion squad's first head coach brings ample D-League (yeah, yeah…now G-League) experience to the new franchise. Brady spent four seasons playing in the league, followed by three years as an assistant coach. Beloved Badger Brian Butch played under him in Bakersfield and he spoke very highly of his coaching style. Butch, too, is an assistant with the team.
What's the mascot?
Butch might be the organization's unofficial ambassador, but mascot duties belong to…
Pointer. This newly-unveiled guy is younger and goofier than Bango and more developed than Bango Junior. He's pretty much a teenage Bango or something. We're guessing his number is a reference to a song by Da Yoopers.
Where will they play?
This weekend, Pointer and the rest of the Herd will migrate north to their brand new home. Ground was broken on the arena in February, which is pretty amazing, even when accounting for the construction delays. The Menominee Nation Arena will be able to host approximately 3,640 fans for Herd games and up to 4,500 for other events, such as concerts and trade shows. Mallory Steinberg, Wisconsin Herd Director of Public Relations, told us the arena was built specifically for G-League basketball, which is a rarity in the league. Even more amazing, it's going to have a Cinnabon. You can find more details on the arena here.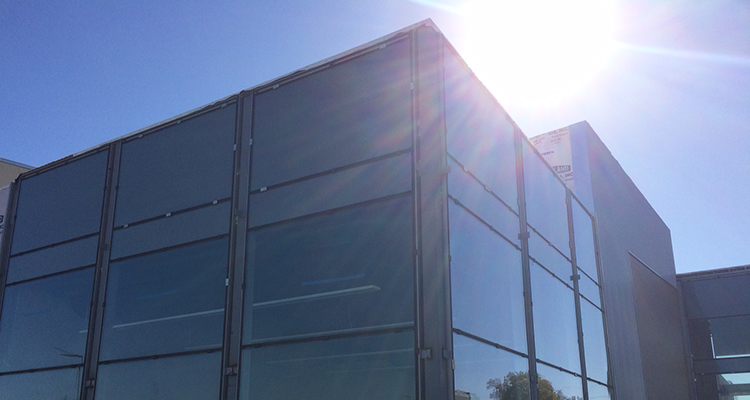 Anything else?
Not really. Go Herd!