Earlier this week, X-Ray Arcade celebrated two years in business. Unfortunately, the Cudahy-based arcade, bar, and music venue has been unable to safely host concerts or allow people inside to play games for nearly half of its existence, as the COVID-19 crisis caused the establishment to close for in-person service (excluding limited patio seating on select weekend nights during warm weather months) last March.
Since then, ownership has done its best to stay afloat by offering drinks to-go, expanding its line of amazing merchandise, and occasionally selling vegan brunch in a carryout capacity. Starting February 21, X-Ray Arcade will offer customers another unique way to support the business while also getting a taste of "live" music and specialty snacks in the process.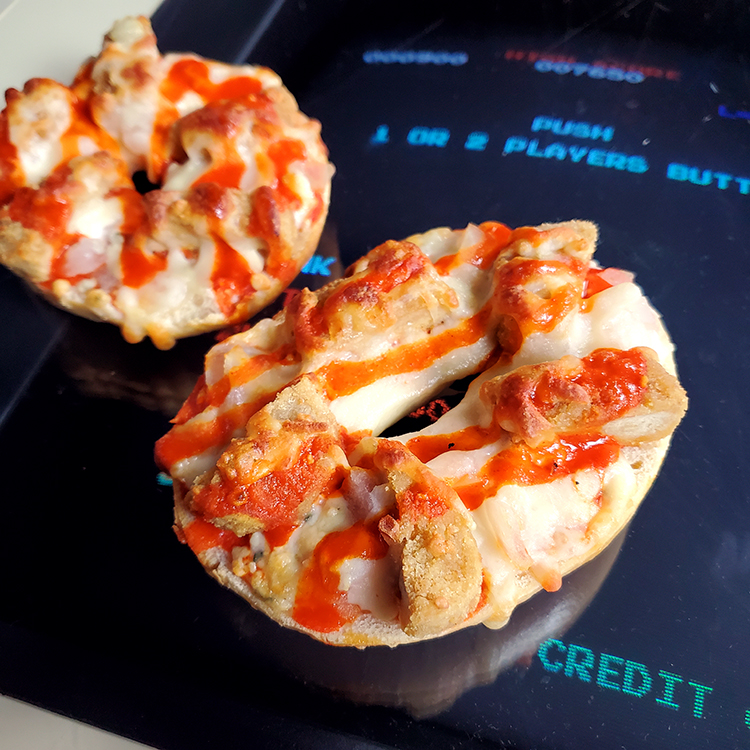 Every Sunday, "X-Ray Takeaway" will find the arcade selling pizza bagels made in-house. The menu features four "basic bagel" varieties and two special options. The first two specials will be buffalo chicken and vegan spinach artichoke dip. In addition to offering a mixture of vegan, vegetarian, and meaty pizza bagel varieties, meals will also come with a bag of chips.
To round out the combo meal, X-Ray will give customers exclusive access to a virtual concert with each purchase, which features footage of a full-length performance by a different band that was filmed on X-Ray's stage and mastered by Erik Atwell and Stillwave Studios. The first act to take part in this innovative meal deal is Milwaukee's own Fox Face.
Combos for February 21 pickup can be ordered starting February 16. In addition to the "X-Ray Takeaway" combos, customers can also pre-order drinks (both alcoholic and non-alcoholic), X-Ray merchandise, and Soothsayer Hot Sauce to pick up. If you miss seeing shows at X-Ray Arcade and you want to help make sure the venue sticks around for the long haul, order some pizza bagels.