Every Friday, Stuff We Missed looks to other Milwaukee publications (and beyond) for, well, stuff we missed throughout the week. This week:
• Do you like alternate sports uniforms? Do you like alternate sports uniforms loaded with fun little Easter eggs and goofy descriptions of what various colors symbolize? Then you'll love the Milwaukee Brewers' just-unveiled 2022 City Connection uniforms! Behold…
The powder-blue uniforms are pretty neat! They say "Brew Crew" instead of "Brewers," they cleverly feature the letters/numbers "MKE" and "414" (don't tell Too Much Metal!), and there's even a little grill patch! Who doesn't love patches and/or grilling? As for the goofy color symbology…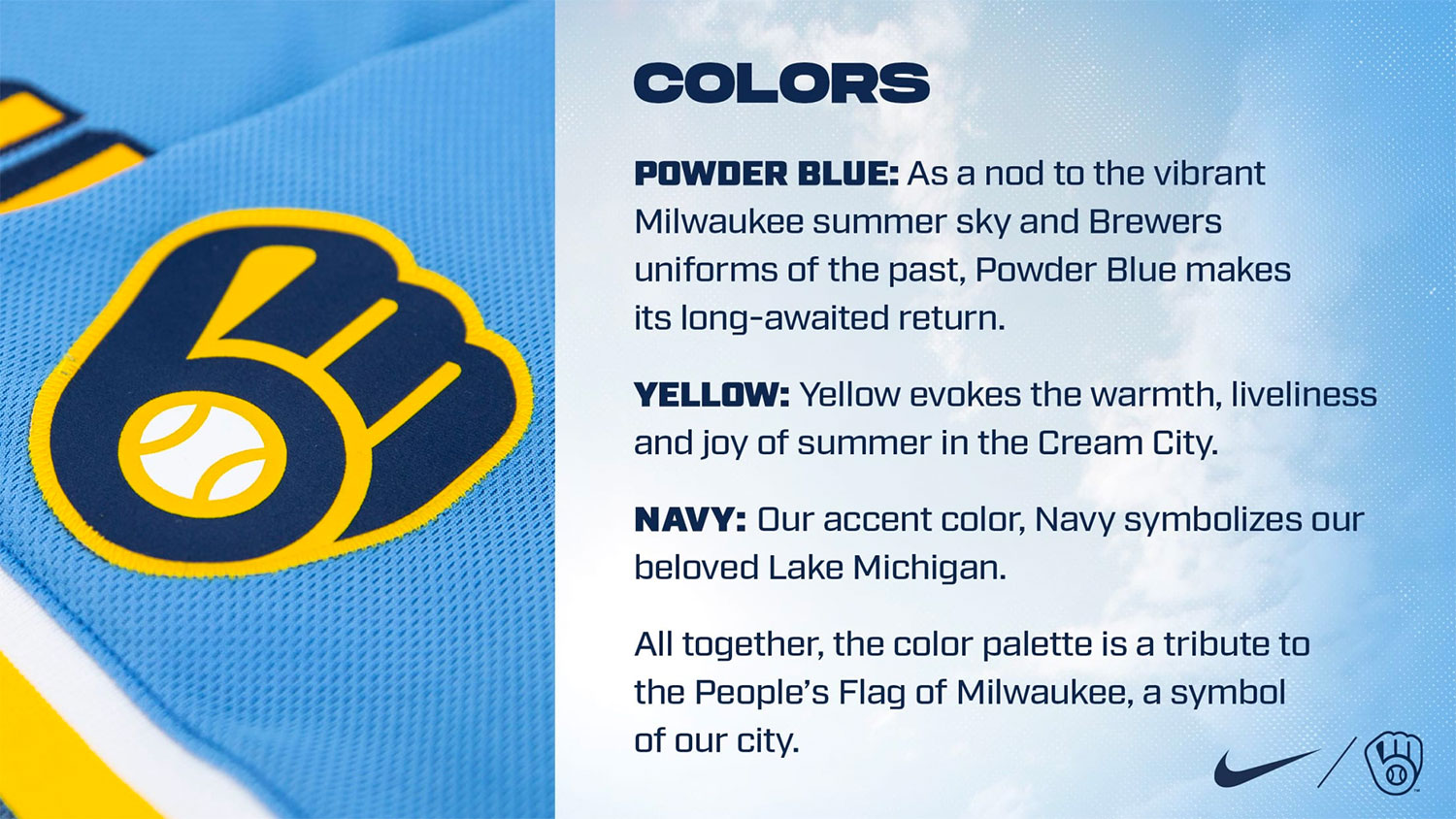 Lol the bit about the People's Flag. Anyway, the Brewers will wear the City Connect uniforms for a total of 10 home games, beginning June 24. Hopefully the American Family Field roof will be open, allowing fans to enjoy Milwaukee's one-of-a-kind vibrant summer sky. [Milwaukee Brewers]
• COMPLETELY UNRELATED STORY FROM OUR ARCHIVES. [Milwaukee Record]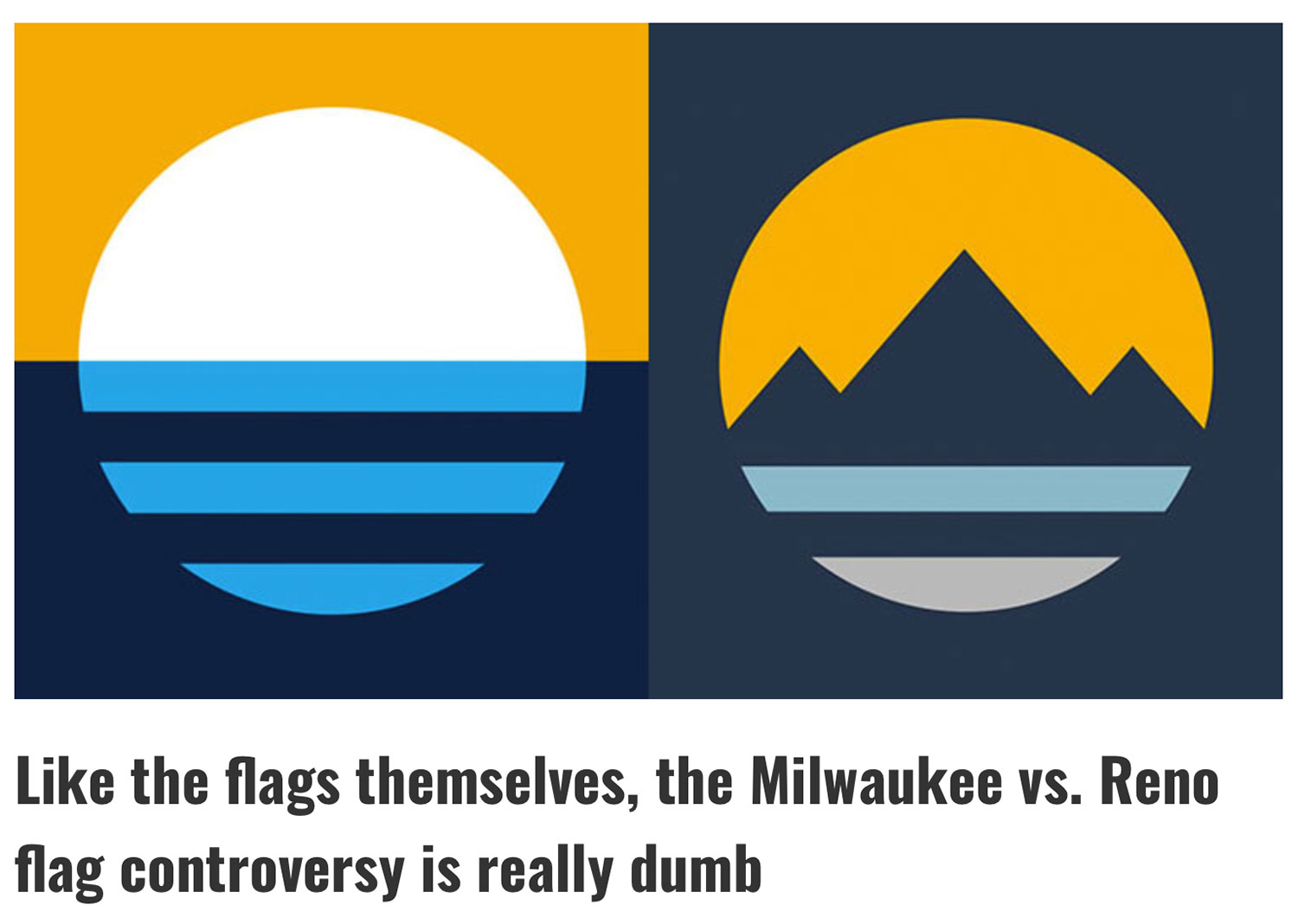 • Speaking of American Family Field, it'll host a double-header University of Wisconsin men's and women's basketball game on November 11. Yep, basketball! Like, they're gonna build a basketball court on the field!
"Temporary seats are to be installed just beyond second base, along with additional field-level seating around the court," reports the Milwaukee Journal Sentinel. "Tickets for on-field seats will be all-inclusive with a variety of food and beverage options. Additionally, nearly all of the existing seating areas of American Family Field will be available." [Milwaukee Journal Sentinel]
• After nearly a decade of task forces, public meetings, and millions of dollars spent on professional consultants, the push to "Save the Domes" has led to…nothing. [Urban Milwaukee]
• Sculpture Milwaukee will return in 2022! Well, actually, some of Sculpture Milwaukee 2022 is already here. Five pieces have been installed in and around downtown, and more will be installed later this summer. This year's theme (curated by New York-based artist Ugo Rondinone) is "Nature Doesn't Know About Us." [Milwaukee Journal Sentinel]
• Congrats to Dane Baldwin of The Diplomat, who was named "Best Chef: Midwest" by the James Beard Foundation! [CBS 58]
• Are those scooters coming back, or no? We'll find out on Monday! [Urban Milwaukee]
• The Ma Baensch building in Riverwest is for sale. "This facility has been a loyal and beloved part of our company's food packing operation," said Baensch Food Products owner Kim Wall. "Now it's time to pass it along to someone or group who will take good care of it." [OnMilwaukee]
• Milwaukee's recently wrapped three-day PrideFest posted a record-breaking attendance: 38,731 people! [Milwaukee Business Journal]
• Popsicle purveyor Pete's Pops has a new and unlikely location: the ticket booth of the currently closed Fox Bay Cinema Grill in Whitefish Bay. [OnMilwaukee]
• The fog is getting thicker, and the number of venues and event spaces operated by the Pabst Theater Group is getting laaaaarger. [Urban Milwaukee]
• Justin Bieber's June 24 Summerfest show has been postponed. [WISN 12]
• New mural! [OnMilwaukee]
• More poke! [Milwaukee Business Journal]
• Have a great weekend, Milwaukee!
Exclusive articles, podcasts, and more. Support Milwaukee Record on Patreon.