For a select few hours on sporadic weekdays, a few feet of sidewalk between the Piggly Wiggly and Home Depot parking lots on Chase Avenue becomes the site of something truly special. There, nestled tight against the curb and beneath the shade of tree branches on the south side causeway, the cuisines of two massively different countries coalesce, culinary styles separated by an ocean fuse together like some kind of Pangea-like habitat where only the finest flavors reside, and a city so divided is suddenly united…at least until the last bite. Take heed, Milwaukee. The MexItalian Food Truck is here and it's fucking awesome.
Tipped off by a respected local chef who claimed he saw it but wasn't adventurous enough to try it himself, we set out to find this truck based solely on second hand descriptors. He told us the truck was sometimes parked in front of Home Depot. It might serve taco pizza. That was enough to warrant an investigation. What we lacked in clues, was more than made up for in curiosity. Could such a vehicle exist? Did it really serve both Mexican and Italian food? If so, which of the two ethnicity's edibles suffered more as a result of this misguided attempt to pair menus that have no business being in the same truck together?
After more than a week of trying and failing to locate this MexItalian mystery machine with exactly zero online presence, we were prepared to call off the search and go on living the rest of our lives eating pasta and tacos in separate sittings like some kind of assholes. But finding ourselves with a little extra time and a peckish feeling last Friday, we decided to give it one last shot. We found it!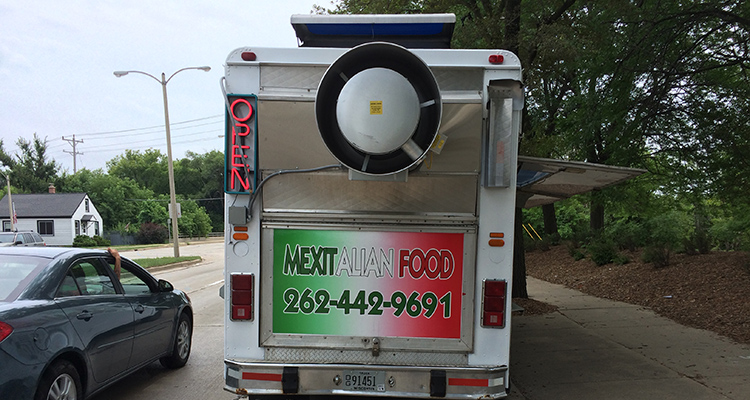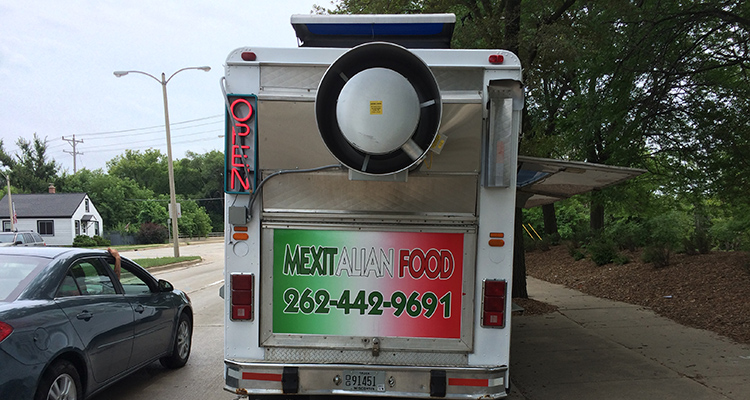 We quickly learned there was no taco pizza, or any other type of pizza. There's no merger of Mexican and Italian food in any single item. Rather, the "Mex" portion of the name is satisfied through items like tacos, tortas, tostadas, and burritos. The quesadilla features mozzarella cheese, but the Italian portion of the truck is otherwise unimpeded. Instead of pizza, the truck specializes in rigatoni- and linguine-based pasta dishes, salads, and roast beef sandwiches. Standing there alone on the sidewalk, it's safe to say we weirded out the young woman who took our order when we jumped back and forth between the two menus when selecting our foods.
After placing out massive order, which totaled just $14.75 before tip, we sipped our sweet and refreshing 16-ounce cup of horchata ($1) and asked the woman, one of two Hispanic ladies running the month-old operation, why they went with this unorthodox theme for the truck. She told us her uncle worked at an Italian restaurant for more than 20 years and he taught her family to make recipes he'd learned on the job. Our Chicken Cacciatore ($8.50) did not disappoint. The bed of noodles was covered in a generous blanket of perfectly tender cuts of chicken breast, sauteed mushrooms, three types of bell peppers, a dash of basil, artichokes, and fresh tomatoes that, along with a liberal drizzling of olive oil, served as the sauce. Perhaps in effort to account for the 10 minutes customers spend standing on the sidewalk by the truck, the portions are extremely generous. Surprisingly, the Italian menu item was our favorite Styrofoam container dish.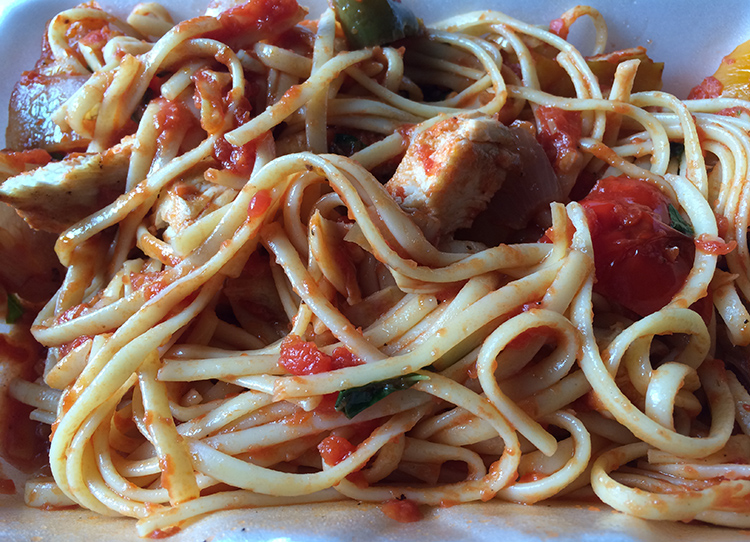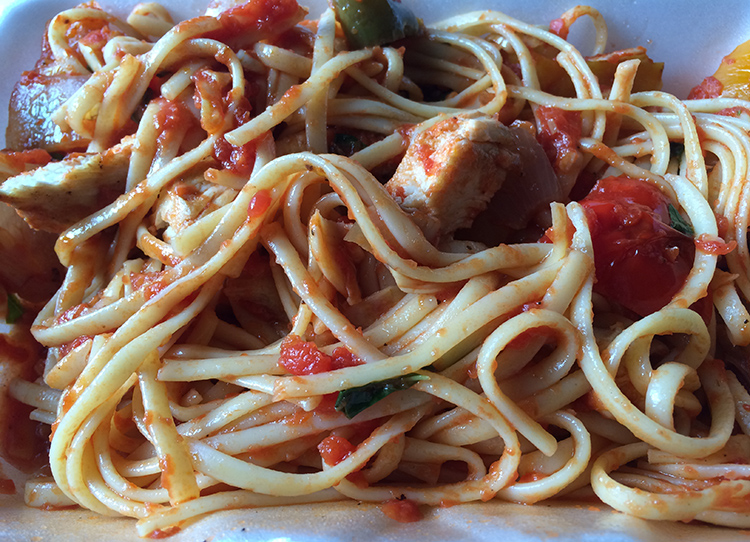 Our bites alternated between the delightfully oily cacciatore and a steak taco ($1.75), two corn tortillas heaped high with seasoned carne asada, a trinity of freshness provided by diced onion, radishes, and cilantro, capped off with a roasted jalapeno half. In addition to the lime wedge garnish, we received two containers of homemade, er, truckmade salsa. One was a smokey, peppered red sauce that provided a savory kick to tamp down the dominating flavors of onion and cilantro. The other was a sinus-clearing spicy green salsa. We'd paid twice the price for tacos we enjoyed half at much at other food trucks in the past.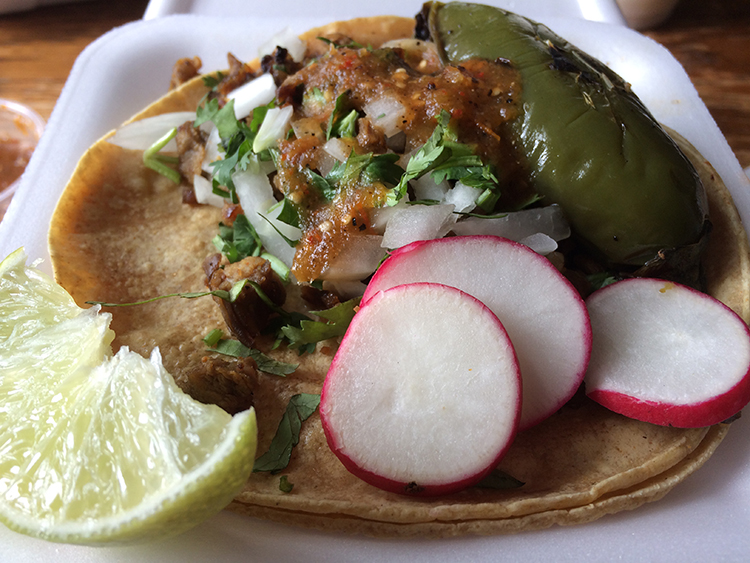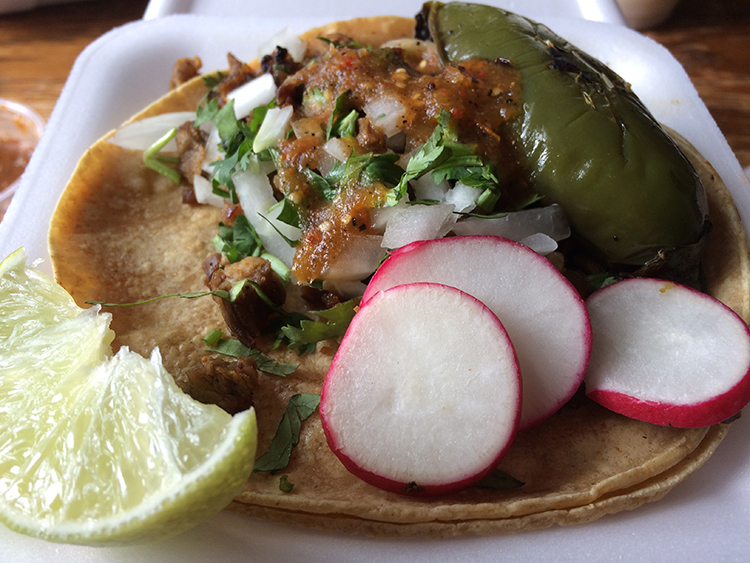 Our only misstep came by way of the tongue tostada ($3.50), a last-second revision from our pork tostada order. Admittedly, we'd never had tongue before, and found the rubbery texture and visible taste buds to be a tad off-putting. That's not MexItalian's fault, of course. The succulent cherry tomatoes, shredded lettuce, sour cream, cilantro, and cool chunks of avocado that also resided on the crunchy tostada did their part to help matters, but we just aren't tongue people. We should've tried the pork.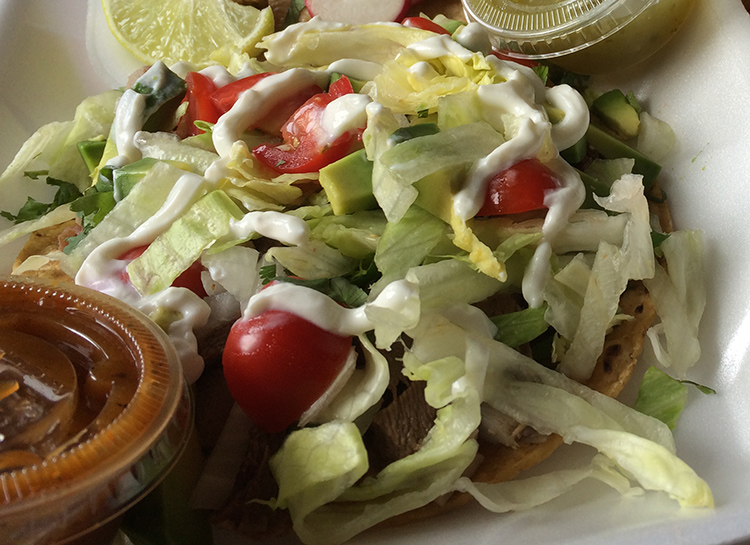 Fortunately, we'll have a chance to because, holy shit, we're absolutely going back again. You should too. Next time you're wrestling between having pasta and a burrito, or you're weighing your options between a roast beef sandwich and tacos, simply say yes to everything and get your ass to MexItalian Food Truck. Assuming you can find it, you'll be happy you chose Milwaukee's newest and weirdest mobile restaurant.