Last night, word came that after 21 mostly-fruitful years in business, La Perla was sold, and the restaurant will be closing its doors for good this weekend. By closing time on Saturday night, the Mexican restaurant that held residence in Walker's Point since 1995 will have given away every remaining drop of its tequila reserves, hosted its final mechanical pepper ride, and served its last meal. Soon, the coveted three-building, two-patio staple on the corner of 5th and National will have a new tenant, almost assuredly of the high-end dining variety, as seems to be the pattern in a neighborhood that—depending on who you ask—is either in the throes of development or struggling to cling to its identity amid rampant gentrification.
Though significant road construction (a byproduct of said development) taking place right outside the restaurant's door reportedly hastened La Perla's exodus, the business' name will live on. La Perla products will soon be sold at grocery stores in the region. More importantly, though, is the mark La Perla will leave on Walker's Point through its overwhelming amount of signage and murals that are scattered through the neighborhood.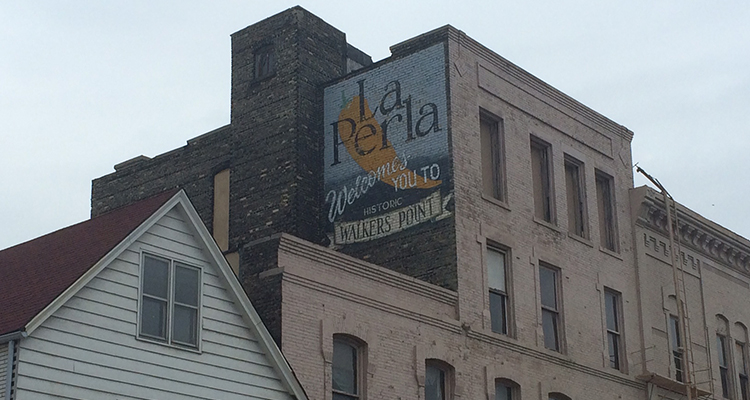 After a few blocks and enough turns when walking in or driving through Walker's Point, it's inevitable that something emblazoned with the La Perla namesake will be seen. The ubiquitous signage takes many forms, with no two displays ever being quite alike.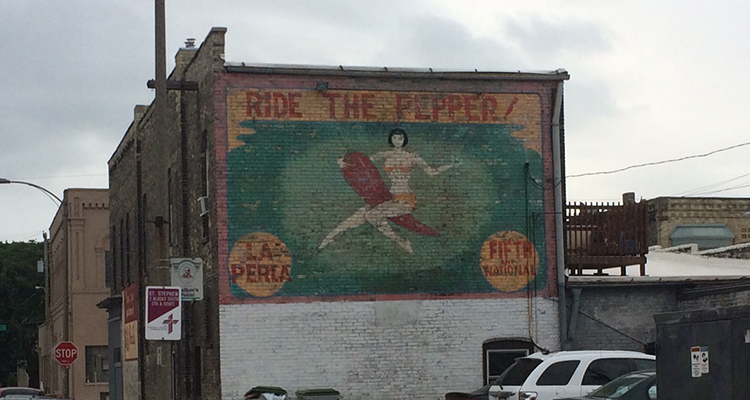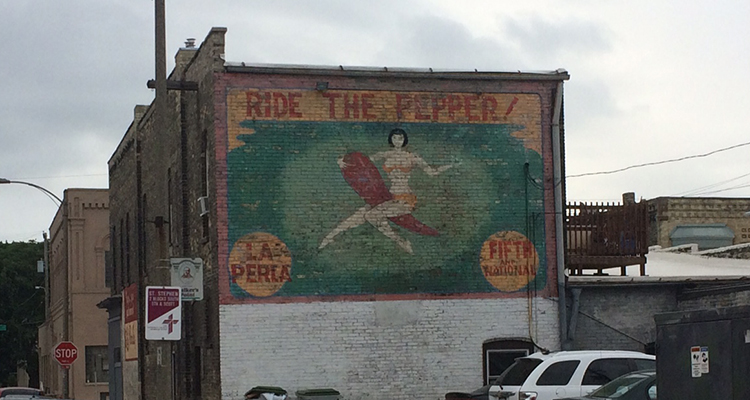 Sometimes the marketing display is in the form of a commissioned mural, struggling against the elements and grime to maintain its function through chipped and fading paint. Other times, artistic intent and rudimentary tenets of ad design are cast aside in favor of fluorescent-font and to-the-point boards advertising "Fine Mexican cuisine" on 5th and National, usually with peppers incorporated somehow.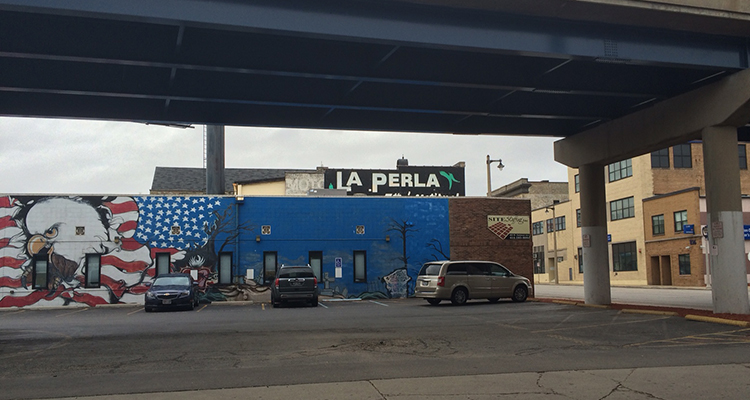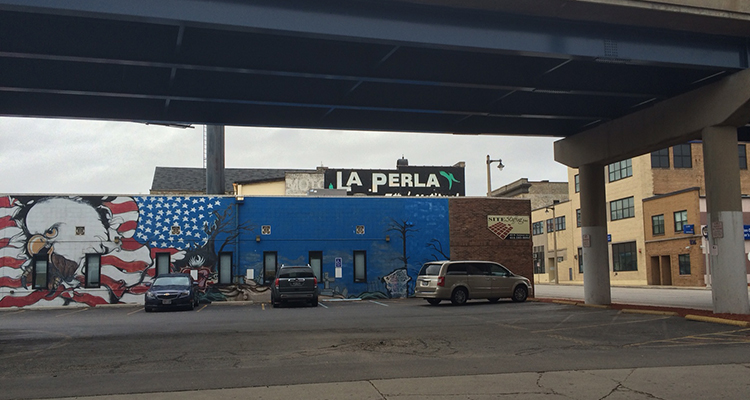 With a variety of forms, almost as many mediums, and, at times, utterly erratic placement in which many ads are only visible on one's ride away from the restaurant, La Perla's blanketing of Walker's Point is unavoidable, but strangely, it isn't bothersome nor aggressive. If anything, La Perla's advert omnipresence issues a sense of comfort. These aren't billboards to be swapped out at month's end. When putting brush to brick and nail to wood so long ago and so often, it's almost as if the restaurateurs were making a lasting allegiance with their neighbors. Sure, at its base, they're a means of hocking burritos and rides on a gigantic pepper, but these unique ads also lend a dash of color to help brighten up cold, lifeless specters of past industry and maybe provide some flare to blighted façades in the process.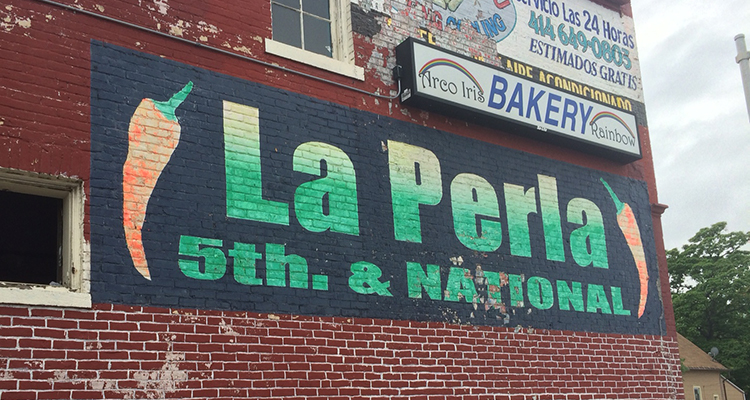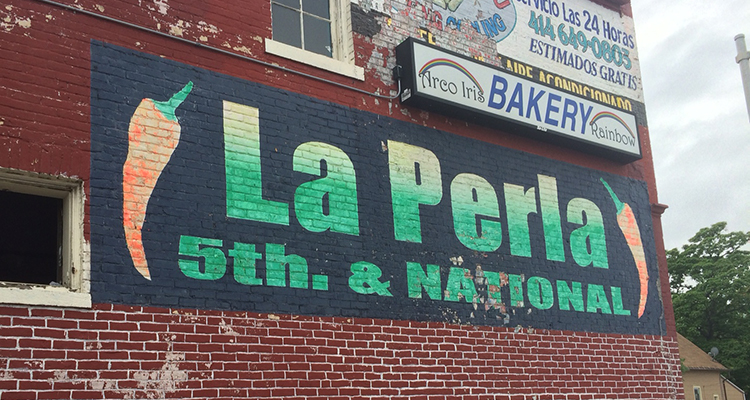 Sign direction be damned, the intent doesn't seem focused on luring customers into the restaurant. Instead, La Perla's widespread presence seems to serve as a gentle reminder for Walker's Point to go about their lives and, should they feel like stopping by, La Perla will be there.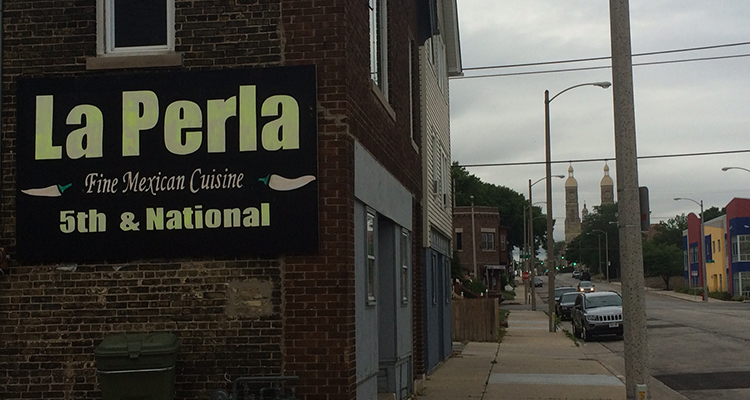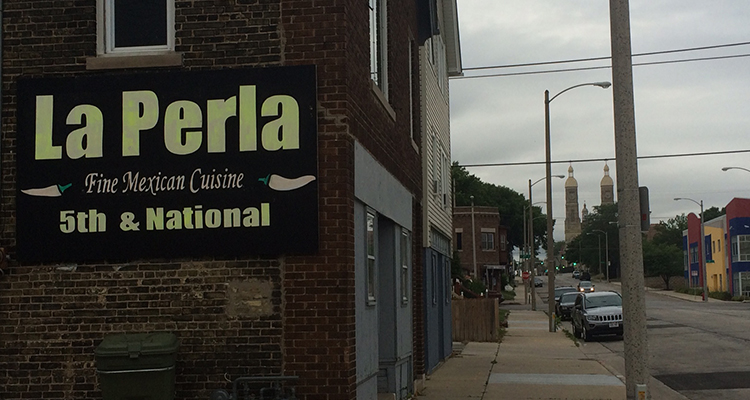 On Sunday, La Perla won't be there. Whether the prospect of having salsa in supermarkets was too lucrative to pass up, or the 20-year tenant felt the winds of change and decided to cut bait before it was too late, La Perla will be gone. Honestly, that's okay. Despite the restaurant's unsubstantiated claim of having "Milwaukee's Best Margaritas," patrons can have a dining experience that's strikingly similar (if not better) a block away at Botanas and, frankly, enjoy more authentic Mexican food at no shortage of nearby establishments. Still, it's sad to see a long-tenured Walker's Point resident go, especially one with such an identity in the community, if only in the visual sense.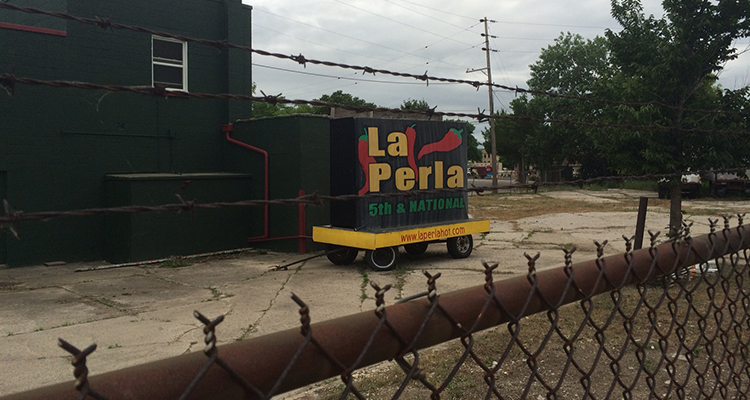 La Perla is closing at a time in which consumers are subjected to more advertising in more forms with less candor than ever before. Meanwhile, pockets of near-identical apartment complexes are detracting character from Walker's Point and overshadowing the neighborhood's history (literally overshadowing it in some cases), and upscale restaurants are bringing in new visitors while also driving up rent. What this all means for Walker's Point is too long, complicated, and multi-faceted to possibly condense into a closing paragraph. Really, the answers won't be known for quite some time. Yet as one of the neighborhood's most beloved establishments prepares to say goodbye, there's a strange sense of ease that comes with knowing La Perla's ads will likely live on for years to come.